This post shows you the best organization ideas for small bathrooms.
In a small bathroom, every inch of space counts! Especially as a woman with lots of skincare, hair products, and make-up, clever organization is key.
This post goes over the best bathroom solutions for small spaces.
We'll cover cabinets, drawers, over the toilet space, and how to create storage in a small bathroom.
Let's start maximizing space for an organized and aesthetically pleasing bathroom.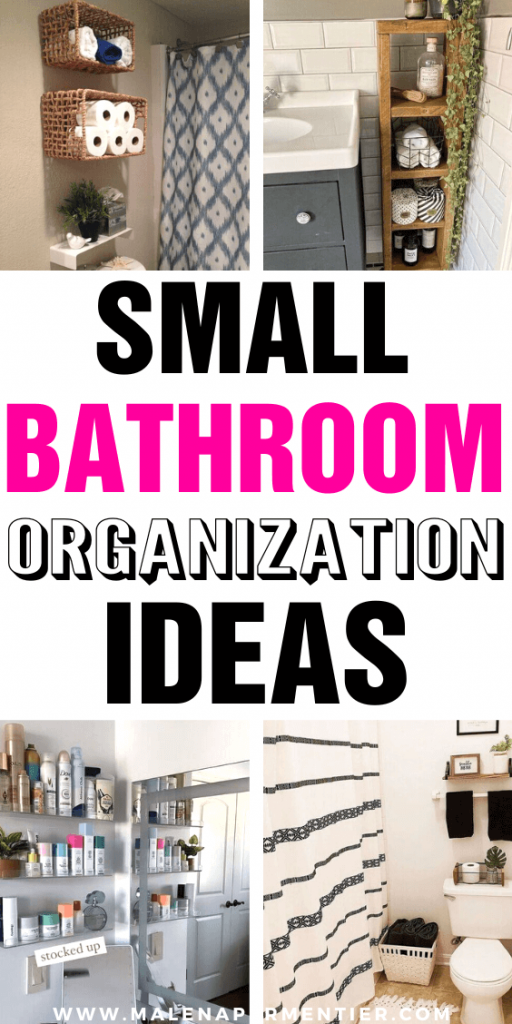 Organization ideas for small bathrooms
1. Shelves and towel bar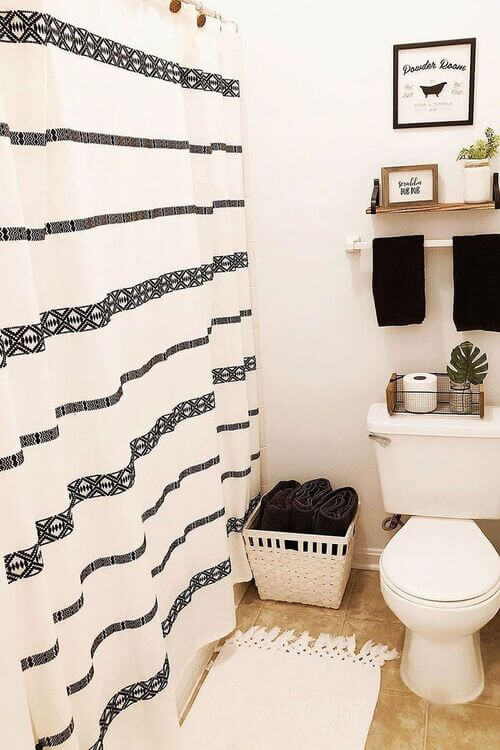 First things first, how cool is this bathroom decor?
This shower curtain has been a Pinterest hype for over a year, and understandably so.
In a small bathroom, utilize the space over your toilet for some form of storage.
If you choose shelves, get ones that also have a towel bar.
Even if you don't use it for towels, it can be used for sponges or hanging other bathroom essentials.
2. Rustic bathroom storage unit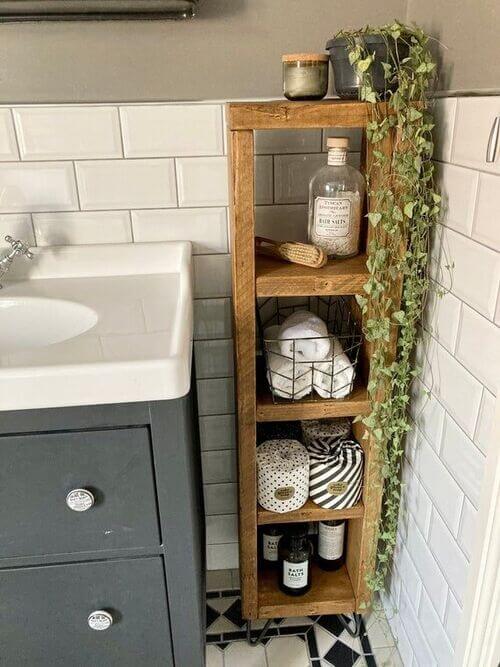 In some small bathrooms, you will have free space next to the sink or between the sink and shower.
Maximize that space with a narrow storage tower.
I love this rustic storage unit from Etsy.
It's one of a kind and gives your bathroom character and space to store necessities like toilet paper or shampoos.
3. Floating shelves and wire baskets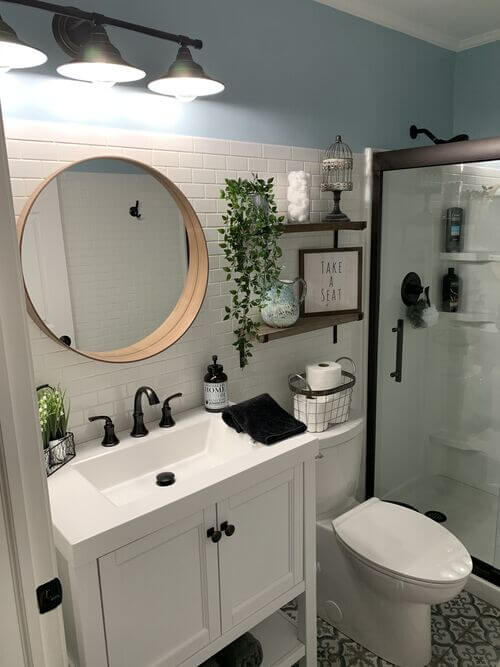 A lot of bathroom decor can be both pretty and functional.
For example, these wire baskets.
If you like a farmhouse aesthetic, these baskets are a must.
They're great for storing toilet paper, soaps, and other products.
Something people often overlook when redecorating their bathrooms is the mirror.
A unique shape or style mirror can set the tone for your bathroom – and even make it look bigger.
4. Minimalist rolling cart for bathroom storage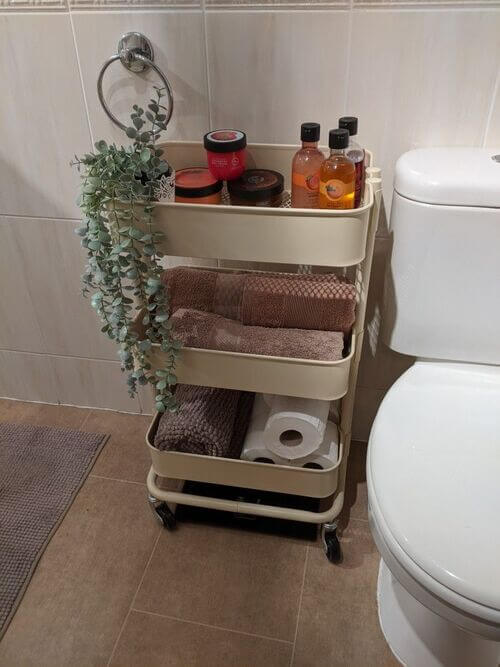 Rolling carts are inexpensive and practical.
Instead of getting a bathroom cabinet, you can use one of these for organizing your shower products, towels, and toilet paper.
Also, don't underestimate the power of a cute small plant!
It makes a bathroom look better.
Bathroom storage ideas for small spaces
5. Hang baskets for towels and toilet paper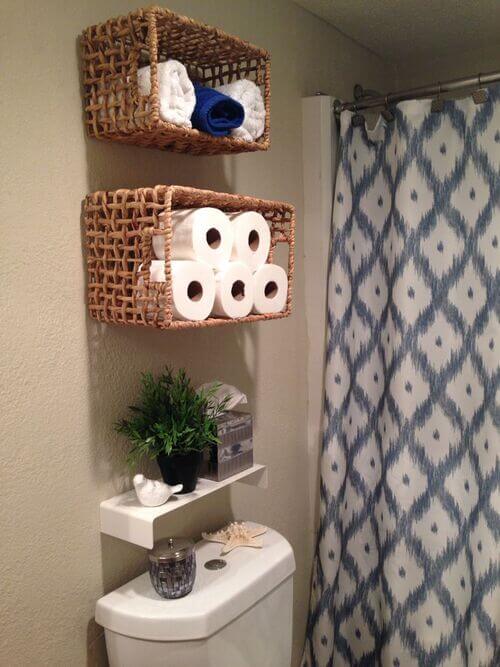 When creating extra storage in your bathroom, there are many ways to do so.
I love this creative way of using baskets as storage shelves! Super practical and cute.
6. Hang large floating shelves for storage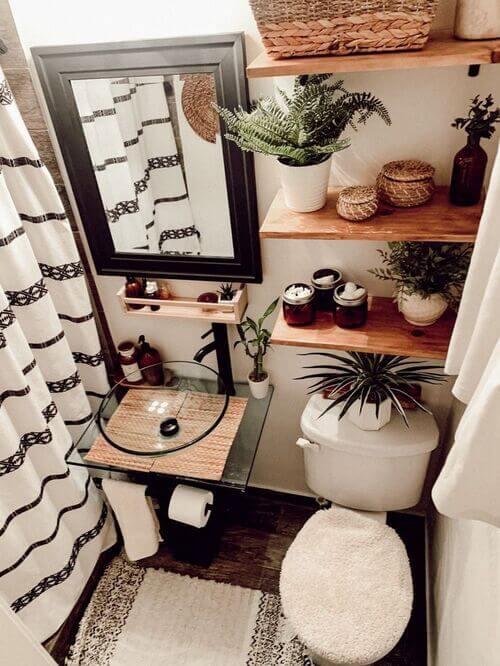 Using floating shelves in your bathroom is a super easy way to create storage and organize things like towels and small apothecary jars for cotton pads, q tips, and more.
Also, the famous shower curtain again, how cute does it look?!!
Related: 18 Bathroom Shelf Decor Ideas For Over The Toilet That Look Amazing
7. Use a slim and tall storage tower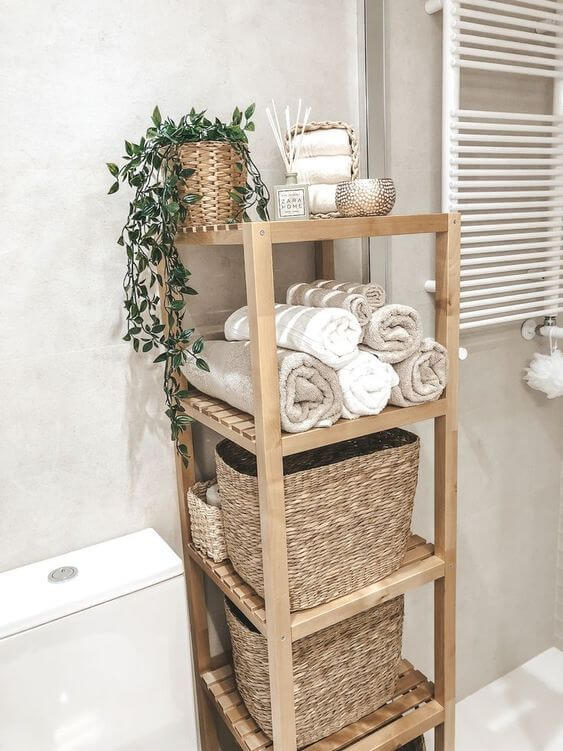 Utilize your bathroom's vertical space when you can!
Large bamboo storage towers look beautiful and hold a lot of storage space.
Keep your products out of sight with wicker baskets.
This will make your bathroom look organized and put together.
Use a basket for specific products, like hair care or skincare.
That will make it easier to know where is what.
8. Maximize your vertical space with floating shelves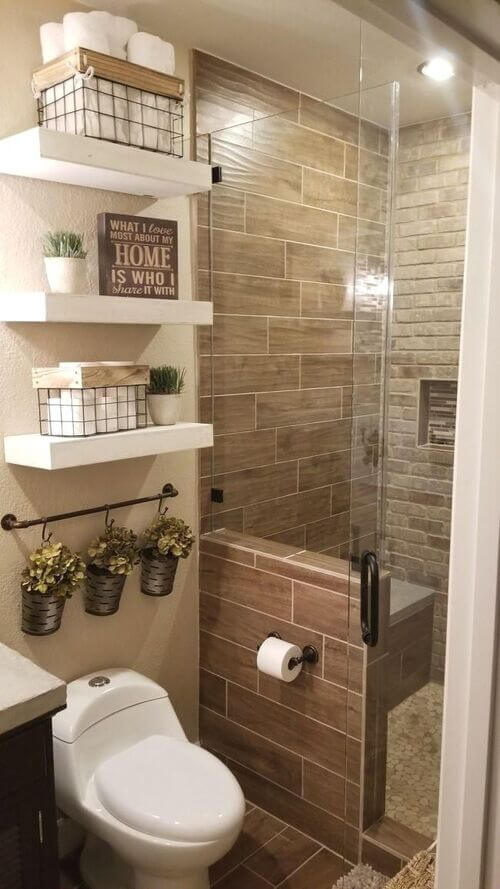 Make a plan for your bathroom shelves!!
I love how this bathroom gives us a good idea of what it looks like when you mount your shelves far apart.
It leaves enough space for baskets, stacked towels, and decor.
9. Freestanding organizer for bathroom essentials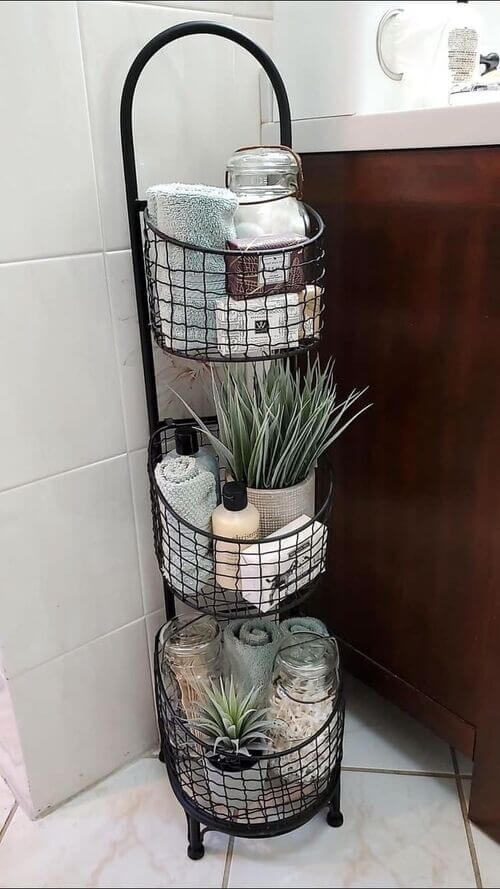 This mesh rack is ideal if you don't want to use a bathroom cabinet or large storage tower!
It gives your bathroom a modern farmhouse look.
I also included this mesh over the door rack, which is incredible for tiny bathrooms that don't have space for anything else.
10. Bathroom storage ideas for over the toilet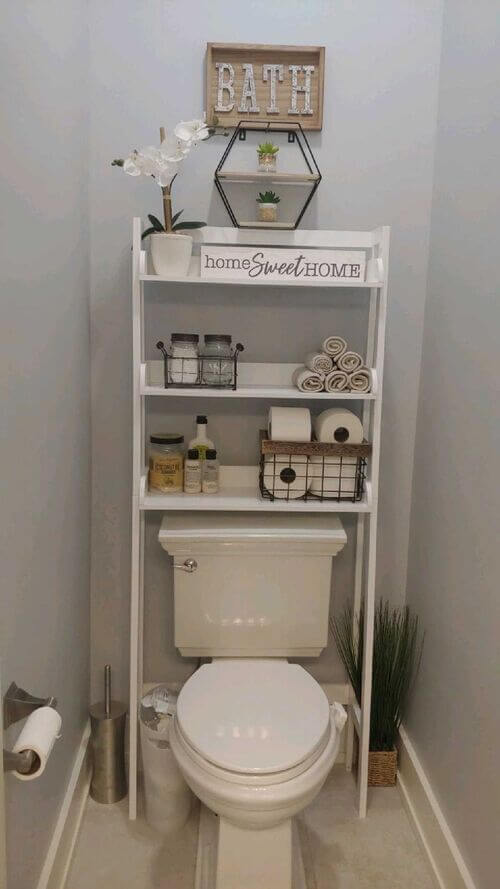 The easiest way to create storage space in your bathroom is with an over-the-toilet cabinet shelf.
Especially if you live in a rental and don't want to mount shelves to the wall, this is ideal.
Over-the-toilet shelf solutions come in many styles and colors.
White, wood, metal, black: whatever suits your bathroom decor best!
11. Warm wood storage shelves with towel bar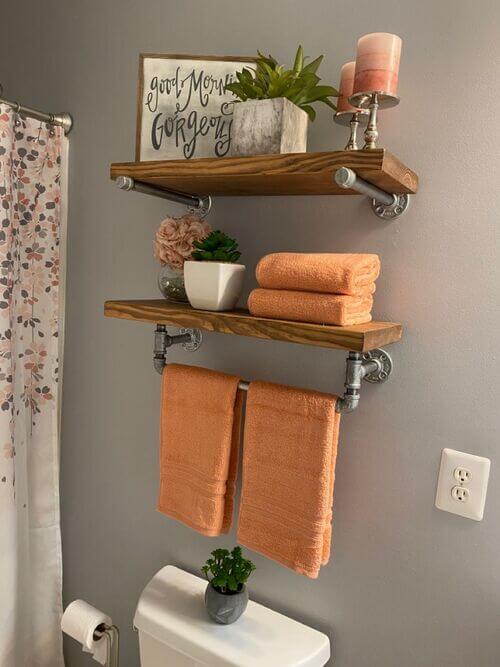 These rustic floating shelves are pretty and practical. I love that it includes a towel bar.
The warm wood looks really good with orange towels.
A clever decor trick for small bathrooms is to keep your color scheme cohesive.
A bright pop of color also helps in making your space feel cute.
12. Super simple over the toilet storage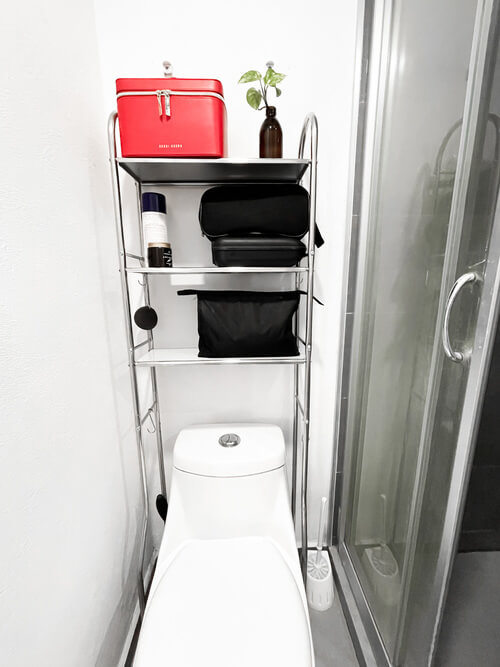 This incredibly simple yet effective metal over the toilet storage is from Amazon, and it works!
Especially in tiny bathrooms, you want to use simple storage solutions.
I use the shelf space to store toiletry bags with make-up, hair products, and other items I don't use daily.
13. Floating shelves and baskets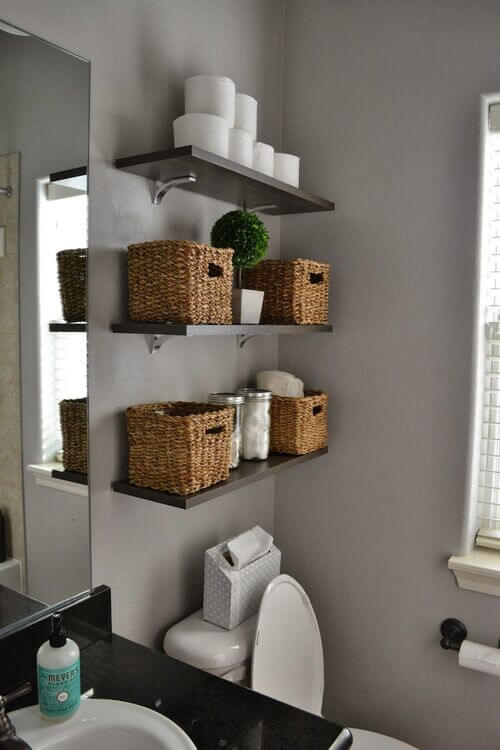 If you install floating shelves in your bathroom, limit the number of things you keep on shelves.
This bathroom is a great example! It uses baskets to store items, and just a few decorative items are on the shelves.
14. Over the toilet ladder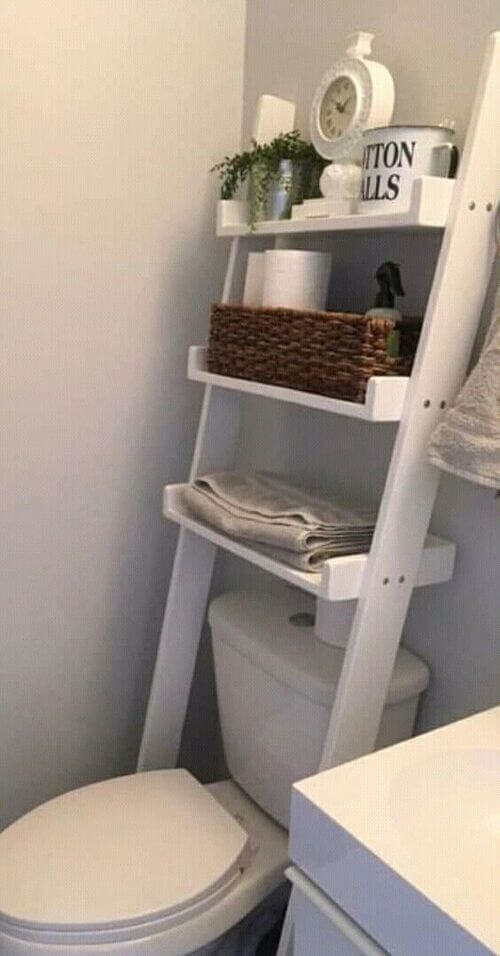 Storage ladders over the toilet look super cute and give you storage space!
Check out this DIY tutorial for making your own bathroom ladder shelf.
I'm not big on DIYs, so I'd probably opt for this inexpensive ladder from Amazon.
How to organize cabinets under the bathroom sink
Maximizing space in your bathroom cabinets is ESSENTIAL if you have a very small bathroom.
For example, in my bathroom, it's ALL the storage space I have.
So you better believe I made the most of it.
Let's look at some clever ways to organize cabinets under the bathroom sink.
15. Clear plastic drawers to store skincare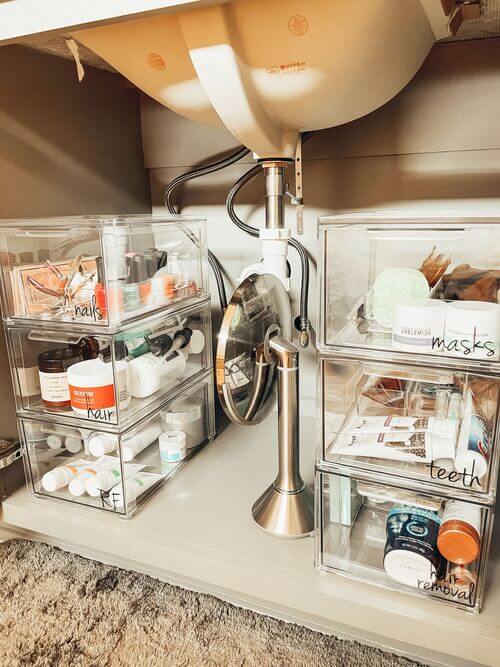 This is my favorite way of organizing the under-sink space.
The acrylic drawers show you everything inside, which is great for overview.
I find most acrylic drawers like this heavily overpriced, but this one is a fair price.
16. Organize with pull-out drawers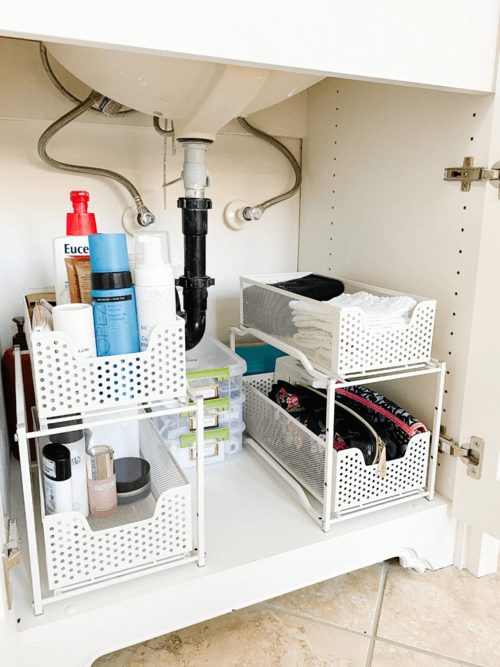 Another practical way of organizing your under-bathroom sink space is with these pull-out drawers.
This would be great if you want to store larger products.
For example, the acrylic organizers in #15 work better for skincare and make-up.
These pull-out drawers are nice for cleaning products, hair products, and things like toiletry bags.
17. Maximize space with a two-tier organizer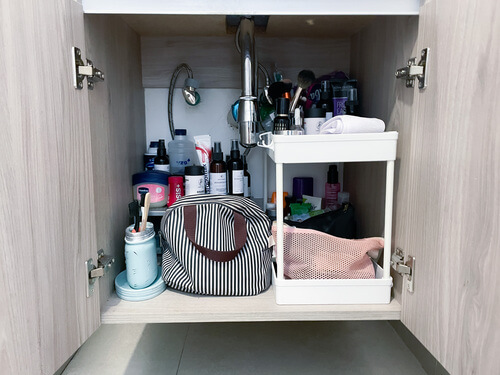 This is my own imperfect under-the-sink organization!
This two-tier organizer was the best way to organize the space because the cabinet is tiny.
I use the top part for products I use daily. So they're easy to grab.
The bottom part is for hair products and a toiletry bag with everyday make-up essentials.
Storing your products in clear toiletry bags is helpful if your storage space is tiny and you want to be able to grab what you need easily.
18. Use clear bins for larger products

Use large clear bins to organize your under-sink space.
Categorize each bin for the type of product you're keeping in it.
Storage bins and organizers aren't cheap (why is that?), but this 4 pack of clear bins are decently priced.
19. Create space with a shelf rack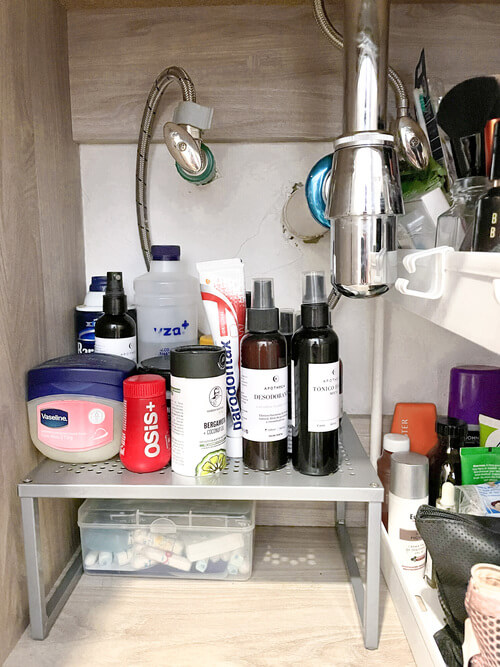 A shelf organizer like this is SO practical when organizing tiny bathroom spaces.
They're often advertised for kitchen cabinets, but I think they're great for bathroom cabinets too.
20. Inexpensive bathroom countertop ideas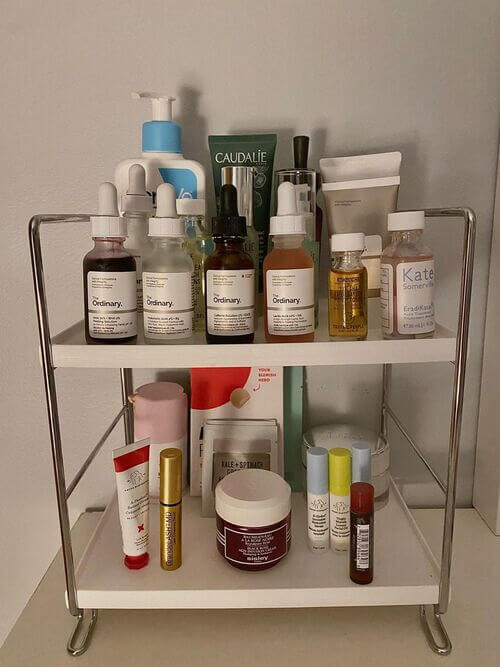 Consider using a countertop tray for skin care products and other essentials you use daily!
I know that not every small bathroom has enough counter space, but it's a good option if you do.
21. Tiny tiered tray for bathroom counter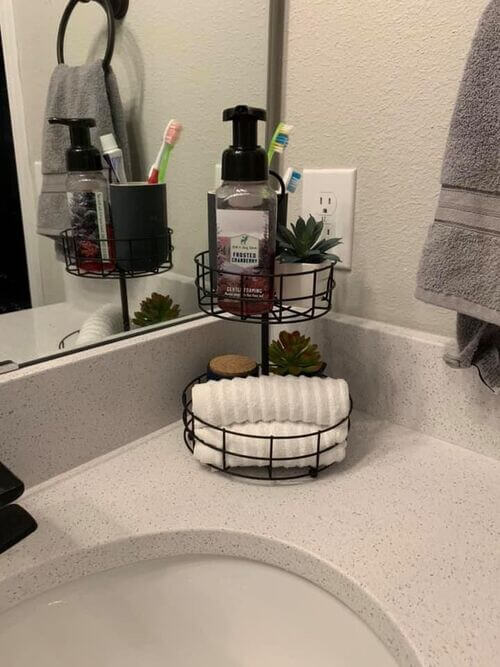 I love this tiny no counter space solution!
A tiered tray doesn't take up much space yet is still big enough to hold necessities like soap, small towels, and hand cream.
22. Minimalist bathroom decor and shelf space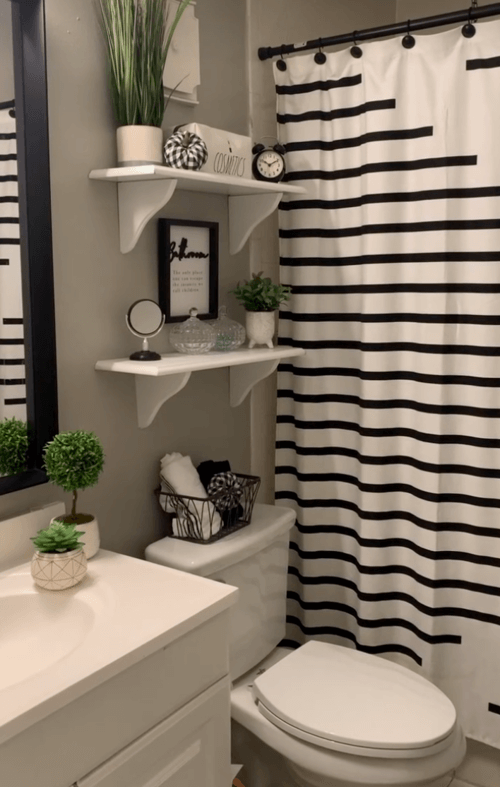 Minimalist decor is cute and perfect for tiny bathrooms!
Stick to a simple color scheme and add a pop of green for a fresh and organized bathroom.
Fake greenery, or easy plants like a snake plant, thrive in bathrooms!
23. How to organize bathroom toiletries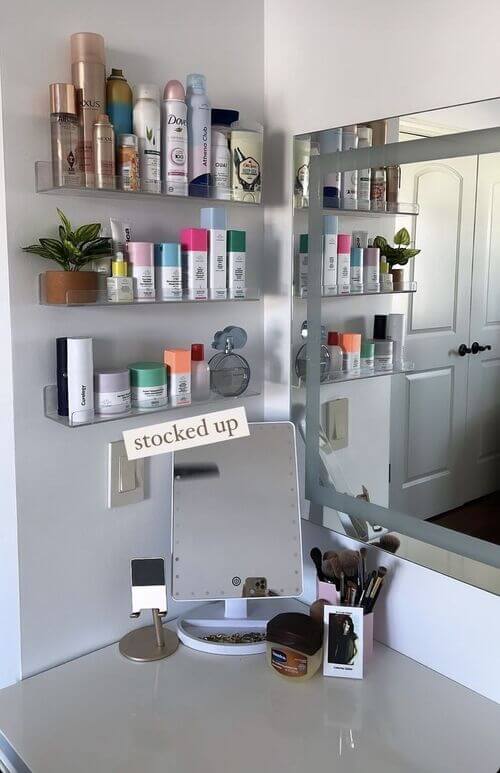 I LOVE these acrylic shelves for skincare organization. Organizing toiletries is so tricky in small bathrooms, because you can never find what you need.
I obviously speak from experience lol.
Mounting acrylic shelves on bathroom wall is a great way of keeping your toiletries organized and within reach!
The led mirror is also a must if your bathroom has poor lightning for doing make-up.
24. Make-up organizer and rolling cart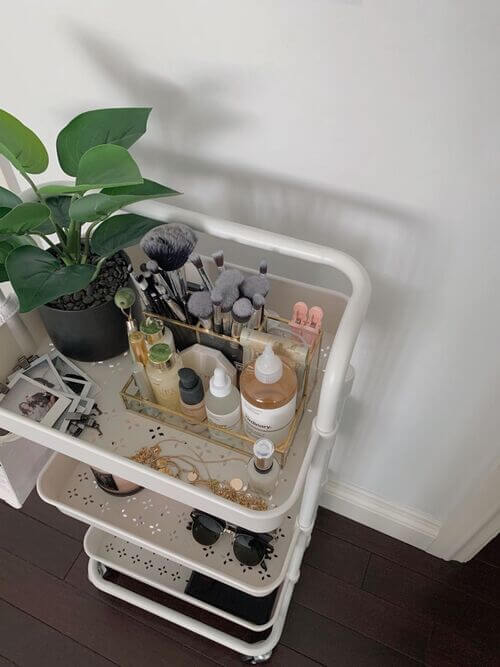 A rolling cart + acrylic make-up organizer = a real power combo!
You can keep this cart in your bathroom or bedroom, depending on where you prefer doing your make-up.
25. Small white shelves with ledge
If you're going to use bathroom shelves for small products like skincare and make-up, opt for shelves with a ledge.
This is safer! It also looks more put together 🙂
I really love this solution for small bathrooms with zero storage space.
This is the kind of stuff us girls use EVERYDAY and it's so annoying having to find everything you need in drawers and toiletry bags.
Shower storage ideas for small bathrooms
26. Simple shower caddy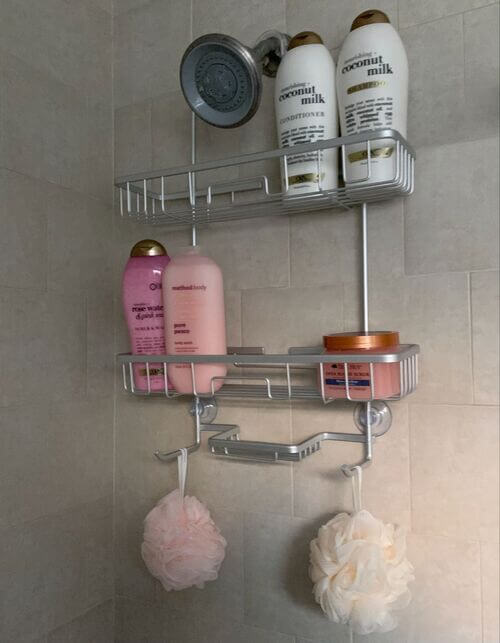 I use this shower caddy and it's perfect!!
No drilling needed as you hang it on the shower head.
Plus, it's way sturdier than you'd expect.
It holds all my shampoos and other essentials.
27. Shower storage basket with 3 pieces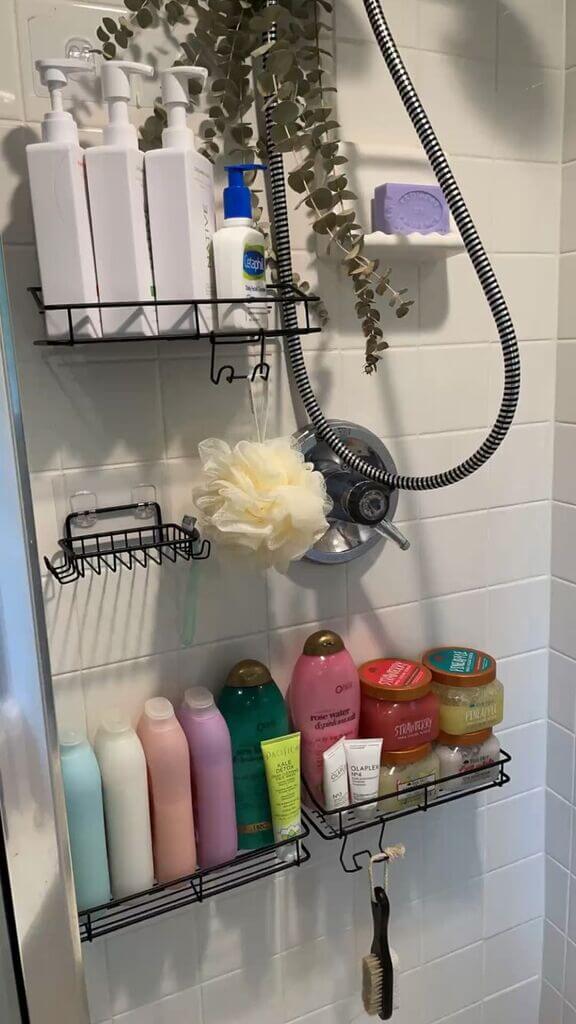 I recently found this shower organization set-up on TikTok and I'm obsessed!
It's a no-drilling set with 3 organizers and it's surprisingly affordable.
This shower storage solution is perfect for small bathrooms.
It's large enough to keep many shampoo and conditioner bottles.
Which is ideal because then you don't have to keep them in cabinets.
28. Shower suction shelves for corner and razor