Looking for the best kitchen cabinet organizers? This post shows you the best kitchen cabinet organizers to help you make the most of your space and keep your cabinets neat and organized.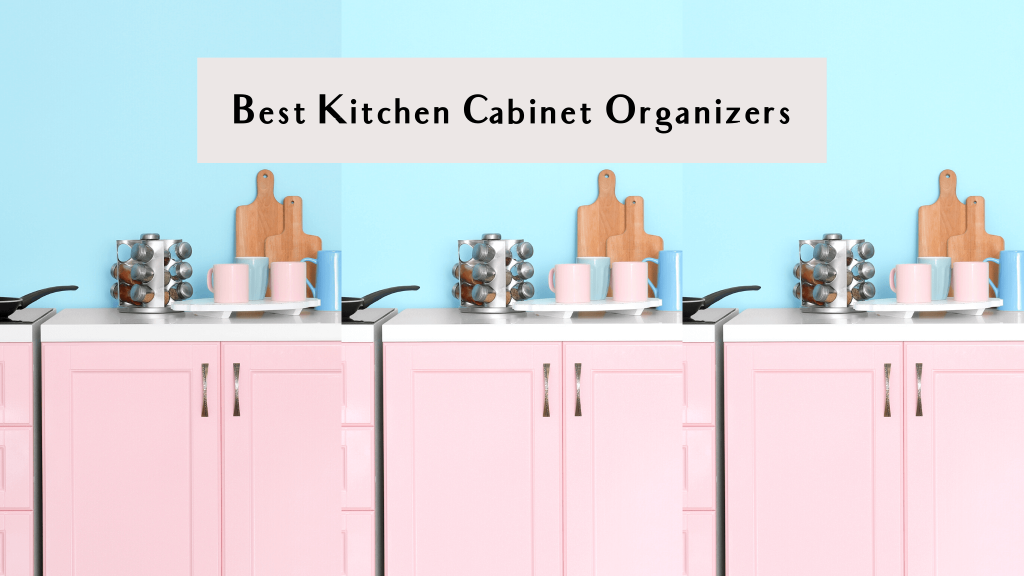 Kitchen cabinets can be challenging, even if you're an organized person.
I for sure struggled with organizing my kitchen cabinets. My kitchen is small, so I really have to think twice about what I put where.
In this post, I'm showing you the best kitchen organizers that will make your life a lot easier.
Yes, you need to do the work for organizing your cabinets, but these organizers make it a lot easier to maximize space and keep everything in its designated space.
Without further ado, let's have a look at the best kitchen organizers.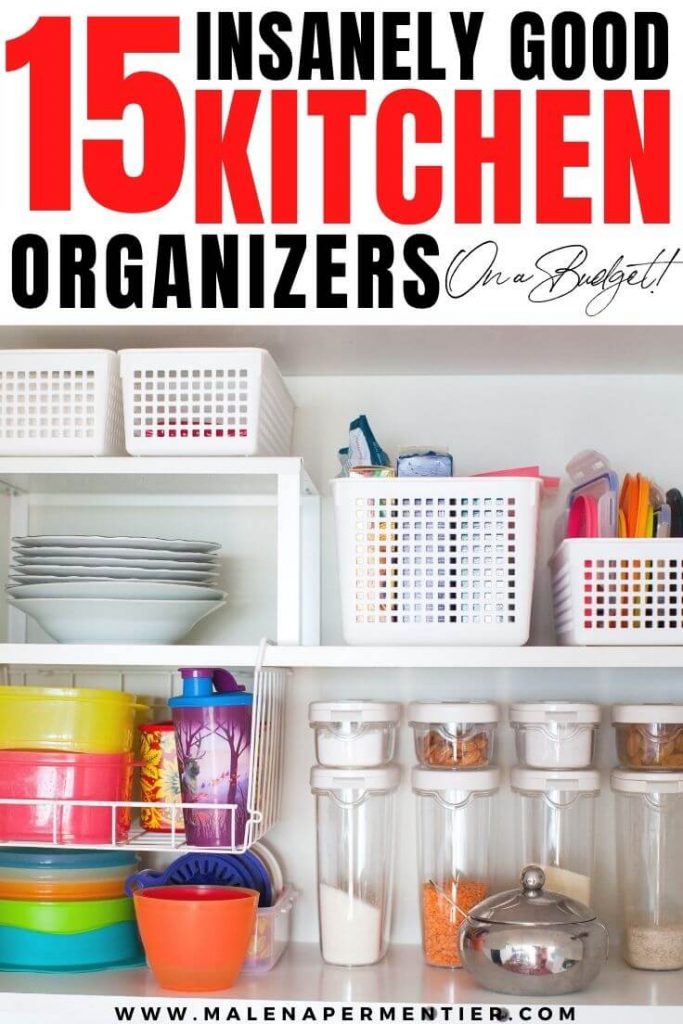 Best Kitchen Cabinet Organizers
1. Kitchen cabinet organizers pull out
These pull-out organizers for kitchen cabinets are great if you have limited space.
The small pull-out organizer is perfect for things like spices and cans. The big pull out organizer works for things like sauce bottles, jars, and other pantry items.
2. Over the door organizer

Things like cutting boards are a little tricky to organize in your cabinets. This set of two over-the-door organizers helps organize things while saving space at the same time.
The best spot to hang this organizer is on the base cabinet door or under the sink.
3. Kitchen cabinet organizers for pots and pans
Stacking pans properly in an organizer is a must if you want to take care of your pans.
The expandable pan organizer also works perfectly for organizing large platters and lids. In a small kitchen, one of these pan organizers will do the job.
4. Cabinet under the sink organizer

This simple under-the-sink storage tier is the organizer of your choice in small kitchens.
The perfect purpose of this organizer is to store your cleaning products, sponges, rags, and so on.
5. Dishes cabinet organizer
These dish stackers are something I personally swear by. If you have minimal cabinet space, these are true lifesavers.
Combine a 2 tier corner shelf with an expandable cabinet shelf. It will give you a ton of extra space to store cups, wine glasses, dishes, bowls, and plates.
6. Under the cabinet organizer shelf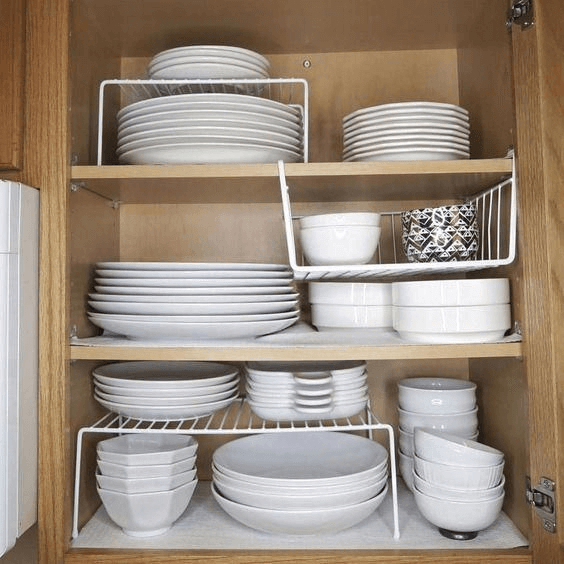 I recommend using this under the cabinet organizer shelf in the cabinet where you keep bowls and plates.
Use this under the cabinet organizer to store things like dessert plates or small kitchen utensils.

7. Kitchen drawer and cabinet organizers
Drawer dividers are great for organizing cabinet drawers where you keep utensils and silverware. I really like these bamboo drawer dividers, but you can also find them in clear plastic.
Want to maximize that awkward under-the-sink space? This under sink organizer is expandable and creates a ton of extra storage space.
8. Custom kitchen cabinet organizers
These cabinet slide-out shelves are a great solution if you have deep kitchen cabinets where it's hard to grab what's in the back.
Although they aren't officially "custom," they come in a range of different sizes. Make sure to measure your cabinet space before purchasing these.
On the product page, you find clear directions on measuring your cabinet to decide which size you need.
9. Kitchen upper cabinet organizers
In your upper cabinets, you want to place things you don't need all the time—for example, pantry items or dishes you only use for a special occasion.
These small stackable shelves are perfect for your upper cabinets and create extra storage space. The clear bins are stackable too. A powerful combo if you want to make the most of your kitchen space.
10. Kitchen cabinet inserts

These wooden kitchen cabinet inserts are pricey but look beautiful and make your cabinets so much more user-friendly.
The space between these shelves is over 11 inches, making it perfect for storing larger pantry items.
11. Kitchen pantry cabinet organizers
In small kitchens, you'll likely be using your kitchen cabinets as a pantry. I sure do! Because pantry space is limited, it's key to keep things organized.
These plastic organizers are stackable, making them ideal for making the most out of your kitchen cabinet
12. Kitchen base cabinet organizers
Most people use their base cabinets for pots and pans, Tupperware, cling and foil wrap, and cleaning products.
I highly recommend getting an organizer for your base cabinet for storing your foil wrap, zip lock bags, and things like that.
Besides that, a pan and pot lid organizer is great for the base cabinet. You can use this organizer for many different things—for example, muffin trays, a baking sheet, cutting boards, and so on.
13. Blind corner cabinet organizer

This rotating organizer is perfect for those deep cabinets where it's so hard to reach stuff.
You can use this turntable for all your sauces, spices, and oils.
14. Kitchen cabinet storage solutions
3 kitchen cabinet storage solutions that I think are worth getting:
Expandable under the sink organizer
Stackable cabinet organizer (for pantry organizers or dishes)
Turntables for things like spices and oils
If you have small kitchen cabinets, these solutions are a great help maximizing your storage space.
15. Kitchen base corner cabinet organizers
These wedge-shaped organizers are excellent for corner cabinets.
Please have a look at the wedge-shaped organizer product page for some great inspiration on how to use it in your cabinets.
This post showed you the best kitchen cabinet organizers.
You may also like: