This post shows you 23 beautiful danish pastel room ideas.
So what is Danish Pastel?
It's an aesthetic with pastel colors that is very popular among teenage girls and college students!
This style combines soft colors like yellow, pink, green, and lilac.
Danish pastel decor is feminine, with cute intricacies and details.
A few signature danish pastel decorations include fake vines and wall posters.
This post will cover some great room ideas that will help you recreate this aesthetic for yourself.
I'll also link the best places to buy the danish pastel decor you see in the pictures.
Save pin for later 🙂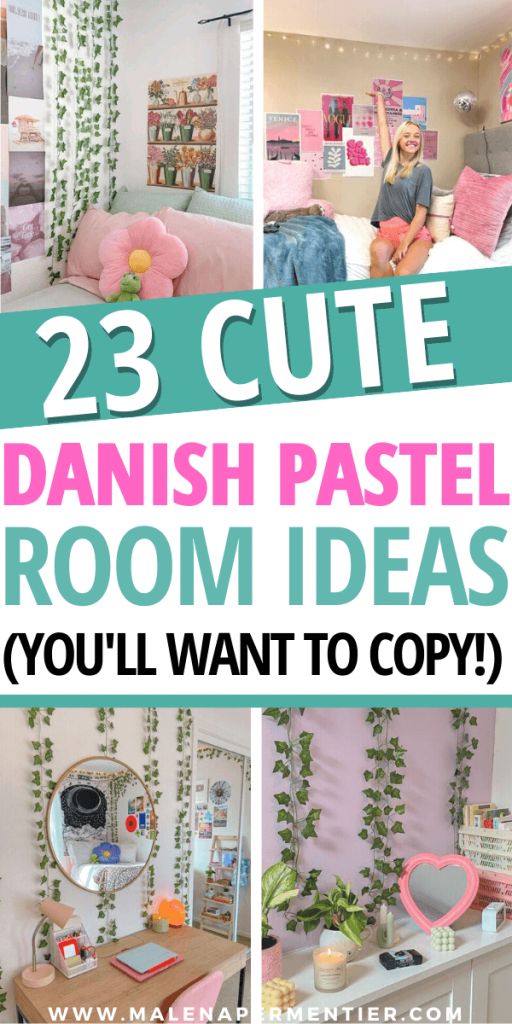 Danish pastel room decor
1. The pink flower pillow and vines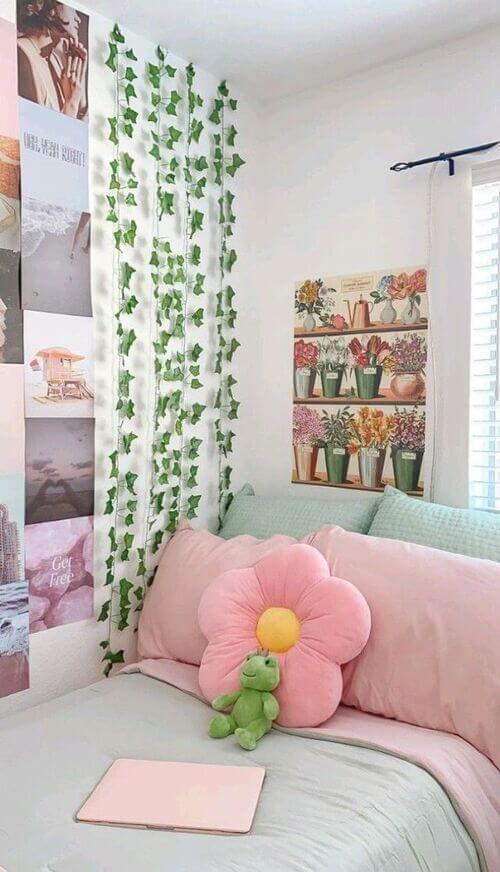 The ultimate danish pastel room needs the iconic flower pillow! If you're on TikTok, you know that everyone is obsessed with this pillow. You can get it in many different pastel colors like coral, green, yellow, and purple.
Pastel colors look good with faux vines! So you need these in your life.
2. Danish pastel bedroom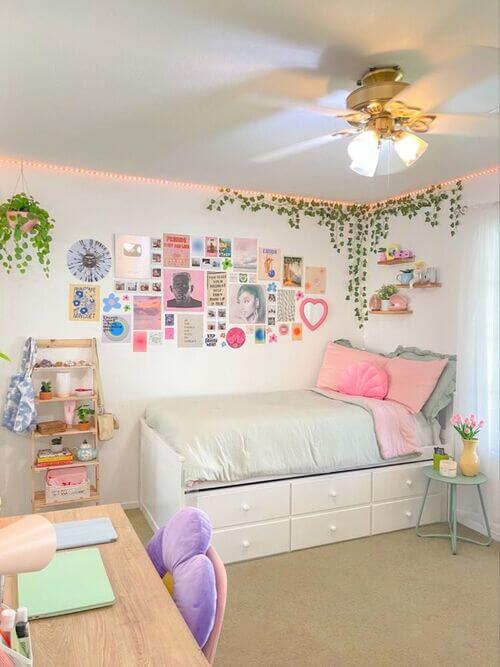 This room is the ultimate example of how to pull off a danish pastel bedroom.
Make a wall collage with aesthetic pictures; amazon has many affordable options.
The pink heart mirror and shell pillow are another two super popular items for girls' bedrooms.
They're also affordable, which I love. 🙂
3. Cute desk situation with pastel colors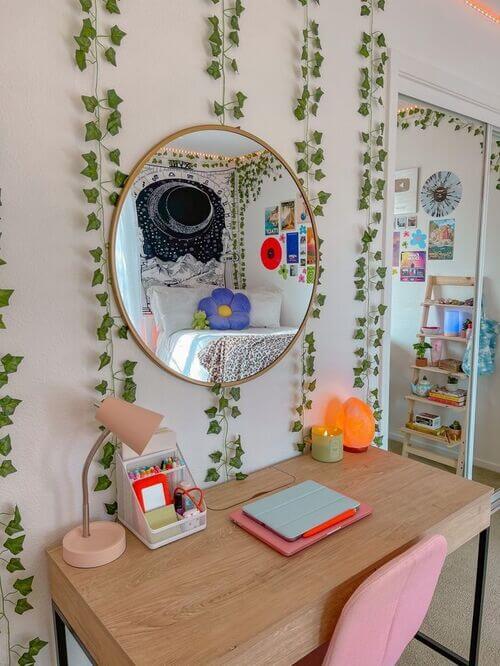 4. Ceramic trays for jewelry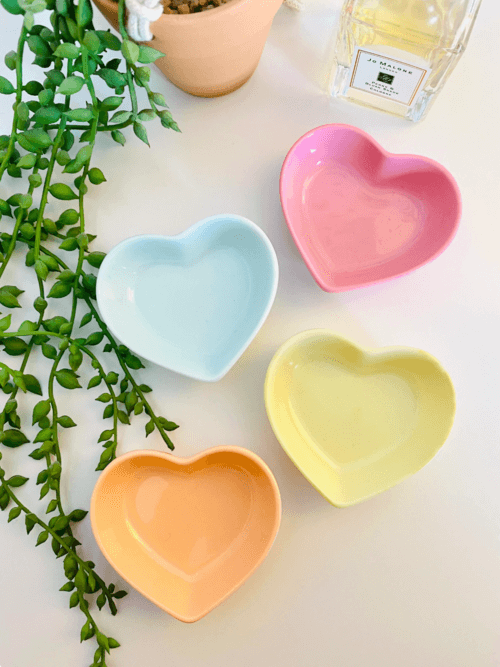 These ring dishes from Etsy are the cutest.
They're available in pretty colors and are inexpensive.
They'd make a great unique addition to any room with a pastel aesthetic.
5. Pink string lights and wall collage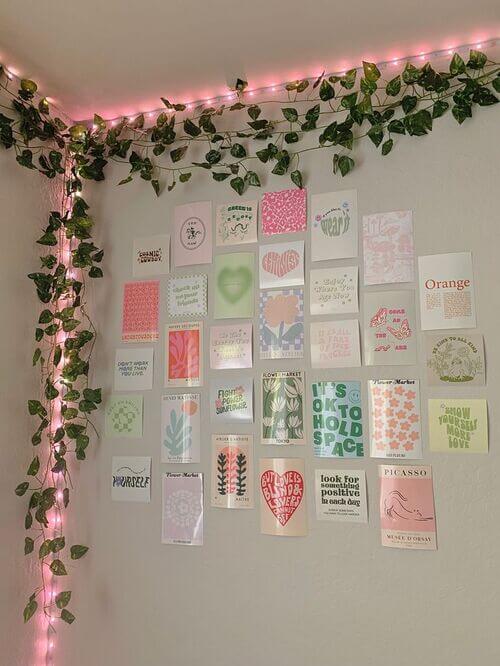 A wall collage is a simple and pretty way to decorate your room.
You can get cheap wall collage kits on Amazon in different colors.
I love the combo of pink and sage green.
Line string lights at your ceiling edge for a cool vibe!
Related: 21 Beautiful Picture Wall Collage Ideas For Your Bedroom To Copy Immediately
6. Pink pastel dorm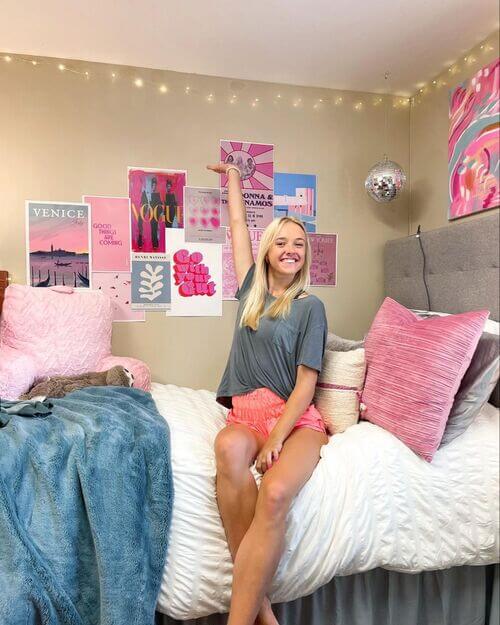 Pink pastel decor also looks super cute in dorm rooms.
This aesthetic isn't strictly danish pastel, but the color combos and wall collage are super creative.
Related: 25 Cute Dorm Room Ideas For Girls In College (Best Inspo for 2022)
7. Shell jewelry dish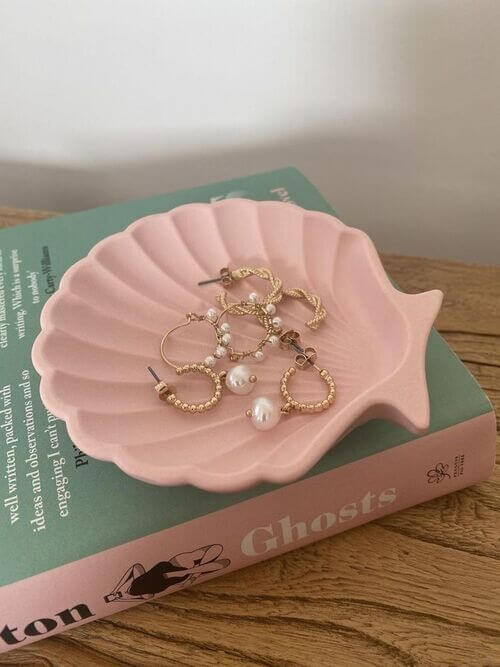 Etsy has the best decorations if you want unique things to decorate your room.
This pink shell dish is perfect for displaying your everyday jewelry.
8. Wall grid with aesthetic pictures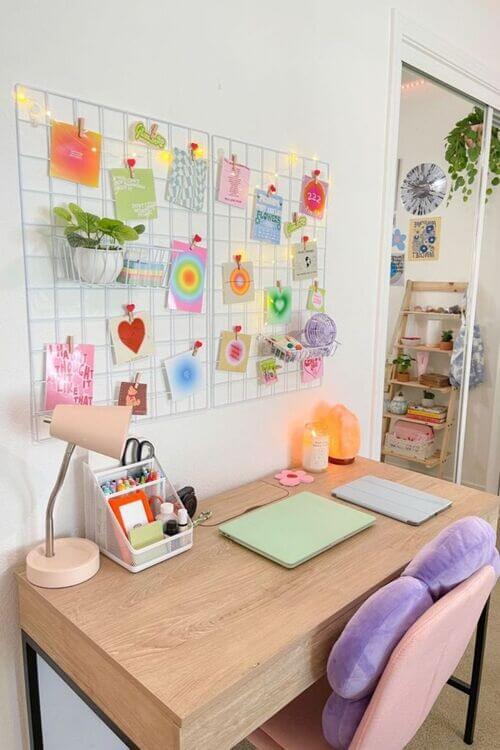 I love this desk decor!
You'll spend a lot of time at your desk if you're in high school or college, so better make it cute.
Wall grids are practical because you can hang pictures without ruining the wall.
9. Floating shelf and danish pastel posters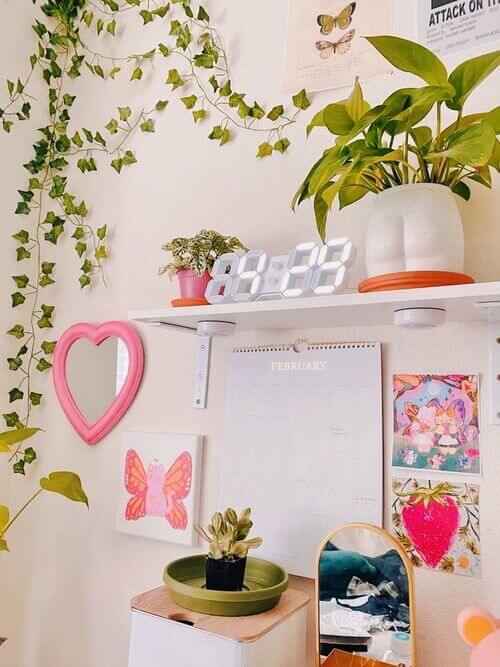 This 3d led clock is one of my favorite things I've come across lately!
It has the perfect modern vibe to go with the pastel decor.
Something else that complements a girly room is botanical posters.
You have ones with flowers, butterflies, etc. They look cute and vintage.
10. Velvet arched nightstand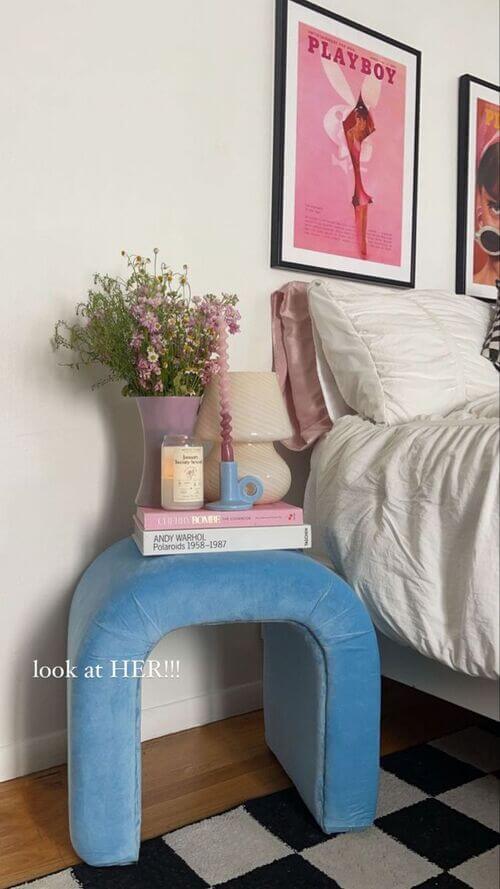 How unique is this nightstand? It's honestly the best. I heard it's from Urban Outfitters, but I couldn't find it.
When something is popular, however, they usually bring it back in stock.
I am also obsessed with the twist candles – so simple and cute.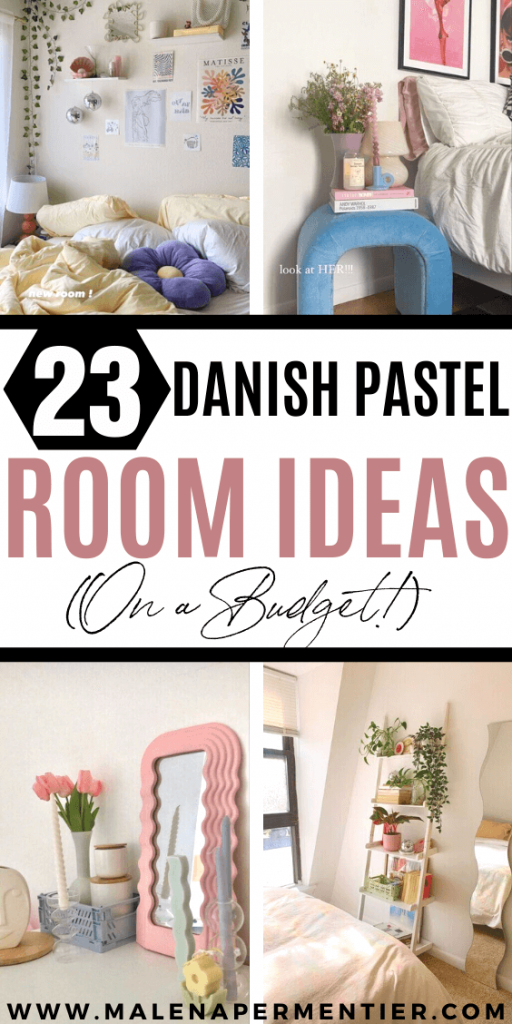 11. Wavy mirror and ladder shelf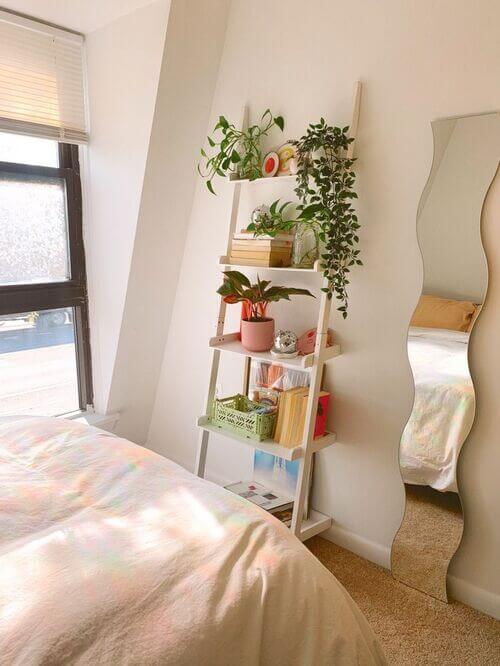 12. Matisse posters and yellow pastel bedding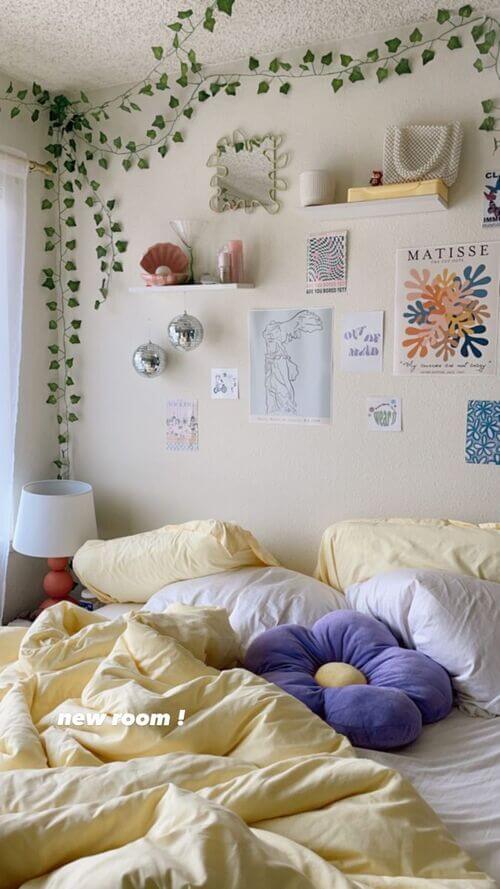 This yellow bedding is so calming and cute!
Obsessed with the color.
Matisse posters are a must-have for danish pastel rooms.
You can get affordable Matisse posters on Amazon.
13. Sage green and pink color scheme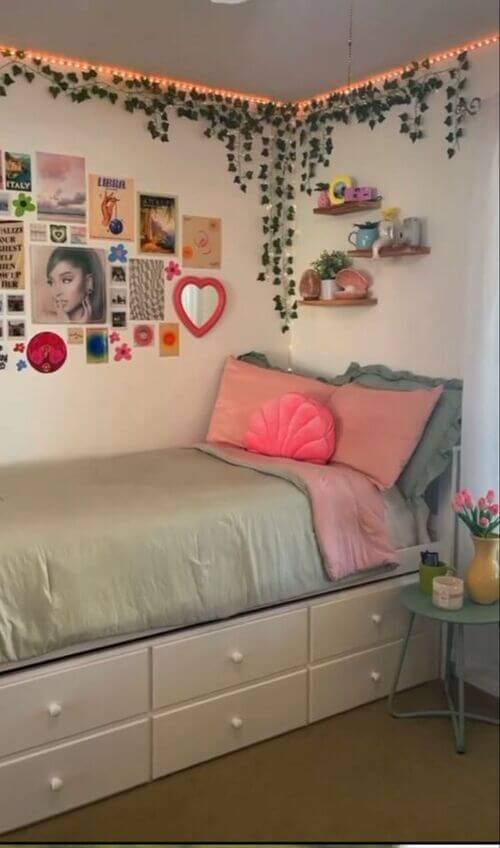 Who knew sage green and pink would be such a great combo? I sure didn't.
This room is so unique and creative; I love it.
Get three small floating wood or white shelves over your bed to decorate with your favorite items.
14. Lilac and green color combo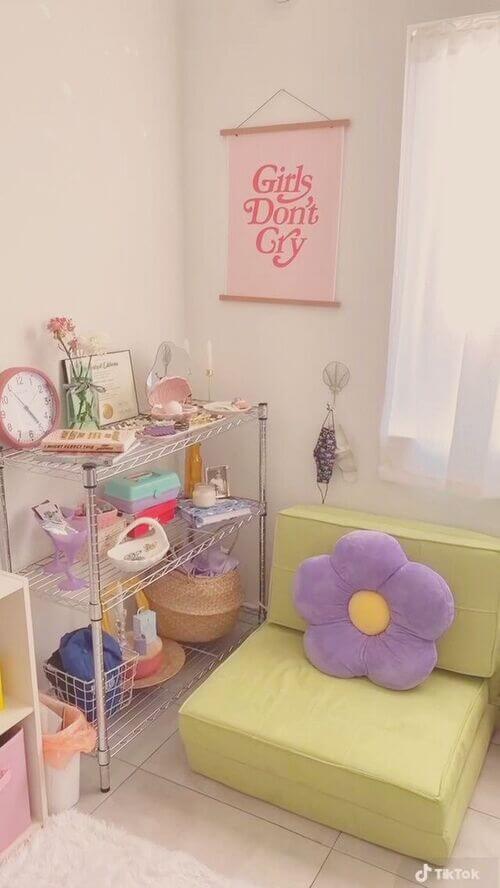 One thing that inspires me most about the danish pastel aesthetic is that it lets you pair so many different colors (without your room looking chaotic).
For unique danish pastel posters, Etsy has the best options.
It's also nice to support small businesses 🙂
15. Trendy wavy pink mirror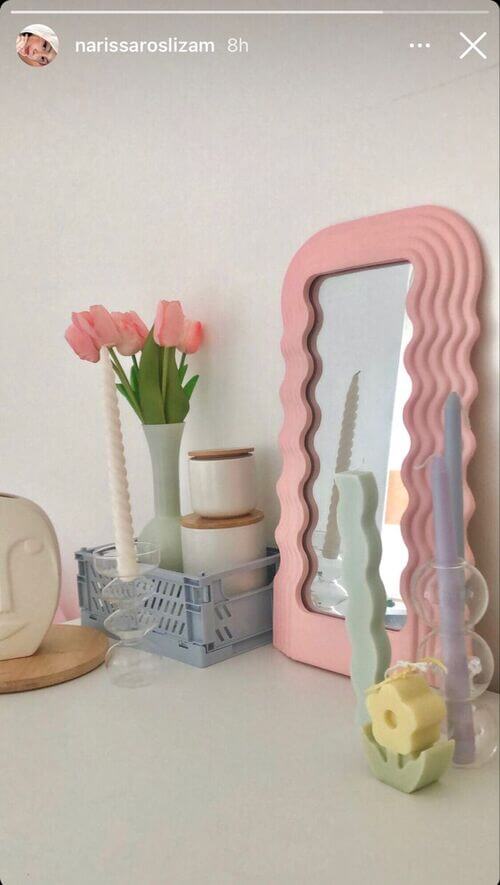 Two items you probably see all the time: the wavy pink mirror and pastel storage crates.
They're both so cute and inexpensive.
Great options if you're decorating your room with this aesthetic.
16. Bubble candles and the iconic pink heart mirror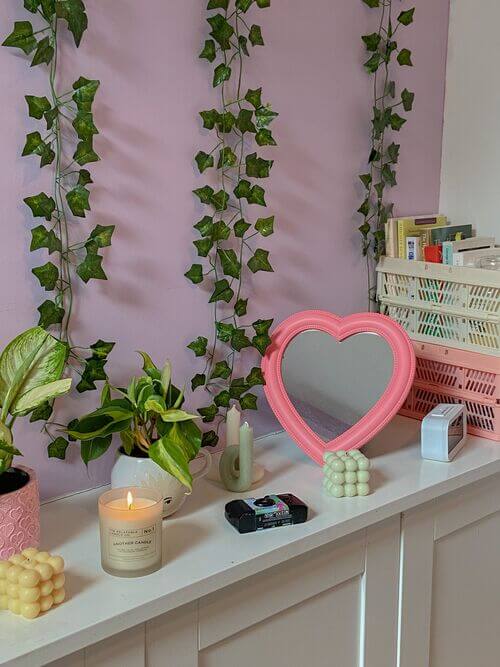 The combo of bubble candles, yellow storage bins, and the iconic TikTok heart mirror is so cute!
You can use these items to decorate shelves or place them on your nightstand.
The storage bins are insanely cute and great for storing small items like nail polish, books, jewelry, and other things you keep in your room.
17. Pastel flower market posters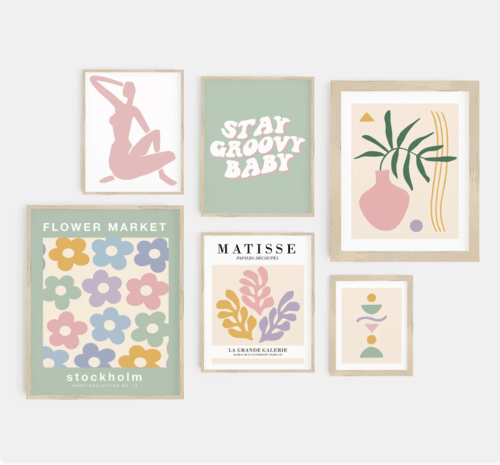 As I mentioned above, Etsy has gorgeous options if you're looking for danish pastel posters.
Sage green is such a stunning color that works great in any room.
18. Pink wall collage and minimalist desk situation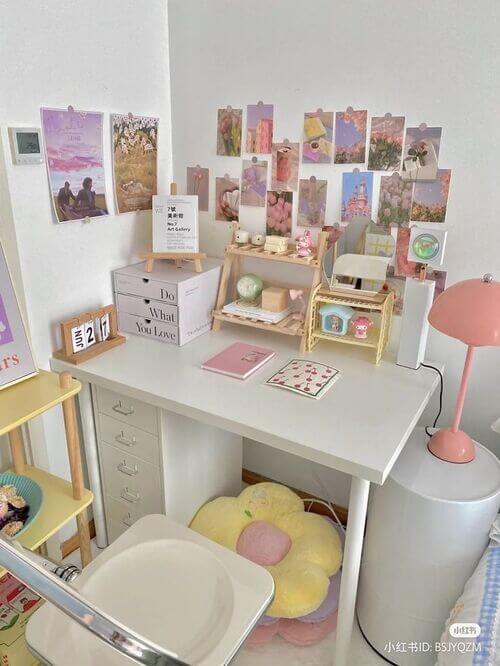 You can buy wall collage kits with 50 or 100 aesthetic pictures in a particular color scheme or style.
On Amazon, type in danish pastel, pink aesthetic, fairycore, or bohemian to find the perfect wall collage pictures for your room.
19. Preppy wall collage and vines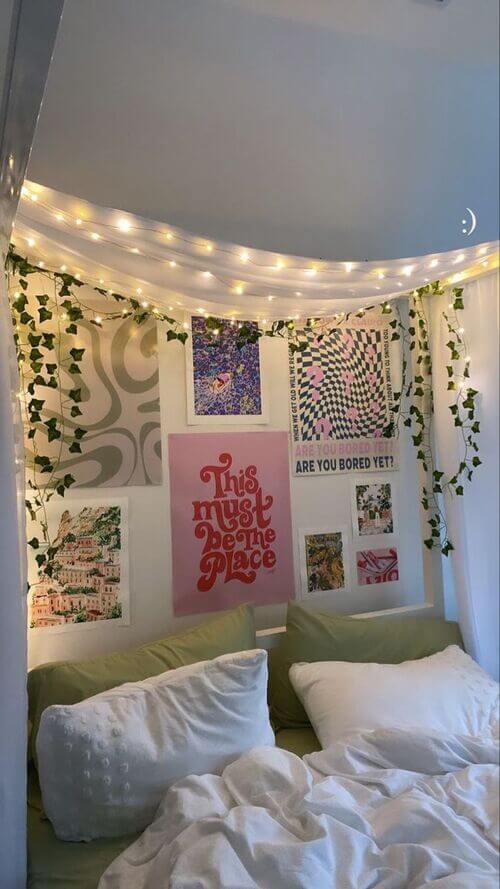 The preppy room aesthetic has similarities with pastel danish.
However, preppy decor is brighter and usually revolves around pink and blues.
Danish pastel is much more subtle.
When you're looking for cool posters that fit either of these aesthetics, you'll find similar posters under danish pastel and preppy.
Find "this must be the place poster" on Lindsey Kay Collective.
20. Matisse art and fluffy throw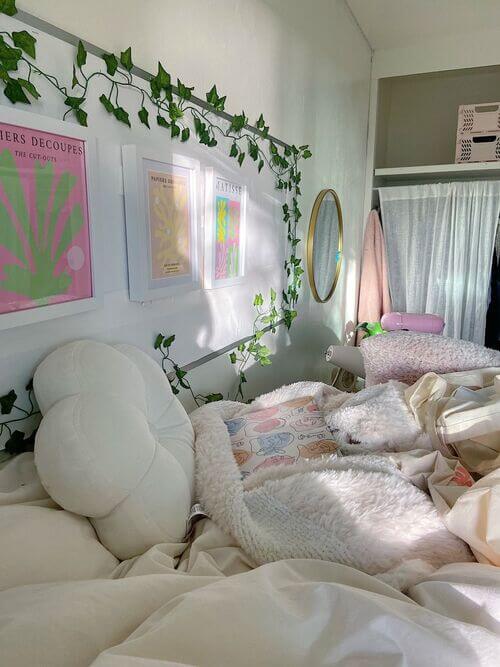 Throw blankets, and cute pillows can elevate your room decor!
Layering different colors like light green, white, and pastel pink.
Best Matisse posters here.
21. Cute decorative items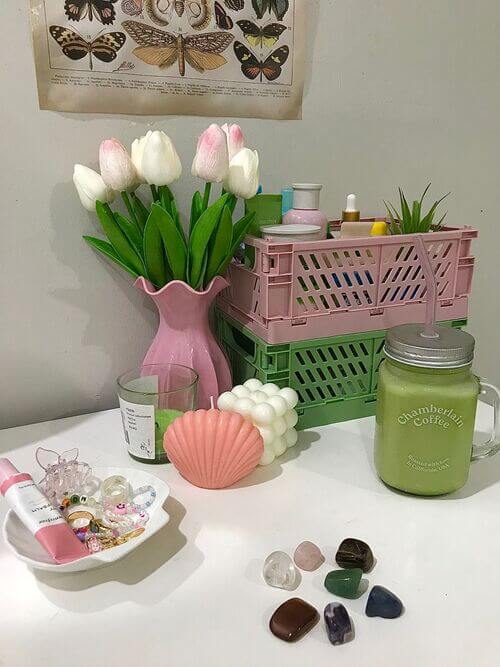 Small decorative items go a long way when you're decorating your room!
These ceramic jewelry trays and plastic storage bins are amazing.
22. White fuzzy throw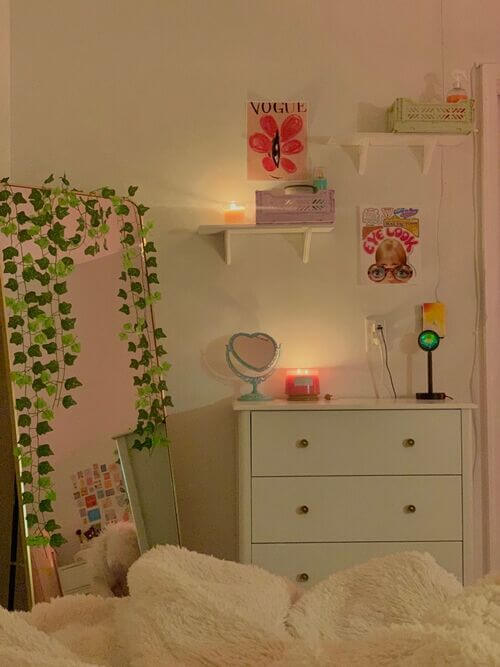 I think fuzzy throw blankets are a great fit for the danish pastel aesthetic!
If you want something neutral, go for white.
Otherwise, light pink or green are great options too.
And again, the trendy pastel storage bins that everyone and their mother owns :).
Not a bad thing at all; they're just cute.
23. Etsy danish wall posters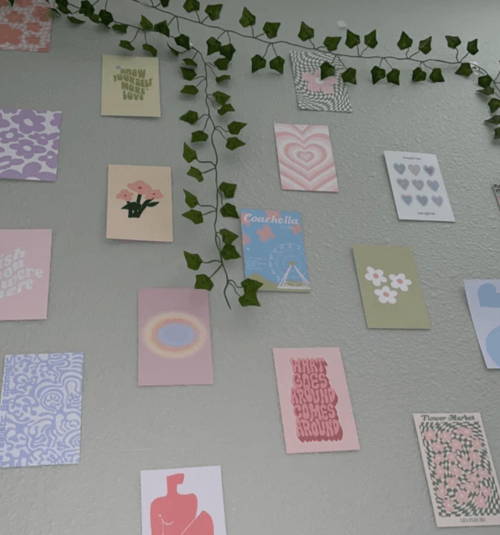 These pictures are only 4×7, but together on the wall, they look amazing.
You can get a set of 40, 60, or 80 pictures on Etsy for a very reasonable price.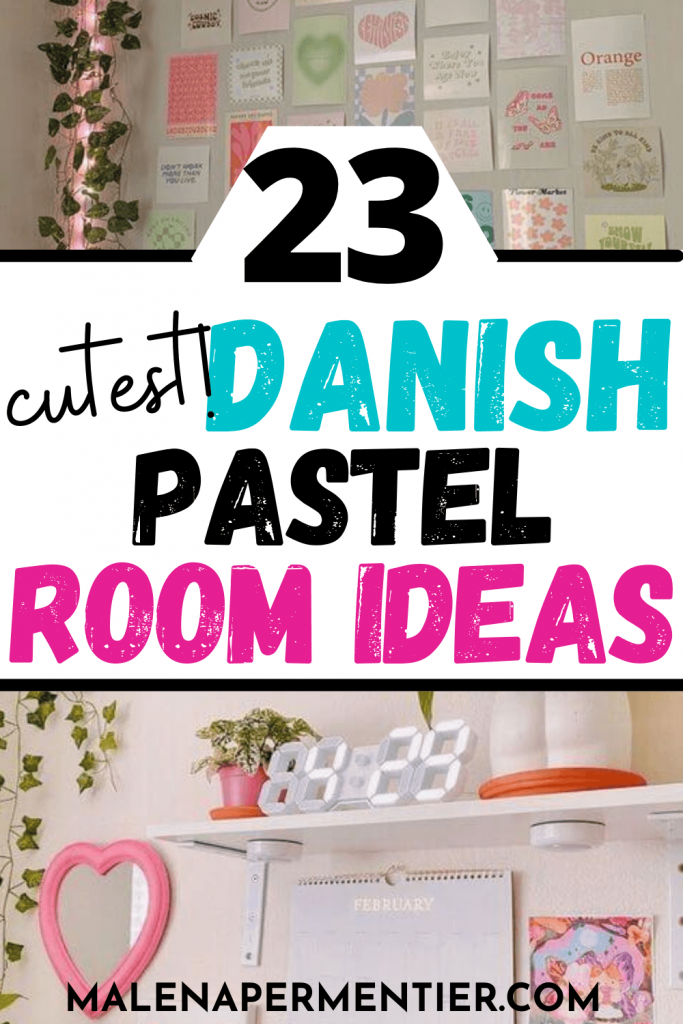 This post showed you the best danish pastel room ideas.
You may also like: