This post shows you cute dorm room ideas for girls!
'Tis the season of moving into your dorm room!! For many girls, it's their first time living away from home, which is so exciting (and a little scary).
Decorating your dorm is one of the coolest things you can do, so you want to shop around and get as much inspo as possible!
One thing I recommend to keep in mind is picking dorm furniture and decor that you see yourself loving for the following years. Longevity is key!
These 25 dorm room ideas for girls give you the best inspo to make your dorm cute, homey, and cozy.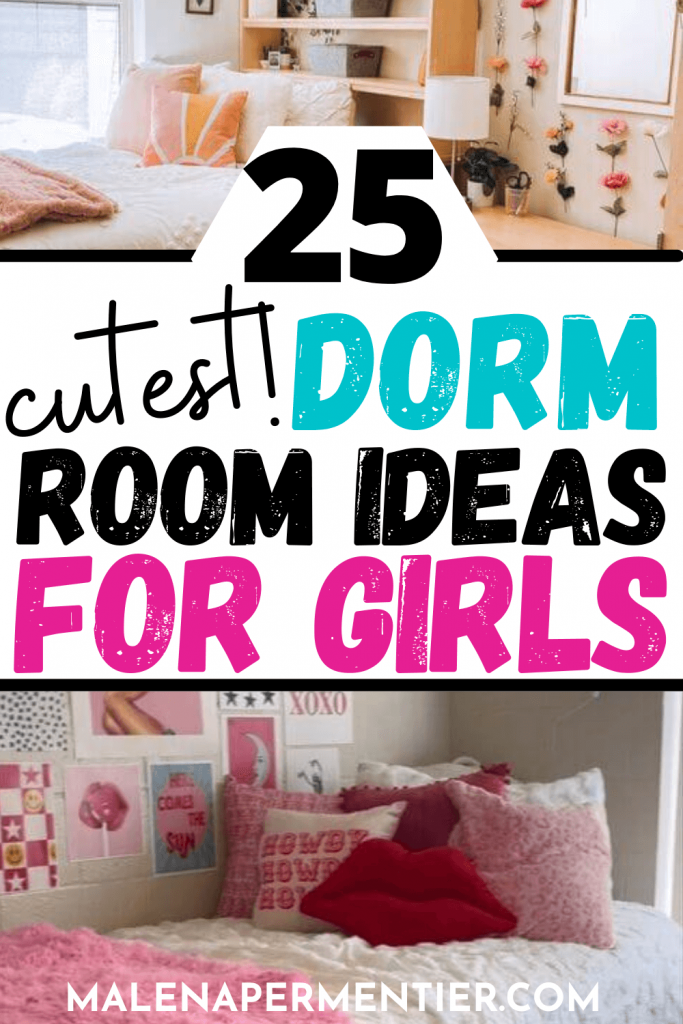 Cute dorm room ideas for girls
1. Simple dorm wall decor with flowers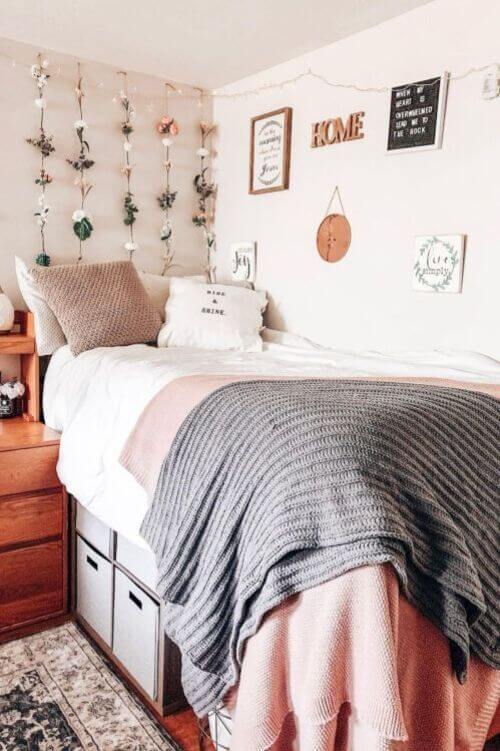 A cute and easy way to brighten up your walls is with a flower garland.
You can cut the 16ft garland in strings to fit the space over your bed.
For under $20, that's a super inexpensive dorm decorating idea!!
Pink roses look cute, but you can also go for white flowers, classic vines, sunflower vines, or pink cherry blossoms.
2. Neutral bedding and floral wall decor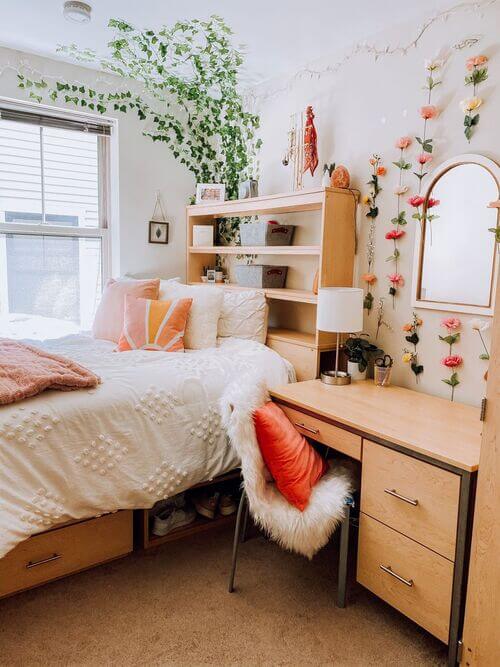 My recommendation for dorm rooms is to go for light-colored bedding.
Light colors make small spaces feel bigger.
To spice things up, you can go for bedding with tufted details or pom poms.
Neutral bedding is also the most versatile if you want to change up your dorm decor at some point.
This dorm is a great example of getting creative with faux vines and flower garlands!!
You can also buy individual artificial flowers to use as wall decor.
3. Decorate with mirrors to make your space look bigger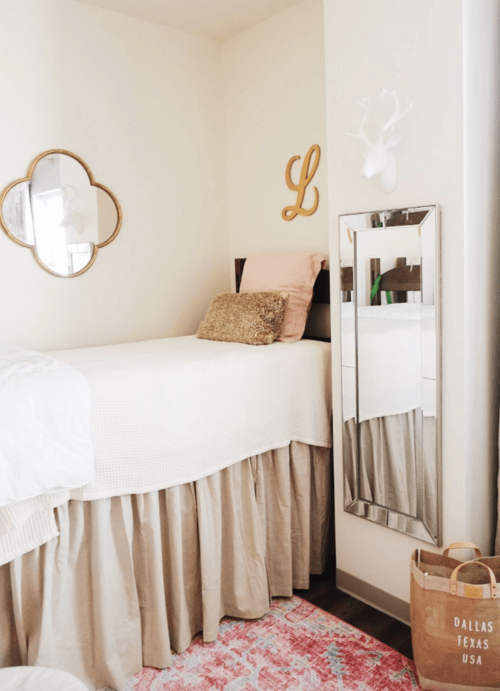 Mirrors are the secret to making your dorm look bigger than it is (plus, it's super chic).
If you want to decorate your dorm in a girly yet classy way, cute mirrors will help achieve that.
Consider a unique shaped mirror and a full-length mirror.
People don't talk about this enough, but a cute rug takes your dorm room to the next level!
Dorm room floors are usually a little drab.
Rugs for dorms are small-ish, so not nearly as expensive as living room rugs.
You can find beautiful rugs for your dorm for under $100!
Check out this overview with rugs under $100 that are perfect for girl dorm rooms!
4. Colorful dorm decor and wall collage for a cool aesthetic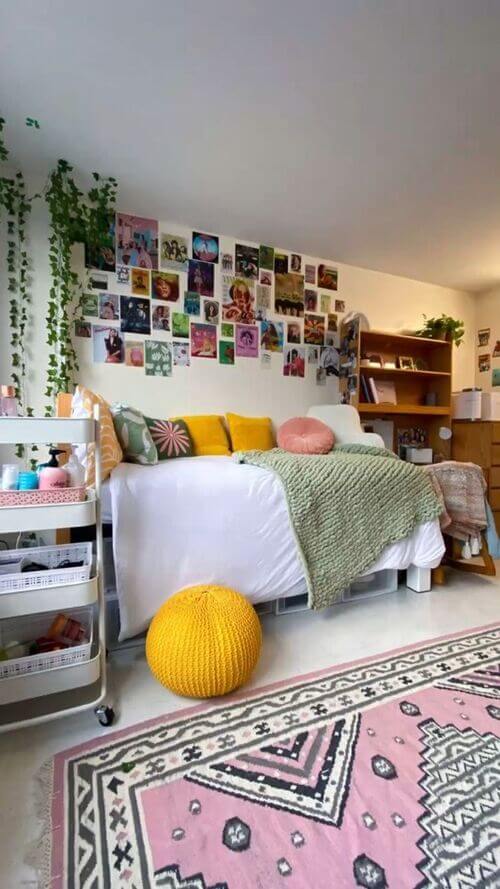 Wall collage kits are super popular amongst college girls!!
They're cheap, and you can buy wall collage pictures of many aesthetics.
What I love about this bright and fun dorm is that it mixes and matches lots of colors, but the space doesn't look overwhelming.
Tip: match your wall collage pictures with the colors of your throw pillows, rug, and ottoman pouf.
Now a functional note: this cheap rolling cart is one of those dorm essentials every college student swears by!
Related: 25 Best Aesthetic Wall Collage Kits For Room Decor In 2023
5. Clever cube nightstand and storage ottoman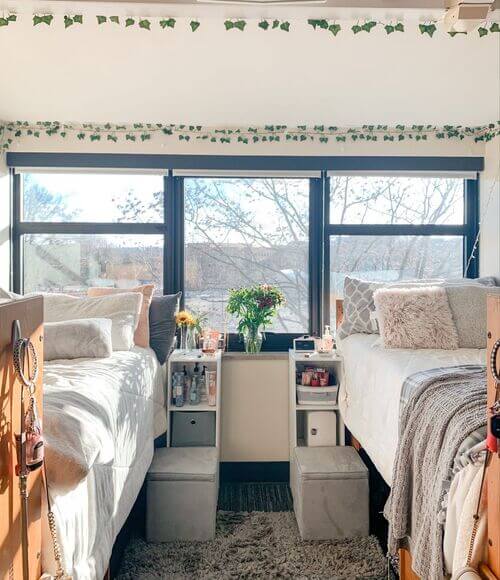 This shared dorm for two people is so clever.
Nightstands for dorms can be tricky, but these girls are smart to use a small cube organizer instead.
It's perfect for extra storage space and also inexpensive.
Because dorm beds are usually lofted, you need a taller nightstand.
These aren't easy to find (and if you find them, they are expensive!!).
Using a nightstand alternative in dorms like a small bookcase or cube organizer is super clever.
This drawer chest with wheels is another dorm room favorite to replace a traditional nightstand.

Related: 27 Dorm Room Storage Ideas That Look Cute & Save Space
6. Cute & preppy dorm decorations (pink & white color scheme)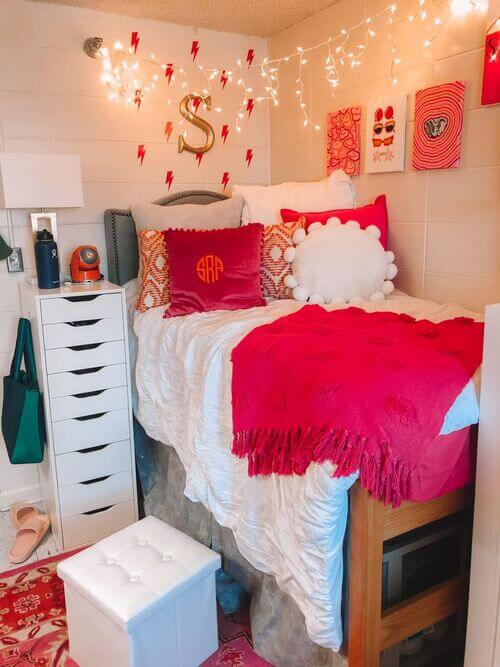 Initial wall decor, like the S over the bed, is super popular.
When sharing a dorm, it's one of those things you can do to claim your space, haha.
Preppy dorm decor with white and pink is trendy in 2023, so prepare to see a lot of this!!
Amazon has the BEST preppy pillows that you must check out.
7. Macrame wall hanging to decorate drab dorm walls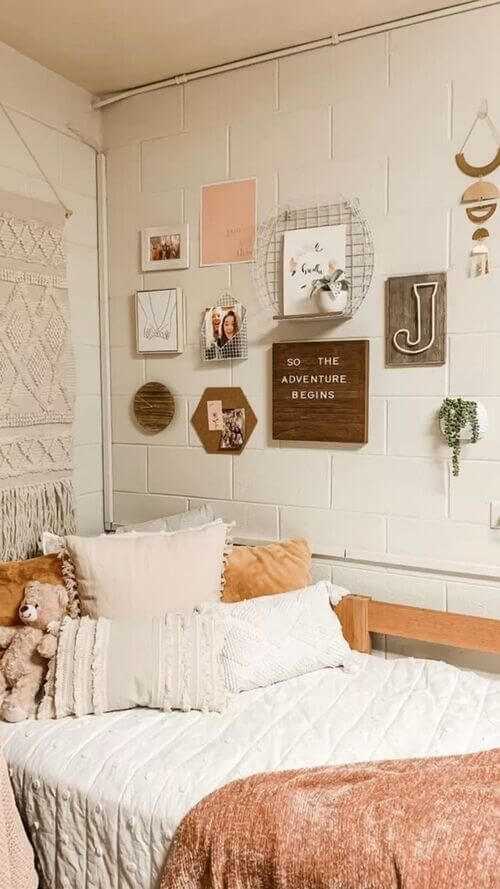 This dorm shows how to be super clever when decorating your dorm walls!!
Walls in dorm rooms usually aren't the most aesthetic looking.
This room has elevated the walls with a macrame wall hanging, making the space look cozy and chic.
If you don't like your dorm room walls, don't be afraid to go all out with wall decor.
You can go for neutral wall decor to not overwhelm your space.
8. Trendy dorm decor and floating wall shelves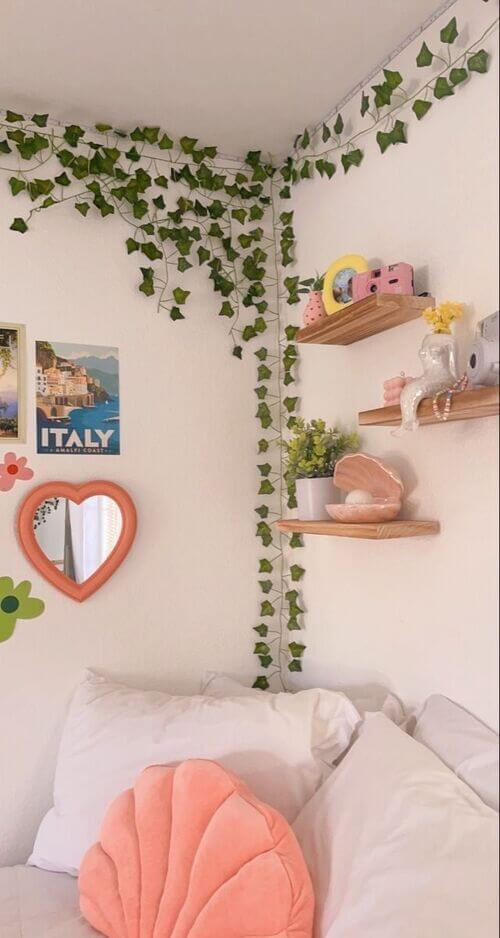 This heart mirror and the shell throw pillow have been insanely popular amongst college girls.
They're available in different colors to match your dorm aesthetic.
Loving the subtle beach theme going on in this room!!
The floating shelves are also adorable.
This is something that I'd recommend for every dorm room.
Must-have pastel wall collage kit:

9. Eclectic dorm decor mixing and matching colors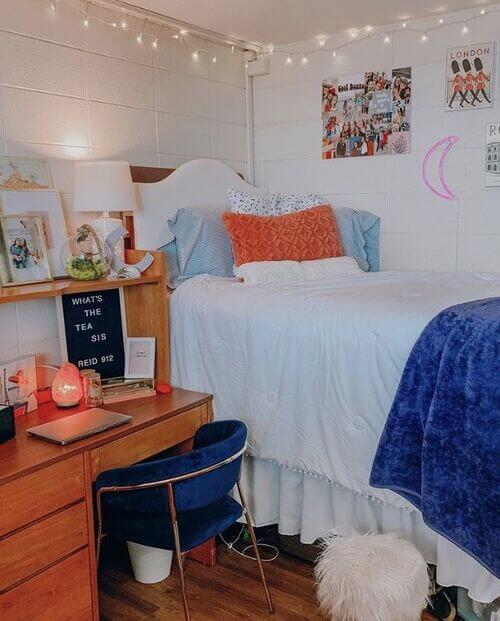 Dorm rooms often have chestnut furniture!! Which is already a pretty intense color.
So you have to be mindful of that when decorating your dorm.
I like how this space is fun and eclectic, using different colors.
Velvet blue and orange look great in a dorm with standard wood furniture!
Using a letter board (for inspirational quotes or simply writing down your name) is a super cute dorm decorating idea.
10. Rainbow pillow and ruched white dorm bedding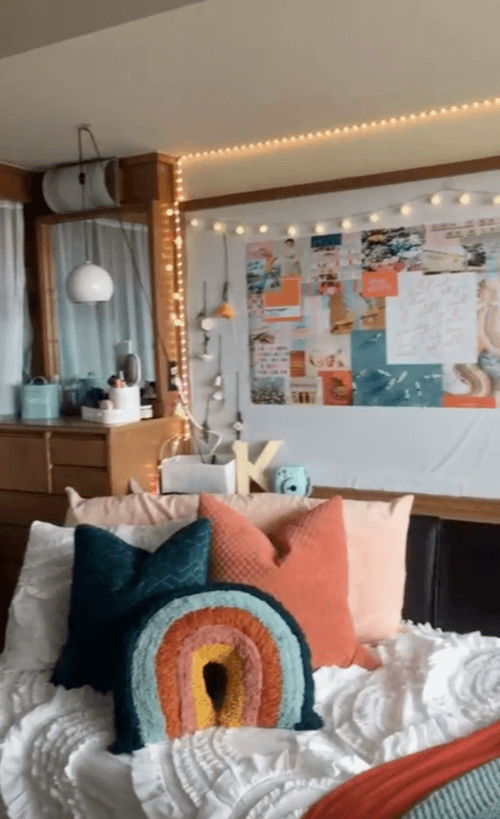 The rainbow pillow is the cutest thing ever!!
The one in the picture is from Bed, Bath & Beyond but is currently sold out.
Since it's so popular amongst college girls, it might come back in stock this fall.
Loving the throw pillow situation + wall collage aesthetic going on in this dorm room!!
11. Round floating shelf for dorm wall decor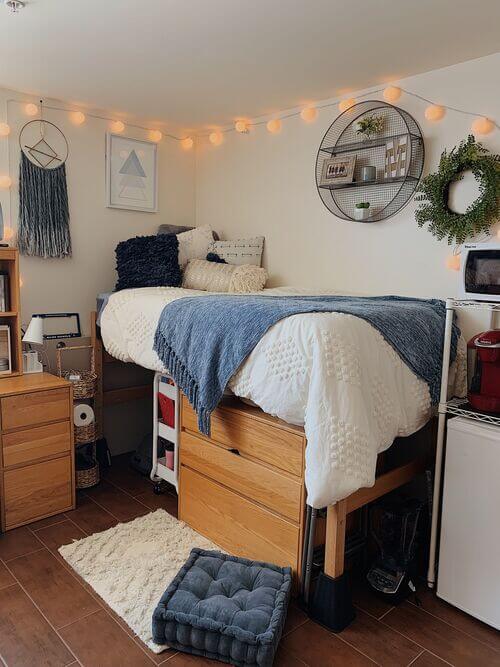 Pom pom lights in your dorm might look even better than regular string lights!!
I love the neutral aesthetic in this dorm. The muted blue tones make the space look super stylish and cool.
Every dorm needs some shelving on the wall!
This mesh round shelf is the coolest thing ever and offers enough space for books and decor.
12. Cute storage bins to maximize storage space in small dorm rooms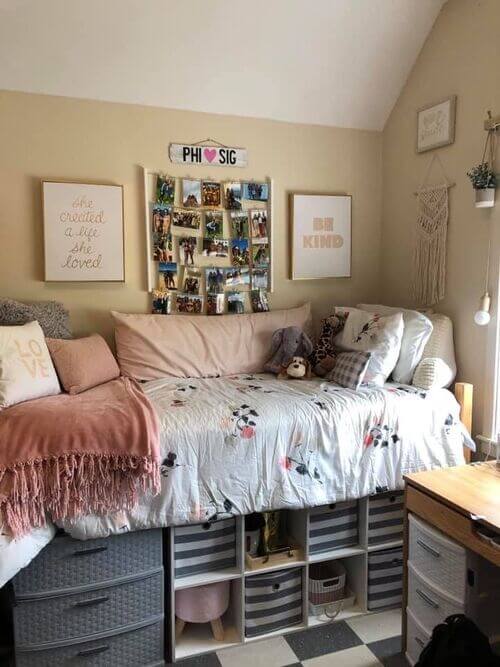 Storage bins are a lifesaver in dorm rooms!!
They're the best for tidying away miscellaneous items.
The space underneath is perfect for storage if you have a lofted dorm bed. Use storage bins and plastic drawers to make the most of it.
If you want to decorate your dorm with pictures, this simple picture organizer for the wall is so nice.
13. Boho rainbow decor