This post shows you clever dorm kitchen ideas that you can recreate easily.
Setting up a dorm kitchen requires preparation!! Ideally, you get a shelf rack or a cabinet to fit a mini-fridge.
You also want storage space for other kitchen necessities like a coffee maker, small microwave, cups, and plates.
There are many different ways to set up a dorm kitchen, and this post will show you all the inspo!
Some college dorms already have a kitchen nook and shelving, but most don't.
So in case you're looking for the best organization for your kitchen dorm, these ideas will blow your mind.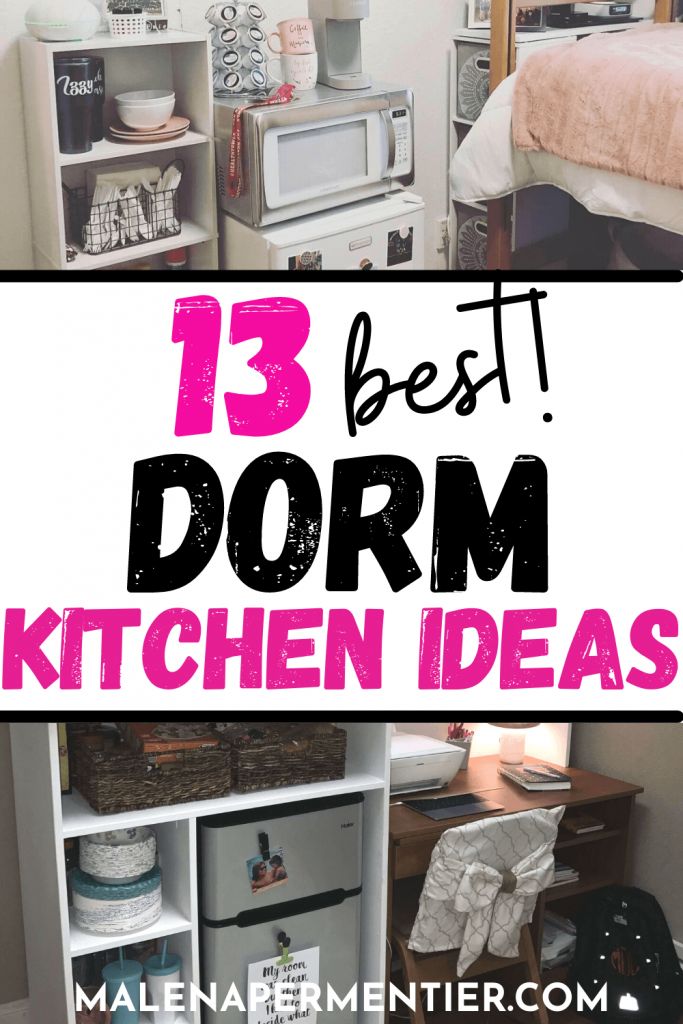 Dorm kitchen ideas
Below, I'm showing you the best dorm room kitchen ideas!!
Some dorm kitchen solutions include over the fridge shelving, a pantry cabinet, placing the fridge on the floor and the microwave on top, or alternative storage ideas like a rolling cart or a bookcase.
I'm also listing the essential appliances you need for the best dorm room kitchen!!
#1 Best Mini fridge with freezer for dorm rooms
1. Small dorm kitchen with shelves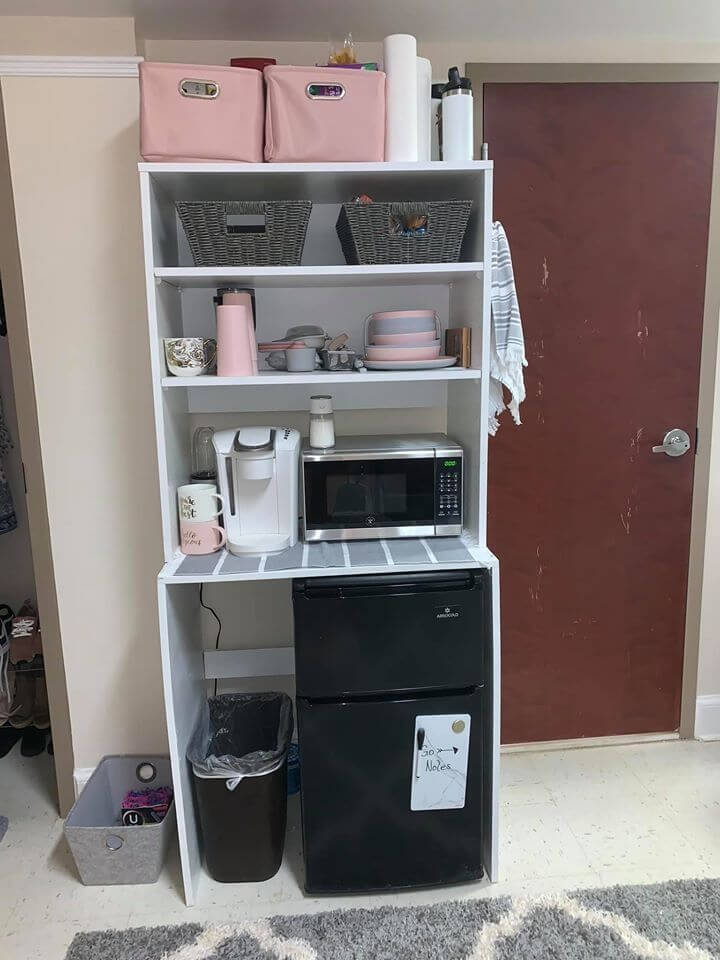 Recreate this dorm kitchen:
Dorm rooms are small, and making use of vertical space is crucial!!
Get tall pantry shelving to make a proper dorm kitchen.
The dad of this girl (@emmmagee on TikTok) made this kitchenette, but Target has a similar option.
This mini fridge dorm station on Amazon is another great option.
Best dorm microwave (inexpensive and highly rated)
2. Store mini fridge in cabinet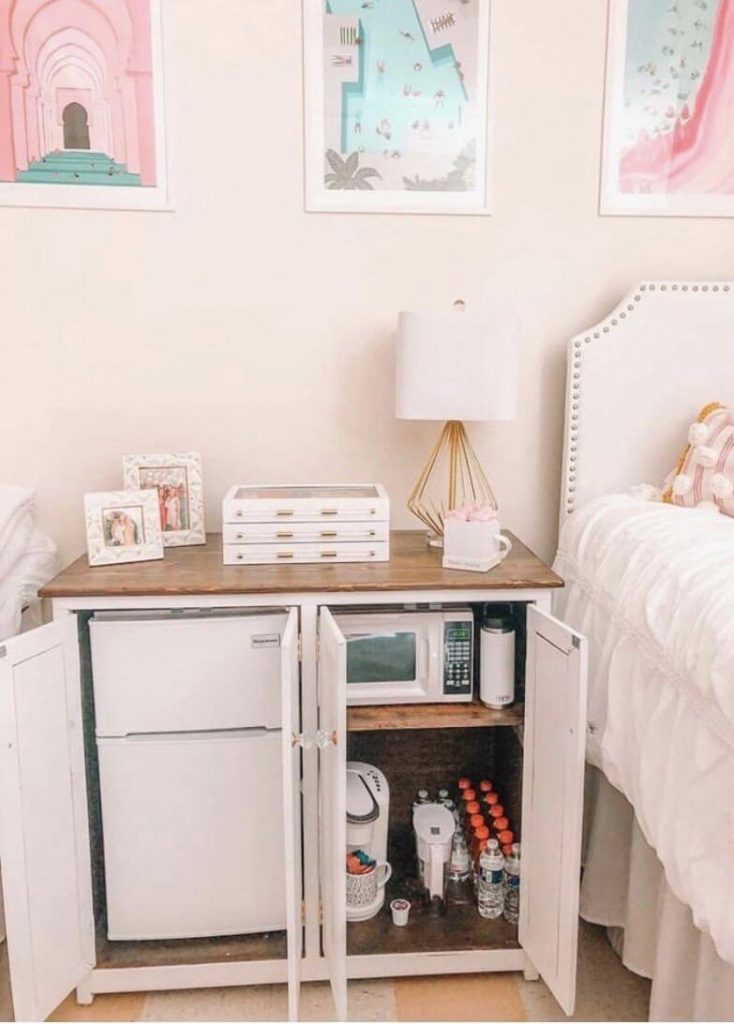 Recreate this kitchen cabinet situation:
A dorm mini fridge cabinet is great for storing your fridge and other dorm kitchen essentials.
The only tricky thing is measurements.
This cabinet has a shelf in the middle, but since it gets delivered unassembled, you can choose not to add the middle shelf.
Nevertheless, when going for a mini-fridge cabinet, be super careful with measurements!!
This cabinet is perfect for storing all kitchen items and can also function as a pantry or keep other small appliances like a coffee maker and microwave.
3. Clever mini fridge storage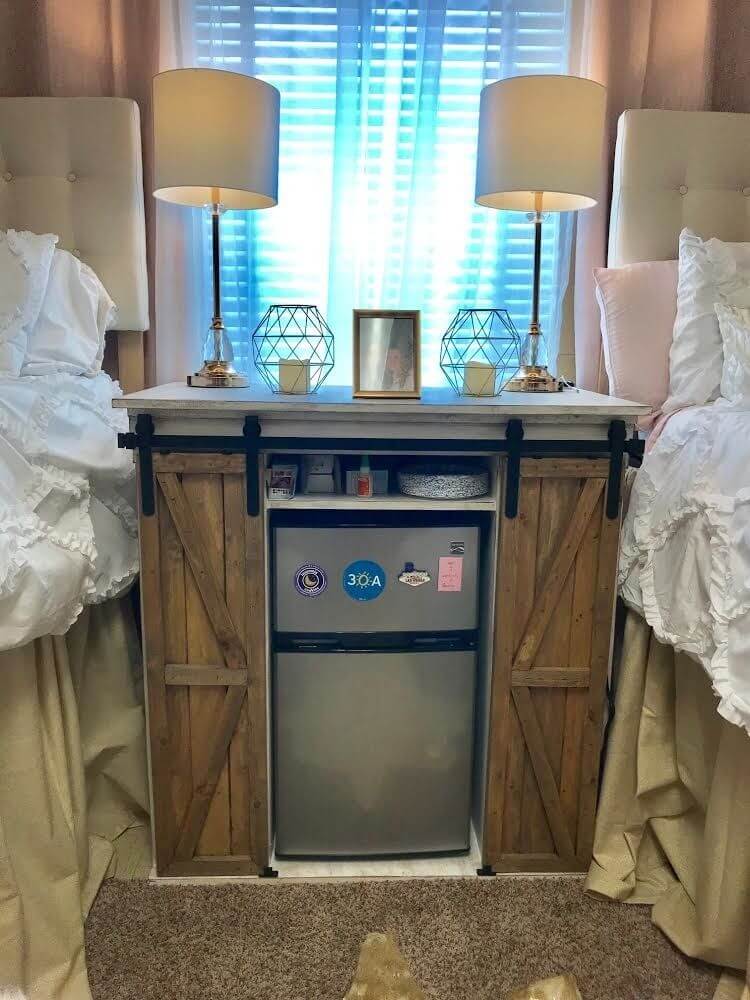 I assume this dorm kitchen in a box is another DIY! But one that you can recreate.
Also, the place of this dorm kitchen is pretty genius for maximizing space.
Coordinate with your roommate to find the best spot for your kitchen.
4. Desk hutch shelving in the dorm kitchen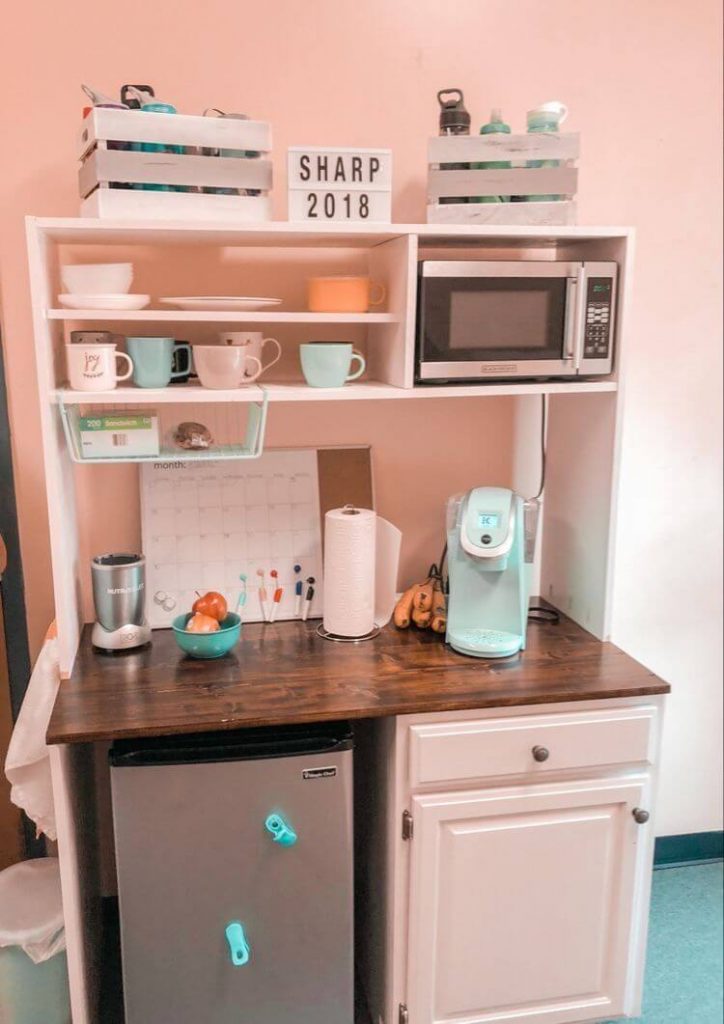 Use a desk hutch for a DIY dorm kitchen. Some college dorms will have some cabinet space, but most don't.
The wood crates on top of the cabinet are a super cute storage idea for water bottles, cups, and other small kitchen items.
5. Simple kitchen dorm solution with rolling cart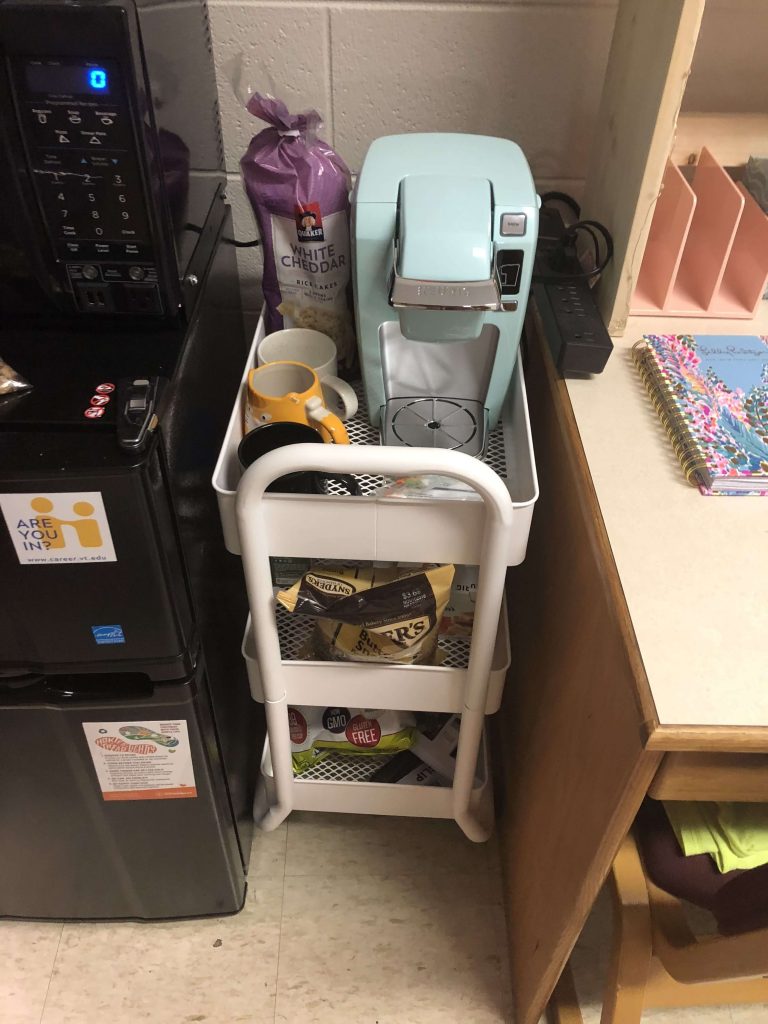 Making a dorm kitchen can be as simple as stacking a small microwave on top of a mini-fridge.
Place a rolling cart on the side for storing food items and other kitchen essentials.
You can choose to place your fridge on the floor without a stand.
Stack the microwave on top to save space.
A rolling cart like this is super budget-friendly.
So if you're working with a tight budget, this dorm kitchen setup is perfect.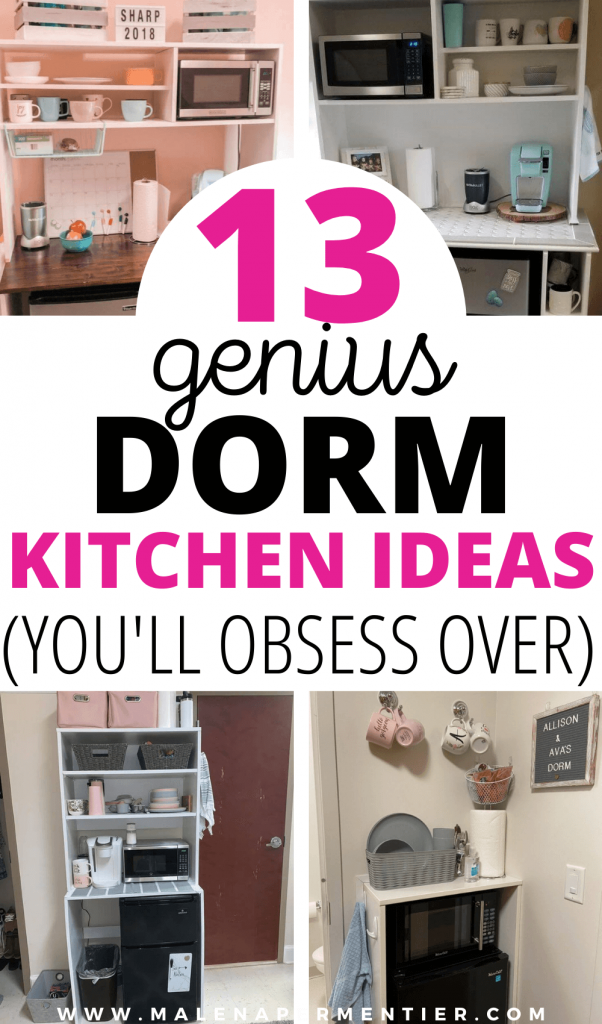 6. Small dorm kitchen organization
Some colleges will provide students with a kitchen station, but not always.
Consider a kitchen cart with open shelving for keeping your dorm appliances like a microwave, Nutribullet, and coffeemaker.
7. Use a bookcase as a kitchen station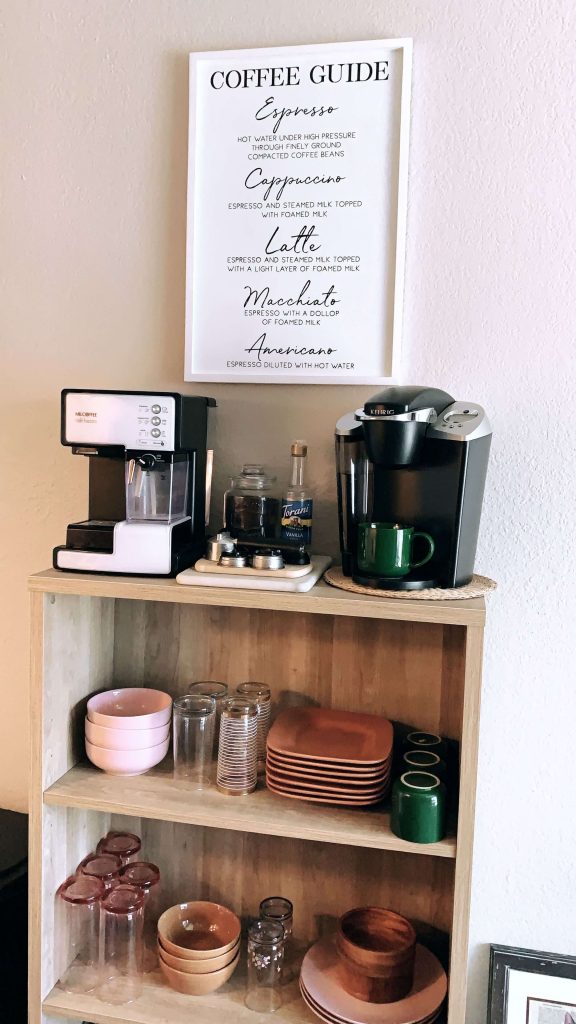 A simple wood bookcase can do the job when looking for ways to organize your dorm kitchen.
You can get cheap bookshelves at Ikea or Amazon.
They also work well as pantries.
Versatile small fridge stand
This fridge stand is super efficient if you want your mini-fridge off the floor without investing in a full-fledged kitchen cabinet or shelving.
8. Shelving over fridge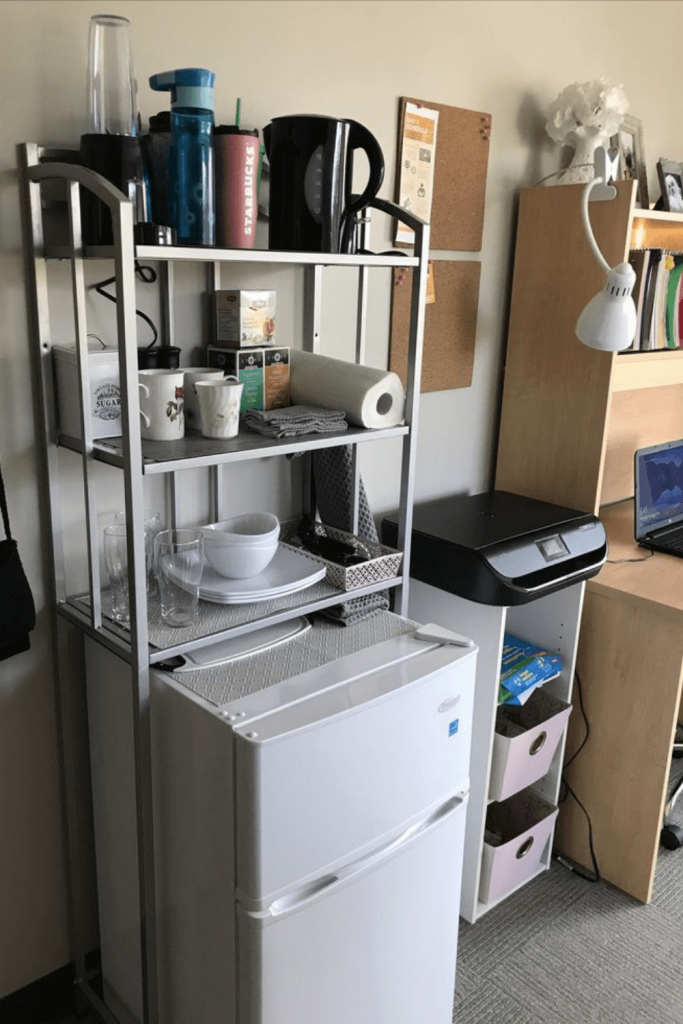 An adjustable shelving rack like this is ideal for a dorm kitchen!!
You might have seen this solution for small bathrooms as well.
Utilizing the vertical space in your dorm room saves space and creates extra storage.
9. Kitchen station shelf cabinet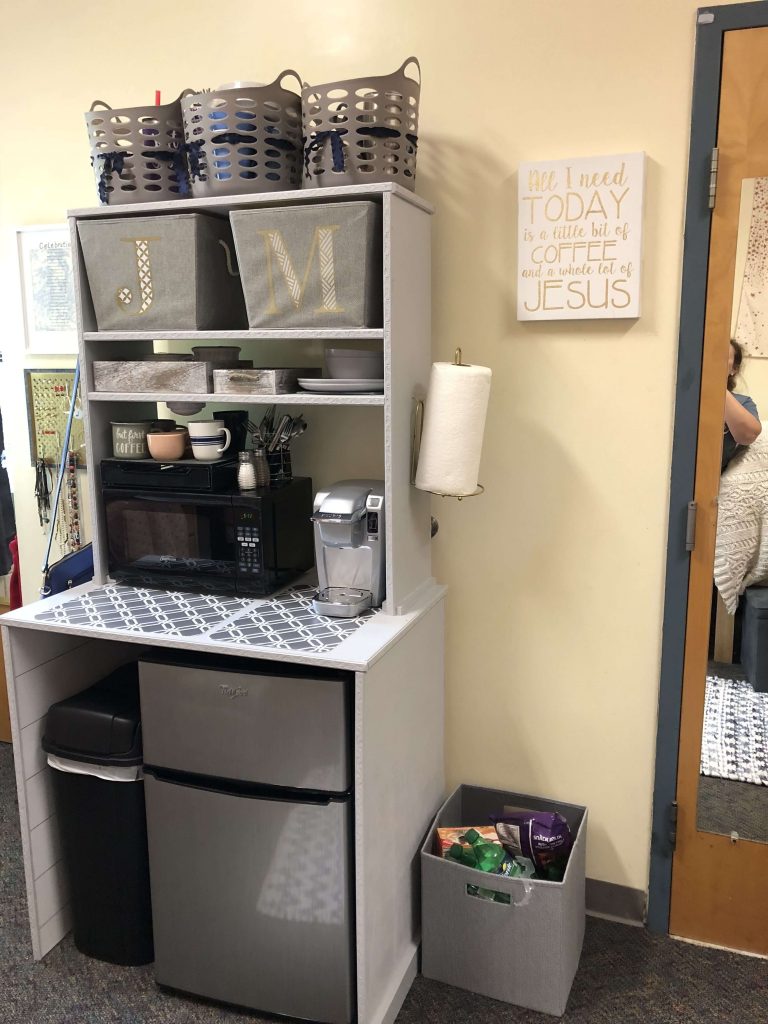 This mini fridge dorm station from Amazon is one of the most valuable things you'll find for your dorm.
However, it's pretty pricey.
So if you're up for a DIY project (or ask your dad, lol), it would be much cheaper to make it yourself.
10. Cute small kitchen station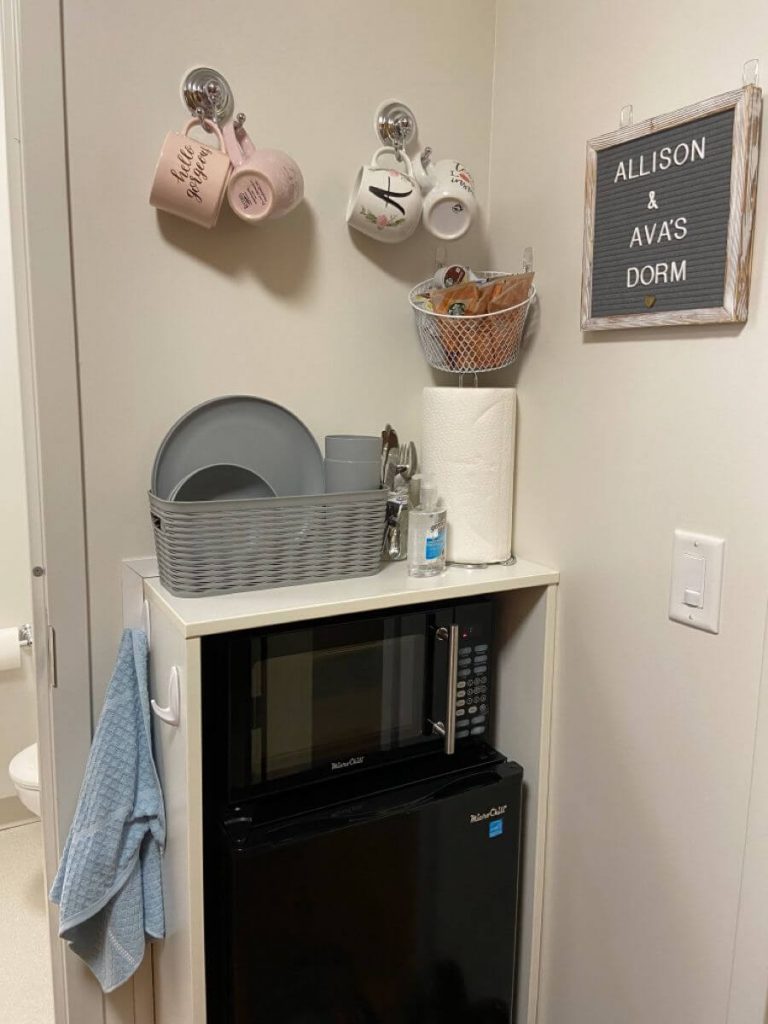 This looks like a built-in kitchen station, and I love it!!
The suction cup holder hooks are super practical.
Also, don't forget to get small baskets for things like tea or K cups.
Also, the farmhouse letterboard with the names of the dorm tenants is the cutest idea ever!!
11. Bookcase as pantry storage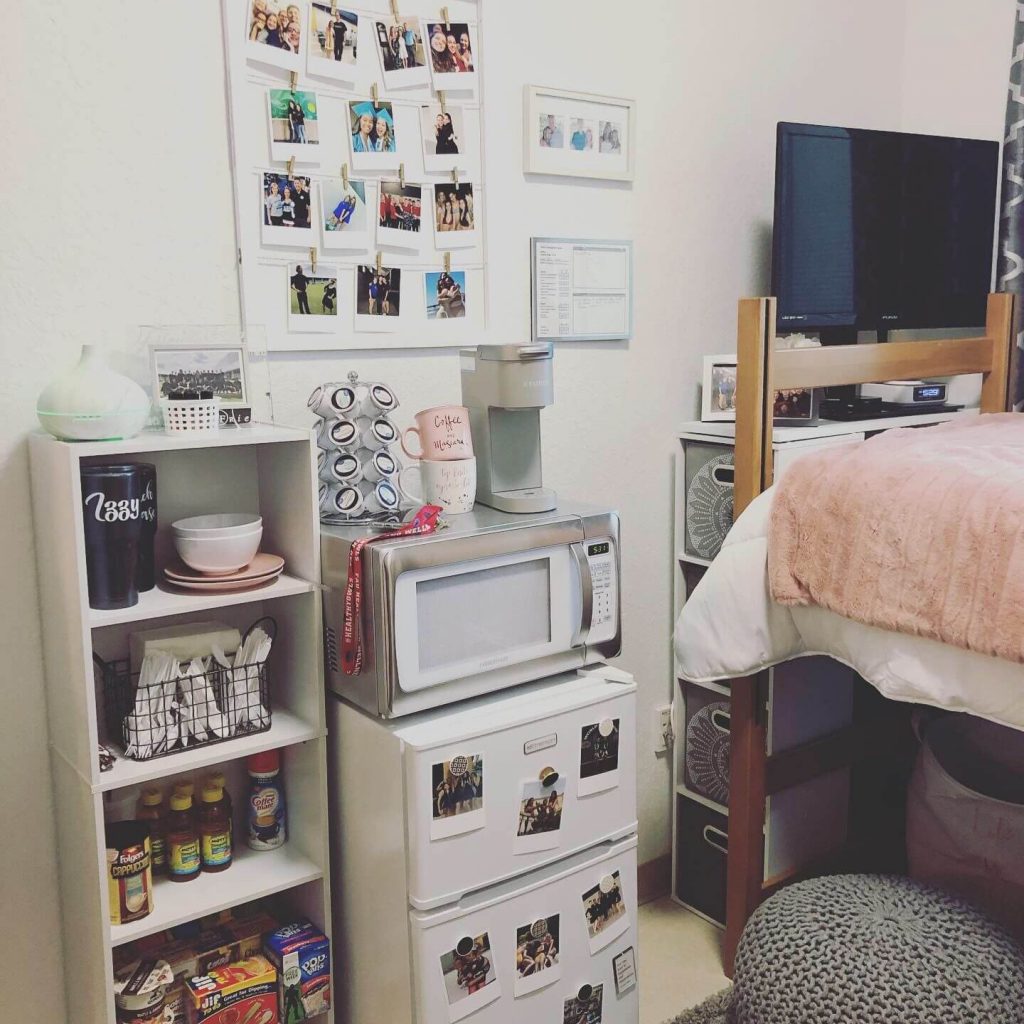 Use a bookcase as your dorm pantry!! It's inexpensive, and it does the job.
Place your microwave on top of the fridge to save space: the cheapest option and ideal in super small dorm rooms.
12. Place microwave on a rolling cart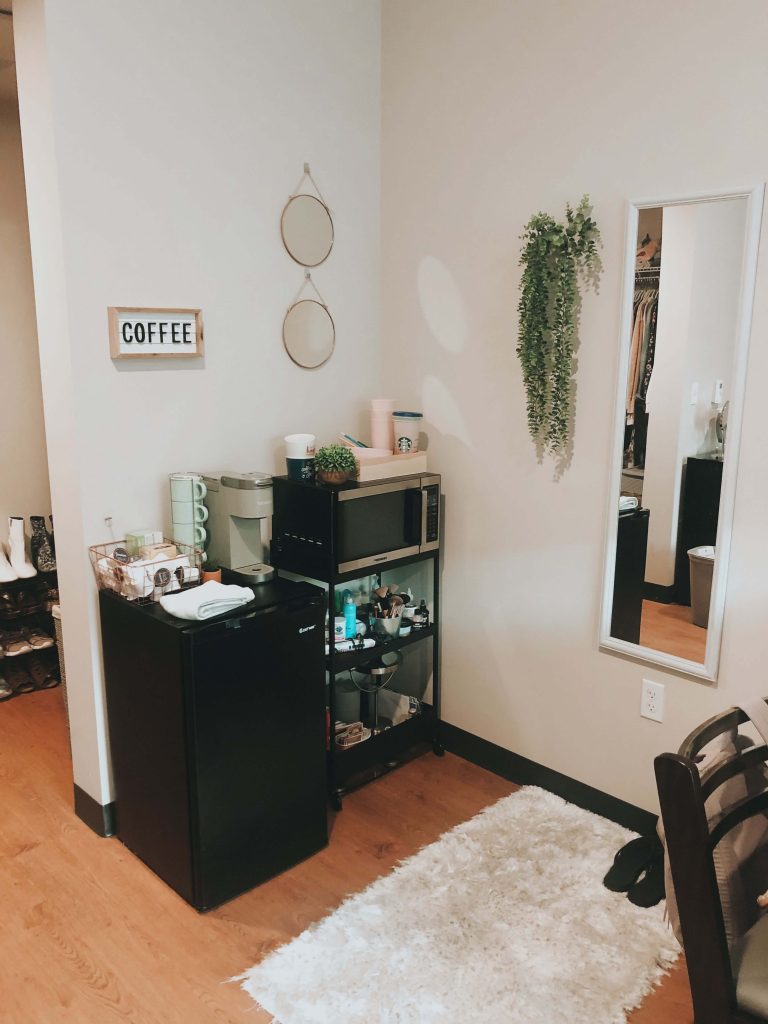 This tiny kitchen nook is incredibly clever!
Get a storage cart with a flat top to place your microwave.
Small storage items like a cup holder and wire baskets are perfect for keeping your dorm kitchen organized.
13. Mini fridge cabinet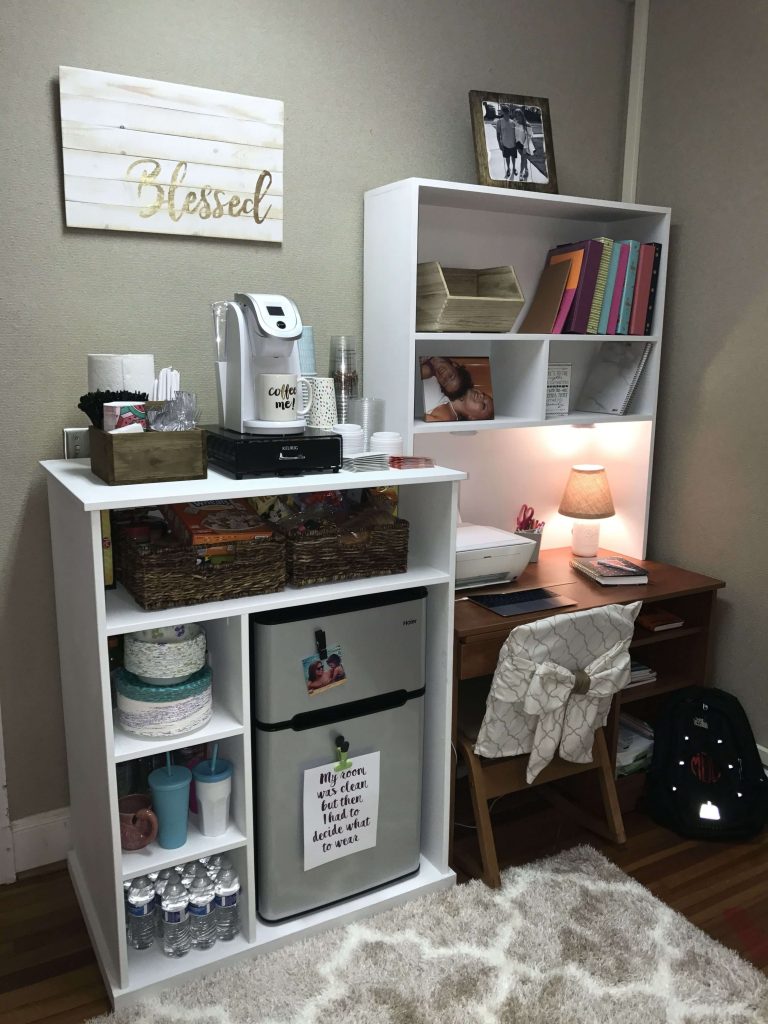 A tiny cabinet that fits your fridge and other kitchen necessities is a practical and easy way to complete your dorm room kitchen.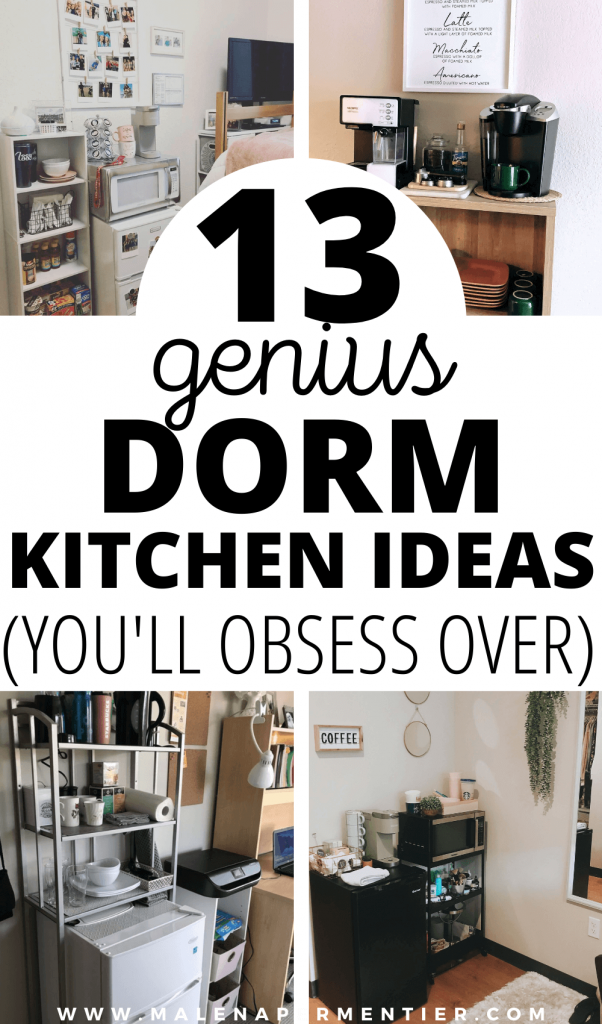 This post showed you 13 clever dorm kitchen ideas.
You may also like: