This post shows you the best dorm bathroom ideas.
We know space can be a little issue when moving into a dorm, but don't let that stop you from bringing your own fun twist or a touch of personality to the bathroom.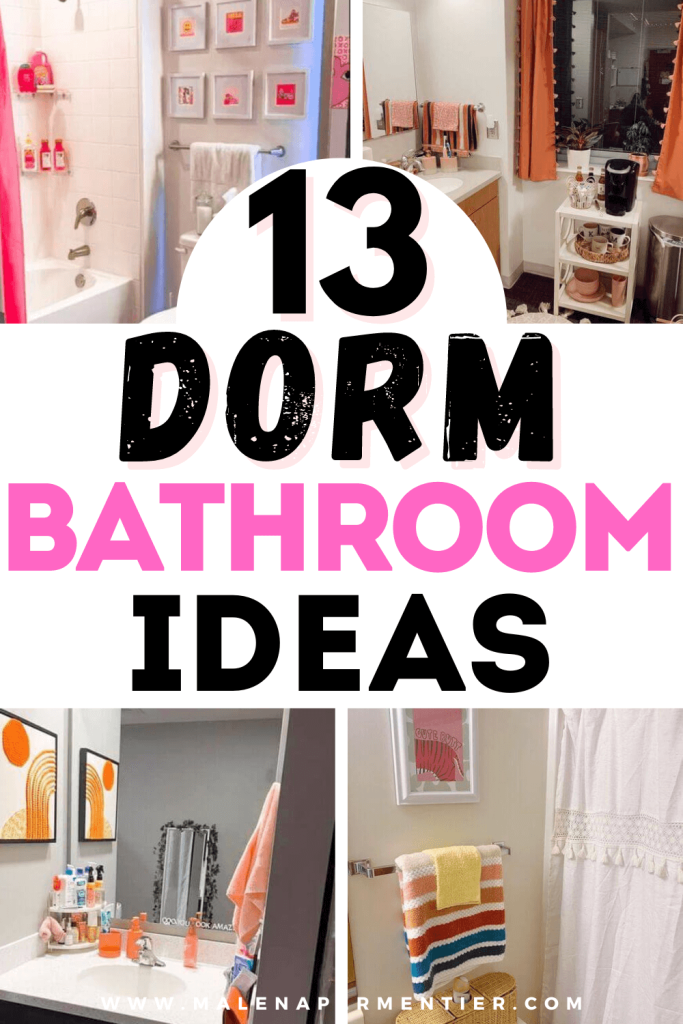 Tips for decorating
We know the urge to slap a new coat of paint onto a wall sounds like it will satisfy the mood, but we both know that's not the only thing needing changes.
If you're unsure what to add to the bathroom to add a unique twist then use the list below as a checklist.
Artworks are your best friend.
Add cute rugs.
Add extra lighting.
Plants are great for a bright touch
Stick-on wallpaper can save money.
1. Pretty in pink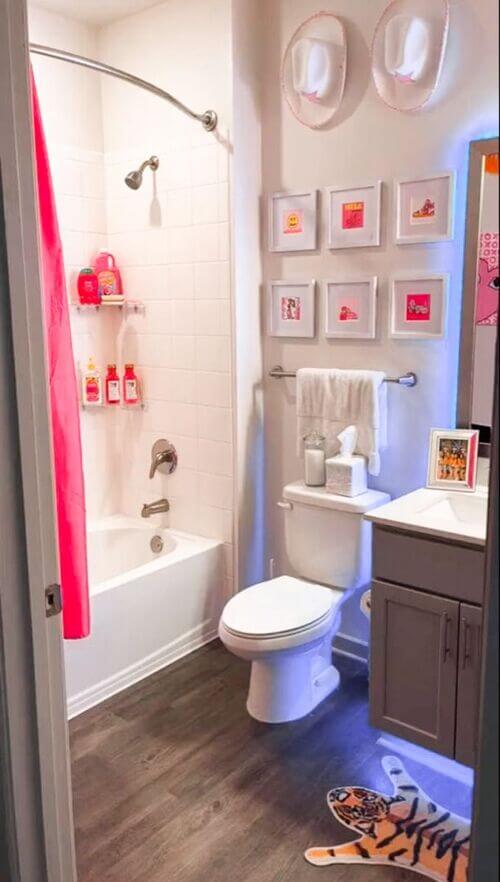 This cute little pink aesthetic uses wall art such as digital prints, cowboy hats, and a cute tiger rug to bring the bathroom to life.
You can also add a new bright and bold shower curtain to get the whole place to fit as one theme.
2. Baskets and wooden racks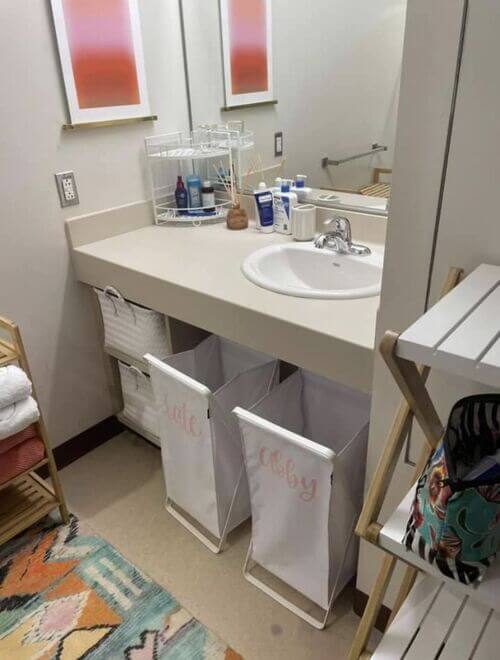 Limited space + roommates = messy bathroom.
Don't worry we have got the perfect way to ensure you have optimal space usage without being over the top.
You want your bathroom to be well decorated but also serve a function which is why laundry baskets and extra storage are a must.
3. Summer colors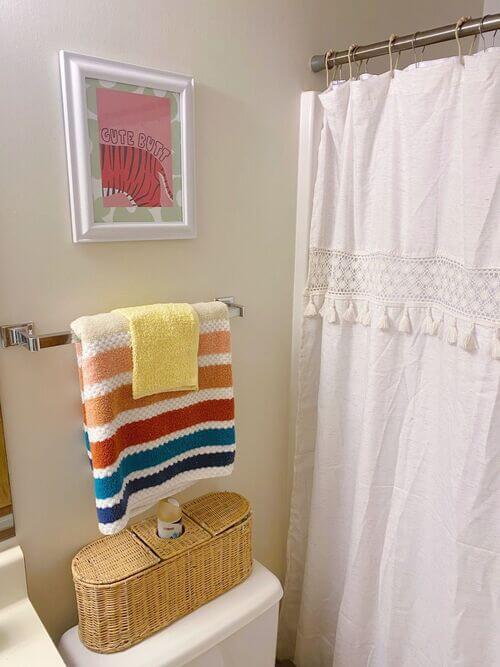 Bring some bold color into the bathroom to showcase your bright personality.
Add some weaver baskets for storage, Mix and match towels and add some art prints too.
The bathroom can feel a little cold when you don't decorate it, so make use of all the space with trinkets.
4. Eucalyptus and green touches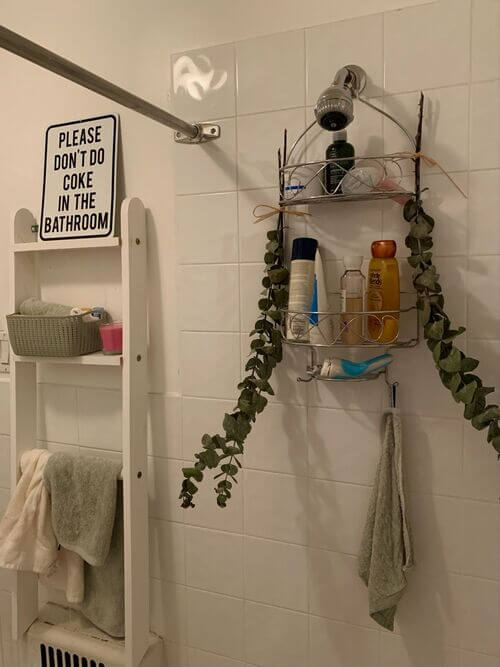 Eucalyptus is a great touch to a bathroom.
This plant has a lot of health benefits and can even help you stay clear of colds.
Keep some in the shower and pair it with some green decor pieces.
You can keep things simple with this idea while bringing in a unique touch.
5. Burnt orange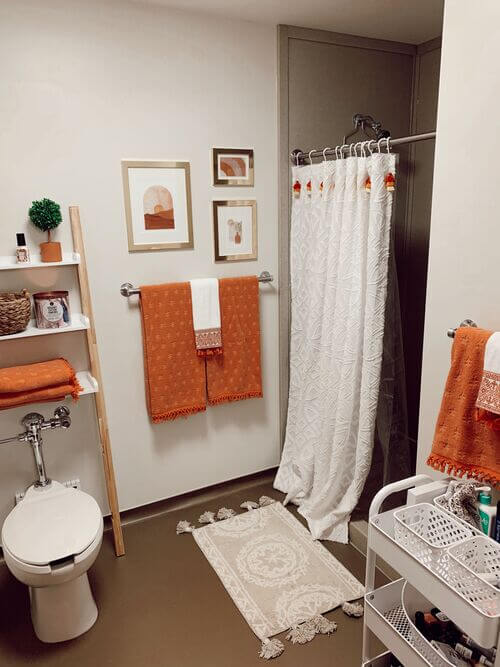 If you have a more boho aesthetic and love your little tassel rugs and orange hues then this is perfect for you.
This idea is simple but brings color into the bathroom without being overbearing.
Add some plants, art, and brand-new towels to make the room fresh again.
6. Useful storage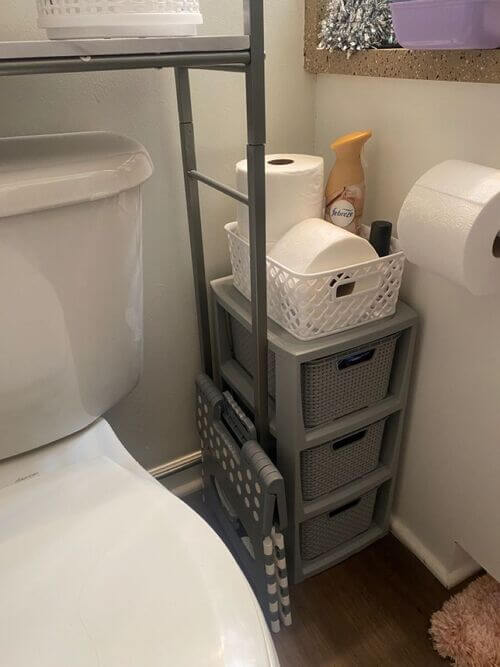 Plastic storage is perfect to bring an efficient way to keep things organized.
While it might not be the most aesthetically pleasing look it serves the purpose and is easy to move around.
Add some in those open spaces that have no function.
7. Mood lights and green touches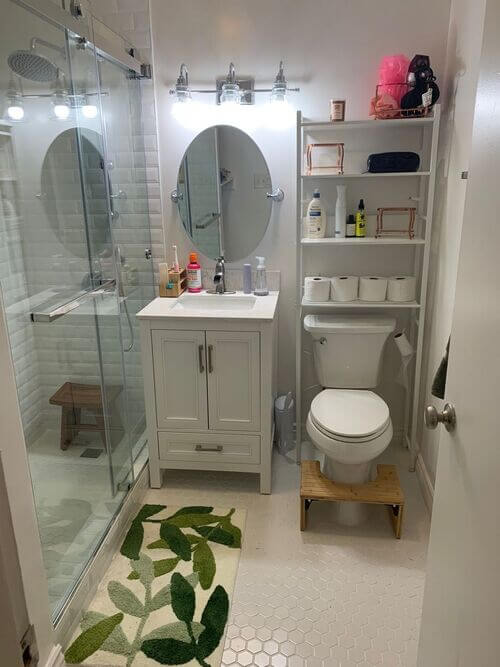 If there's any place that absolutely needs extra lighting then it is the bathroom.
For a quick makeup fix or just to brighten up the room it is the perfect addition to any bathroom.
Add a cute little rug to fill up the floor space.
8. Boho looks for days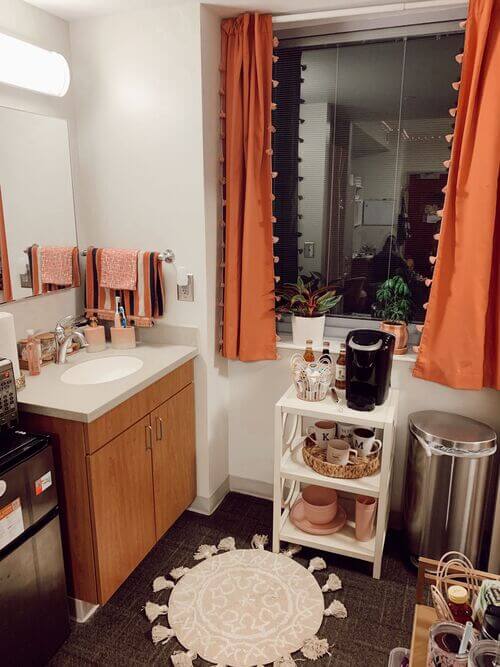 A boho look that can work in a small space is perfect for a dorm room.
A cute little circles rug, some orange curtains with pompoms, and candles galore… that sounds like the perfect aesthetic.
It's the simple things that make the biggest impression.
9. Bulb mirror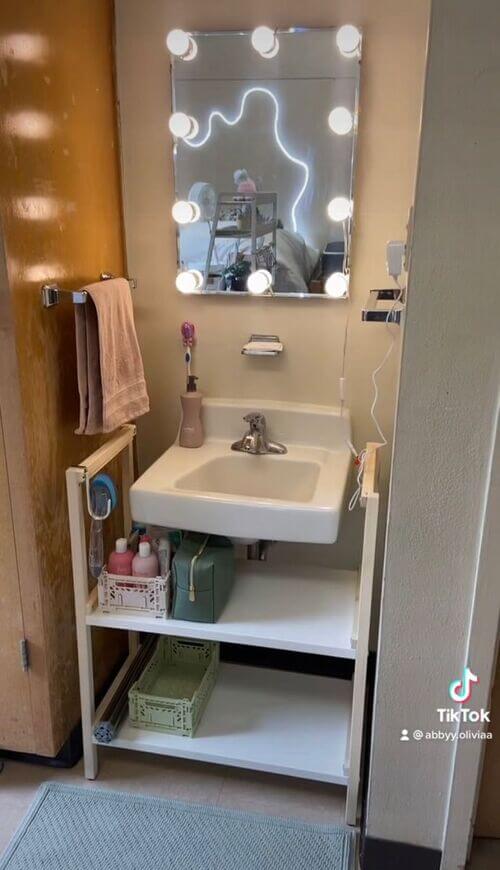 Add some storage space under the sink for all your skincare necessities.
A cute touch to add is the bulb light mirror to add some brightness to the bathroom.
Overhead lighting doesn't always do things justice so it's good to incorporate extra lighting.Bathroom mirror
10. Flower walls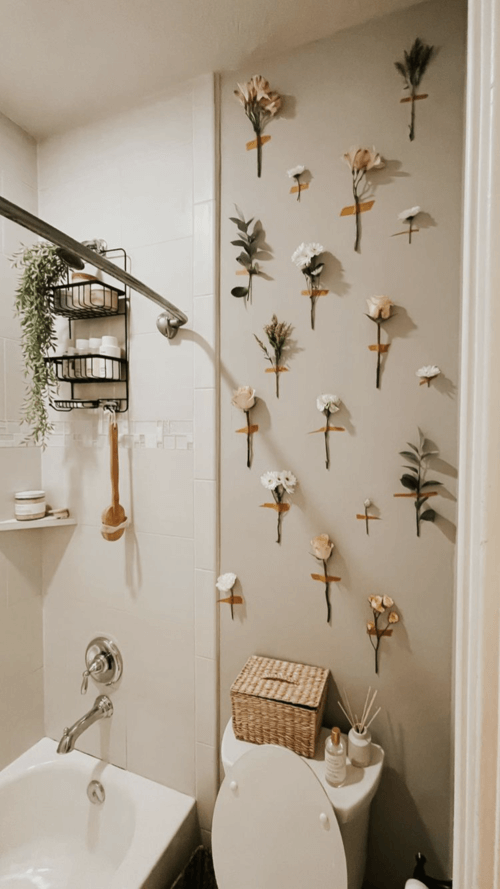 If you want something a little different then this is definitely something you should try.
Adding shelves can feel like a pain but you don't want to have a bare wall that feels boring.
Grab some flowers and tape them to the walls to fill up the space.
11. Orange art pieces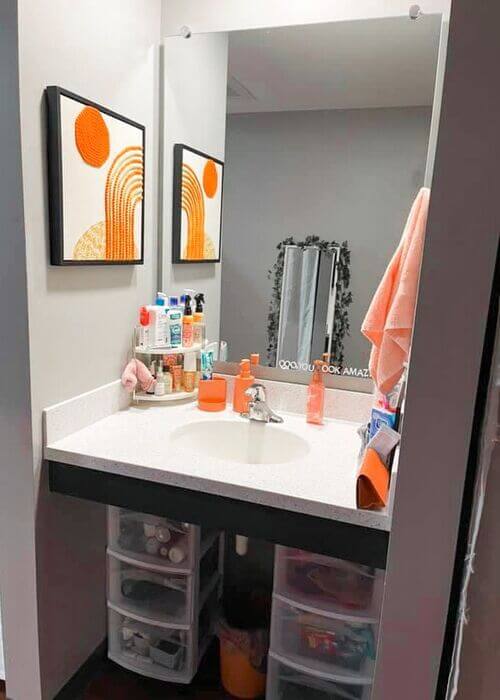 If you want a simple way to bring your own touch to the bathroom then this is great.
It's simple and easy to do. Add some cute orange art, storage space under the sink, and you can also add some orange accent pieces to stay on theme.
12. Bright and peachy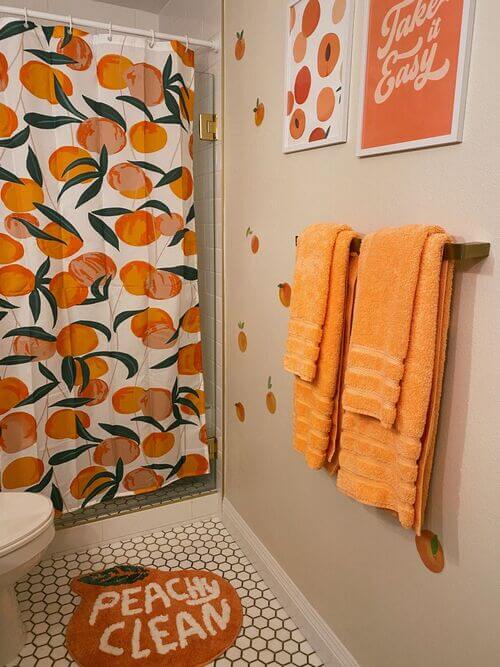 Looking for a theme you can follow through with?
This peachy bathroom is bright, cute, and simple to achieve.
Add a new shower curtain, rugs, peach-colored towels, and wall art to create a full peachy look.
It's not for everyone but looks amazing when done right.
13. Pastel touches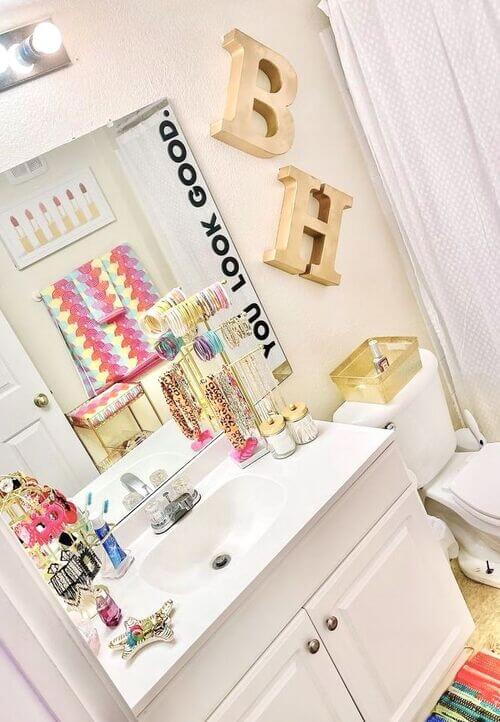 Bring a positive touch to the bathroom.
Add positive quotes, bright or pastel colors, and baskets for small personal items.
Keep things simple while playing around with your own creativity.
The dorm bathroom of your dreams
Finding something that works for you and doesn't take up too much space is a necessity for dorm rooms.
You need to find the perfect balance for yourself and how you live.
What works for you might not work for others.
As you can see from the list above there are many ways to go about decorating things and bringing your own touch to the bathroom.
So which one will you be trying out?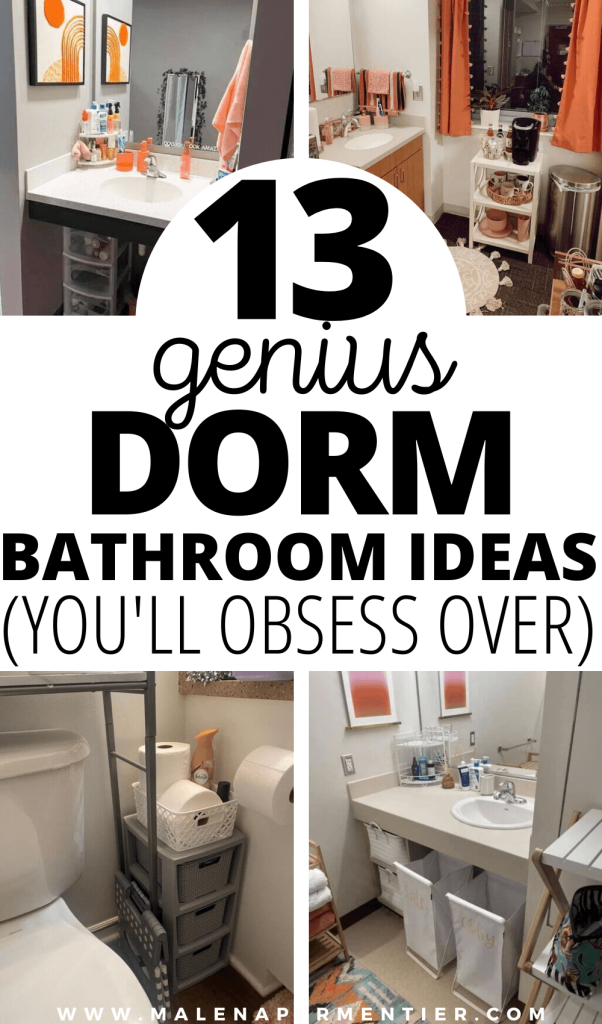 This post showed you the best dorm bathroom ideas.
You may also like: