Hey there! Some links on this page are affiliate links which means that, if you choose to make a purchase, I may earn a small commission at no extra cost to you. I greatly appreciate your support!
This post shows you the things I regret not bringing with me to college.
Let's get real here for a second. You can have as many checklists, reminders, or sticky notes as possible, but you'll always forget something.
We've all been there, and that's why I created this list.
Perfectly put together for all the basics that you need.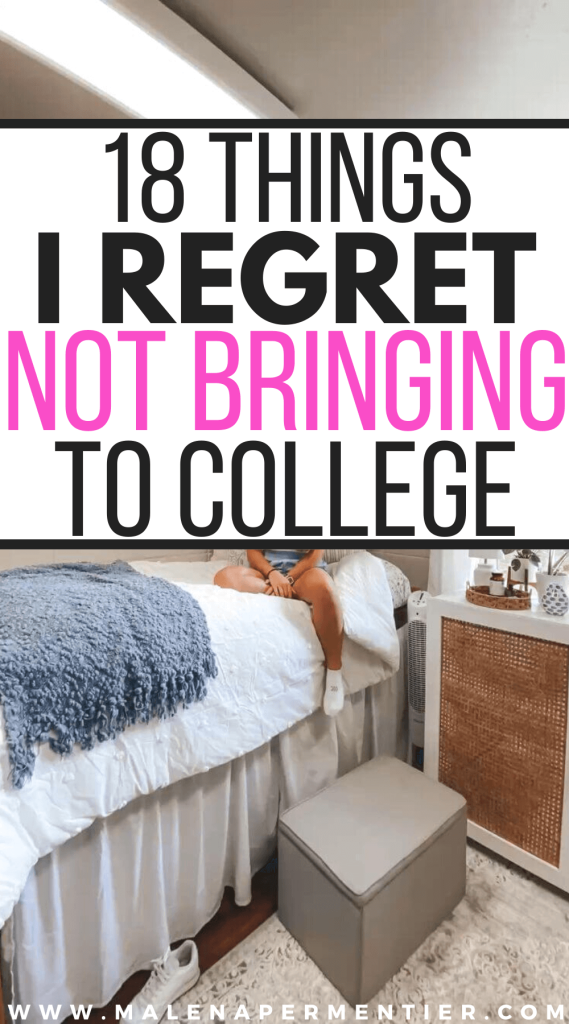 Keep this in mind
Sometimes it can be hard to navigate the whats and hows of the whole college situation.
You're trying to figure out how you are going to adapt to the new atmosphere and get new friends.
The least of your problems should be remembering to pack a speaker or a toothbrush, or a bed cover.

College is a whole different ball game. You never know what to expect.
The best way to figure out what to bring is by experience.
Luckily I have gone through exactly what you are, and I'm here to help you get the best deals and items to make your college experience easier.
So whether you're a freshman in panic mode or need some goodies to add to your dorm room, look no further.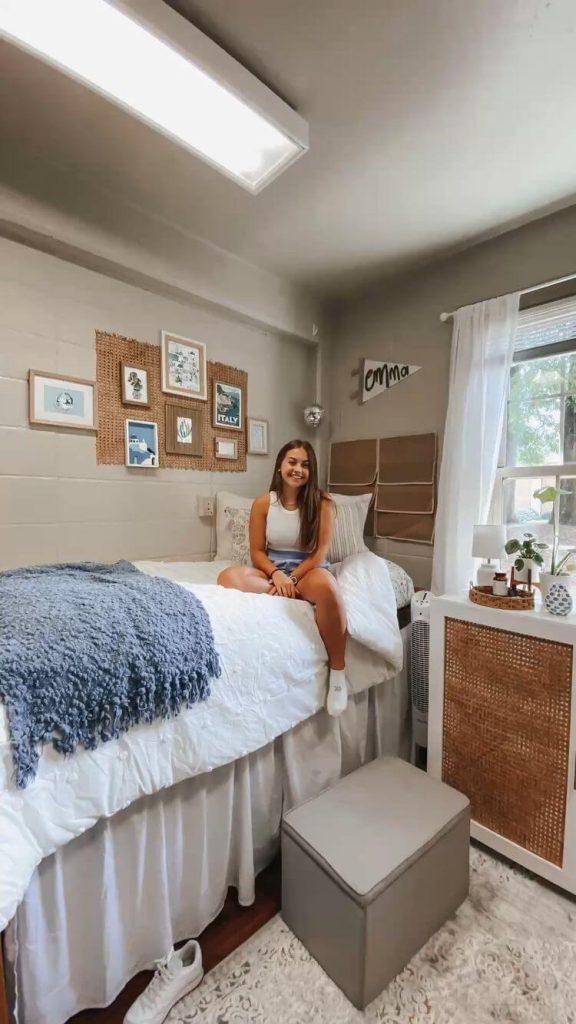 How do you know you need it?
When packing for this new adventure it can feel impossible to see what is needed and what is not.

Here's a simple rule of thumb. If you think you won't need it, you probably will. No seriously.
There are just some random items that you never thought you'd need, and then you enter college, and you can't live without them.
I'm not saying pack everything you own. I just mean pack what you have sparingly so that if you need something in the future then you have the space for it.
Because let's be honest, dorm rooms aren't the biggest spaces, but they have enough to keep everything you need.
1. Mattress topper

Dorm rooms have decent mattresses, but if you would like to walk without being in pain or need extra support, then I highly suggest getting a mattress topper as soon as possible.
Finding a topper made from memory foam will be extremely beneficial.
It helps protect your back and ensures that your body is resting without suffering from a poor mattress.
2. Comfy pillow

One thing that I enjoyed every day was getting a back pillow.
You know those lazy days where you feel like nothing is comfortable, and you're just annoyed.
Get yourself a comfy back pillow.
This allows you to relax on your bed and go through your reading material or to study.
It helps with support and comfort while sitting on your bed.
3. Desk organizer

If you only take one thing away from this whole post let it be this.
Do not make your desk messy. Like seriously… don't.
No matter how crazy life gets and how many books you have do not let it get out of control.
A simple desk organizer can go a long way toward ensuring your space stays clean and tidy.
4. Shower caddy

No one has enough hands to carry everything they need to the shower.
Get yourself a simple shower caddy to keep all your goodies together and keep track of everything.
Instead of worrying about where you have placed your things or if someone is using your stuff you can hold it all together while keeping things organized.
5. Utility cart

I had a lot of books and goodies that I brought to college.
Don't ask why, but I did and I still regret it every day.
A utility cart offers you a great amount of space.
You can move it around and keep all your books or small personal pieces together just at the foot of your bed.
6. Desk lamps

Late nights are given in college.
Without great lighting, at your desk, your eyes will suffer.
This lamp allowed me enough lighting to have a clear view of everything on the table.
It doesn't take up too much space which makes it ideal for a desk.
7. Door mirror

Due to the limited space within the dorm room, it can be hard to keep everything out of the way.
That's why I opted for the door mirror.
It offers you a full view while staying out of the way.
This mirror is ideal for bedroom doors or the inside of wardrobes.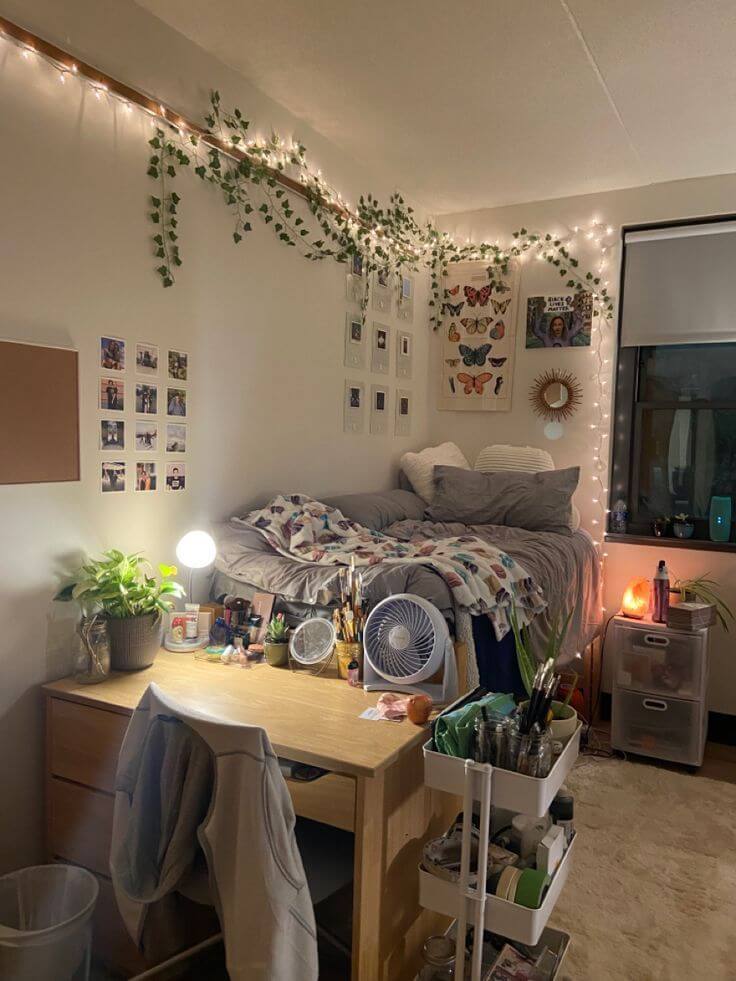 8. Portable laptop desk

We all have those days when we don't feel like leaving the bed.
This is where this portable laptop desk comes in handy.
It sets up anywhere and has space for your laptop, lights, and even a good cup of coffee if you're feeling like it.
9. Extension cords

You can never have enough extension cords.
Especially when you're getting a dorm room with a roommate.
The number of cables everywhere is extreme, and if you're plugging in a bunch of them at the same time it can get risky.
Make sure you have an extra extension cord on hand at all times.
10. Rolling laundry basket

Doing laundry has always been the worst part of the college experience.
I am not even kidding. It takes an hour to wash and a week to pack away.
This rolling laundry basket made it ten times easier to do laundry and keep everything in one place.
It's cute as well efficient.
11. Desk fan

Studying in spring feels like an absolute chore. The heat gets to you more times than necessary.
This little desk fan allows you to study without feeling all the unnecessary heat getting to you.
It is portable and compact which makes it great for travel use as well.
12. Waffle maker

Is this entirely necessary? No. Did that stop me from buying it?
Also, no. I highly recommend getting a waffle maker for your dorm room.
It gives you a quick-fix breakfast that is sure to get you fueled for the day.
I'm not saying you have to buy it, but it did help a lot for those days that you're just looking for something sweet to snack on.
Slap some Nutella and strawberries on it and enjoy.
13. Book lamp

This lamp comes in handy when you're not in the mood for harsh light.
These little book lamps are the perfect item to have on your wishlist.
It lets you read in bed without needing the light on.
Speaking as a bookworm it was my best buy from college.
14. Shower flip flops

We both know the showers aren't always the cleanest.
A bunch of people taking turns in around 5 showers seems a little overwhelming.
Get yourself a pair of shower flip-flops to make sure you can have a shower without the stress of a dirty shower.
15. Storage Shelves

Here is one thing you need to keep in mind at all times.
No dorm room has a lot of storage space.
So if you need storage space then you need to invest in shelves.
These storage shelves not only give you extra space but also allow you to keep all your things organized within one compartment.
They can be placed under the bed or next to it. Whatever helps by taking up the least amount of space.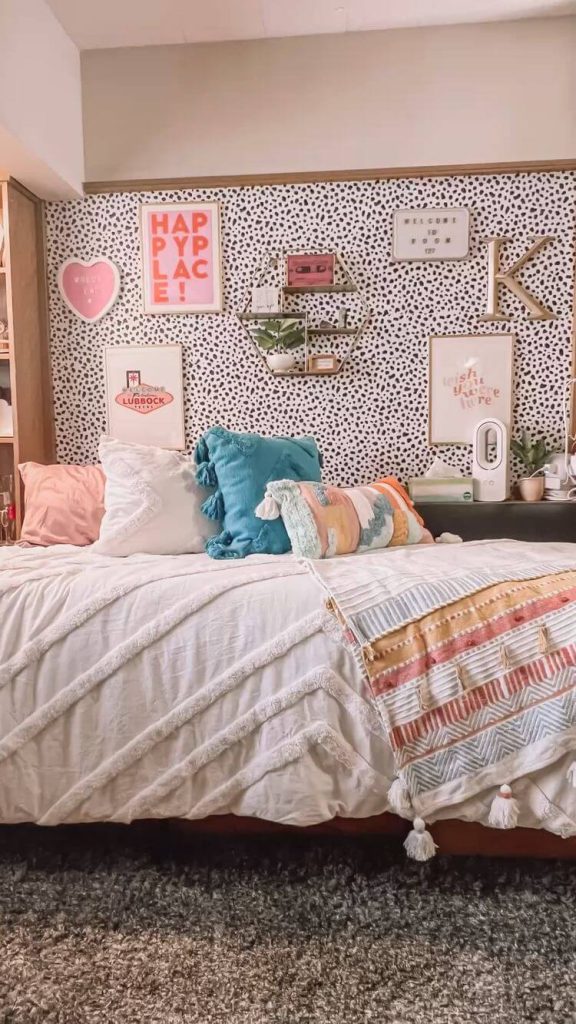 16. Steamer

No one has time to iron their clothes anymore.
Here's something I never thought I'd buy, but here I am.
A steamer has been my best friend.
From a quick fix to a crinkled dress to keeping my clothes warm, it has had a major impact on my life.
Trust me the years of using a straightener to iron out small issues have come to an end.
17. Sticky notes

I cannot stress this enough. Sticky notes are going to be your best friend.
From study notes to keeping track of important dates.
This is the one simple thing that I forgot to bring to college.
I know, I know. So let me be your simple guide. Do not forget your sticky notes.
18. Mini fridge

Nothing can be as important as investing in a mini fridge.
You don't have to worry about roommates taking your stuff.
A simple mini fridge can allow you to keep everything to yourself without being scared of it going to waste.
What I brought to college
I hope these items give you basic guidelines as to what you need to bring to your dorm.
They aren't necessities but they do help a lot.
Each of the items listed above has come in handy.
Usually, I only bought them after dealing with a situation in which I needed them, but that's beside the point.

So take this list of just a few items off of it to ensure you have everything you need and more before starting your first year of college.
Don't be like me and just leave it up to faith.
As I stated in the list above, we can forget many things, especially with all the excitement going around.
This post showed you the things I regret not bringing with me to college.
You may also like: