Fall and Halloween are arguably even cozier than Christmas!
Do you live in a college dorm and want to decorate it for Halloween?
This post shows you the best inspiration!
I love cozy Halloween decor like pumpkin pillows, string lights, and fall leaf garlands!
Spooky decor isn't my jam, BUT I got you covered if you want some scary vibes in your dorm.
You will love the dorm Halloween door decorations in #2, #5, and #8!
Decorating your dorm door for Halloween is great if you're planning a dorm party.
Also, super fun to scare your friends :).
I know the space in your dorm room is limited, but switching out your pillows, a throw, and adding some fall leaf string lights will look so pretty.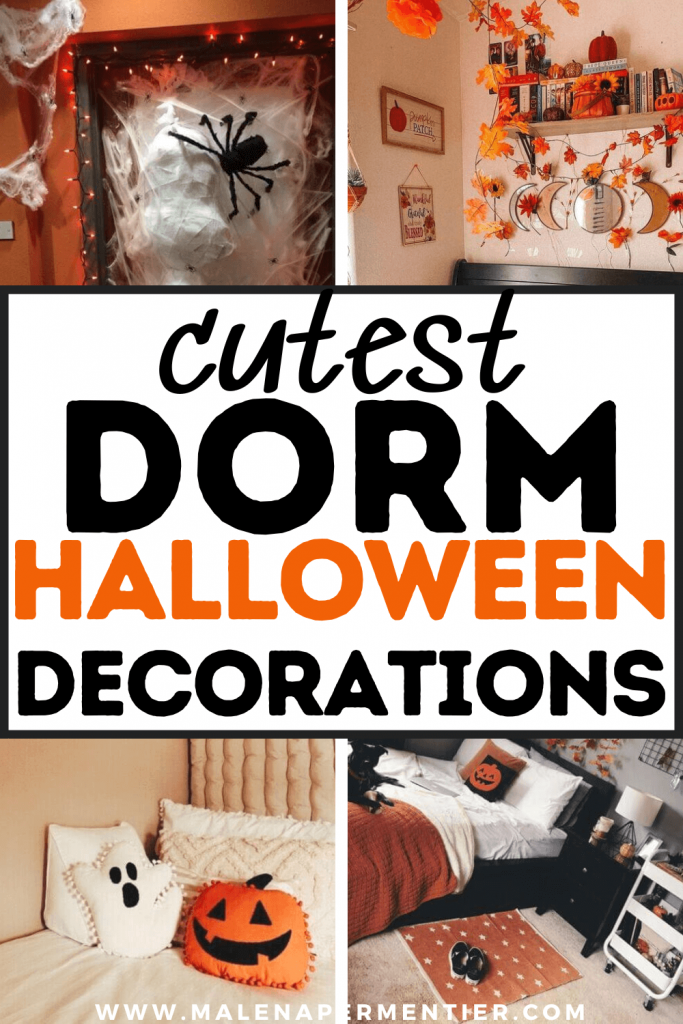 Best Dorm Halloween Decorations
1. Pumpkin throw blanket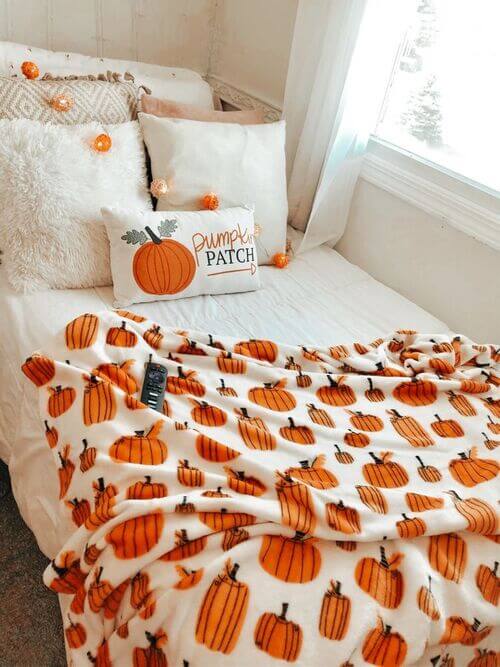 This adorable pumpkin throw blanket is EVERYWHERE on Pinterest, and I'm here for it.
I'm pretty sure throw in the picture is from Etsy.
Add a cute pumpkin throw and farmhouse-style pillow if you love a neutral Halloween aesthetic in your dorm room.
This felt pumpkin and pom pom garland is great to hang on the wall over your bed.
2. Scary dorm door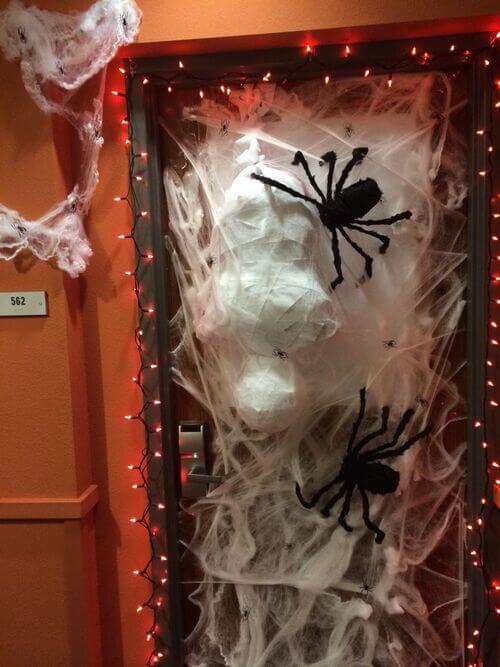 This dorm door decor is so creepy!! Recreate the spider web with scary cloth.
Get extra large black spiders to hang on the web.
I don't know how they made the scary white figure, but it shouldn't be too hard to DIY.
3. Orange fall & Halloween dorm decor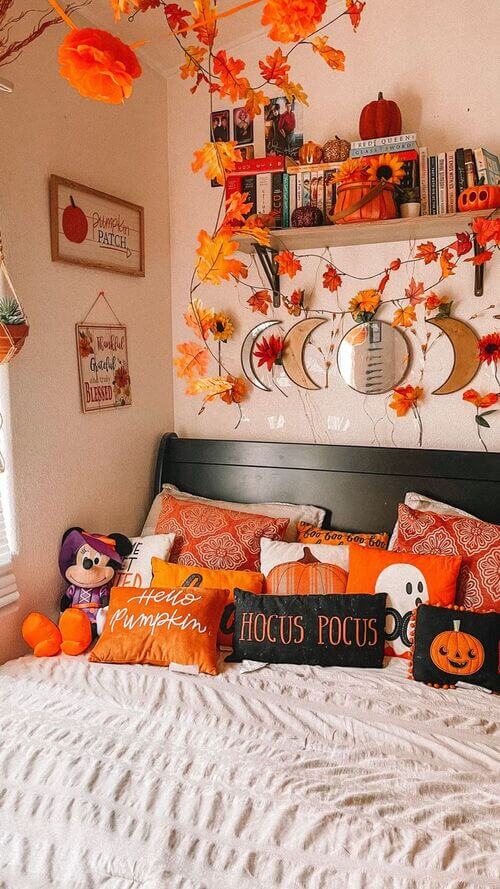 I love how this room went all when it comes to the fall and Halloween vibes.
The moon mirrors are great any season, but of course, fit the Halloween spirit.
Recreate a fall vibe in your bed with throws, orange pillows, and maple-leaf garlands.
The orange color scheme in this room looks so cozy and inviting.
4. Cute ghost and pumpkin throw pillows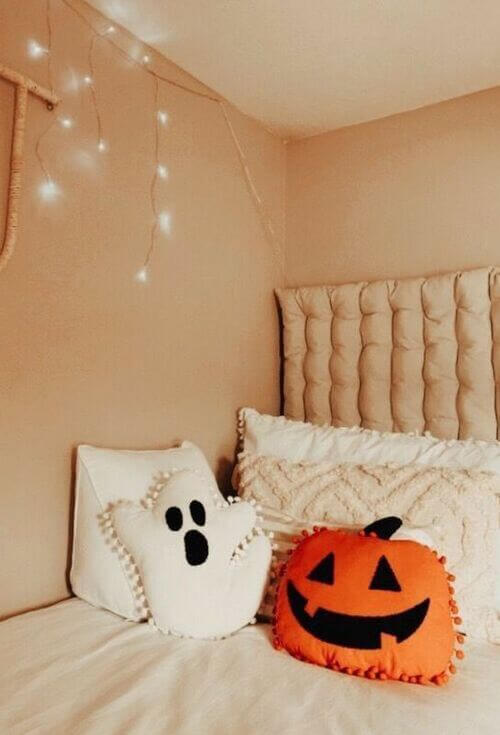 For minimalist Halloween decor in your dorm, pillows are a must!
Combine a ghost and pumpkin pillow with a neutral bohemian pillow.
Super easy yet hits the spot for fall and Halloween.
5. Dorm Halloween Door with spiderwebs and bats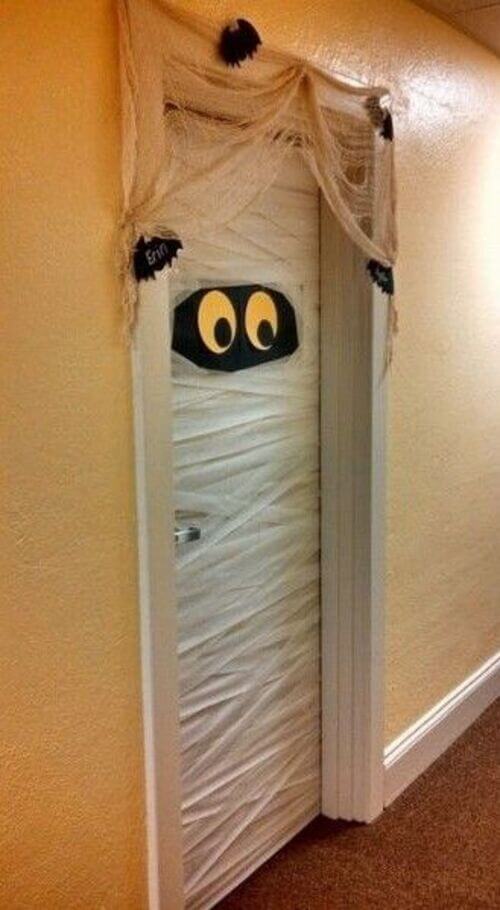 DIY scary dorm door decorations with white bandage tape!
Add some bats and/or scary eyes to make a statement. I'm obsessed with these creepy eyes!
It would kill me if I'd walk in the hall at night and I see this on a door lol.
6. Fall leaf garland on the walls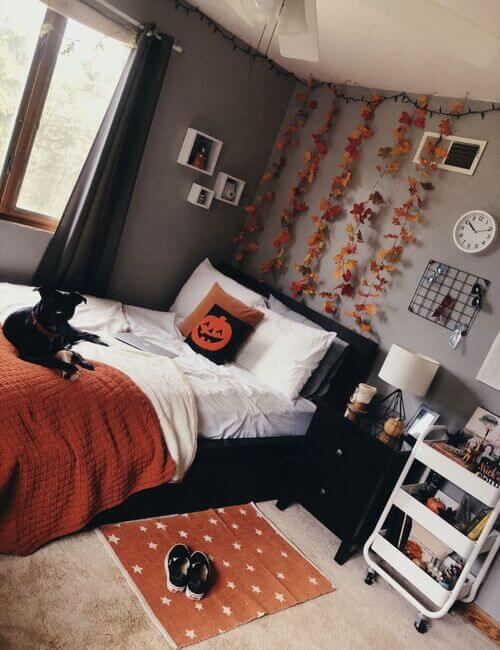 If you want to keep your Halloween dorm decor simple, a maple leaf curtain garland is cheap and super cozy.
A brown or orange throw blanket will look good throughout the year, so that's always a good investment.
7. Bed with cozy Fall vibes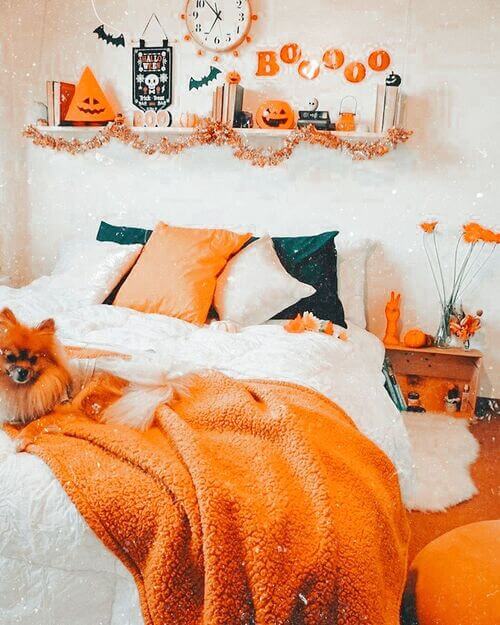 More Halloween coziness! Bats, a pumpkin tealight holder, and boo garland are inexpensive yet create a big Halloween vibe in your room.
If you have a floating shelf in your dorm, you can use it to hang a garland!
Also obsessed with this super cozy orange throw blanket.
8. Dorm door with Halloween decorations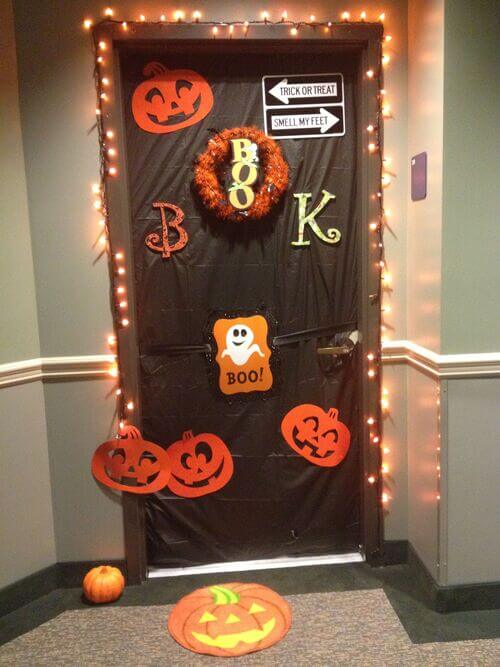 OK, this dorm Halloween door is less scary than the previous ones, and I'm here for it!!
Recreate this with black trash bags, evil pumpkin cutouts, and orange string lights surrounding the door.
Cute decor for your dorm door will leave an impression, and people will obsess over it!
9. Dorm with string lights decor for fall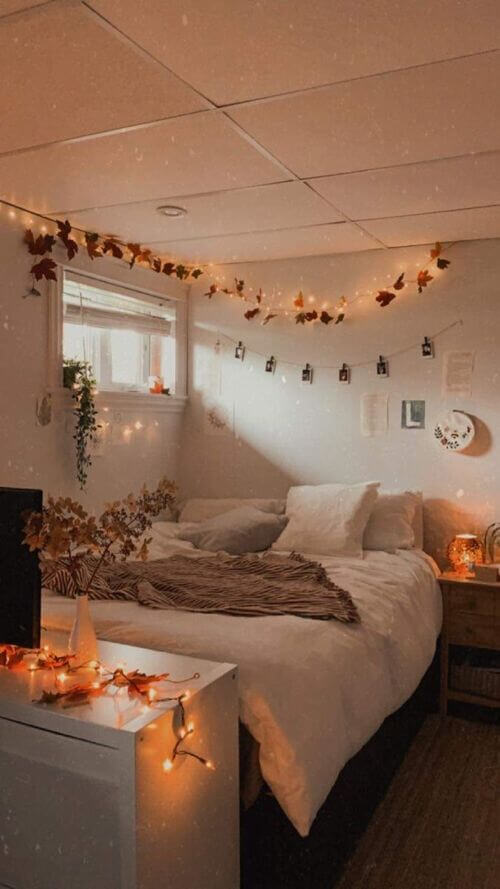 These decorations are amazing if you have a minimalist dorm and don't like loud Halloween decor!
Fall leaf stems look great in a clear vase.
Hang leaf garlands on the wall for a cozy vibe.
10. Pumpkin pillow decor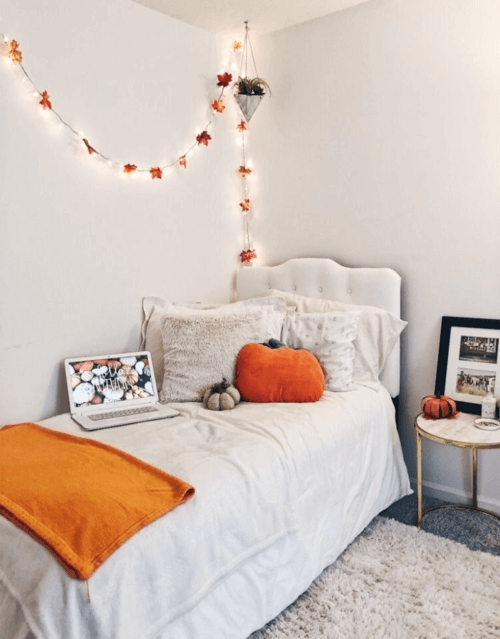 Fleece blankets are the best and instantly make your room look cozy for fall.
Orange looks great with neutral bedding and calm tones.
Switch up your regular string lights for these fall leaf string lights!
Budget-friendly and super cute.
11. Cute decorative Halloween items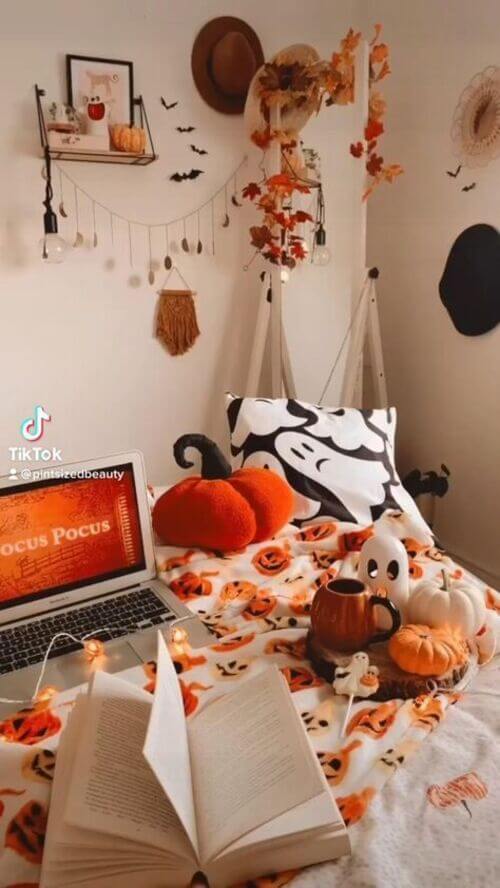 Everything about this room decor is so cozy! A pumpkin throw blanket is a must to recreate this aesthetic.
Small decorative items like velvet pumpkins, bat stickers, a ghost figurine, and the ultimate fall mug make your space look amazing.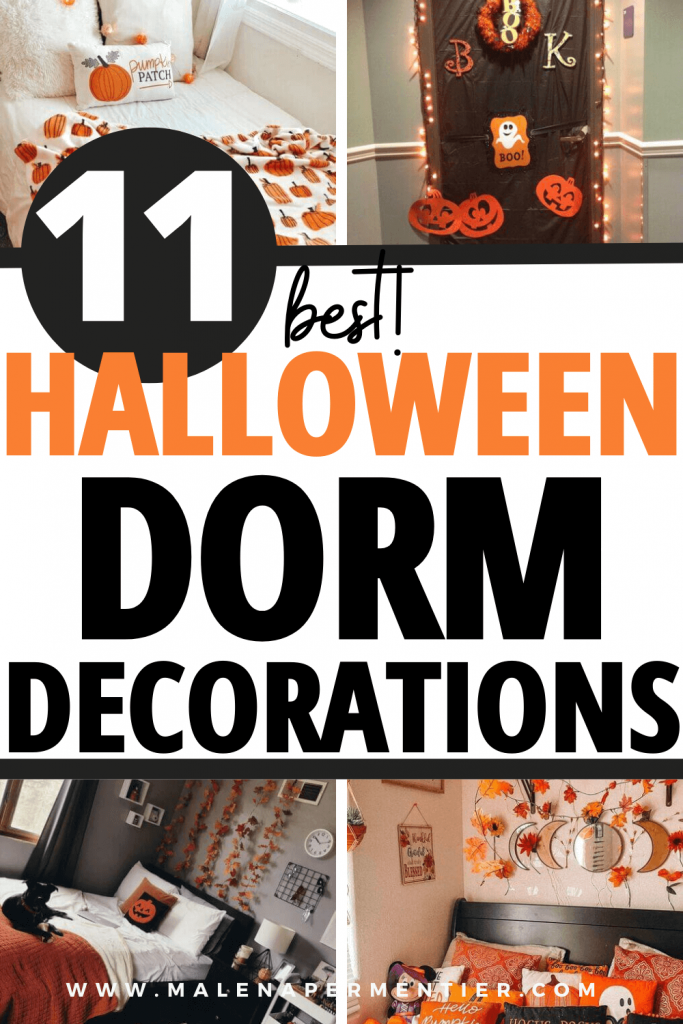 This post showed you the best dorm Halloween decorations.
You may also like: