Who else loves Euphoria? This show has some of the best outfits ever!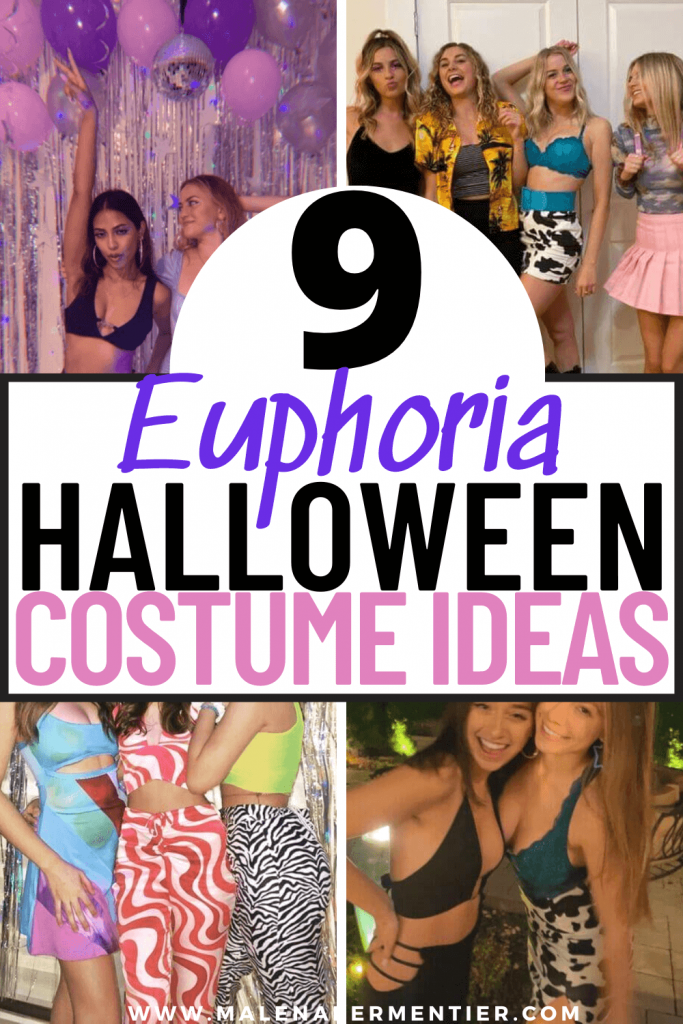 Euphoria is a show about a bunch of rebellious high school students that navigate relationships, drug abuse, trauma, and sex. Despite the heavy themes, there is also a lot of fashion, which is one of the reasons the show is so popular.
Watching what Maddy, Cassie, Rue, Jules, and Kat wear in each episode is a whole experience! Their outfits are spectacular.
So with Halloween incoming, I thought it would be fun to post the best Euphoria Halloween costumes ideas and how to pull them off!
Let's look at some of the most iconic looks worn in Euphoria and how you can recreate them for your Halloween costume this year.
Also, Euphoria would be such a great group costume! You can also do a bestie costume as Maddy and Cassie.
Euphoria Halloween Costumes Ideas
1. Euphoria group Halloween costume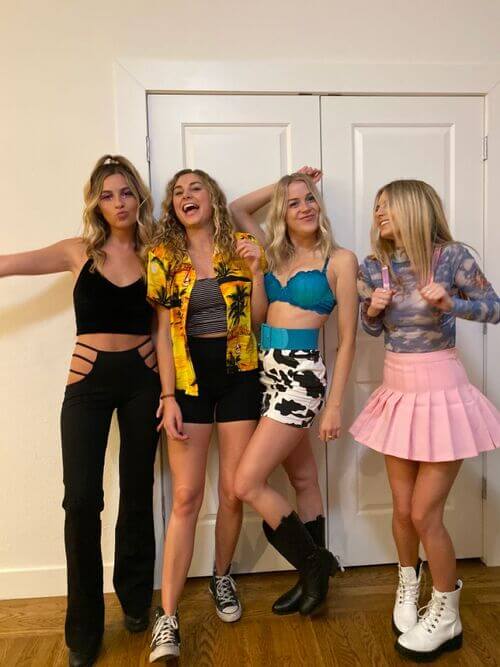 This must be the ultimate group costume for 4 friends in 2023! From left to right: Maddy, Rue, Cassie, and Jules. All the Euphoria girls have distinct styles, and I love how this girl group has recreated their looks :).
Jules has a quirky yet feminine style. Rue loves a tomboy aesthetic, Cassie is the one with the fun prints and colors, and Maddy is your all-black outfit type of gal.
Maddy's costume:
The cutout pants and crop top must be one of Maddy's most famous looks. The cut-out black dress is also very recognizable a Maddy look! Combine this outfit with slicked-back hair in a bun or half a ponytail. Recreate her make-up with thick eyeliner and face gems.
Rue's costume:
Rue has one of the easiest and most laid-back looks to recreate for Halloween. A must-have for this costume is a shirt with a Hawaii print in yellow and orange tones. Pair the shirt with simple black shorts and a gray cami.
Cassie's costume:
I'm obsessed with this Cassie's cow print skirt outfit! Loving how the print pairs with the blue halter top. This is another iconic Euphoria costume to wear this year for Halloween.
Jules costume:
I love Jule's looks with suspenders! So chic and cute. Wear a pleated skirt with a see-through shirt with a fun print. Wear some chunky white boots to make the look come together.
2. Maddy & Cassie Cheerleader costume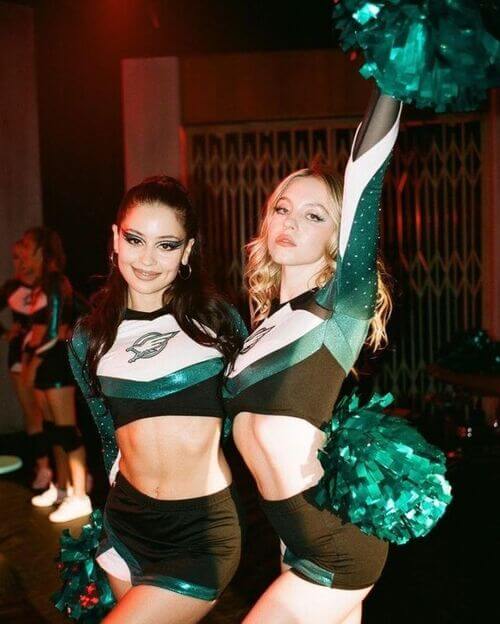 The most famous Euphoria duo: Cassie and Maddy! Recreate this cute Cheerleader costume they wear in Season 1. This cheerleader costume is a copy of the one the girls wore in the show.
3. Maddie and Cassie Duo costume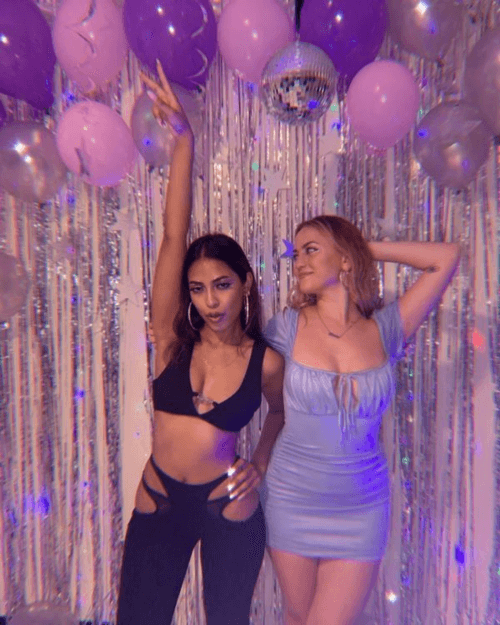 Where Maddy wears almost always all-black outfits, Cassie wears a lot of cute pastels! This is such a cool costume to pull off with your bestie.
4. Jules Halloween Party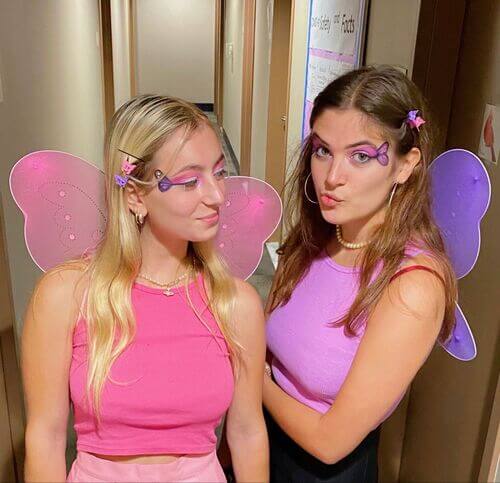 Recreate the costume Jules wore for Halloween with a simple pink crop top, butterfly wings, and face gems!! I'm a little confused now because didn't Jules wear an angel costume? Or did she wear both at some point?
5. Maddy Euphoria eye makeup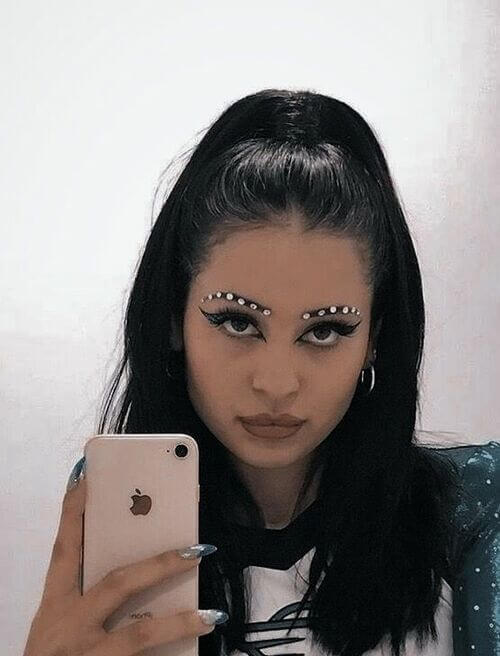 OK!! Maddy's eye makeup is at another level! Her winged eyeliner and use of face gems are so stunning. Not your everyday look, but I love how this would look for a Halloween costume this year.
6. Maddie & Cassie best friends' costume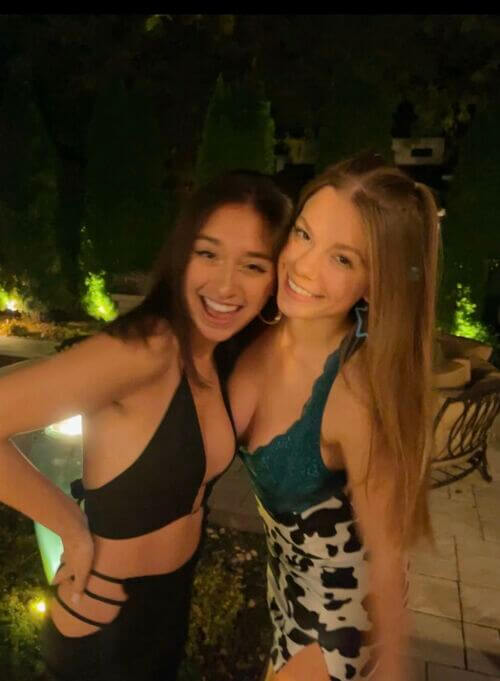 Another example of how to pull off the Maddy & Cassie bestie costume. I love the idea of using a pretty lace bralette as a top for this outfit. Super easy to recreate, and it looks so good.
7. Maddy & Cassie costume with velvet tracksuits
The girlies wearing velvet tracksuits with a cropped hoodie… super sexy and cute. If you're looking for a low-effort Halloween costume to wear with your bestie this year, this is it :).
8. Jules wearing an Angel Halloween Costume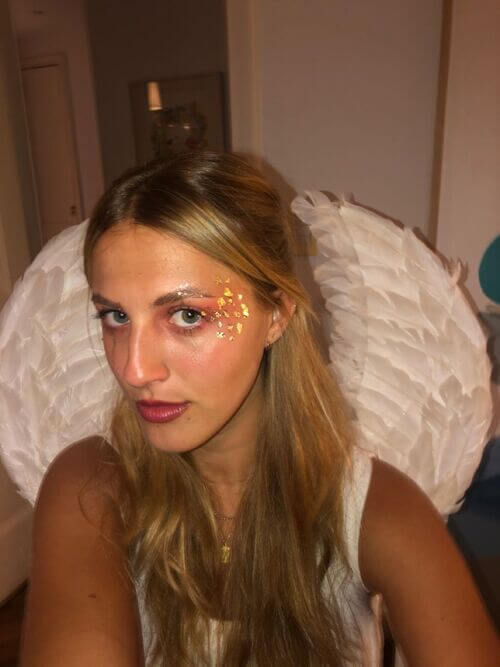 These feather angel wings are everything! Jules Angel Halloween costume is SO classy. The feather wings take the angel costume to the next level. Make the costume extra special by decorating your face with *gold flakes*.
9. Maddie, Cassie & Kat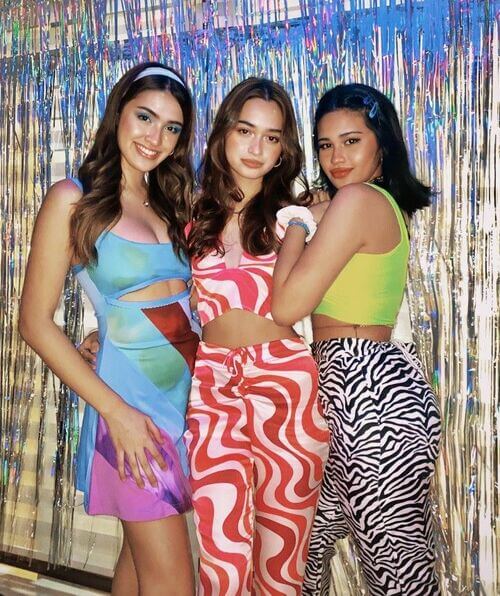 Kat wears the best prints in Euphoria!! Loving this cute trio costume with Cassie, Maddy, and Kat. Very retro and 60s vibes. To recreate these outfits, see below:
Cassie
Maddy
Kat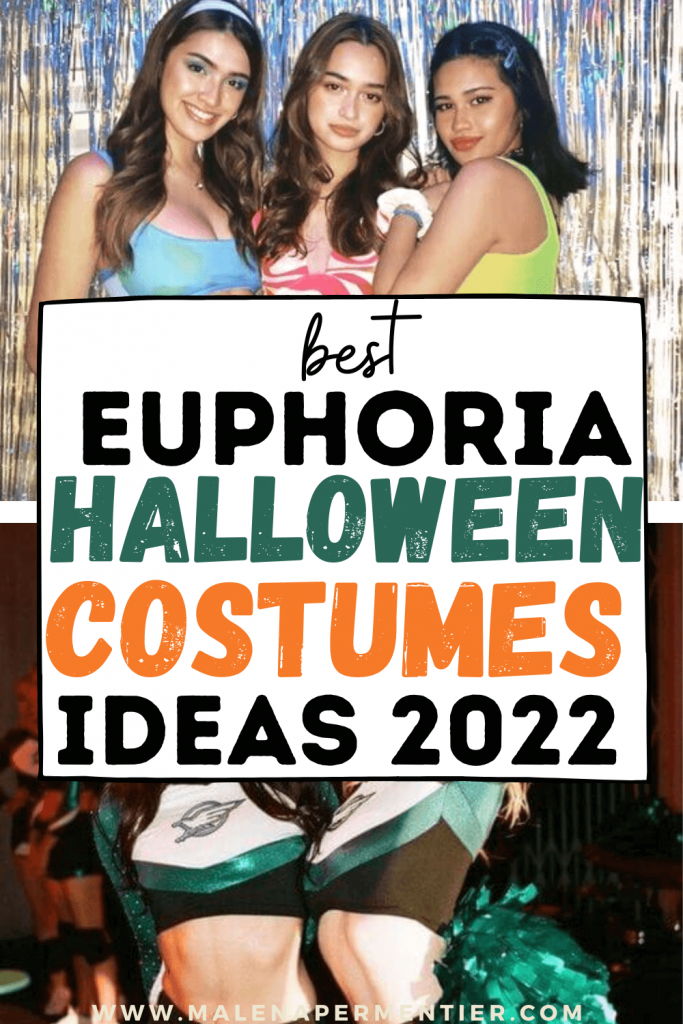 This post showed you some epic Euphoria Halloween Costumes to wear in 2023.
You may also like: