This post shows you how to decorate a small living room for Christmas.
Bringing the Christmas spirit into a small apartment can be a bit of a puzzle. You don't want to overwhelm an apartment living room with a huge Christmas tree!
Narrow and tall Christmas trees can be great for smaller spaces. If your apartment is very small, there are also plenty of beautiful Christmas tree alternatives.
Examples of Christmas tree alternatives are a wall Christmas tree, centerpieces for your coffee table, and a lush pine and eucalyptus garland with lights.
Other cozy holiday decorations like lanterns, DIY mason jars, fairy lights, and small Christmas villages are also suitable for small spaces.
This post will look at some great Christmas decor ideas you can recreate in your apartment!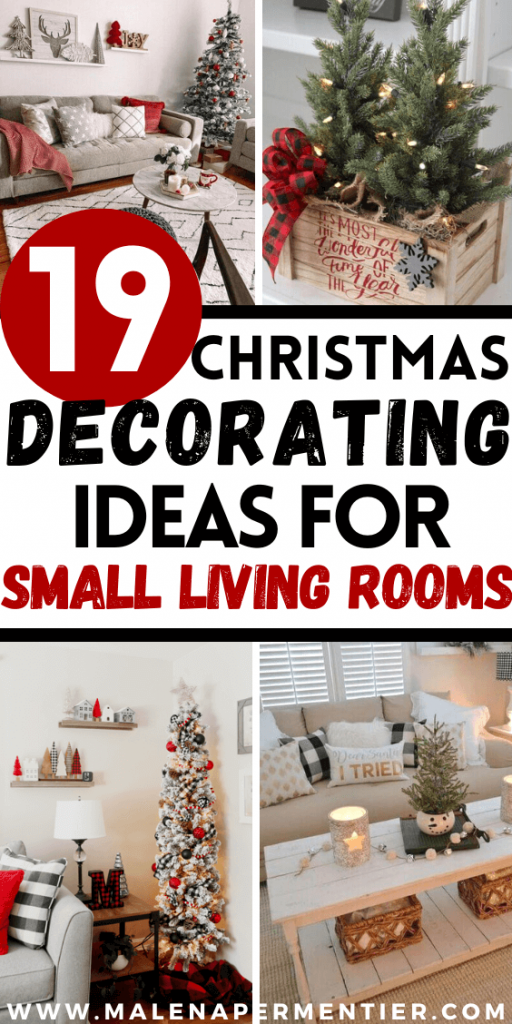 Best alternatives to a traditional Christmas tree
Here are some clever alternatives if a traditional Christmas tree doesn't fit in your space. For one, I thought this wall-hanging Christmas tree was genius.
Another option is to get a half shaped Christmas tree. This saves space and allows you the place the tree in a nook or corner of your apartment.
Then there is also the option of the tabletop Christmas tree. This is basically a tiny tree that fits on top of a cabinet or console in your living room.
Nothing quite tops the coziness of a Christmas tree, and these alternatives hit the spot.
How To Decorate A Small Living Room for Christmas
Now let's look at some genius ideas for decorating apartments for Christmas.
Bringing the complete Christmas spirit without taking up too much space!
1. Place a compact Christmas tree in the corner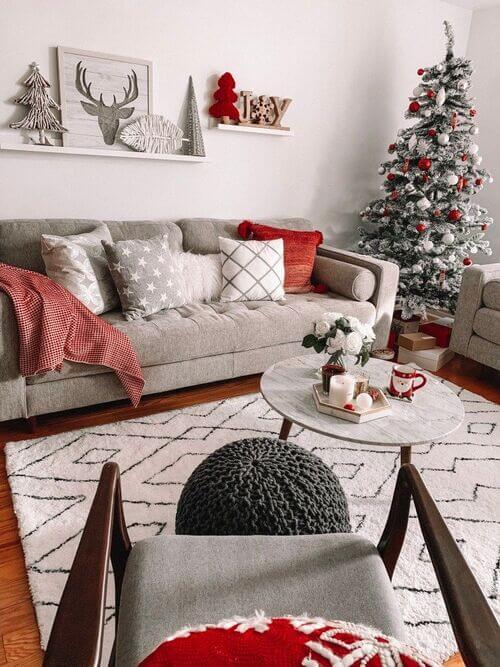 Having a small living room means you have to be clever about the size and placement of the Christmas tree.
I think this living room is a great example of how to pull it off!
This is a compact Christmas tree that looks great in the corner of your living room. I also think the placement of this tree is just perfect.
2. Decorate your coffee table with a Christmas centerpiece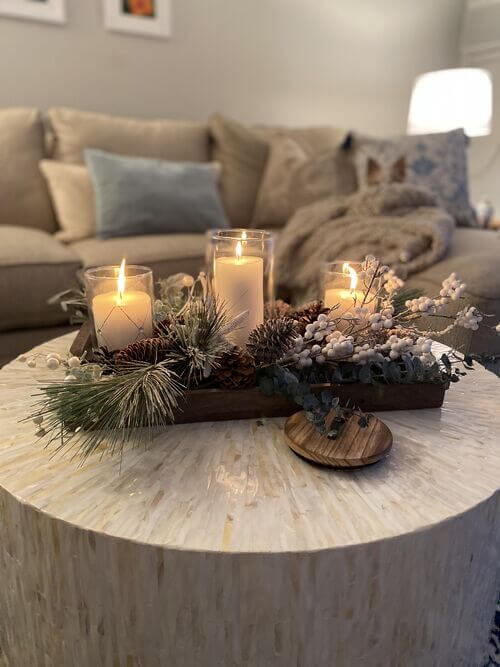 A great alternative to a Christmas tree, is to go big on the centerpieces!
A coffee table centerpiece can bring so much atmosphere during the holidays.
I also like how this centerpiece uses pine branches to get some of the Christmas tree vibes.
You can recreate this by using a rectangular tray, glass candle holders, and lots of lush Christmas greenery.
3. Hang a eucalyptus and pine garland on the wall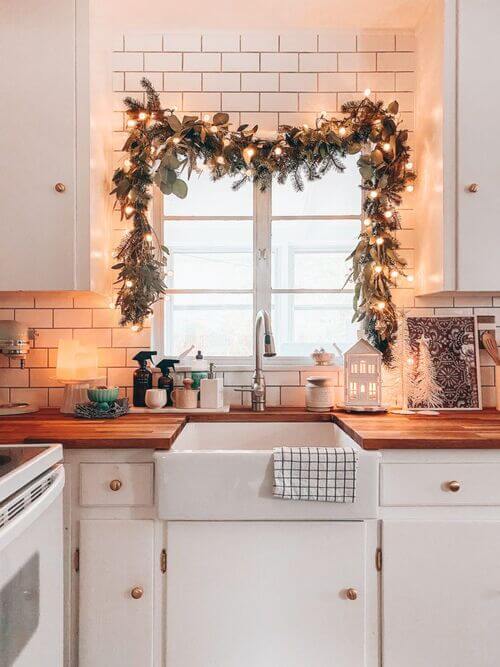 This is one of the easiest ways to get your home into the holiday spirit.
A lush garland with eucalyptus and pine looks amazing in your apartment.
Good spots for hanging a garland like this would be the kitchen, living room window sills, or over the TV.
Little tip: layer 2 garlands together for the ultimate lush look!
4. Place pine branches with led lights in a vase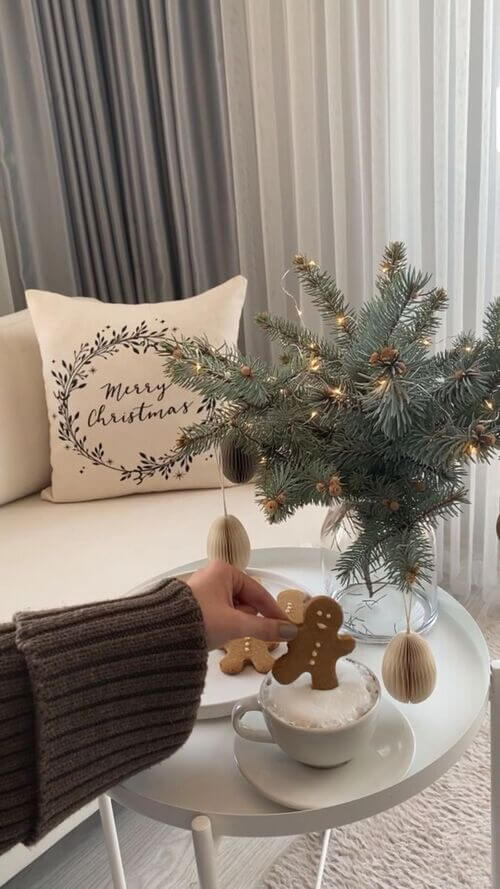 This is a super creative Christmas decor idea for apartments: placing beautiful pine branches in a large clear vase.
It's compact enough to fit on your coffee table or TV console.
You can get flocked pine branches and add in the fairy led lights yourself.
These battery operated led lights are perfect for decorating your centerpieces this Christmas. They also look amazing in an empty wine bottle or mason jar.
5. Opt for an extra narrow Christmas tree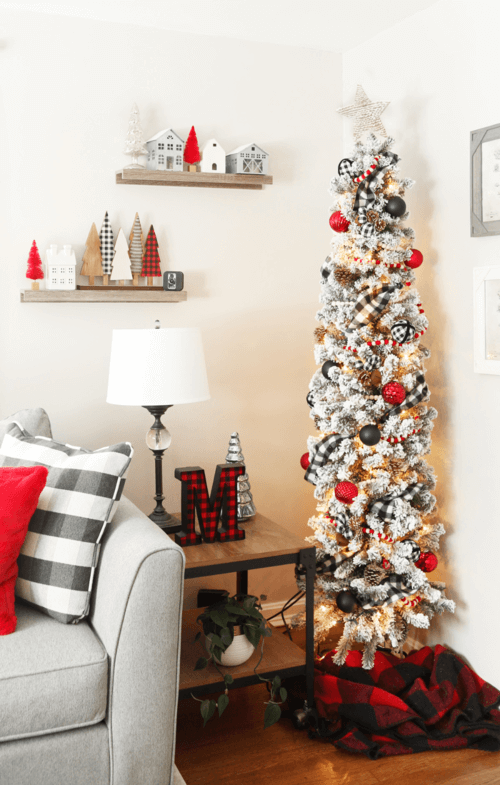 A great way to save space when decorating your apartment for Christmas, is using a tall and extra narrow tree.
It creates a beautiful ambiance without overwhelming a small apartment living room.
6. Decorate empty spaces with a Christmassy tray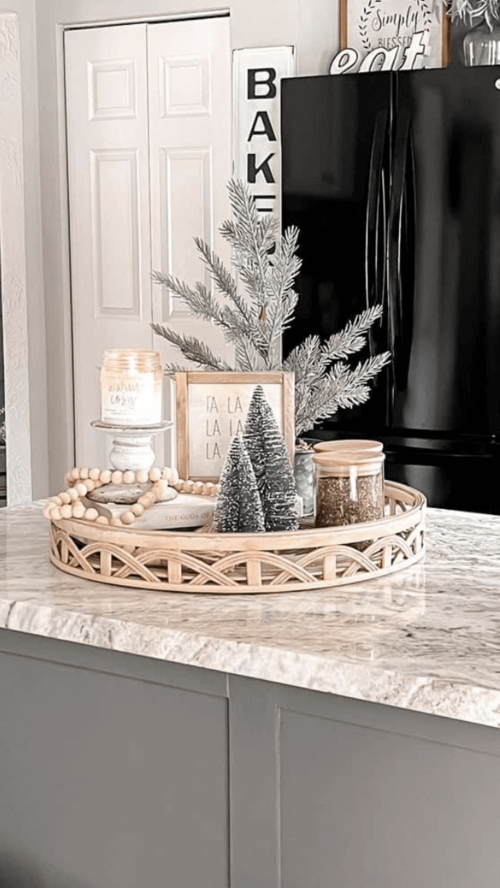 A great way to bring Christmas into your apartment is to place decorative trays on your coffee table, kitchen counter, cabinets, and other free spaces you might have.
You can keep this as simple and minimalist as you like! Greenery, miniature Christmas trees, and candles go a long way.
7. Mini Christmas tree and garlands on your coffee table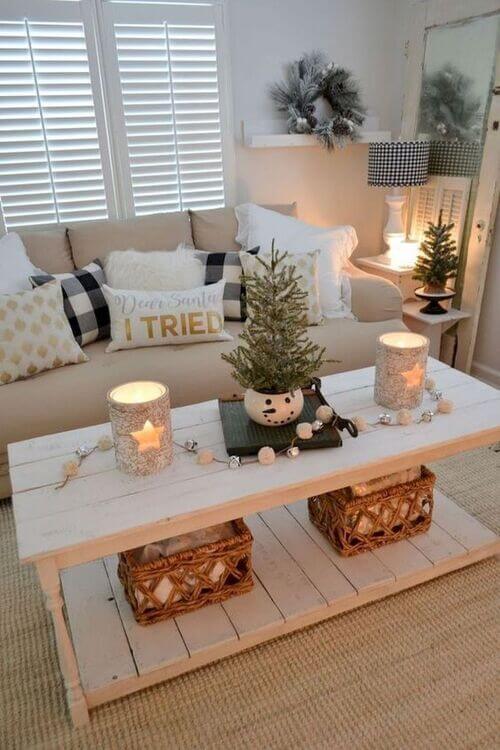 Consider some creative Christmas decor to decorate your place!
A mini Christmas tree and a festive garland look cute on your coffee table.
Decor like this is subtle and small but definitely gives your home that cozy Christmas atmosphere.
8. Creative Christmas tree on the wall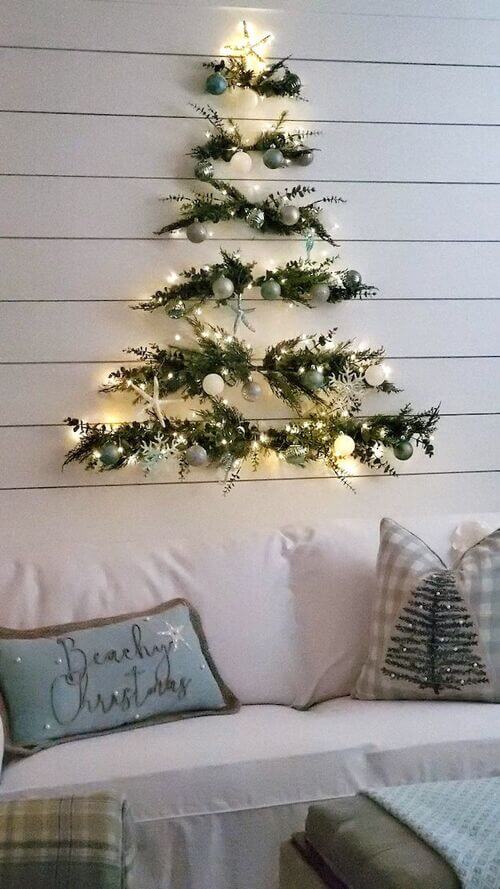 This is one of the most creative Christmas tree alternatives for small spaces I've seen!
Instead of a traditional Christmas tree on the floor you create one on your walls.
You can buy these Christmas tree wall decorations by itself, or DIY one.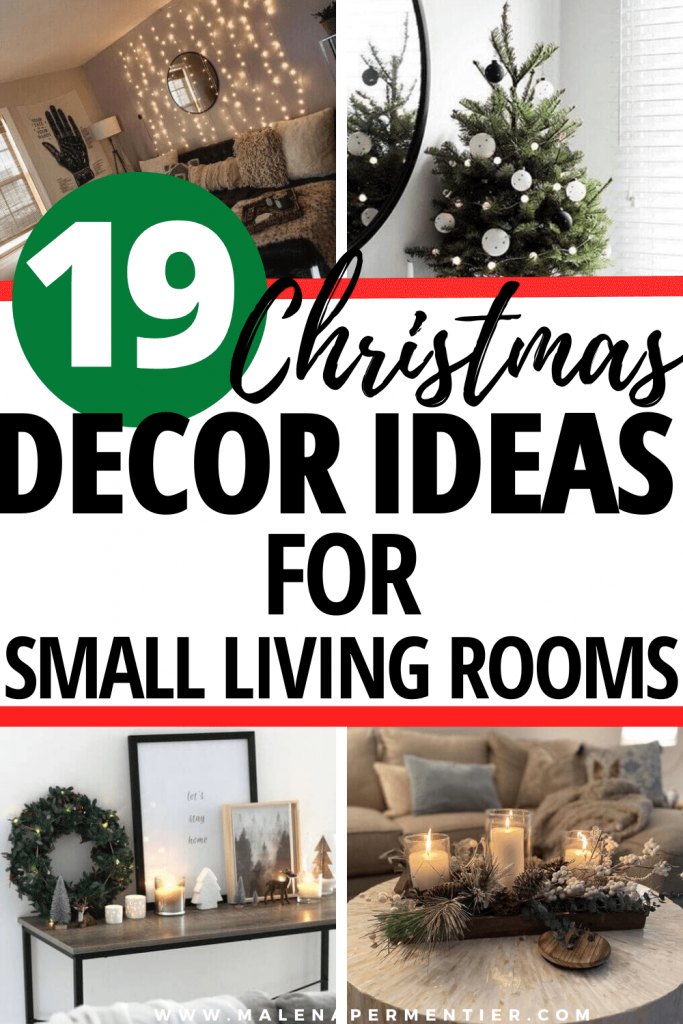 9. Make simple pine centerpieces with mason jars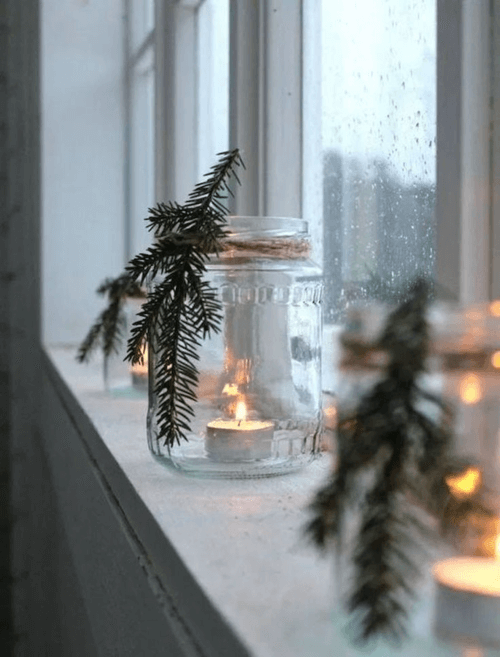 Even people who aren't good at DIY-ing (me!) can do this mason jar decor. And I love that.
These mason jars candle holders look super cute lined up on the window sill. But they would also make excellent Christmas table centerpieces.
To recreate this, you need mason jars, pine branches (real or fake), jute twine, and tealights to place inside.
The twine holds the pine branches in place, which makes this one of the easiest DIYs you can find 🙂
10. Create a cute miniature Christmas tree situation
This crate with 2 small Christmas trees is so creative!
Personalize the crate with cute star ornaments, gingham ribbon, and maybe a cute Christmas sticker quote.
11. Make your TV console look festive with cozy farmhouse decor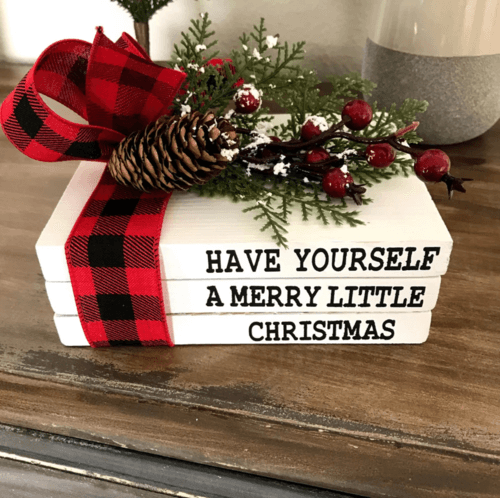 Simple and cozy Christmas decor is great to decrate those small, empty spaces you might have on your furniture.
This cute bookstack is very farmhouse and looks super cozy.
12. Hang a led light curtain on the wall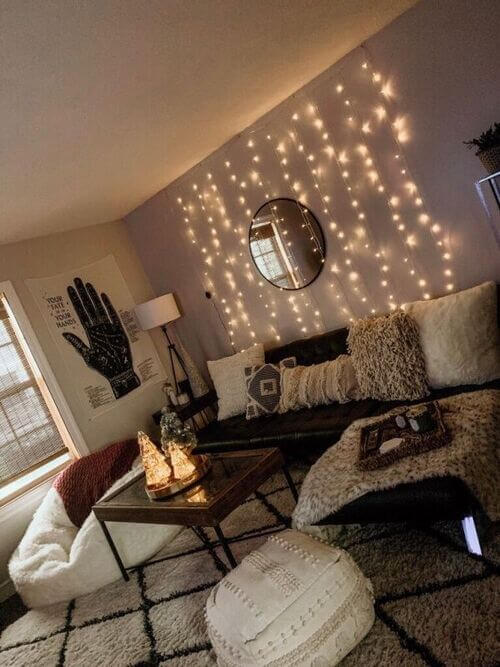 A simple yet powerful way to bring Christmas into your home is with string lights.
This string light curtain is inexpensive and will bright up your living room.
These string lights would look great behind the couch, or any other free wall space you might have. The window could be another good spot.
13. Elegant Christmas centerpiece with clear vases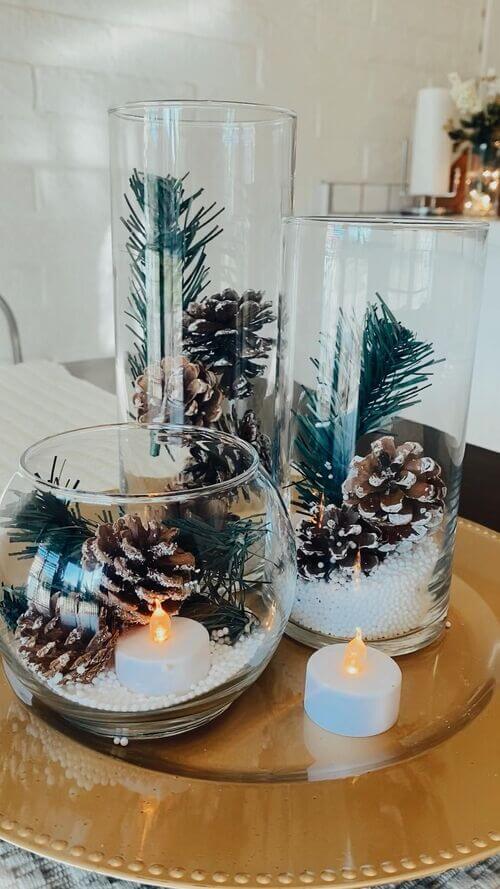 Make your own Christmas centerpieces to place around the home. Use a tray as base and add clear vases in different shapes and sizes.
Stack pretty vase filler inside the vases, add a led tealight, pinecones and pine branches for a super simple yet elegant centerpiece.
14. Decorate a tiered tray for the holidays (perfect for small spaces)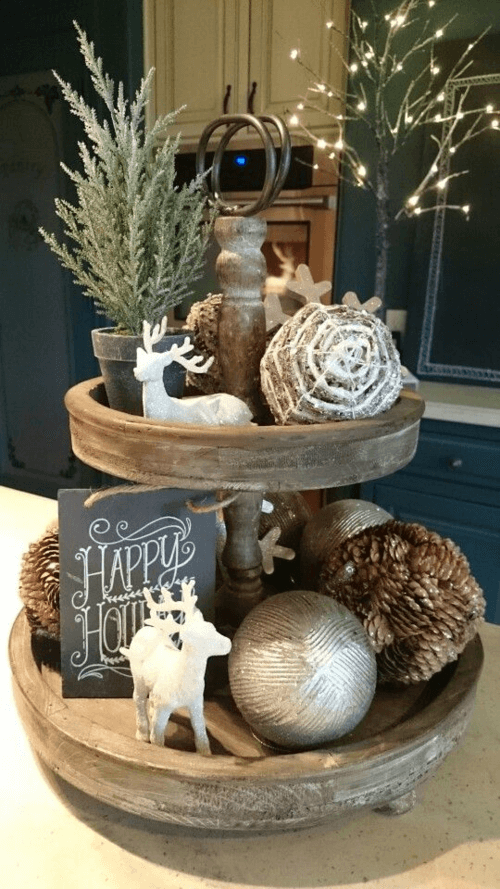 This rustic farmhouse tiered tray looks amazing for the holidays.
Using tiered tray is another great idea for decorating small living rooms for Christmas. The formula of tiered tray decor is pretty simple.
Place items in a similar color scheme on the tray. Fillers like pinecones, small pine branches, and candles always work.
15. Use a tabletop Christmas tree instead of a regular-sized one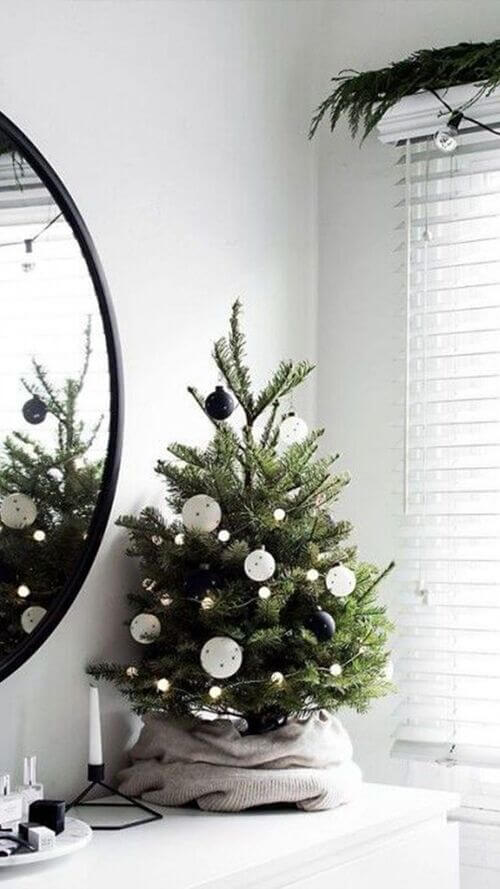 When in doubt, go for a small tabletop Christmas tree!
Because you place it on top of furniture, it's easy to see. Which helps elevating that beautiful Christmas ambiance.
A simple way to customize a small Christmas tree is by wrapping a throw blanket around the base.
Jute fabric also works if you want a more rustic aesthetic.
16. Replace a Christmas tree with a unique coffee table centerpiece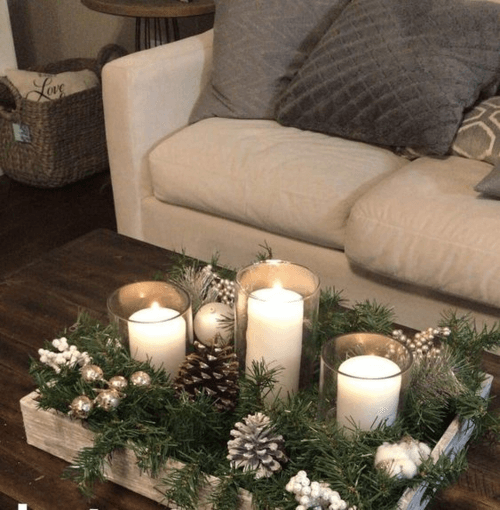 I love this example of small Christmas decor that makes a big impression.
Even though small living rooms might not have space for a Christmas tree, decor like this makes our apartment look festive.
Don't be afraid to go for a centerpiece that takes up reasonable space on your coffee table!
17. Decorate cabinets and consoles with Christmas decor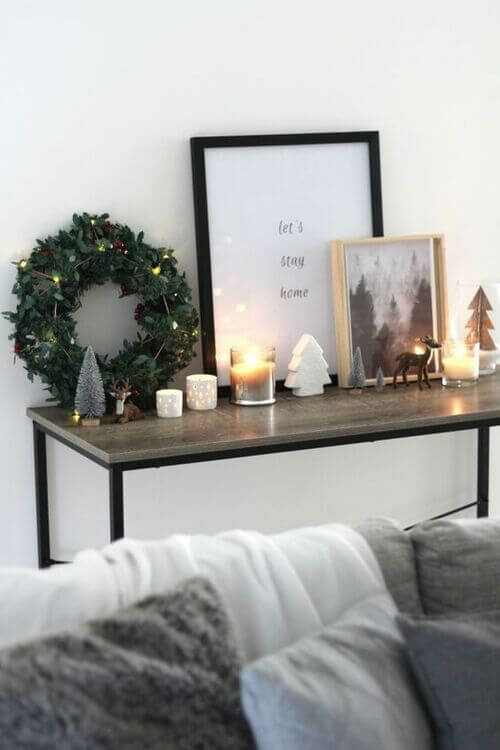 Another great way to decorate a small living room for Christmas is to utilize the top of cabinets and consoles.
This console behind the ouch is beautifully yet subtly decorated, and I love the atmosphere that it creates.
If you have art prints, consider changing them up for something with Christmassy vibes like the black and white pine tree print in the picture above.
18. Utilize the window sill for Christmas decorating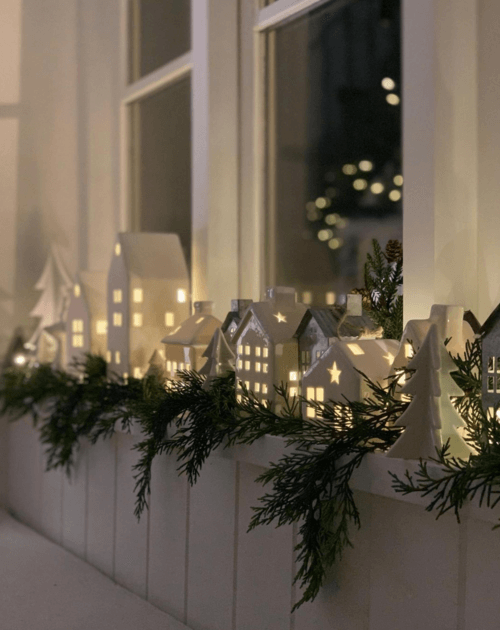 Not every apartment has window sills that you can actually place something on, but if you, do make sure to use it for your chrismtas decor!
There is something about chrismtas decor a the window that makes it looks so cozy. These porcelain houses are super pretty.
19. Create cute Christmas decor spots with a tray and ceramic houses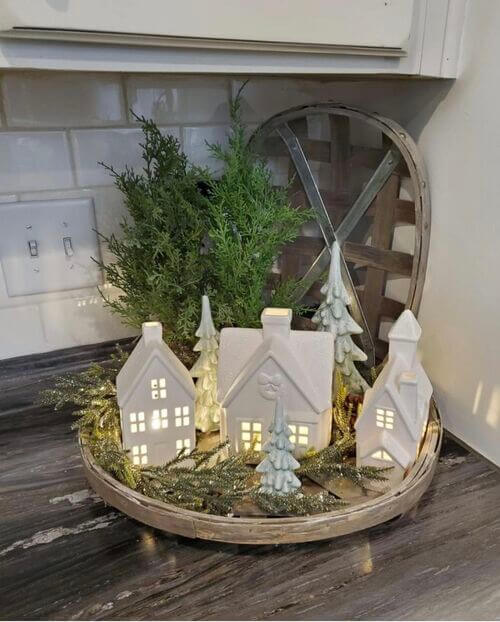 Change up your kitchen counter decor for something Christmassy!
Build your Christmas decor with a round tray and greenery for a timeless and chic look.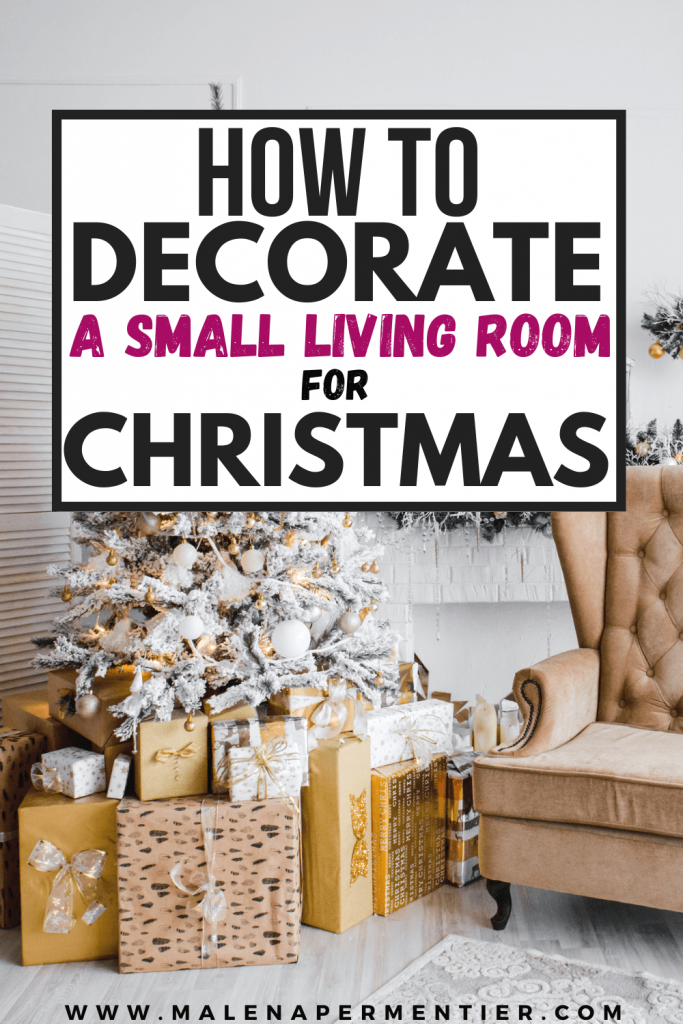 This post showed you how to decorate a small living room for chrismtas.
You may also like: