Want to match with your bestie for Halloween this year? This post shows you 21 great Halloween costumes for best friends.
Planning your Halloween costume is always an ordeal! That's why it's fun to match costumes with your best friends. So then at least you can prep your costumes together.
Let's look at some great bff costumes to take inspiration from. These costume ideas include matching costumes, iconic duos, movie characters, and more!
Without further ado, let's get ready for the best friend costume ideas.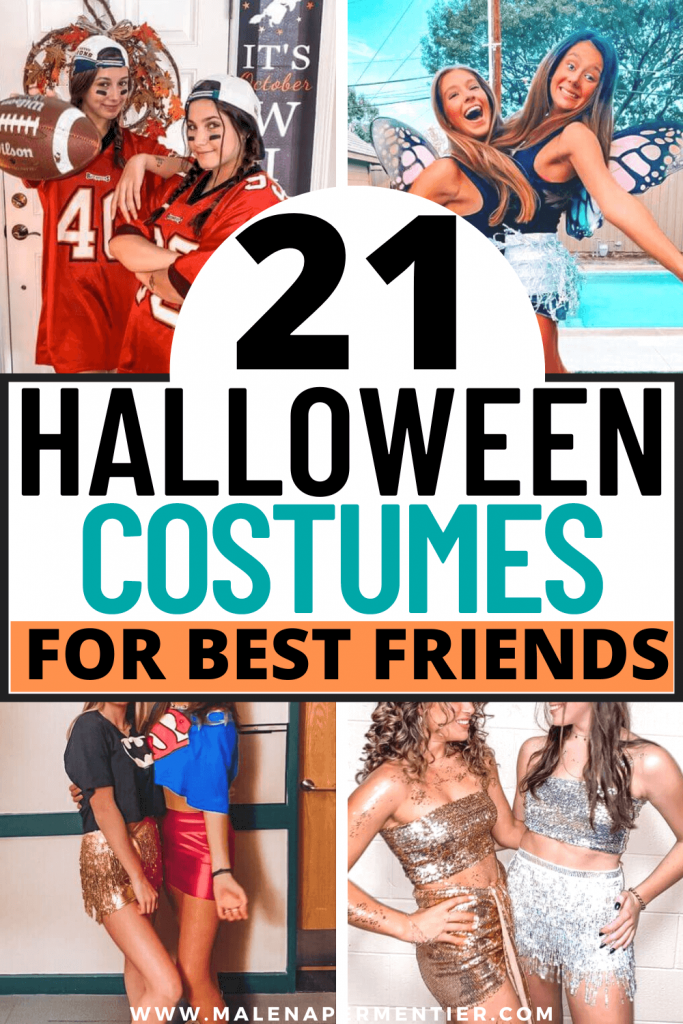 Halloween costumes for best friends
1. Mermaid Costume College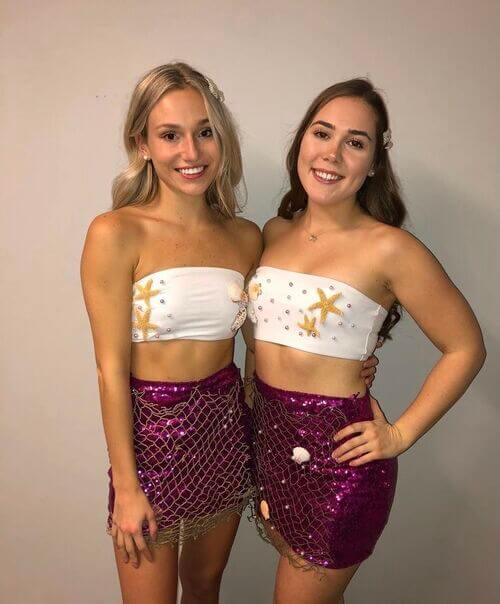 A mermaid costume is easy and super cute for college parties. Plus, I'll take any excuse to wear sequins! Agree? Sew shells on your skirt or top for a mermaid effect.
Use a simple white bandeau top for this costume. Attach fishnet fabric around your skirt to make the mermaid costume come together.
2. T-Bo from iCarly (and friends)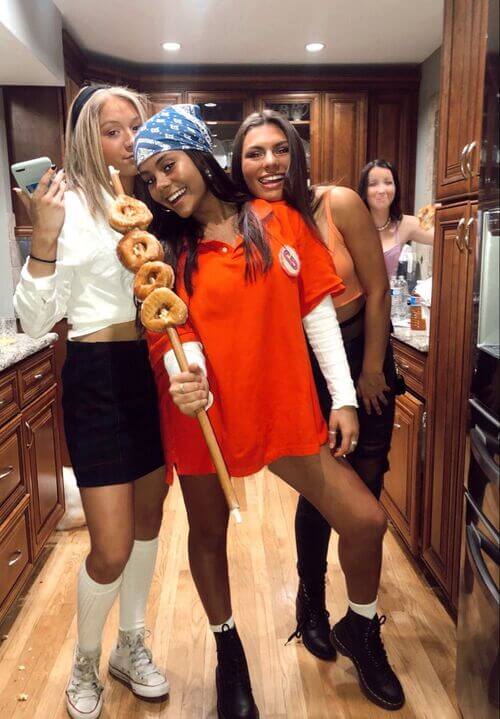 I'll be honest; I had to look up what this costume means!! But seriously, this T-Bo from iCarly costume is EVERYWHERE. Recreate this costume for a best friend group of 3.
I also like that this costume is super easy to recreate with items you'll probably already have in your closet.
Related: 26 Easy Costumes With Normal Clothes To Wear For Halloween This Year
3. Dallas Cowboys Cheerleaders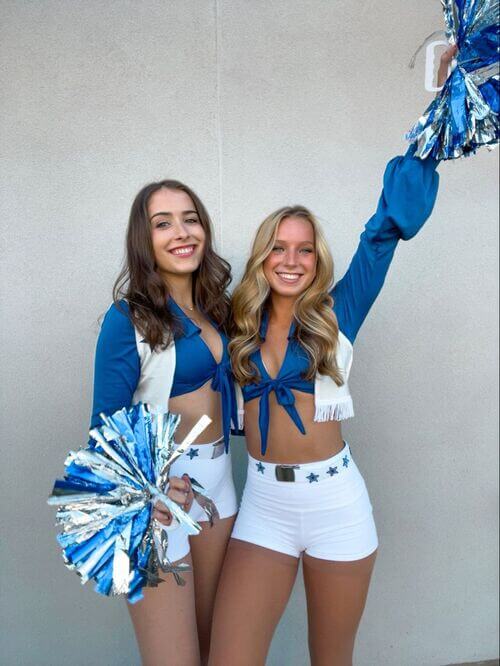 A Dallas cowboy cheerleaders costume is super popular for besties and an easy last-minute costume to recreate.
Maybe you already have these colors in your closet! A must-have for this cute costume is the pom poms.
4. Cosmo and Wanda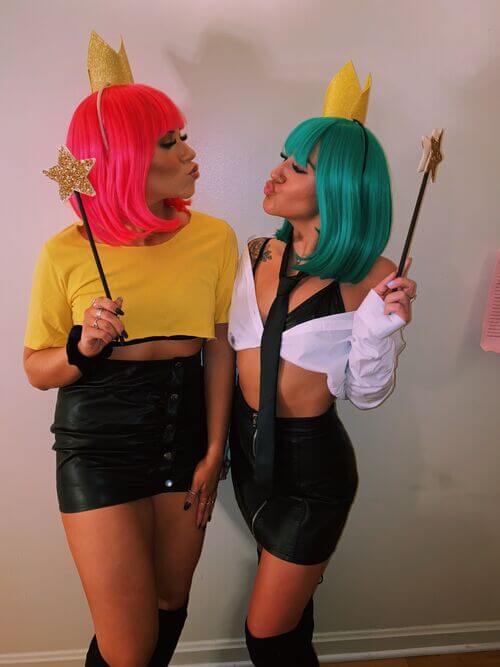 Cosmo & Wanda are two iconic (and easily recognizable) characters from Fairly Odd parents. This costume requires wigs which are SO fun to rock with your bestie.
Other accessories for the Cosmo and Wanda costume are the star wand and cute gold crown.
5. Clueless movie Cher & Dionne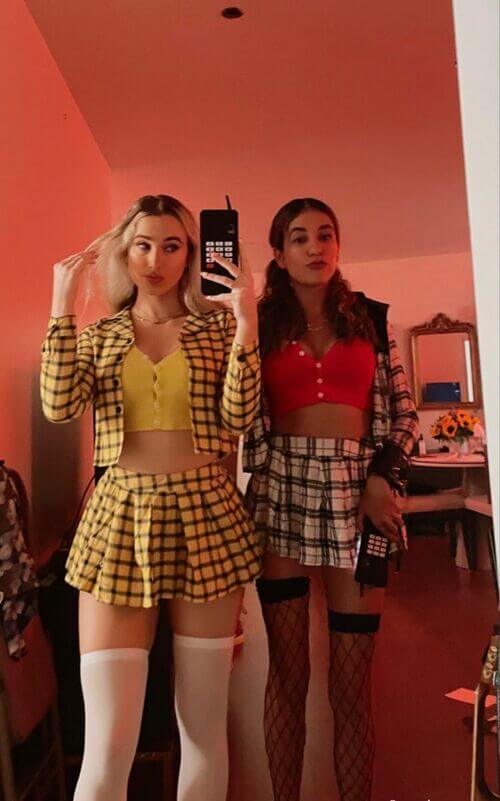 The clueless movie is forever a classic!! Gotta love Cher and Dionne and their iconic outfits. This is the ultimate matching costume to wear with your best friend for Halloween.
You can get ready-made Cher and Dionne costumes on Amazon or put something together with the clothing you already have. The white and fishnet tights with the plaid skirts make this costume super recognizable.
6. Black and White Swan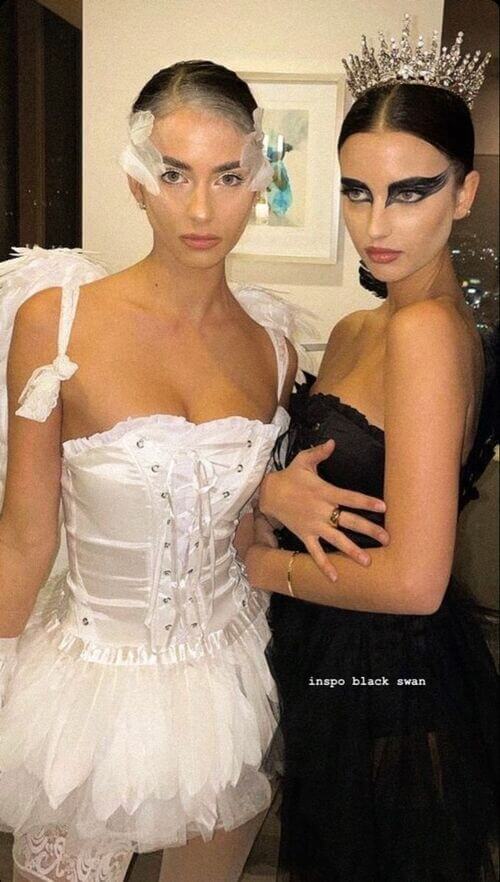 I've said this before, but I'm obsessed with the Black Swan movie :). It's so good! and so are the costumes in it.
Recreate a black and white swan costume with your bestie for Halloween! This gives you a good excuse to dress up, wear a tutu and a tiara, and I'm convinced. Best costume ever.
Wear a black or white corset over the tutu to recreate this costume!
7. Matching butterfly costume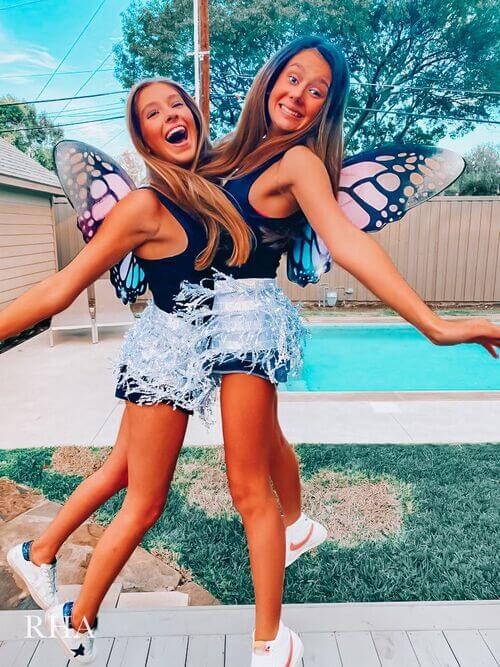 Gotta love a good butterfly costume! The combo of the wings with the sequins tassel skirt is *chef's kiss*. This is one of the easiest Halloween costumes yet so pretty and fun.
8. Fairies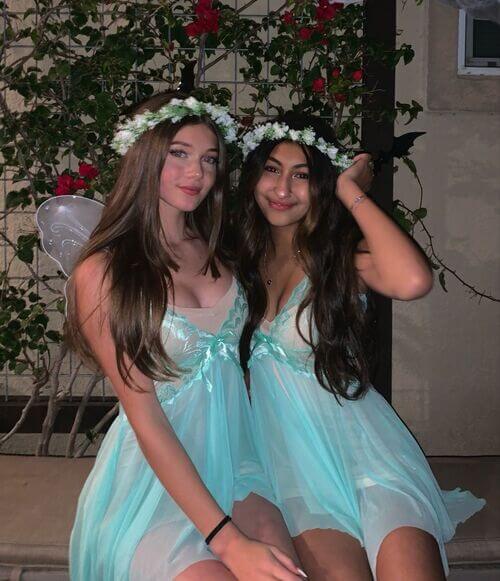 I love this turquoise/sage green fairy costume! A babydoll lingerie dress could work very nicely as a 'fairy dress.'
The accessories are also essential! You can get a set of wings and a headband in one set for a surprisingly low price.
9. Sun and Moon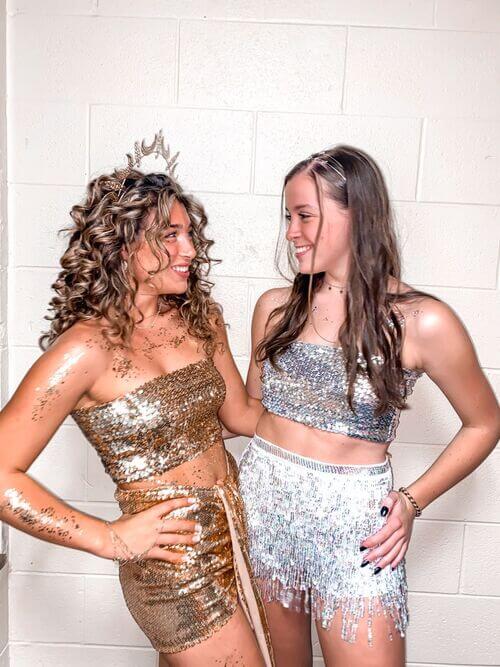 Sun and moon costumes are popular with friends!! If you're looking for a group costume, you could also do sun, moon, and stars!
Must haves for this costume are everything gold and silver glittery. Amazon has gorgeous sequin tube tops and sequin tassel skirts for cheap.
Complete your costume with gold or silver body glitter. Or Unicorn snot, as they also like to call it 🙂
save this post for later 🙂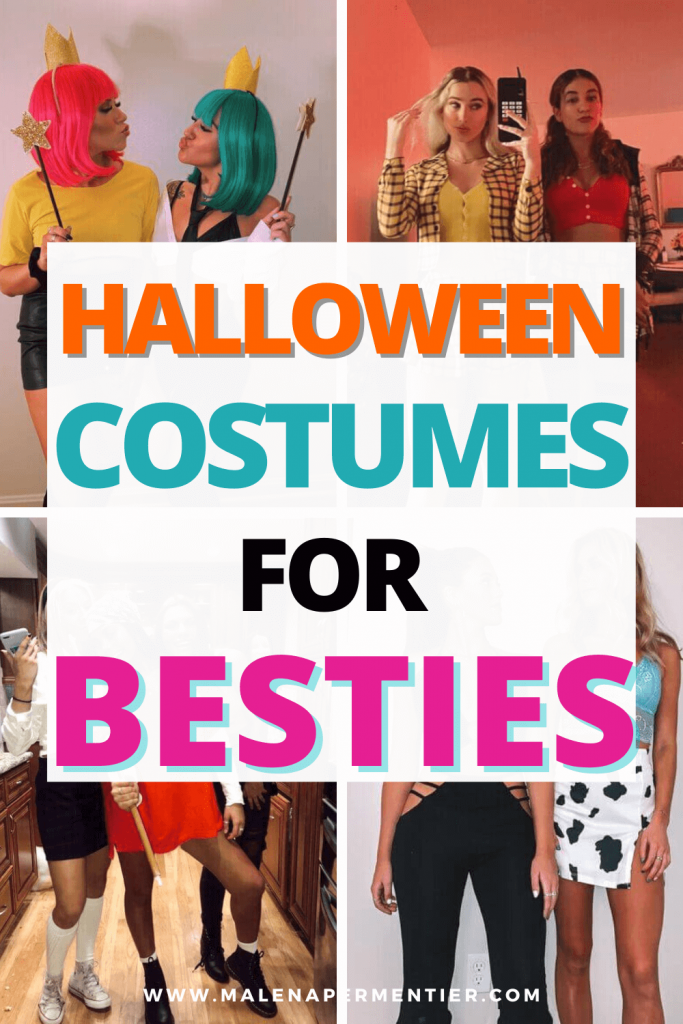 10. Space cadets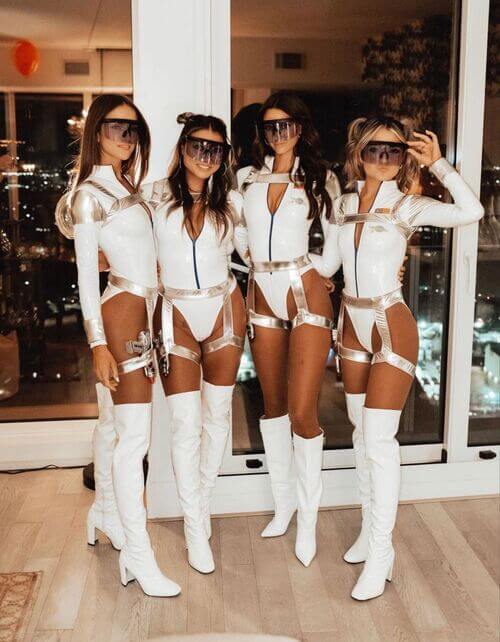 You're right; nobody knows 100% sure what these costumes are. BUT, so cool! Let's call it space cadets, and it's the cutest thing to wear with a group or your besties.
I'm pretty sure the costume these girls are wearing is from Amazon! It looks super cute! It includes the suit and the glasses. Don't forget to pair the look with some thigh-high white boots.
11. Breaking bad costume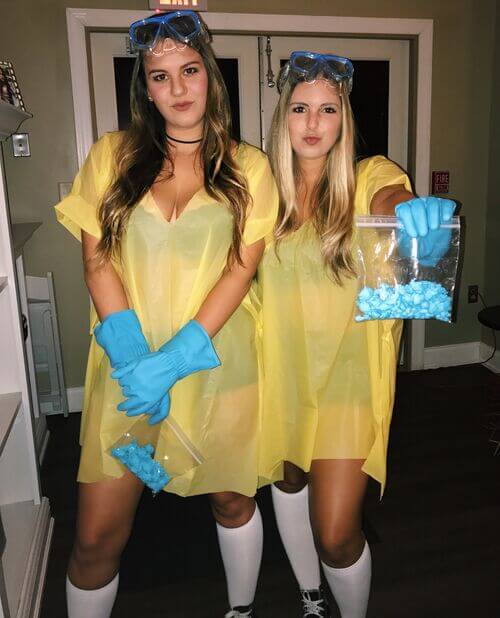 The good old hazmat suit makes for an easy Halloween costume for besties!! If you love breaking bad, you immediately recognize this look.
I'm pretty sure you can also DIY this costume with yellow trash bags! That's much cheaper than the actual hazmat suit. It still looks super believable as a costume.
12. Angel & Devil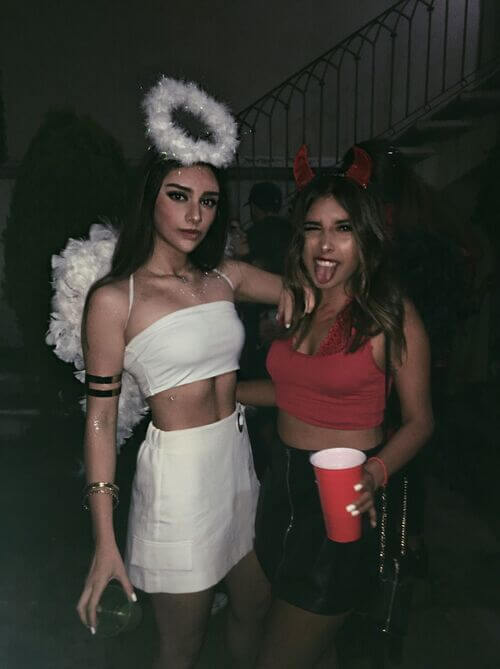 Here is another Halloween costume classic we won't get tired of: the devil and angel costume for besties. Put together this costume with a short skirt and crop bandeau top.
White for the angel and red for the devil! You can also make the costume with a bodysuit. The horns headband and angel's halo are super cheap to get. The angel & devil costume might be the most affordable costume out there!
13. Maddy and Cassie Euphoria Costume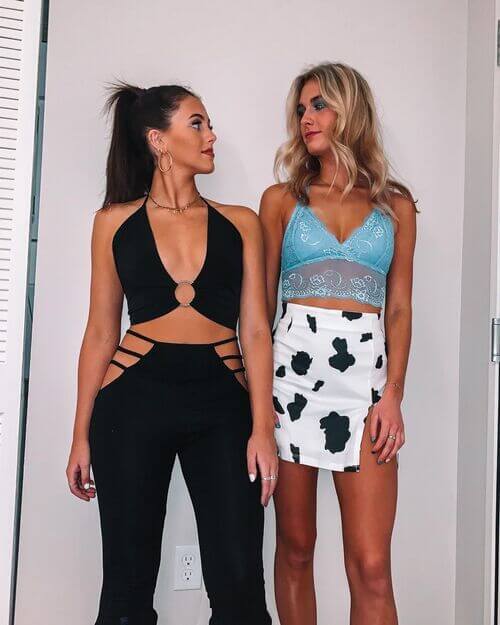 Have you watched Euphoria on HBO? I watched season 1 and am now in the middle of season 2. Anyhow, if you've watched the show, you most definitely know who Maddie and Cassie are!
This iconic best friend's duo of the show always comes up with the most daring and creative outfits. If you're into the y2k looks on the show, you'd love to do the Maddie & Cassie costume with your bestie!
Recreate Maddie's costume with a black cut-out top and pants. Cassie wears the cutest cow print skirt and blue halter top.
14. Football players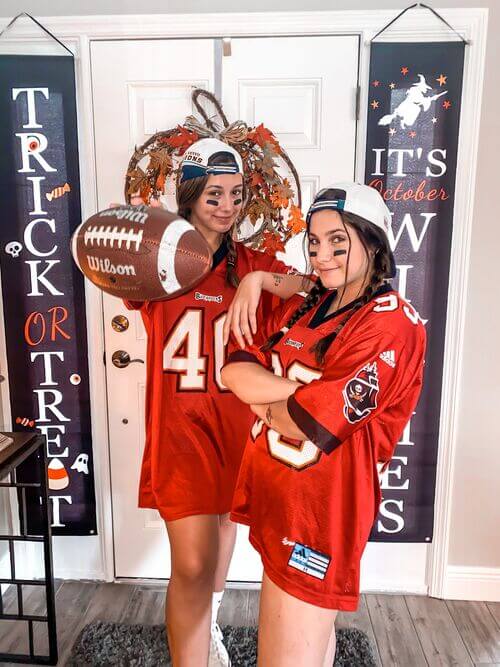 This is an easy last-minute costume to wear with your bestie! Borrow a football shirt from your boyfriend or family member, so you don't have to buy it.
You can wear tights under the shirt or tight sporty shorts. This costume is cute and will attract attention at any party you attend.
15. Greek Goddess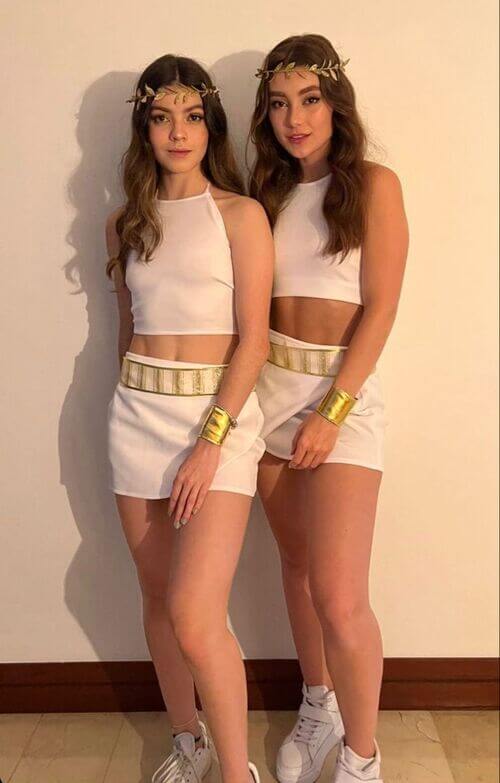 Greek goddess costumes usually have super long white dresses (which is gorgeous but not practical for college parties, lol). So I love this short skirt version of the Greek goddess costume! Plus, you can likely put it together with items you own.
Must-have accessories for this costume are the gold leaf headband and gold cuff!! Super easy and cute.
16. Superman & Wonder Woman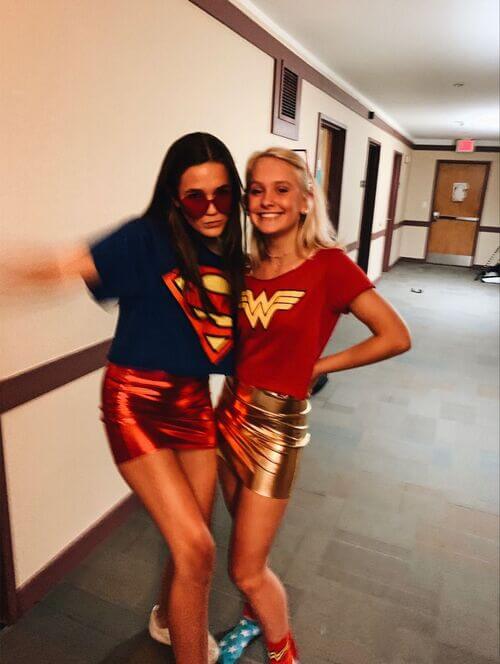 Dress up as superheroes with your best friend! Duo costumes don't necessarily have to make sense, lol. I mean, why wouldn't Wonderwoman and Superwoman want to get together?!
The metallic gold and red skirts are from Amazon! They're sexy and look great with a superhero crop top.
17. Pink space cowgirls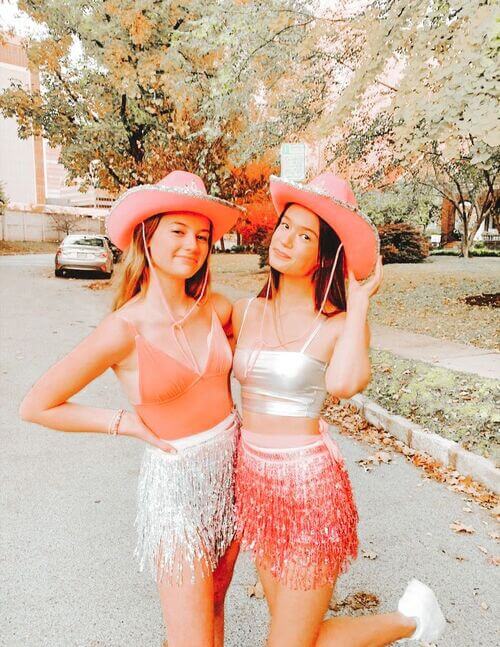 The pink space cowgirl costume is going to be trendy in 2022! This is a fun costume for your bestie or a group.
You've probably already seen this sequin tassel skirt everywhere on the internet! That's because it's insanely popular for different Halloween costumes. It's also inexpensive, which is a plus!
Put together a space cowgirl costume with a pink or metallic silver top and a bottom with sequins in either pink or silver. The cowgirl hat needs to be pink! Get a basic pink hat and add some gemstones or silver ribbon at the top.
18. Dark space cowgirls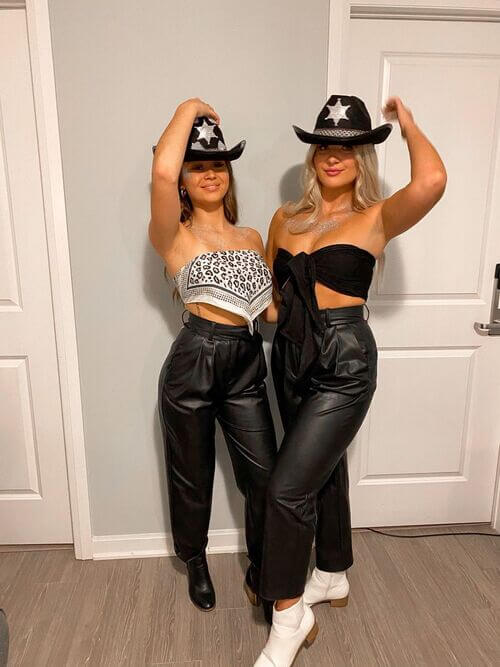 You can also put together a cowgirl costume in darker colors! Maybe call it biker cowgirl? Sheriff cowgirls? I like this costume because of the pants and cute bandana top.
Complete the costume with cowboy booties and a black cowboy hat. Matching costumes with your BFF has never looked cuter.
19. Hot pirates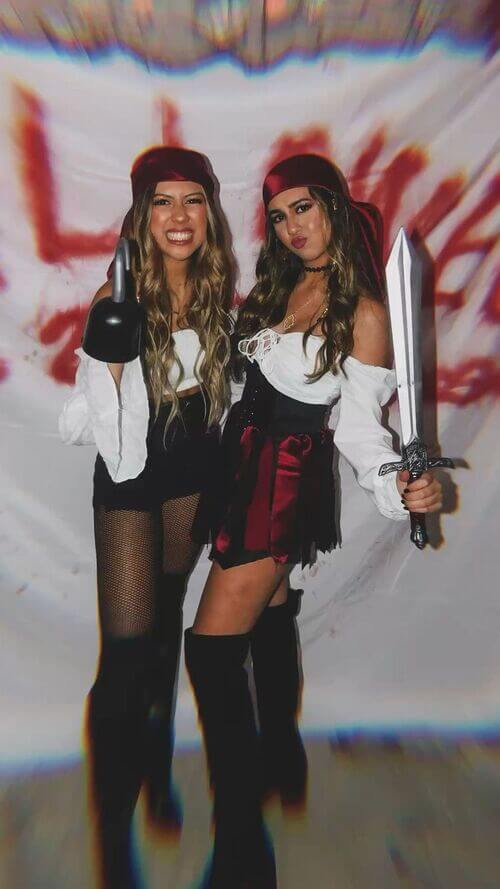 This pirate costume is so creative! I love how a sexy pirate costume is also very fashionable. I mean, look at the off-shoulder top and waist belt.
A must-have accessory for this costume is a large sword and burgundy bandana. The pirate costume will also be great for taking pictures at a Halloween party. I love it when costumes have a fun prop like a sword.
20. Fire & Ice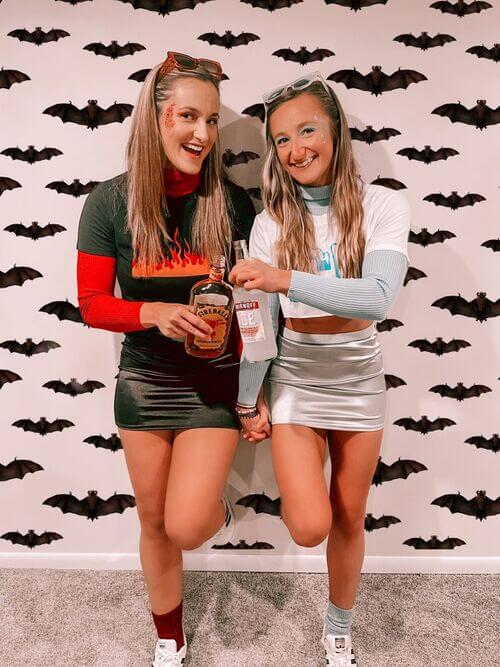 The fire and ice costume will never get old! I love the creative spin these girls put on the Halloween costume with the liquor bottles. Fireball whiskey and Smirnoff? Genius!
Recreate this outfit with a silver or black skirt. A crop top with flames or ice cubes will do the rest! For accessorizing, using blue or orange sunglasses is the cherry on top.
21. Batwoman & Superwoman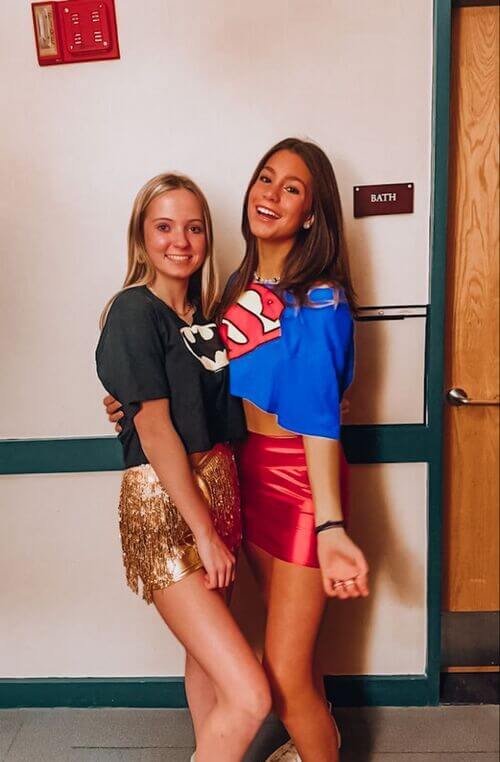 More besties wearing superhero costumes, I love it! This time Superwoman and Batwoman :). I love a good lazy costume, and this one hits the spot.
All you need to pull off this costume is a skirt (red for superwoman, gold for batwoman) and a crop top with the superhero logo of your choice. I'd say this Halloween costume for best friends is a success!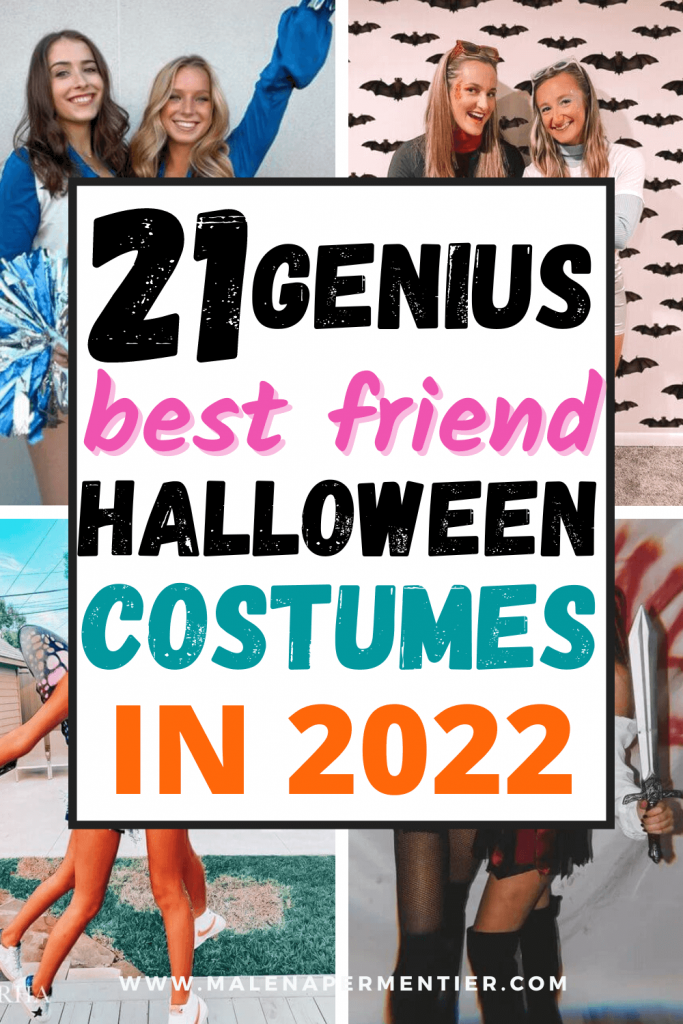 This post showed you the best Halloween costumes for best friends.
You may also like: