This post is all about funny couples' Halloween costume ideas.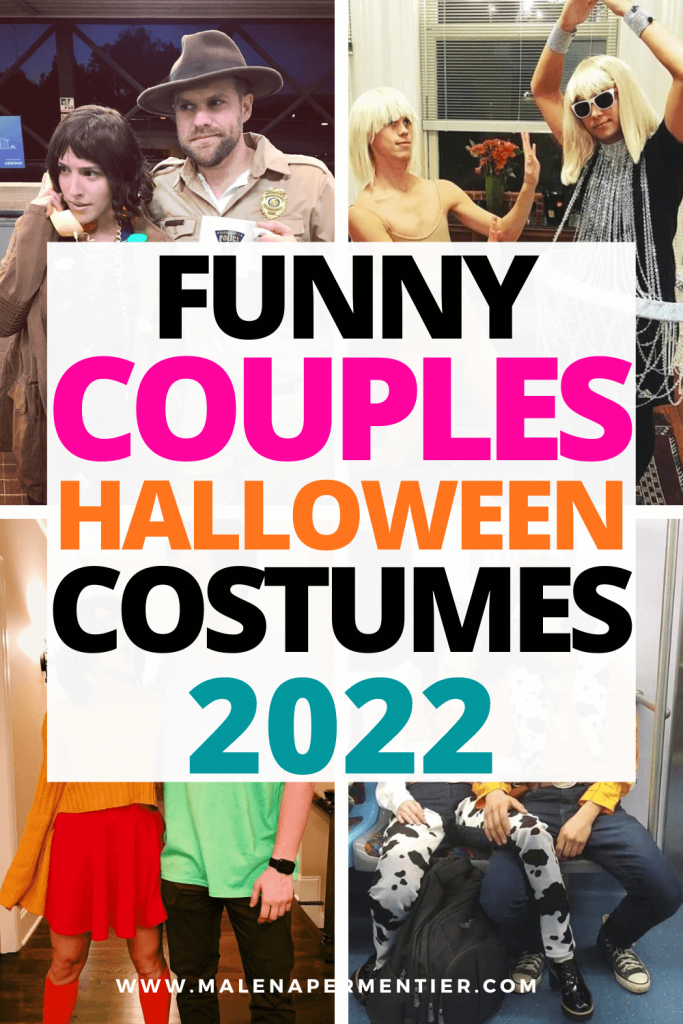 What's so fun about Halloween is that your costume is entirely up to you: make it scary, make it exciting, make it FUNNY.
These funny couples' Halloween costumes are perfect if you're looking for last-minute inspiration and easy costume ideas.
Last-Minute Funny Couples Halloween Costume Ideas
There's nothing better than to laugh, so below, I've listed 16 insanely funny couples' Halloween costume ideas to try out in 2023!
Truth be told: my boyfriend helped me put together this list of funny Halloween costumes. Why? Because I'm shockingly out of the loop regarding TV series, films, and characters that would make great Halloween costumes.
These are seriously the funniest couples' Halloween costume ideas to wear to your Halloween party this year.
The costumes below are super easy to recreate with regular clothes, making them all the more perfect for last-minute parties!
Let's hop right into it.
1. Breaking Bad – Jesse Pinkman and Walter White
There's nothing better than the iconic Jesse Pinkman and Walter White!! This Halloween costume is genius and easy, plus a real crowd-pleaser.
Although I had to stop watching Breaking Bad in season 4 because it just became too stressful, I love this Halloween costume idea.
You'll find everything you need for this Breaking Bad costume in your dad's or nephew's closets lol.
Recreate Walter White Costume:
2. Shaggy & Velma
Scooby dooby doo! Shaggy & Velma are a classic and make a super cute couple's Halloween costume. Perfect last-minute costume idea that's also budget-friendly :).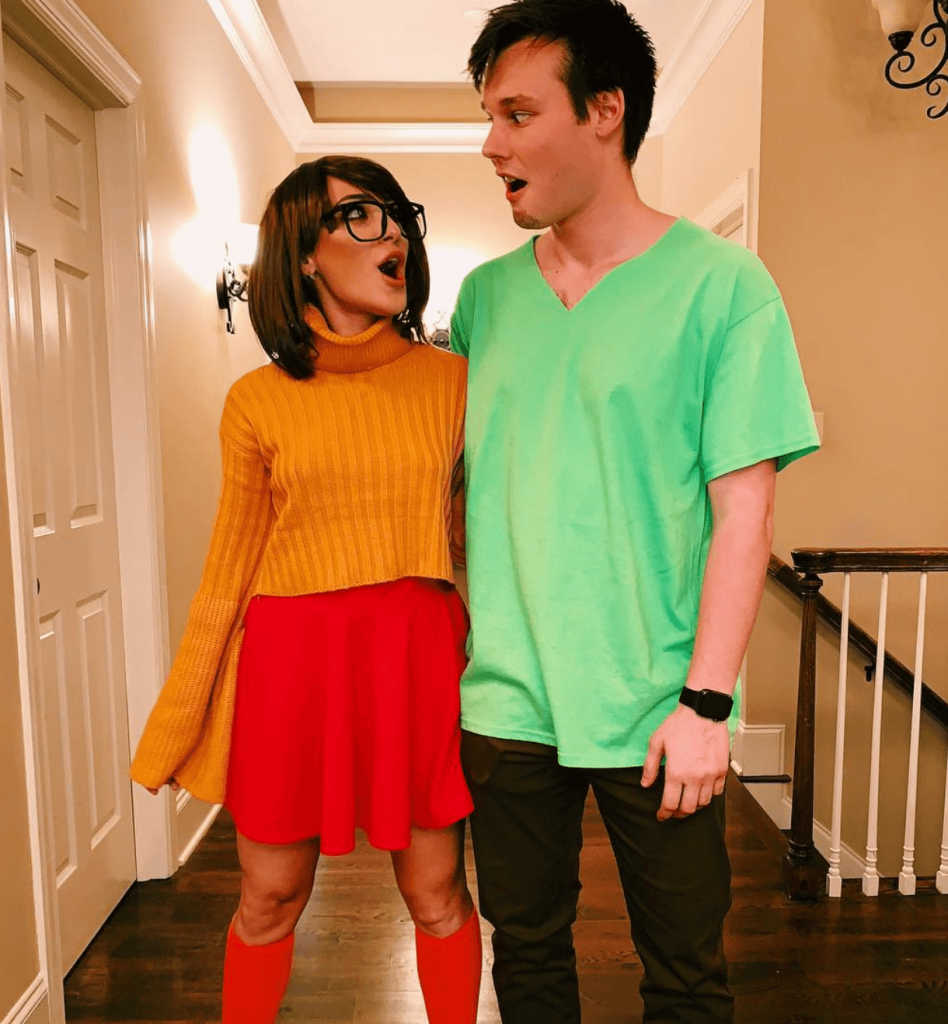 Shaggy & Velma couple costume:
3. Stranger Things – Mom of the Kid & Sheriff
I can't believe people thought of recreating this Stranger Things costume, but it's spot on!!
This is one of those perfect last-minute and insanely funny Halloween costumes to recreate for couples.
Recreate this:
4. Stranger Things – Kids
Stranger things kids' Halloween costume: Ummm, genius!!
For everyone who watches this show, your costume will be instantly recognizable if you do it right.
Now that I'm looking at pictures of stranger things kids, Milly Bobby Brown has several looks that would make a great Halloween costume!
Recreate this:
5. Sumo Wrestler Halloween Costume
An inflatable sumo wrestler is the epitome of funny Halloween costumes but might not always be so practical.
I'm surprised that Amazon has an insanely large assortment of Sumo wrestler costumes for adults and kids. Who would have known?!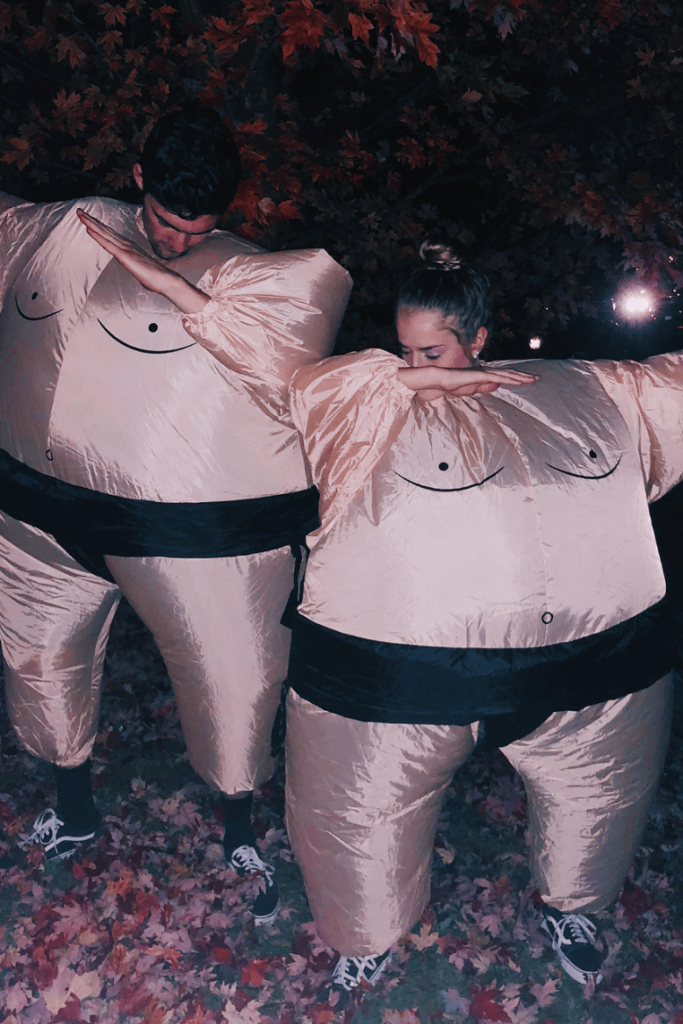 Get a Sumo Wrestler costume:

6. Wayne's World Halloween Costume
This Wayne's World Halloween costume is hilarious and so spot on! Recreate these costumes with regular clothes (If you have them), and you'll be guaranteed laughs.
Must have: the Garth wig!! 🙂
Recreate this:
7. Napoleon Dynamite
This Napoleon Dynamite couple costume is another iconic choice for Halloween this year!
This costume is perfect for couples, DIY friendly, and a great excuse to wear a fun wig.
Recreate Napoleon Dynamite costume:
8. Hunter and Prey
Halloween costumes can be cute AND funny!! I know this hunter, and prey costume has been done before, but that doesn't make it any less fun.
Another great reason to do the Hunter and Prey couple costume for Halloween: one of you gets to wear a onesie!!
[Related: 33 Easy College Halloween Costumes That Are Perfect for Any College Party]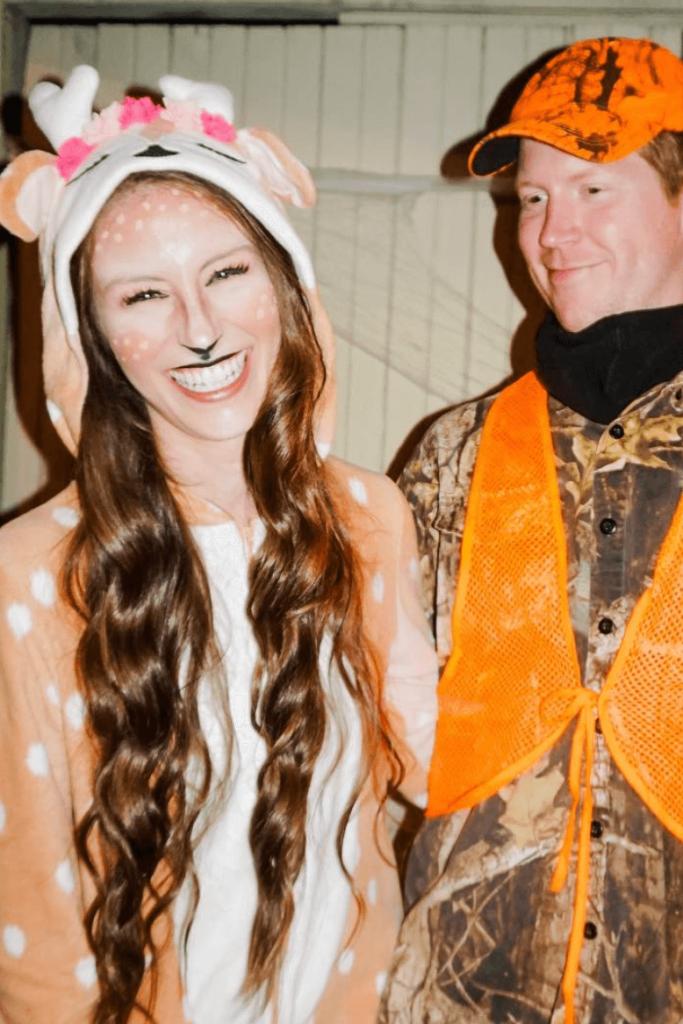 Recreate hunter and prey costume:
9. Sia's Chandelier
Does it get any more creative???! I LOLd hard at this one. Recreating this costume might require some DIY skills, but it is worth trying if you ask me.
DIY Chandelier costume:
10. Toy Story Couple Costume
A Toy Store couple costume always is a win! Jessie and Woody are adorable. This costume is perfect if you don't want to DIY. Amazon has many cheap toy story costume options that are affordable and look super friendly.
Get Woody & Jessie Costume:
11. Bojack Horseman
According to my boyfriend, the Bojack horseman Halloween costume was a must in this post about funny couples' Halloween costumes.
Alrighty then.
Recreate Bojack Costume:
12. Netflix & Chill
I might be lame to find this funny, but I love this Netflix Halloween costume for friends or couples.
It's easy, fun, and fits the spirit of 2023.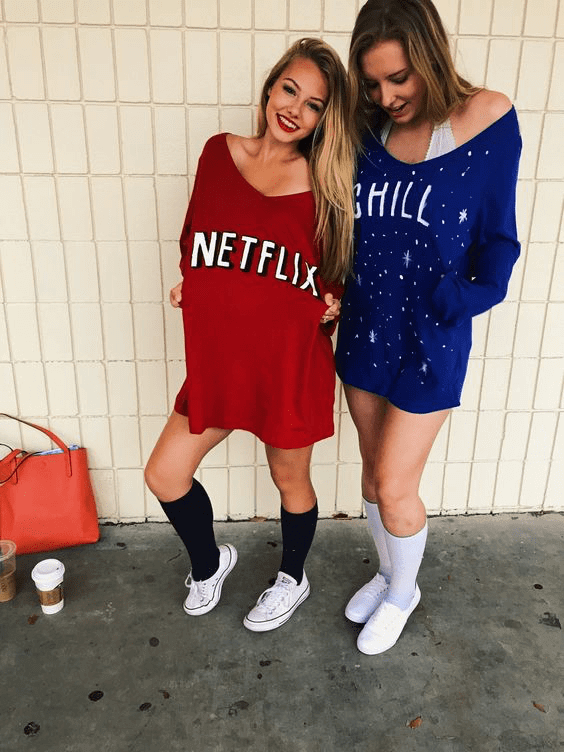 Recreate Netflix & Chill Halloween Costume:
13. Ice Ice Baby Costume
This is seriously one of the funniest costumes I've ever come across, and yet, I was today years old to find this ice ice baby costume idea!!
Am I late to the game? Maybe!! But this costume is perfect for couples with a baby or 3 friends who want to create a funny group costume/
Recreate this:
14. Back to the Future
My boyfriend forced me to watch this movie because "it's a classic." I'm still unsure how I feel about the movie, but I think this Halloween couple's costume is so original and fun!!
Recreate your back to the future costume with a red puffer and a doctor's coat.
Recreate this:
15. Big Bang Theory
Big bang theory couples costumes for ultimate awkwardness and fun.
This Halloween costume is insanely easy to recreate and perfect for last-minute Halloween party inspiration.
Recreate this:
16. Joker and Harley Quinn costume
Not sure if we can strictly call this funny…. but I love this Joker and Harley Quinn costume!!
Recreate this: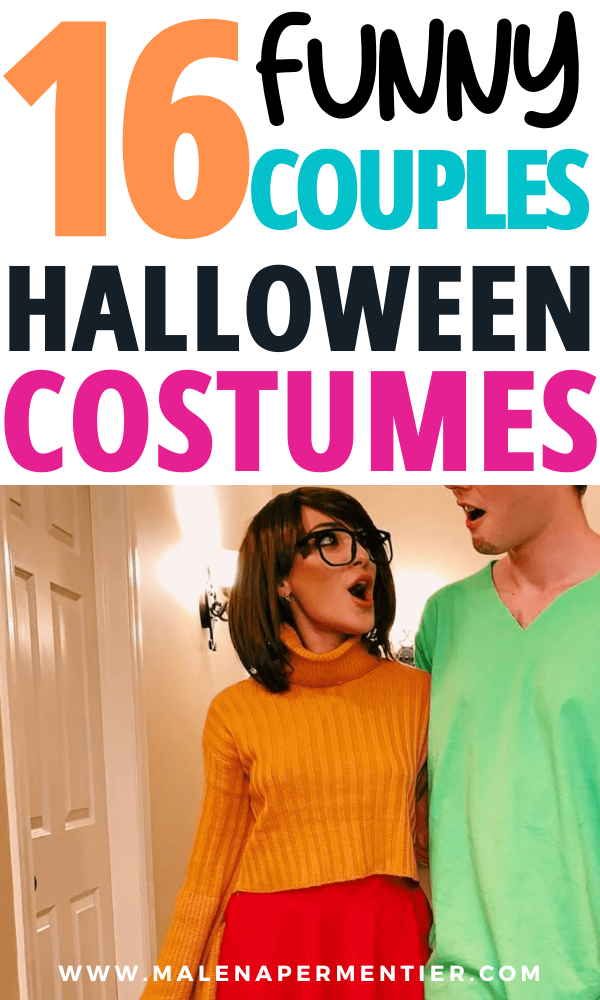 This post showed you the best funny couples Halloween costumes ideas
You may also like: