We all need a cute costume idea that incorporates the whole family.
Getting the perfect look the entire family can enjoy can be challenging but possible.
I've compiled a list of great family-friendly ideas you can try out this Halloween.
There's something for everyone, from classic Disney looks to punny ideas to get people laughing.
So let's look at some of the best family Halloween costume ideas to recreate this year.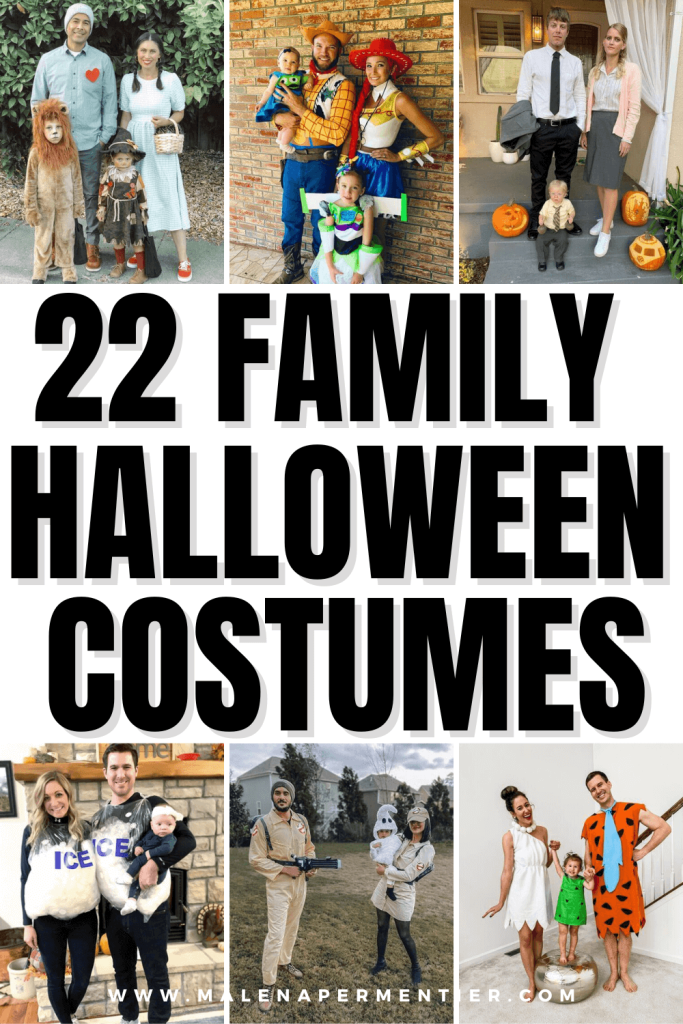 Choosing the best family costume ideas
If you're unsure of what direction to go in then look no further. Here is a list of options you can keep in mind.
Theme Selection: Choose a theme that resonates with everyone in the family. It could be based on a favorite movie, TV show, book, historical era, or even a play on words.
Age-Appropriate: Consider the ages of your family members. Ensure that the chosen theme and costumes are appropriate for each person's age and comfort level. You don't want anyone to feel uncomfortable or out of place.
Practicality: Keep practicality in mind. Consider the weather conditions, ease of movement, and comfort of the costumes. Bulky or intricate outfits might not be the best choice, especially if you plan to attend outdoor events or go trick-or-treating.
DIY vs. Store-Bought: Decide whether you want to create DIY costumes or opt for store-bought options. DIY costumes allow for more personalization and creativity, but they can be time-consuming. Store-bought costumes are convenient but might be less unique.
Roles and Characters: Assign roles or characters within the chosen theme.
Let each family member choose a character they connect with or want to portray.
This allows for individual expression within the overall theme
Family Halloween Costume Ideas
1. Toy story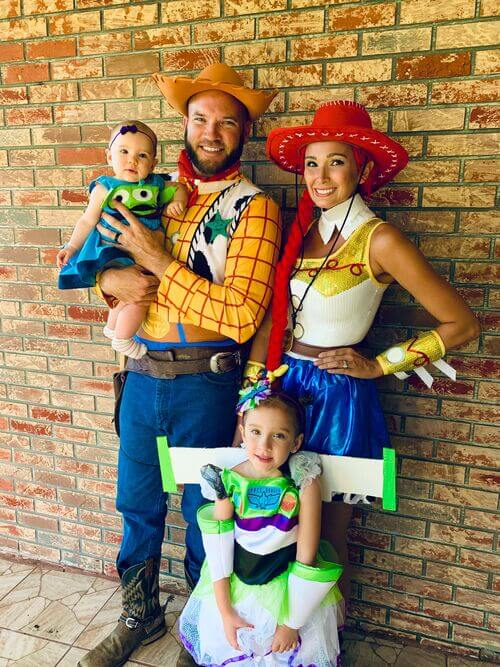 This idea takes the classic toy story look and makes it accessible to the whole family.
Grab your cowboy boots, and hat and add the signature buzz Lightyear.
This idea is perfect for those of you who want to go all out for the costume.
Even the kids will be excited to try out this idea.
2. The Flinstones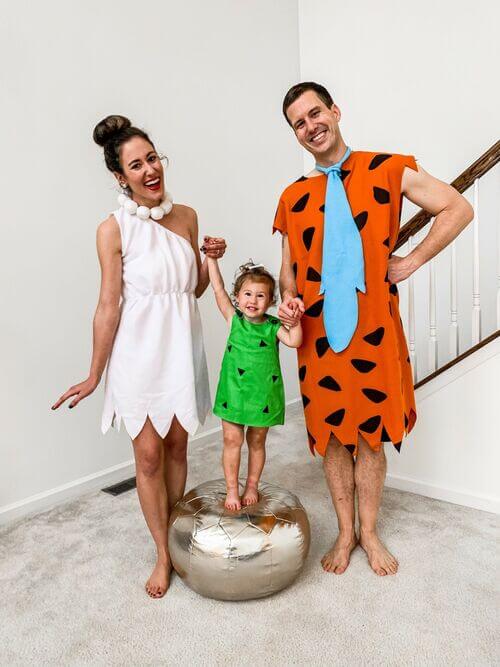 Go back to the oldies and the goodies with this idea.
The Flinstones is a classic look that works great for the family.
Bring Fred, Wilma, and Pebbles to life this Halloween.
You can DIY this look at home with a simple white dress, and green dress with triangles painted onto it for Peblles, or get costumes online.
3. Ghostbusters and a small ghost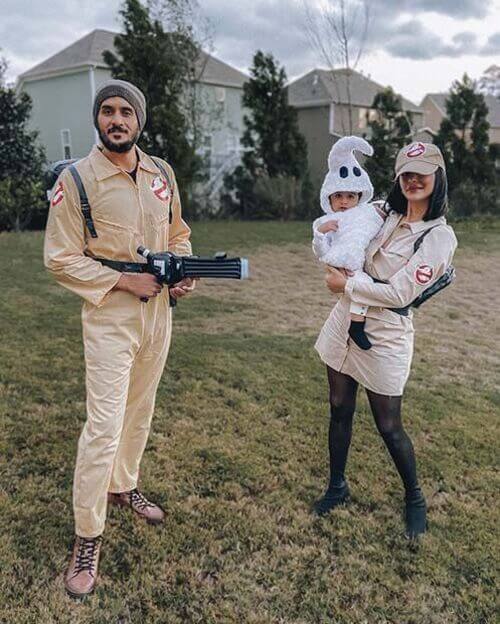 Who can say no to this ghoulish costume idea?
You and your partner can be the famous Ghostbusters and your toddler can be the ghost.
It's super cute and is easy to DIY. All you practically need is the ghost costume for the little one and some Ghostbuster stickers.
4. Junk food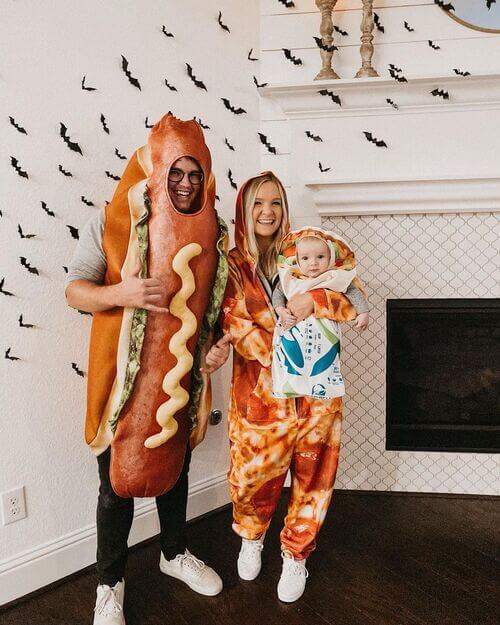 Be a little punny with it this year.
Get the whole family in on the fun and dress up as junk food.
It's an easy idea so it works great for a last-minute idea.
Whether you choose hotdogs, pizza, or even simple burritos is all up to you.
5. The office theme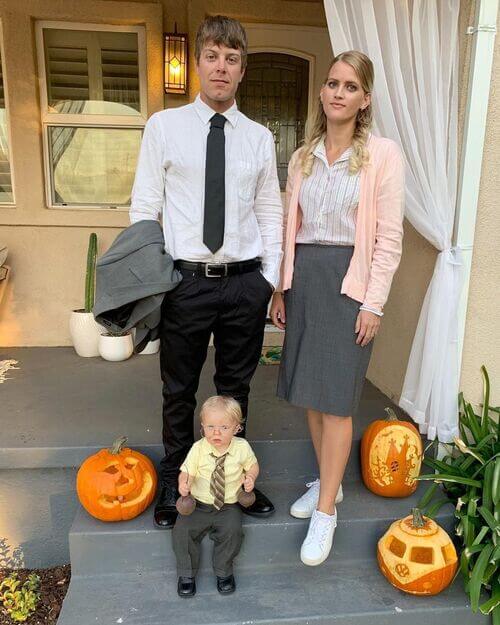 Nothing is more iconic than the office.
You can bring Dwight, Pam, and Jim to life this Halloween.
It's an idea that can be recreated with objects you already own which makes this idea budget-friendly.
People can easily recognise this classic trio which makes it perfect to try out.
6. Starwars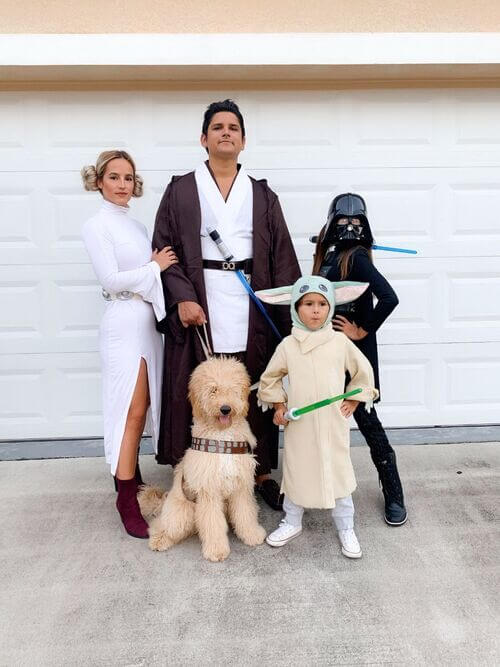 Star Wars is an idea that becomes increasingly more popular every year.
It's a classic, and even the kids will be able to enjoy this idea.
The whole family is familiar with the characters so you can choose who will fit which one perfectly.
Plus having a lightsaber at your side is just a bonus.
7. Ice, ice baby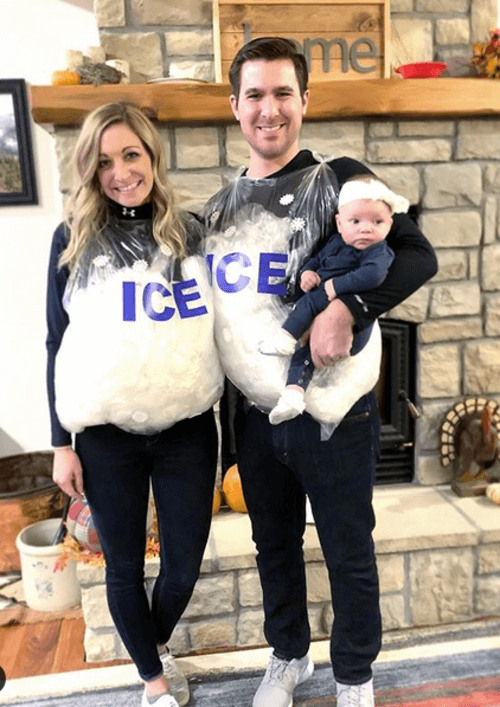 Bring back this blast from the past.
Vanilla Ice's iconic Ice, Ice, Baby.
Create these costumes with plastic bags filled with cotton balls and ICE stickers on the front.
This allows you to keep the baby incorporated without having them in some silly costume.
8. Ratatouille family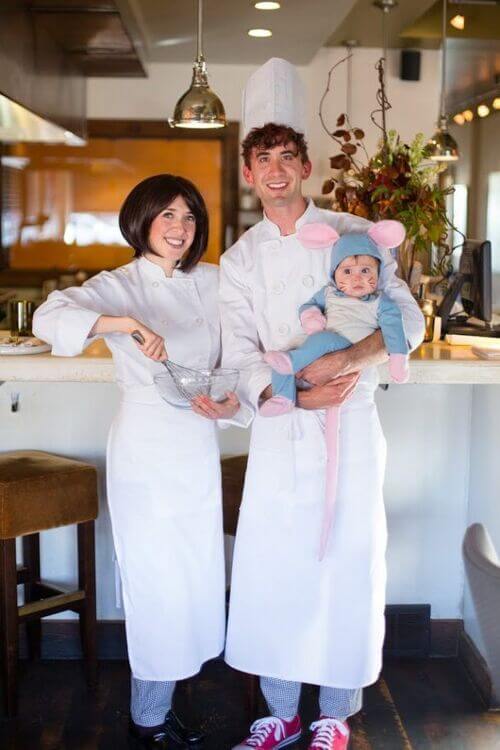 Bring your favorite chefs to life this Halloween.
You and your partner can be the chefs and dress your toddler as Remi.
It's a super cute idea that people will love.
You can DIY most of this idea making it budget-friendly.
All you need to buy is the cute costume for Remi, and some aprons if you don't have one at home.
9. Mary Poppins and the Penguins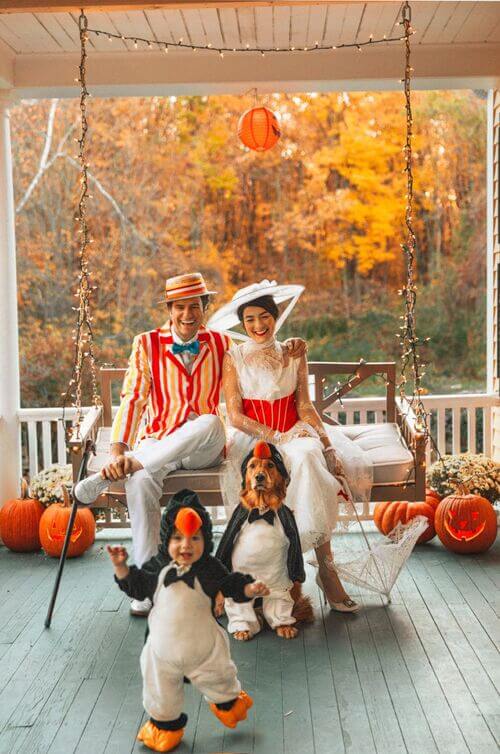 Supercalifragilistic… that's what this is.
A classic tale that ensures that the family has a great costume.
Bring this classic scene with the dancing penguins to life.
You and your partner can create your costumes from everyday items or get some clothes that showcase these characters.
Get a penguin costume for your little one and if you feel inspired bring your dog into the fun.
10. Monster Inc.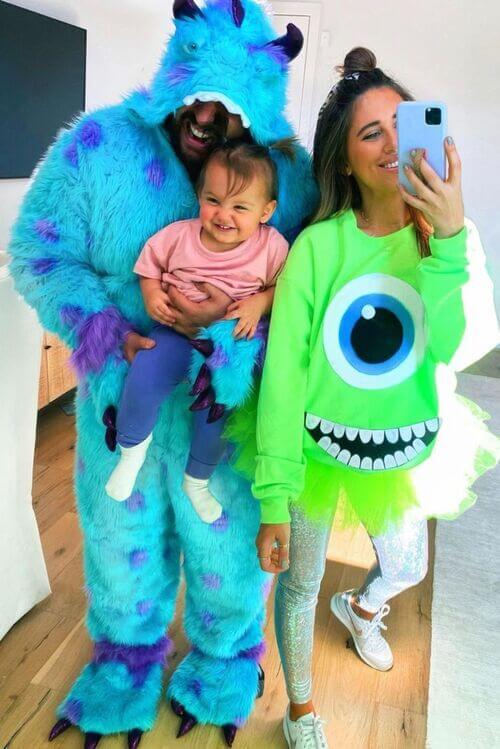 Bring Mike, Sulley, and Boo to life this Halloween.
By making use of everyday items you can find in your home or even getting a great costume to bring these characters to life.
This idea is great for a bolder and more fun look. You can recreate the Mike look by using a neon green shirt and a tutu.
11. Willy Wonka and the Chocolate Factory
Bring back the old Willy Wonka.
With Violet turning violet and your little munchkin wearing the classic Oompa Loompa attire.
This idea calls for an all-out costume that everyone can enjoy.
Get everyone in on this idea and bring the magic to life.
12. Candyman and treats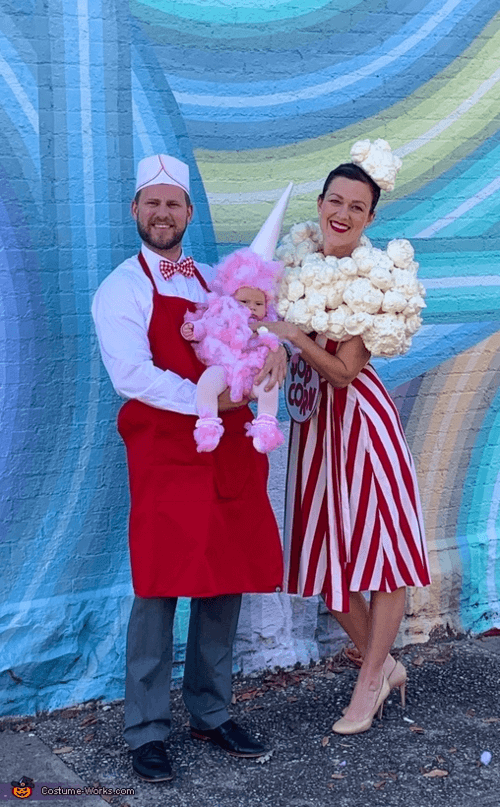 Trick or Treat?
With this costume, you can really bring the treats to life.
With your little one dressed up as cotton candy and you as popcorn, it brings the perfect mix of salty and sweet.
Your partner can be the candyman for this cute idea.
13. Teenage mutant ninja turtles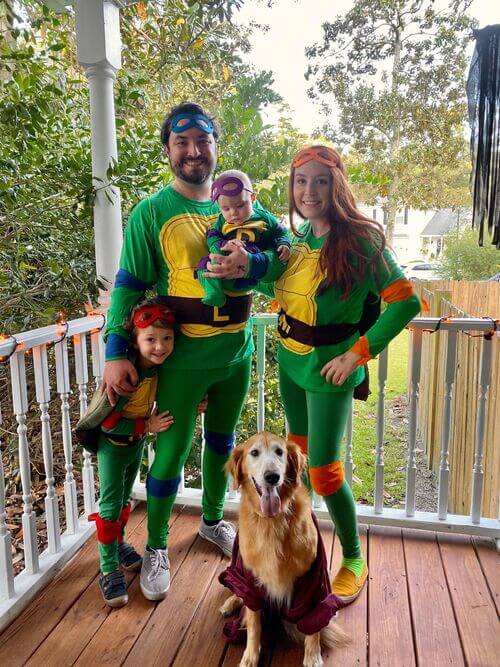 Get everyone involved this Halloween.
Bring your cartoon favorites to life by recreating the epic ninja turtle look.
If you really want to wow people then I highly suggest investing in complete costumes.
This isn't a necessity but it goes a long way.
14. The Incredibles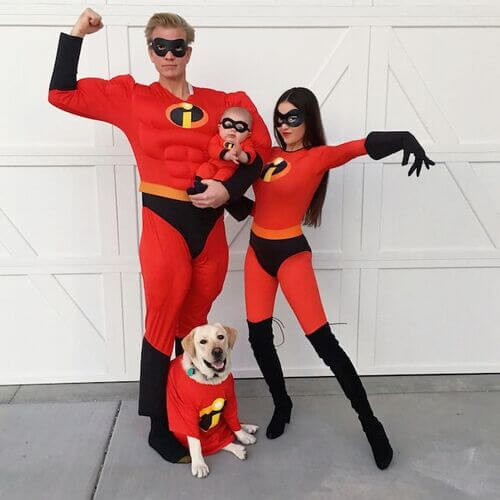 Do you feel like your family has what it takes to be the Incredibles this Halloween?
If you have a little Jack-Jack on your hands that gets up to no good then this is the look for you.
Get these fun costumes and bring the look to life with some extra touches such as an Incredible pup at your side.
15. The Wizard of Oz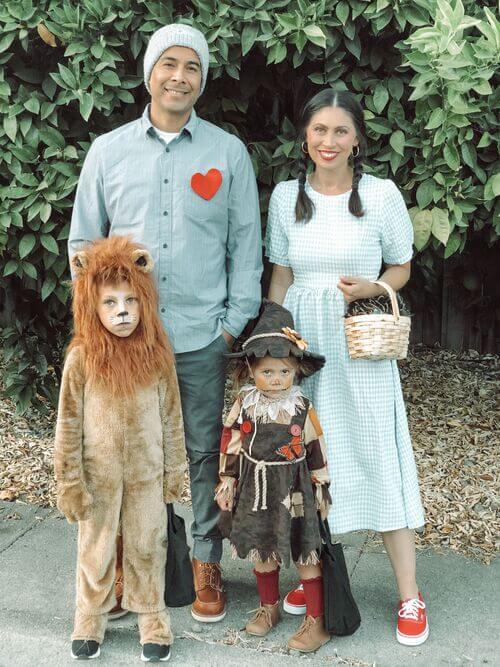 Wizard of Oz allows you to give everyone a unique costume that they are sure to love.
You and your partner don't need much to pull off this look.
All the details go into the looks for your kids and ensure that they have a creative outfit that they will love.
16. Napoleon Dynamite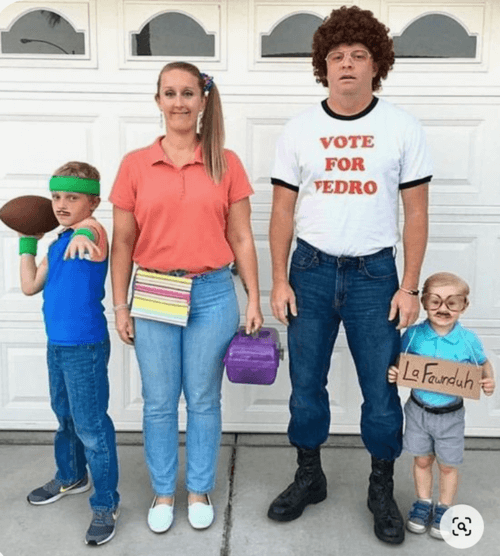 Bring out the inner Napoleon Dynamite.
Your family can be the band of misfits that bands together this spooky season.
You don't need anything special for this costume, except the iconic "Vote for Pedro" shirt that you cannot go without making this look budget-friendly.
17. Scooby Doo gang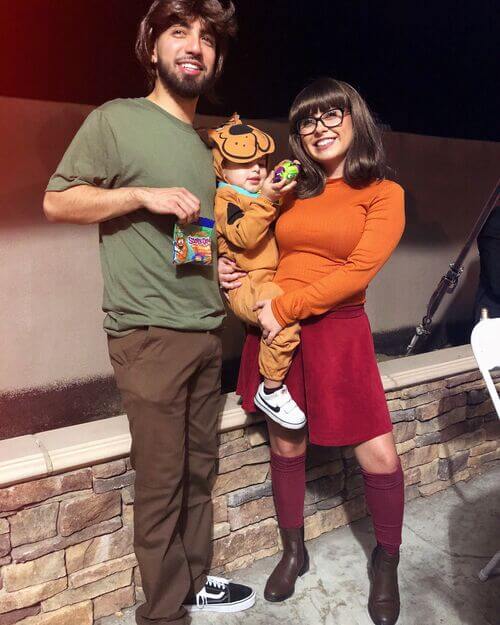 Bring Shaggy, Scooby, and Velma to life with this adorable family costume.
You can make use of items you already own and just buy a costume for the little one.
So get dressed and go solve some mysteries with your family this Halloween.
18. Safari adventure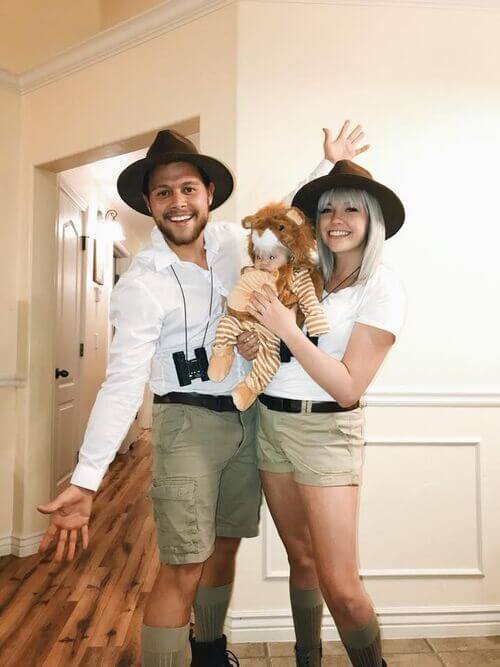 If you and your partner are looking for a different approach then why not try this?
Grab your hat and binoculars and set off on an adventure.
You two can be explorers on a Safari adventure this Halloween.
Include the kids by dressing them up as animals.
19. The three blind mice
These costumes are to die for.
Grab some shades and DIY the ears.
You can include some canes to sell this idea even more.
Get a simple grey onesie for your toddler to bring this to life.
It's a cute and simple idea that goes a long way.
20. Pokemon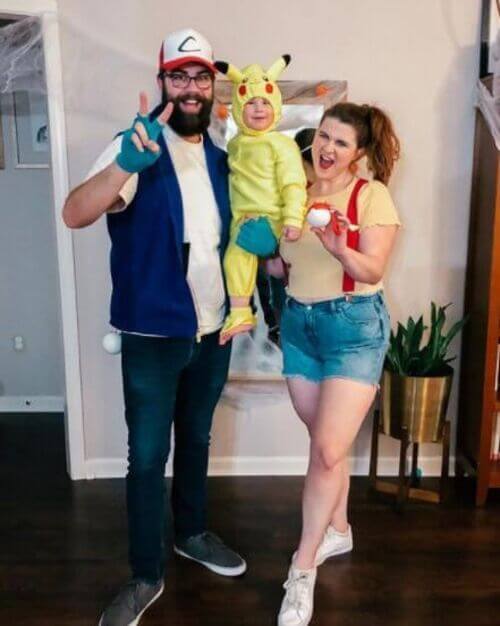 Go back to the oldies and goodies with this costume idea that fits the whole family.
You practically only need one thing to really sell this idea and that is the adorable Pikachu onesie.
21. Farmers and a cute little cow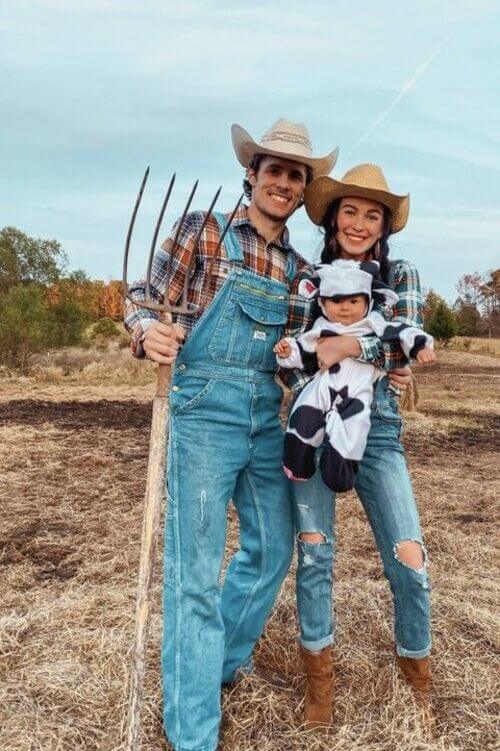 Get a matching set with your partner.
This is a cute idea and is budget-friendly.
Get a cute little cow outfit for your baby. Add some cowboy boots and matching hats to bring this idea to life.
22. Out of this world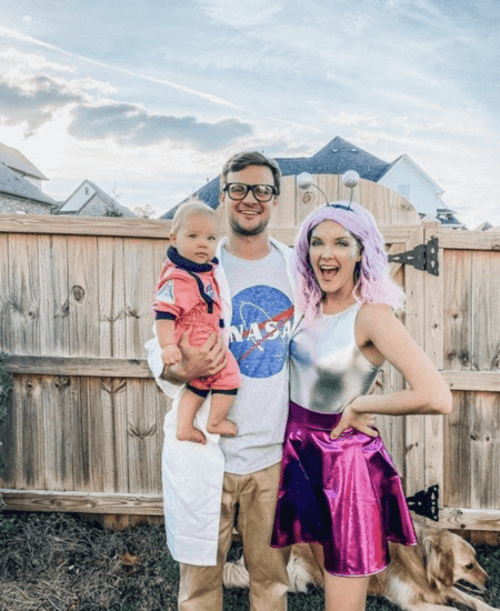 Bring the space theme to life, but let everyone pick their own idea.
Make your kid a little astronaut. You can go as an alien or galaxy theme.
Everything is better with a little glitter so go all out. Or grab a trusty NASA shirt and call it a day.
Getting ready
Halloween is the perfect opportunity for families to come together and show off their creativity with some hilarious and unforgettable costumes.
Whether you're looking to tickle funny bones or evoke laughter from trick-or-treaters, these funny family Halloween costume ideas will have everyone in stitches.
Get ready to have a spooktacular time and create memories that will last a lifetime!
These ideas have something for everyone. So test and try them till you find what works for your family.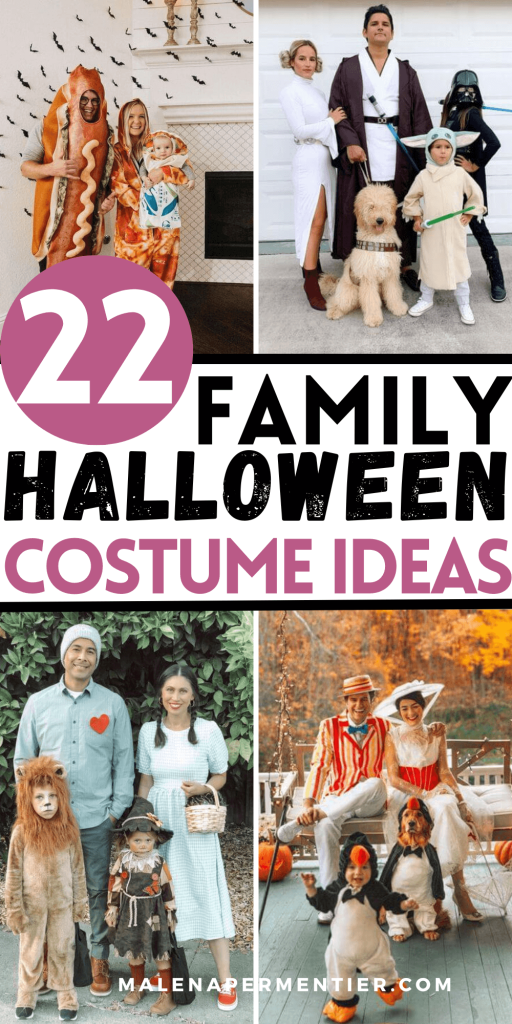 This post showed you the best family Halloween costume ideas.
You may also like: