This post shows you the best Disney costumes for adults!
When you look online for Disney costumes, most of what you find is for children. But this post is dedicated to the best Disney costume ideas for adults.
Whether you're going solo, as a couple, or with your family, you will love the Disney Halloween costumes in this post!
Under each inspo image, you will find the necessities for putting together the costume.
You'll be able to put some of these costumes together with regular clothes. This is perfect if you're looking for an easy and last-minute costume.
We'll look at Disney icons like Mickey and Minnie, Ariel, and Cinderella, but also less mainstream characters from movies like Zenon, Up!, Wreck it Ralph, and more.
Let's hop right into the Halloween costume ideas.
Disney Halloween Costumes For Adults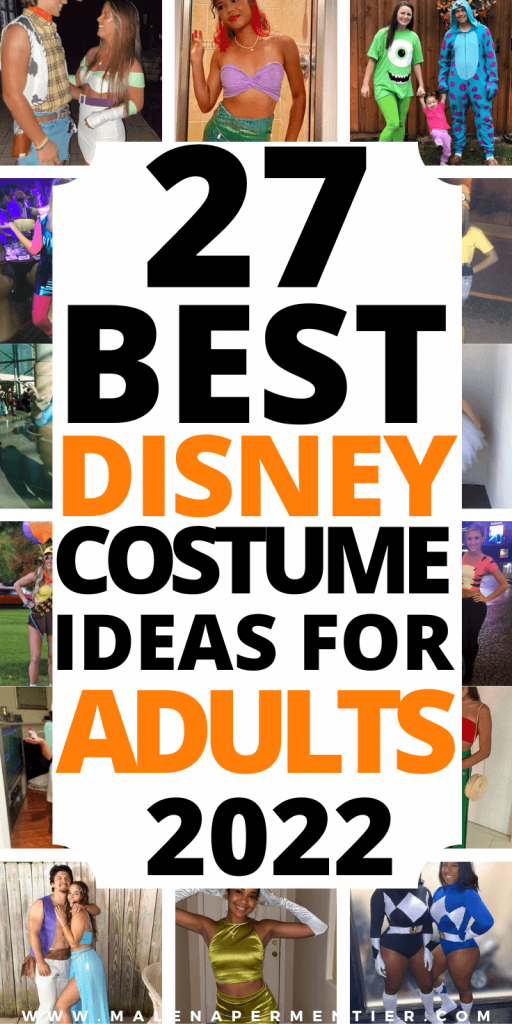 1. White Rabbit from Alice in Wonderland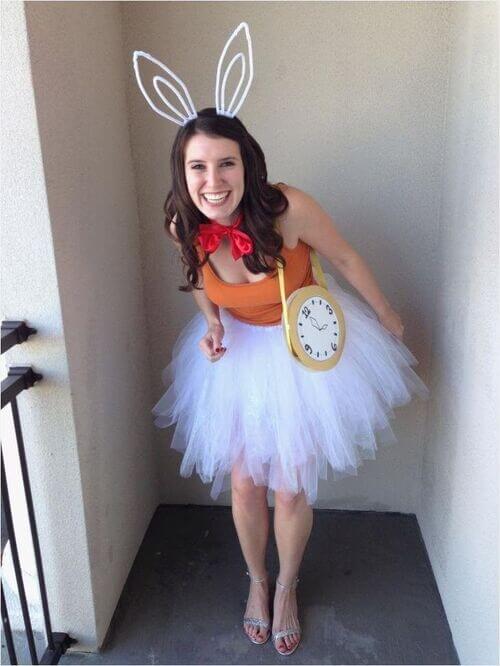 This is a self-explanatory and incredible costume!! The white rabbit from Alice in Wonderland is an adorable Disney character that requires a super cute costume.
You can recreate this look with a white tutu skirt and white rabbit accessories like the hat, clock, ears, and gloves.
2. Princess Tiana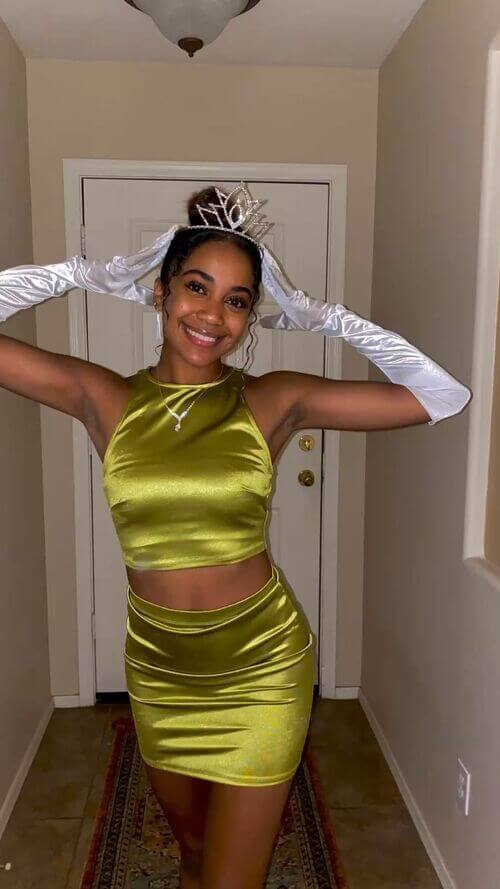 Princess Tiana from the Princess and the frog is a gorgeous Disney icon! Recreate a Princess Tiana costume with a green dress or two-piece for a trendy look.
Don't forget to add a tiara and long white satin gloves. So chic.
3. Jasmine and Alladin
Jamine and Aladdin is a Disney classic that so many of us grew up watching. It's also a movie with some of the best costumes ever.
If turquoise is your color and you love diamond headbands, you must recreate this costume. This is also an adorable couple costume to wear this year.
4. Zenon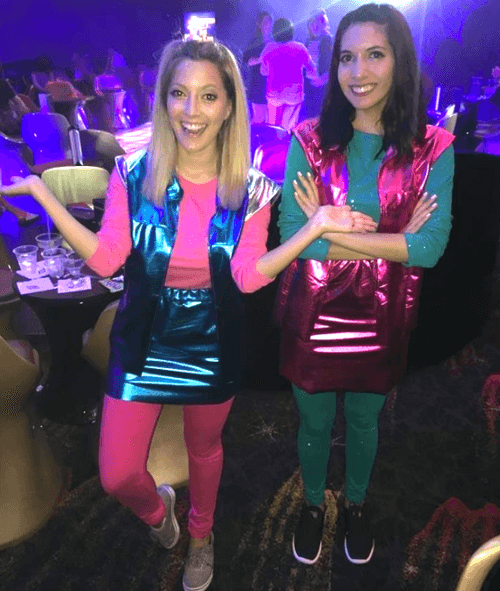 The Zenon: girl from the 21st-century movie is about a girl who has to move from space to earth as a punishment. There she has to navigate the challenges of being on death! Needless to say that the outfits have a fun sci-fi feel to them with holographic clothing.
Pair a metallic skirt and vest with neon leggings for the ultimate sci-fi feels.
5. Power Rangers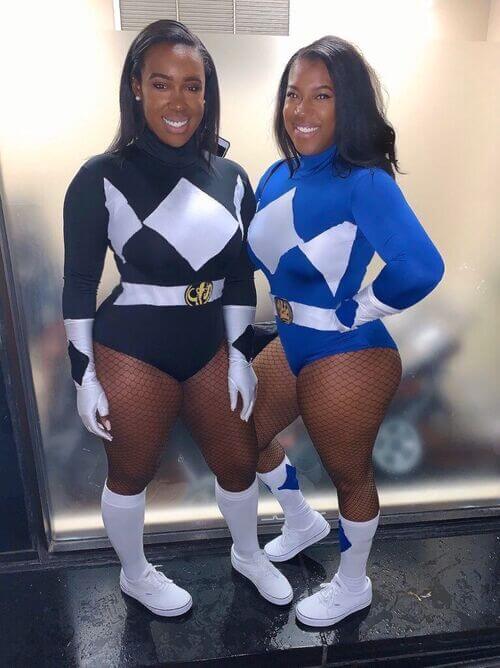 The power ranger costume is perfect for besties or a group! The power rangers were one of the most popular shows in the 90s. It's about a group of teenagers that gets chosen to defend Angel Grove and the planet from evil.
To recreate this costume, you need a bodysuit! Depending on your mood, you can go for one with bare legs or the whole suit. This definitely is a sexy Halloween costume.
6. Cruella de Vil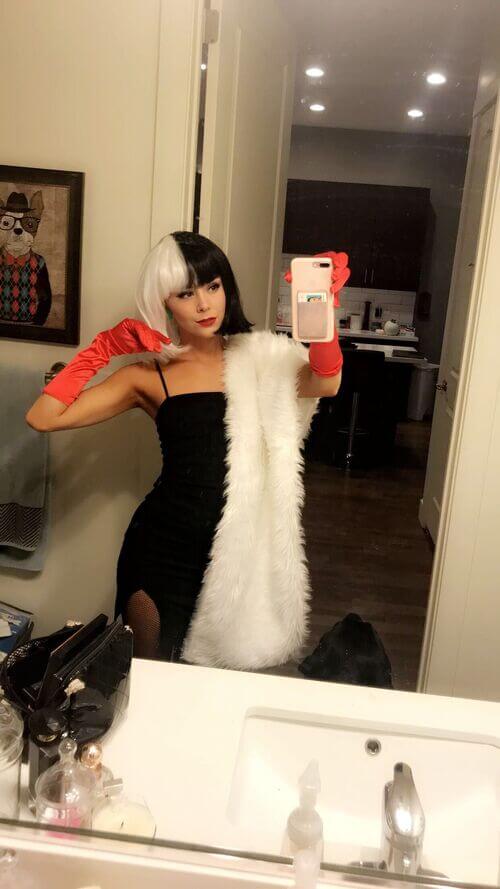 Cruella de Vil is the famous villain from the hundred and one dalmatians. (Thankfully) She is a fictional character.
Her outfits are some of the most iconic for Disney shows. Recreate her costume with a white and black bob wig. You will also need faux fur!
7. Cinderella & Belle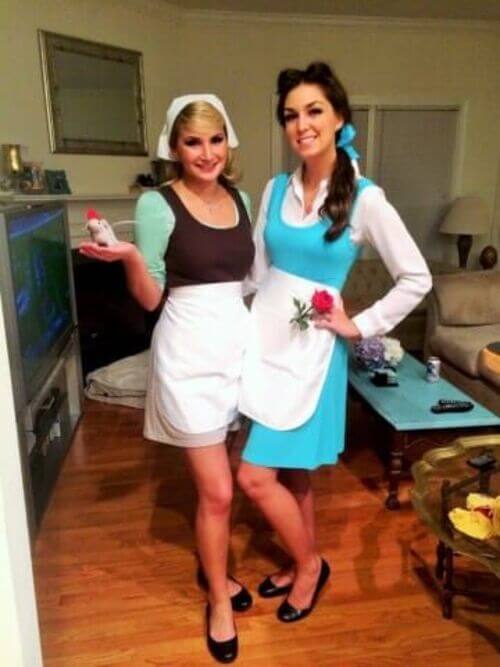 I was today years old when I found out about the Cinderella vs. Belle (Princess Rap Battle).
Belle and Cinderella are characters from different Disney movies, but who says they can't be an iconic duo?
8. Up! Halloween Costume Russell, Carl & Dug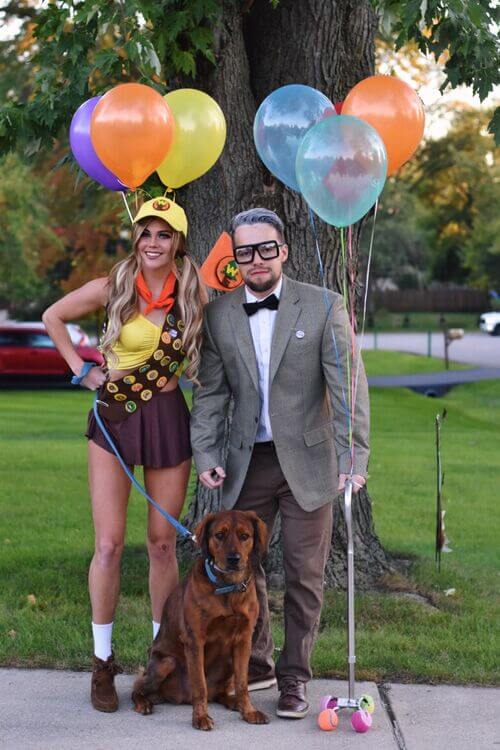 Up! is an animated family film from 2009. Produced by Pixar and released by Walt Disney. The main characters in the movie are Russell, carl & dug. This is the ultimate Halloween costume for a couple with a dog. It's also the cutest movie ever.
9. Ariel from the Little Mermaid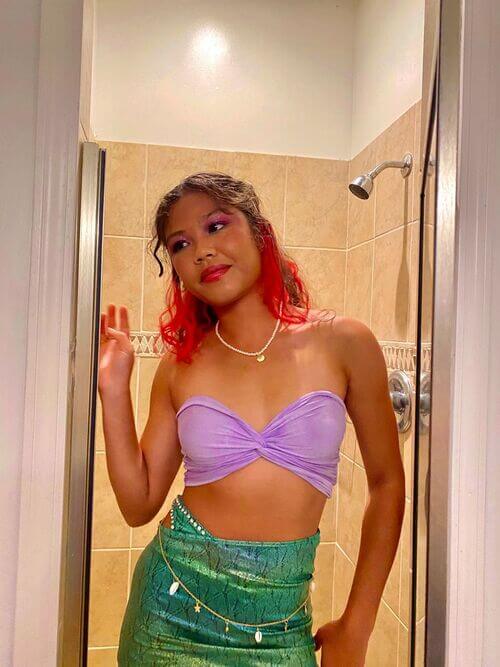 The little mermaid is my girl's favorite Disney movie! Dressing like Princess Ariel for Halloween is going to be trendy in 2023.
This girl looks stunning in a purple top and green mermaid skirt. A must-have for this costume is a red wig.
10. DIY Minions costume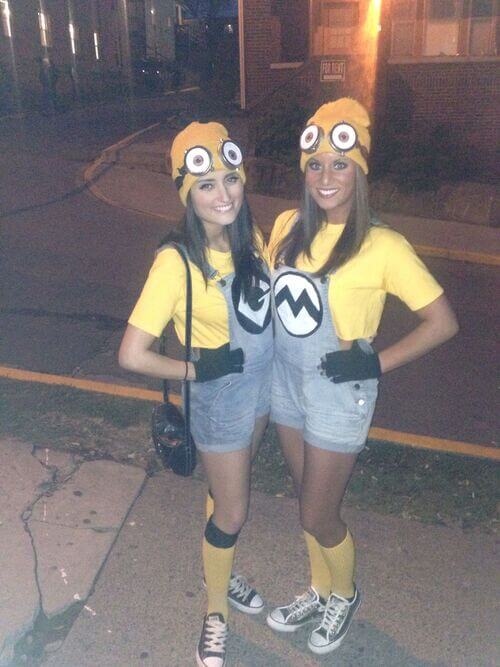 The minions are everyone's favorite animation movie. This costume is easy to DIY. Put together this outfit with a yellow crop top and dungarees shorts.
Minions are a super fun group costume to do with your friends and family. Without doubt, it makes for the cutest photos.
11. Toy Story couple costume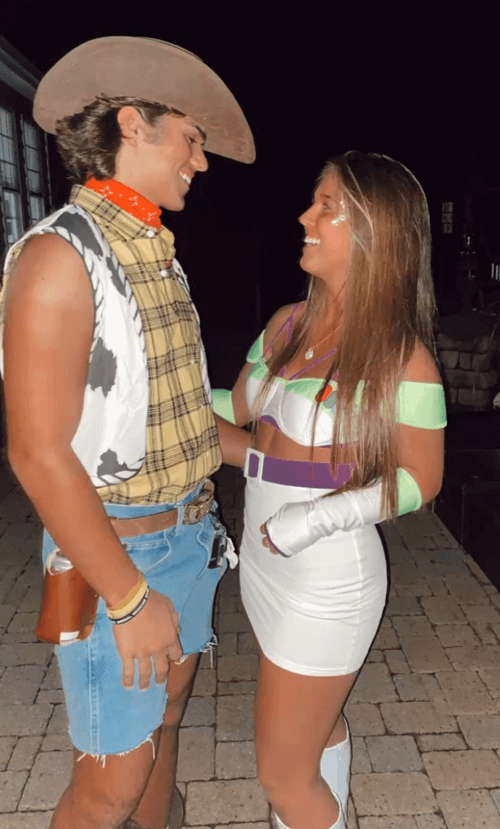 Woody & Buzz lightyear is a great costume choice in 2023 for adults! Toystory is one of the most wholesome Disney movies, and everyone falls in love with the characters.
In the Toystory movies, the toys come alive. Woody and Buzz develop rivalry when Buzz becomes Andy's favorite toy.
Woody & Buzz can work as a couple costume or for friends! Of course you can also just go solo as one of these characters 🙂
12. Lilo and Stitch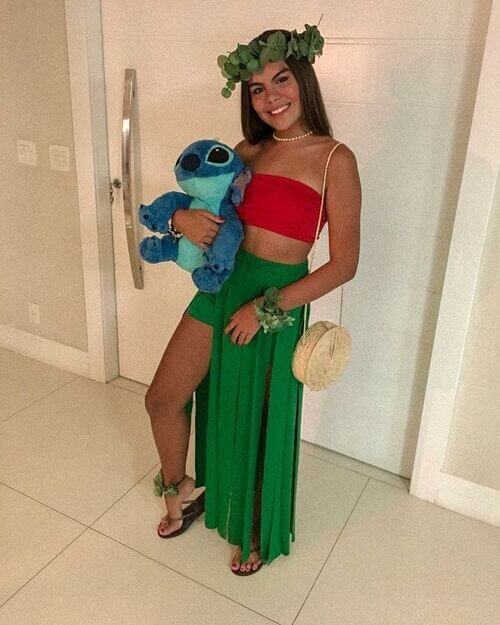 I know I keep saying this, but Lilo and Stitch is the cutest movie. Stitch is an extraterrestrial entity (alien-ish dog?), and Lilo adopts him from the dog shelter. They then go on a big adventure together.
Make this costume with green and red clothing that you own! You'll also need a Stitch stuffed animal to be your sidekick for this disguise.
Save this post for later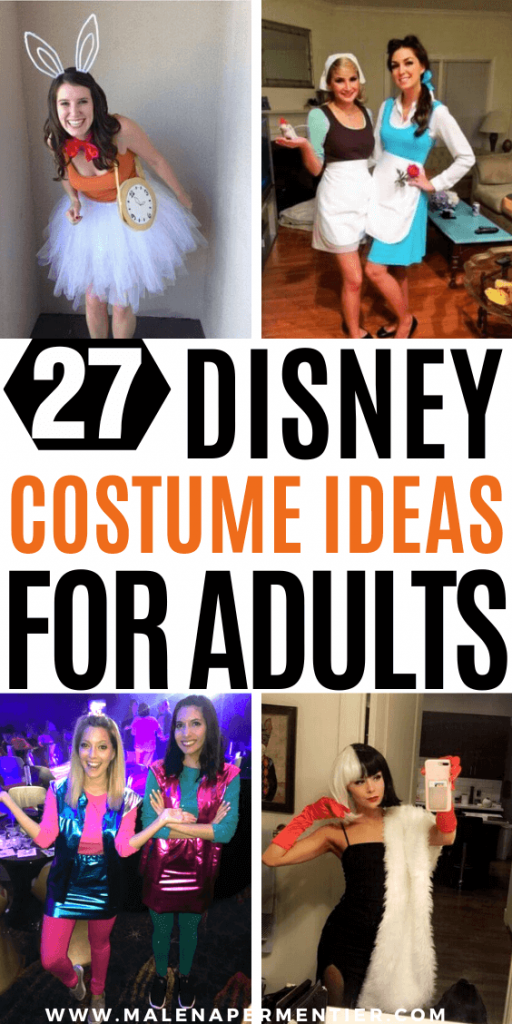 13. Minnie and Mickey Mouse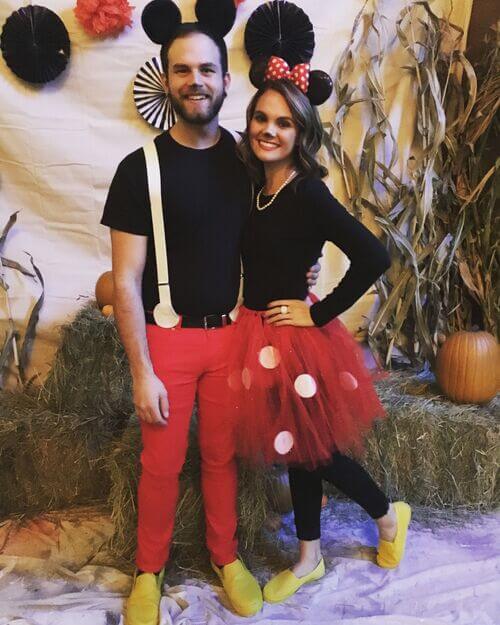 Mickey and Minnie mouse are perhaps the most iconic Disney characters! Sure, this costume has been done many times before. But that doesn't make it any less cute.
14. Monsters inc costume adults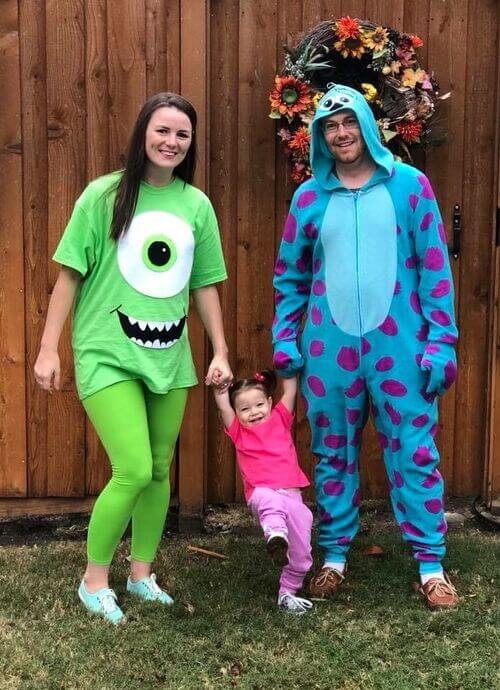 Monsters, inc is a media franchise famous for the Monsters movie! There are currently 3 Monsters inc movies that are all super popular.
Characters from this movie you can make a costume from are Mike Wazowski, James P. Sullivan, Boo, Randall Boggs, and even more!
15. Mary Poppins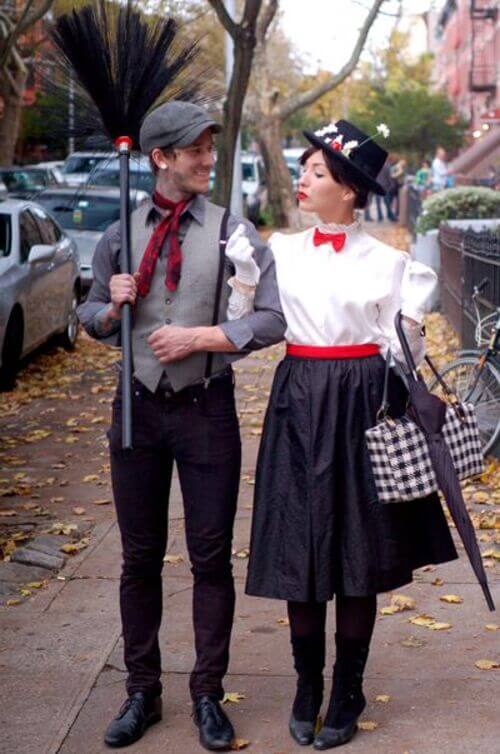 Mary Poppins is a musical and fantasy film created in 1964 by Walt Disney. In 2018, they made a new Mary Poppins movie called 'Mary Poppins returns'.
The latest movie stars Emily Blunt, and she is amazing in it. Mary is a magical woman with an impeccable sense of style, making her a great Halloween character.
16. Winnie The Pooh & Friends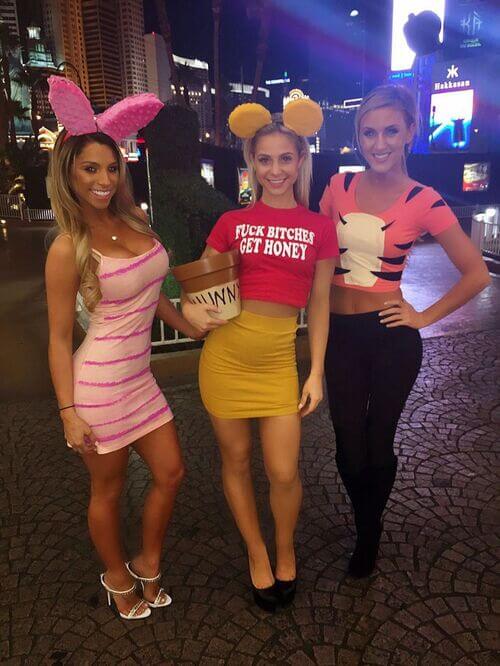 This Winnie the pooh costume is a bit cheeky, but I lol'd hard when I saw it! Recreate this costume with 3 besties. The many adventures of Winnie the Pooh was created in 1977 and have since conquered the hearts of everyone.
Since 1977 there have been several Winnie the Pooh movies produced. Winnie, Tiger, and Pig make the best trio.
17. Beauty and the Beast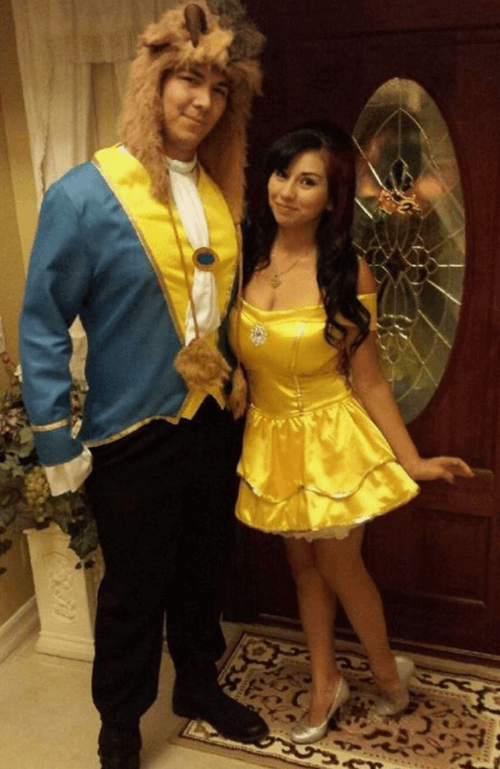 Beauty & the beast is a Disney classic! This is a fun costume to recreate for couples. The original beauty and the best movie was made in 1991. There have been many remakes since. The most popular one is from 2018, starring Emma Watson.
Belle wears her signature yellow dress, and the beast needs a yellow/blue jacket.
18. Daphne from Daphne & Velma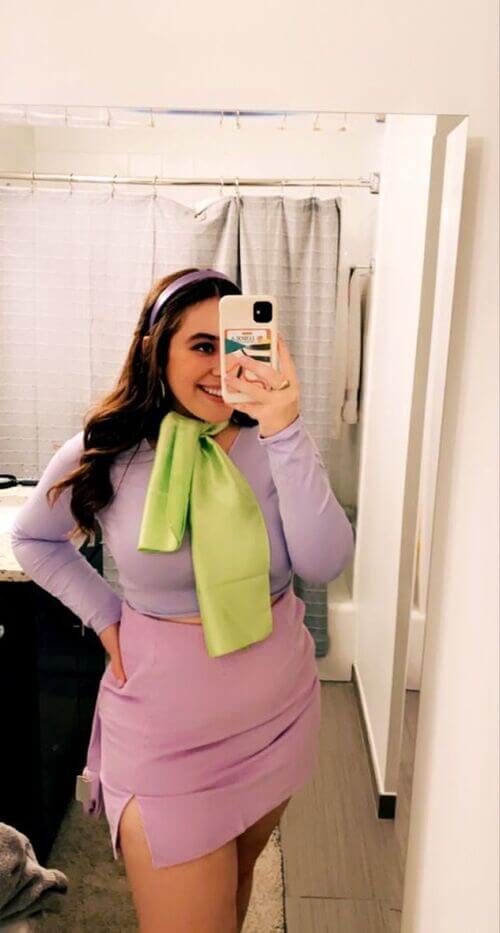 The Daphne & Velma movie is a spin-off of Scooby Doo featuring the characters Daphne & Velma. From a fashion perspective, both women have their styles! Which makes them great for Halloween costumes.
19. Frozone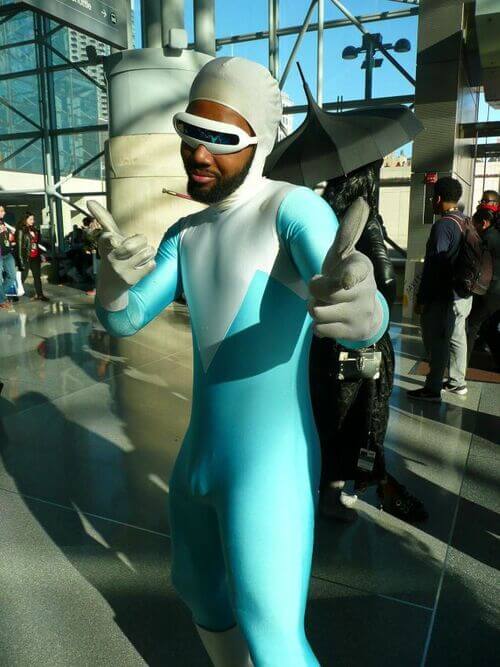 Lucius Best (a.k.a Frozone) is an important character in the Incredibles. If you don't mind wearing a super tight onesie – this is an excellent easy costume to wear for Halloween this year.
Frozone's magic power is that he can create ice and free surfaces, hence the name Frozone!
20. Peter Pan & Tinkerbell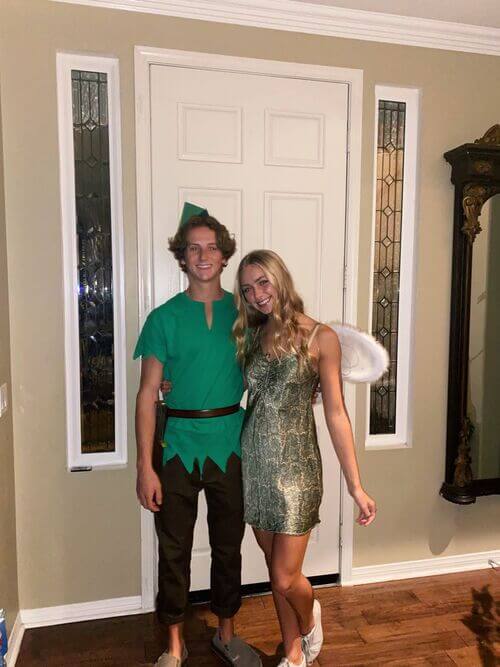 Tinkerbell and Peter Pan is a super cute Disney couple costume. The original Peter Pan movie was made in 1911. Since then, many adaptations have been made. For example, Peter Pan by Disney in 1963.
To make a Peter Pan and Tinkerbell costume, you need all things green. Guys DIY a basic green t-shirt into a Peter Pan shirt with the iconic hem. For women, I recommend a green glitter dress!
21. Wreck it Ralph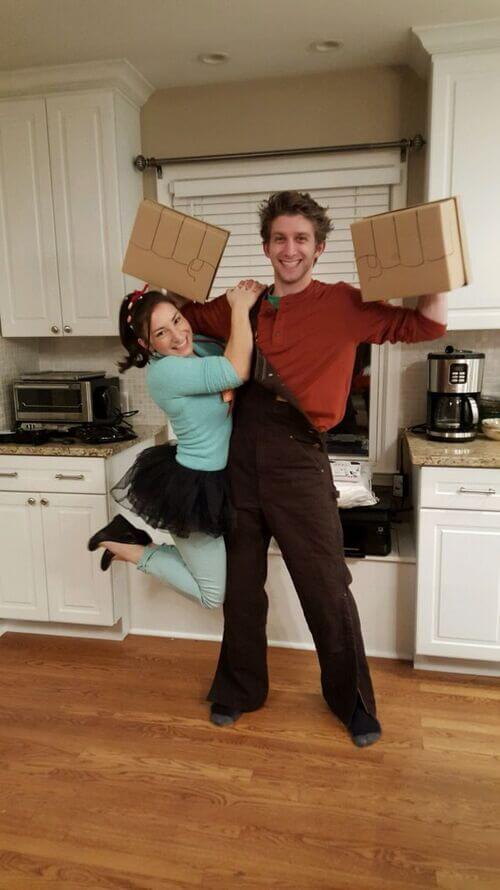 Wreck it Ralph is an animated Disney film that premiered in 2012. The main character is Ralph. The plot is about an arcade that closes. The characters from various video games then leave their roles and start living a life of their own.
Other important characters in Wreck it Ralph are Vanellope von Schweetz, Fix-It Felix Jr, Sergeant Tamora Jean Calhoun, and King Candy. Colorful characters that would make a great Halloween costume in 2023.
22. King Triton and Ariel