*This post may contain affiliate links, which means I'll receive a commission if you purchase through my link, at no extra cost to you.
This post is all about creative above the sofa decor ideas that you can copy on a budget.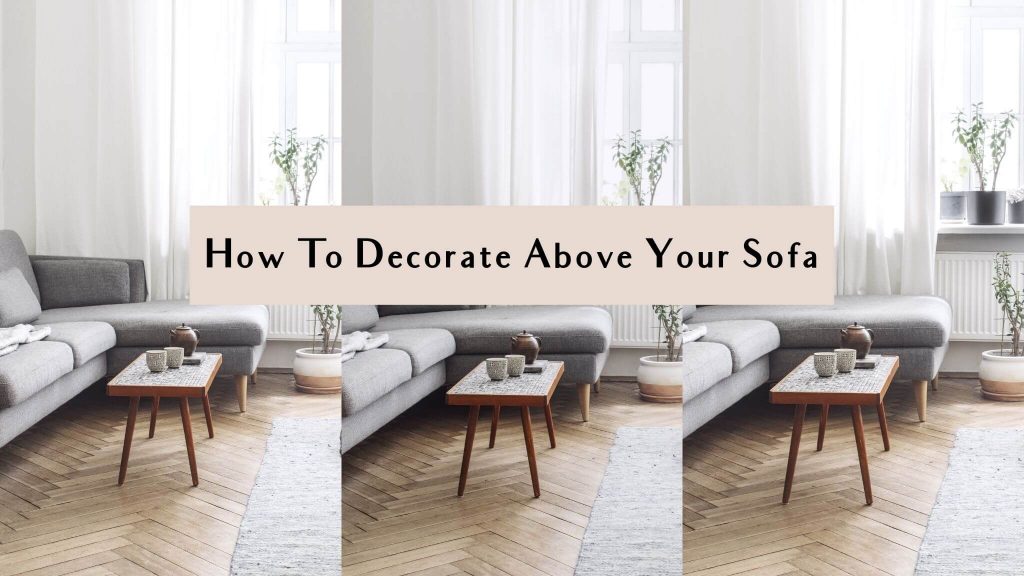 How To Decorate Above Your Sofa
There are a lot of questions that come up when it comes to decorating above your sofa.
What are the best proportions for hanging art over the couch? How do you know which type of decor looks best?
Below, I'm taking you through 20 visual examples of how to decorate above your sofa.
Visual examples are always the best when it comes to getting inspiration for your own living room.
We'll cover the following:
The best proportions for hanging art over your couch
Above the couch floating shelf ideas
Decorating with mirrors over sofa
The best above the couch decor ideas for small living rooms
Decorating behind a sectional sofa
And more brilliant ideas to make the most of the space above your couch!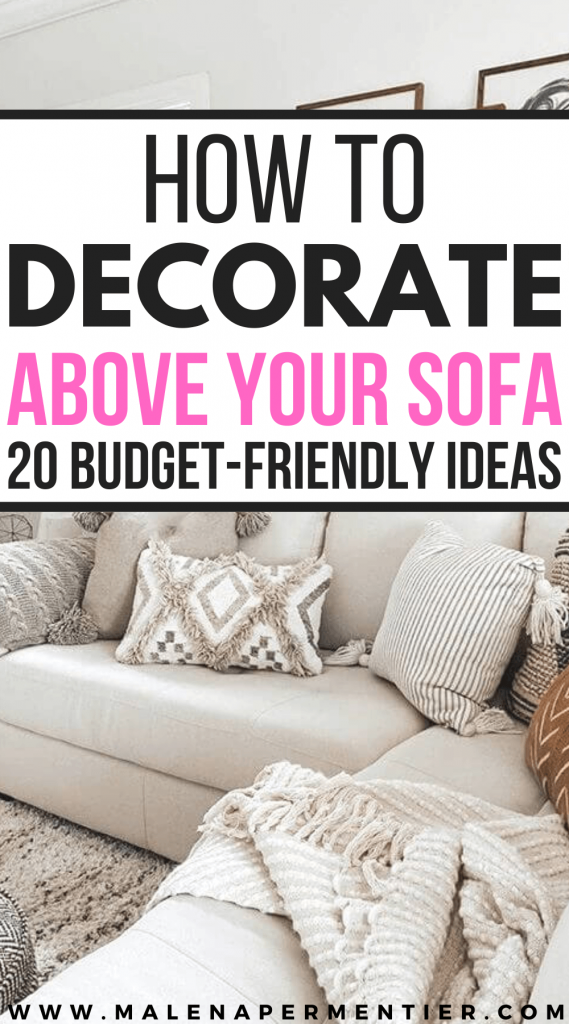 Above The Sofa Decor
1. Go for 3 horizontal picture frames
Symmetry is essential in small living rooms. These 3 equal-sized horizontal frames over the couch work beautifully with the space.
Do you center a picture over a couch or on the wall? I'd center your choice of art over the sofa. Your couch takes up a lot of space, and therefore you need to work with it.
I went down a rabbit hole to figure out the size of the frames in the picture, and I think they're
16×20 frames for 11×14 photos.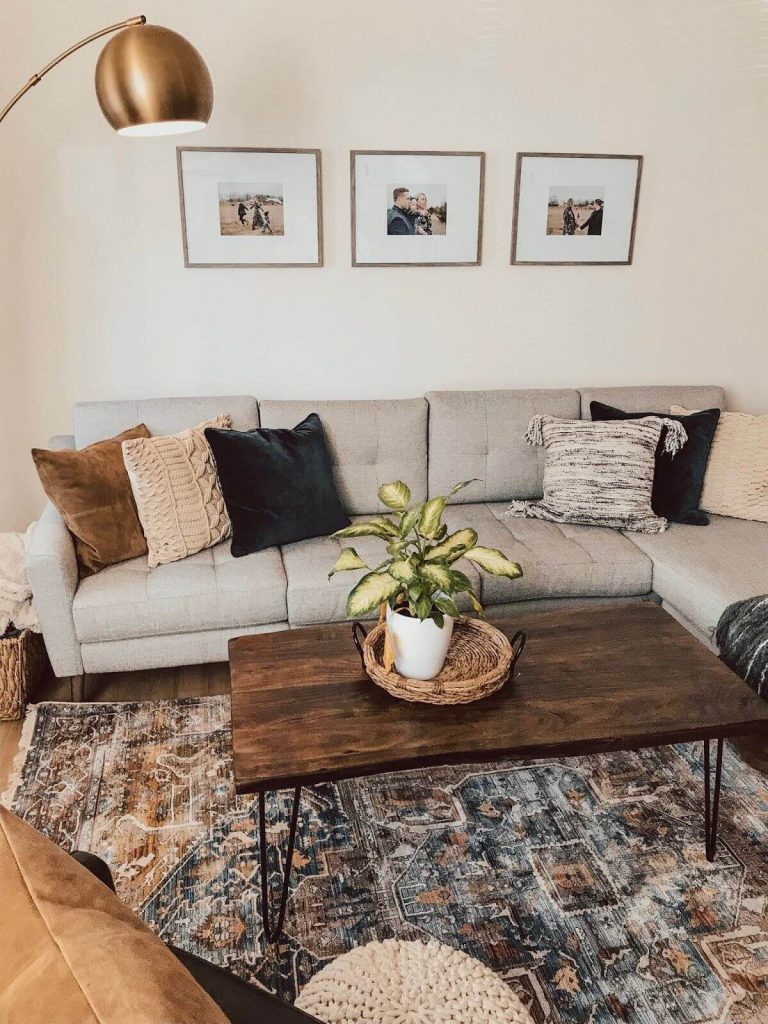 Recreate this idea:

2. Hang 1 big artwork above the couch
A great option for decorating above the couch is hanging 1 big artwork.
The living room below is a great example of proportions. The size and placement of the frame are just right. If it were much smaller, it would look sad. If the frame were the same size as the couch or bigger, it would overwhelm the room.
Hanging 1 big artwork surprisingly makes a small space look bigger because your eye gravitates to only one spot on the wall.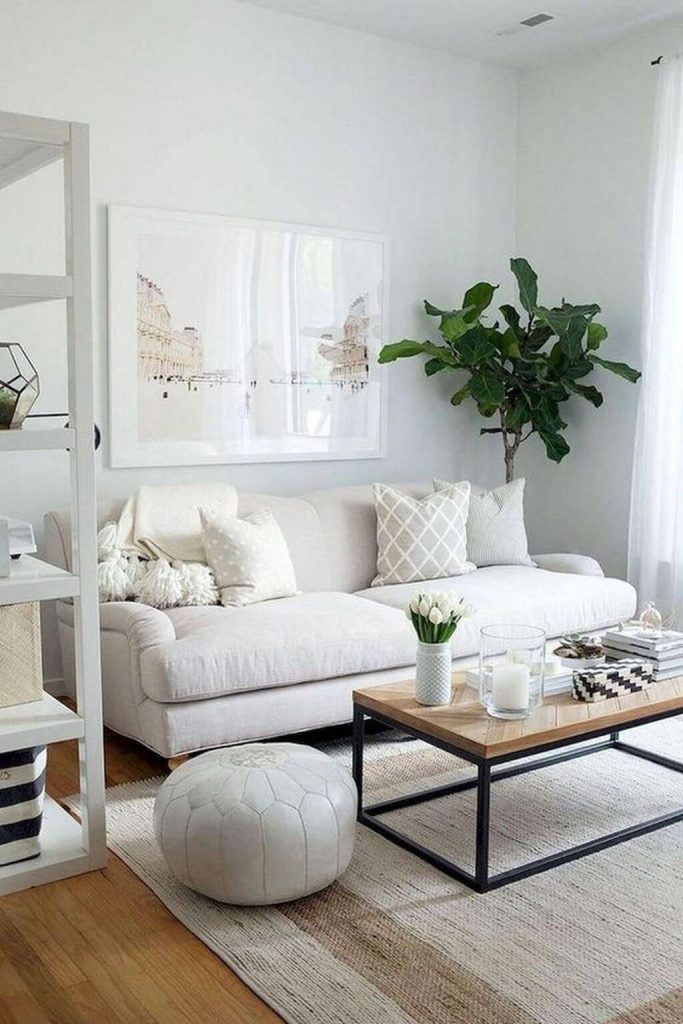 3. Grid Gallery Wall
If you want to make a statement in your living room, a grid gallery wall is great.
Fill a grid gallery wall with your family pictures in black and white for a personal but super stylish look.
Recreate gallery wall:
4. Use books as decor
Decorating and storage often go together, especially in small apartment living rooms.
A cube bookshelf like this creates a lot of storage space for books and also looks stylish. This idea works particularly well if you have a living room with a high ceiling.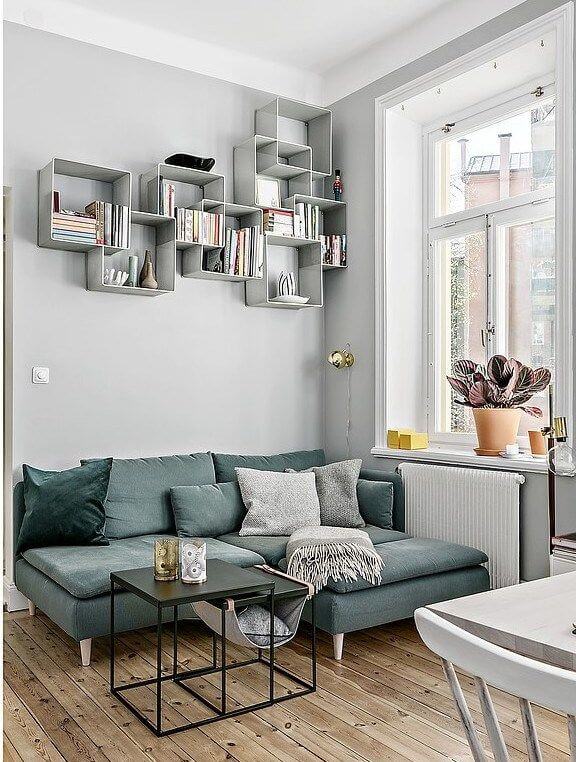 Recreate this idea:

5. Hang a picture ledge above the sofa
A picture ledge is a narrow strip of wood or other material that you hang just above your sofa.
What's great is that you can get these ledges in any color or length.
Because a picture ledge is narrow, it doesn't take up a ton of optical space. That works great for small living rooms.
Recreate this idea:

6. Two floating shelves above the sofa
For playful decor above the couch, hang two small floating shelves asymmetrically.

These shelves often come in sets of two and are incredibly budget-friendly. Floating shelves above the couch are great for frames, plants, and small decor.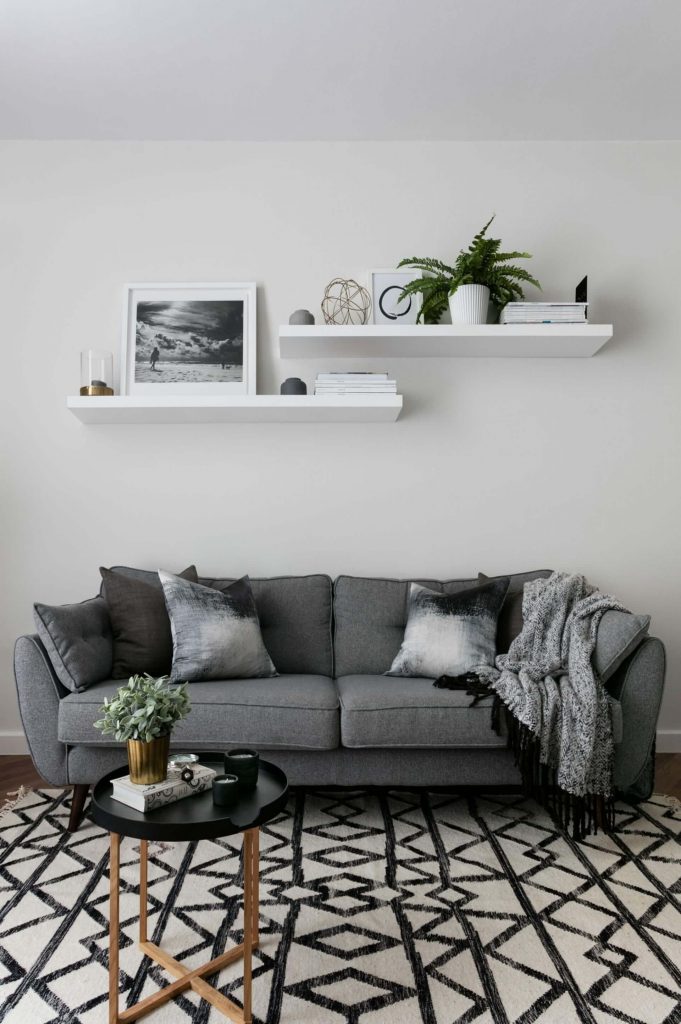 Copy this:

7. Rustic farmhouse floating shelves
If you like the farmhouse aesthetic, why not go for a floating shelf made of reclaimed wood?
This aesthetic looks beautiful in neutral living rooms and adds a lot of character. You can even pair a floating shelf with a small or medium-sized round mirror.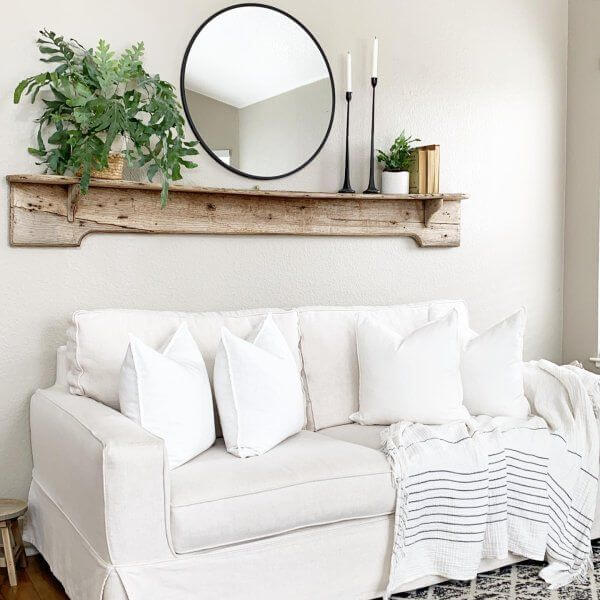 Recreate this:

8. Gallery wall behind sofa
You can also go all out when it comes to the decor over your sofa!! A gallery wall is one of the ways to do that.
A gallery wall looks playful, and the frames' colors can make the living room come together.
Amazon sells excellent all-in-one gallery wall kits with frames in assorted sizes and colors. This gallery wall kit from Kate & Laurel has insane reviews.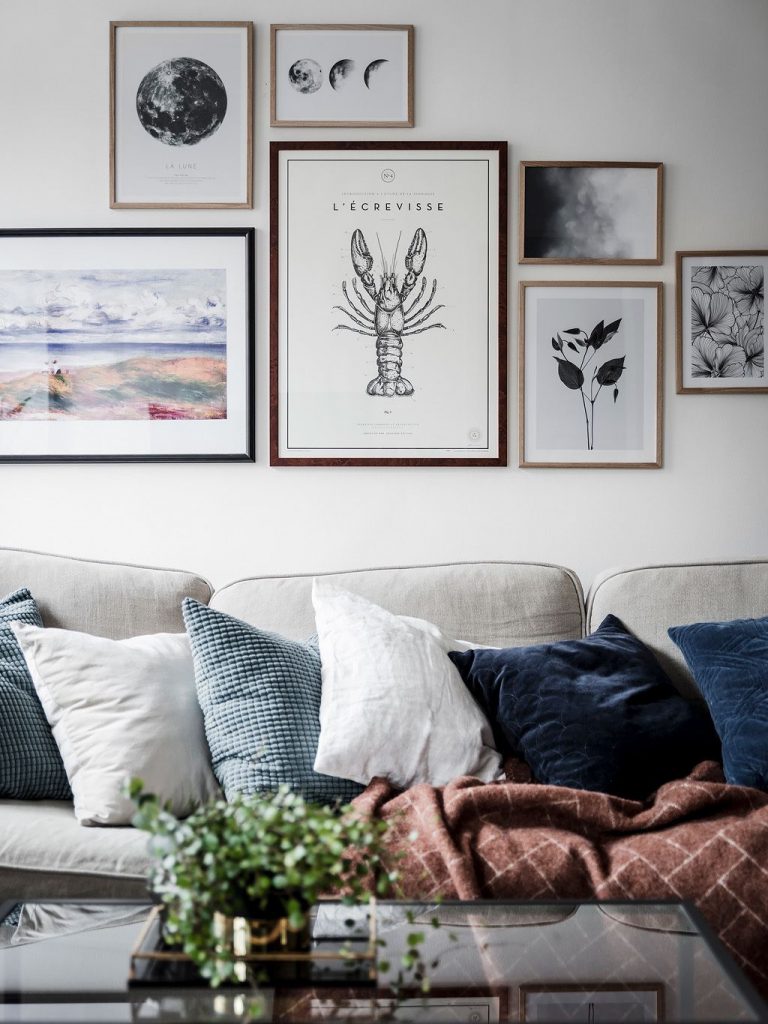 Recreate this gallery wall:

9. Simple square photo frames
A simple yet cute way of decorating the space above your sofa is with 6 simple square photo frames. This could be photos you love or art.
I like that these square frames have lots of space around the pictures. This gives the symmetric gallery wall a very sophisticated feeling.
Recreate this idea:

10. Floating shelves with art and plants
There are many different ways to style floating shelves, but adding frames and hanging plants is always a win.
Tip: pick a 'hanging' plant (fake o real) to pull the space together between the shelf and couch visually.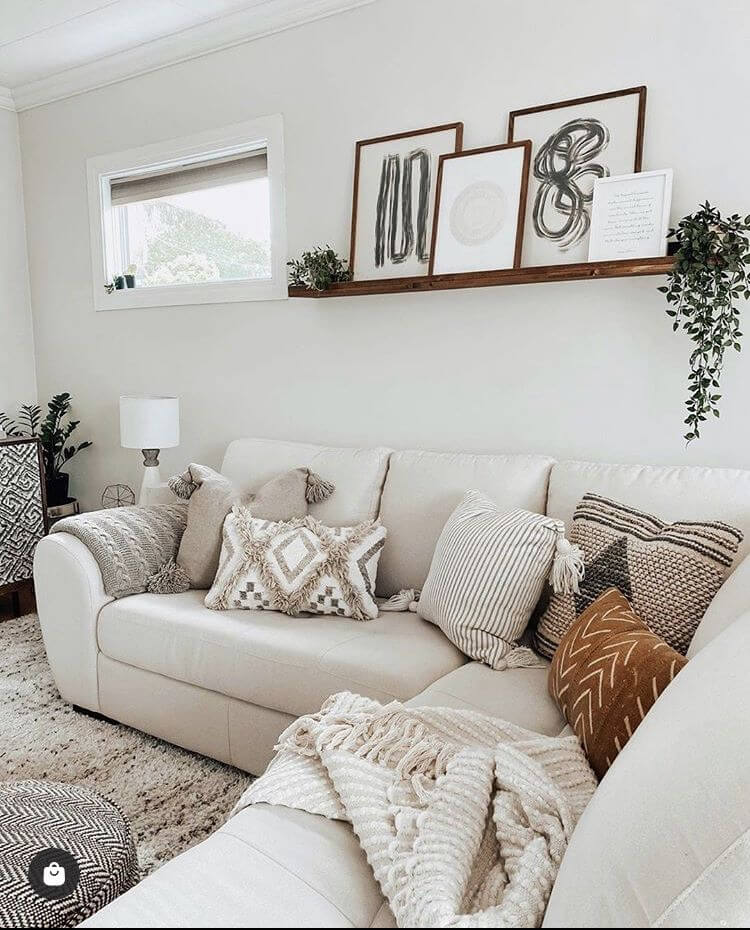 Recreate this:
11. Above the couch art ideas
If your couch is off the wall, you can still decorate the wall behind it! Small gallery walls are great for empty wall spaces that could use some art.
The formula of the gallery wall below is easy to recreate. Study it!!
Recreate this:
12. Small picture ledge
A small picture ledge is excellent if you want to keep the space above your sofa calm and simple.
This one fits 3 frames, and the beauty of picture ledges is that you can always switch up your decor.
Recreate this:

13. Decorate with different colored frames
The decor above your couch can help to make your living room come together.
As you can see below, the colors of the couch and pillows coordinate perfectly with the frames.
Recreate this:

14. Minimal rustic floating shelf
If you love a warm rustic aesthetic, go for a floating shelf with metal brackets.
Big win if you have other furniture in your living room coordinating with that style!
Recreate this:

15. Decorating behind sectional sofa
Decorating behind a sectional sofa works pretty much the same as with a regular couch.
The rule of thumb is to focus your decor on the largest part of the couch.
If you like decorating with frames, the below is a beautiful example of hanging art above a sectional.
15. Floating shelf with simple decor
If you're in doubt about decorating the space above your sofa, you need to see this picture below!!
You can keep the decor over your sofa super minimal and simple. If you're afraid to overwhelm the space, this is a great way to do it.
Recreate this:

16. Mirror above couch ideas
Especially in small narrow living rooms, a large mirror above the couch can open up the space.
You don't have to get a boring mirror; go for a shape like below or a large round mirror.
Recreate this:

17. Decorating with mirrors over sofa
A playful way to decorate above your couch is both with a mirror and frames. Keep your symmetry game strong if you don't want to overwhelm the space!!
The picture below also shows how a mirror above the couch can make your living room look more spacious.
Recreate this:
18. Ideas for space above couch
If you're considering an accent color wall, this is such a great idea!! The color of the wall, mirror, art, and frames work perfectly together.
Recreate this:

19. Combine floating shelf with round mirror
Combine a minimal floating shelf with a large round mirror for a super interesting and playful atmosphere.
Letting a large round mirror face a window is an old trick to make your living room feel more spacious, and it truly works.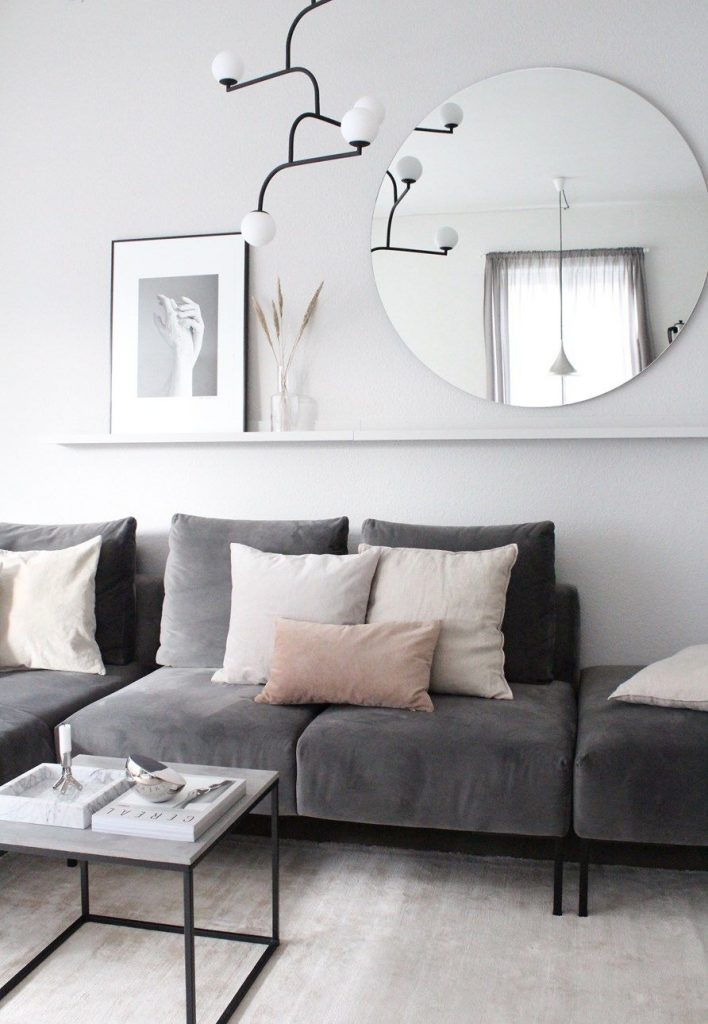 Recreate this:
20. Two large frames over couch
I love the idea of two large frames over the couch. However, from my point of view, these frames are just a little too far apart.
What works for your living room depends, but keep a space of 3 to 6 inches as a rule of thumb. According to Marta Stewart, the ideal space from the couch to your art should be around 8-10 inches.
Recreate this: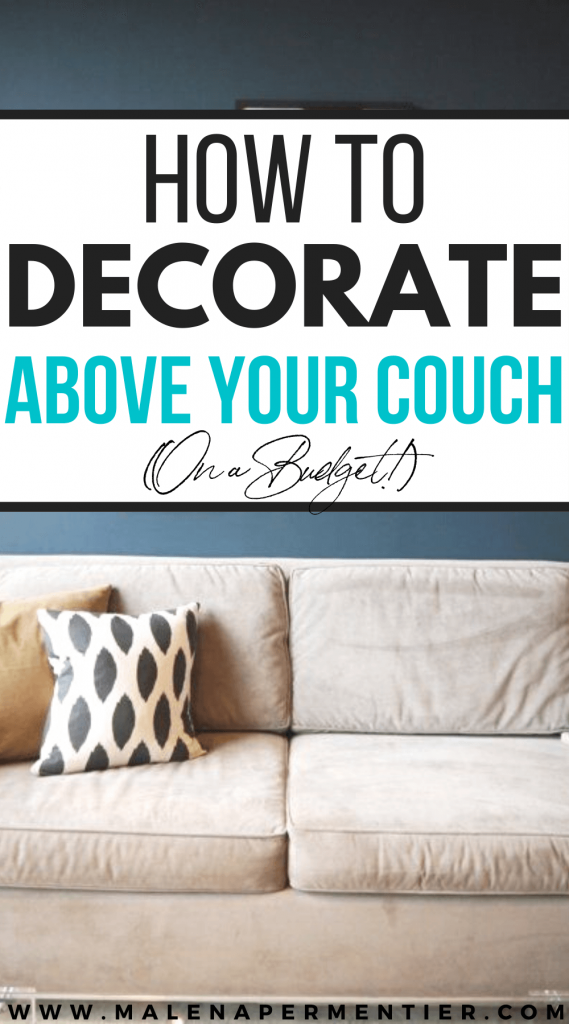 This post showed How To Decorate Above Your Sofa
You may also like: