This post shows you the best diy Christmas decor ideas.
If you're looking for easy and budget-friendly ways to decorate for Christmas this year, you need to see these ideas!
Below, I've listed creative Christmas centerpiece ideas, wall DIY Christmas decor, beautiful ideas to decorate with trays, and much more.
There are many cute Christmas decorations you can put together with items you already have. This post will give you all the inspiration!
So without further ado, let's look at these incredible DIY Christmas decor ideas.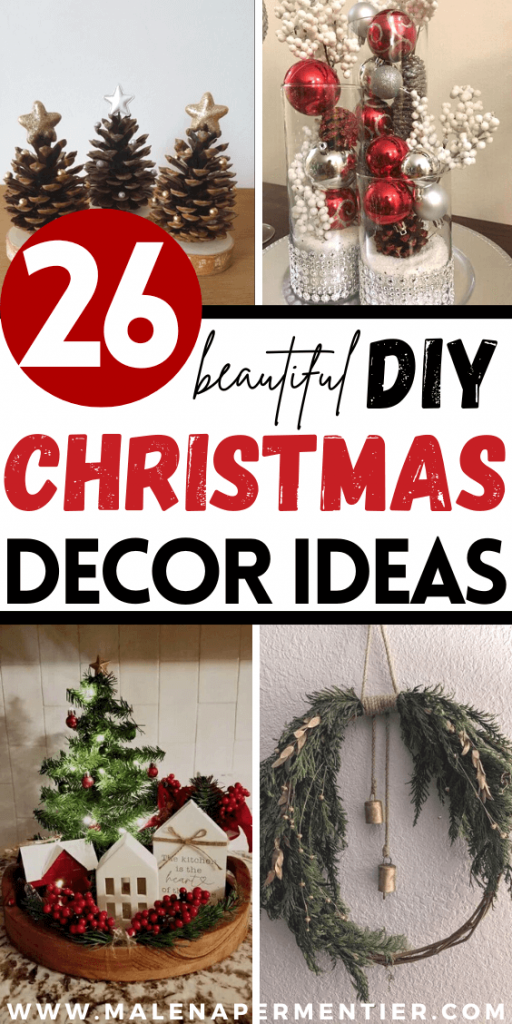 DIY Christmas decor ideas
1. Round wood tray with pinecones and pillar candles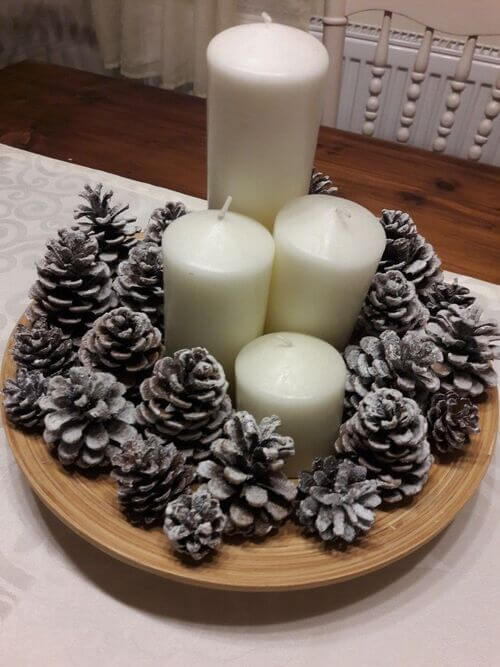 This is a simple yet elegant Christmas decorating idea. Trays are incredibly versatile for decorating throughout the year.
Take a large tray, arrange pillar candles in the center and surround the candles with snowy pinecones.
You could also place fairy light lights between pinecones for a cozy effect. These lights run on battery. You can hide the battery box under the pinecones.
2. Cute red and green Christmas tray decor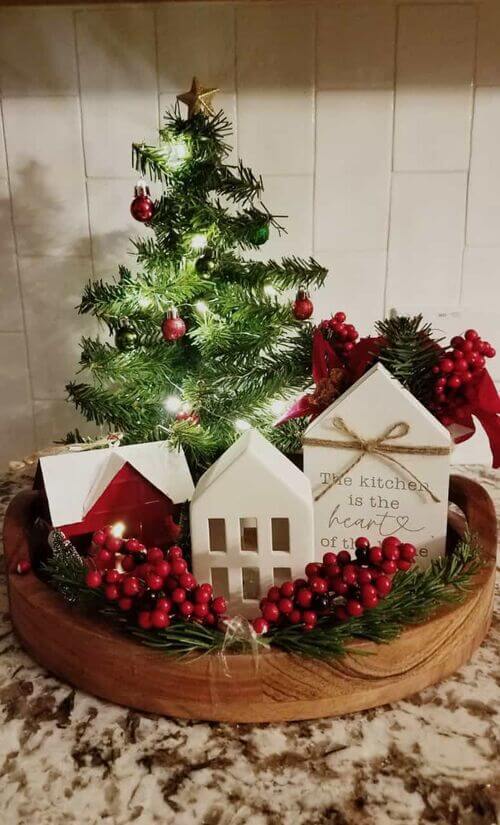 If you're looking for ideas to decorate smaller surfaces, like a coffee table or kitchen counter, make a centerpiece with a small round tray.
I like this idea with the mini Christmas tree, pine branches, and cute ceramic Christmas houses.
3. Christmas decorating with cylinder vases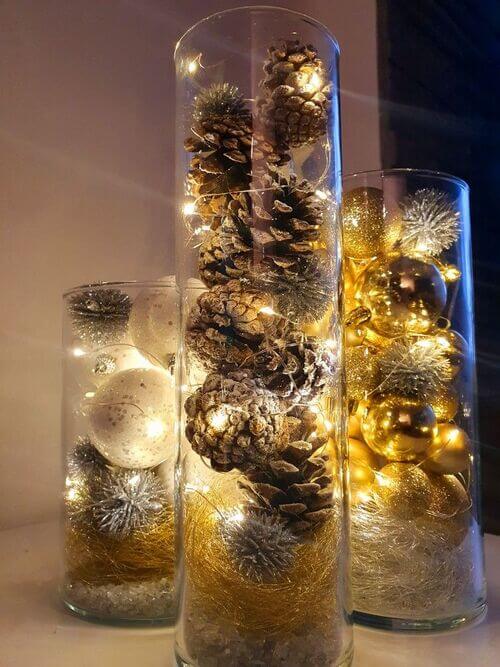 Cylinder vases are an elegant base to make Christmas centerpieces.
You can buy these in a set of 3 in different sizes.
To recreate this cylinder vase decor idea, you need small Christmas balls in the color of your choosing, battery-led lights, pine cones, and some type of tinsel to place at the bottom of the vase.
4. Simple Christmas kitchen centerpiece with ceramic pitcher and red berry twigs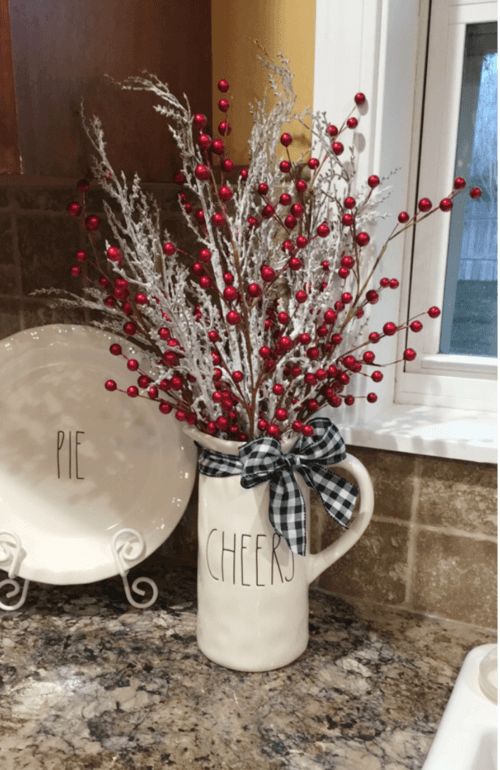 Bring the Christmas spirit to your kitchen by decorating a ceramic pitcher with berry twigs and frosted pine branches.
Adding buffalo plaid ribbon to the pitcher's rim can make this decor even better.
5. Rustic small mason jars with jute twine and tealights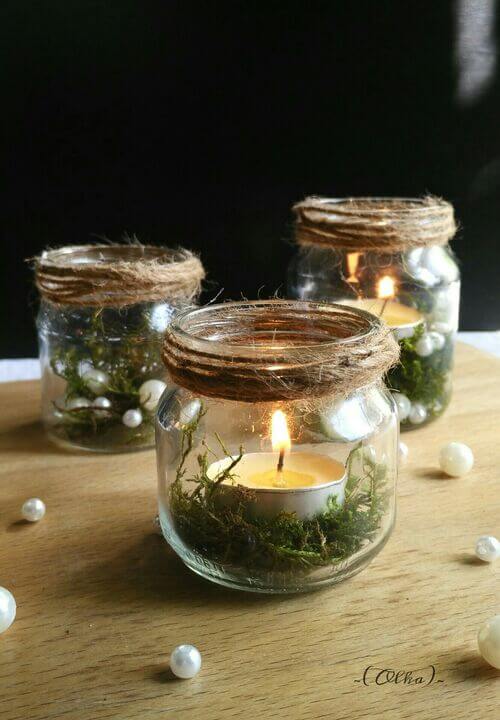 These DIY mason jar tealight holders are super nice on your Christmas table this year.
Place these centerpieces on a table runner alongside a pine garland for the most beautiful and rustic atmosphere.
6. Decorate a dough bowl for Christmas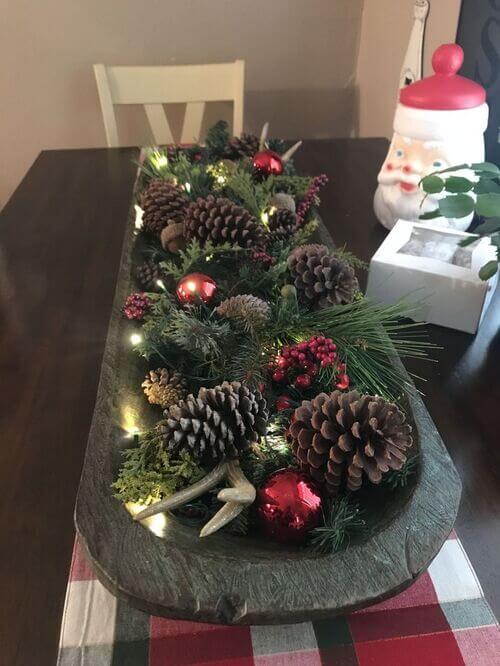 Wood dough bowls are beautiful for Christmas decorating.
This looks wonderful on a long dining table or a console in the living room.
You can decorate the dough bowl with the color scheme you love.
Red and green are lovely, but you could also go for only silver and green for a more minimalist style.
7. Christmas table garland with dried orange and cinnamon sticks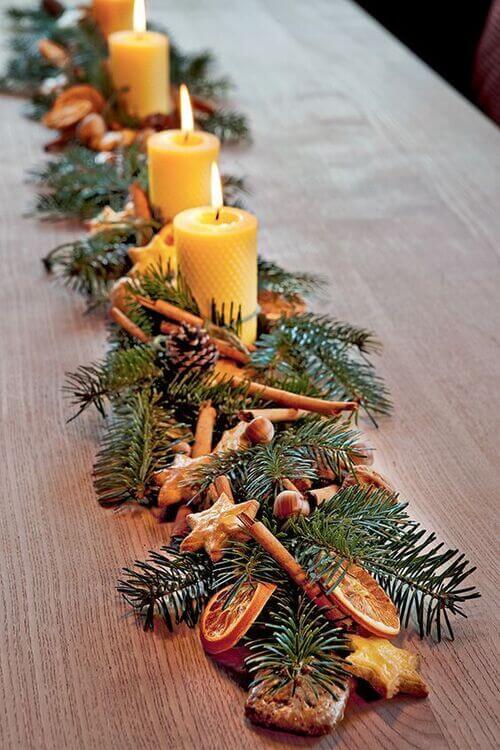 This Christmas table decor is so unique and creative!!
Dried orange slices look beautiful and add a warm element to the garland.
You can buy a pine garland and customize it with dried orange and more decorations.
You can also buy a ready-made garland with orange slices.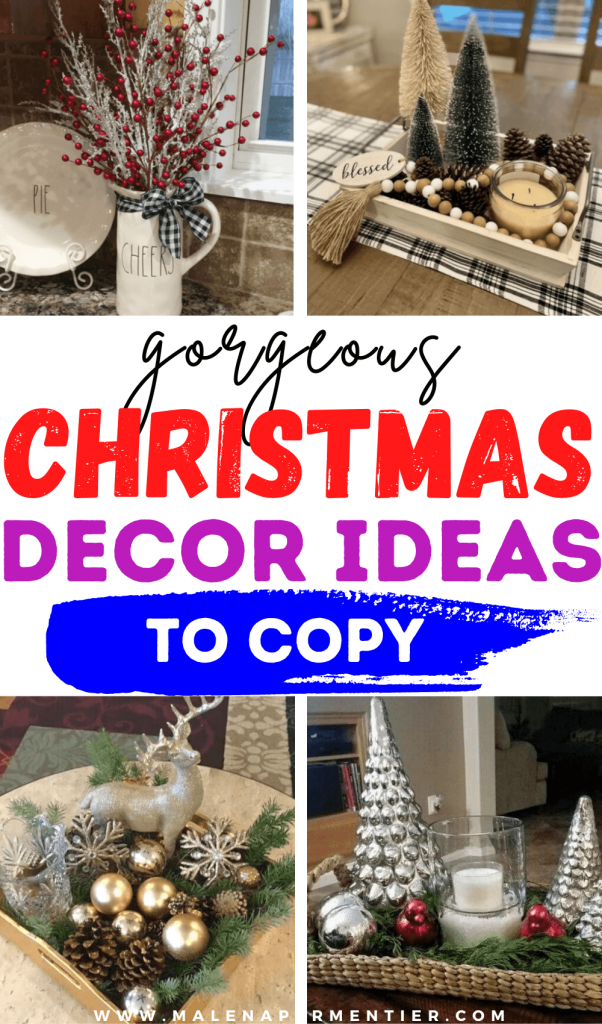 8. Wall DIY Christmas decor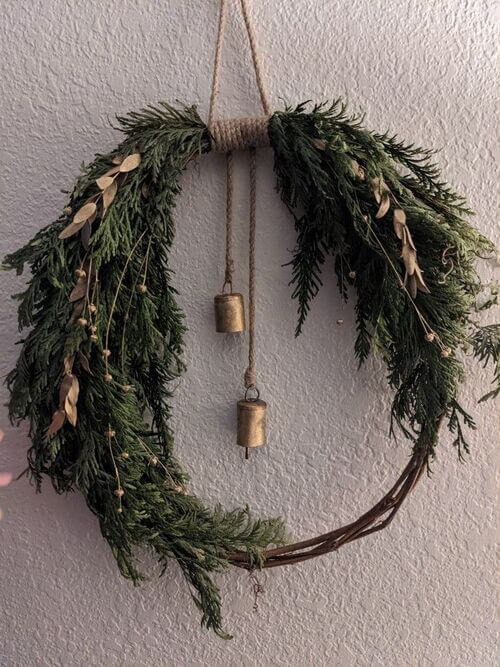 DIY a gorgeous Christmas wreath to hang on the wall or door this year!
To recreate this, you need several long and flexible twigs. Attach 3 or 4 twigs in a circle. You can use rope or aluminium wire to do this.
Then you can decorate the wreath. Things like pine branches, dried greenery, and gold bells look amazing.
Add rope at the top to hang the wreath on the wall.
9. Square gold Christmas tray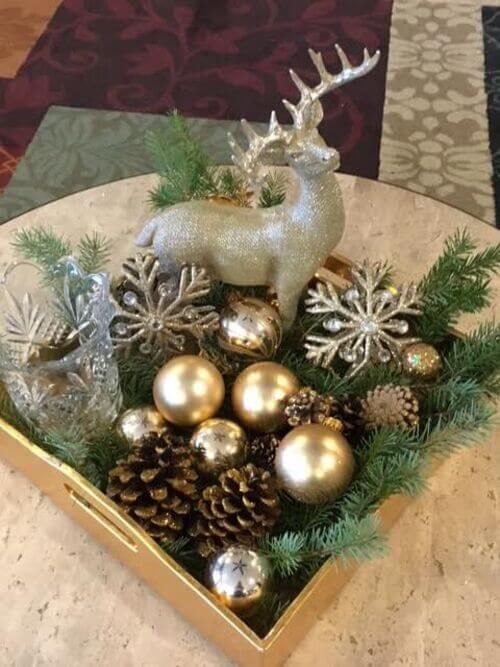 This is your perfect coffee table decor idea for Christmas!!
Especially if your coffee table is small, a compact square tray is an excellent base for Christmas decor.
Start by placing pine branches at the bottom of the tray.
Now you can arrange Christmas ornaments, pinecones, and other decorations on the tray.
Use one "main" piece of decor on the tray. In this case, that's the beautiful gold deer.
10. Christmas farmhouse tiered tray
Tiered trays are my favorite decor base for kitchen counters. There is something super cute about them!
You can use a tiered tray in your kitchen to put together a coffee or hot cocoa bar.
Decorating it as a fun kitchen centerpiece is also great!
Items that work well for tiered trays are small pine branches with berries, cute ceramic Christmas figurines, and my forever favorite: pine cones.
A natural element like pinecones always looks good! The big plus is also that you can find them outside.
11. Cute DIY pinecone Christmas trees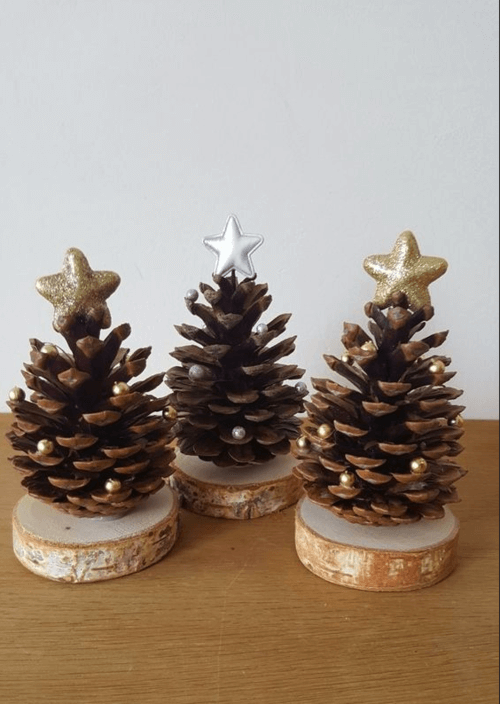 This is the cutest Christmas DIY decor idea ever!!
You need small wood slices, pinecones, stars, and gold or silver beads to decorate the "tree."
For putting these centerpieces together, you'll need some strong wood glue!
12. Tray decor with winter houses and miniature Christmas trees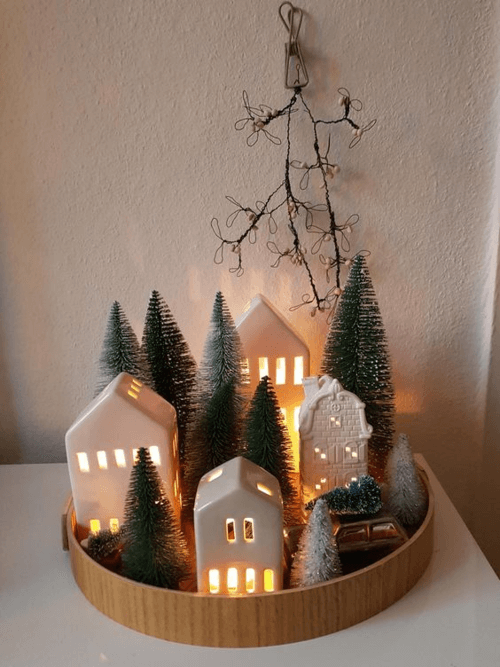 Small ceramic houses are great winter decor, and I love this simple tray decor with Christmas trees and tiny houses.
Make sure to pick ceramic houses that you can light up with a tealight underneath.
I highly recommend these LED tealight candles for safety. I've had too many almost accidents, so I'm super cautious about this.
Especially in households with children, these led candles are a must-have 🙂
13. Modern table tray decor with a checked table runner