This post shows you the best creative Christmas decor ideas.
The holiday season is just around the corner, and what better way to get into the festive spirit than by decorating your home for Christmas?
Whether you're a seasoned decorator or a first-timer, there are countless ways to infuse your living space with holiday cheer.
We'll share 26 creative Christmas decor ideas that you can easily recreate in your own home.
From classic to modern, traditional to minimalist, there's something for every style and budget. Let's dive in.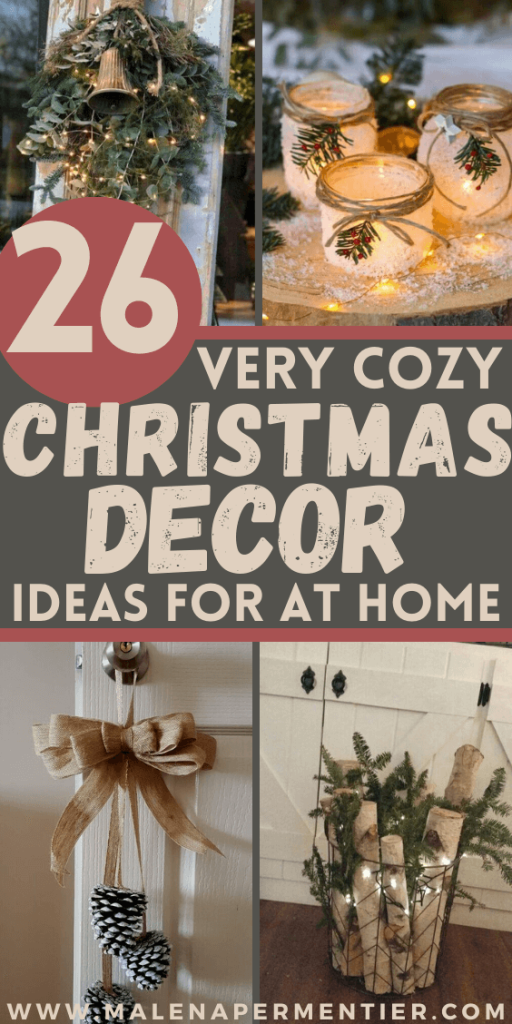 Christmas Decor Ideas to try
Before you dive into these 26 creative ideas that we've included, here are a few things you can keep in mind when thinking of Christmas decor.
Rustic Elegance: Decorate with wooden ornaments, burlap ribbon, and mason jar candle holders for a cozy, rustic look.
Farmhouse Chic: Combine white, red, and green decor with distressed wood accents for a charming farmhouse Christmas vibe.
Glamorous Gold and Silver: Create an opulent atmosphere using gold and silver ornaments, metallic accents, and sparkling fairy lights.
Natural Elements: Incorporate pinecones, evergreen branches, and holly to bring the beauty of the outdoors inside.
Vintage Nostalgia: Hunt for vintage ornaments and decorations at thrift stores for a charming, nostalgic Christmas feel.
Monochromatic Magic: Stick to a single color palette, like all white or all red, for a minimalist and elegant Christmas theme.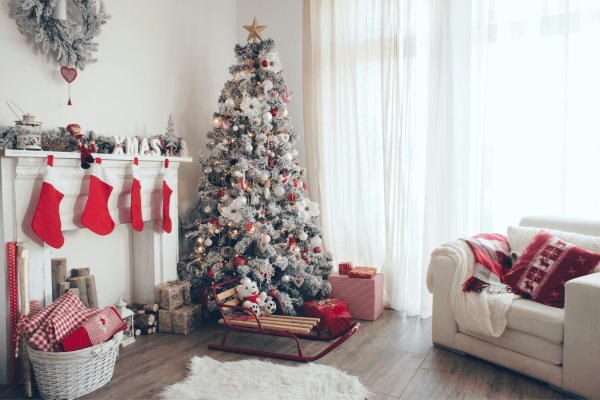 DIY Advent Calendar: Craft your own advent calendar with small boxes, envelopes, or pockets, each filled with a festive surprise.
Whimsical Wonderland: Decorate with oversized ornaments, giant candy canes, and nutcrackers for a playful, whimsical look.
Bookish Bliss: Stack books and top them with a mini Christmas tree or a simple wreath for literary-inspired decor.
Festive Table Settings: Elevate holiday dinners with themed table settings, including personalized place cards and centerpieces.
Cozy Corner: Create a cozy reading nook with blankets, pillows, and a small Christmas tree adorned with soft lights.
DIY Wreaths: Craft your own wreaths using materials like pinecones, burlap, and ornaments for a personal touch.
Window Wonderland: Hang snowflake decals, string lights, and ornaments in your windows for a magical outdoor view.
Kid-Friendly Crafts: Get the little ones involved with DIY ornaments, paper snowflakes, and handprint art to add a family touch to your decor.
Christmas Decor Ideas For The Home
1. Jingle bell wreaths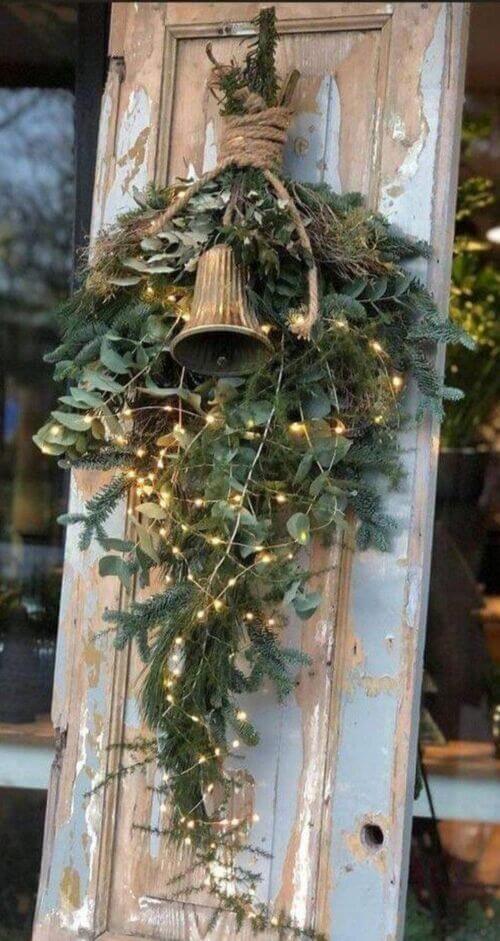 If you're looking for a new and fun way to create a wreath then you can always opt for some greenery, fairy lights, and some copper bells.
This is such a stunning piece to add to your home. Add it to your front door or anywhere in your home to bring holiday cheer to the game.
2. Frosted glass centerpieces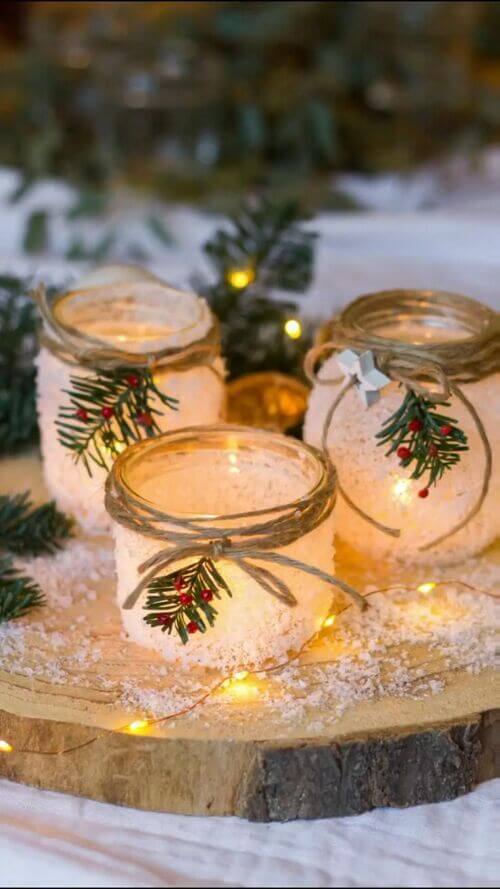 When creating some stunning Christmas centerpieces you can opt for these frosted glass pieces that bring a touch of elegance to the table.
Include some candles and tie some mistletoe around the top for a warm glow as well.
3. Bring in some unique ideas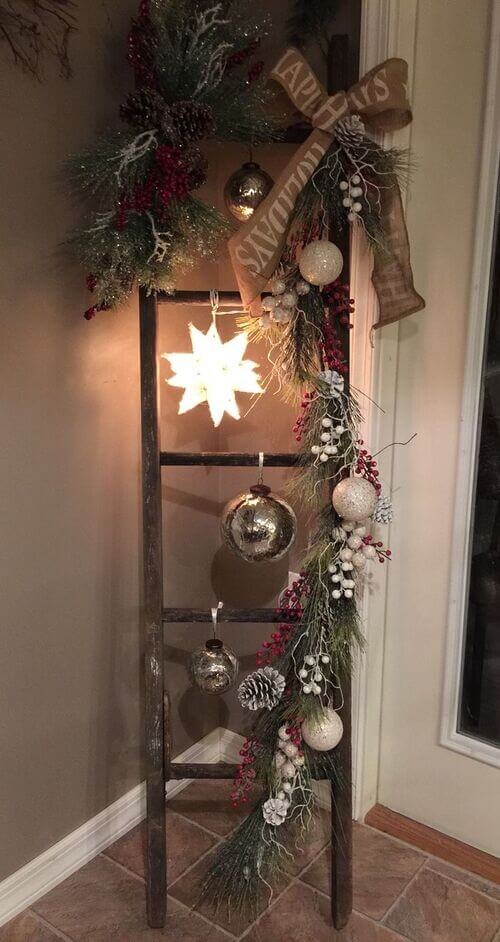 This DIY ladder decor idea brings a rustic touch to any home.
Within the living room, you can include a piece like this.
Add some lights, stunning baubles, and some red or gold ribbons to bring the full idea to life.
4. Greenery and orange table runners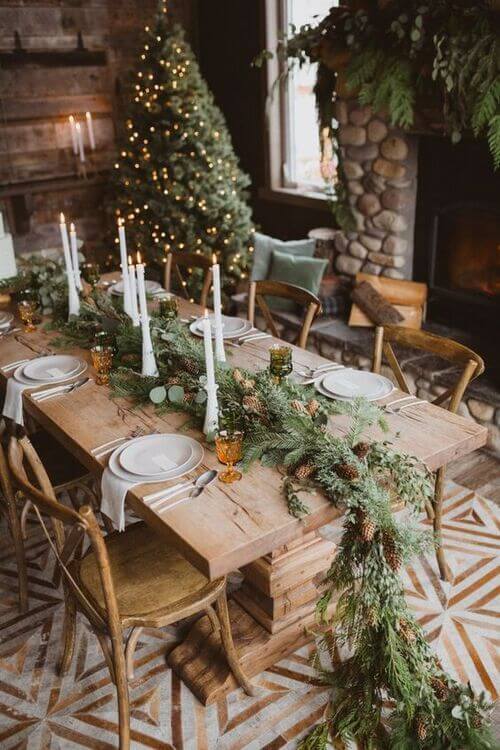 If you want a fun and festive table runner to bring to the table then try out this pine leaf and orange glassware idea.
The idea of adding candles can also bring a warm aesthetic to the table. It's the perfect elegant and simple idea.
5. Frosted pine cones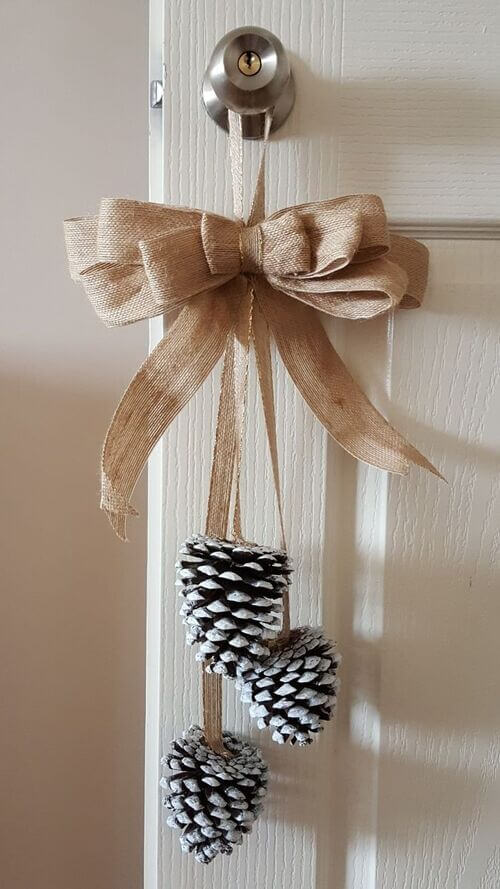 Bring a little something new to the mix.
Add some burlap ribbons and frosty pinecones to the doors.
It's a cute addition to any room and will bring Christmas cheer to every corner.
You can even add some bells or something for a simple but fun touch.
6. Naked Christmas tree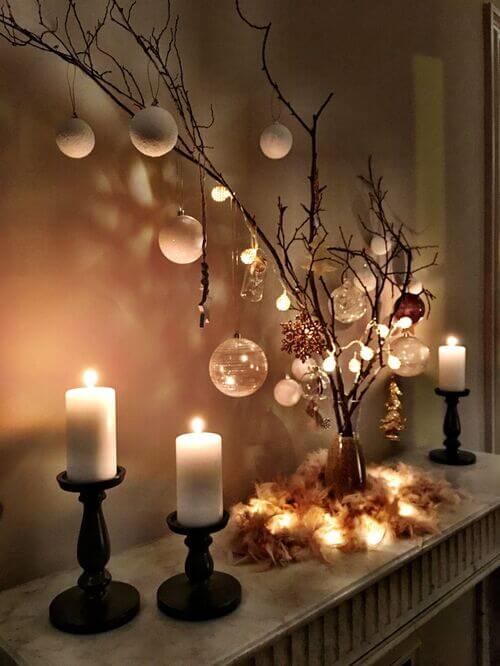 This naked tree completed with neutral-toned baubles and also some clear ones makes up the perfect yet simple tree.
Add some fairy lights, candles, and even some fake leaves underneath to bring this idea to life.
7. Greenery and eucalyptus wreath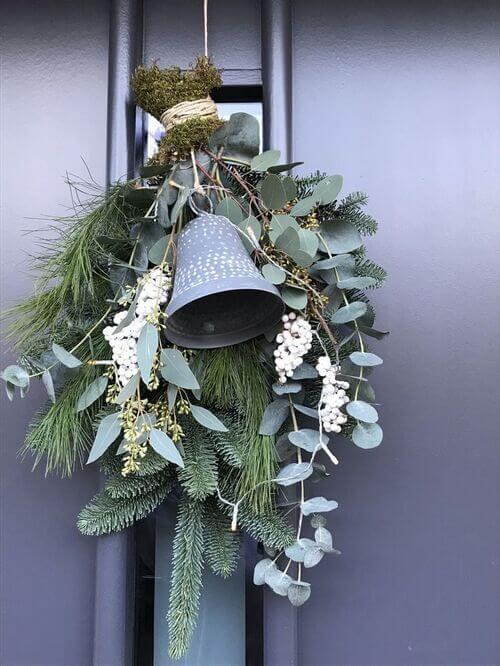 This pine and eucalyptus bundle makes the perfect addition to a front door.
You can include some silver bells just for a bright touch.
This rustic look isn't the usual Christmas colors but it is sure to pack a punch.
8. Red and green lanterns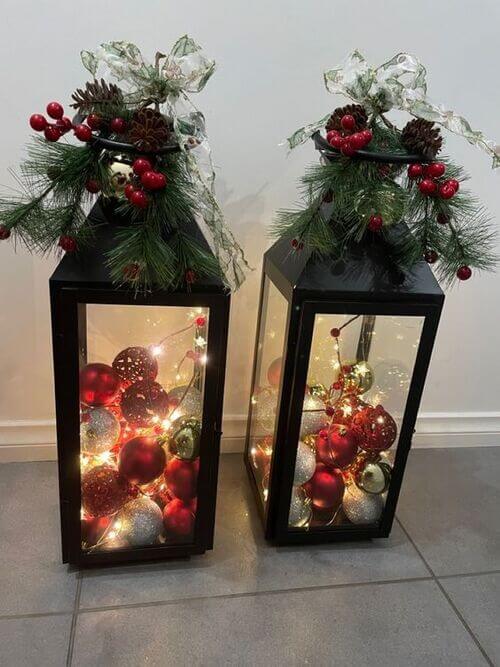 These giant lanterns are perfect additions to your home.
If you have an open space or need to fill up the living room.
Add some fairy lights, and red and grey baubles, and then add some greenery on the top.
9. Mini snow-covered wonderland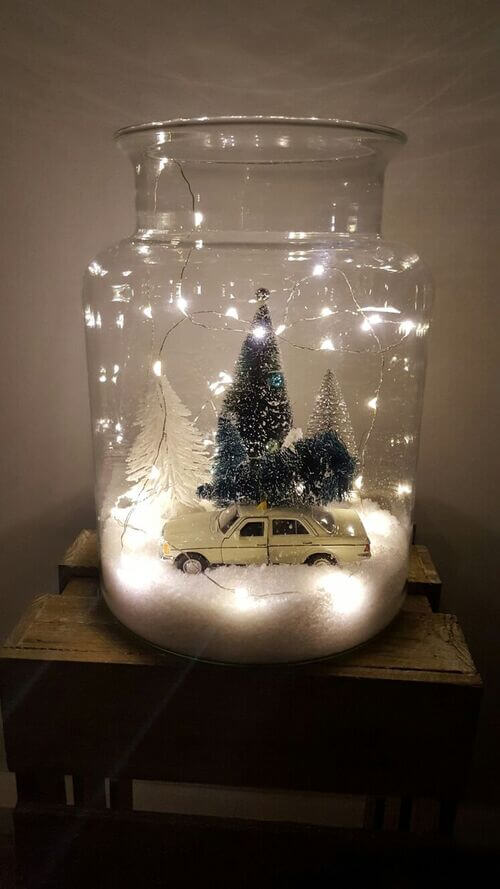 This idea includes fake snow, a toy car, plastic trees, and some fairy lights.
It's easy to DIY and include in your home.
Make a few of these and place them around your home.
This can double as the perfect idea to give to your kids to try out as well.
10. Two-tier Christmas decor piece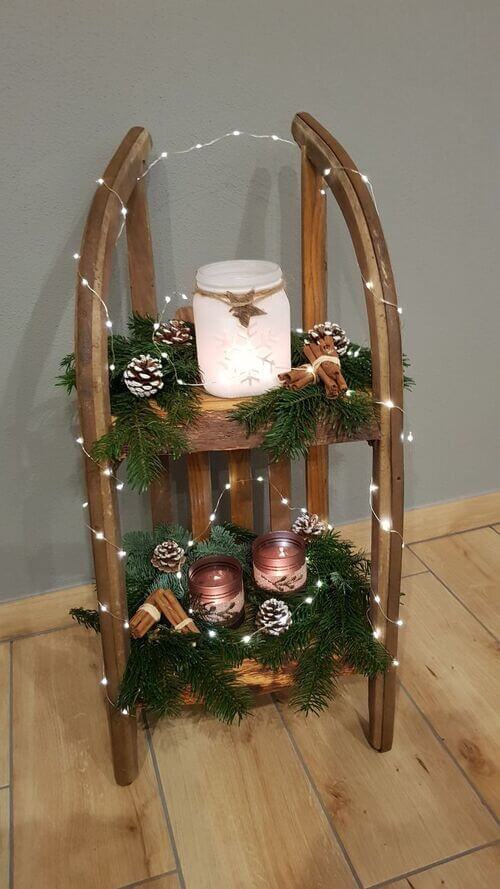 This wooden table can be filled with festive goodies to bring in some holiday cheer.
Add some greenery and candles to bring the perfect warm aroma to the table and then include some fairy lights and pinecones.
11. Add greenery to everyday places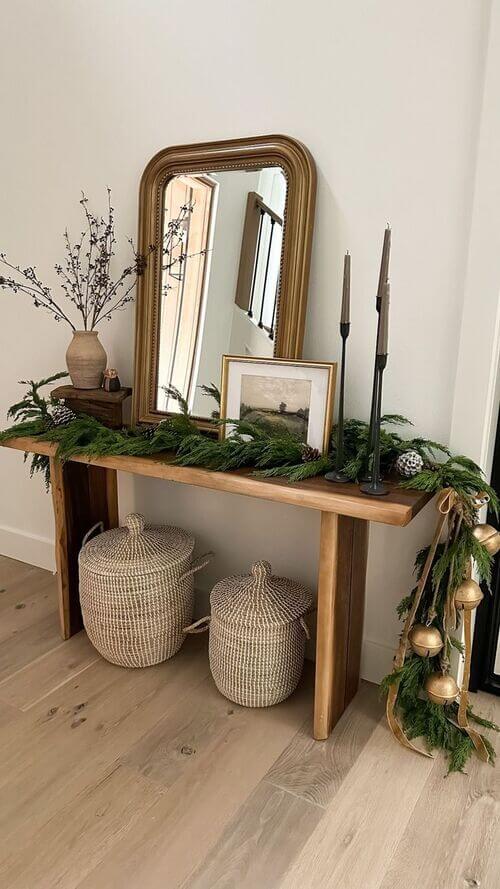 Don't leave an inch of your home undecorated.
Add some greenery, golden baubles, and some candles to lighten the atmosphere in your home.
It's not extravagant but it adds a nice touch to things.
12. Gold and white decor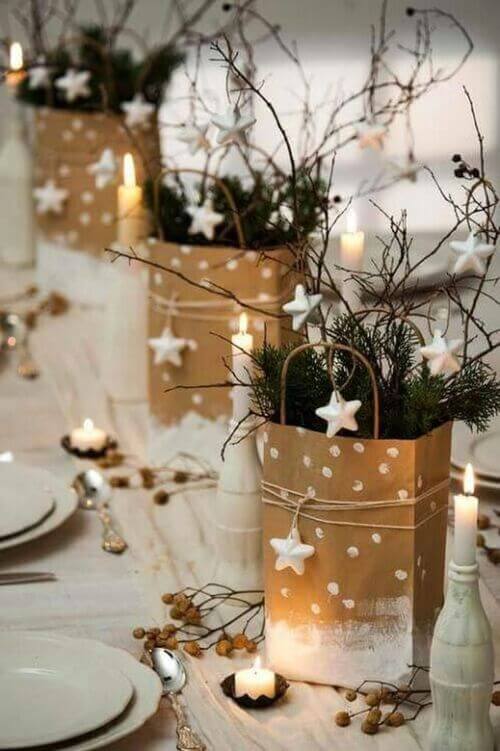 If you plan on having guests over then try out this cute idea.
These gift bag centerpieces include white stars and greenery.
Then include some fake tealights and some candles to bring a warm glow to the table.
This allows you to keep the mess to a minimum.
13. Mini pinecone Christmas trees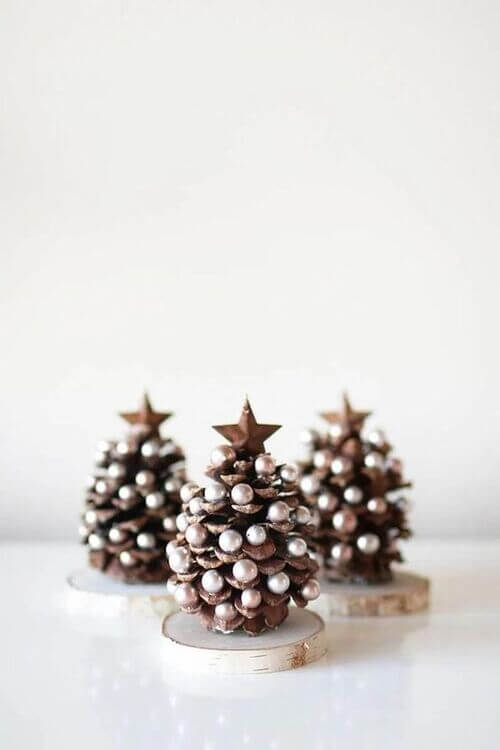 This makes the perfect DIY project.
Grab some silver or golden beads and glue them onto pinecones.
You can even add stars to the top and glue them to wooden rounds.
These cute DIY trees can be placed around the home and bring a unique touch to the home.
14. Creating a DIY winter wonderland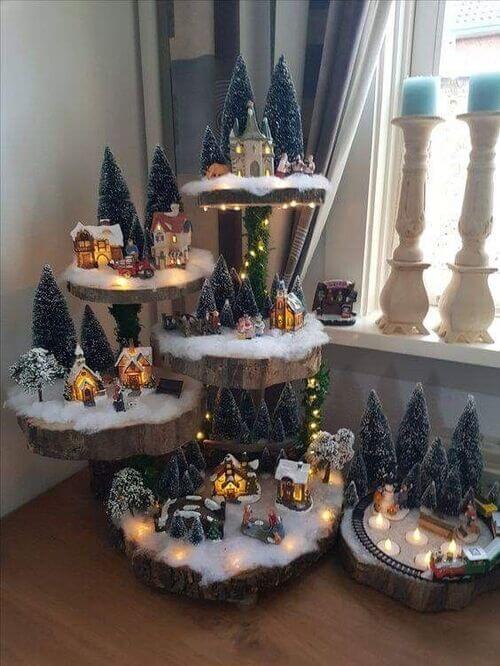 This winter wonderland is made with wooden rounds, cotton to mimic snow, and some trees to recreate the forest.
Then include some small houses and add some fairy lights to bring a warmer touch to the fun idea.
15. Log holder and fairy lights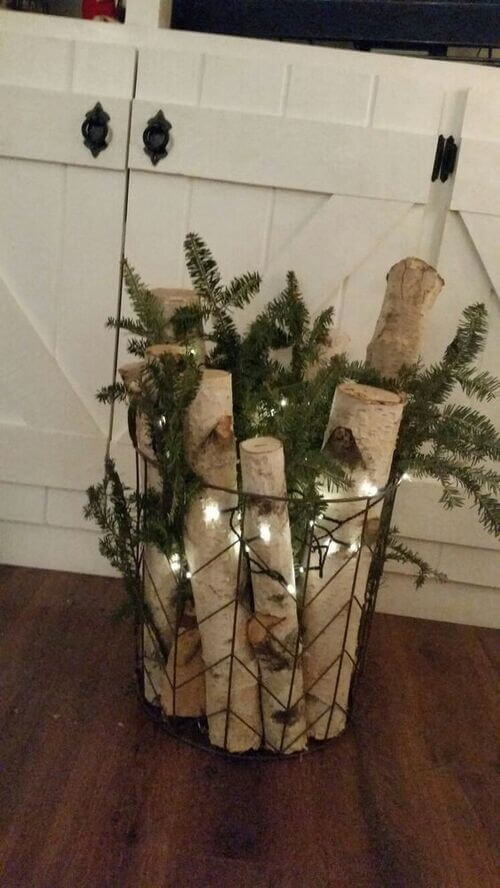 Add some fairy lights and greenery to the log holder in front of the fireplace.
It's a simple touch of Christmas fun to include in your home.
16. DIY snow globe effect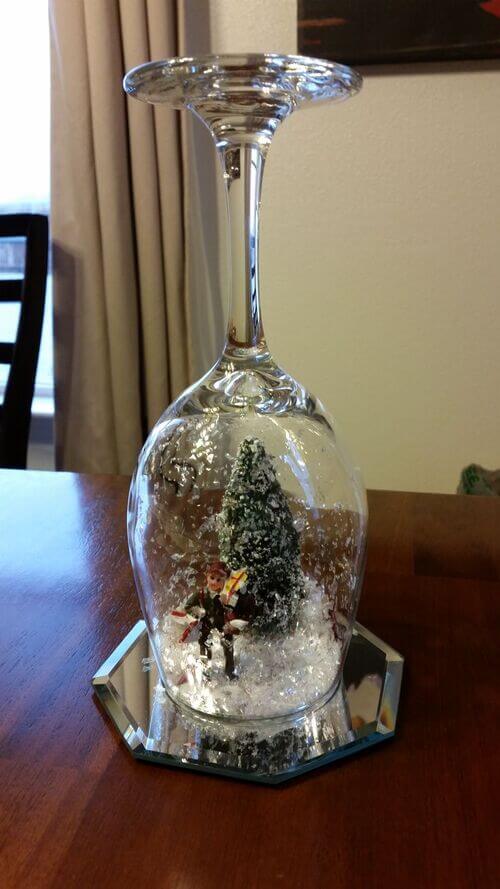 This idea includes glitter, fake trees, and a wine glass.
It creates the perfect DIY snowglobe which brings a new touch to the table.
It's stunning and absolutely adorable. Why not give it a shot this Christmas?
See how you can customize it.
17. Pine cone and candle box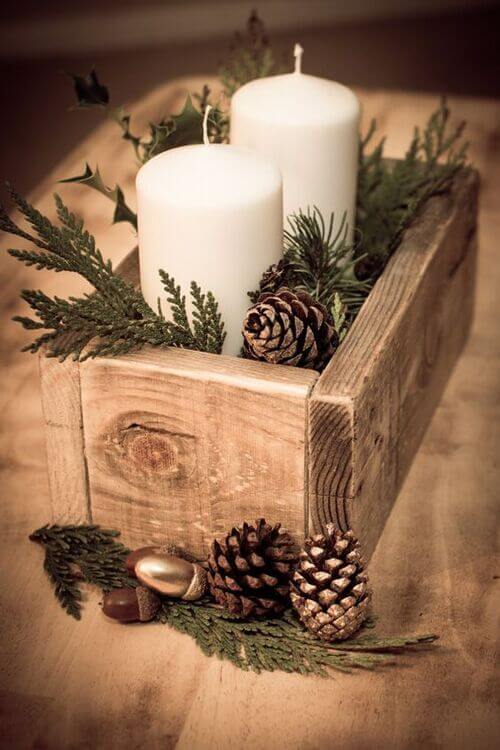 These simple boxes are the perfect subtle centerpieces.
They include all the basics. Pinecones, greenery, and white pillar candles.
You can even add some acorns and paint them gold to bring a bold accent to the table.
18. Bells and dried flowers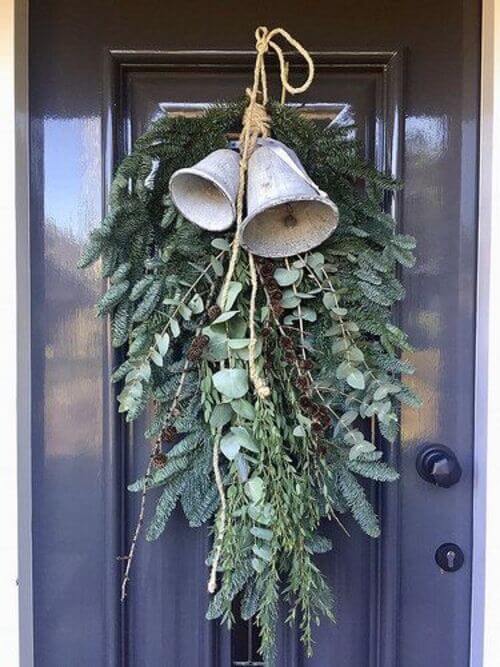 This idea sticks to eucalyptus and lavender which brings a unique touch to the door.
Add some bells whether they work or not is up to you, but it keeps things in the winter spirit.
Keep things simple and work with the natural aromas.
19. Keeping things neutral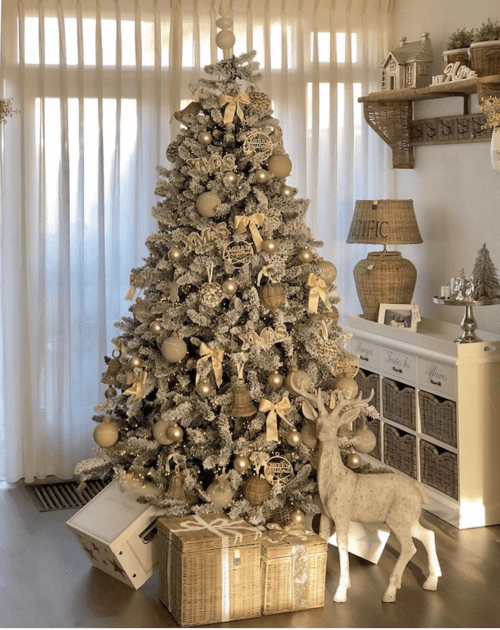 If you are looking to stick to neutral themes then stick to burlap ribbons and golden baubles.
The whole theme is based on neutral tones and gold accents.
It's extremely stunning while staying basic and minimalistic with color.
20. Gold painted acorns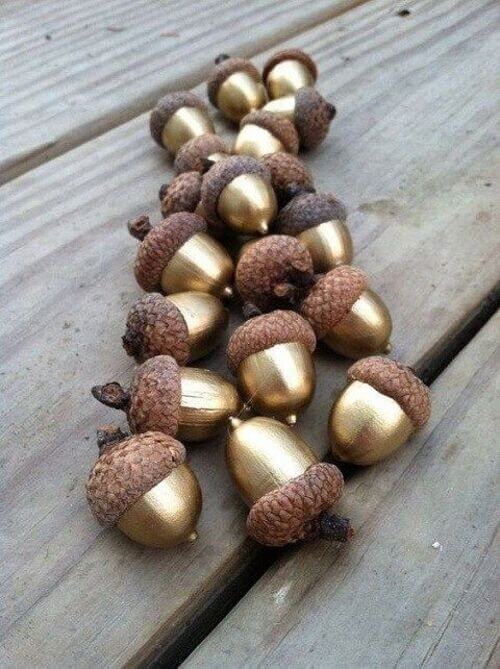 Bring something unique to the table.
These golden acorns are perfect for any placement.
You can add them in centerpieces or just use them as is.
We can all appreciate a fun twist on simple pieces. It's absolutely adorable.
21. Gnomes in fake snow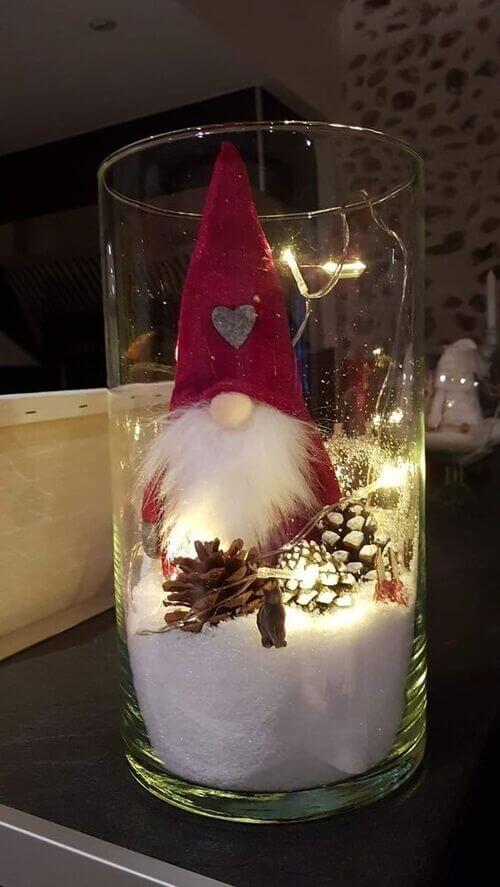 These festive jars bring a cute touch to the table.
Mini gnomes with pinecones and fairy lights placed in fake snow.
It's simple, and fun, and even the kids can enjoy working with on these cute little pieces.
22. Creative wall decor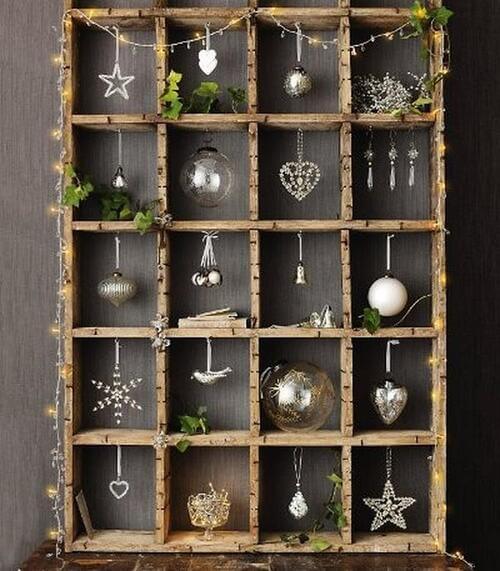 A nicely placed wall art piece for Christmas can be just what you need.
You can include some starts, baubles, lights, and some of your favorite trinkets as well.
It's a cute and custom idea that you can use to bring your own personality into play.
23. Grey and neutral centerpieces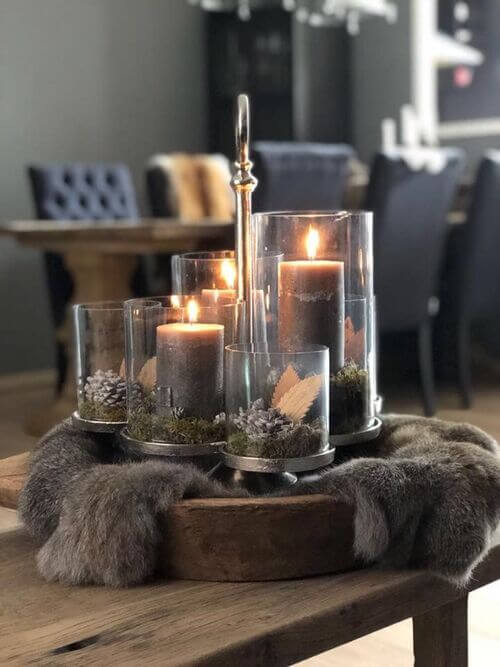 This fur and dark wood aesthetic brings a moody atmosphere to the table.
It's not your usual Christmas decor but the dark candles and pinecones do bring a nice atmosphere to light.
24. Mini forest in a jar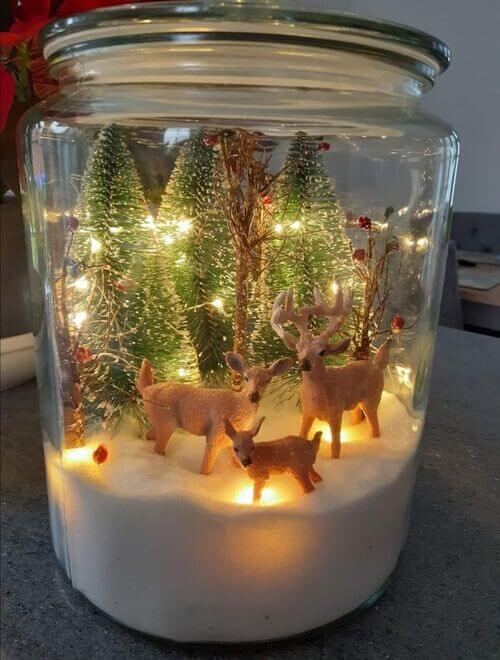 Fill mason jars with fake snow, trees, and some reindeer.
These cute and compact Christmas ideas bring the opportunity to fill up some unused space.
It's a simple DIY idea that will do wonders for your house.
25. Baubles in wine glasses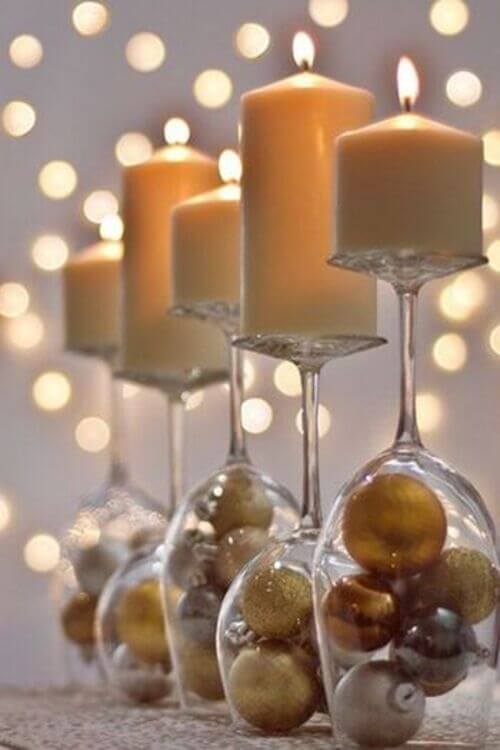 This idea is absolutely adorable and out of the box. Include the baubles into the wine glasses and then add the candles to the bottoms of the glass.
It's a simple idea that brings far more opportunities to play with.
26. Wine bottle candle holders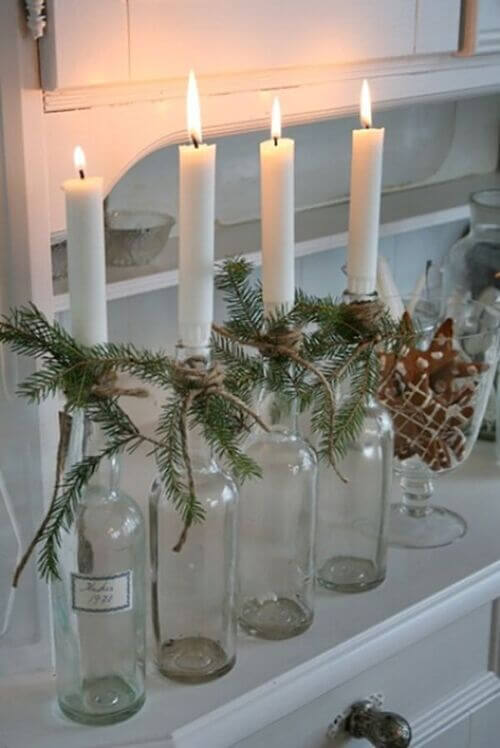 If you have some unused wine bottles then you can always add candles to them for an extra touch.
Tie some twigs and pine to the bottles for a touch of greenery.
Christmas DIY ideas
Christmas is a time to make your home feel warm, inviting, and filled with the season's joy.
With these 26 creative Christmas decor ideas, you can transform your space into a festive wonderland, whether you prefer a traditional, rustic, or modern look.
Feel free to mix and match these ideas to create your own unique holiday style.
So, gather your decorations, put on some Christmas music, and let the decorating begin!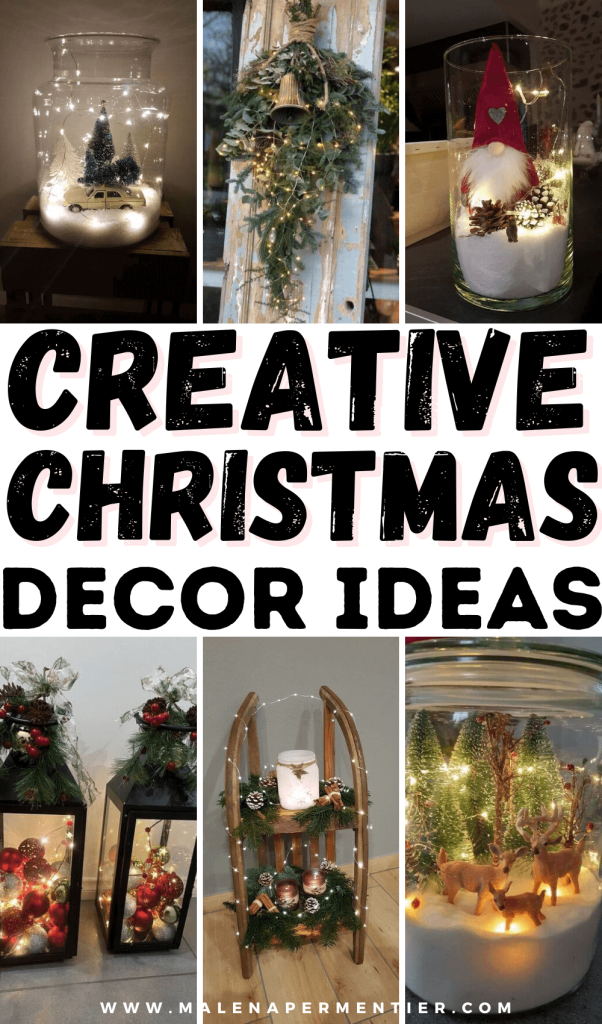 This post shows you the best Christmas decor ideas for the home.
You may also like: