This post shows you the best farmhouse home decor ideas.
Creating stunning farmhouse home decor involves a blend of rustic charm, simplicity, and a touch of elegance.
To achieve this timeless look, you can incorporate a variety of elements that capture the essence of rural life while still maintaining a sense of sophistication.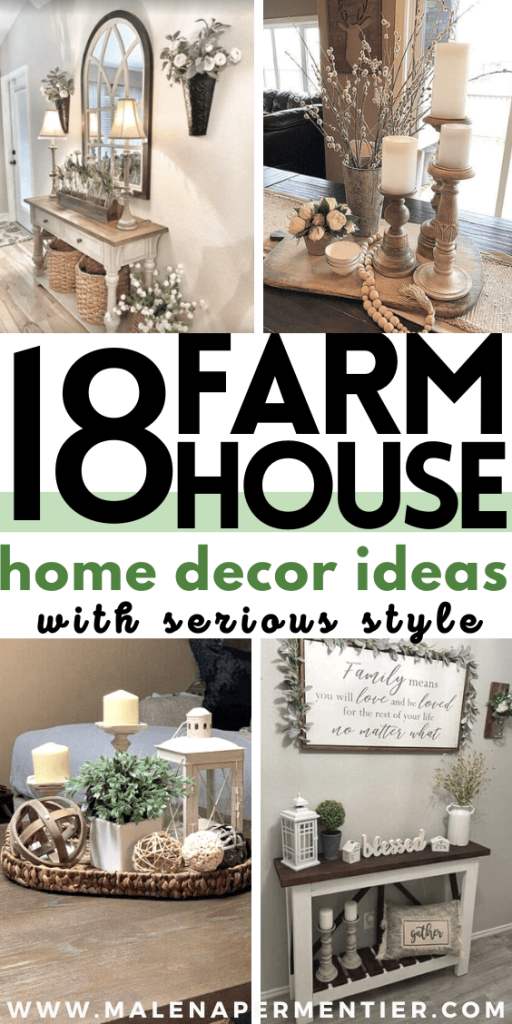 Farmhouse decor ideas
Finding an idea that will work great in a home can be difficult.
I have thrown together this list of ideas for you to test and try as you please.
Bring your twist to things or use them as is.
Neutral Color Palette: Start with a neutral color scheme featuring whites, beiges, grays, and soft pastels. These shades create a clean and fresh backdrop for farmhouse decor.
Reclaimed Wood: Incorporate reclaimed wood into your furniture, flooring, and decor. Weathered and distressed wood can give your space an authentic rustic feel.
Barn Doors: Install sliding barn doors in your home. They not only look great but are also functional and can help save space.
Open Shelving: Replace upper kitchen cabinets with open shelving made from wood or metal. Display your favorite dishes, cookware, and decor items.
Farmhouse Sink: A classic apron-front or farmhouse sink can be a focal point in your kitchen. Choose a white or stone sink for an authentic farmhouse look.
Mason Jars: Use mason jars as vases, candle holders, or even as drinkware. They add a charming and rustic touch to any room.
Rustic Furniture: Select furniture with a distressed or worn look, such as a farmhouse dining table or a vintage hutch. These pieces add character to your decor.
Vintage Farmhouse Signs: Decorate your walls with vintage-style signs featuring inspirational quotes or farm-related themes.
Fresh Flowers and Greenery: Bring the outdoors in with fresh flowers and potted plants. These add color and life to your farmhouse decor.
Antique Mirrors: Vintage mirrors with distressed frames can make for stunning statement pieces in your farmhouse-inspired space.
Cozy Textures: Add cozy touches with throw blankets, pillows, and rugs made from soft and plush materials.
Farmhouse Home Decor Ideas
1. Neutral colors and greenery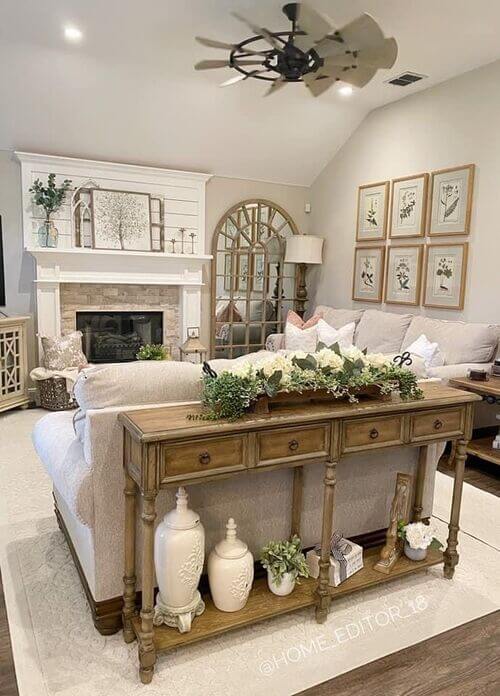 Farmhouse style is all about finding ways to incorporate gorgeous wood pieces and ceramics.
This side table is perfect to fill up some space behind the couch.
Greenery and white roses make the perfect centerpiece for this table.
You can add small trinkets and extra ceramics to fill up the empty space.
2. Simple kitchen centerpieces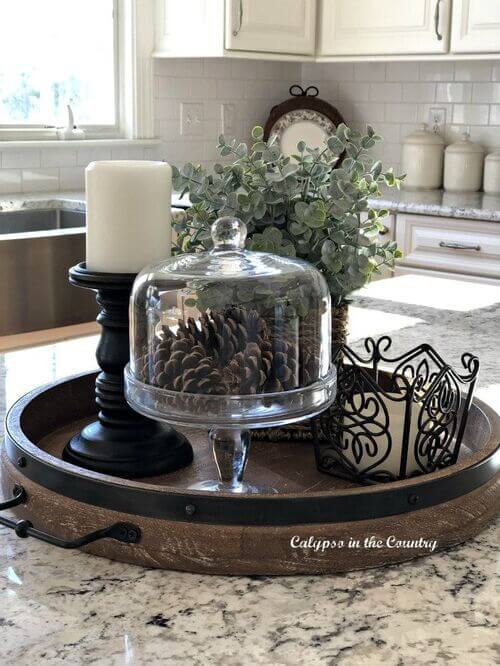 These stunning kitchen centerpieces have my heart.
The use of natural pieces such as pinecones as well as eucalyptus to create a natural atmosphere and then incorporating the black accent pieces such as the candle holders create the perfect balance to work with.
You can include your own personal touch to this idea to make it better suited to your needs.
3. A stunning mirror piece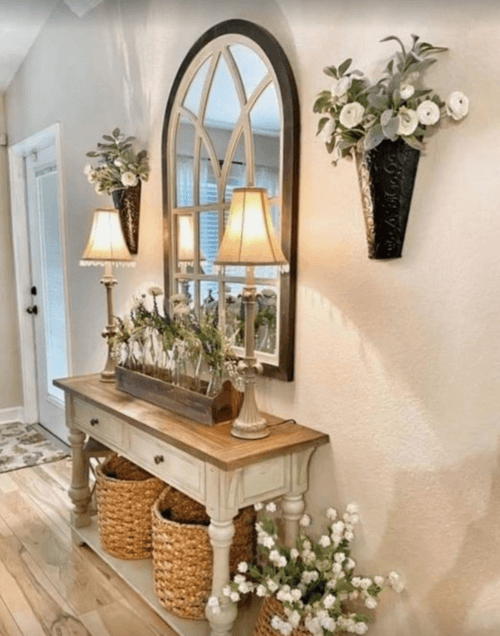 There's no better way to open up a space than by adding a mirror.
This adorable idea brings a farmhouse feel to the decor piece.
Add some woven baskets, a side table, and some nice flowers to bring an air of freshness to the table.
Due to the light wood being used, it doesn't make the place seem too dark.

4. This firewood holder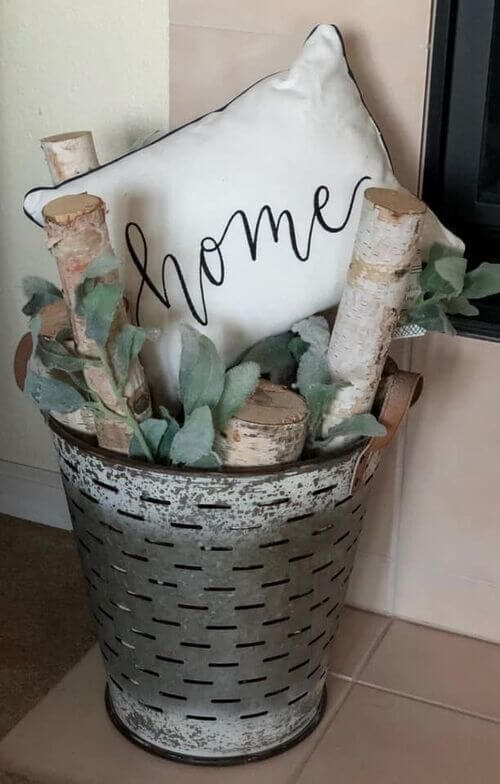 Whether you use this for decor purposes or actually make use of this it is an adorable addition to any home.
Just place it next to the fireplace and include some greenery.
You can also add a homey cushion to fill up some space.
It's the small details that bring things to life at the end of the day.
5. Floating shelves and greenery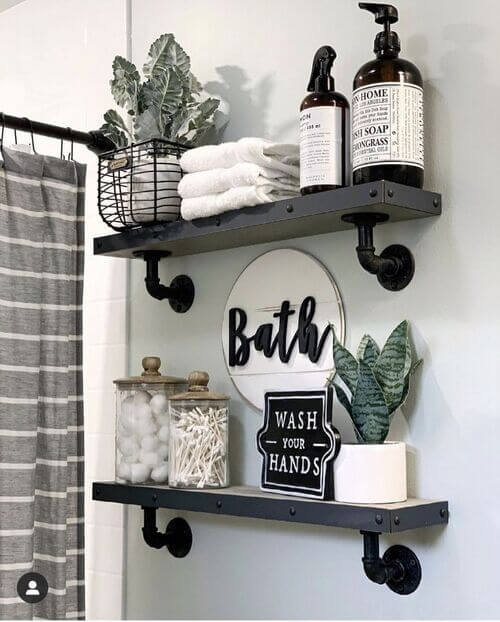 These cool floating shelves include black accents that really bring a bold touch to the room.
Include jars for some cotton balls and extra goodies, towels, plants, and extra soap.
It's a great idea for a bathroom that needs that farmhouse aesthetic.
6. Going the extra mile with decor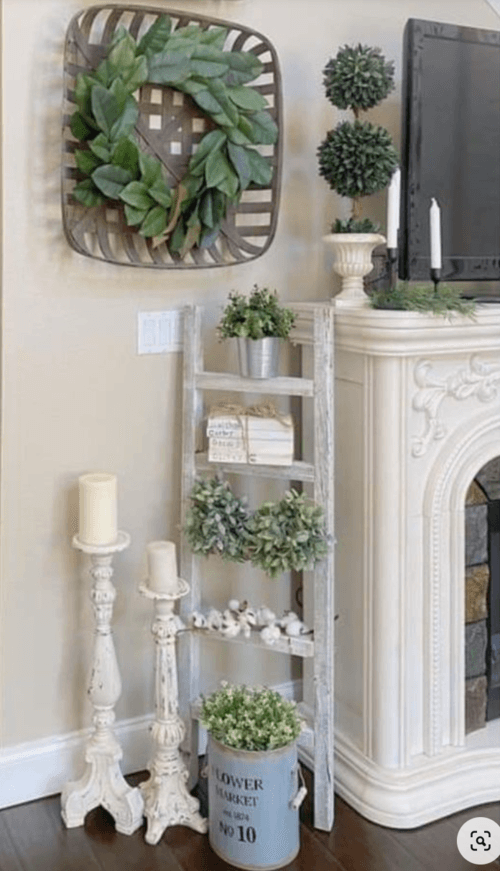 If your living room is lacking that lively atmosphere then why not add some greenery?
Bringing in some green is a fantastic way to balance out the amount of white that is in the living room.
Also, try adding some grey accents.
You can also add some candles to use as mood lighting at night.
7. Wood centerpieces and roses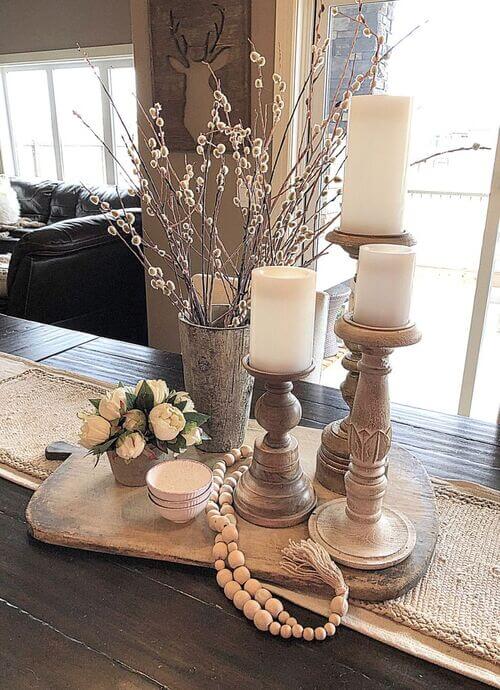 If you want a more rustic and simple idea to test out then try this out.
The simple idea uses a vintage wooden tray, candle holders, and some white roses.
Include some tin accents and some candles to tie the look together.
We can all appreciate a vintage farmhouse aesthetic that can be included throughout the whole house.
8. Quotes, side tables, and candles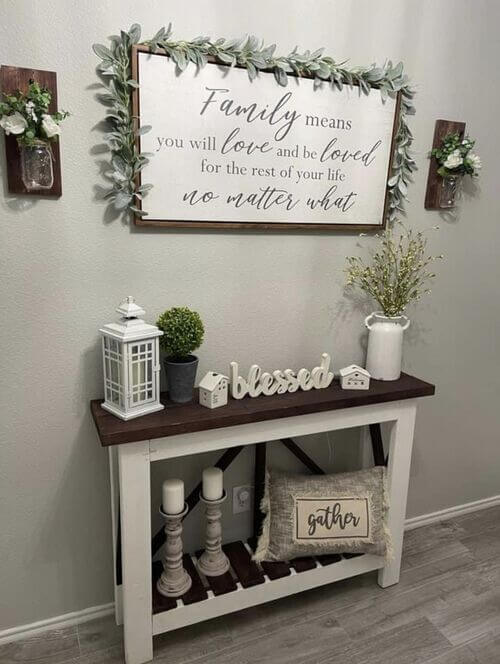 A perfect way to welcome people into your home is with a cute sign that shows your love for family.
You can add a side table for all your keys and for some cute decor pieces such as lanterns, plants, and candles.
This is the perfect addition to any home and really makes people feel welcome.

9. HOME decor and frames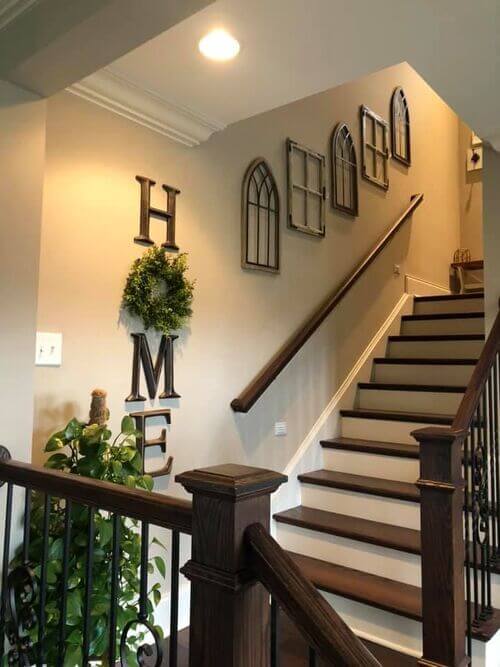 Sometimes the staircase can feel a little bare.
This idea allows you to fill up those blank spaces without making things look messy or cluttered.
These frames that look like windows really feed into the farmhouse feel and are adorable which is a bonus in itself.
10. Cozy atmospheres and rustic touches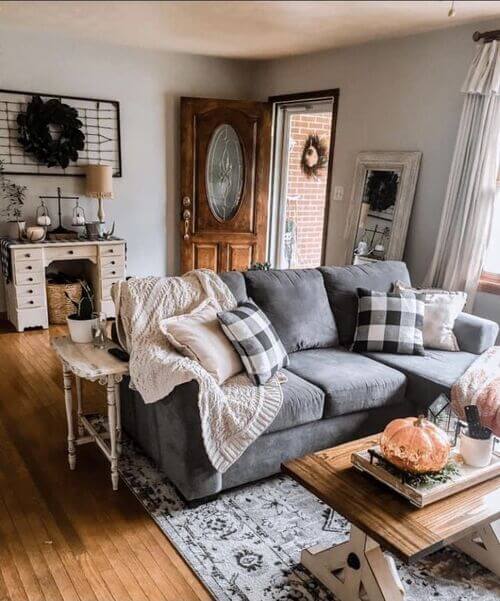 Every cozy farmhouse needs fluffy blankets, throw pillows, and some aromatic candles to set the mood.
Not only does this aesthetic allow you to create a fun and chill atmosphere but you get to buy a bunch of cute blankets without anyone asking any questions.
Add some rustic accents or copper tones to bring a pop of color to the room.
11. Triple-tier kitchen centerpiece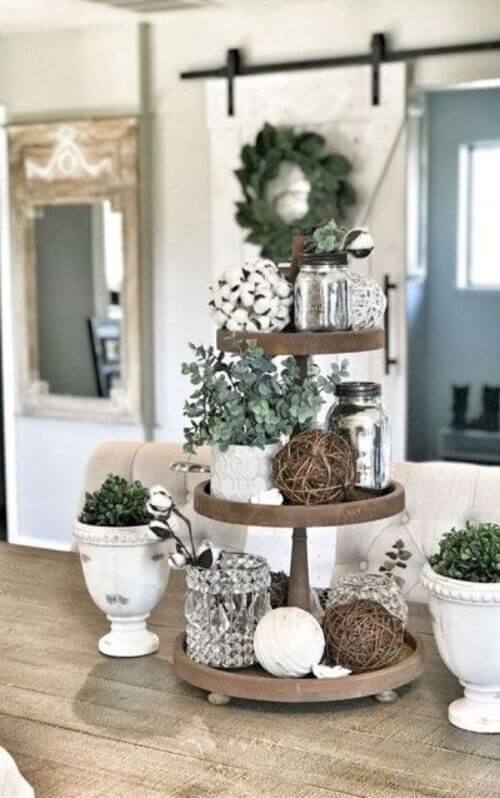 Finding the perfect centerpiece idea for the kitchen can be hard.
Include some crystal pieces, wooden balls, and greenery, as well as some silver accents to pull this idea together.
Being able to personalize this idea is what makes it great for the aesthetic you're working with.
12. Dining room side table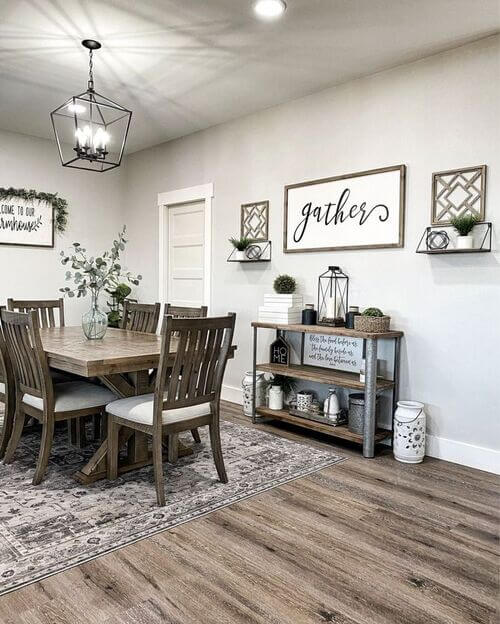 If you've been looking for a way to fill up some space in the dining room then add a side table filled with coffee, tea, and sugar.
You can add some candles for the atmosphere and greenery for a more vibrant approach.
Also, add some quotes around the room to create a cute and simple farmhouse atmosphere.
13. Keep it clean and simple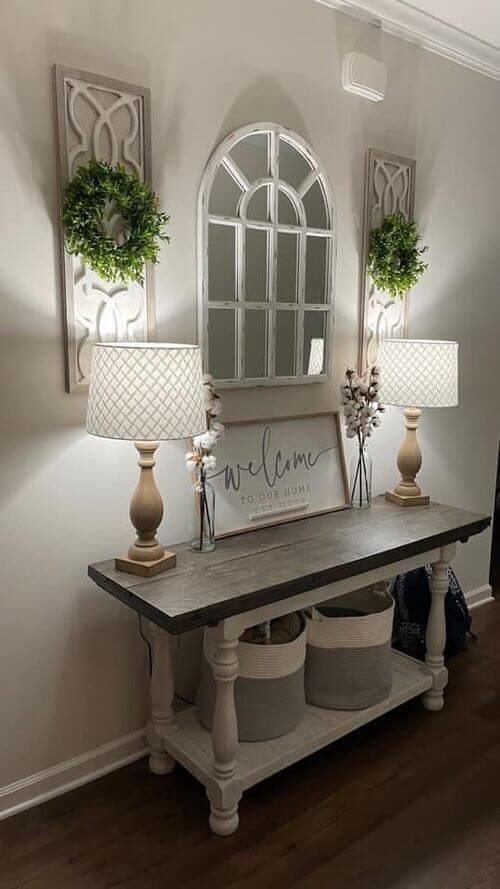 This table is perfect for an entryway.
Adding in some woven baskets for extra goodies.
You can incorporate some neutral decor pieces as well as quotes.
It's a simple idea that incorporates a unique mirror that gives a vintage vibe to the whole look.
14. Woven trays and candles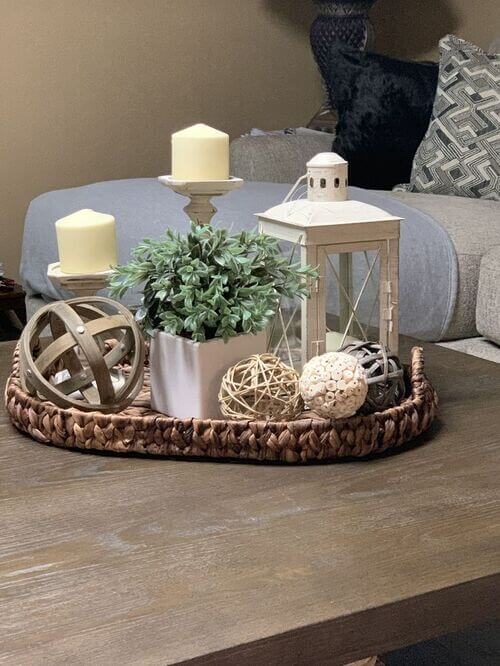 The woven basket is perfect for a dining room centerpiece.
Include some wooden spheres, lanterns, and greenery.
You can also add some candles to create mood lighting and create a warm atmosphere.
Include some personalized items as well.
15. Quotes, greenery, and cozy touches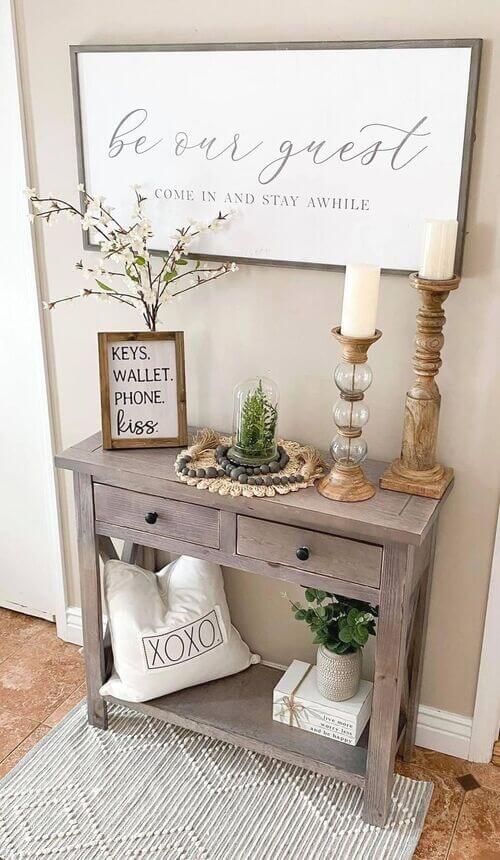 This stunning idea gives a nice smooth finish look to any room.
Bring in some cute pillows, plants, books, quotes, and candle holders.
This idea is just another beautiful example of how simple ideas make the best additions to your home.
16. Bathroom decor pieces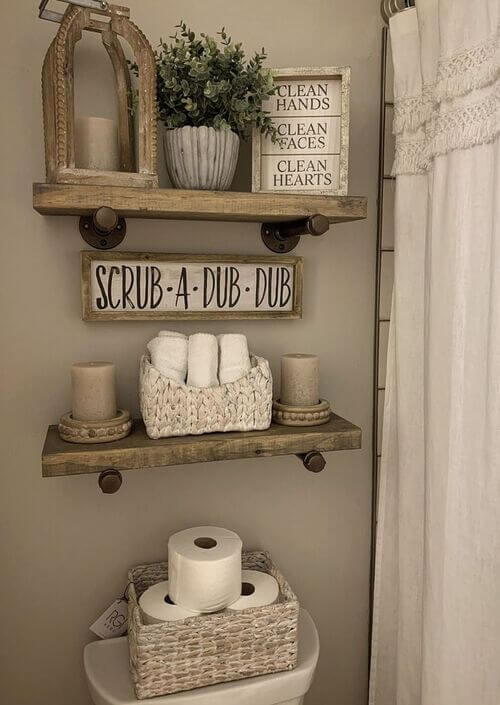 Including some floating shelves is great, especially when you don't have enough space in your bathroom.
Add some flowers, extra towels, or quotes to make this little shelving space come to life.
This is the perfect idea for a small space.
17. Cute kitchen pieces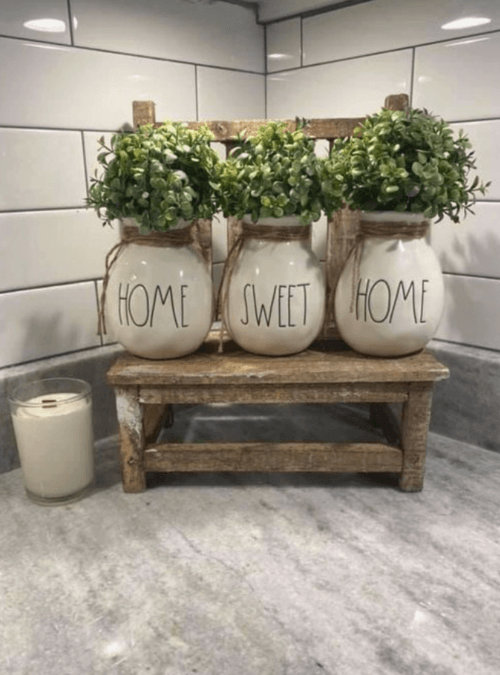 If you've been feeling like your kitchen is lacking that extra spark of farmhouse aesthetic then look no further.
This small kitchen nook idea is gorgeous. These "home sweet home" jars filled with greenery bring an air of natural color to the scene.
18. Fairy lights and candlelight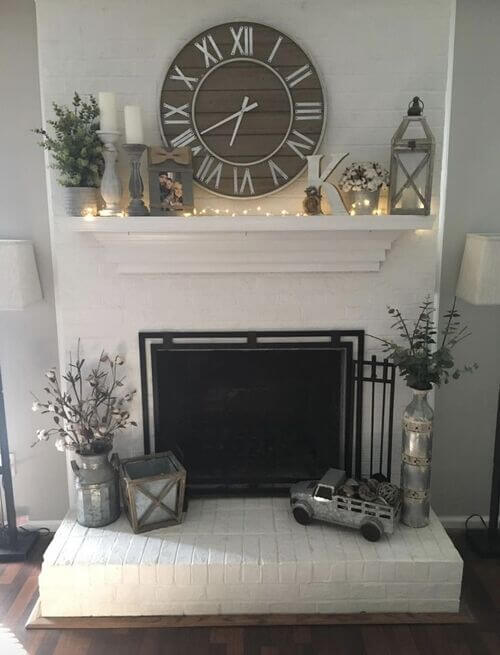 This gorgeous fireplace piece incorporates a fun fairy light twist which can definitely bring some warm light to the mix without having the fireplace working overtime.
Add some steel jugs and fill them with flowers. This whole idea brings a subtle rustic look that is easy to pull together and is budget-friendly.
Getting your decor right
Remember that the key to achieving stunning farmhouse home decor is to strike a balance between rustic and refined, creating a warm and inviting atmosphere that reflects your personal style and preferences.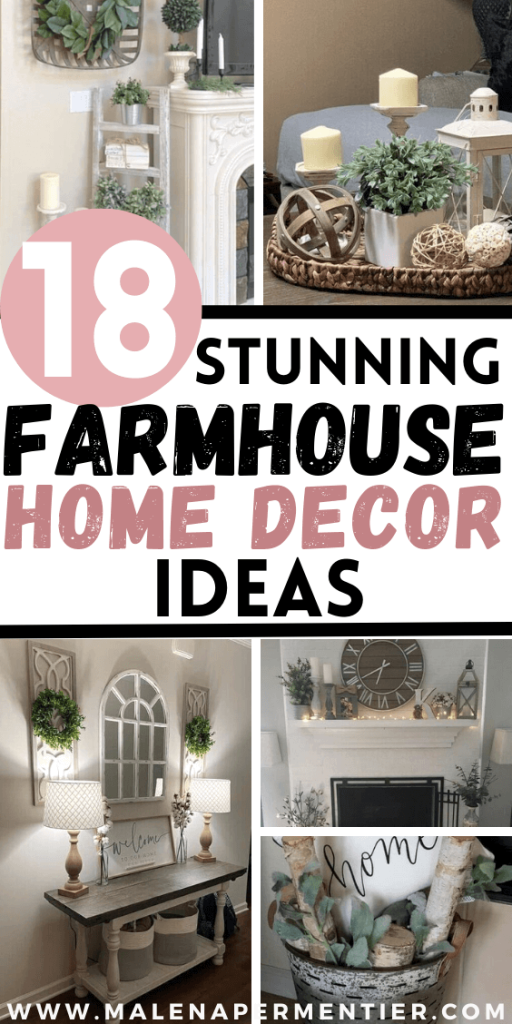 This post showed you the best farmhouse home decor ideas.
You may also like: