Hey there! Some links on this page are affiliate links which means that, if you choose to make a purchase, I may earn a small commission at no extra cost to you. I greatly appreciate your support!
This post shows you the best cozy home decor living room ideas!
the importance of creating a cozy and inviting living space has never been more evident.
With the world changing rapidly around us, our homes have become our sanctuaries, providing comfort, solace, and a sense of security.
This year, it's all about embracing the warmth and comfort of cozy home decor in your living room.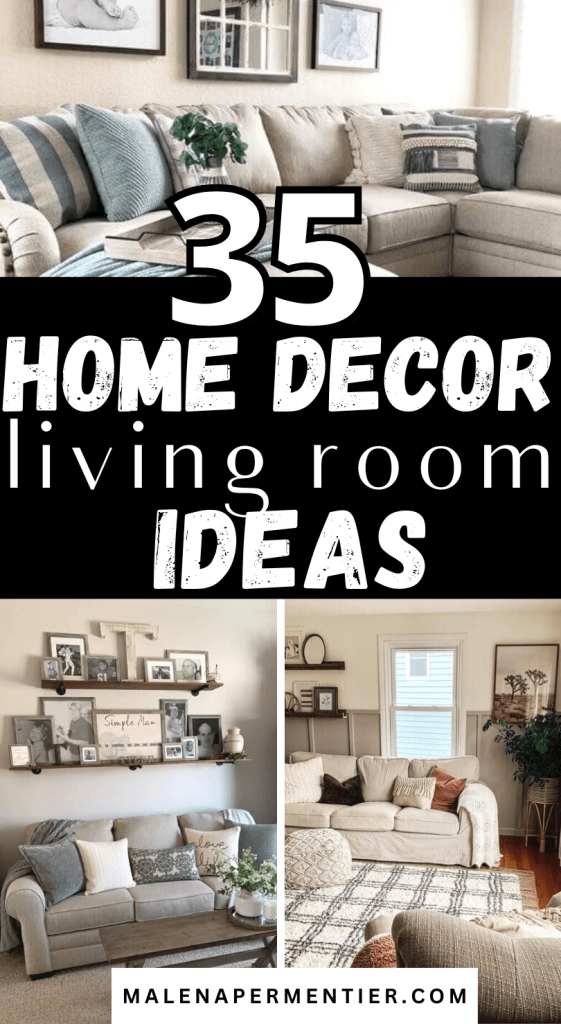 Tips for creating your living room
Warm Color Palettes: Incorporate warm and earthy color palettes in your living room to create a cozy atmosphere. Shades like terracotta, deep blues, forest greens, and muted pinks are perfect choices for 2023. You can paint an accent wall, choose cozy furniture upholstery, or add colorful throw pillows and rugs to infuse warmth into the room.
Plush Textures: Texture plays a significant role in creating a cozy ambiance. In 2023, consider adding plush textures like velvet, faux fur, and chunky knits to your living room. Opt for a velvet sofa, a shaggy rug, or a collection of soft throw blankets and pillows to make your space feel extra inviting.
Natural Elements: Bringing nature indoors is a timeless trend, and it's still going strong in 2023. Incorporate natural elements into your living room with wooden furniture, potted plants, and stone accents. These elements not only add warmth but also create a calming and harmonious environment.
Personalized Decor: Make your living room truly your own by adding personalized decor elements. Hang family photos, display cherished mementos, or create a gallery wall with artwork that speaks to you. These personal touches can make your space feel warm and inviting.
Minimalistic Design: Incorporate minimalistic design principles into your cozy living room. Keep clutter to a minimum and choose furniture and decor items that have clean lines and a simple aesthetic. This approach can create a sense of calm and tranquility.
Oversized Furniture: Oversized and comfortable furniture pieces are making a comeback in 2023. Consider investing in a large sectional sofa or a spacious, cushioned armchair that encourages relaxation and lounging.
1. Grey and white aesthetic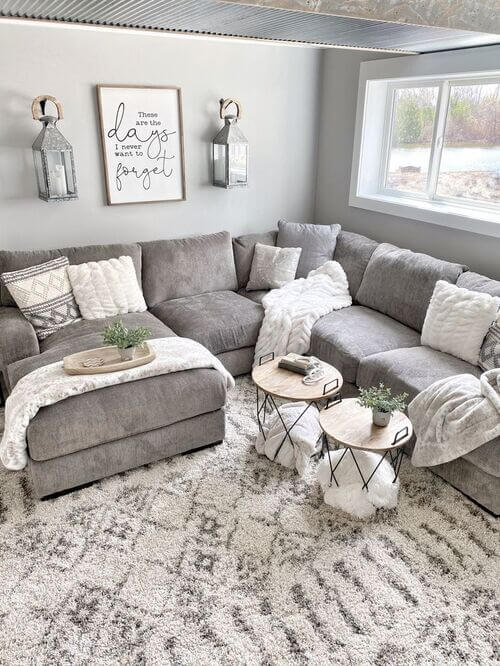 Keeping to the simple grey-and-white aesthetic can be just what you need.
It allows for a sophisticated look without feeling cold.
Especially when you add some cozy blankets, mood lighting, and a stunning piece of art or quote.
2. Keep things neutral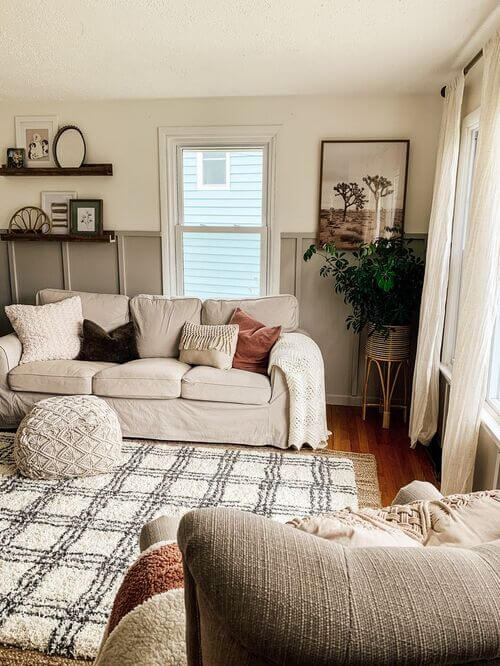 If you're looking for a more cozy approach to bring some warmth into the room then look no further.
Incorporating wood accents with gorgeous greenery brings a fresh perspective into the room.
You can include some warm earthy tones as well as some art.
This is perfect for those of you who love a room that is filled with small trinkets and personal items.
3. Keep things fresh with greenery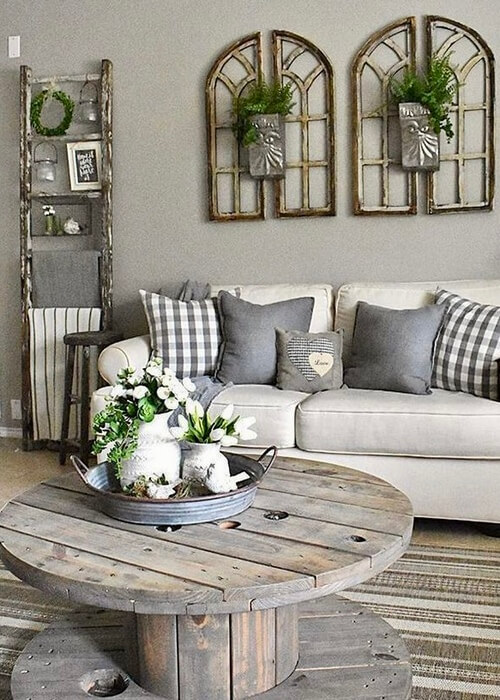 For a more rustic approach while incorporating some modern elements, you can always add some grey to the wood.
Add some grey pillows as well as some checkered pillows.
Some tin centerpieces with greenery and gorgeous flowers are just what you need to bring this idea to life.
4. Add some floating shelves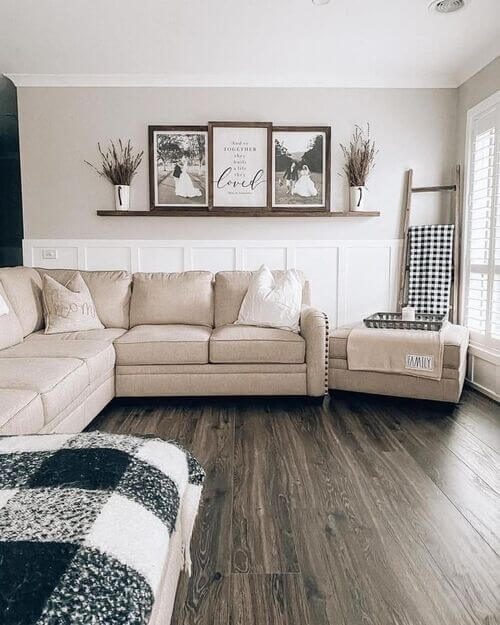 Floating shelves are the perfect way to add some space to the living room.
It's perfect behind the couch.
Adding some checkered accents makes the room look a little bolder.
Add some family portraits and a quote that is close to the heart as well.
5. Wood accents always bring a bold touch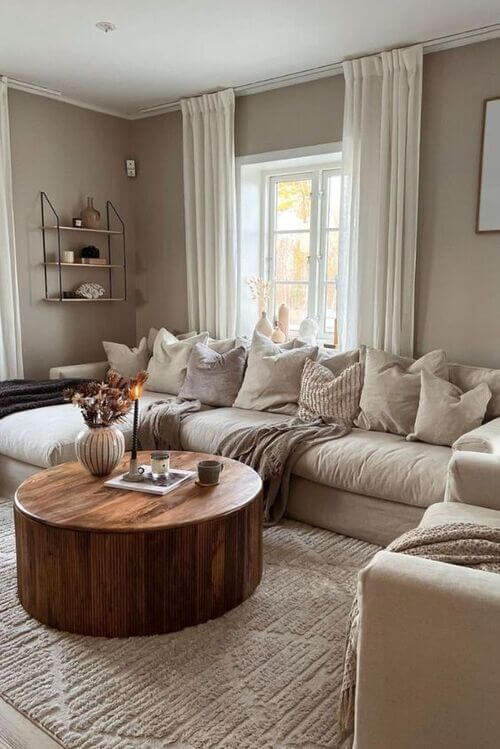 This stunning living room idea is perfect for a minimalist that wants a warmer atmosphere.
The beige pairs well with the dark wooden table and some orange flowers.
It creates the perfect balance between dark and light while staying subtle.
6. Black and white minimalism

In 2023, there is a big focus on accent walls. They bring a gorgeous touch to the room.
Adding a dark accent wall with some art and wood panels is just what you need to set the tone.
Add dark accents around the room and also some red pieces here and there to bring a nice touch to the room.
7. Rustic fireplace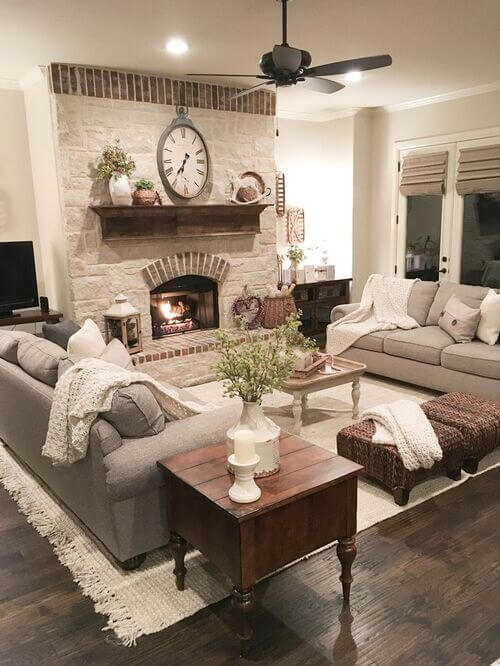 This living room decor gives a fun little rustic twist to the scene.
The floating shelves filled with trinkets and plants over the fireplace allow some brightness to enter the space, while the dark accents create a warm tone.
8. Bring in some bright colors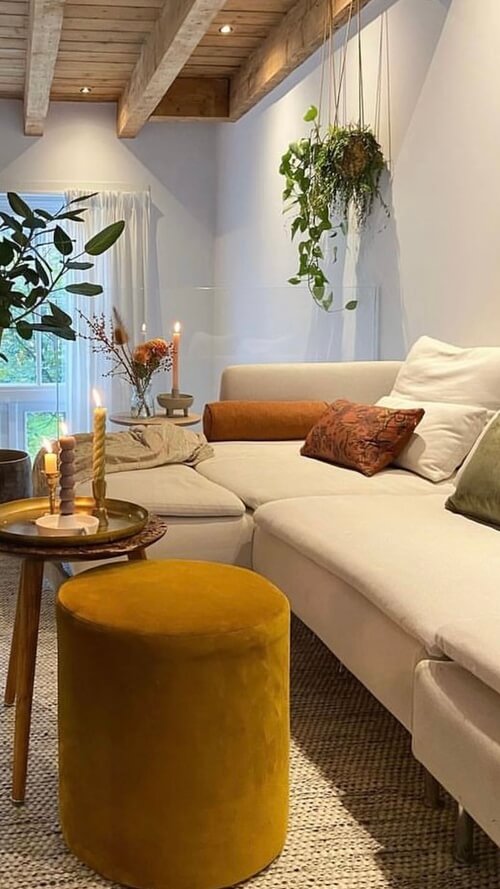 While having a clean and simple living room can be gorgeous, adding a bit of color never hurts.
These orange, yellow, and green tones add a vibrant atmosphere to the home.
Include some twisted candles and greenery to liven up the space too.
Bold colors are something that can make any place feel special.
9. Leather and elegant touches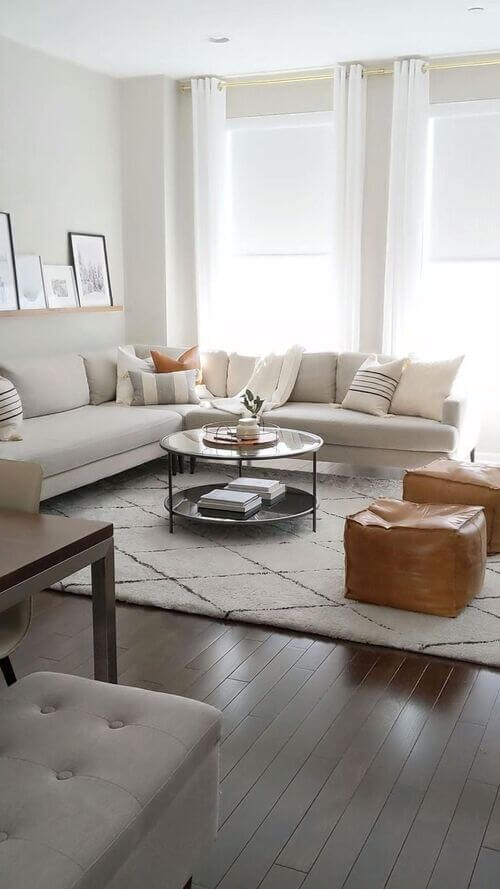 To all the minimalists out there, you don't need much to bring a new atmosphere to the room.
Adding some nice leather stools and terracotta pillows is enough to bring a fun pop of color to the room without being overbearing.
10. Dark aesthetics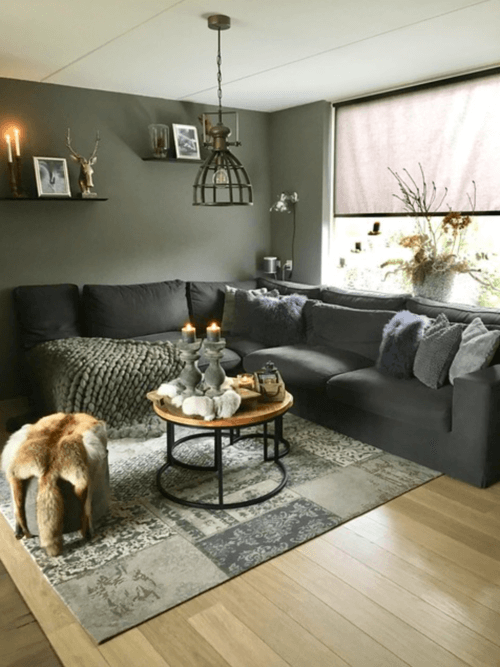 Moody and dark rooms are all in this year.
Darker colors on light wood floors are stunning.
Pair it with some gold accents, candles, and some interesting mood lighting and you have a brand new-looking space.
11. Leather and wood combo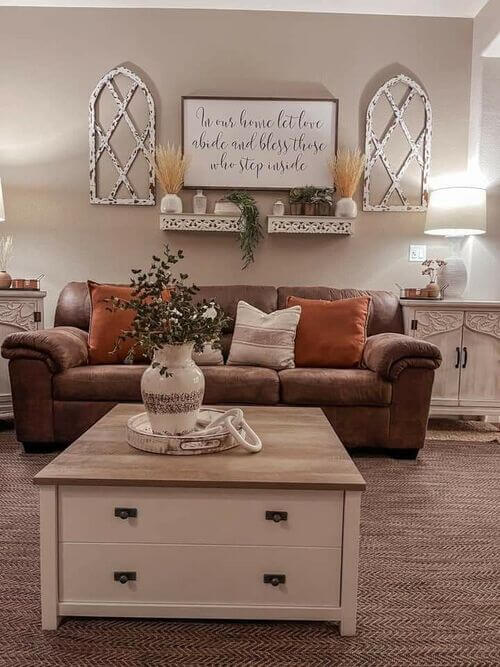 For a warmer approach, you can pair leather with some earthy tones as well as light wood accents.
Add small floating shelves with some greenery and candles.
This combination is stunning and very elegant.
12. Blue and grey touches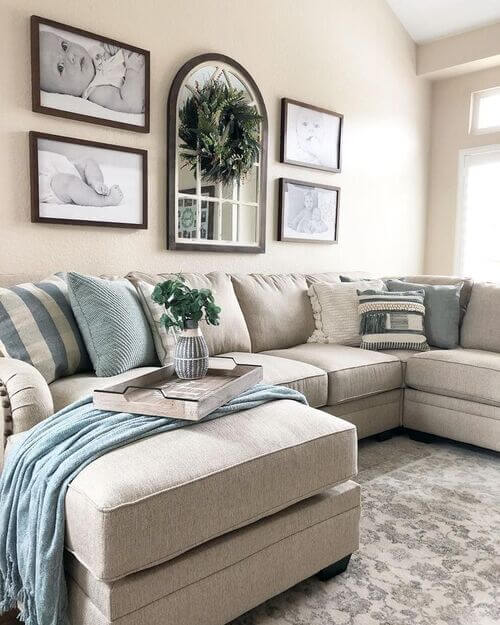 Stick to only a few colors.
The blue and grey combination creates a calming effect that works well in any home.
Include some family pictures, greenery, and even a mirror to open up the space.
13. Greenery adds atmosphere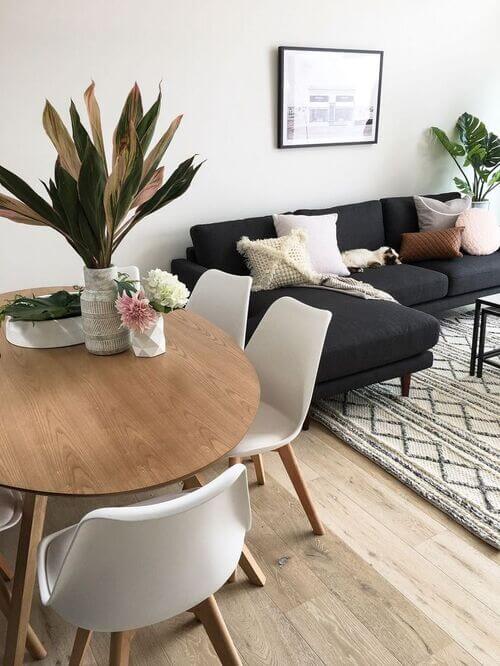 Even if you're working with a small space you need to bring in plants.
Even the bare minimum can create a big difference.
A small couch with a gorgeous rug fills up the space.
If you feel like the room is lacking space you can include a mirror to open things up.
14. Candles warm up a room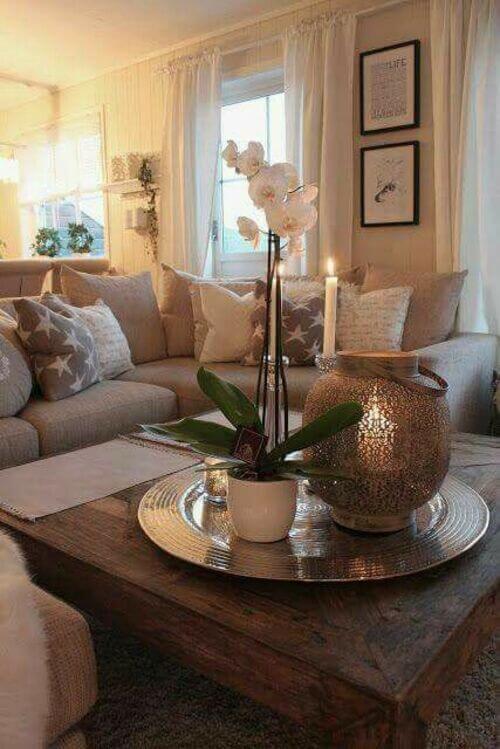 A centerpiece makes all the difference.
This plate incorporates a beautiful flower, a candle, and some wooden decor pieces, creating a soft light mood.
It's simple but can tie a room together.
15. Keep things simple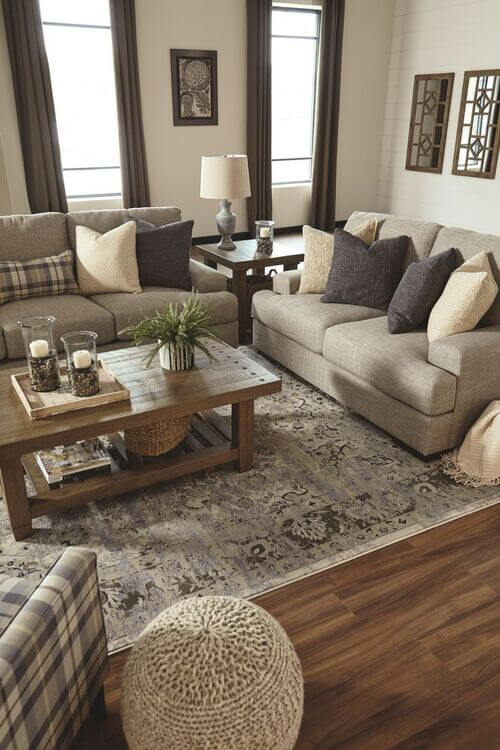 If you want to stick to simple decor then add a rug, some candles, and a nice coffee table.
Throw pillows allow you to fill up the couch without making it look too crowded.
It sticks to only three colors, creating a stunning neutral look.
16. Triple counter with candlelight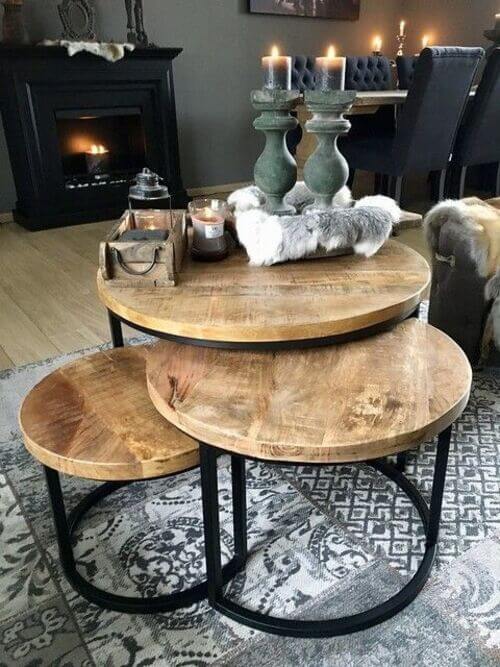 This amazing table is perfect for the living room.
It offers a new approach to a simple coffee table without taking away space.
You can include some candles to bring a great aroma to the room, and some cute decor pieces as well.
17. Terracotta and greenery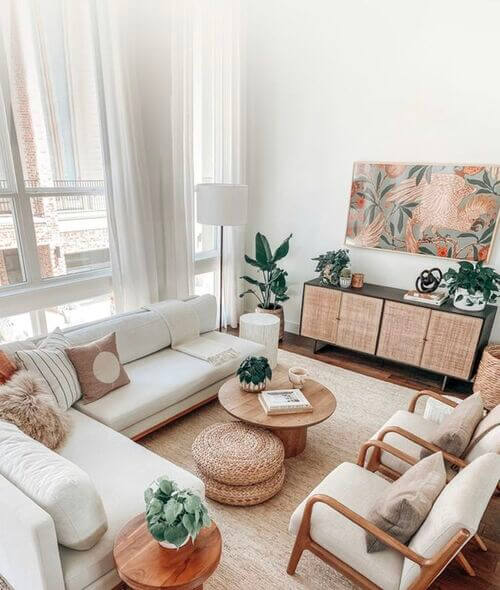 This boho look creates a bright atmosphere for all those plant moms and boho lovers.
A plant in every corner, woven decor pieces, terracotta, and brown colors bring out the simple elegance of the white furniture.
18. Interesting mirrors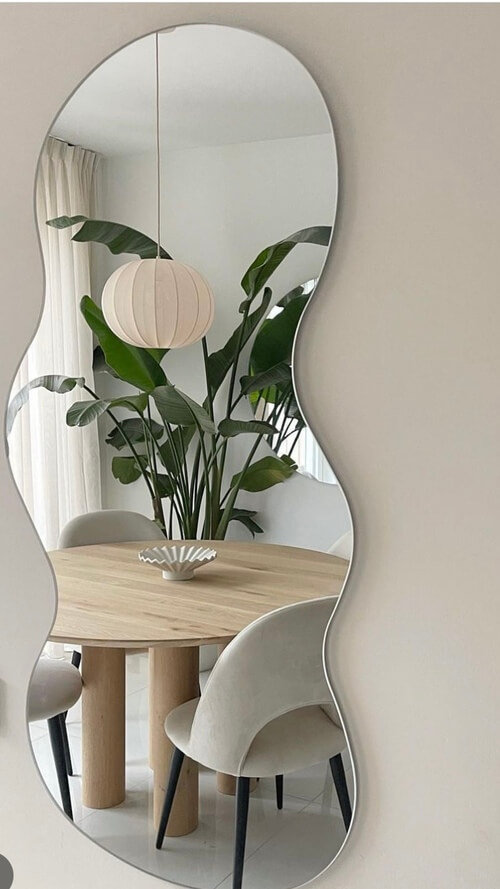 No living room is complete without adding a mirror.
Why not make it more fun?
These cute retro-type mirrors make things more fun and also open up the room, especially when you're working in a small space.
19. Boho touches and blue accent walls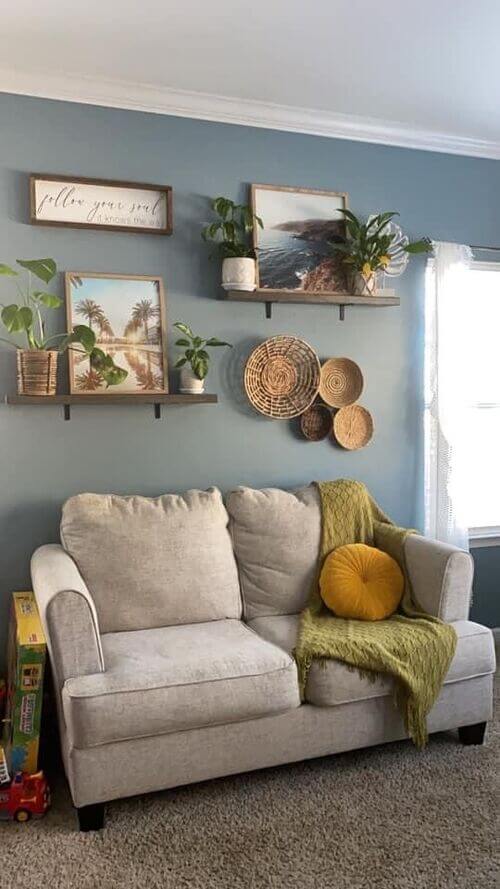 For those of you that like to mix and match this is for you.
This simple setup relies heavily on personal touches, art pieces, cozy blankets, and some wooden touches.
It's perfect for a maximalist aesthetic.
20. Dark aesthetic with gold accents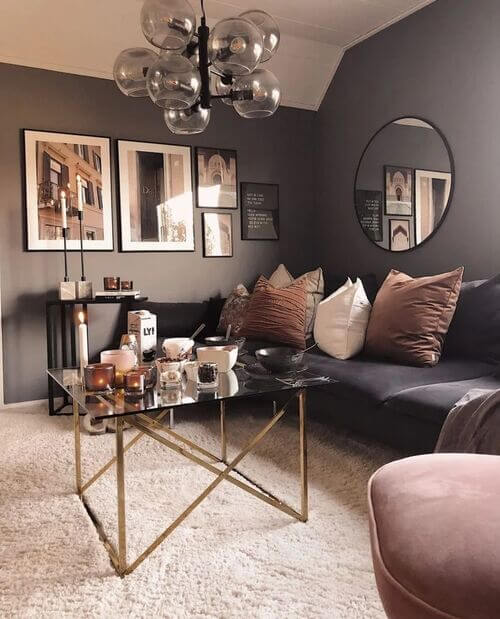 My dark academia aesthetic enthusiasts will love this.
The dark walls, and black couches paired with golden accents are simple yet elegant.
Include some moody and dark brown colors as well as wall art.
You can include a mirror and bring in some candles to create some mood lighting.
21. Clean and simple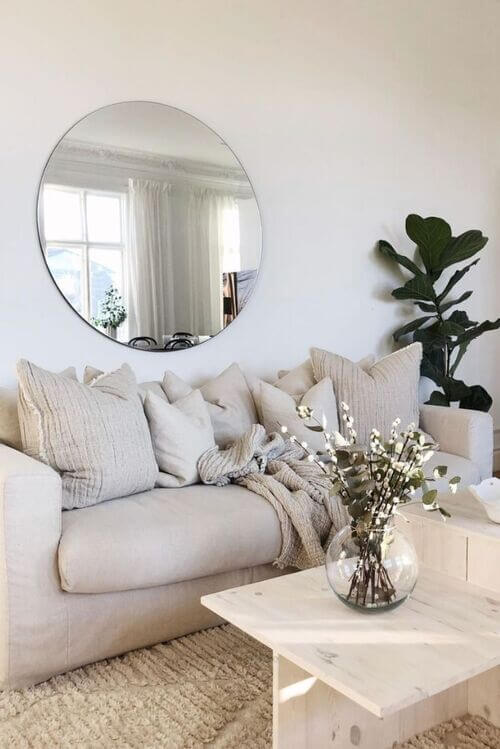 A large round mirror opens up the space.
A simple centerpiece filled with small flowers and even some greenery in the corner brings a nice color to the room.
This will break the beige that feels like it takes over the room.
22. Fairy lights to set the mood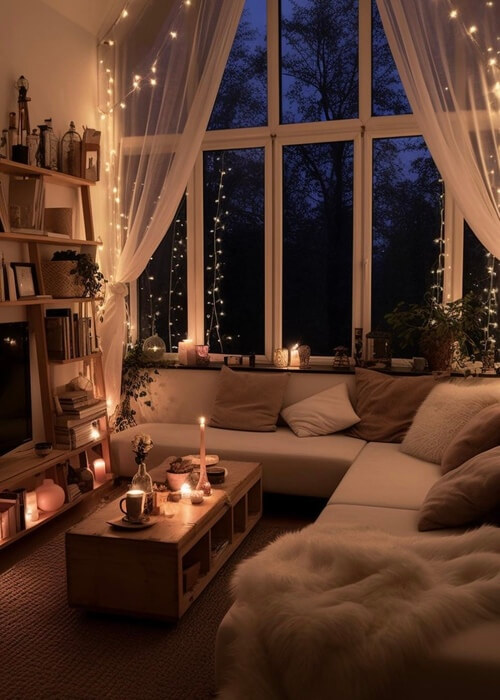 This idea incorporates two of my favorite things.
A stunning bookcase and cascading fairy lights.
This whole idea gives me fairytale vibes and brings such a simple yet cute touch to the room.
You can add some candles, plants, books, and personal trinkets to the mix as well.
23. Vintage cupboards and woven baskets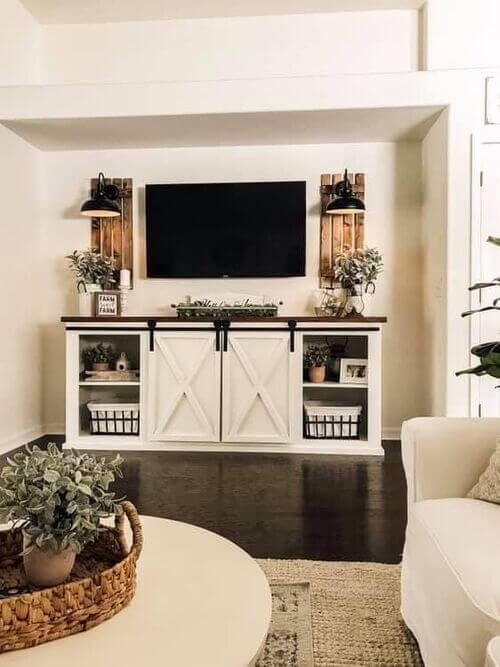 This farmhouse-style decor adds a new approach to the classic living room idea.
You can incorporate some baskets for small trinkets or even blankets and use some wood panels to fill up space next to the TV as well.
It is a great idea that includes all the aspects of the usual farmhouse style.
24. Floating shelves and greenery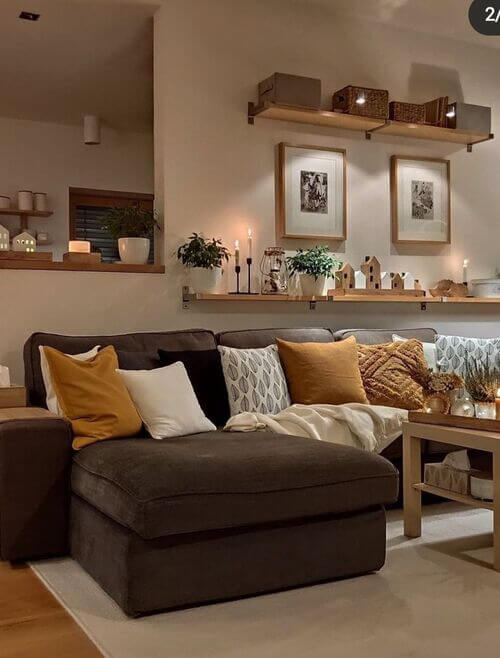 Dark brown pairs well with yellow and light grey accents.
This idea also includes a floating shelf for candles, plants, and some cute personal touches.
You can also add some pictures to bring a personalized feel to the overall feel of the living room.
25. Neutral colors
You don't need to add decor and random pieces for a cozy living room.
All you need is a simple color palette, cozy blankets, and good company.
Add a simple centerpiece just to fill up some table space and you have the perfect living room.
26. Quotes and wall decor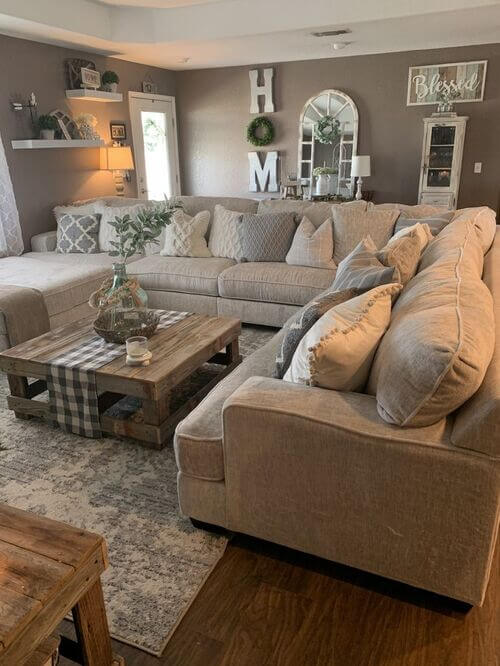 Floating shelves, quotes, and letters as well as wreathes allow you to fill up empty wall space.
This idea gives you a blank canvas to work with.
27. Candles and woven centerpieces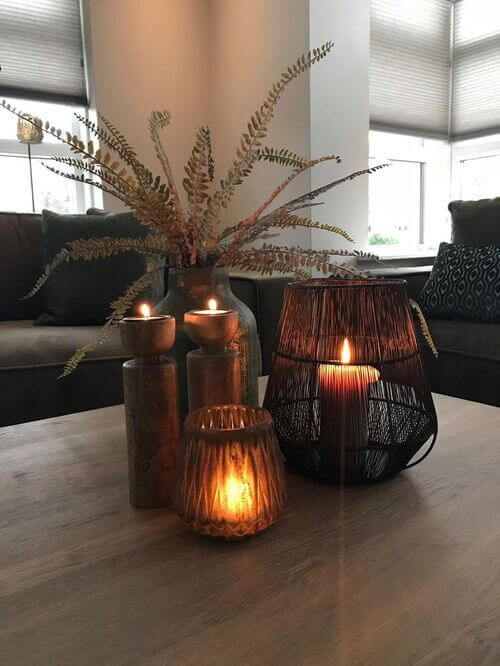 These woven pieces are perfect to fill up an empty coffee table, you can also include some fake tealight candles or fairy lights to bring some warmth to the table without making it a fire hazard.
Everyone can appreciate some lights to set the mood.
28. Bring in mirrors and plants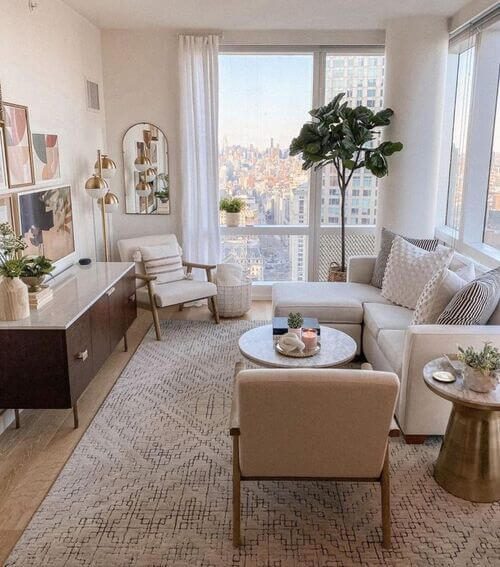 This elegant idea creates a beautiful atmosphere and brings balance to the table.
Gold, green, and beige are the perfect combo.
The cute light in the corner offers the perfect reading space and mood lighting.
You can also include some dark accent cupboards.
29. Line art and floating shelves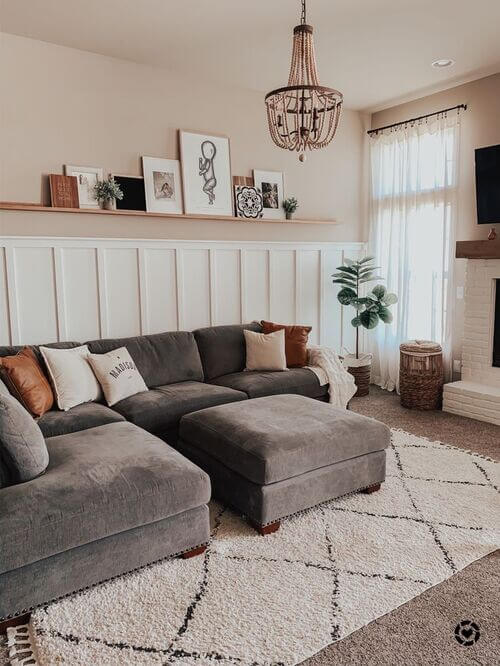 Line art and vintage chandeliers are the perfect addition to your home.
It creates a new tone and shows your creativity.
The most important thing to remember when decorating your home is that you need to make sure it caters to your needs and brings a new sense of self.
30. Light wood and gold accents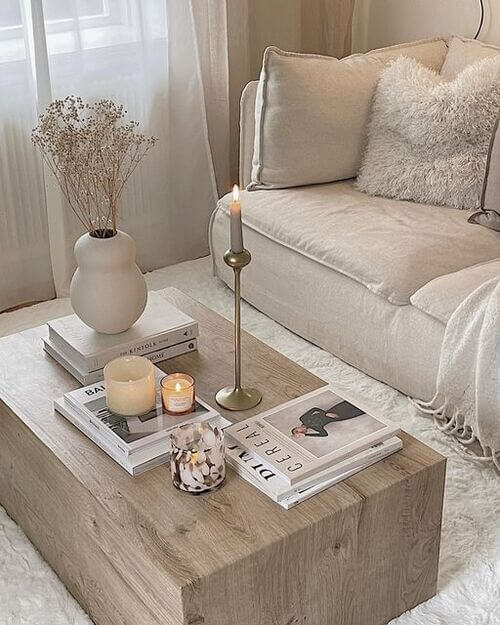 This Pinterest-worthy pleasing decor idea is just what you need.
It includes a light wood coffee table that has the perfect balance of candles, coffee books, and ceramics to make it look stunning without feeling cluttered.
31. Bring in dark wood accents and mood lighting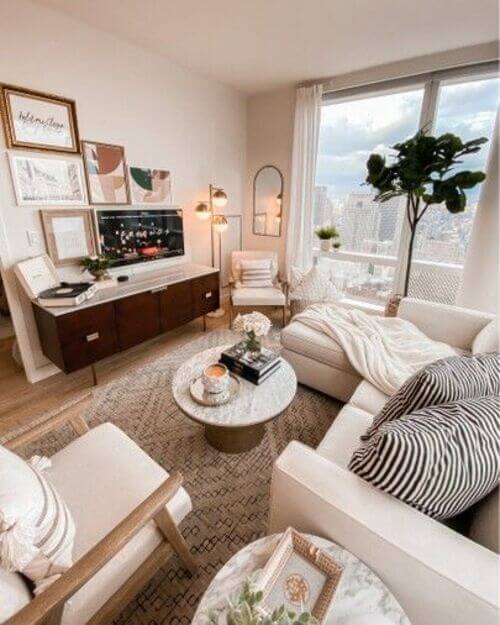 Use some wall art to fill up empty spaces and make a living room look more homey.
Include some books, a small coffee table, and even a record player if you're feeling fancy.
It's the small details that make or break the idea at the end of the day.
32. Rustic accents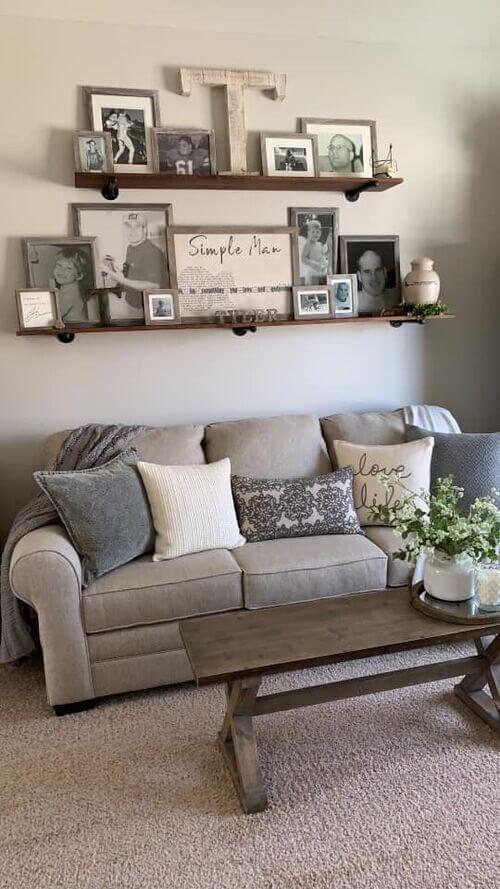 A double floating shelf allows you to add all your family portraits, quotes, and personal items to one spot making this living room area look more comfortable and family-orientated.
Keep things simple by sticking to the grey color scheme.
33. Boho and natural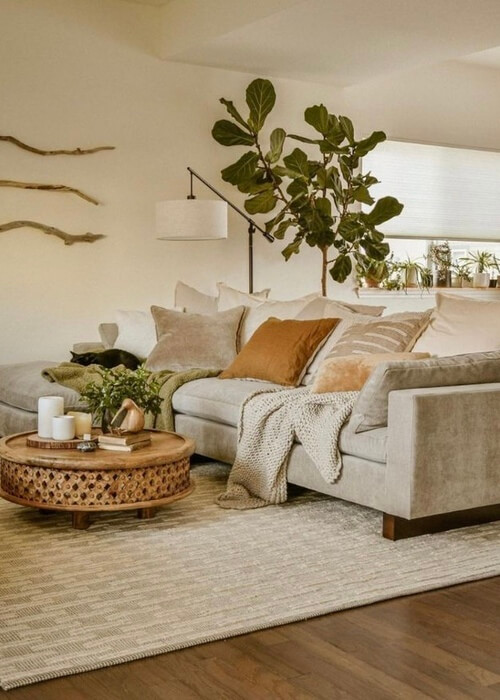 If you have a lot of open space and a large living room then do yourself a favor and include some large plants.
They make a difference and create a more natural look.
You can also add a stunning boho table that looks different and brings a unique touch to the room.
Or you can also add some yellow pillows to brighten up the simple cream couch.
34. Steel minimalism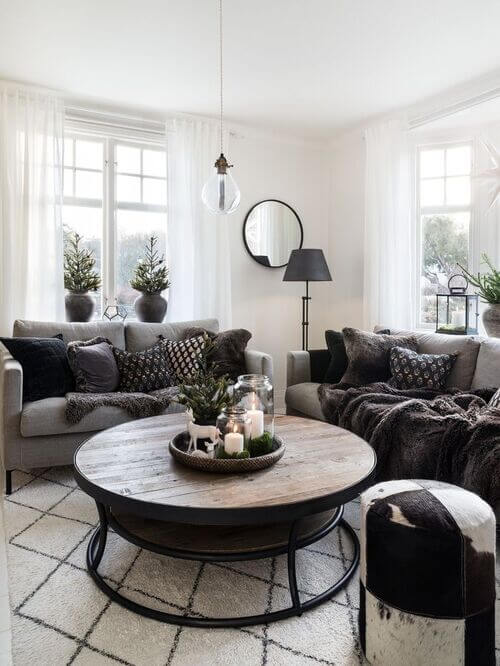 If you love the industrial and modern look then this is great for you.
It includes simplistic yet stunning pieces such as the steel coffee table, simple grey and black sofas, and pieces around the room.
You can also add a mirror and stick to the simplistic idea by adding glass centerpieces.
35. Elegant and neutral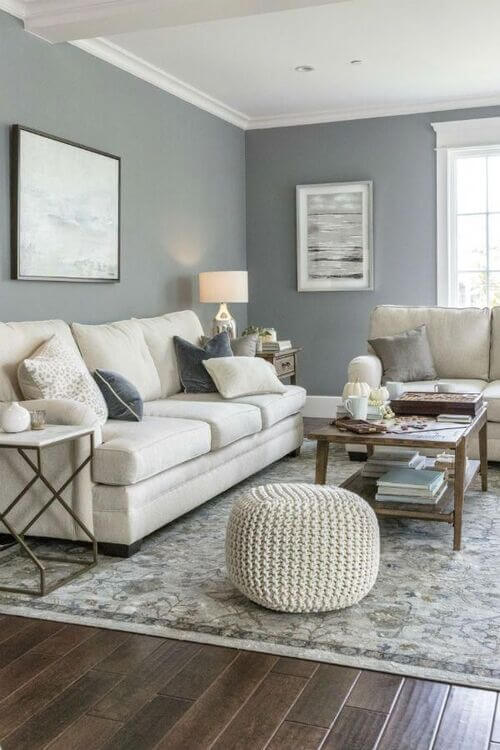 A cute and stunning decor piece that you can add to your living room is this knitted chair.
You can also include some simple art pieces and candles to personalize the room.
Include a large rug to fill up the space to ensure the room isn't cold.
Getting your living room cozy
Embrace the cozy home decor trends of 2023 to transform your living room into a warm and inviting sanctuary.
Whether you prefer warm color palettes, plush textures, or a combination of both, these ideas will help you create a space where you can truly relax and unwind.
Make your living room a reflection of your personality and style, and enjoy the comfort and coziness it brings throughout the year.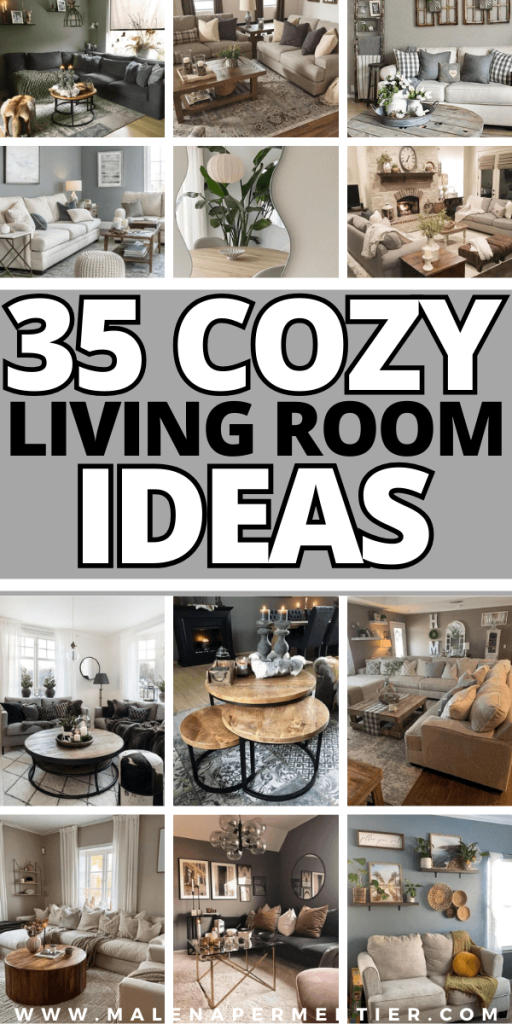 This post showed you the best cozy home decor living room ideas.