Hey there! Some links on this page are affiliate links which means that, if you choose to make a purchase, I may earn a small commission at no extra cost to you. I greatly appreciate your support!
This post shows you the best spooky snacks to recreate!
Halloween is just around the corner, and it's time to start planning your spooktacular party!
One of the most exciting parts of any Halloween gathering is the snacks.
From creepy-crawly treats to haunted desserts, there are endless possibilities to delight your guests.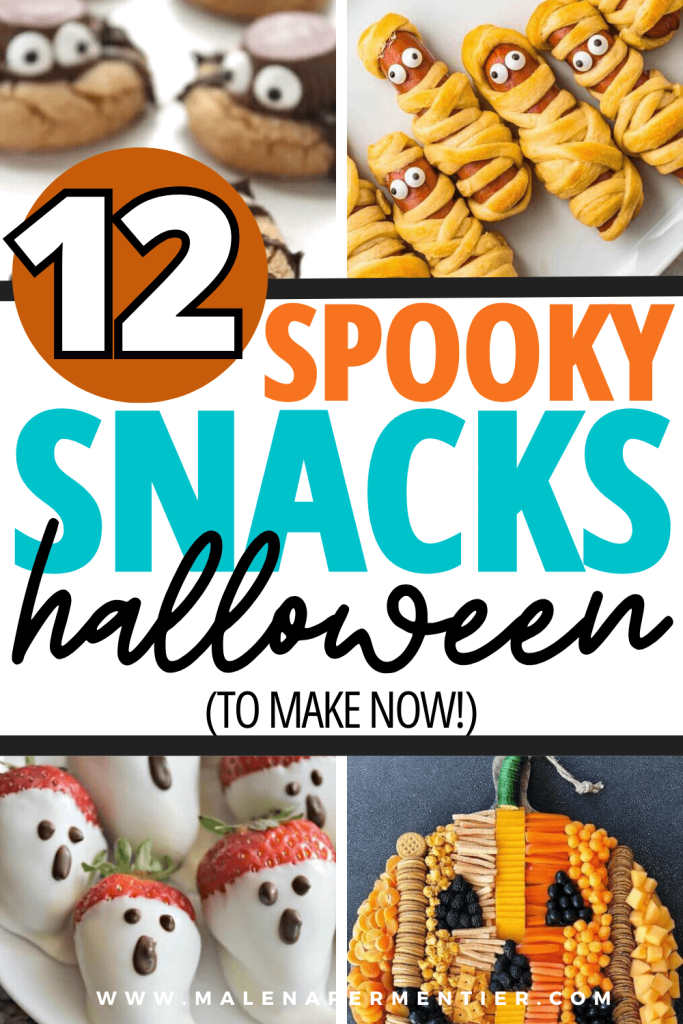 Tips for creating Halloween snacks
The key to a successful Halloween snack spread is creativity, presentation, and a touch of spookiness. Enjoy the process, and your guests will have a memorable and delicious Halloween experience.
Theme and Presentation: Decide on a theme for your Halloween snacks, such as ghosts, witches, pumpkins, or monsters. This will help guide your creative ideas. Presentation is key. Use themed plates, platters, and serving utensils to enhance the spooky atmosphere.
Incorporate Seasonal Ingredients: Take advantage of seasonal ingredients like pumpkins, apples, and cinnamon to infuse autumn flavors into your snacks.
Spooky Names: Give your snacks fun and spooky names to add to the Halloween spirit. For example, "Witch's Fingers" for carrot sticks with almond slivers.
Sweet Treats: Make Halloween-themed sweets like spider cupcakes, mummy brownies, or candy corn cookies. Decorate cupcakes or cookies with edible Halloween-themed toppers like gummy worms, candy eyeballs, or edible glitter.
Savory Options: Create savory snacks like stuffed mushrooms that look like witches' hats, or mini meatballs as "eyeballs" with olive slices for pupils. Serve a cheese platter with crackers shaped like tombstones and gouda slices as "moon cheese."
Beverages: Create spooky beverages like "witches' brew" (green punch) or "vampire blood" (red fruit punch with floating lychee "eyeballs"). Serve drinks in Halloween-themed cups or with colorful straws.
Food Coloring and Decorations: Use food coloring to add eerie colors to your snacks, but be mindful of the quantity used, as it can affect the taste. Edible decorations like edible googly eyes, colored sprinkles, and edible glitter can add a whimsical touch.
Involve Kids: If you're making Halloween snacks for a family or kids' party, involve the children in the preparation. They'll enjoy creating their own spooky treats.
1. Spooky treat charcuterie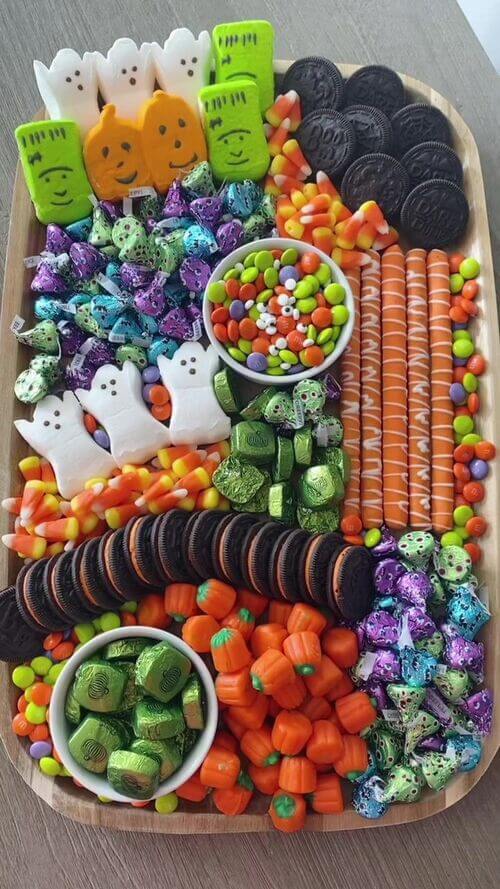 This super cute Halloween board incorporates everyone's favorite snacks and is perfect for a party at home.
Kids and adults can enjoy the fun snacks included on this plate.
Marshmallow treats, Oreos, chocolates, and the signature candy corn.
2. Chip and dip with a twist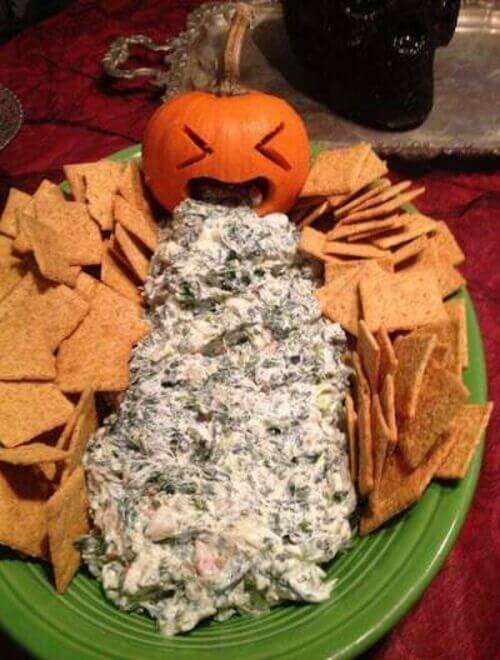 This puts an adorable twist on the chip and dip scene.
Grab a small pumpkin carve a face into it and place it at the end of the plate.
Surround it with some chips and homemade dip to create this snack.
3. Ghostly strawberries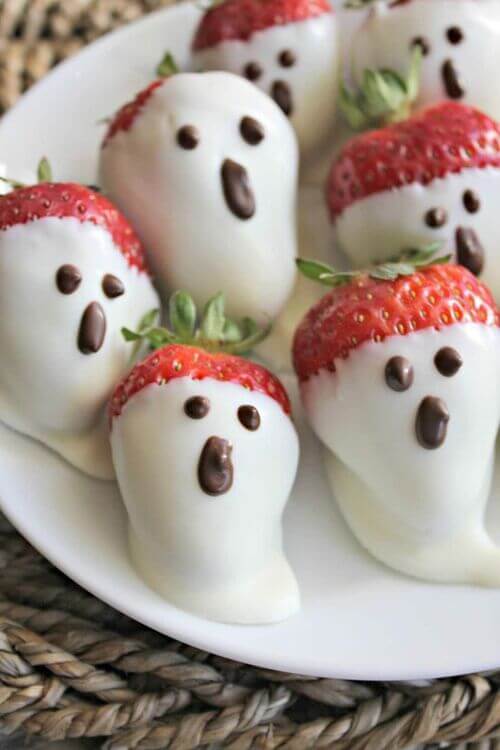 If you want to bring one of your favorite snacks into the Halloween spirit then this is for you.
Dip some strawberries into white chocolate and add some faces with milk chocolate.
It's simple and you can easily create this at home.
People will appreciate the creativity you've incorporated into this idea.
4. Oreo spiders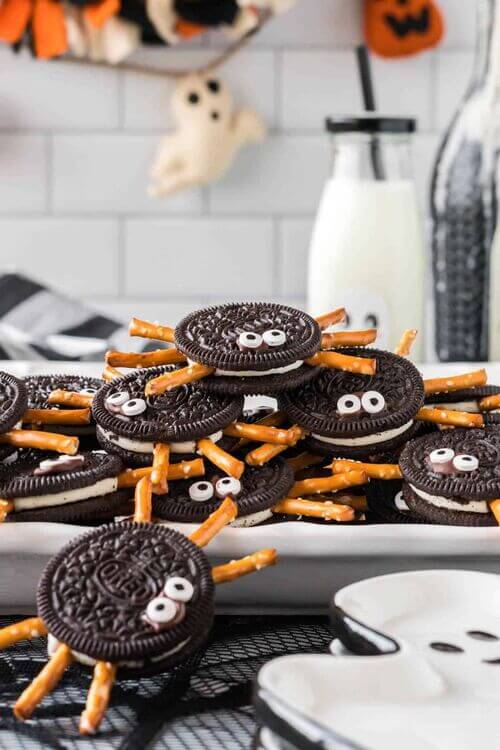 In need of a quick snack?
Grab some Oreos and add some pretzel sticks to create this cute idea.
It's simple and everyone will love it.
You can add these to the list of snacks to try out this Halloween.
5. Mummified pigs in a blanket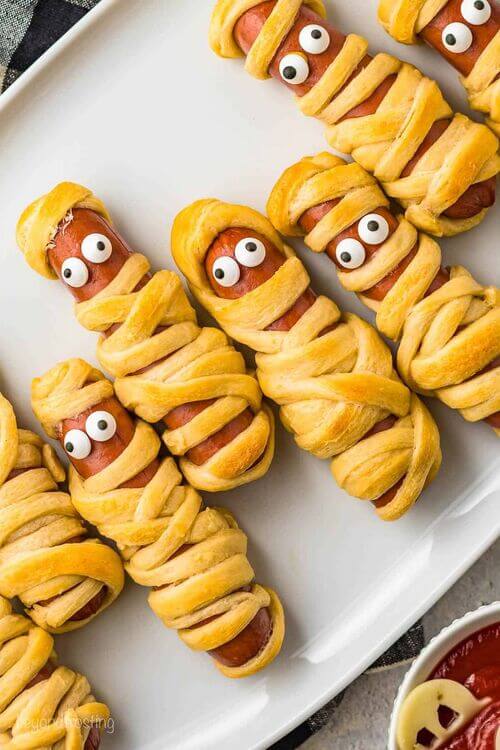 Switch up the simple pigs in a blanket idea.
Wrap the pastry around the sausages by making them simple strips.
It's fun and brings a unique touch to the table.
Add one or two different dipping sauces for people to try as well.
6. Grave brownies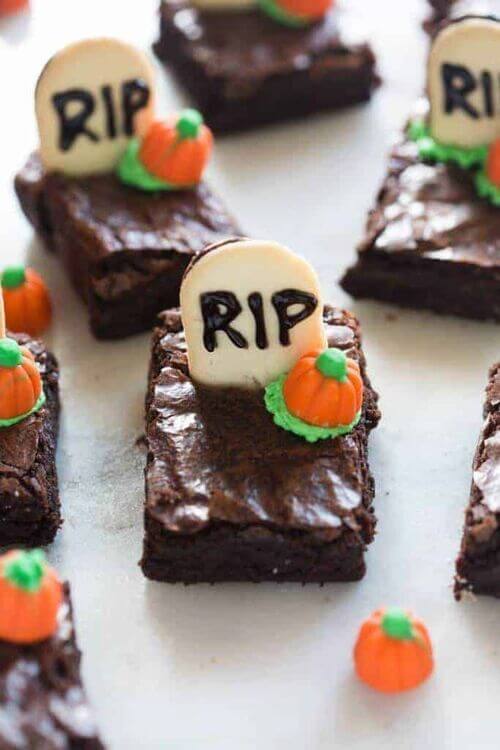 If you want a simple sweet treat to bring to the table then look no further.
Bake some brownies and cookies to recreate this sweet treat.
You can even add some pumpkins and use some icing to create the greenery in front of the gravestones.
7. Savoury spooky treats
Who can say no to pizza?
Like come on it is a fan favorite.
So why not create your own ghost and pumpkin-shaped pizza?
It's a great savory treat that everyone will enjoy.
You can even make it a DIY station where everyone can create their own pizzas.
8. Charcuterie pumpkin tray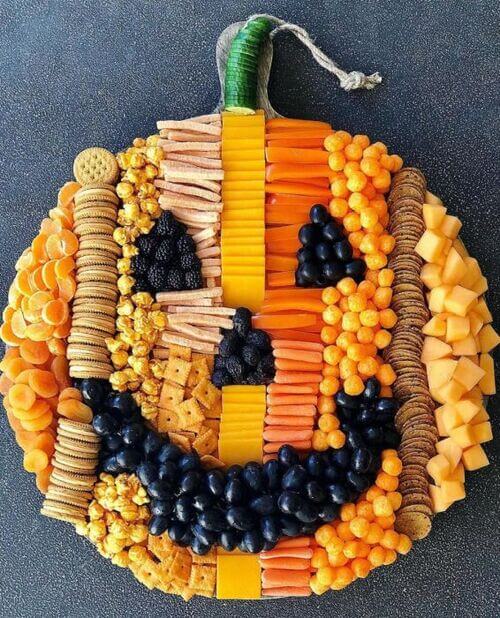 This pumpkin board incorporates a bunch of orange snacks that are healthy and a little unhealthy.
You can add olives, grapes, and blackberries for the face as well.
It's super fin and really brings the Halloween spirit to the table.
9. Black, green, and purple galore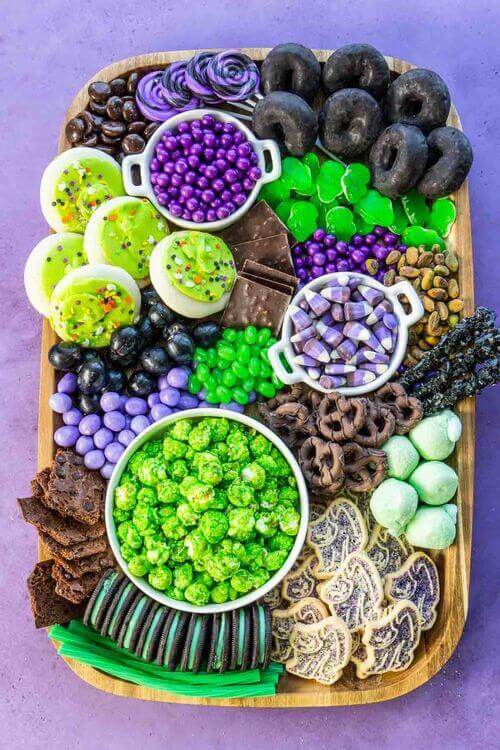 Go for some signature colors this Halloween by sticking to a theme.
Green, purple, and black a signature color themes for Halloween making this idea perfect.
Cupcakes, cookies, pretzels, and popcorn are all great additions to this snack board.
10. Spider cookies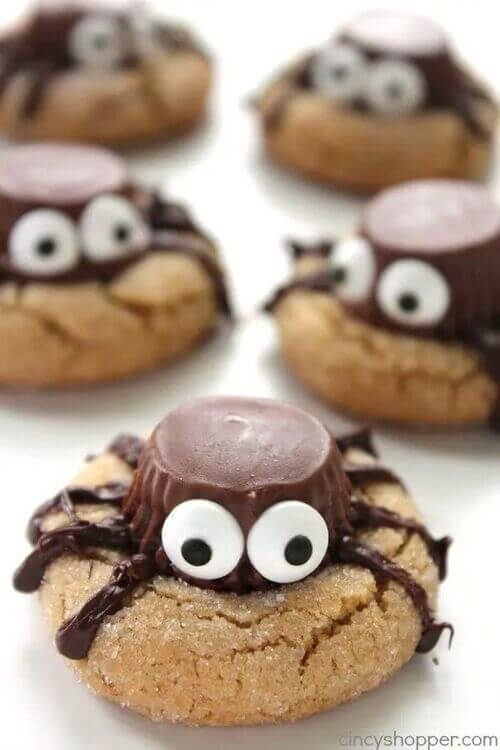 This sugar cookie idea incorporates mini reeses cups and some chocolate icing to create spiders.
It's a simple idea that goes a long way and makes for the perfect snack.
It allows you to be a bit more creative as well.
11. Mummy peppers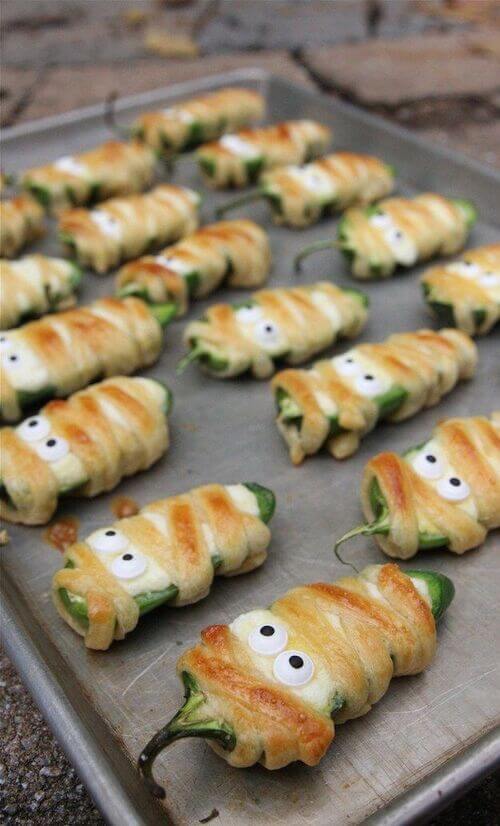 Switch the pigs in a blanket for jalapenos and add some cream cheese.
You can then wrap them in puff pastry and bake them.
It's something savory and brings a nice kick of flavor to the mix.
This is great of you're thinking of hosting a small party this Halloween.
12. Oreo bats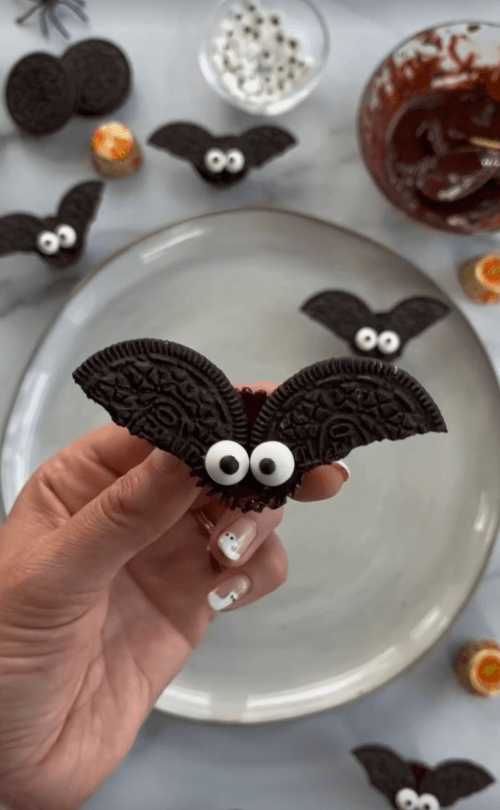 In need of a cute Oreo idea? Try out these bat snacks.
Cut the cookies in half and add them to some small chocolates or even onto cupcakes.
It's the perfect snack to try this Halloween.
It's simple to try and is 100% budget-friendly making it ideal for a quick get-together.
Having a fun snack
No Halloween party is complete without a selection of spooky snacks to set the mood.
Whether you're hosting a gathering for kids or adults, these creative and delicious treats are sure to be a hit.
So, get your cauldron brewing and your carving tools ready, because this Halloween, your party is going to be a spooktacular success with these spine-tingling snacks!
Remember to add your own personal touch and creativity to these recipes, and don't forget to pair them with some eerie Halloween decorations and a playlist of haunted tunes to create a truly unforgettable Halloween party experience.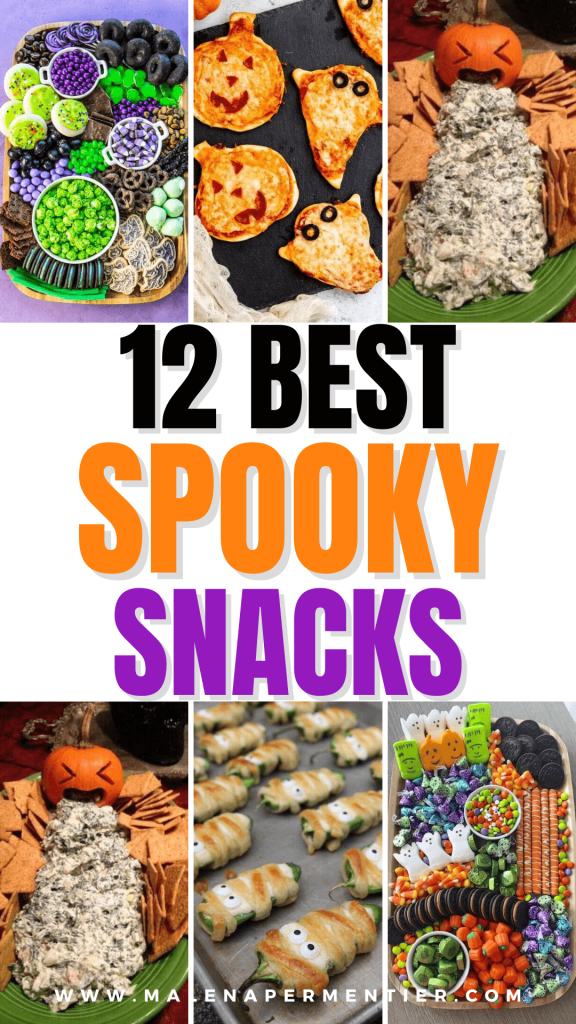 This post showed you the best spooky snacks to make for your Halloween party
You may also like: