This post is all about DIY Christmas gift wrapping ideas.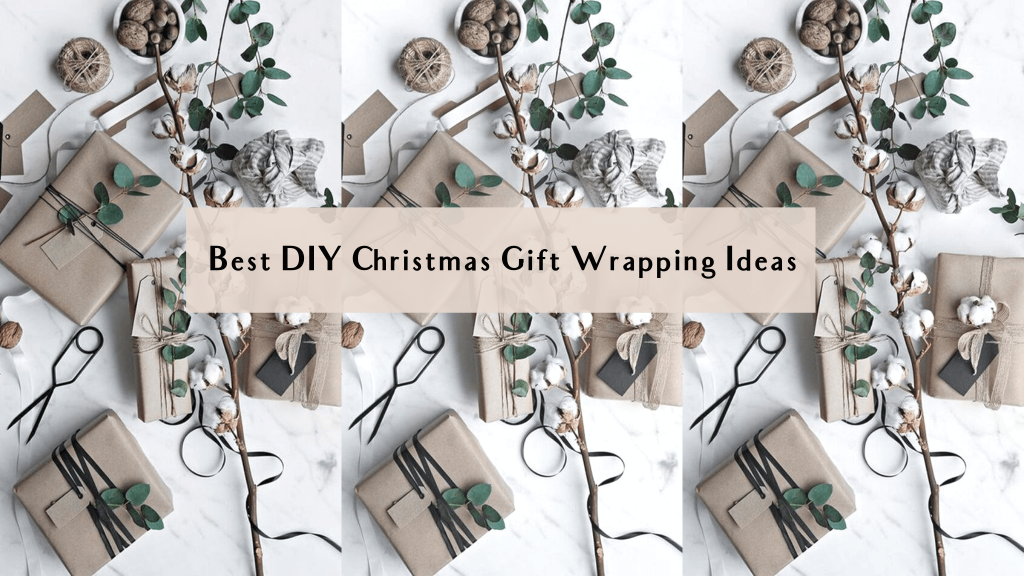 Great Christmas gift wrapping makes the gift that much better, don't you think? I was looking for creative DIY gift wrapping ideas to try out this year, and I was pleasantly surprised by what I found!
Below I'm listing the 17 best DIY gift wrapping ideas for Christmas. My personal favorites are number 1, 3 and 13.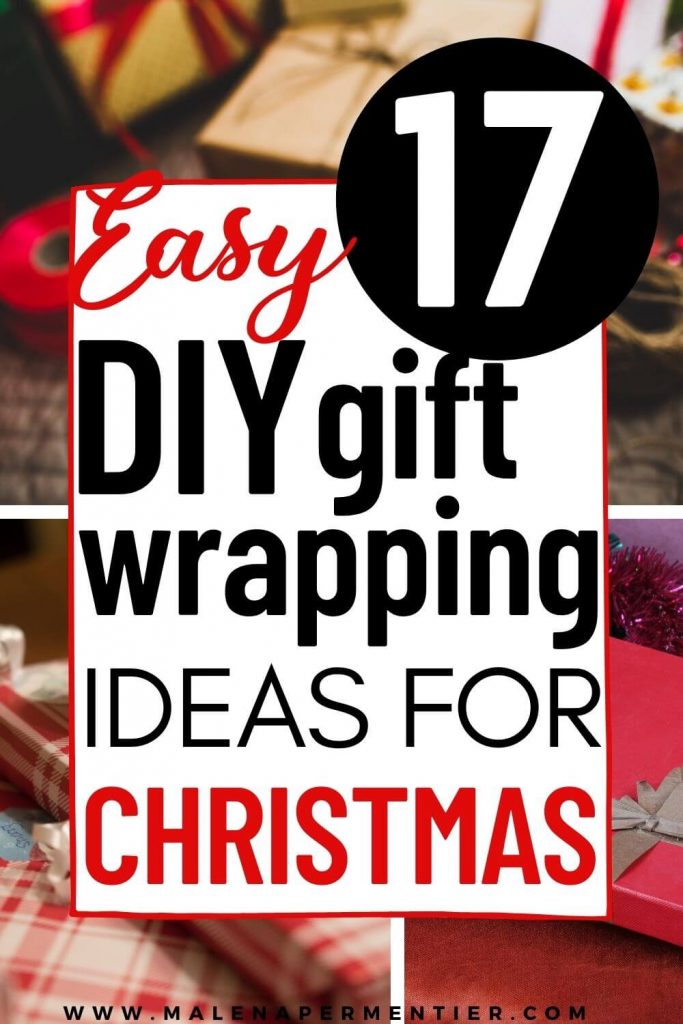 1. Brown paper gift wrap Christmas
Brown paper to wrap Christmas gifts isn't your most obvious choice, but it can look super chic. I love the combination of green, the burlap ribbon and pine branches.
Recreate this:
2. Black Christmas gift wrapping
This minimal style of Christmas gift wrapping isn't for everyone, yet I think many people (including me) would be super excited to receive a gift like this. Easily recreate this gift wrapping idea with black wrapping paper, DIY gold bells and simple artificial leaves.
Recreate this:
3. Creative white gift wrapping
When you have good Christmas gift wrapping paper, half your work is already done! I didn't find the exact print of the inspiration picture below, but Amazon did have an amazing wrapping paper with wood grain print.
Recreate this:
4. Easy Christmas gift wrap
A quick and easy way to make your Christmas gifts look great is with this wrapping style. Simply crossover the ribbon, use two colors of paper and add some cute little twigs.
Recreate this:
5. Kraft paper with cotton stems
Kraft paper is endlessly versatile, and I love how you can create beautiful minimal Christmas gifts with it. Get your favorite kraft paper, use different colors of string, and add some cotton stems for a beautiful personalized touch.
Recreate this:
6. Minimal wrapping with brown ribbon
This is considerably the easiest way to wrap your Christmas gifts beautifully. The color of the Amazon gift wrap is green, but somehow when I include the picture, it changes? Anyhow, easily recreate this elegant gift wrapping idea with brown ribbon and this beautiful green kraft paper.
Recreate this:
7. White dipped pine cones
A super cute and easy DIY idea is to add white dipped pine cones to your gift wrapping. You can make them yourself, or simply buy a pack of 12 from Amazon for $7.55.
Recreate this:
8. Wooden gift tags
Add a personalized touch to your friend's and family's Christmas gifts by adding wooden gift tags with their name. A very fun DIY project, but you can also buy these wooden gift tags for cheap at Amazon.
Recreate this:

9. Personalized christmas gift tags
More gifts with personalized Christmas tags! The cool thing is that you can order these rustic Christmas tags customized.
To do so, include the names you want on the tags before you order. I didn't know that Amazon had the option to customize things, so this is super exciting.
Recreate this:

10. Burlap ribbon Christmas gifts
I didn't know burlap ribbon could look so chic for Christmas gifts! You can also opt for more colorful styles of burlap ribbon.
Recreate this:
11. Gift wrapping with berry picks
There's something about a touch of red in the Christmas gift wrapping that makes it that much more chic!
I love the understated look of these berry picks, they really finish off the wrapping.
Recreate this:

12. Use contrasting paper
This is such a simple and cheap way to make your Christmas gifts look super chic. Simply use white and green kraft paper, and mix up accordingly to get a beautiful contrasting look.
Recreate this:

13. Red and white string
Red and white string looks beautiful in combination with brown kraft paper if you ask me.

It's such a simple way of Christmas gift wrapping, but you can make it as chic as you like with branches, cinnamon sticks, and little silver DIY bells.
Recreate this:

14. Newspaper for Christmas wrapping
I know, this might be a bit too fashion-forward for some, but how creative is this newspaper Christmas wrapping idea?

It sure is eco friendly and you can make it look chic with ribbon and colorful string.
Recreate this:

15. Star gift tags
It's such a cute touch to add star gift tags to your Christmas gifts! You can get a set of 100 stars for $10.
These are simple wooden stars, which could be a super fun craft project to do with the family. Add glitter, gold, sequins and make them as festive as can be 🙂
Recreate this:

16. Gift wrapping with long pine branches
Pine branches are a must for creative Christmas gift wrapping! These extra long ones aren't only super simple to work into your wrapping, they also look incredibly elegant.

17. Wreath gift toppers
Make little wreath gift toppers for an extra personalized touch! You can make these wreaths from scratch or get small ones to customize with branches and leaves.

This post was all about the best DIY Christmas gift wrapping ideas to try out this year!
You may also like: