Hey there! Some links on this page are affiliate links which means that, if you choose to make a purchase, I may earn a small commission at no extra cost to you. I greatly appreciate your support!
This post shows you the best christmas living room decorating ideas.
The holiday season is just around the corner, and it's the perfect time to start thinking about making your living room the coziest and most festive place in your home.
Whether you're a traditionalist who loves the classic red and green Christmas decor or prefers a more modern and minimalist approach, we've got you covered with various Christmas decorating ideas to suit your style.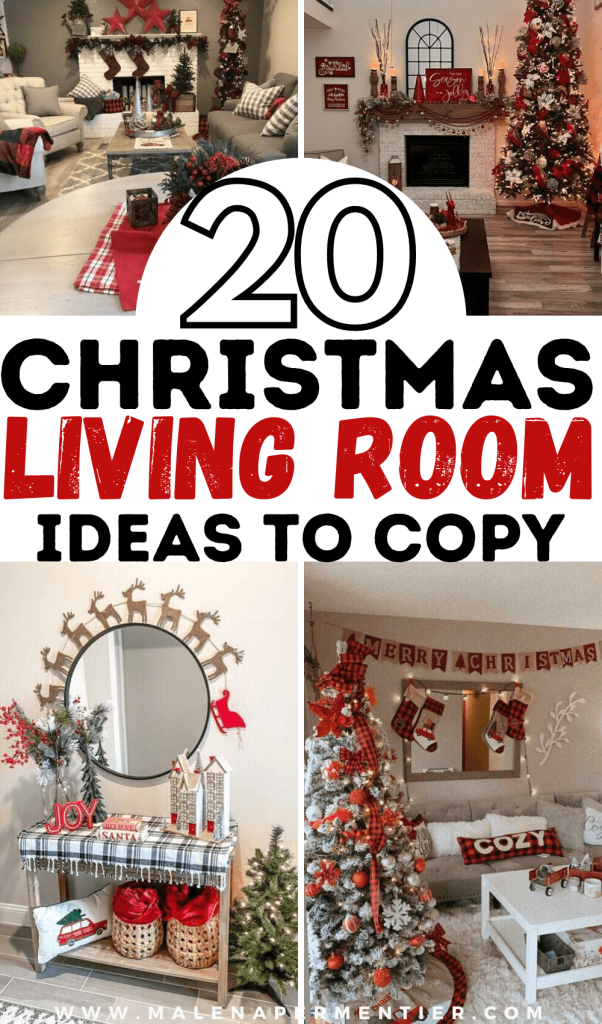 Things to consider before decorating
We all need a little help now and then.
Here are a few tips to keep in mind when picking the perfect Christmas decor for your living room.
Christmas Tree Magic: Choose a real or artificial tree that fits your space and decorating style. Whether you go for a full-sized tree or a tabletop version, make sure to decorate it with ornaments, lights, and a tree topper. You can also add a tree skirt for an extra touch of elegance.
Color Theme: Selecting a color theme is essential for a cohesive and inviting look. Some popular Christmas color themes include traditional red and green, elegant gold and white, rustic plaid, or even a whimsical candy cane theme.
Decorate the Mantel: Decorate it with garlands, candles, stockings, and festive figurines. You can also add a mirror or artwork above the mantel to create a beautiful focal point.
Cozy Textiles: Incorporate warm and cozy textiles like throw blankets and cushions in Christmas-themed patterns and colors. Think plaid, reindeer, snowflakes, and more.
Festive Lighting: String lights are not just for the Christmas tree. You can also use candles and lanterns to add a cozy, festive glow.
Christmas Village: Consider setting up a Christmas village or nativity scene on a tabletop or your mantel. These decorations can add a meaningful and nostalgic touch to your living room.
Personalized Decor: Add a personal touch to your Christmas decorations by including framed family photos, personalized stockings, or homemade ornaments.
Final Touches: Don't forget to add the finishing touches, such as holiday-scented candles, a Christmas-themed doormat, and a festive playlist to set the mood in your living room.
Christmas Living Room Decorating Ideas
1. Stick to the classics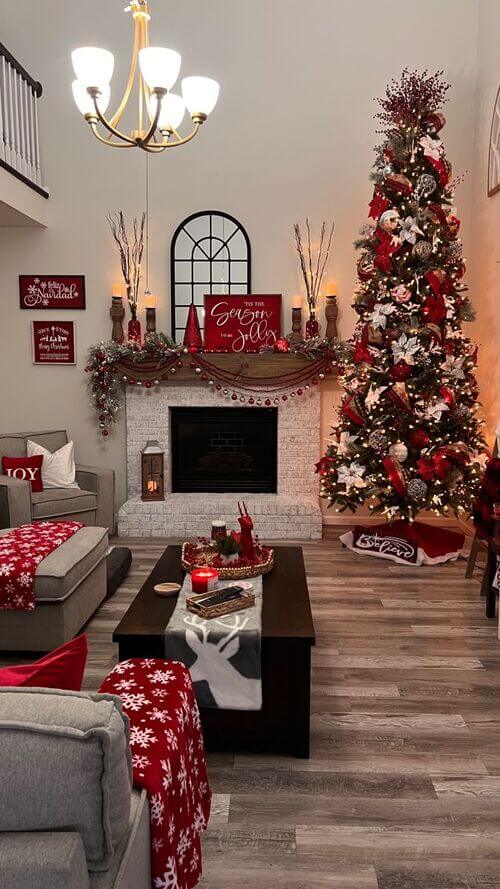 Red and white is the safest option when it comes to Christmas decor.
Bring in some candles for some warm lighting. Incorporate some ribbons, fairy lights, and tinsel to bring your tree to life.
Bring in some silver accents to lighten up the place.
2. Frost and pinecones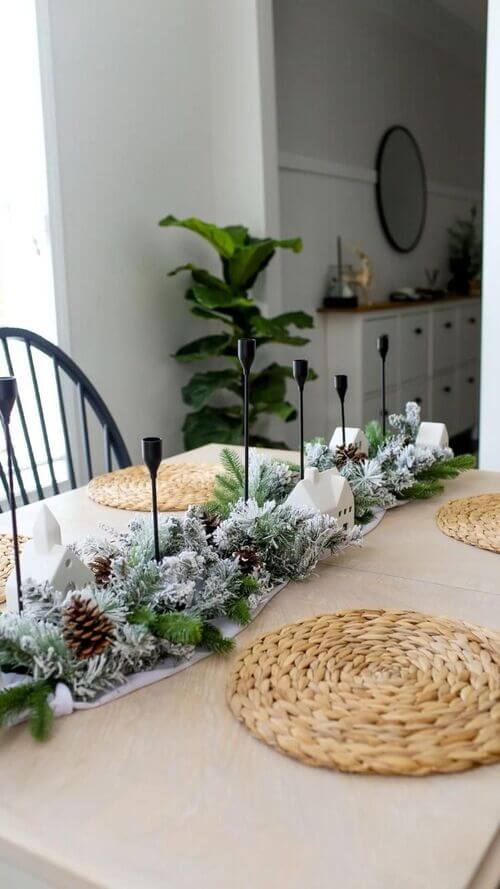 This gorgeous centerpiece is simple and showcases the elegance of winter in its simplest form.
Take it back to a winter wonderland by adding some snow-covered pinecones to the table and greenery.
You can also include candles to bring a warm touch to the room.
You can include some woven place settings to brighten things up.
3. Extra lighting and greenery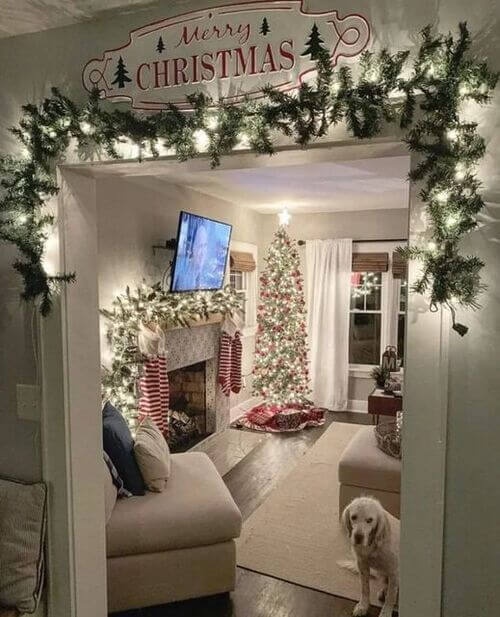 This cozy atmosphere is the perfect Christmas scene for your family.
The mix of greenery and fairy lights brings a bright and cheery atmosphere to the living room.
With striped socks, a perfectly decorated tree, and some red accents to bring in the spirit of Christmas.
4. Simple decor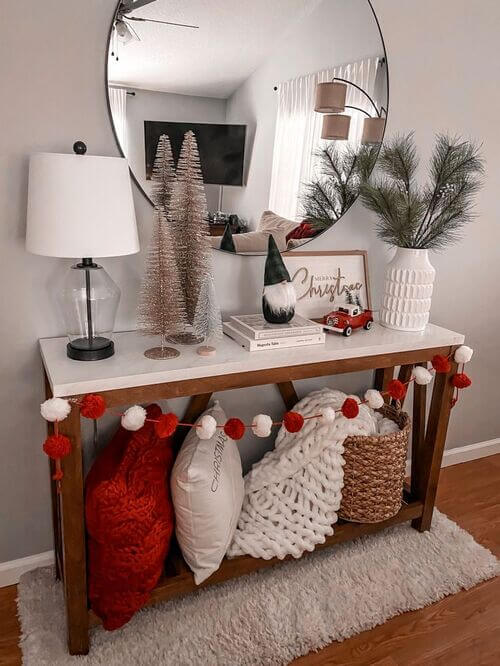 If you want a subtle touch of Christmas spirit without making it too much you can opt for this idea.
It's a simple idea that goes a long way.
The red and white pillows and decor pieces are cute statements that instantly bring in the Christmas spirit.
You can add some gold accents and woven blankets to complete this setup.
5. Bows and greenery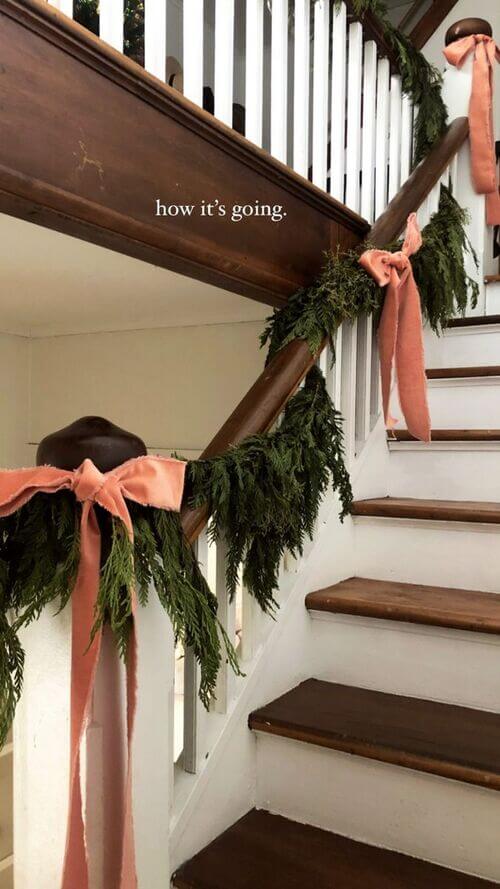 This cute staircase idea is just the perfect minimalistic touch for Christmas.
Wrap greenery around the top. You can add some ribbons either pink or red.
It's a cute idea that is budget-friendly and can be done as a simple DIY project.
6. Glitter and gold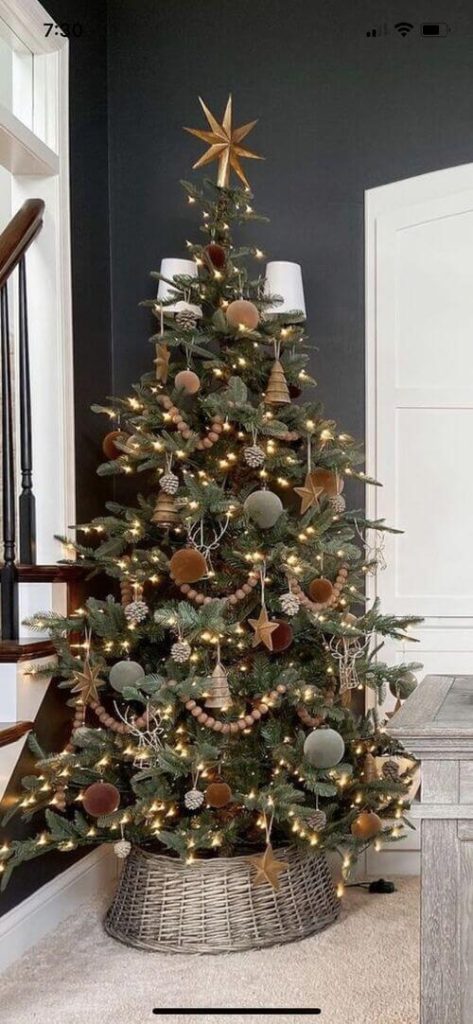 This natural look is stunning and brings a gorgeous glow to the room.
Green and brown is a very neutral color combo that makes a big difference.
If your home is filled with white and you need something to break the color a bit then you can add this new look to the room.
Wood bead garland for Christmas tree
7. Cute additions to the windows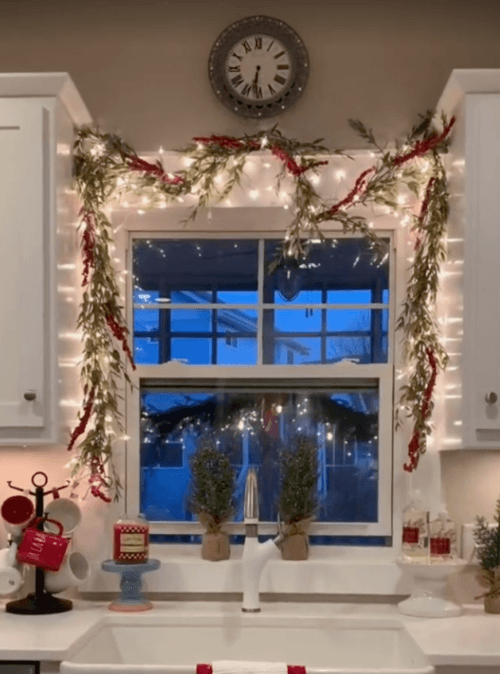 When decorating your space it is easy to forget about the simpler pieces or spaces.
For example, the windows can be decorated with fairy lights and ribbons or even holly.
It's an easy idea that brings light to the room.
8. Red and white simplicity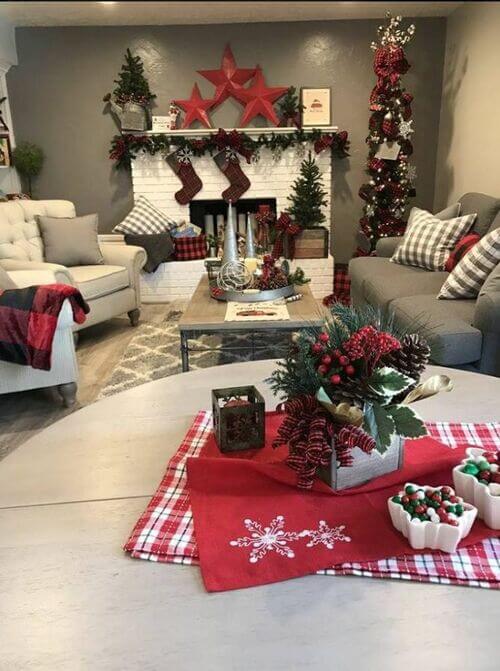 Stars and snowflakes can be just what you need to bring in that Christmas spirit.
You can add small star-shaped snack bowls to the table, mini trees, tinsel, and even some extra cozy blankets.
Decorate your tree to fit the theme by incorporating some red ribbons and glittering snowflakes.
9. Red candles and greenery
If you don't want to go all out with crazy colors and glitter that sticks to everything then this natural look is just what you need.
The red candles and extra greenery bring the perfect atmosphere into play.
You can also add some wooden or golden reindeer to the table, just for a little pop of color.
10. Mini forest centerpieces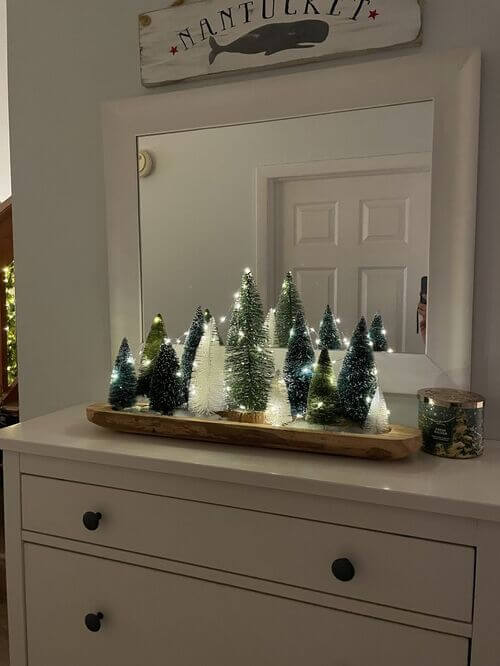 If you have an end table that you have no idea how to decorate then here's something to try out.
Grab a dough bowl and put some fake snow inside of it then include some white and green trees as well as some fairy lights.
You can also add a candle or two to bring the warm Christmas atmosphere into the room.
11. White and gold florals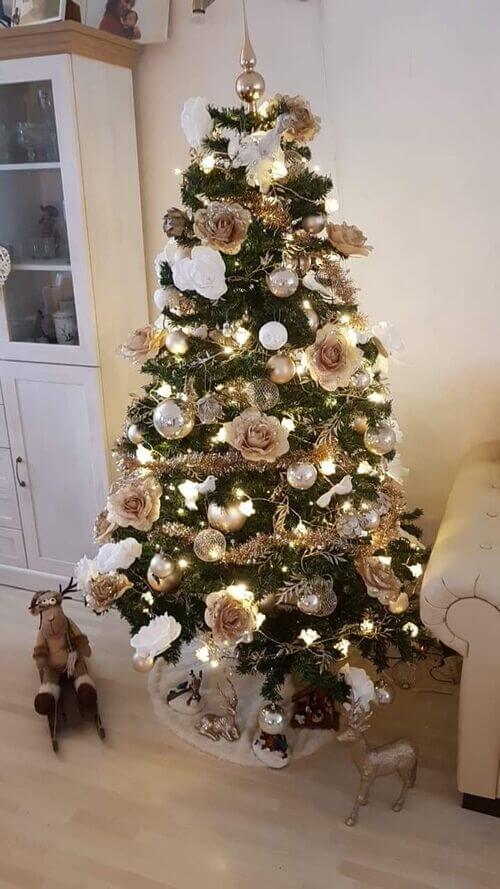 Try something new this year.
This tree takes the scene away from the usual Christmas baubles and random colors and sets a simple theme.
The gold and white roses are the perfect idea for a new Christmas tradition.
You can add some gold tinsel and glowing fairy lights that are warm so that the gold and white create a good balance.
12. Checkerboard pieces and red accents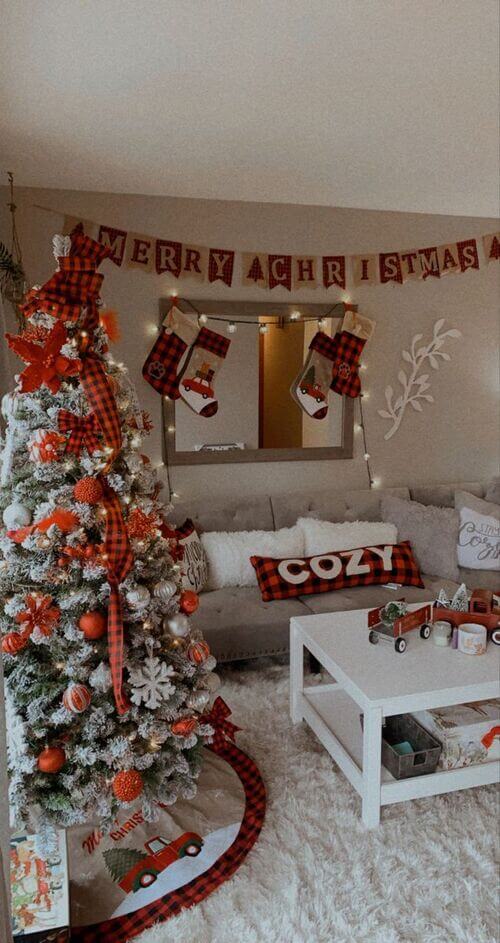 This checkered room that is sure to bring Christmas cheer to your home is absolutely easy to redo.
Add a banner, DIY stockings, checkered pillows, and ribbons.
Add some ribbons to the tree and also some red and silver baubles.
Instead of opting for the normal tree, you can also try one that gives off a more snowy look.
13. Orbeez, snowflakes, and candles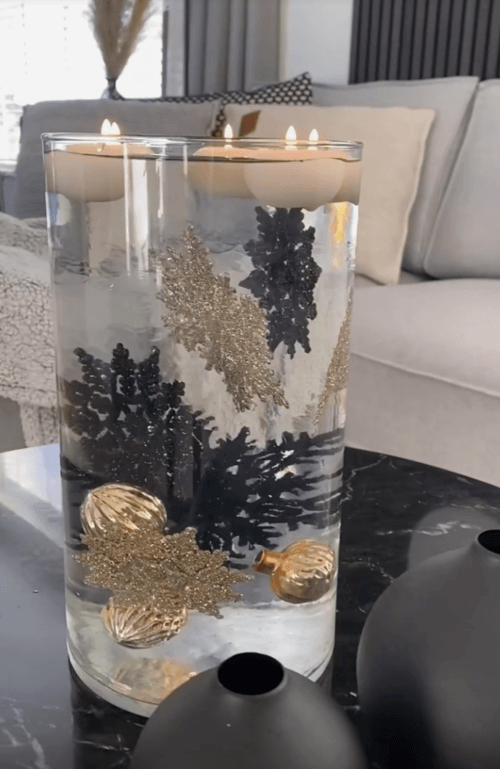 If subtle hints are more your speed then try out this super easy and budget-friendly DIY project.
Grab a vase and fill it with clear orbeez.
You can then add some different snowflakes to create this floating effect and then include some tealights in the mix.
It's fun and gives a different approach to things.
14. Minimalistic aesthetic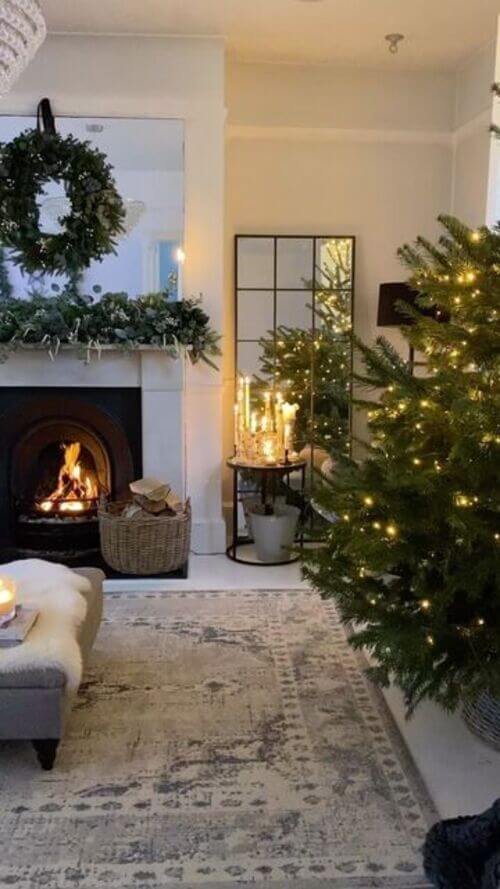 If you're more of a minimalist then you can stick to just greenery.
With wreaths, gorgeous trees, and simple pieces to add to the fireplace there isn't much you need to add to make this look more aesthetically pleasing.
You can also incorporate some gorgeous white candles for a warm glow.
15. Candles, pinecones, and gold accents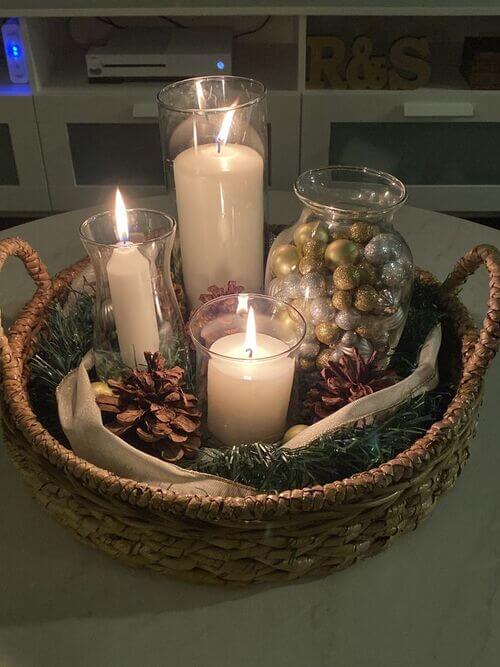 A rich and earthy tone can enhance the atmosphere.
You can create a cute decor piece by incorporating a woven basket, pinecones, and pillar candles.
Bring in some gold accents to brighten up the space as well.
16. Hallway decor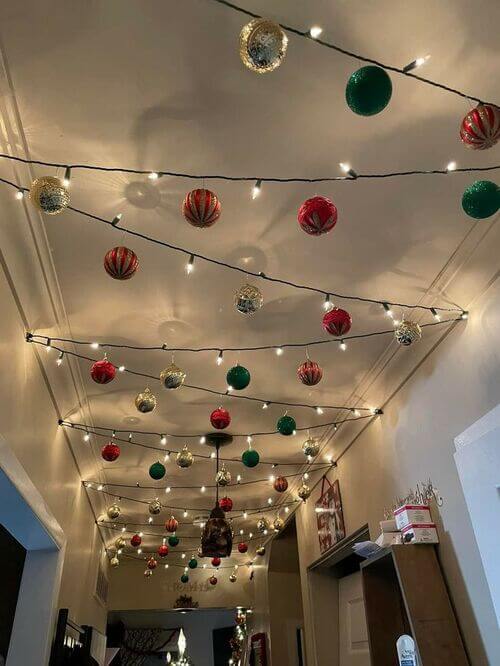 Show that Christmas spirit through the whole house.
String fairy lights and baubles to the roof to bring in a cheery atmosphere.
This simple and effective idea is the simplest way to get the whole family ready for the holidays.
17. Simple centerpieces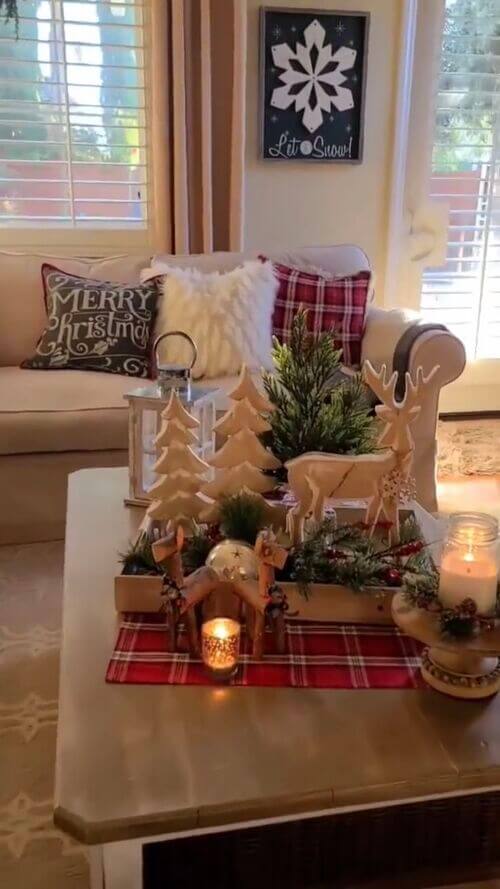 This simple and rustic centerpiece might be just what your home needs.
It incorporates wooden figures, candles, greenery, and even a cute checkered print that sticks to the red, white, and green theme that symbolizes the holiday.
18. Reindeer and mini trees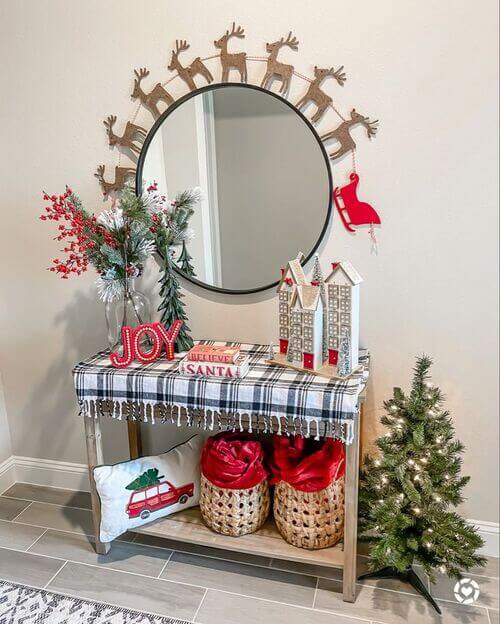 Want to go all out? Bring out that inner child and incorporate reindeer, snowflakes, candy canes, and even ceramics to showcase this beautiful idea.
You can even include a cute little tree to make sure you have every inch of the living room covered.
19. Cozy gnome centerpieces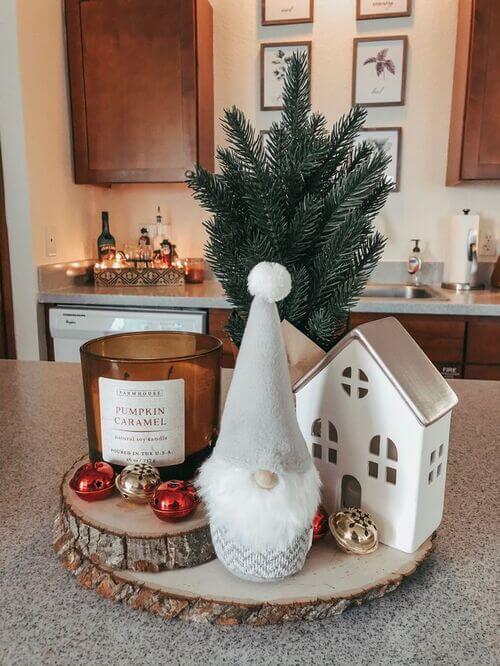 This idea keeps things a lot more simple.
With wood slices, cute houses, a gnome, candles, and even some jingle bells this is an adorable idea that just works in any area.
Bring it to life by incorporating your twist on things.
20. The perfect dining room setup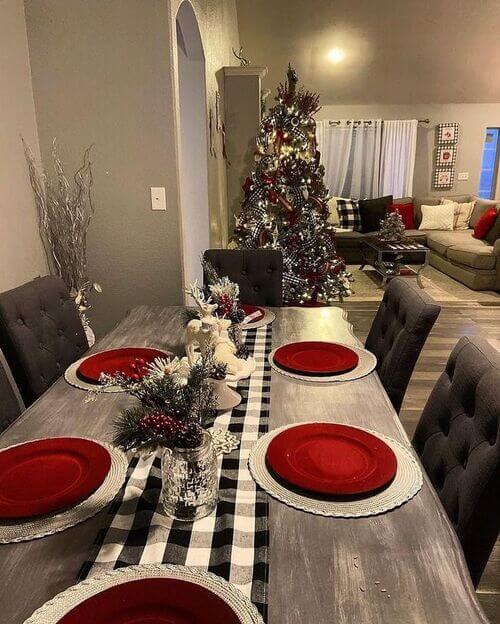 Keep things elegant with this idea.
With the red, white, and black theme, you can easily decorate the whole house like this for Christmas.
Incorporate some small bouquets for centerpieces and even some silver for an accent color to make this pop.
The final decor piece
With these ideas for your living room, you can create a warm and inviting space that will make your holiday season special.
Whether you prefer a traditional, modern, or eclectic style, there are countless ways to infuse the magic of Christmas into your home.
So, get creative and start decorating to transform your living room into a cozy Christmas wonderland!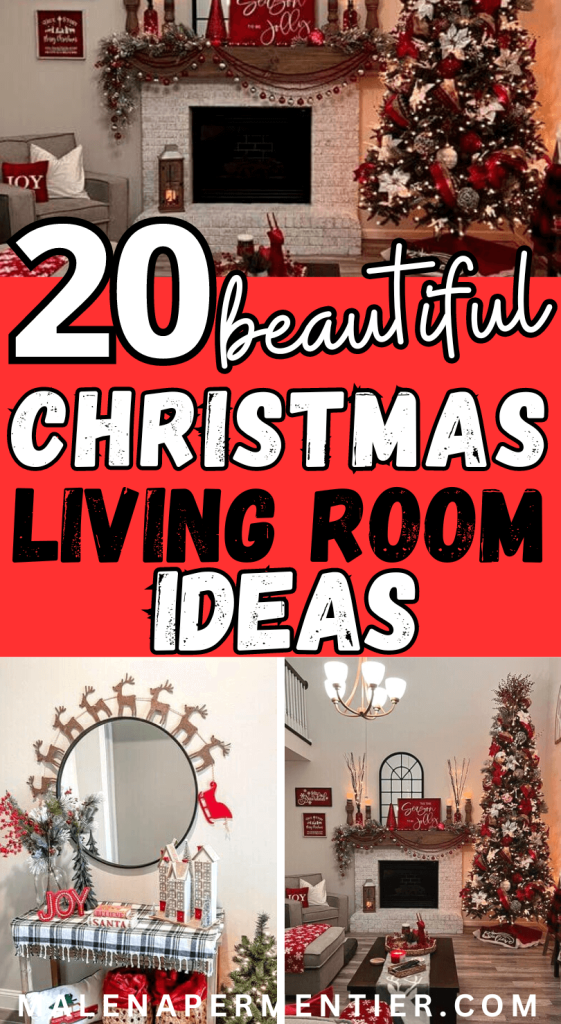 This post showed you the best Christmas living room decorating ideas.
You may also like: