This post shows you the best faux cedar garlands for Christmas decorating!
Cedar garlands instantly make a home look festive and ready for the holidays.
They aren't cheap, but if you choose a good quality faux cedar garland, you'll be able to use it for years to come.
In this post, we'll go over the best faux cedar garland options. Some are plain cedar, others have red berries or pinecones.
Flocked cedar garlands are another beautiful option to get the Christmas spirit into your home.
A few of the best places to buy faux garlands are Afloral, Etsy, Home Depot, and Amazon.
Afloral is specialized in faux greenery, and I think the price is fair for the quality you get.
Are you on a tight budget? A tip worth looking into is layering two separate garlands together for a super lush and luxurious garland.
Amazon has a lot of budget-friendly options when it comes to faux cedar garlands.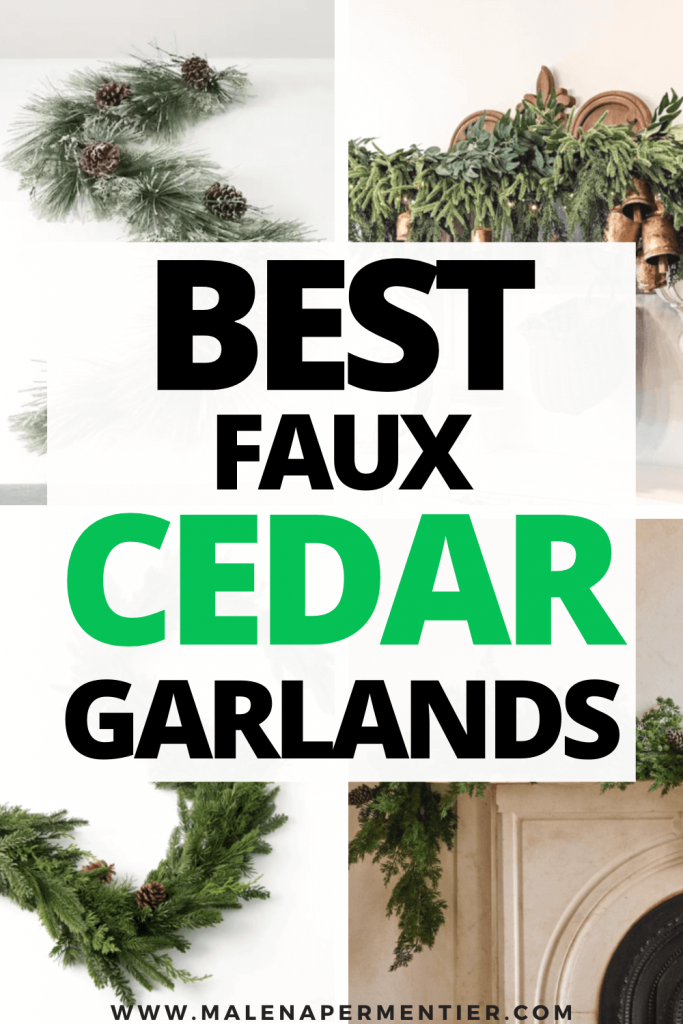 How to decorate with a garland
Cedar garlands, faux or real, are amazing for decorating your mantle, staircase, or draping over the window sill.
There is not one rule for decorating with garlands for Christmas! The most suitable spot depends on the layout of your home.
Decorating with garlands is also a good alternative for a Christmas tree. Especially those living in very small apartments will know that a tree is not always possible.
1. Afloral Cedar Garland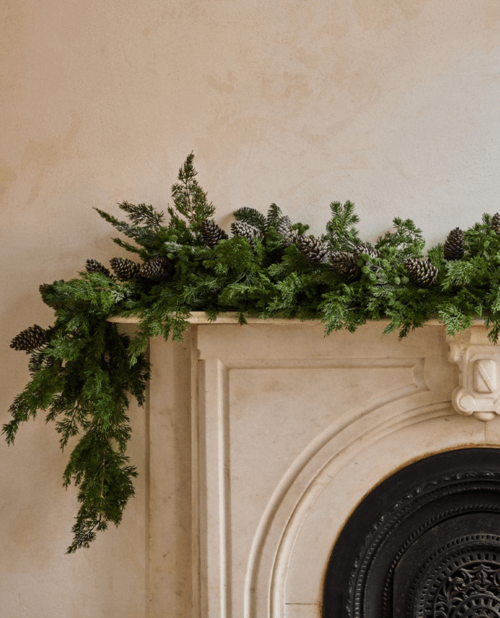 Afloral is one of the best places to buy your faux garlands. Their Norfolk collection is insanely popular – but those garlands sell out fast.
This faux cedar garland with pine cones is lush and looks real! It's perfect for decorating larger surfaces like your mantle.
2. Real touch cedar garland with pinecones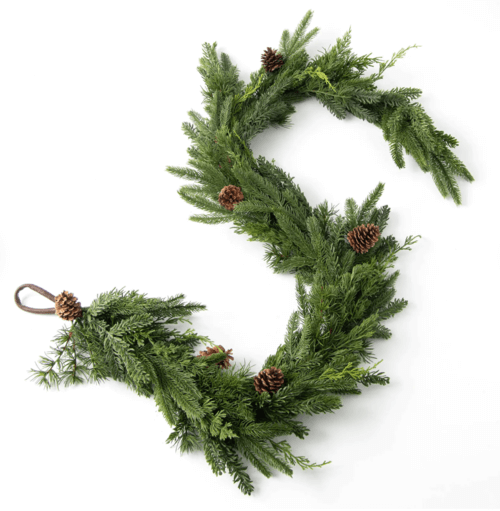 Etsy has some really great options for faux garlands. This real touch cedar garland has 1500+ raving reviews and that says something!
Overall this faux cedar garland is high quality, 6 foot long, and perfect as table runner or door decor.
3. Faux Cypress garland
This cypress garland looks natural and is real to the touch.
It's the type of garland that is the perfect base for a large Christmas table centerpiece.
Place the garland over the table, and decorate with tealight holders or LED candles.
The images above show a beautiful example of using the cypress garland for a fall table. You can also recreate this idea for a Christmas table!
4. Christmas fern garland with foliage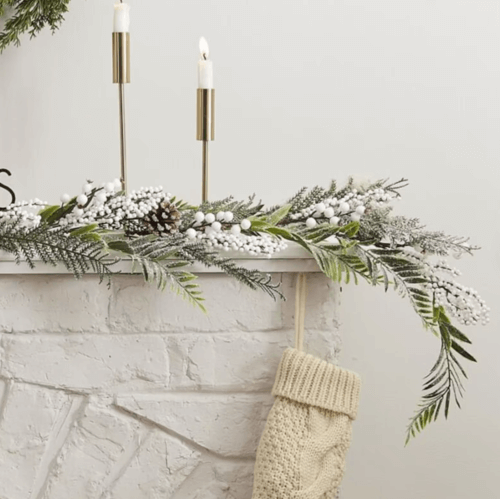 This fern garland with foliage and white berries is unique and elegant.
Because it's already a unique mix of greenery, this garland doesn't need anything else.
Place it on your Christmas dinner table with gold candlestick holders.
5. Faux garland with snowy effect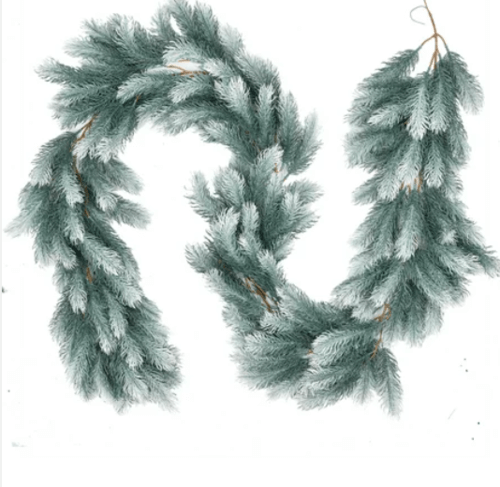 Sometimes Walmart has good quality and beautiful faux garlands!
For some extra atmosphere, I really like these cedar garlands with a snowy look.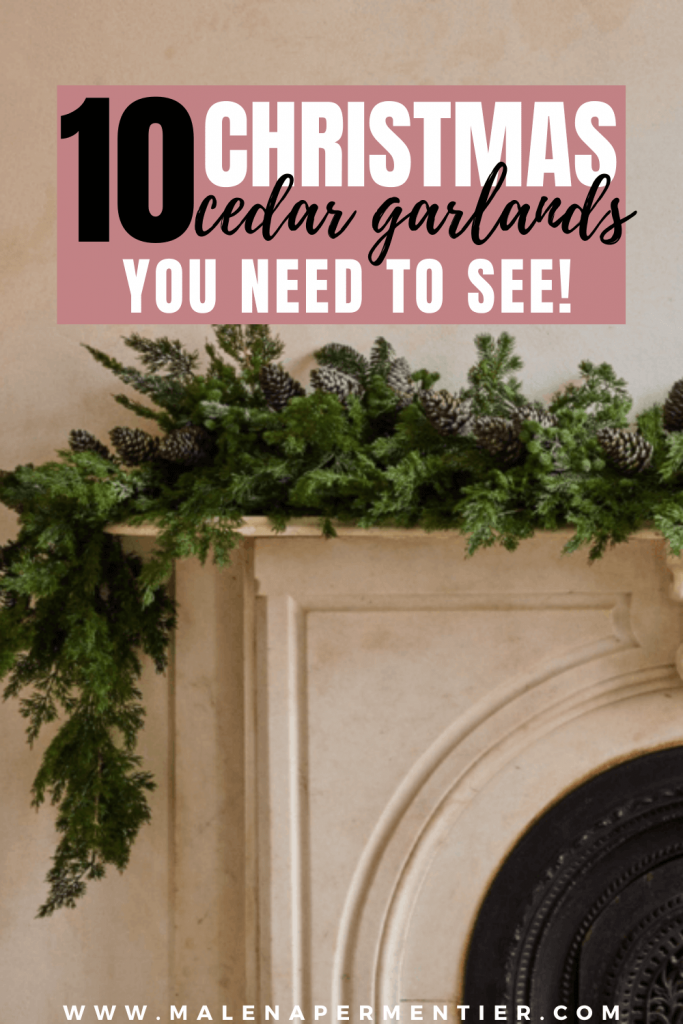 6. Large cedar and pine garland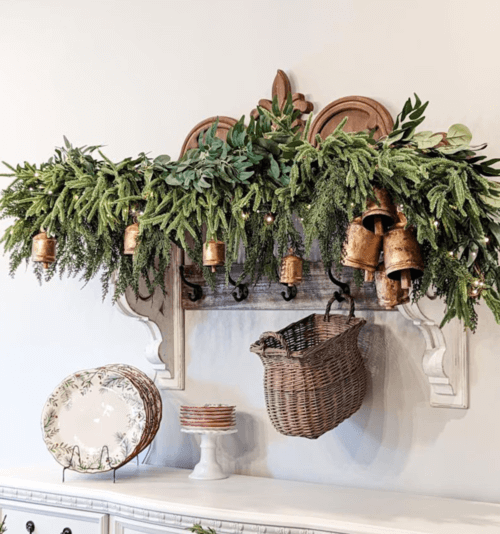 This realistic pine and cedar garland is lush and festive!
The garland doesn't come with the bells, but I love the decorating idea.
Amazon has the absolute best and budget-friendly gold bells for making centerpieces.
7. Cedar pinecone garland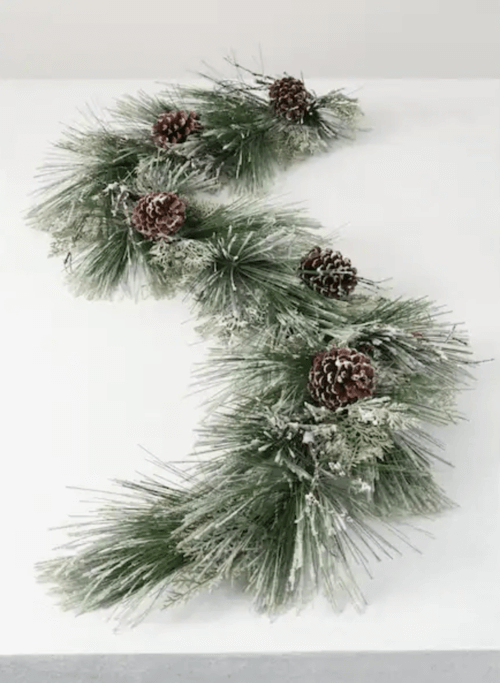 Home depot occasionally has some really good faux cedar garlands! The downside is also that they sell out SO quickly.
But if you don't find it online, it's always worth checking a Home Depot store near you.
I really like the mix of the flocked faux garland with several pinecones.
8. Faux Cedar Garland with red berries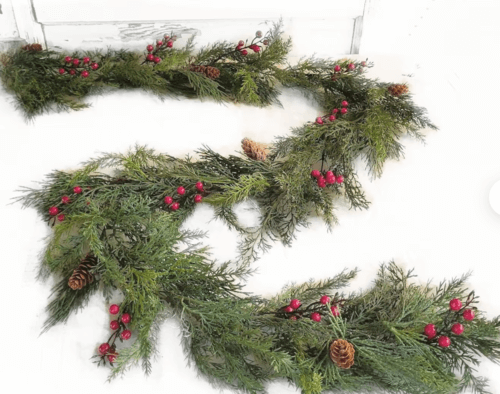 Red berries and pine cones look amazing on a cedar garland and it gives the ultimate winter holiday vibes.
I'm a big fan of the cedar garlands on Etsy. These are all small businesses that also deserve the support :).
I recommend to only buy products with great reviews, like this one for example.
9. 6 feet Christmas pine garland

I have to admit that I wasn't super thrilled with the assortment of faux cedar garlands on Amaszon, but this is one of the garlands that I really like!
Fair price point and the garland looks super lush. It is a little plain however. But that makes this one also fun for a little DIY.
Adding pine cones, holly berries, and other small Christmas decorations on the garland is super easy.
10. Pre-lit Christmas garland

If you can't be bothered with adding lights to your Christmas garland, this pre lit garland is your best choice!
It's surprisingly inexpensive. At 6 foot long it's a good size for decorating your staircase.
This pre lit garland is worth the money and perfect to have in your home over the holidays.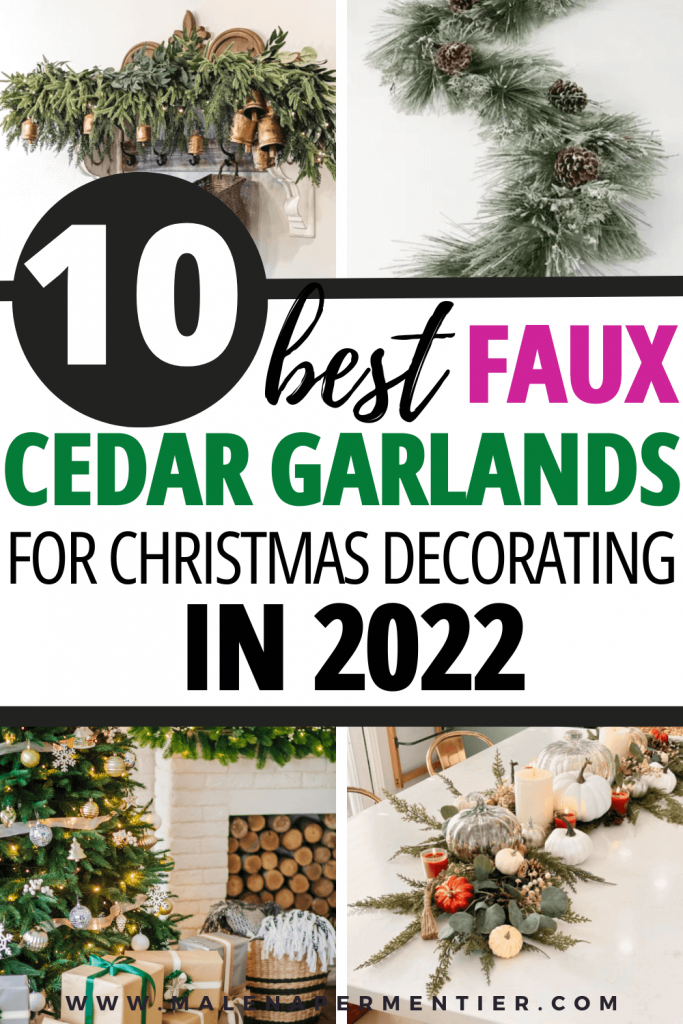 This post showed you the best faux cedar garland for Christmas decorating.
You may also like: