Hey there! Some links on this page are affiliate links which means that, if you choose to make a purchase, I may earn a small commission at no extra cost to you. I greatly appreciate your support!
This post is all about the best apartment Halloween Decorations.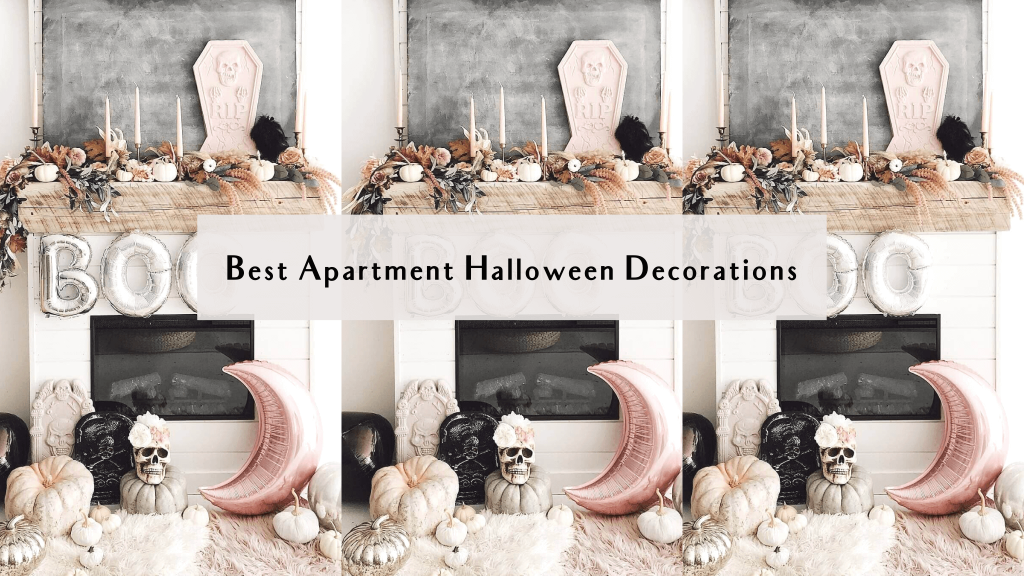 I'll admit something straight off the bat: Halloween is not my favorite holiday.
That said, I love some subtle Halloween decor in my apartment.

The decor is so important, especially when hosting a Halloween party for friends!
Best Apartment Halloween Decorations in 2023
When researching this post, I was pleasantly surprised by how many cool Halloween decor ideas are out there!!
Below, you will find the best apartment Halloween decor for:
How to decorate your apartment for Halloween on a budget.
Mantel decorating ideas for Halloween.
Cute porch Halloween decor.
Halloween decorations for apartment balcony.
And just generally the best apartment Halloween decor ideas in 2023!!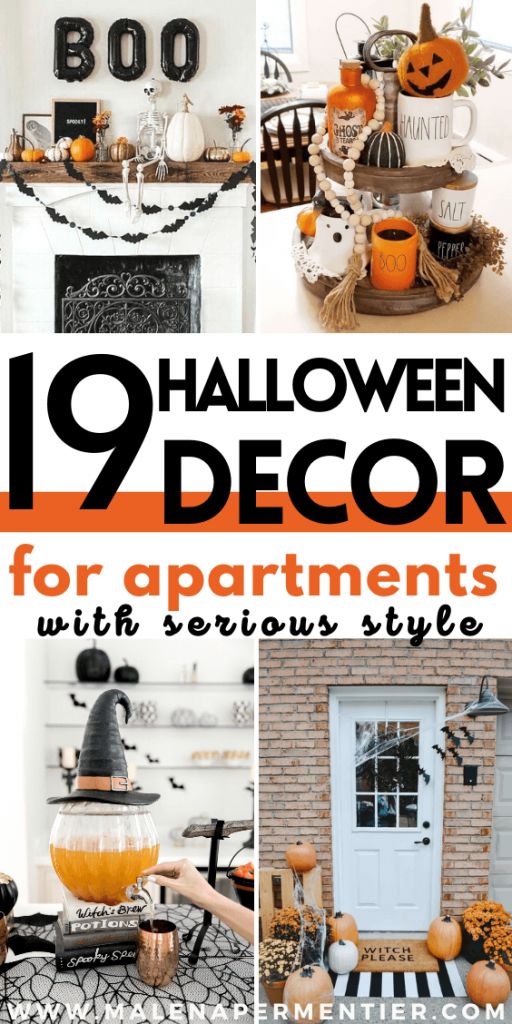 Halloween Decorations for Apartments
1. Halloween Mantel Decorating
If your apartment has a mantel, that's the perfect spot for Halloween decor.
I LOVE this Halloween mantel decor because it's not too overwhelming yet has the Halloween spirit.
Recreate this Halloween Mantel:
2. DIY Bat branches
If you don't like having skulls in your apartment (me!), then cute DIY Halloween decor like this is a life-saver.
These bat branches are an easy DIY. Yes, anyone can make this!! Attach the decorative bats to the branches and place them in a simple vase.
Create Bat Branch:
3. Apartment Halloween Decor
Create a super lush garland by building upon a luxurious eucalyptus garland. Use things like small white pumpkins and wheat sheaves to elevate your garland decor.

You can layer two different garlands to get the desired Halloween/Fall effect.
Recreate Apartment Halloween Decor:
4. Create a Halloween Letter Board
This is a classic, but it's so cute!! Use a Halloween letter board for your entryway table to surprise your guests.
You can even decorate the board with bats, small pumpkins, or other Halloween decor.
Recreate this:

5. Use a Spooky Halloween Dispenser
Halloween requires fun drinks!! And what better way to do that than with a Halloween-themed dispenser?
This pumpkin tapping kit is surprisingly affordable and will take your Halloween party to the next level.
Copy this dispenser idea:
6. Decorate Your Bar Cart for Halloween
If you have a bar cart in your apartment, Halloween is the time to decorate it! There are many fun and easy ways to do that.
One of my favorite Halloween bar cart decorating ideas is a cute dish towel with the quote "I Love You More Than Pumpkin Anything."
Another must-do is using a letterboard with a fun Halloween quote!
Recreate this Halloween Bar Cart Idea:
7. Simple Halloween Wall Decor DIY
If you have frames on your walls, why not update them for Halloween? There are many Halloween printables you can use!
I found some amazing Halloween printables on Etsy, but you can also find a ton of free printables.
These free Hocus Pocus printables are adorable!! Check it out if you want some cute 8×10 Halloween art to frame.
Recreate Halloween Wall Decor:
8. Cute & Easy Halloween Mantel Decor
This hey boo garland is my type of Halloween decor: insanely cute and not too scary!
You can hang this garland on your mantel, entryway table, bar cart, or even on your wall, for example, above the dining table.
This Halloween garland looks great with some artificial (or real!) pumpkins in assorted sizes and colors.
Copy this Mantel Decor: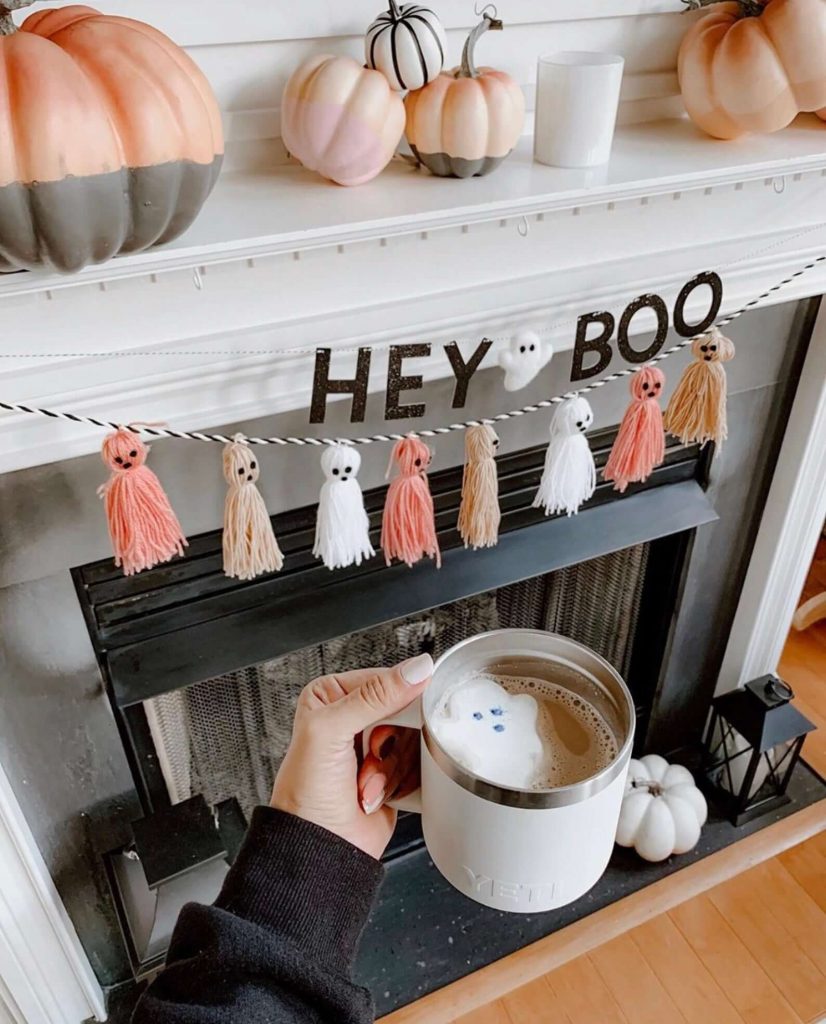 9. Halloween Decoration Ideas Outdoor
Halloween begins at the front door!! I love a funny doormat, and this Witch Please doormat does the trick.
Along with some scary cloth and pumpkins, your front door is Halloween transformed in no time.
Recreate this:
10. Indoor Halloween Decor
My favorite thing for indoor Halloween decor must be the bats!! Haha, bats everywhere. Amazon has a ton of different bat decorations. I love the ones that you easily stick or hang on your walls.
Recreate this:

11. Apartment Halloween Decor Door
I love this simple Halloween door decor!! Well, officially not on the door but next to the door.
Recreate this with simple crates, autumn leaves, pumpkins, and lanterns to make it look cozy and welcoming.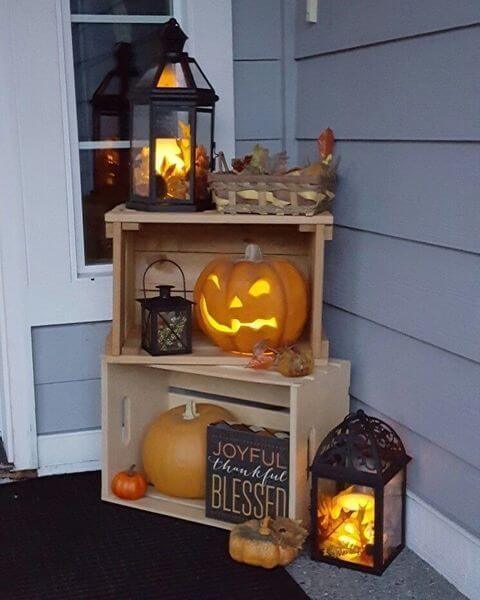 Copy this Outdoor Halloween Decor:
12. Halloween Balloon Decoration
If you want to create something super festive for Halloween in your apartment, you need balloons!!
Balloon garlands in Halloween colors are the easiest way to transform your apartment in no time. This is a fun way to decorate if you're throwing a party.
I also love the Halloween tassels (see below) and cheers witches garland.
Recreate this Halloween Decor:
13. Decorate with Halloween Boo Balloons
Every apartment needs some Boo Balloons for Halloween!! They come in many colors, so you can choose what works for your living room's color scheme.
A cute spot to hang these balloons is above the desert or drinks table.
Recreate this:

14. Halloween Entry table decor
Your entry is the first thing your guests see when they come in. So decorating your entry table is a must if you're hosting a little Halloween party!
Recreate this:
15. Minimalist Halloween Decor
If you don't like overwhelming colors but still want to give your apartment the Halloween atmosphere, go for minimalist Halloween decor.
White skulls, creepy cloth, and bats hanging from the ceiling create the perfect, minimal Halloween decor.
Create Minimalist Halloween Decor:
16. Tiered Tray Decor for Halloween
A little DIY never hurt anybody! Decorating a simple tiered tray for Halloween is so fun to do.

I swear by these tiered trays because you can decorate them for each holiday.
Recreate this tiered tray:
17. Halloween Kitchen Decor
You can't skip the kitchen when it comes to apartment Halloween decor. You can keep it as simple or elaborate as you like.
Amazon has a ridiculous amount of cute Halloween kitchen decor. For example, these Halloween soap dispensers and pumpkin waffle maker. Not officially decor, but it's SO cute.
Recreate Kitchen Decor for Halloween:
18. Spooky Home Decor
I LOVE an excellent led sign, so I had to include this super cute spooky home decor idea.
You can customize this letter's sign for the word/color you want. Boo is a short word, so it's not too expensive :).
Copy this:
19. Simple Boo Garland
I'm all for a simple but charming Halloween garland!! This Boo garland is adorable and not too overwhelming.
This garland is made from burlap, so it's equally suitable to hang outdoor. I think it would make super cute decor for your front door!!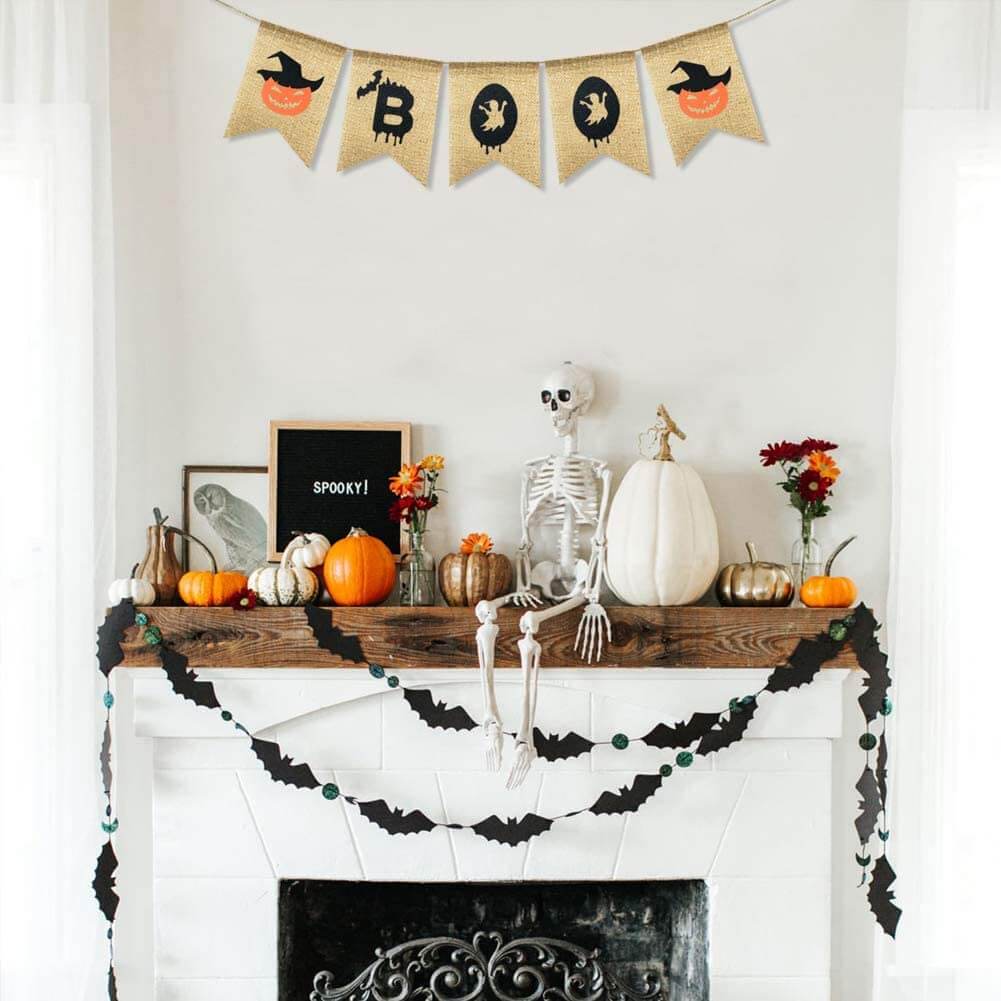 Copy this idea: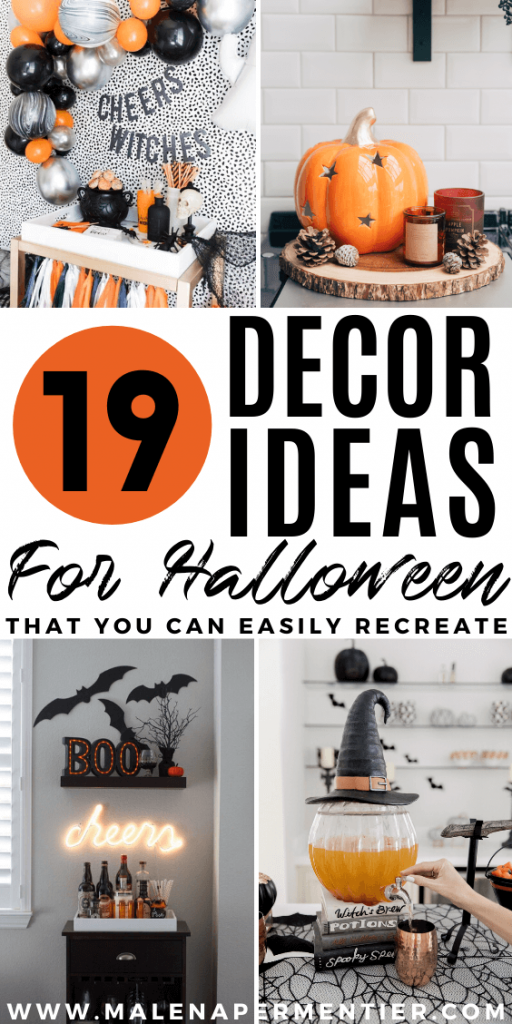 This post showed you the best Apartment Halloween Decorations (on a Budget!)
You may also like: