This post shares how to Marie Kondo your apartment.
I strongly believe in the connection between a tidy home and a clean spirit.
The more clutter I have piling up in my apartment, the messier my mind seems to become.
That's why I have cultivated the habit of clearing things out constantly.
Each time I clear my closet of stuff I no longer wear, I feel so much lighter.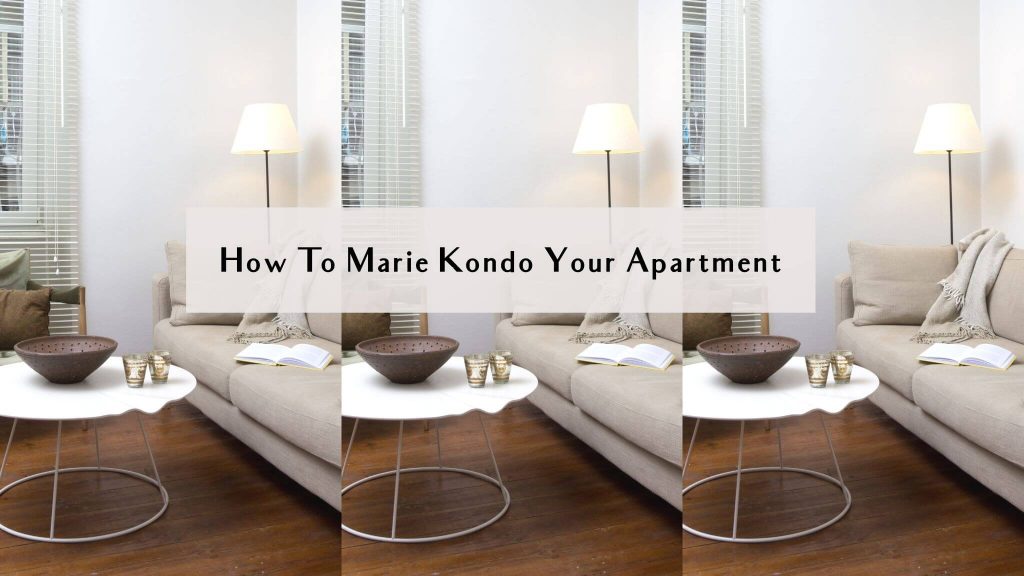 Marie Kondo Apartment
Marie Kondo's philosophy exceeds far beyond "keep only what sparks joy." It's about the impact tidying up has on our state of mind – and our lives.
When we organize and declutter things in our physical space, we somehow seem to be cleaning up our minds simultaneously!
I'm hugely in favor of giving away the stuff we no longer use. The more, the better.
I know that it might seem overwhelming to figure out where to start with decluttering and organizing.
So in the below, I'm sharing my process when it comes to Marie Kondo-ing my apartment.
Clothing
For many women (myself included, hi!), the closet is super challenging for decluttering and organizing.
The key is to simplify the process and take it one step at a time.
Start in one section of your closet, for example, the hanging part or your shelves. Then proceed to lay out all the clothes on your bed so you can see every item.
Carefully notice your feelings about each item. Is it connected to genuine joy or an 'I wish it could be? We all have clothing that we love in theory, but not in reality. If it's the latter, consider getting rid of the item.
Throwing away (or giving away the clothing if they're in a good state) can sometimes feel a little scary.
A clever way to go about this is to let yourself divide clothing into 3 piles: 1 to throw away, 1 to give away, and 1 transition bag.
In the transition bag, you place the items that you love and are attached to somehow, but don't feel quite right when you wear them.
Place the transition bag out of your closet, for example in the laundry room or any other storage place you might have.
Set a timer in your phone for a month and then proceed to give away the items you haven't thought about or worn.
Having a transition bag can make it a little less scary to throw away things you do like.
'Marie-Kondo-ing' your closet is all about keeping things that make you feel good and truly work for you.
Although there's some space for nostalgia, your closet should be a place with living functional things you can and want to wear daily!
Living room
Souvenirs, trophies, drawings, decor: how many of these items do you want to look at every day?
The items that meet our eyes every day should be carefully chosen – invited in even.
Sometimes people give us things that aren't necessarily our choice/taste. I know this is a sensitive topic, but ask yourself: what do I choose?
Keep only the items, given or chosen by you, that genuinely spark a feeling of joy. Be mindful of things that you keep around out of guilt or 'duty.'

You can create a healthy balance of keeping things FOR others and keeping things for YOU.
If you have a family, this should be a process that includes others to a certain extent. But it's also okay to take charge and clean up your space so everyone can enjoy it to the fullest.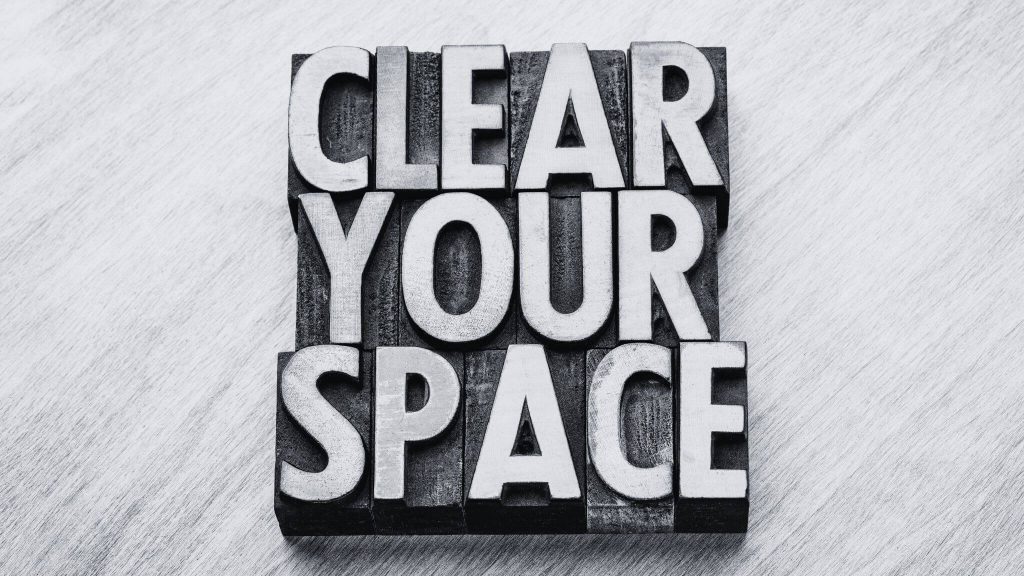 Declutter Your Life
The physical things we keep around us also exist in our minds.
If your mind feels crowded in some way, consider taking your apartment under the loop and single out items, whether it be decor, clothing, or other things that bring up a negative feeling.
Marie Kondo-ing your apartment has an impact on your life far beyond getting rid of clutter. Often emotions stay stuck when we hold on to things we should really let go of.
Letting go of stuff and letting go of emotions often seem to happen simultaneously. And that's exactly why I swear by regularly taking my entire apartment under the loop.
Especially in small apartments, it's crucial to revise what you own constantly.
If you live in a larger home, you might get away with storing things away in the basement or another place you can't see it. But that doesn't mean it's still there!! Haha.
In a way, that's the perfect metaphor for how we deal with some of our emotions.
Manifest more with tidying up
All my beautiful life changes or manifestations, if you will, were preceded by me obsessively clearing out my closet.
I've repeated this process many times, and I still strongly believe in its power!!
When you take charge of everything you have in your apartment, you free up space.
Getting rid of clutter and organizing automatically aligns you with the concept of being intentional about what things you let in your space.
It makes you more aware of what you want, what you don't, and in which area's of your life you need to let go.
Becoming intentional about your life and your personal space clears the path for manifesting healthy, beautiful things.
Getting rid of physical stuff literally makes space for the life you want!
This post was about How To Marie Kondo Your Apartment (And Declutter your life!)
You may also like: