Hey there! Some links on this page are affiliate links which means that, if you choose to make a purchase, I may earn a small commission at no extra cost to you. I greatly appreciate your support!
This post shows you the best bathroom closet organization ideas!
After years of living in the same house, it can be easy to let your bathroom get a little out of control.
There's toothpaste and body wash scattered about, several months' worth of towels still hanging around, and then there are those mysterious little bottles with their labels worn off by time or humidity.
If you're anything like me, you know that having a well-organized bathroom closet is one of the best things in your life—it just makes everything easier.
With these 9 simple bathroom closet organization ideas, you can organize your bathroom closet, declutter it, and ensure everything has its place while also making it look gorgeous.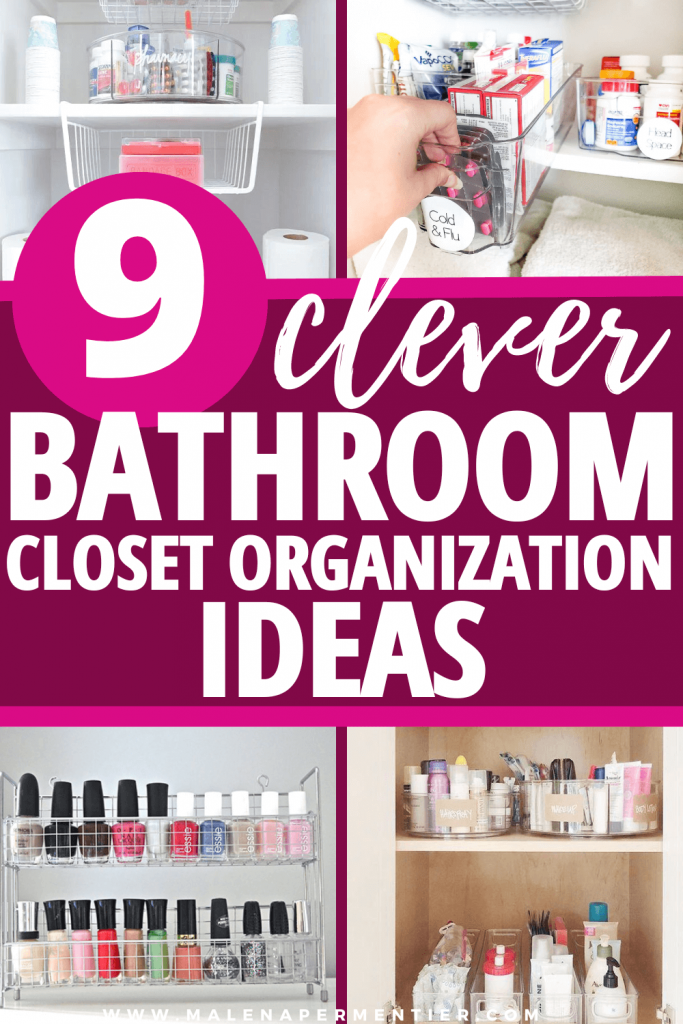 Best Bathroom Closet Organization Ideas
Once you've assessed the situation and decided which items to put in your bathroom closet, it's time to get started!
Here are some simple ideas for organizing your closet:
Before you organize your bathroom closet, take everything out and give it a deep clean
Label everything!
Bring in baskets
Don't overcrowd your closet
Use clear jars for cotton swabs.
Don't mix cleaning products and medicines
Add A Couple Of Lazy Susans
Stackable Bins with Handles
Put all of your towels in a section of the closet
Let's take a closer look at these ideas so that you can start your own bathroom closet organization project.
Tips for organizing your bathroom closet
Before you organize your bathroom closet, take everything out and give it a deep clean
Before you organize your bathroom closet, it's essential to take everything out of it and give it a thorough deep clean.
This will remove any mold or dirt hiding between items, making them easier to organize when you put them back.
You might be surprised at what you find!
Doing this will also allow you to assess what you have and decide which things need to be replaced or donated.
Next, sort through your items and decide where they'll go in the closet.
If there are items that don't belong in this space, consider storing them elsewhere so that your bathroom closet is only used for its intended purpose.
Label everything!
One of the best ways to get started is by organizing your bathroom closet into categories and putting each category in labeled, clear containers.
This way, you'll know exactly where everything is and can easily access it when needed.
You can even get creative with how you label them–I like using stickers or labels that match my color scheme, so it looks nice when I open my closet door!
Bring In Some Wicker Baskets
Wicker baskets are a great way to add color and a rustic feel to your bathroom.
These baskets can hold towels, washcloths, and other small items that need to be organized.
They're also perfect for storing toiletries or other accessories that you use often.
You can get wicker baskets in various styles and sizes, so you'll be able to find one that works best for your needs.
Whatever you choose, make sure it's sturdy enough for heavy use in an active bathroom environment.
Don't Overcrowd Your Closet
When you have a lot of space, getting carried away with the idea of filling it up with unnecessary things is easy.
But this is not the best use of your bathroom closet!
Instead, keep it simple, use the space to store the things you need.
Also, make sure there is space between each item.
This will make it easier to find what you need when you need it and also make your bathroom look more organized.
Use clear jars for cotton pads and cotton swabs.

Cotton swabs are easy to lose track of, which can be frustrating when you need them immediately.
That's why it's helpful to store them in jars with clear lids —you can easily see the contents and know exactly how many you have.
You can use jars of any size or shape, but I especially like these glass jars because they look nice and come with chalk and labels for easy labeling.
You can also use this method to store cotton pads, balls, and other similar items.
Don't Mix Cleaning Products And Medicines

If you're like me, you probably have a lot of cosmetics and medicines in your bathroom closet.
It's easy to get them mixed up–especially if you have a lot of different kinds of products!
One way to avoid this is to store your cosmetics and medicines separately on different shelves.
After you've separated them, you can use rolling storage bins to store your cosmetics on one shelf and your medicines on another.
Make sure you label your bins so it will be easy to find what you need later.
Add A Couple Of Lazy Susans

If you're looking for a way to avoid the mess that comes with clutter, lazy susans are a great way to keep everything neat!
Lazy Susans come in many shapes and sizes and can be spun around for various purposes, from storage to organization to display.
Once you've got a couple of lazy susans in your bathroom closet, you'll have less trouble keeping track of things like toothbrushes, toothpaste, and other small items.
You can also use the lazy susan to store makeup, so you don't have to look for it whenever you want to apply lipstick or mascara!
It's also easy to move around if you want to reorganize your bathroom once in a while.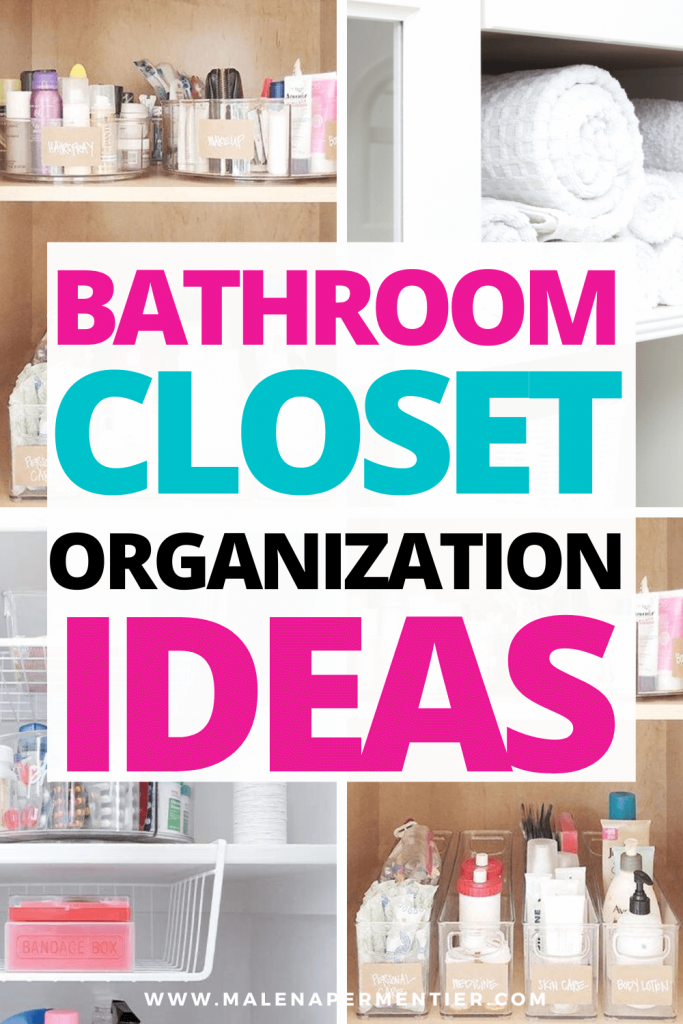 Use Spice Racks To Hold Bottles Of Nail Polish
When you're short on space, a bathroom closet can be a great place to store your beauty products.
But what if you have a lot of different bottles of nail polish? How do you organize them?
The answer is using spice racks!
You might be surprised that spice racks are one of the best solutions.
They are lightweight, inexpensive, and take up very little space, making it easy to find the bottle you're looking for when it's time to repaint your nails!

Keep Towels Rolled Up And Put All Of Them In A Section Of The Closet
Nothing is worse than going into a bathroom and finding all your towels unfolded and hanging over the counter.
Imagine if all your towels were rolled and neatly organized in a section of the closet!
Finding what you need would be much easier, finding clean dry towels is fantastic after an infrared sauna or shower.
You could have an entire section of your closet dedicated to towels and then keep everything else in another section.
Final Thoughts
As you can see, transforming your bathroom closet into a clutter-free zone doesn't have to be difficult.
In fact, it's as simple as employing the right storage and organization techniques and implementing some of the bathroom closet organization ideas I've shared above.
As always, I hope that you have found this article helpful and that these ideas will inspire you to tackle this home project head-on!
---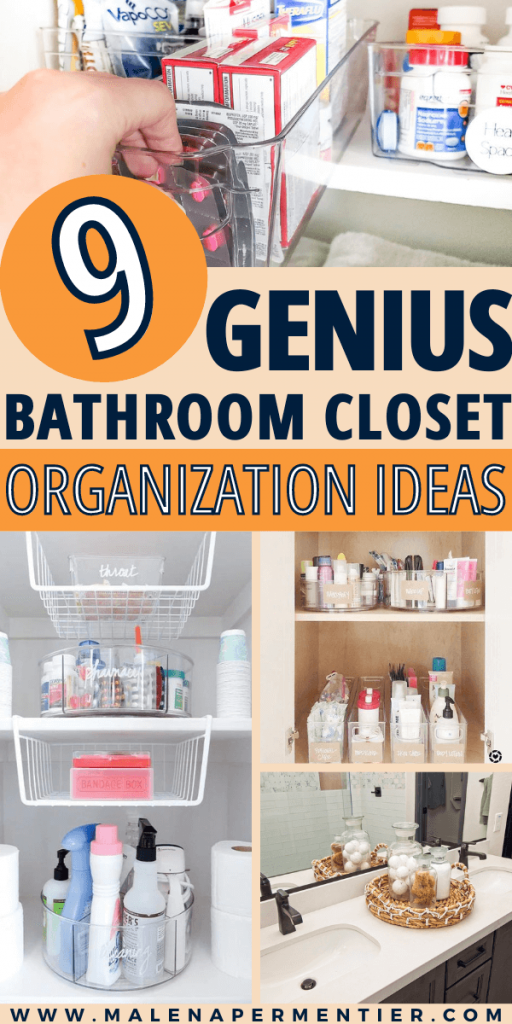 This post showed you the best bathroom closet organization ideas.
You may also like:
Author Bio
Millie Pham is a home and lifestyle blogger at milliepham.com – where she explores all things around cleaning, organizing, decorating, cooking, and more. She's been featured on Yahoo, eHow, Edible Arrangements, Lifewire and GOBankingRates. You can reach her at millie@milliepham.com.