Small Bathroom Cabinet Organization Ideas (How I Created Extra Storage In Mine)
The struggle of tiny bathroom cabinets is real. My apartment bathroom has practically no storage space. I only have a wall-mounted cabinet under the bathroom sink; that's it.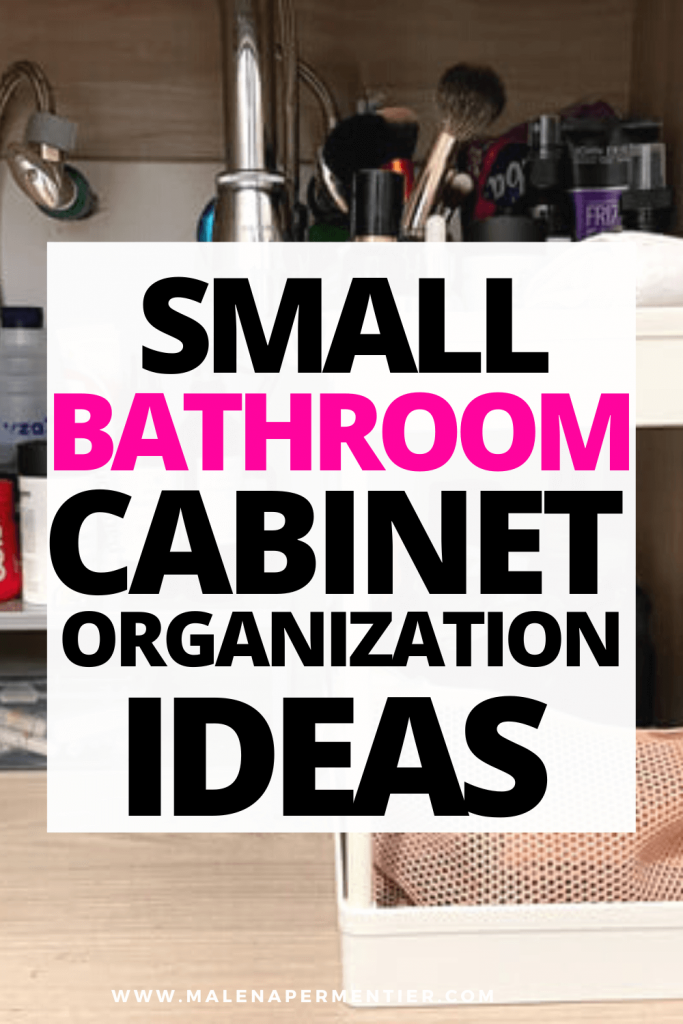 I share the bathroom with my boyfriend, which means our cabinet needs to hold both of our stuff. So basically, this post is about maximizing the space in your bathroom cabinet.
I went to Pinterest for inspo on how to organize my bathroom but only found ideas that are not realistic if you live in a rental with a tiny bathroom.
Under-sink cabinets are often used for cleaning products only, but in small city apartments, it's usually all the storage space you have.
OK. So let's look at some bathroom ideas for under the sink that worked for my tiny space.
Related: 28 Small Apartment Bathroom Ideas To Revamp Your Bathroom On A Budget
Bathroom cabinet organizers I used
1. Cabinet shelf rack. The cabinet shelf racks are popular for kitchen cabinets but worked great for my tiny bathroom cabinet. They come in a pack of 2. I solely used the small one for my bathroom.
The larger one is perfect for my closet shelves, where I keep accessories like sunglasses and jewelry.
2. Under-sink organizer. This organizer is perfect for optimizing your vertical space. Use the top part for products that you use daily.
Under sink bathroom cabinet: before
This is a before picture of my bathroom cabinet. It's an "organized" before picture because the actual state of this cabinet is embarrassing. When I ruined my favorite eyeshadow palette because of the poor organization in this cabinet, I was like, OK, we're done.
How to organize the bathroom cabinet under the sink
modest "after" of my bathroom cabinet organization project
Maximizing your vertical space is essential if you have little space and a lot of make-up and skincare—place products you use daily at the top for easy grabbing. I use toiletry bags to store make-up that I don't use daily. I have another cosmetic bag with favorite products I use often. That way, I can easily grab what I need and keep my stuff organized simultaneously.
If you have a slightly bigger bathroom cabinet than I do, you can use one of these under sink organizers on each side of your cabinet.
Bathroom storage ideas under sink
A cabinet shelf rack like this is inexpensive and creates extra storage space in your cabinet. You mostly see these shelf racks in kitchen cabinets, but they're also great for bathrooms.
Make sure to pick a sturdy shelf organizer. You'll find many shelf racks made from wire, which I don't find ideal.
Place your bathroom shelf organizer in the back corner of your cabinet—large products in the back, smaller ones in the front. Keep your most frequently used items at the front, if you can.
Organize bathroom cabinet under sink (with lots of products)
I'm not claiming this is the most organized bathroom cabinet ever! But it's realistic when you live in a tiny apartment with limited storage.
Also, side note, how come bathroom organizers are so expensive? $30 for two stackable plastic bins seems outrageous.
Use your old product bins, as I did with the small plastic organizer under the shelf rack. I bought it at Miniso (it had cotton pads in it).
Solutions for narrow bathroom cabinets
As you can see, my bathroom cabinet is super narrow. The pipes are right in the middle and take up a lot of space. Pick the bathroom organizers that are best for your cabinet layout.
Under-sink cabinets usually have pipes in the middle, so consider that when checking out different organizers.
Other good bathroom cabinet organizers
Tension cabinet shelf. This tension shelf is another good option for the cabinet under the sink. Although I think it's better equipped for the kitchen sink than the bathroom. Most of us have many small products in our bathroom cabinets; that's why this organizer is my preferred one.
Expandable shelf rack. Is your bathroom cabinet larger than mine? Then you can place this expandable shelf rack in the back. It's tall and narrow, which creates plenty of extra storage space for things like hair products.
Pull out cabinet organizer. A pull-out cabinet drawer can be great if you have a lot of make-up and skincare. Always pay close attention to your cabinet's measurements to pick the right organizers.
Keep some free space in your bathroom cabinet
When choosing your organizers, keep some free space in your cabinet. This is handy for toiletry bags or other items you might not have time to tidy up in the morning.
One of the main points of organizing your bathroom cabinet is for MORE overview. So you don't want to stuff the space.
Before this little organization project, opening the bathroom cabinet was so upsetting lol. Now it's a ton better.
This is an easy hack for organizing a small bathroom cabinet, but it works for me. Get several cosmetic bags you can easily take out while doing your make-up. Raise your hand if you put your make-up bag in the sink when getting ready!!
I love these acrylic make-up organizers, but I don't have the space for them.
Final tips for organizing your space under the sink
Measure your cabinet, depth, width, and height. So you can plan what organizers are the best for your space. I didn't measure my cabinet; although it worked out, it could also have gone wrong.
Check if you have any plastic organizer bins you can use for storage inside your cabinet. Don't have it? This clear organizer bin is excellent. You might find cheaper options in your local dollar store.
Put your daily make-up and skincare essentials in a cosmetics bag. It keeps your cabinet organized, and you can quickly grab what you need.
If you're using cabinet organizers like I do, organize your products based on importance and frequency. Items you don't use daily go in the back. Daily necessities go in front. You want them to be easy to grab (so you don't break eyeshadow palettes as I did).
This post showed you the best small bathroom cabinet organization ideas.
You may also like: