Are you looking for bathroom shelf decor ideas?
This post shows you 18 stunning and practical examples.
Bathroom shelves are great for storage and decor.
Use it for aesthetic cleaning products, toilet paper, and other bathroom necessities.
Besides that, wall-mounted bathroom shelves are a great spot for plants, vines, or other small decors.
The space over the toilet is usually the best spot to install wall shelving in your bathroom.
It's practical if you use shelves for storage.
In small bathrooms, it's usually the only free wall space you have.
Below, we'll look at different bathroom shelf options!
From simple designs to circular shelves and wall shelves with an industrial aesthetic.
There are also modern farmhouse styles that elevate the space.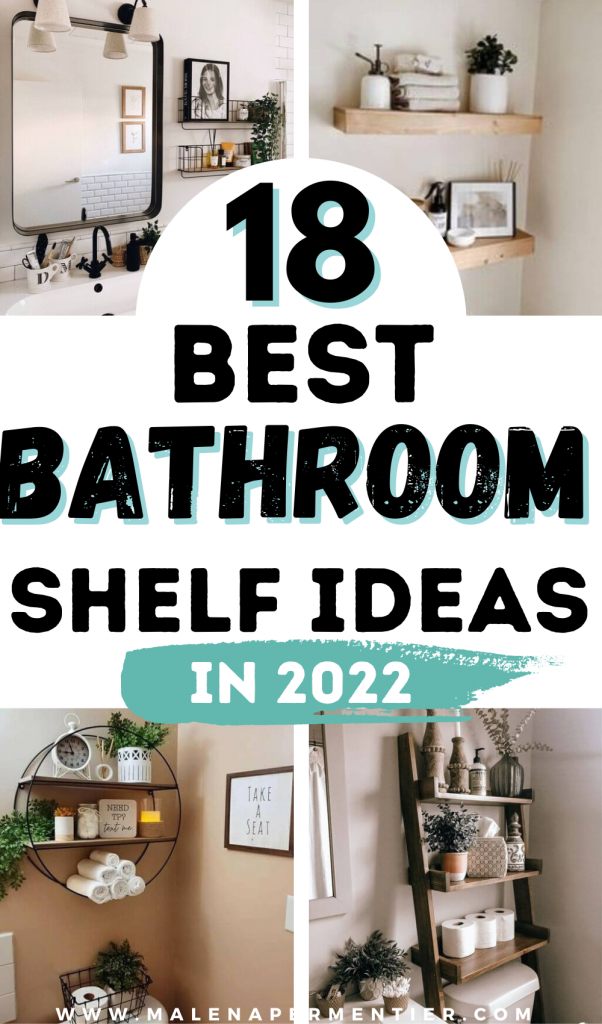 Bathroom shelf decor ideas
1. Bathroom shelving with iron pipes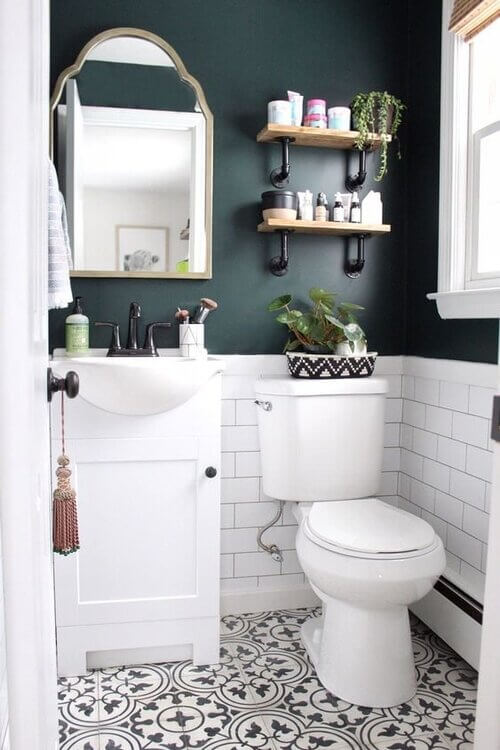 Floating wall shelves with iron pipes look way cooler than you'd expect!
You can get these on Amazon and go for a design with the pipes attached to the shelves or separated.
This modern apartment bathroom has lots of cool details like the peel and stick tiles and a curved mirror.
Use your bathroom shelves for skincare products and other essentials.
2. Modern bathroom shelf decor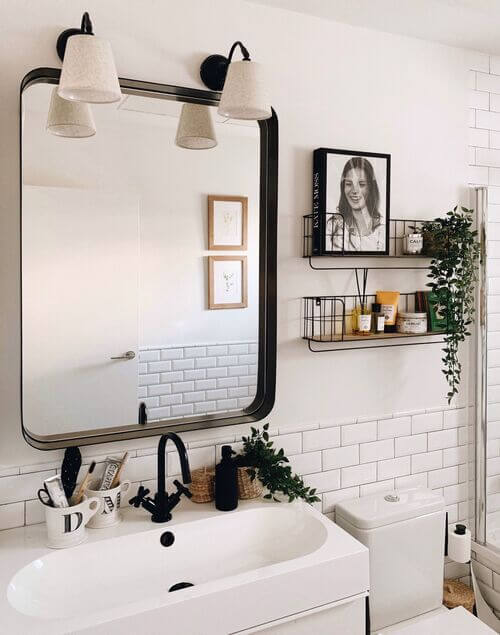 A great way to update your bathroom is to replace the mirror.
If you're decorating your bathroom, that's one of the easiest ways to change the space.
Pick floating wall shelves for the bathroom with a unique touch, like these with the wire detail.
3. Bamboo storage tower with bathroom linen and plants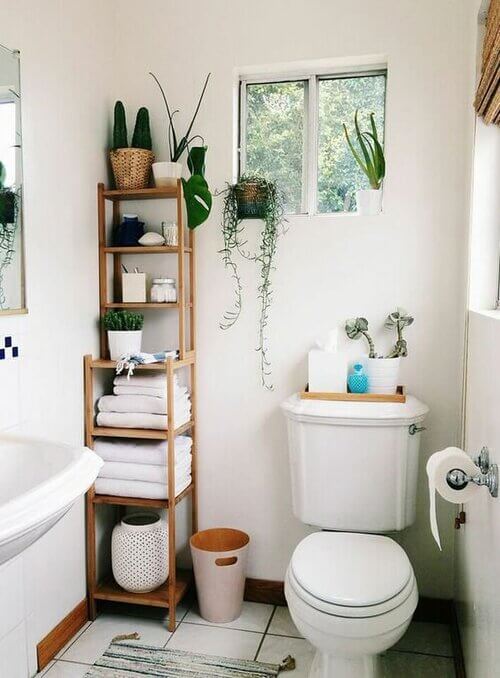 In apartment bathrooms, shelving with lots of storage space is key.
This bamboo shelf tower is a favorite for many small bathrooms, and it's easy to see why.
Use the lower shelves for storing things like cleaning products and towels.
The top shelves are great for canisters with cotton pads and other necessities.
4. Over the toilet shelf ladder with neutral decor and bathroom essentials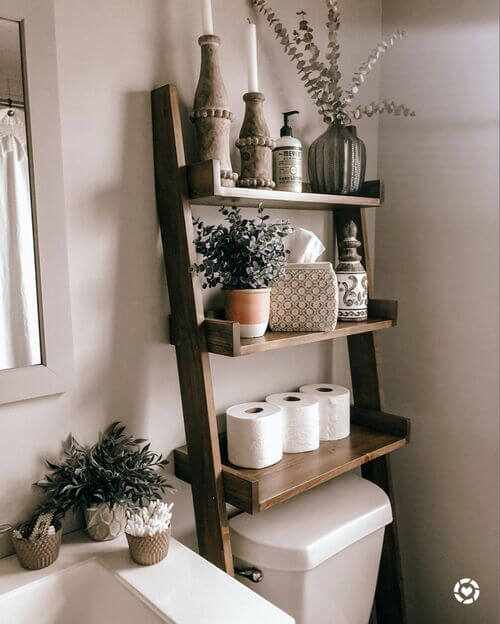 A storage ladder over the toilet is an excellent solution if you live in a rental and don't want to mount shelves on the wall.
Ladders might not be the sturdiest, but you can also get a shelving stand (if you're planning to use it for heavy storage).
5. Circular wall shelf decor for a modern farmhouse aesthetic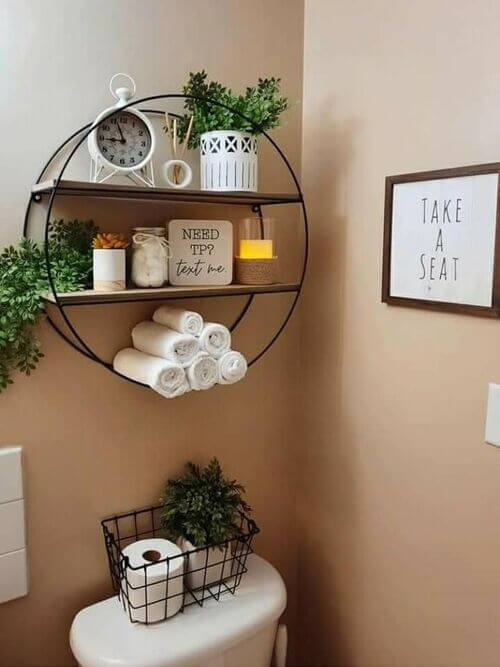 Brightening up your bathroom with a cool shelving situation is easy and inexpensive.
This circular wall shelf has enough space to store small things like canisters or hand towels.
I also love the farmhouse metal basket trend you see everywhere these days!
6. Simple floating shelves over the toilet with minimalist decor items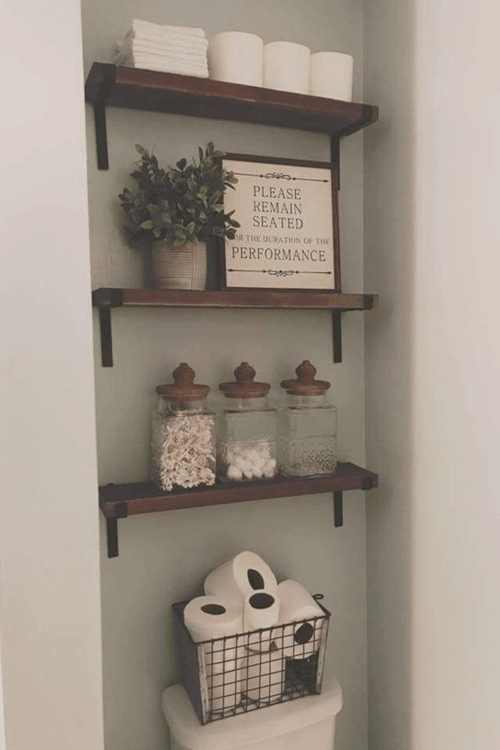 Bathroom shelf decor can be as simple as hanging three floating shelves above one another and placing a few plants on them.
Some funky bathroom art goes a long way too.
Again, a metal wire basket is a great decorative item in your bathroom!
This one is also functional for storing toilet rolls.
7. Minimalist wood shelves and vines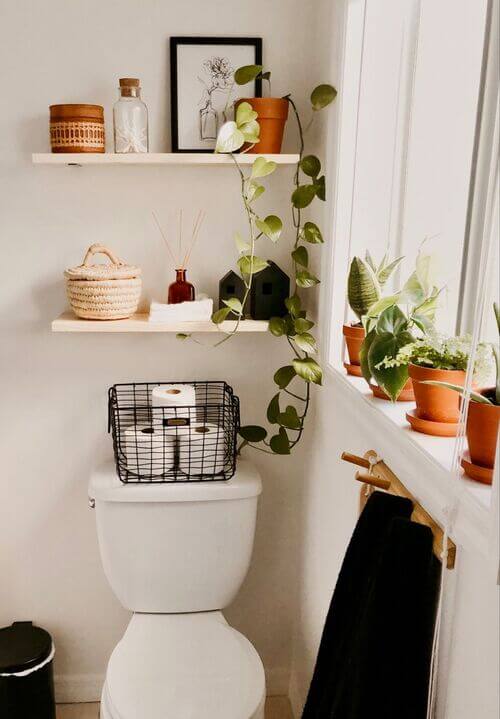 One of my favorite ways to decorate the bathroom is with vines.
A telephone plant is a great bathroom option because they thrive in humidity and don't need sunlight.
Pay attention to the type of wood and color of the shelves!
It changes the mood of your entire bathroom.
In smaller and darker spaces, always opt for a lighter color.
It will make the space feel bigger than wood in an ash color or darker tone.
8. Bathroom shelves with custom brackets and seagrass basket decor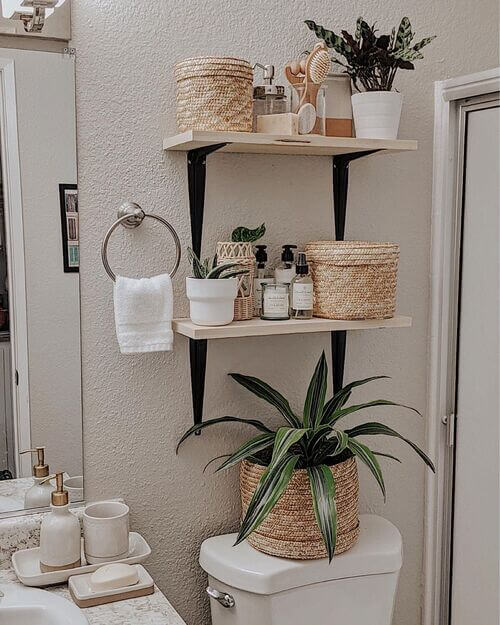 One way to customize your bathroom shelving situation is with brackets.
Choose the type of wood you like and pick your brackets.
Small seagrass baskets are excellent for bathroom shelf decor and storing things like cotton swabs and feminine products.
9. Thick wood bathroom shelves for a farmhouse ambiance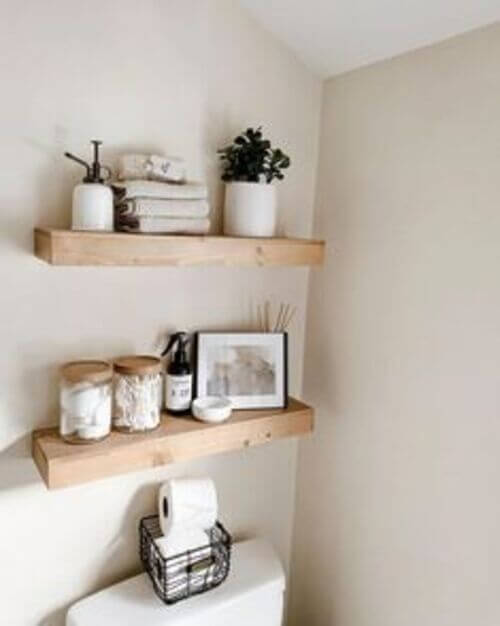 Get thick wall shelves for a super cool look! You can get these on amazon (not real wood), but the wide style gives the space a unique look.
They're also not heavy at all.
If you want to make your bathroom look cute, find a way to make practical products look nice!
Getting things like pretty canisters and a vanity tray helps make your bathroom look put together.
10. Cute bathroom decor with gold wall sconces and art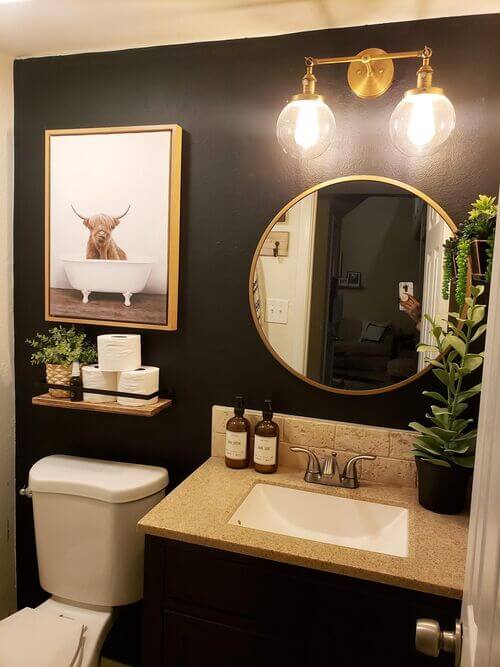 I love how this apartment bathroom takes things to the next level regarding wall decor.
Hang one small floating shelf over your toilet with the artwork above.
Changing your bathroom lights and installing cool scones like this is an inexpensive way to upgrade your bathroom.
These wood shelves with metal bar are perfect if you're looking for minimal shelving.
11. Modern bathroom shelf over the toilet with faux greenery decor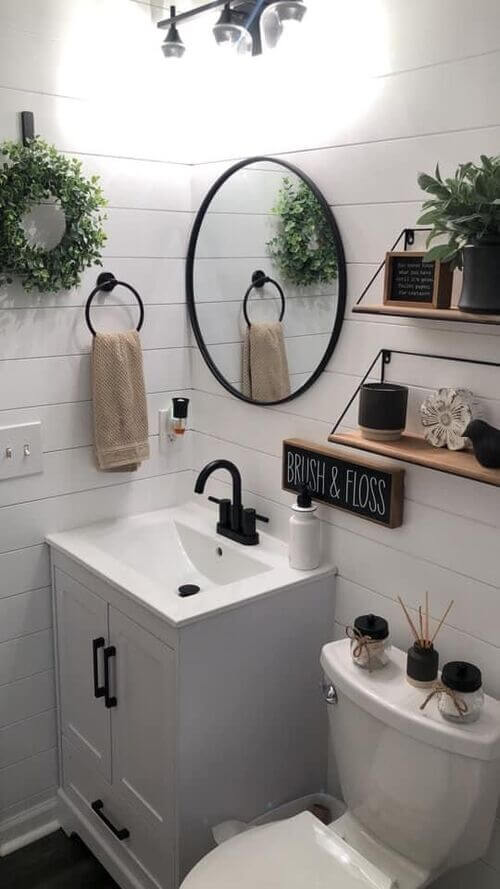 Bathroom tiles often look sterile, and green is an excellent color to create a beautiful balance.
Consider a green wreath for a fresh vibe.
Also, I love this bathroom chalkboard idea to write cute messages on.
12. Decorative farmhouse bathroom wall shelves with eucalyptus greenery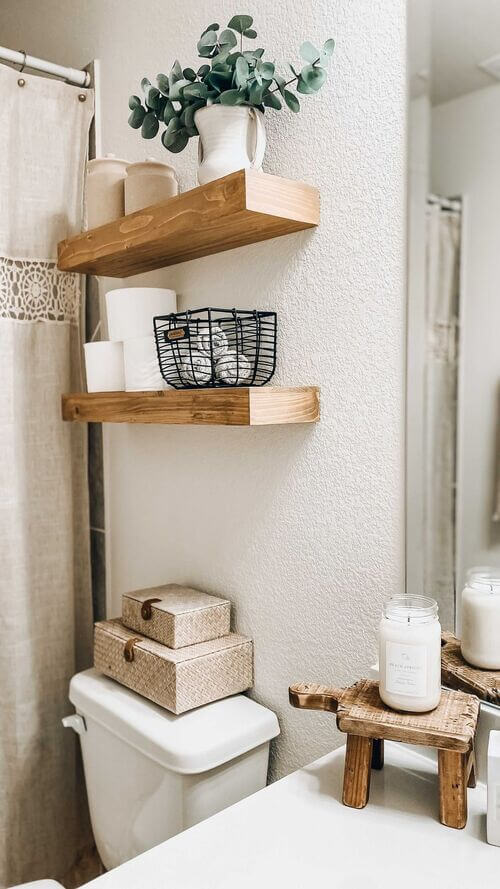 This is farmhouse bathroom shelf decor at its finest! Stack baskets on one another for a cute look and storage space.
A wood tray stand is ideal for keeping your hand soap and moisturizer.
One of my all-time favorite bathroom shelf decor ideas is decorating with faux eucalyptus.
Place the eucalyptus stems in a ceramic pitcher for a pretty but understated look.
13. Boho bathroom wall shelves with minimalist art and plants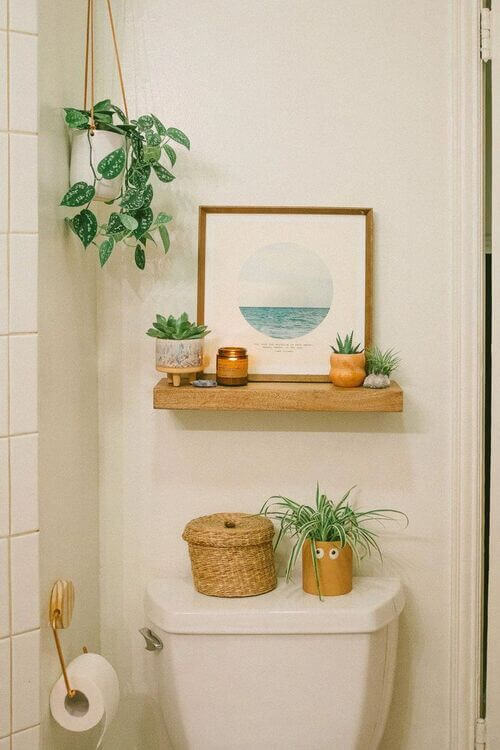 Light wood shelves look amazing with plants, succulents, and other greenery.
Add a cute sign, art, a candle, and seagrass baskets for a put-together bohemian bathroom.
14. Simple shelving with practical storage baskets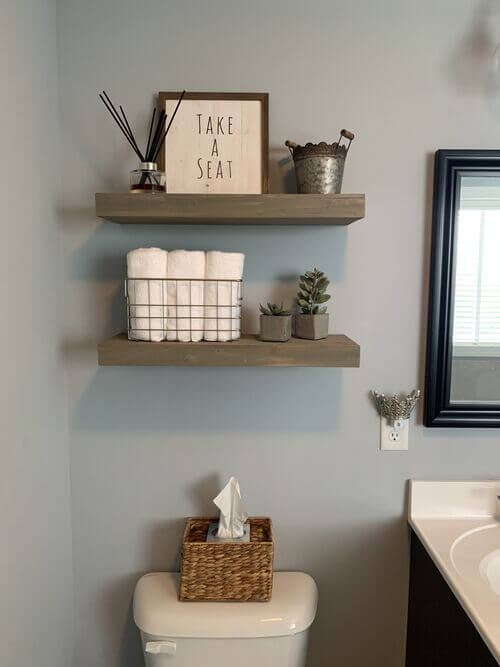 These shelves in a unique ashy gray tone look good in almost any bathroom.
Keep the decor simple with baskets to store toilet rolls and other minimalist decorative items.
Things like scent sticks look cute and also serve a purpose!
15. Industrial bathroom storage decor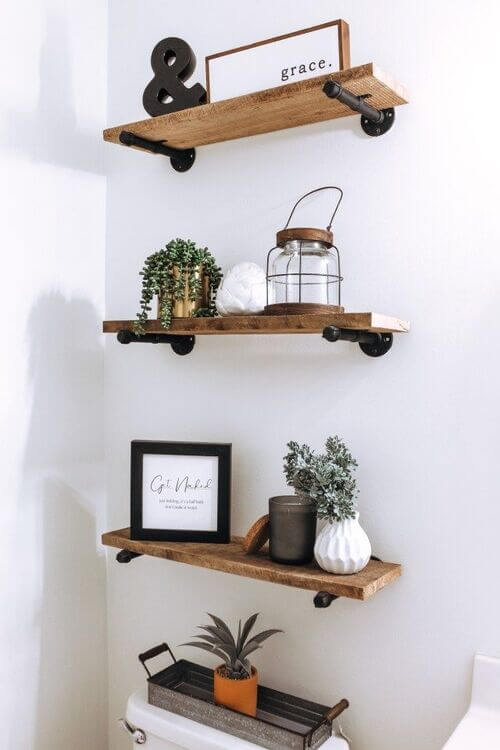 We saw shelves with iron pipes at the beginning of this post, and it looks good!
A few favorite decor items for bathroom shelves are glass canisters, tiny ceramic vases for flowers, and small plants.
16. Minimalist white floating bathroom shelf decor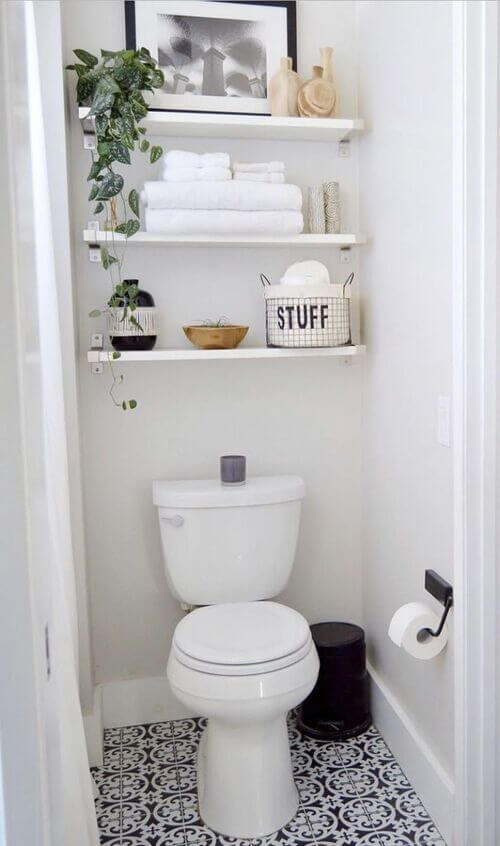 You need to go for white shelves for a super clean and stylish bathroom aesthetic.
It's been super trendy to upgrade your bathroom tiles with peel-and-stick tiles.
It's a super easy and inexpensive way to make your bathroom look custom.
Get faux vines (or real ones, of course) to give a fresh touch to your bathroom.
17. Rustic wall-mounted bathroom shelves with brown accessories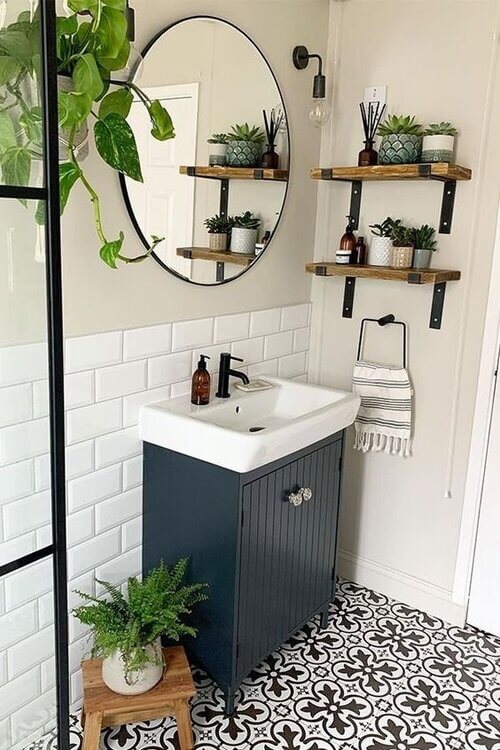 Make your bathroom look put together by getting cohesive dispensers.
Only keep products in sight that match your aesthetic!
It's an easy way to make your bathroom look better.
Maximize the space under the bathroom sink with all your other bathroom necessities and products that aren't as aesthetically pleasing 🙂
18. Small bathroom shelf decor with baskets and cotton stems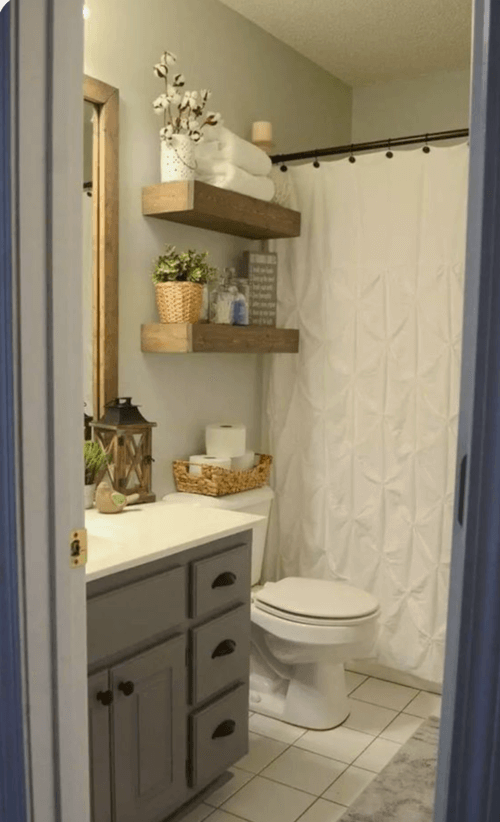 A vase with greenery or cotton stems is the type of bathroom decor that always works.
Even if you have limited space on your shelves, make items like toilet rolls or cotton pads look cuter by storing them in baskets and stylish glass canisters.
This post showed you the best bathroom shelf decor ideas.
You may also like: