This post shows you the best bathroom decor ideas.
If you're looking for inspiration on decorating your bathroom, this post is for you.
Whether you've just moved into a new apartment or want to redecorate, these ideas are low-budget and easy to recreate.
One simple way to revamp a bathroom is with paint. If your bathroom has little natural light, it's best to stick to light colors.
However, painting a wall dark in your bathroom can look amazing if you do have natural light. Pictures #3 and #6, for example, prove that!
Other than that, a cohesive color scheme for your bathroom decor can pull everything together.
Use no more than 2-3 colors or materials. For example, metal, wood, and green. Keep this in mind for things like wall sconces, floating shelves, and frames for art.
Even the colors and style of the small things like a toilet roll holder and soap dispenser matter in the grand scheme of your bathroom decor!
So let's get inspired by these beautiful bathroom decor ideas.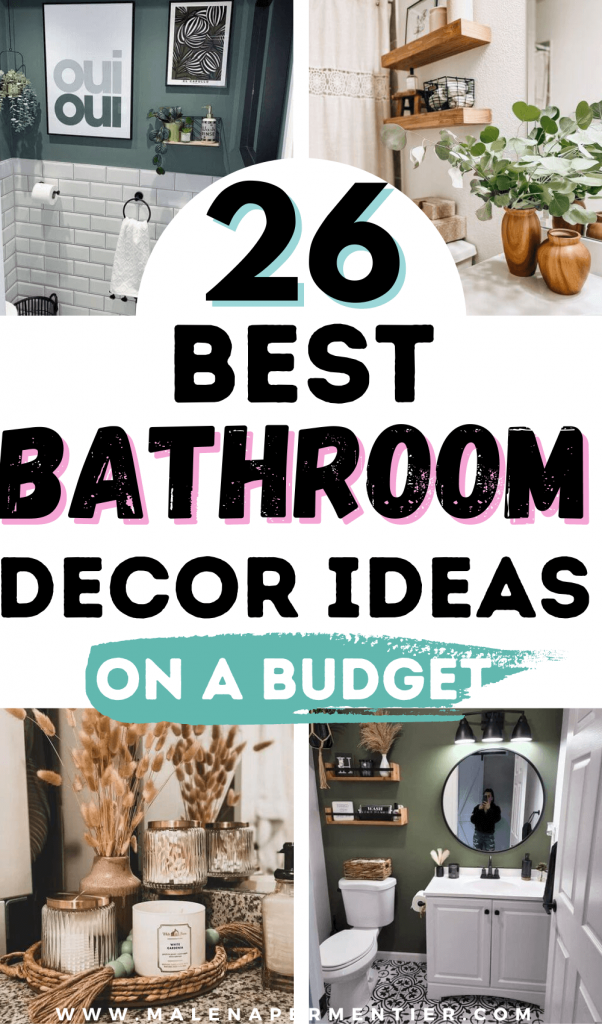 Bathroom decor ideas
1. Rustic bathroom decor with metal and wood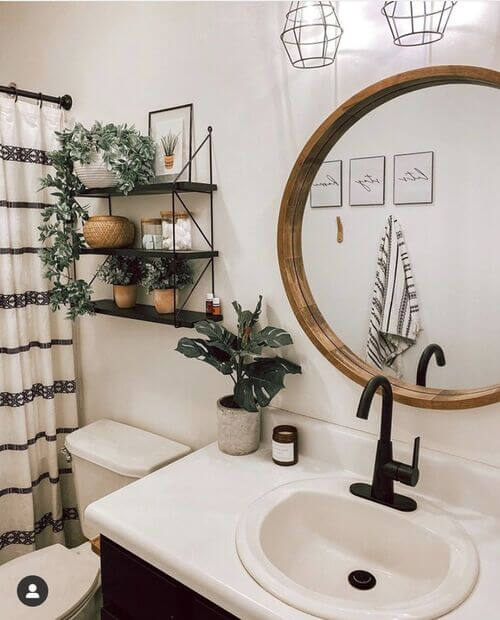 Wood and metal go so beautifully together. They're opposites, but it creates a beautiful balance.
This bathroom has a rustic farmhouse feel without being too screamy about it.
Recreate this bathroom theme using a black faucet, black floating shelves, and add warm and wooden elements throughout the bathroom.
2. Simple & stylish bathroom counter decor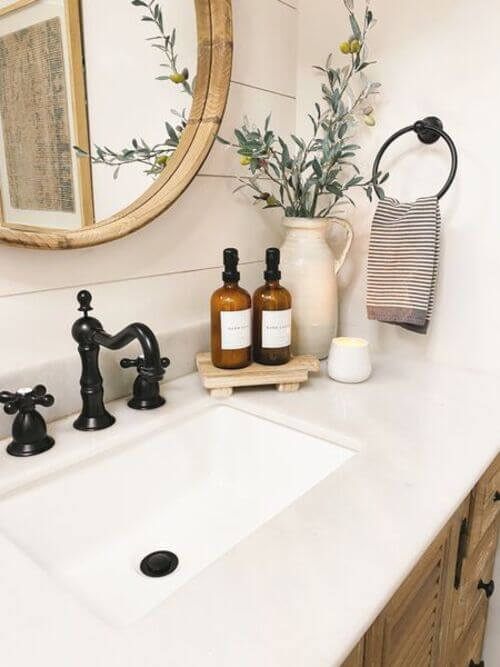 If you have limited space on your bathroom counter, be very intentional about what you place there.
Recreate this simple and elegant bathroom decor with a wood riser, carefully picked-out dispensers, and a ceramic pitcher with olive branches.
The gray-striped Turkish towel is a nice finishing touch for this bathroom!
3. Bathroom with dark walls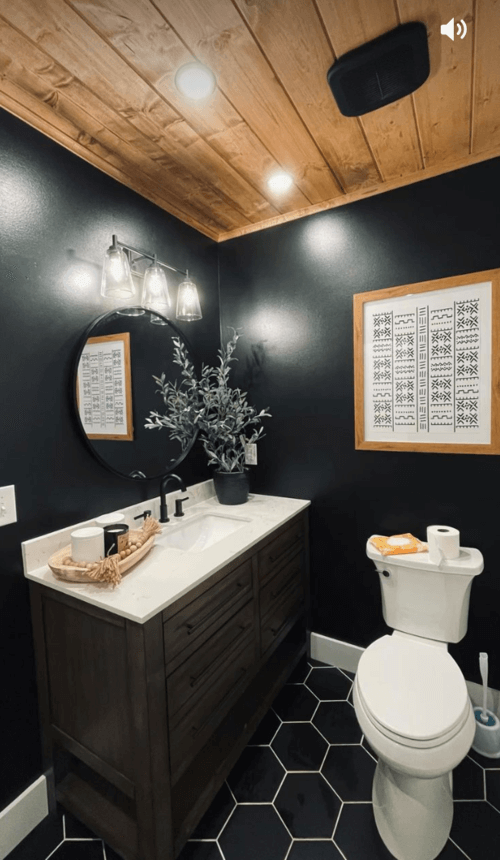 Painting your bathroom walls in a dark color can bring out the other elements in the space.
In this bathroom, the dark walls balance beautifully with the tiling and wood ceiling.
Dark paint can transform a bathroom into an elevated and luxurious space without breaking the bank!
Everything in this bathroom is carefully chosen! For example, the frame with art matches the ceiling wood perfectly.
I also love the wooden bowl and olive tree on the bathroom counter.
4. Elegant bathroom tray decor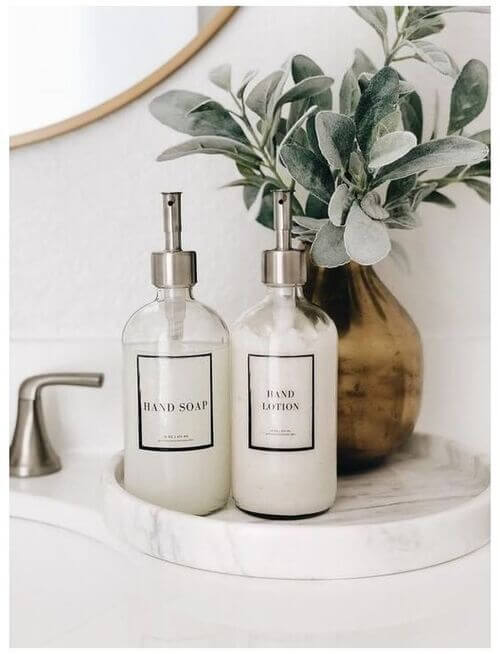 Placing your soap and lotion dispensers on a chic tray is an easy trick to instantly make your bathroom look better.
This tray decor is simple and elegant.
Also, very glad to finally have found the name of these beautiful (faux) greenery stems. They are called lambs ear and look super chic.
5. Woven tray decor with bunny tails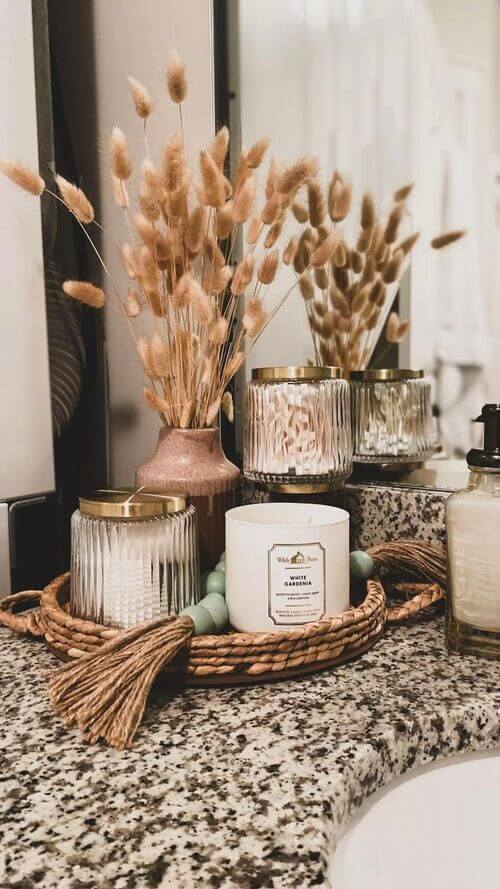 Some well-placed greenery or grass can elevate bathroom decor instantly.
Again, this is a super inexpensive way to decorate your bathroom, but it hits the spot.
This woven tray and bunny tail grass are great for the granite counter. It effortlessly adds warmth.
Bathroom trays can be both pretty and useful. For example, this tray also holds organizers for Q-tips and cotton pads.
6. Accent wall in the bathroom and cool tiles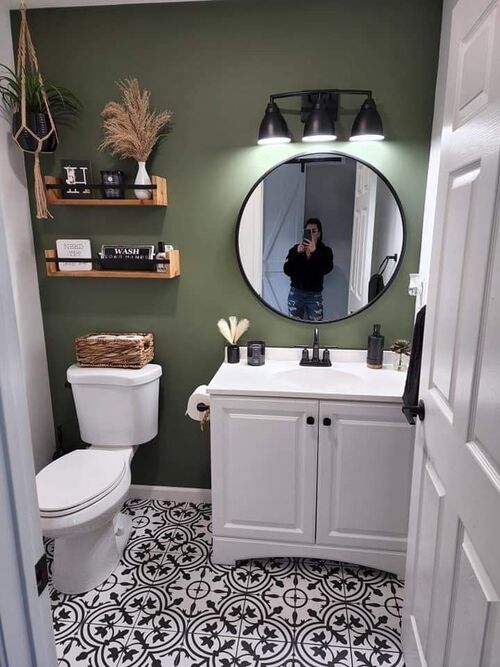 This a beautiful example of how you can decorate a bathroom on a budget. The color green stands out and makes the white cabinets pop.
You can recreate the tiles' look with peel and stick tiles. This is an easy way to upgrade your bathroom if you don't like your tiles.
Natural elements, like wood and woven baskets, make a bathroom look cozy. This is great to remember if you're moving into a new apartment with all-white bathrooms.
7. Chic farmhouse bathroom decor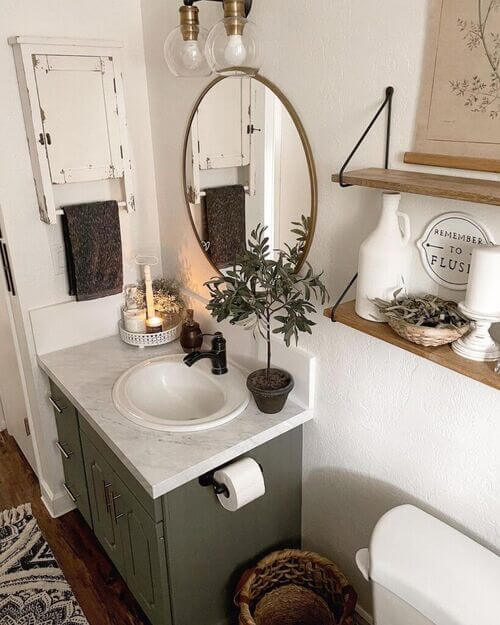 This shelf with the thin metal brackets looks so dainty! When it comes to shelves with hardware, you can go super subtle or hardcore with metal pipes.
I love the balance of industrial with warm wooden accents in this bathroom. It's very playfully done, and I'm obsessed.
(Faux) olive trees are trendy right now and look great on a bathroom counter.
8. Subtle bohemian bathroom decor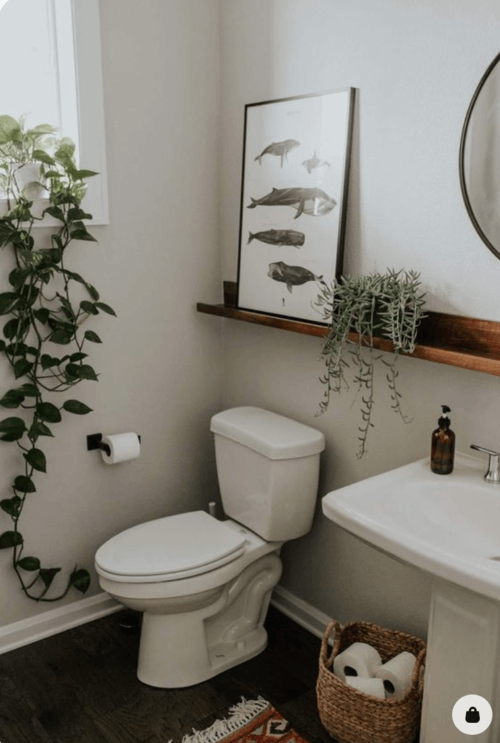 Greenery in bathrooms looks fresh and beautiful. If you can, use some real plants! If not, some faux greenery can also look great.
I like how this bathroom has a super long shelf. It doesn't only look great, but it's also a clever solution if you don't have counter space.
The woven basket on the floor is a simple but clever way to store toilet paper rolls.
9. Shelf with cute bathroom accessories and decor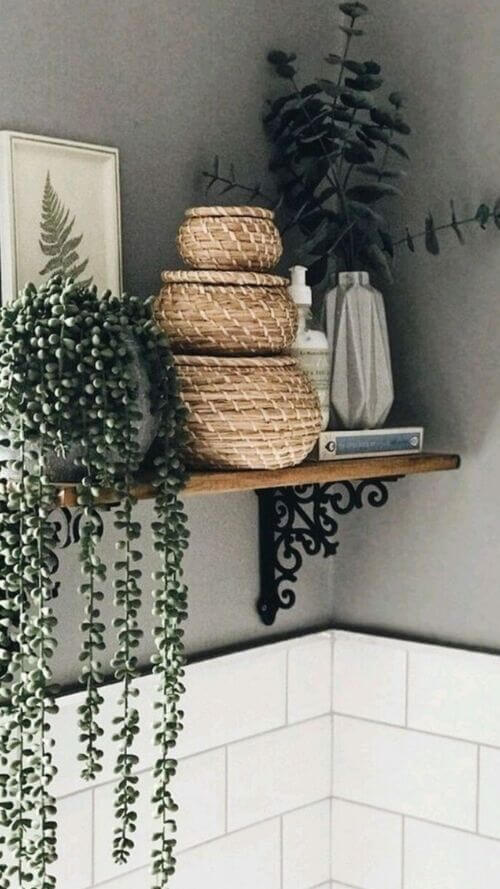 I love the styling of this shelf! Shelves in bathrooms are an excellent spot to combine decor and a little storage.
Faux vines or artificial succulents can look amazing. The small seagrass boxes are ideal for storing items like Q-tips or cotton pads.
Place a pretty vase with eucalyptus stems in the corner of the shelf.
10. Warm wood storage shelf ladder with decor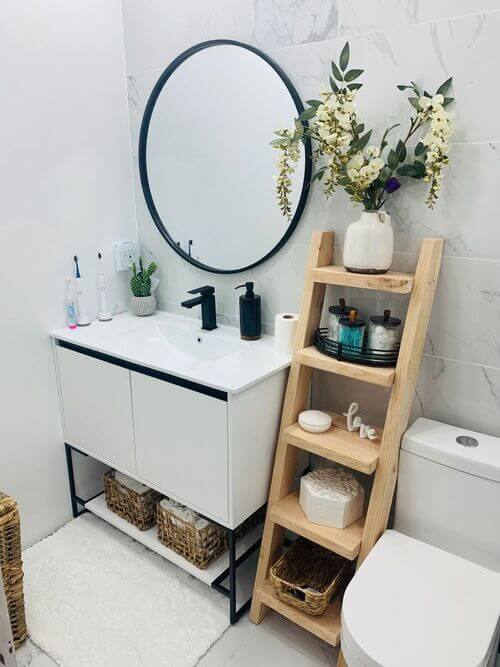 This type of light wood warms up the bathroom decor.
Items like this are perfect for some storage space. The top shelf can be used for a little decor.
Things like pretty canisters for Q-tips and cotton pads are inexpensive but make your bathroom instantly look cuter.
11. Paint bathroom walls green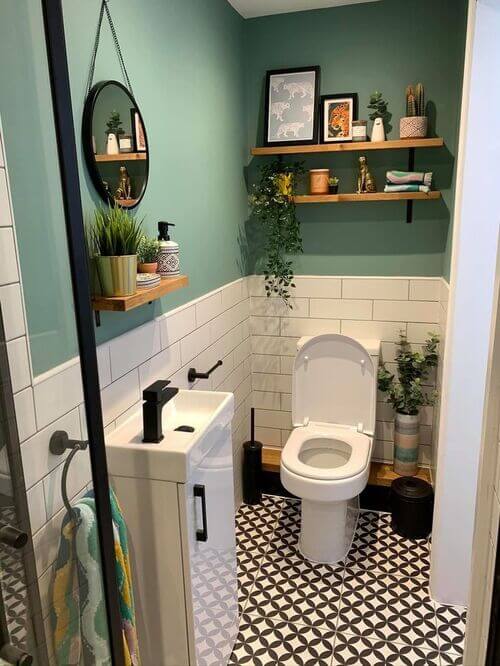 This is a beautiful green color paint! It makes the bathroom look super cozy and stylish.
Green pairs well with rustic wood shelves and bohemian accents.
A great tip for redecorating your bathroom is to consider the mirror. In many apartments, the standard mirror is often a little boring.
Changing your mirror for something that matches the rest of the bathroom decor is an inexpensive way to make your bathroom look put together and elevated.
12. Small metal storage basket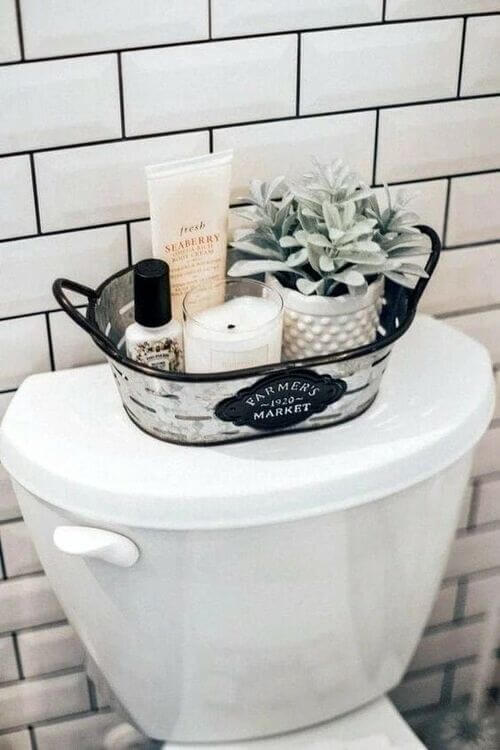 If the flush button of your toilet is on the side, you can use the top of the toilet tank for a little storage/decor with a metal basket.
The rustic basket looks great in bathrooms with black metal and hardware accents.
The basket is tiny, but I love how it combines decor (the cute plant) and functionality by storing a few products.
13. Neutral bathroom decor with wood accents and greenery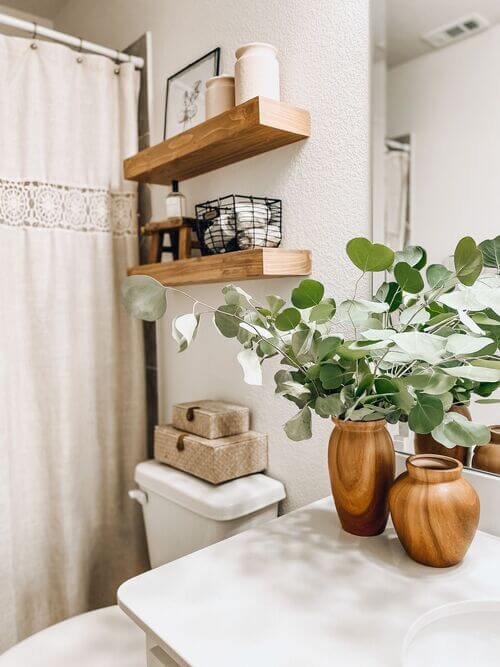 I've never seen these type of wooden vases before, and I love how it looks with the contrasting white walls and counter.
Hanging two thick floating shelves over the toilet to maximize storage space.
Baskets are a great way to hide things you don't want in plain sight. For example, extra hair products, feminine products, etc.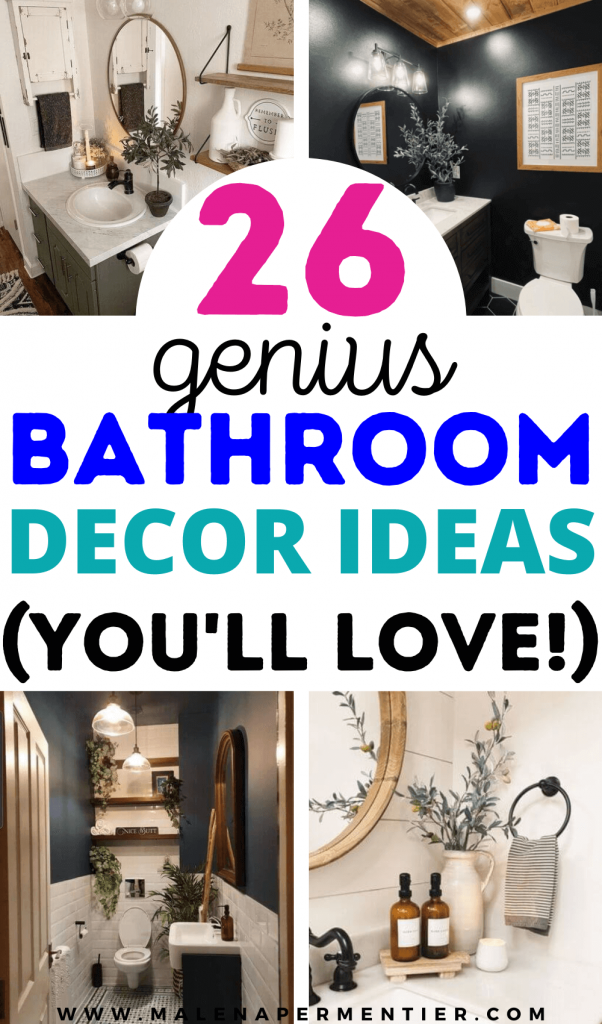 14. Change up your toilet and towel holders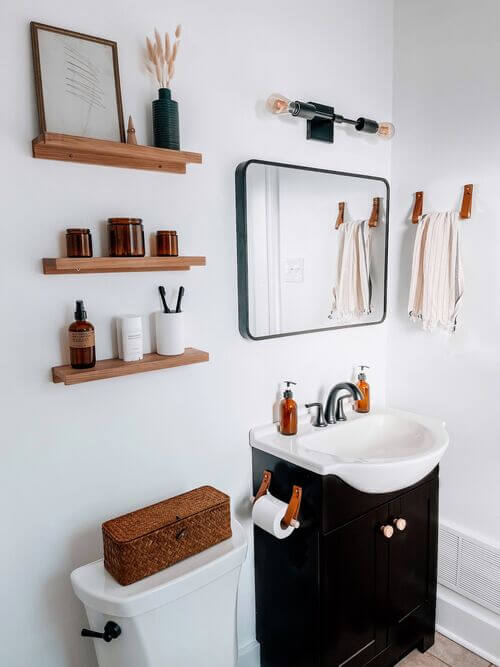 It's so interesting how a cool toilet roll holder and towel holder can impact a bathroom!
I have not seen this type of leather holder before, and I think it looks super cool with the neutral and earthy color theme in this bathroom.
Industrial sconces and a black framed mirror combine great with warm wood.
15. Terracotta walls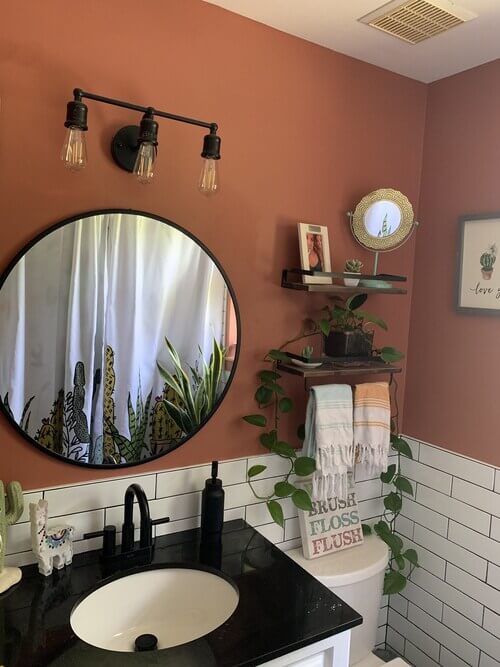 This wall color is so unique! repainting your bathroom is one of the cheapest ways to create a new ambiance.
Changing up the sconces, mirror, and floating shelves is another way to upgrade a bathroom without spending too much money.
It can truly change the whole look of a bathroom without any renovations.
16. Black and white bathroom decor