Hey there! Some links on this page are affiliate links which means that, if you choose to make a purchase, I may earn a small commission at no extra cost to you. I greatly appreciate your support!
This post shows you the best guest bathroom ideas.
Decorating your house is one of the most rewarding experiences… except when you forget to update the guest bathroom.
Don't worry, we have got you covered in that department!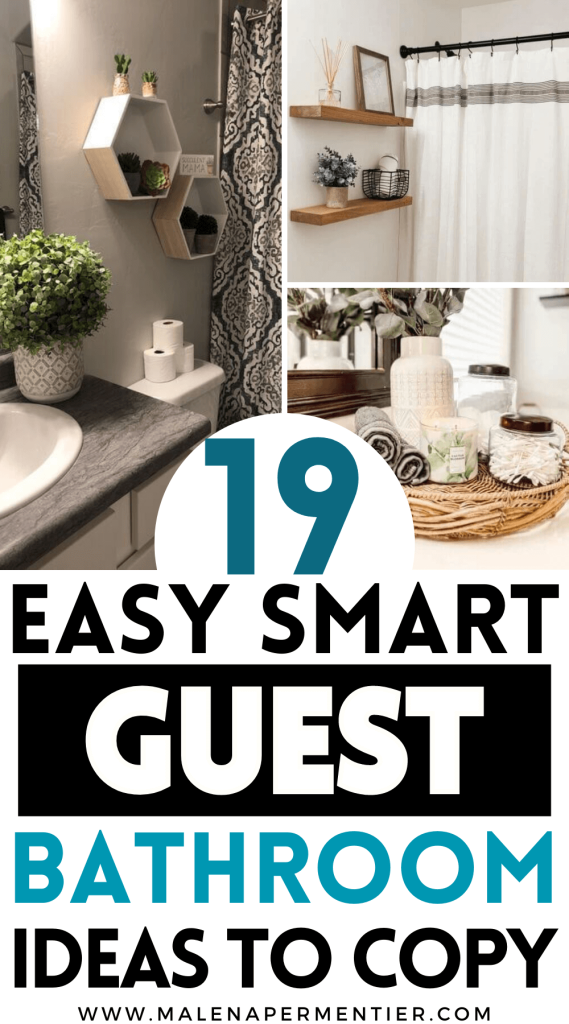 Why do you need to update the guest bathroom?
Well, it might seem like a minor detail, but the guest bathroom is one of the top three places your guests see.
First, would be your kitchen, and second would be the living room.
So it's important to decorate the space and show your guests that you have put the optimal amount of effort into every single corner of this home.
How do I even know what to add?
Simple decor can go a long way. Think of woven baskets, art, plants, or accent colors.
Sticking to the basics is the perfect way to spice things up with minimal effort.
Even the smallest detail can help you showcase your bathroom as a new space instead of a second-hand idea.
Treat every piece of your home as a work of art and you'll see the difference when creating your original space.
No matter what space that is.
Guest bathroom revamp ideas
So whether you're looking to update the shower curtain, add some potted plants or even an accent wall, here are some ideas that you can recreate.
Just to liven things up a bit at every corner of your home.
If you're looking for some budget-friendly options you can always DIY these projects to fit your style or aesthetic.
They are only limited to your imagination.
We can all use a bit of personalization within our houses to make them feel like home.
1. Update your shower curtain and add shelving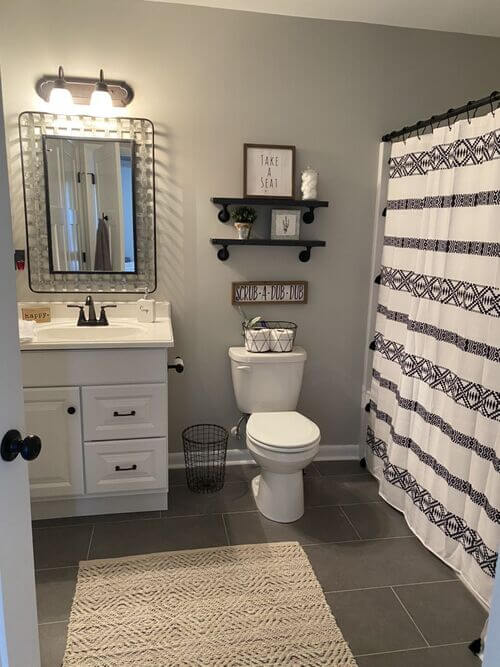 If you're looking for a quick fix till you have a solid idea in place or are more of a minimalist you can try changing out the shower curtain.
No matter what color you pick it is always a good idea to get a new curtain every few months.
Adding some shelving for cute bathroom goodies also adds a personalized touch to a guest bathroom.
2. Add a woven tray with toiletry essentials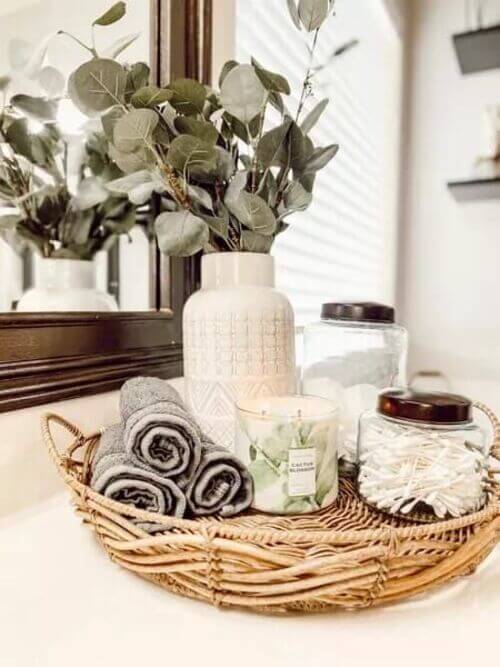 If you're stuck with a bunch of counter space but have no idea what to do with it then this is perfect for you.
Woven baskets not only produce a natural flare to any space but also take up a lot of space.
Place some hand towels, soap, cotton buds or Q-tips, and eucalyptus in the tray to fill it up.
This countertop piece is neutral and effective to fill up unwanted space.
3. Hang eucalyptus in the shower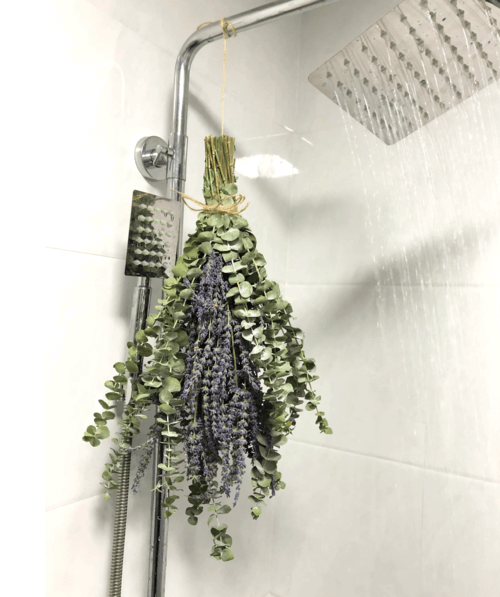 Hanging eucalyptus isn't just an aesthetically pleasing idea to add to a guest bathroom, but it also has added health benefits.
Since the shower supplies it with water, you have a living plant that helps to keep your sinuses open, respiratory problems, and stress as well as pain relief.
It's an idea that should be added to each bathroom since it can help in multiple ways.
4. Decorate with peel-and-stick wallpaper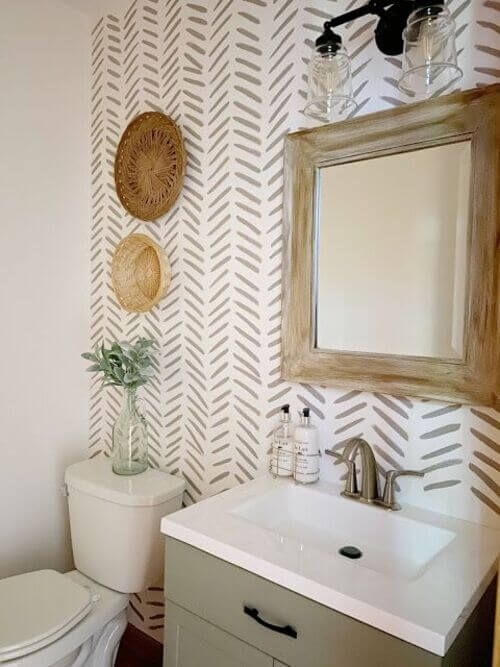 Are you looking for a change of color without the commitment of painting? Then why not try this stick-on wallpaper?
This is an effective idea to change up your bathroom (or any room) without the expense of paint.
This works especially well if you are only renting a home.
It's quick and easy making it perfect for a quick change-up over the weekend.
5. Go for a sunflower-themed bathroom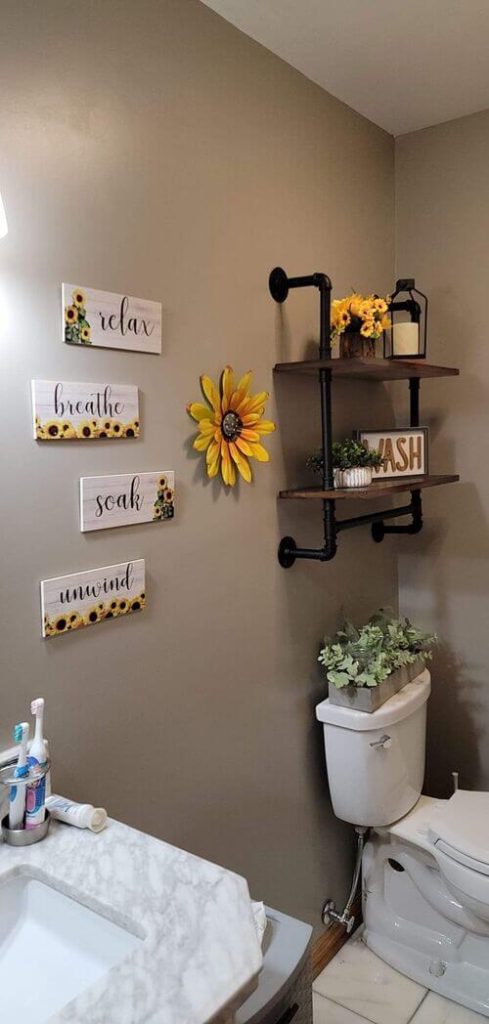 Bring some sunshine into the bathroom with this cute sunflower theme.
Iron sunflower wall hangings, quotes with sunflowers on them, and other bright orange and yellow decor might be just what you need to liven up things.
People will go nuts for this simple idea. Since it doesn't call for any major changes it can be a budget-friendly idea.
6. Wooden bathroom box for toilet paper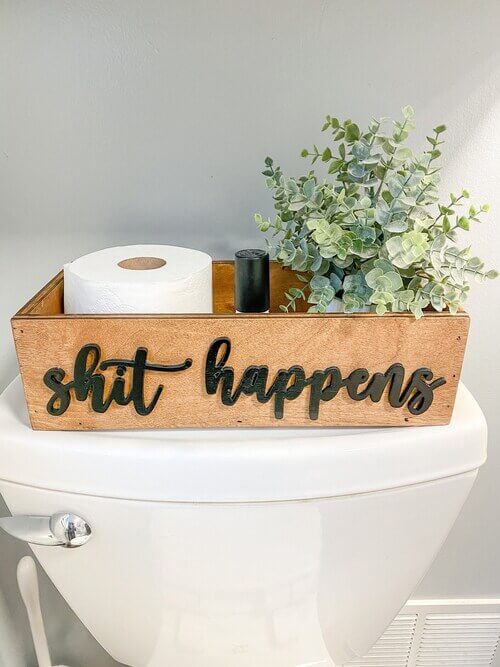 If you're the punny type then this is exactly what you need to keep your guests on their toes or laughing all the way back from the bathroom.
This box is great for a countertop or on top of the toilet since you can keep your room mists, toilet paper, and some greenery all in one place.
7. Decorate with an extra shower curtain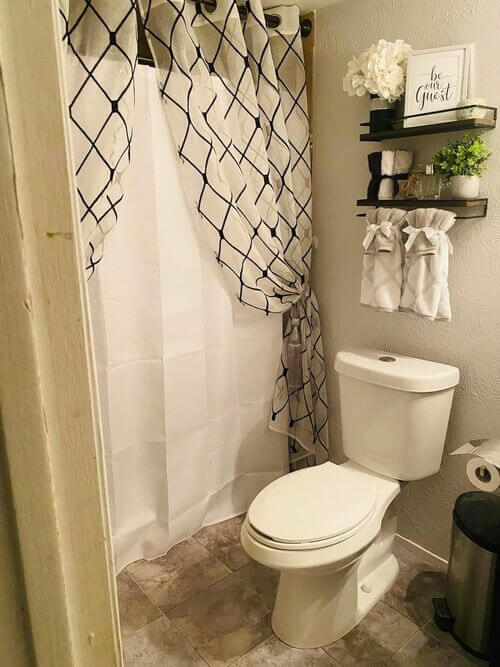 A double curtain setting offers a protective surface cover while being fashionable.
Get a new curtain and pair it with some matching floating shelves.
It's simple yet effective in creating a classic clean look in the bathroom.
If you're looking to add a natural touch then you can increase the number of plants within the room.
8. Hang decorative shelves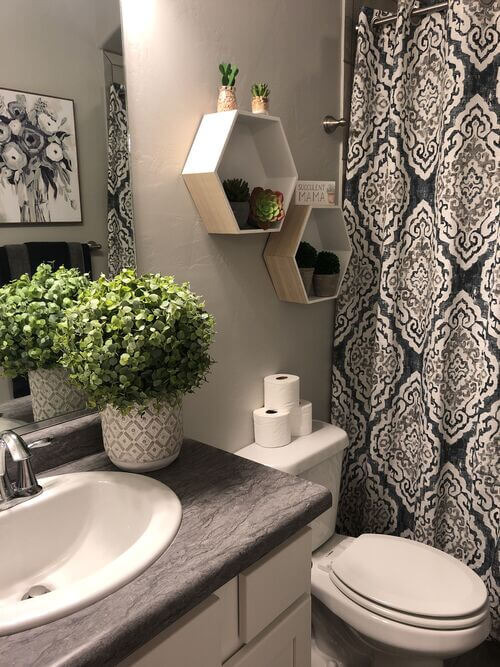 These cute hexagon shelves can be perfect for soaps, towels, or perfumes.
They can be placed anywhere and bring in a little dimension.
Or if you're only looking to use it as space add some trinkets like fake planters, candles, or other supplies to add some personality.
9. Provide essentials in a cute jar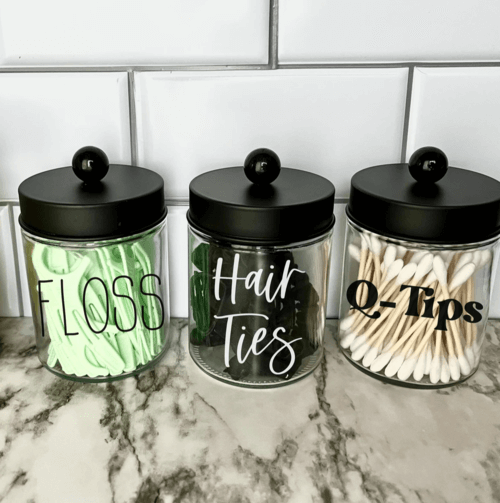 To all of you that have an OCD situation, I just want to say we have got you covered.
Get some cute holders for all the small supplies laying around in the bathroom.
This goes for hair ties, floss, Q-tips, or makeup supplies.
It's perfect to keep things sorted out and keep the space clean.
10. Add subtle bohemian accents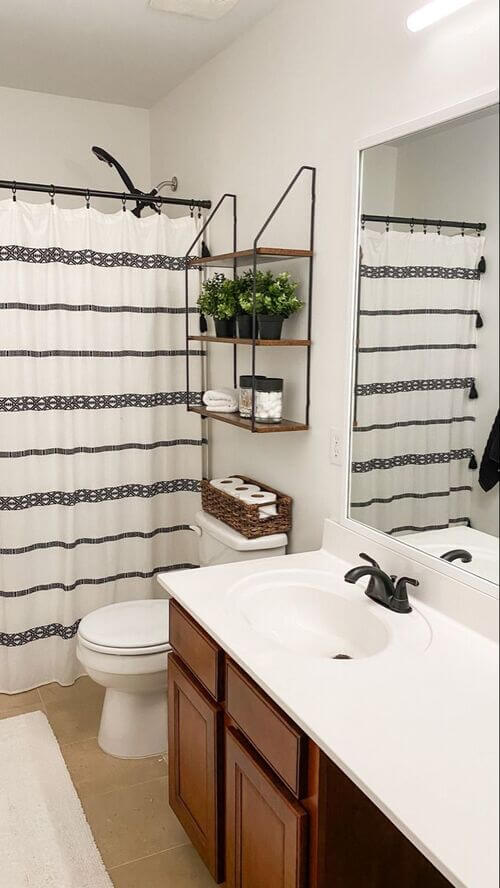 If you are looking for a way to add some boho flare without showcasing too much.
Add some wood accents for instance some wooden crates.
You can also bring in a lot of plants to brighten up the space.
11. Paint a wall dark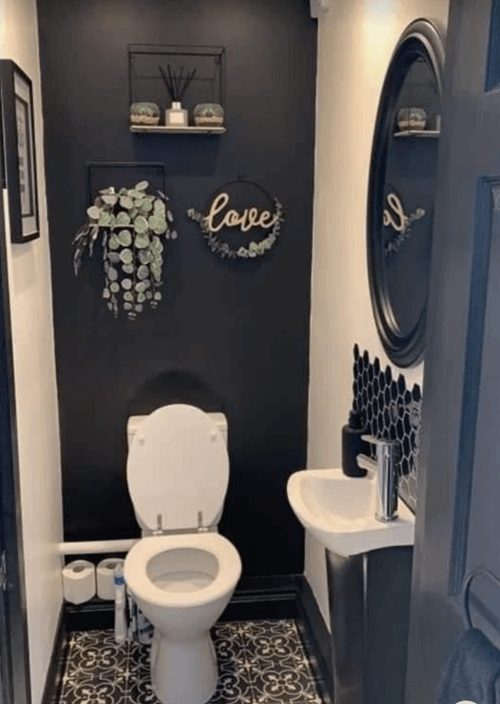 An accent wall might be just the thing you need when you have limited space within a guest bathroom.
By painting one wall within the bathroom you don't only add a pop of color but also give the illusion of elongating the room which makes it look like it has more space.
12. Hang cute custom dog art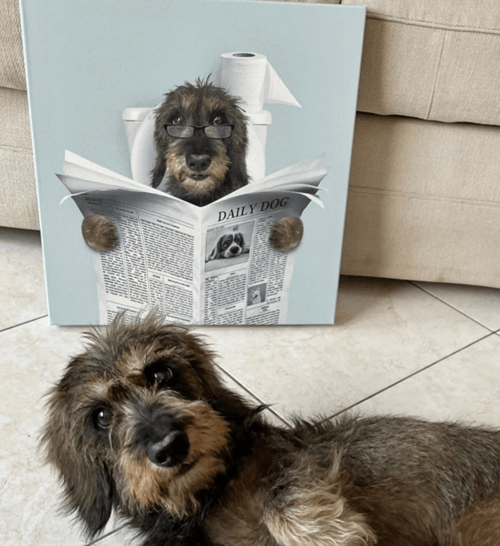 No one can say no to personalized doggy merch.
Take a picture of your pup and create some art for your guest bathroom.
It's a great investment as well as a memory that you can cherish for life.
Not only does it look cute but once you add a fun idea like reading the newspaper or driving a car it can really bring the picture to life.
13. Change out your mirror and lights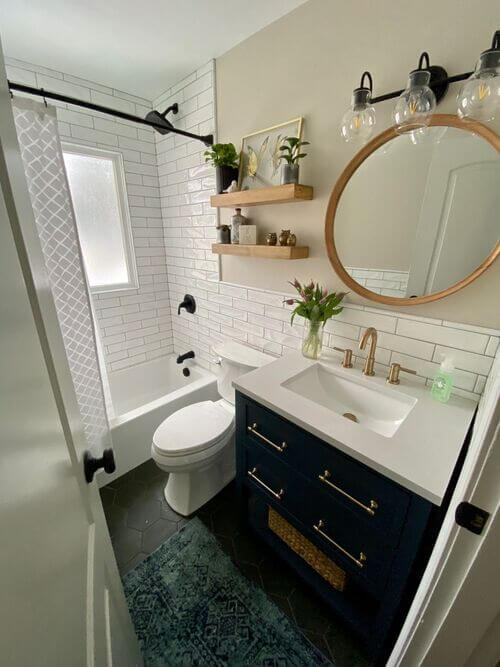 Take out the basic bright light and plain mirror. A gorgeous bathroom should incorporate a circular mirror with an aesthetic style as well as some mood lighting.
It adds a warm atmosphere to the room which any person can appreciate.
Plus adding lighting to the mirror can help a lot in a time of need.
The days of doing makeup in horrible lighting are over!
14. Make the guest bathroom look cute and girly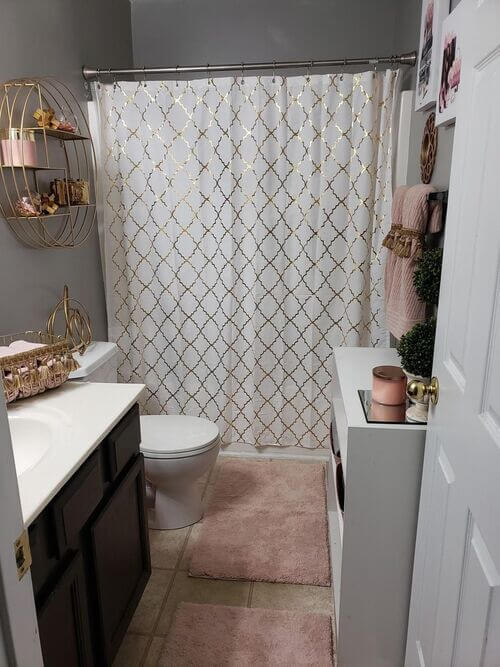 What can be more girly than pink and gold accents?
This fluffy mat, pink paradise is a dream come true for those girly girls out there.
It's simple, elegant as well as cute. Which as we all know is always the perfect combination.
Gold wall decor with pink decor is just the thing you need to spice up the bathroom.
15. Hang simple but cute decorations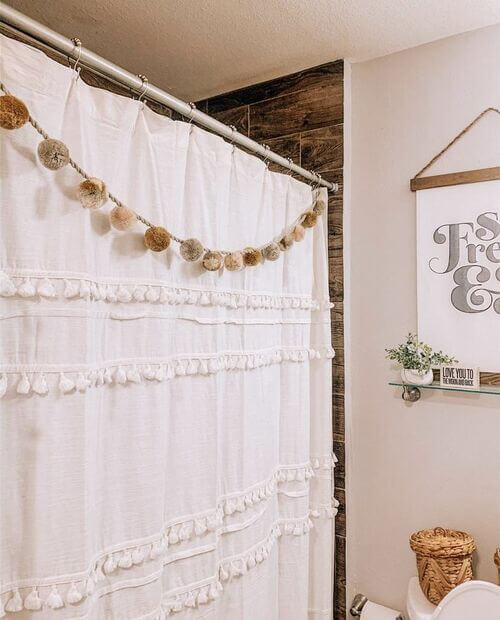 Desperate times calls for desperate measures. These neutral pompoms are cute decor pieces that are there 100% for the aesthetic.
No other reason other than to look cute.
Since these colors are neutral the best way to pair them is with some wooden accents.
16. Add soaps to a bathroom counter tray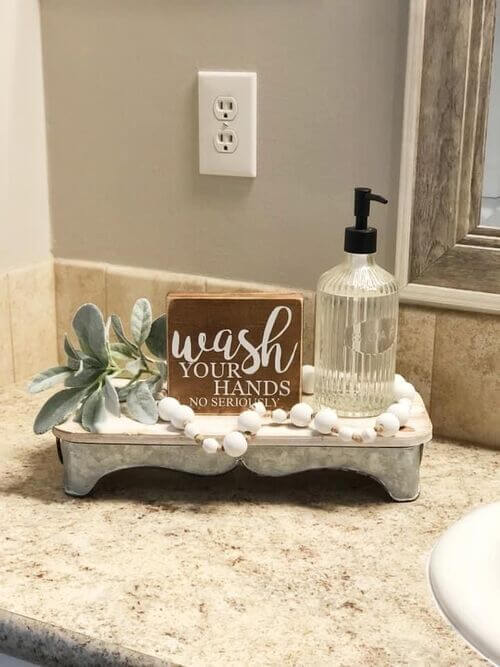 What is a bathroom tray without the necessities?
A cute succulent, a fun quote, and of course trusty old hand soap.
Keep all the basics together on this cute little tray.
It's an efficient way to add some color or just cute decor to the guest bathroom.
17. Hang trendy shelves over the toilet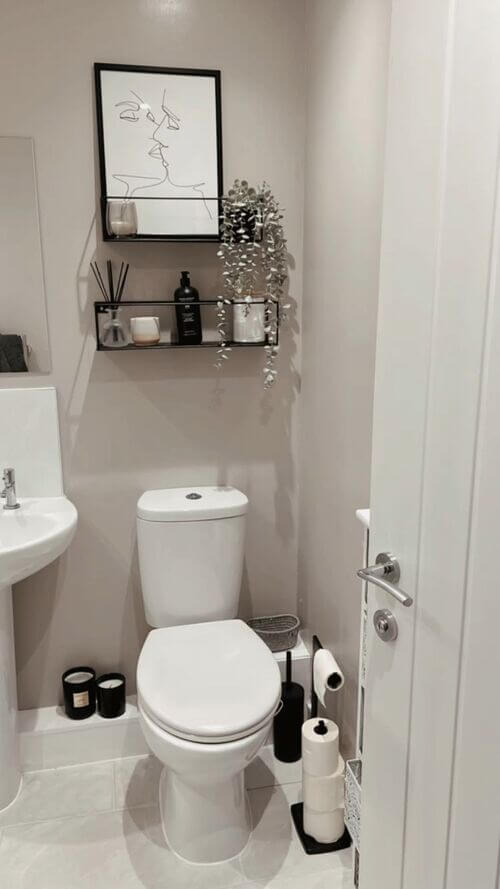 When in doubt add shelves. No seriously, you can never have too many shelves in a bathroom.
Even adding just one or two floating shelves will give you so much added space to add trinkets, room diffusers, or some art to display for your guests.
18. Match the shelves with your other bathroom accessories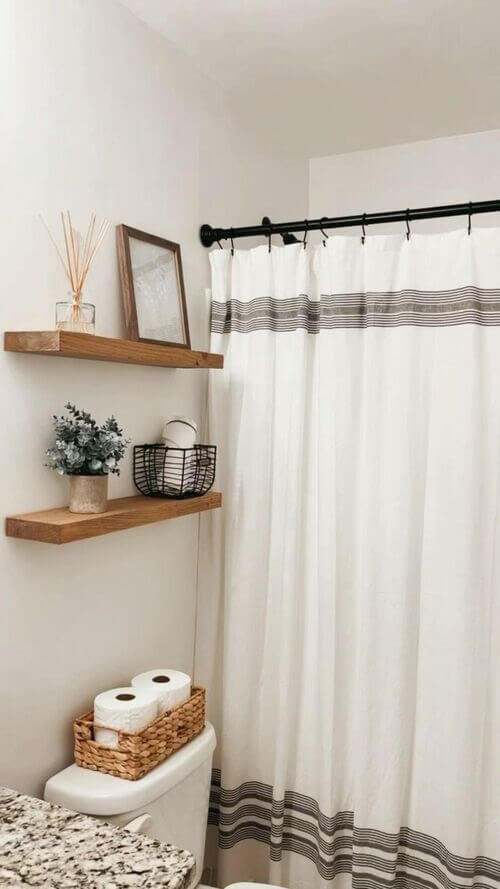 When creating your new bathroom aesthetic it would be wise to stick to one or two colors and add one accent.
For example, within this picture, the main theme is black and white, but the wooden shelves and tray add a neutral accent to break the block of color created by the two contrasting colors.
19. Go for an all-round farmhouse bathroom theme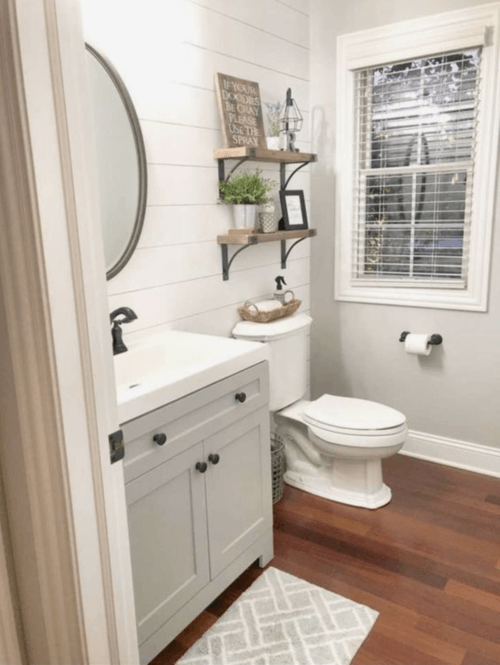 This is perfect for those farm aesthetic lovers.
From the cupboards to the wooden shelves with iron fixtures.
This is a gorgeous theme that gives a modern touch to the old-fashioned farmhouse look.
Swap out the normal mirror for this circular mirror and add some pictures to fill up the space.
After effect
With things finally updated and all in place, you're sure to hear some compliments on the space.
The guest bathroom deserves just as much love as any space in your home.
Especially if you've got a lot of space to work with.
As seen from the list above it can be easy to style a bathroom with limited supplies or even a fresh coat of paint.
Never take the saying "Less is more" for granted.
Hopefully, these ideas can give you a fresh perspective on how to work with what you have.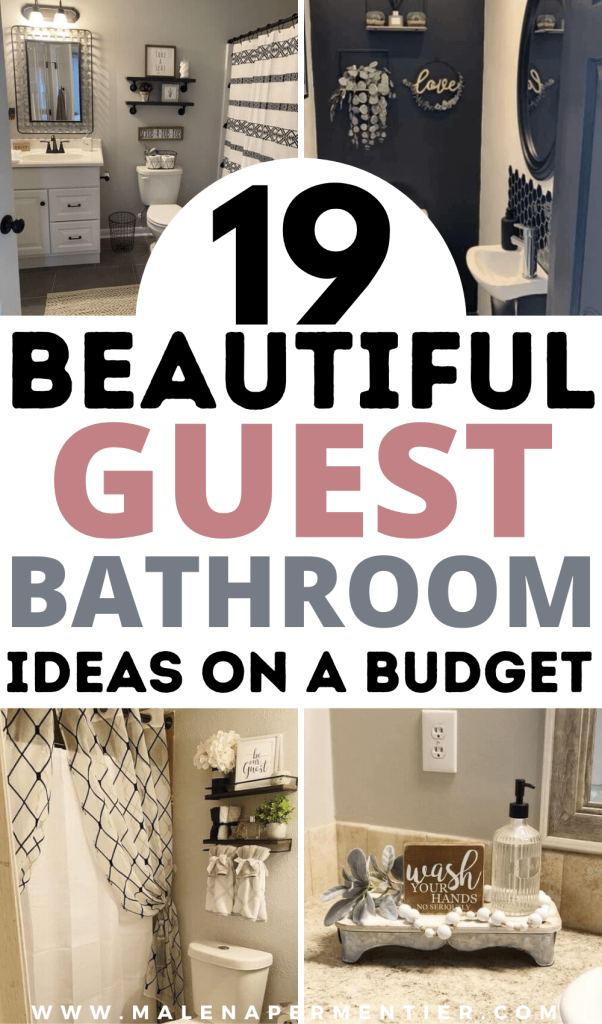 This post showed you the best guest bathroom ideas.
You may also like: