Hey there! Some links on this page are affiliate links which means that, if you choose to make a purchase, I may earn a small commission at no extra cost to you. I greatly appreciate your support!
This post shows you the best 19th birthday ideas.
Turning 19 is a special occasion!
It's your last year as a 'teen' before entering your twenties filled with new chapters and discoveries.
So it's evident that you need to find the perfect way to celebrate it.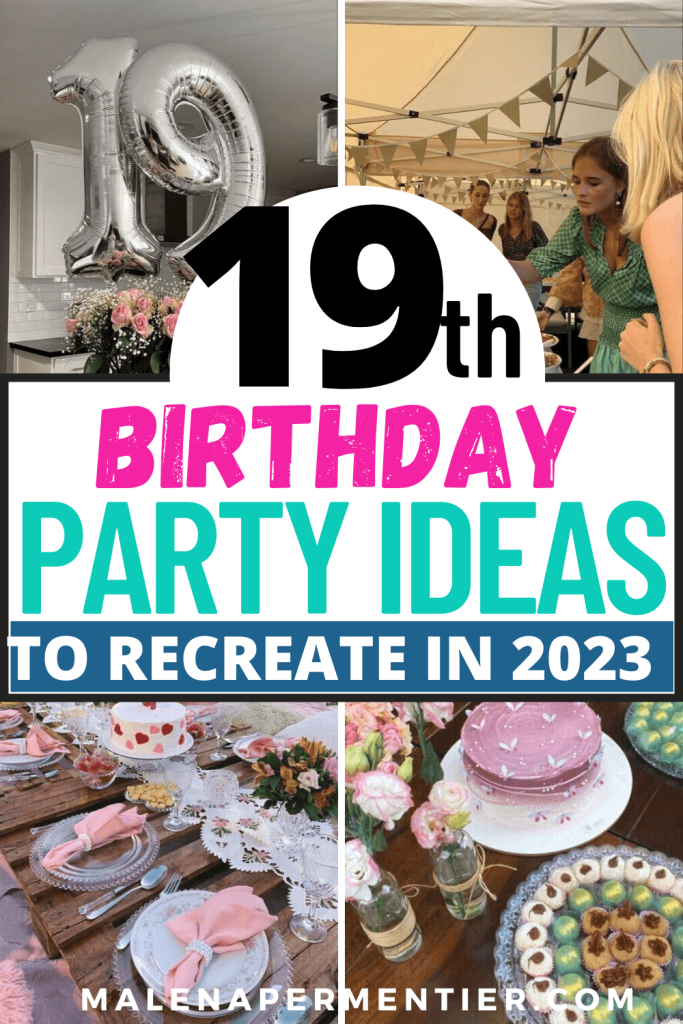 Why you should throw a big party
It's obvious to miss the importance of a 19th birthday.
It's usually just a big celebration on your 18th birthday or your 21st.
We tend to forget that turning nineteen serves a new purpose.
You might be starting college. Meeting new people. Starting new goals.
The last year of ultimately being a teenager.
Now I'm not saying your youth dies this year, but this is a make-it-or-break-it moment.
So take the chance to create a fun party with your closest friends and enjoy the day.
What type of party should you try?
The best way to go about a birthday party for turning 19 isn't about finding the perfect theme but finding the idea that suits you.
There are multiple possibilities to choose from here, for example:
Bonfire
Spa day
BBQ
Beach day
Netflix binge watch
Garden party
Karaoke
Dance party
The ideas are endless.
You don't need a specific decor or idea.
Just roll with what you have, and everything will come together as needed.
With that being said, if you need some fun inspiration, then look no further because we have got you covered.
Cute birthday party ideas.
The problem with having a party is finding just one idea you like.
We all know figuring out what works best for you can be tedious.
So here is a list of our top ideas to get you inspired for your 19th birthday party.
1. Garden tea party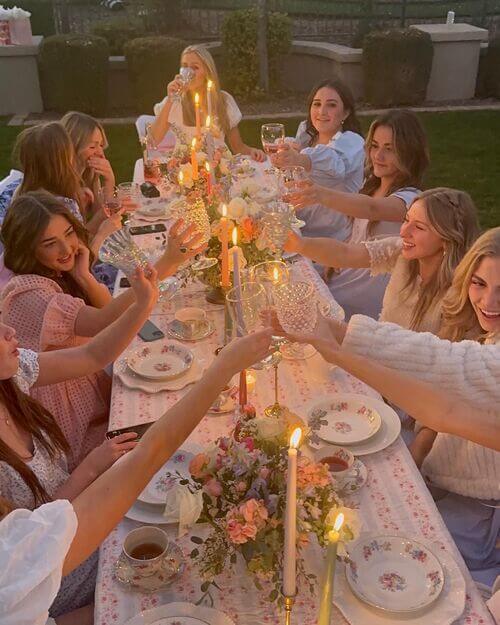 Celebrate your birthday with a nice evening lunch in the garden.
Set up some multi-colored candles and set the table with a table runner or two.
Grab some champagne and your friends to enjoy your 19th birthday.
While some people want something more extravagant this works great for the home-bodies.
2. Early morning surprise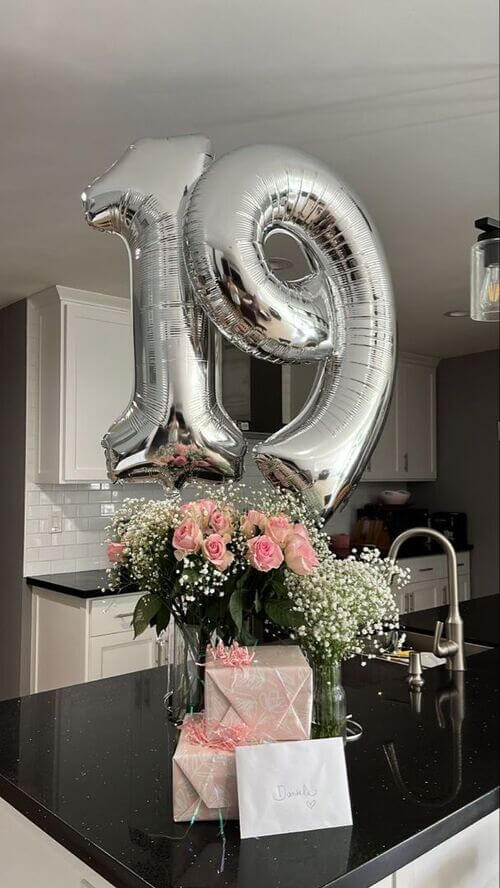 Keep things simple by having a small get-together.
You can add some helium balloons.
If you're not one for a big party or gifts then keep things small and simple.
You don't have to go all out to celebrate.
Just having good company and a day to enjoy is more than enough.
3. Romcom movie binge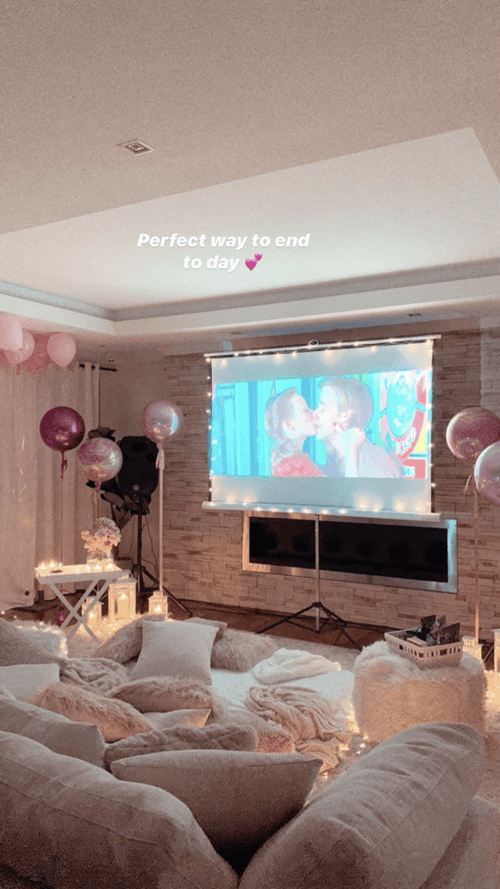 Make use of a projector to create a cozy night in.
When you want a chill night off for your birthday, you can opt for a fun night with friends.
Decorate the living room with all the needs to make a sleepover.
Add fairy lights to set a warm atmosphere for the night.
4. Brunch and punch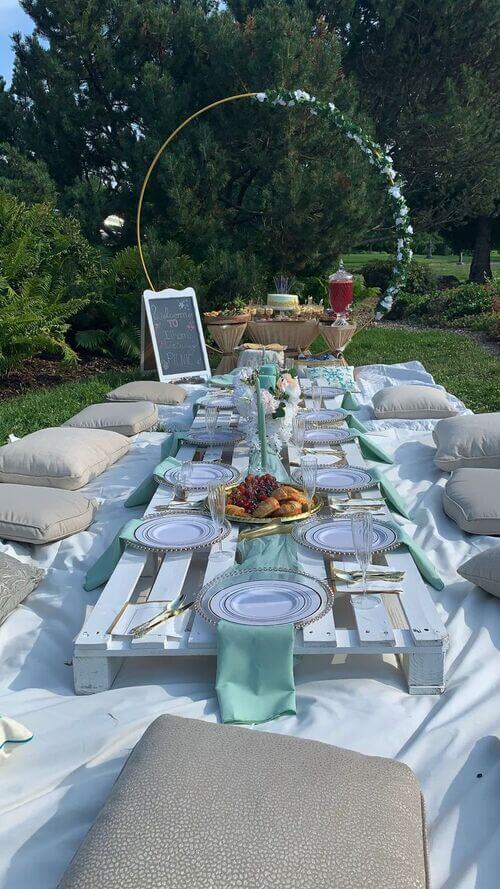 Make use of wooden pallets and plush pillows to achieve this cute idea.
It's perfect and easily achievable with minimal effort.
You can add some tables with snacks and lemonade for people to stay hydrated throughout the day.
It's simple yet effective. You can even add a chalkboard for your guests to write on.
5. Rose lemonade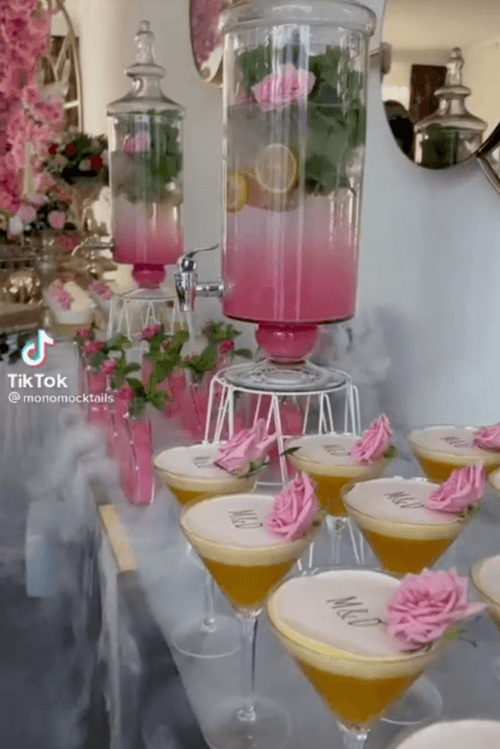 Create a designated stand for all your friends to enjoy.
Add some large lemonade stands and fill them with roses.
It's a unique idea that can go well with any day.
Or if lemonade isn't your favorite then you can swap for juices, coffee, and tea or just fun fruity drinks.
Keep things fun by making use of martini glasses or fresh fruit slices.
6. Grazing table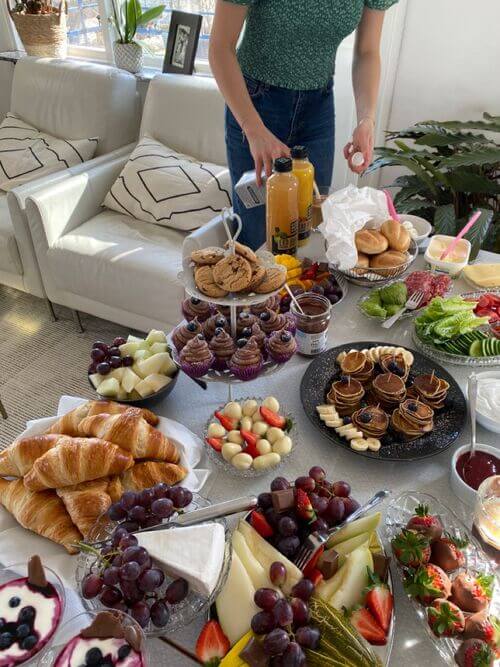 A grazing table consists of everything you need for the big day.
Juices, cupcakes, croissants, fruit, or even pancakes.
While some opt for a traditional meal for all to enjoy, everyone can grab whatever they like without issues.
This is perfect for early breakfast or even lunch.
7. Cabana garden party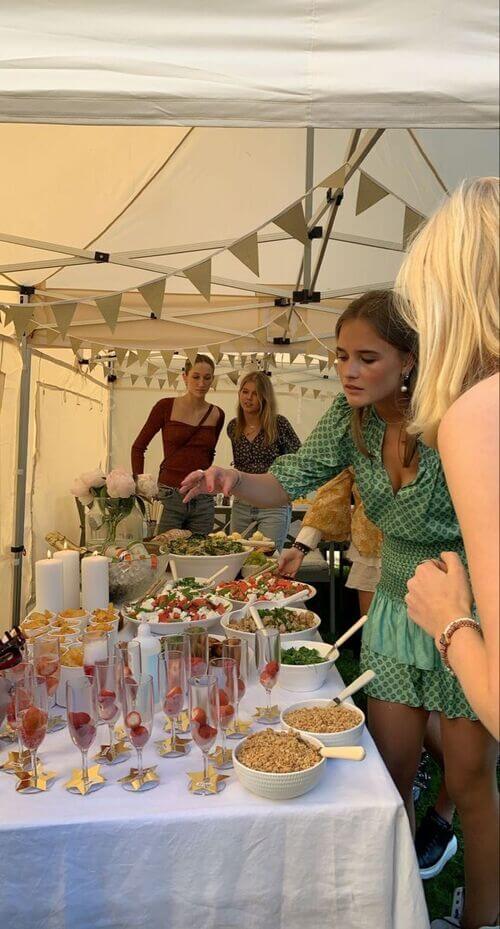 Add a cabana to your garden party to block out that excessive summer sun.
This allows you to add your snack tables right outside without the sun ruining the day.
Gather everyone and add some pillows, chairs, or even large towels.
This creates a unique birthday idea for you to enjoy a warm day.
8. Pink butterfly Pinterest cake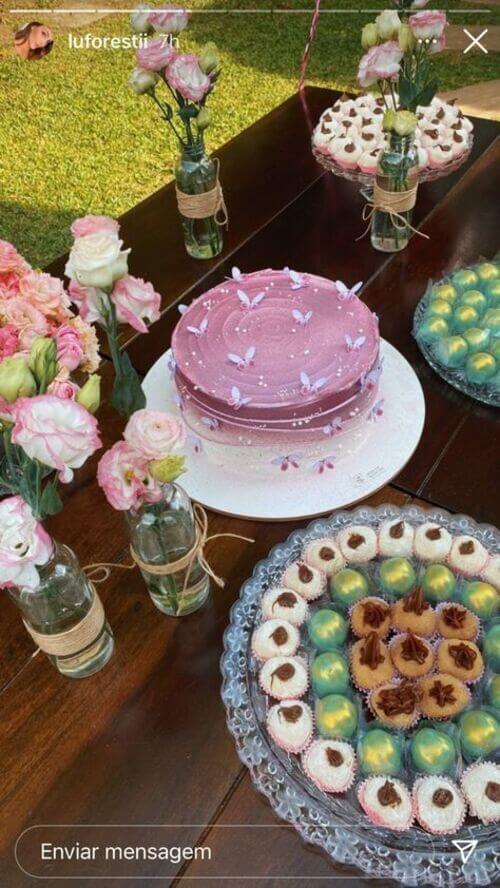 Create a Pinterest-worthy aesthetic with fairy cakes, caramel treats, and chocolate cupcakes.
If you are looking for a fun way to incorporate this into your day, then opt for creating your treats.
It's cheaper, and you get to add your one flare.
9. Rose vases with wildflowers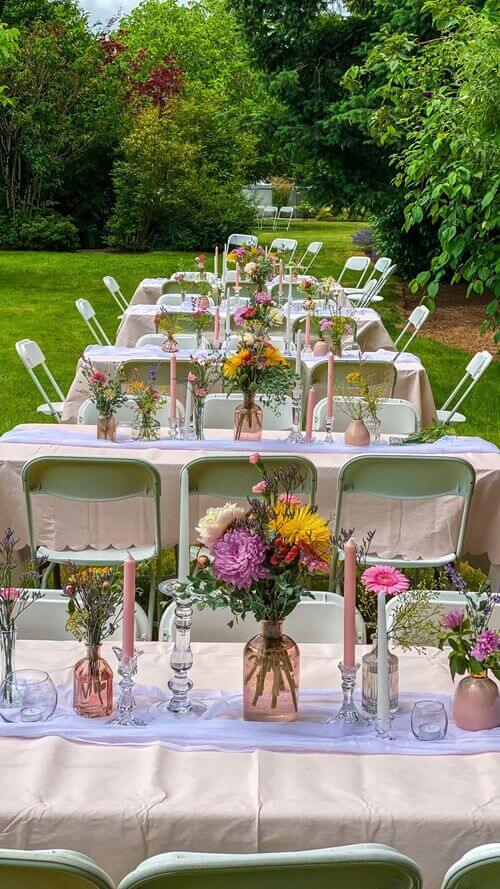 Keep things simple with pink candles and vases.
You can include white table layouts with some pink and yellow flowers.
It allows you to create a unique setting that fits your personality and theme.
It keeps things plain while adding your touch. This is the perfect idea for a summer lunch.
10. Inflatable mattress slumber party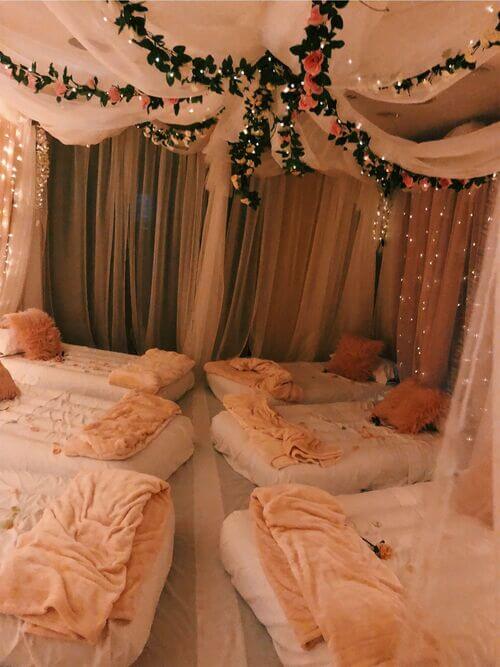 You're never too old for a slumber party.
When you want something simple to enjoy the night.
Create this idea by making use of blow-up mattresses, cozy blankets, fairy lights, and cue garlands.
It's the perfect idea to have a calm day at home for your birthday.
11. Painting station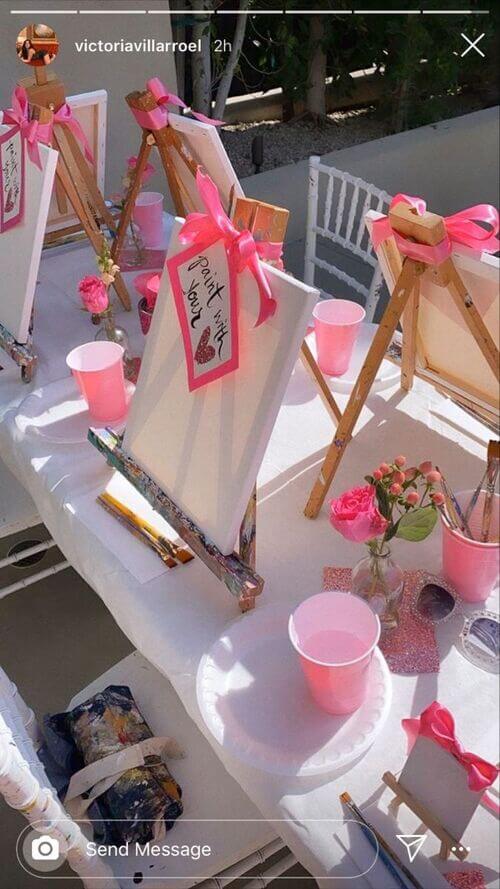 If you're looking for something to add a creative flare to your party, try this cute painting idea.
Just get some canvases and acrylic paint and set up the table.
It's perfect for those creative individuals that are looking for something unique.
Or you can give everyone a theme to try and stick to while painting.
12. Summer picnic birthday party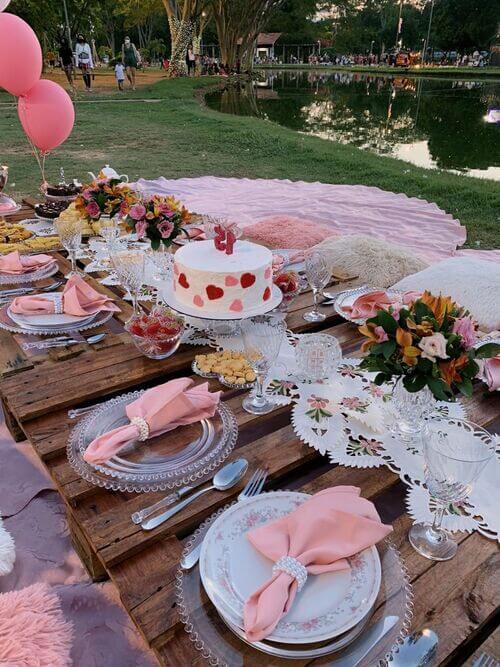 A cute theme to try out is a pink and pearl theme.
Make use of pink napkins, pearl holders, and some doily papers on wooden pallets.
It's easy to recreate, and adding an aesthetic cake accompanied by gorgeous wildflowers can make all the difference.
It's perfect for a birthday that takes place in summer.
13. Snack station for movie night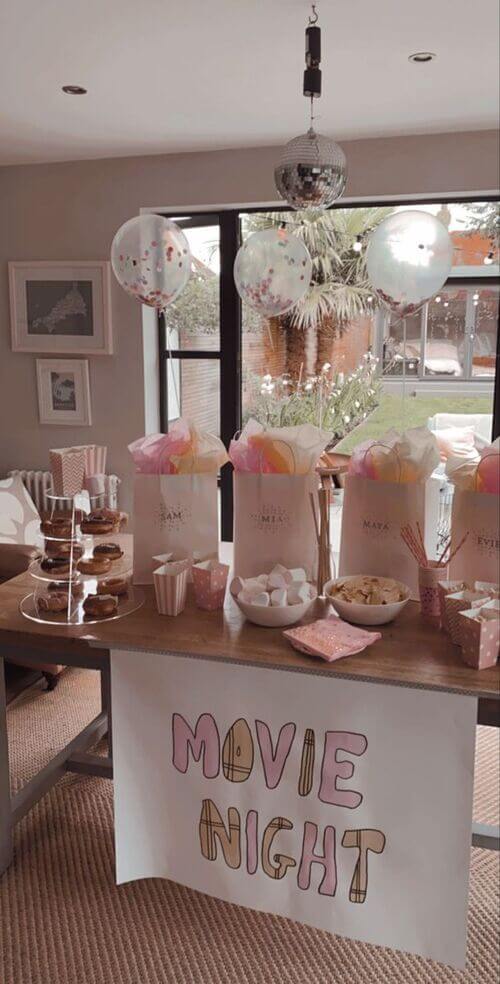 Designated movie night snack stations are just what you need.
If you know that you want to incorporate a Netflix night, you can create goodie bags for your guests.
Fill them with all the necessities to enjoy the night to the fullest.
Incorporate a coffee nook and some extra blankets to ensure everyone is settled for the birthday celebration.
14. All the favorites snacking table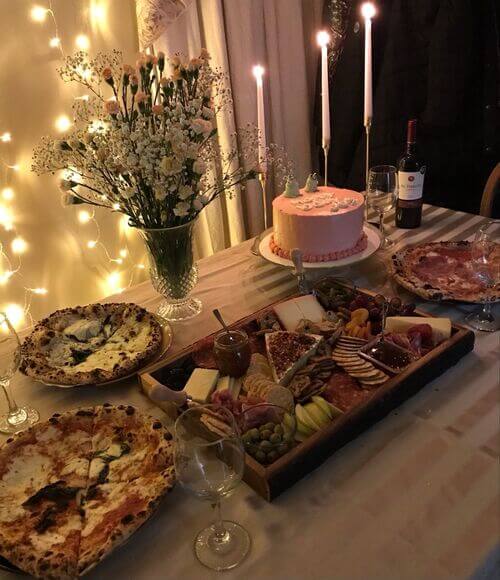 This is a great way to make sure you and your friends have loads of snacks for the day.
Charcuterie boards, pies, cupcakes, and drinks.
Keep it all in one place for people to have easy access throughout the day.
You can prepare snacks that you know everyone will enjoy and just keep extras to make sure there this enough for the whole day.
Add some candles so that it is still light and airy at night.
15. Champagne and cake table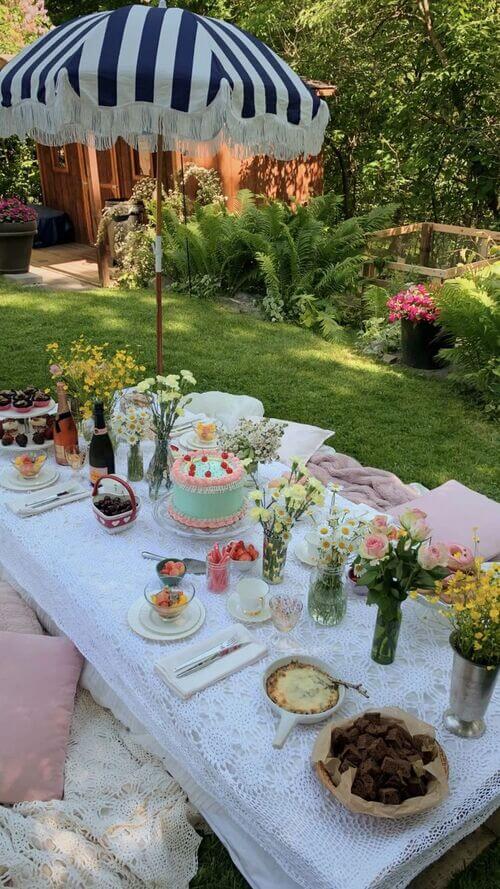 For my pastel-colored cakes, and tea party lovers.
This one is just for you.
Everyone can appreciate a cute party with a gorgeous decor setup.
Add some vases, wildflowers, and a cute cherry-covered cake. We can all appreciate a day in the sun.
This is the perfect idea for an early dinner or even breakfast.
Fresh fruits and baked goods are the perfect way to start the day.
16. Outside the movie theatre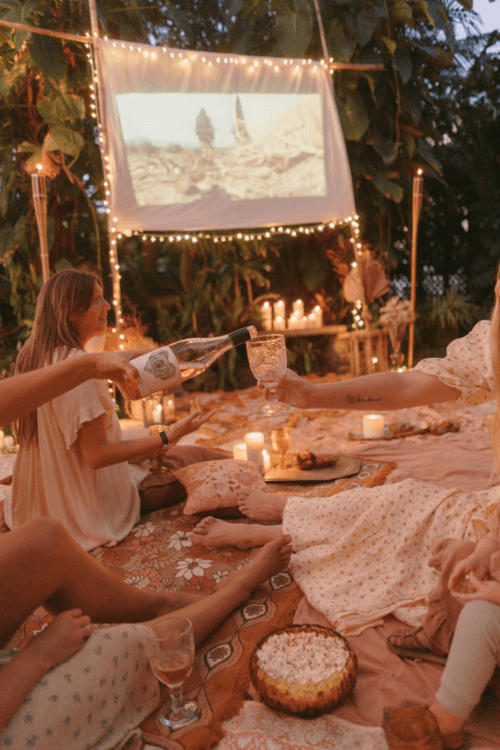 Grab the projector and fairy lights for this one.
We can all enjoy a relaxing birthday with our friends.
Binge-watching your favorite movies might be just what you need to celebrate your birthday—a night filled with jokes, gossip, and fun stories.
What more could you need?
17. DIY spa day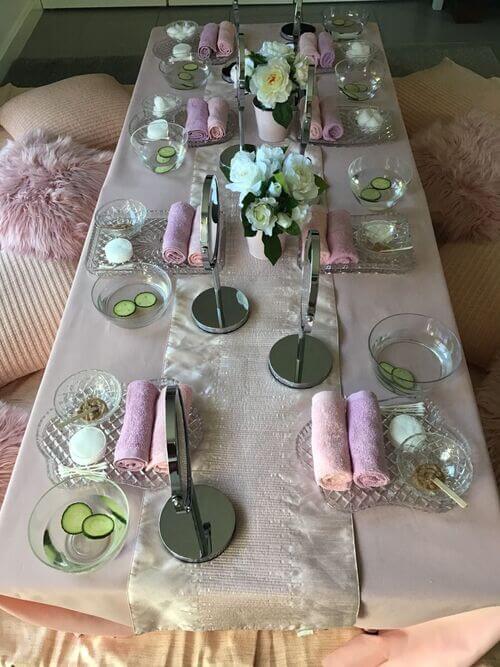 Let's face it. Spas are expensive and don't always have what you are looking for.
Try out this for your next birthday.
Grab some face creams, toner, serum, and cucumbers, and make this the ultimate spa day for everyone to enjoy.
This idea is perfect for just relaxing at home.
Add some fruity drinks and a good movie to the mix, and you'll make the most of this big day.
18. Pink and white outside setup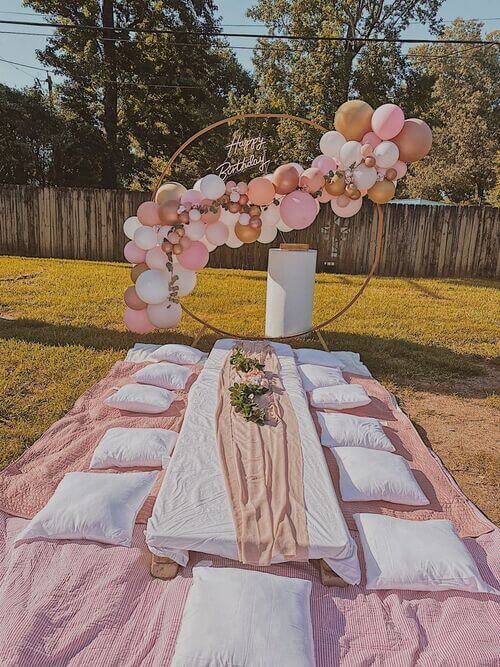 Add a little Pinterest photo booth to the mix.
Wrap some balloons around a circular stand and add a "Happy Birthday" sign.
Not much is needed to make this work.
You can add some wooden pallets and clever them in material to create a small table and cover the area in blankets, pillows, and towels to make this idea come to life.
19. Summer night dining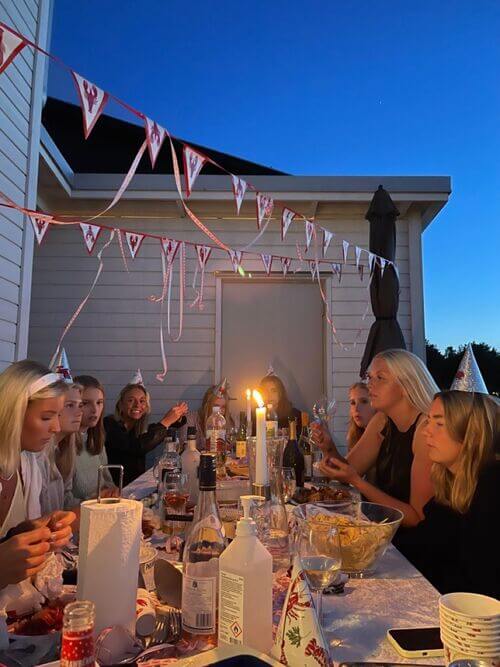 Keep things simple by making an outside BBQ and just taking a seat at the table.
You don't need fancy decor.
Just good food and company go a long way toward creating the perfect day.
So tell everyone to bring something for the BBQ or prepare it yourself and enjoy the laughter and communication between friends.
Finding the best ideas for your 19th birthday party
It's less about the right idea and more about what fits your style.
If you're laid back, then stick to the simple movie night with your closest friends.
But if you're a big birthday celebrator, go full out with snack tables, music, food, and all the people you know.
This is fully customizable to your needs and makes it easier for you to use just the right thing to make your day special to you.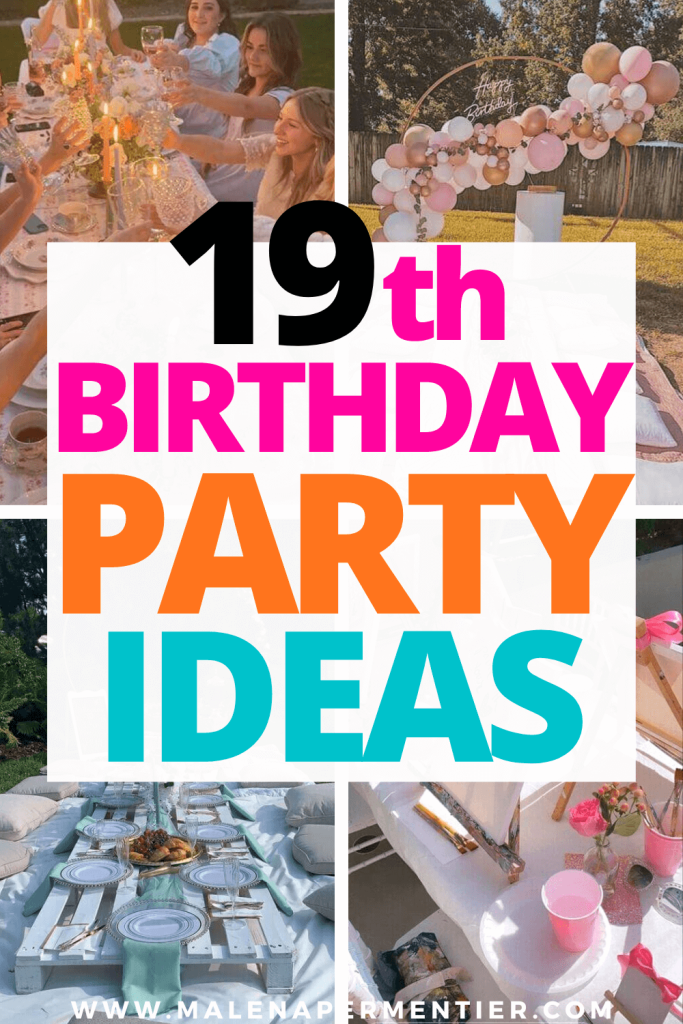 This post showed you the best 19th birthday ideas.
You may also like: