This post shows you the best rose gold desk accessories!
Whether you're decorating your office at work or desk at home, cute supplies instantly make your work environment better.
In the below, we'll go over the 25 cutest rose gold desk accessories to have on your desk. Things like desk organizers, pen holders, staplers, and paperclips are essentials!
Rose gold is an incredibly cute and feminine color that looks beautiful in a neutral space. If you have a white desk, rose gold accessories will look great. Many of the below supplies also combines rose gold with marble or acrylic. Super chic!
The below desk accessories are all budget-friendly and will brighten up your desk in no time.
#1 Best rose gold desk accessory👑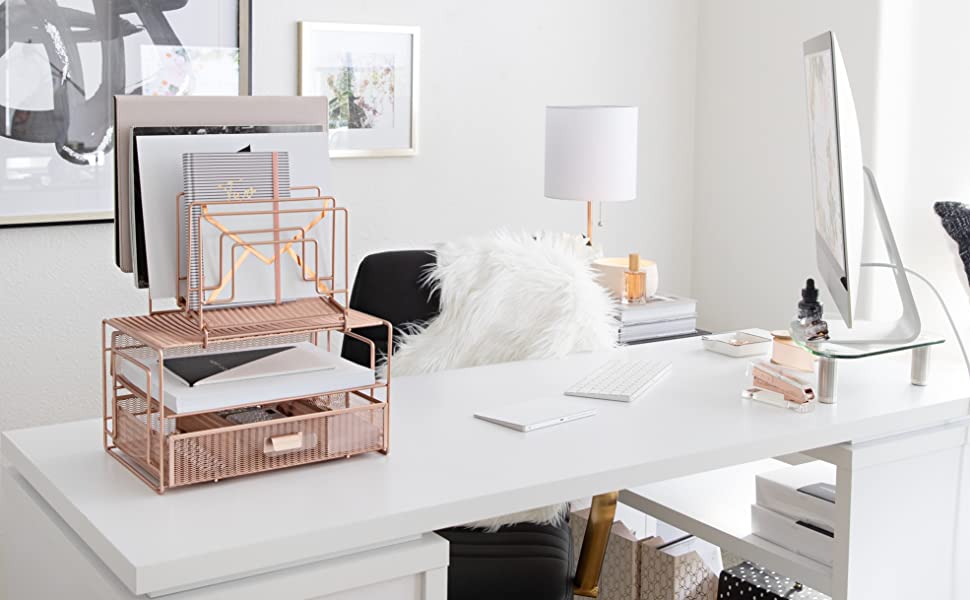 1. Rose gold desk accessory kit
This insanely cute desk accessory kt comes with most of the essentials. It includes an acrylic stapler, a tape dispenser, staple remover, binder clips, and the prettiest diamond pen. These accessories combine rose gold with acrylic and metal, and it really makes for the prettiest look.
2. Desk tray organizer
A desk tray organizer is a must-have if you have a lot of different categories of paperwork to take care of. Besides a letter tray this organizer also has an upright section which is perfect for things like magazines.
3. Small desk organizer
A small desk organizer is ideal if you want to have one spot to keep your pens, sticky notes, and other small desk supplies.
4. Office supplies organizer
This is a great file organizer with something extra! It has space for supplies like pens, sticky notes, paperclips, and other desk essentials. The top part has 5 different sections, which I personally think is really practical if you want to keep things organized.
5. Office desk essentials
These office desk essentials are similar to #1 but this one includes a rose gold scissor too. Office supply kits are great to save some money because they are generally cheaper than buying each item separately. Just make sure to compare the different kits and what they have in them.
6. Desk drawer tray organizer
If you have a desk with drawers, that's probably the spot that easily becomes a mess! Drawer tray organizers are perfect for keeping small items organized and not all over the place.
Related: 14 Budget-Friendly Drawer Organization Ideas
7. Chic rose gold desktop rack
This organizer has exactly the right tone of rose gold if you ask me!! Is it just me, or is that a thing? If you've been reading the entire post, you know that I've listed this desk organizer as the #1 in rose gold office supplies. This organizer is unique because it's a letter holder, tiny desk drawer, and file holder in one! Plus, the design and color are so chic.
8. Transparent stapler
Loving these transparent and rose gold staplers. They're perfect if you don't want to overdo the rose gold color on your desk. Very unique and cool.
9. Cute cell phone holder for desk
A desk phone holder is handy for so many things!! If you send many voice notes or facetime with colleagues, you'll know what I mean. This minimalist rose gold cell phone holder for your desk is exactly what you need if you swap between using your laptop and phone a lot.
10. Rose gold scissors
Uhmmm yes, another desk essential you can't miss! If you don't buy an office supplies kit, you can buy things like scissors and staplers separately.
11. Cute pen holder
Another one that speaks for itself, but this spacious pen holder is perfect for storing your pens, scissors, markers, and other desk items.
12. Extra large pen holder organizer
This extra-large pen holder is perfect for creatives, or people that have a lot of pens or markers haha. It also has space for other desk accessories like sticky notes and staplers.
13. Rose gold marble mousepad
Obsessed with this super cool rose gold and marble mousepad! The combo of these colors is super cute and girly, without being over the top.
14. Mail organizer for desk
This kit of organizer essentials is perfect for those with lots of paperwork! It includes a mail sorter, paper tray, magazine + file holder, and sticky note holder.
15. Acrylic pen holder
if you don't want to overdo it with the rose gold, these acrylic pen holders with rose gold accent is the perfect choice for decorating your desk.
16. Post-it note dispenser
OK, I love simple but clever desk gadgets like this! This sticky note dispenser really gets you in the work hard play hard office mode.
17. Wall grid
Wall grids like this are ideal for hanging over your desk. You can keep reminders, to-do's, or simply inspiration things you want to be looking at while working!
18. Rose gold glitter pens
Rose gold glitter pens, need I say more? These super sleek and pretty pens are the perfect desk companion, and a great match with the other rose gold supplies.
19. Rose gold desk organizer (all in 1)
I found this all-in-1 desk organizer, and thought it was pretty great! It has space for all your desk necessities like sticky tape, pencils, sticky notes, etc.
20. Marble and rose gold pen holder
For those who want to keep their pen organizers simple but significant, this cute rose gold and marble pencil holder is great for keeping at the corner of your desk with scissors and pencils in matching colors.
21. Paperclip holder
Do you also have a soft spot for cute stationery and desk accessories? Then I'm sure you'll also be obsessed with this rose gold paperclip holder.
22. Desk supplies
Need small desk supplies like push pins, binder clips, and paper clips? This office supplies kit has got you covered. You can get this kit with either 208 or 360 pieces.
23. Cute business card holder
If you run a business, it can be so motivating and fun to keep business cards on your desk! This rose gold card holder will keep you motivated and productive all day.
24. Rose gold laptop stand
Laptop stands are a must if you spend many hours on your laptop! I know the struggle is real. When I didn't have a laptop stand, my neck and shoulders hurt almost every night. Laptop stands are a small investment but make a big difference. Get this wireless rose gold keyboard to go with the stand.
25. Wireless keyboard rose gold
If you're using a laptop stand, you'll also need a wireless mouse and keyboard to go with it. The combo of rose gold and silver looks super chic.
This post showed you the 25 best rose gold desk accessories!
You may also like: