This post goes over the best throw bed pillow combos!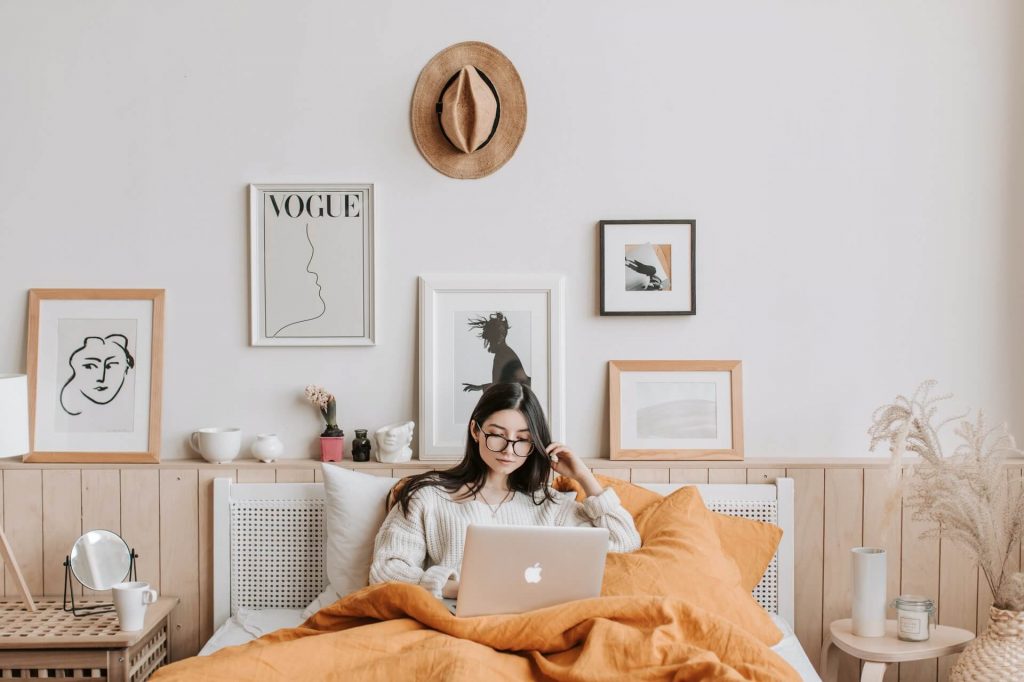 Throw pillows for your bed serve many different purposes. For one, they decorate your space. But extra pillows on your bed are also great for chilling! I often work from my bed (yes, also as I write this), so having comfortable pillows is important. When choosing your throw bed pillows, keep in mind both the decorative and comfort aspects.
Pillows are also great for pulling together your bedroom's color scheme and aesthetic. You can do that with accent pillows or exciting textures. There are throw pillows for every style, whether that's minimalist, eclectic, boho, or a combination of all.
Besides deciding on the style, arranging throw pillows can be tricky in terms of shape and size. What works on a queen bed doesn't necessarily work on a king bed (you'll need to size up your pillows).
In the below, well cover :
Pillow arrangement ideas for king and queen beds, including a helpful visual sizing chart to help pick out the pillows for your bed.
Fail-proof throw pillow combinations.
The best throw pillow ideas for your bed!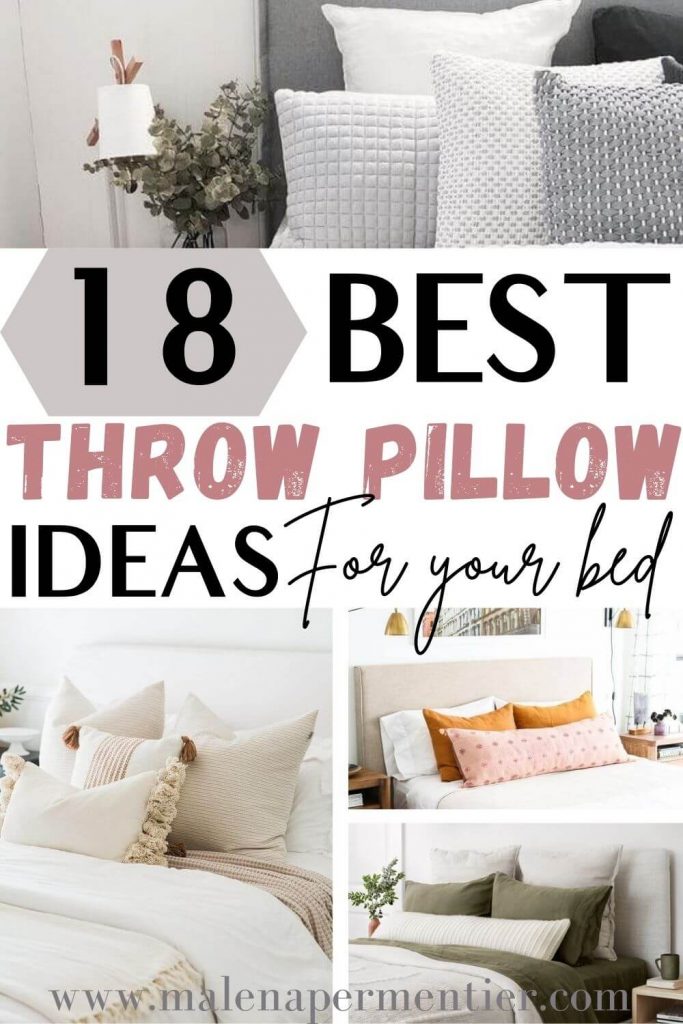 How to arrange throw pillows on your bed
Deciding on the size and placement of throw pillows on your bed isn't easy! The below visual shows you pillow arrangement ideas for queen and king beds. It gives you an idea of shapes that work together and what sizes you need to go for.
The best pillow arrangement depends on the size of your bed but also your taste. I'm pretty lazy, and I don't like making my bed with 8-10 different pillows in the morning. Therefore, my ideal throw bed pillow arrangement is the 4th or 5th combo on the queen bed section. You can go for around five pillows for the real 'hotel bed' feel.
Fail-proof throw pillow arrangement for your bed:
Combine two large decorative pillows with two regular-sized pillows and one square-shaped pillow. This is a fail-proof combo for a queen bed that is both comfy and stylish. The large pillows go at the back, followed by the standard-sized pillows and the 18×18 throw pillow.
18 Throw pillows for bed ideas
1. Neutral and textured throw pillow combo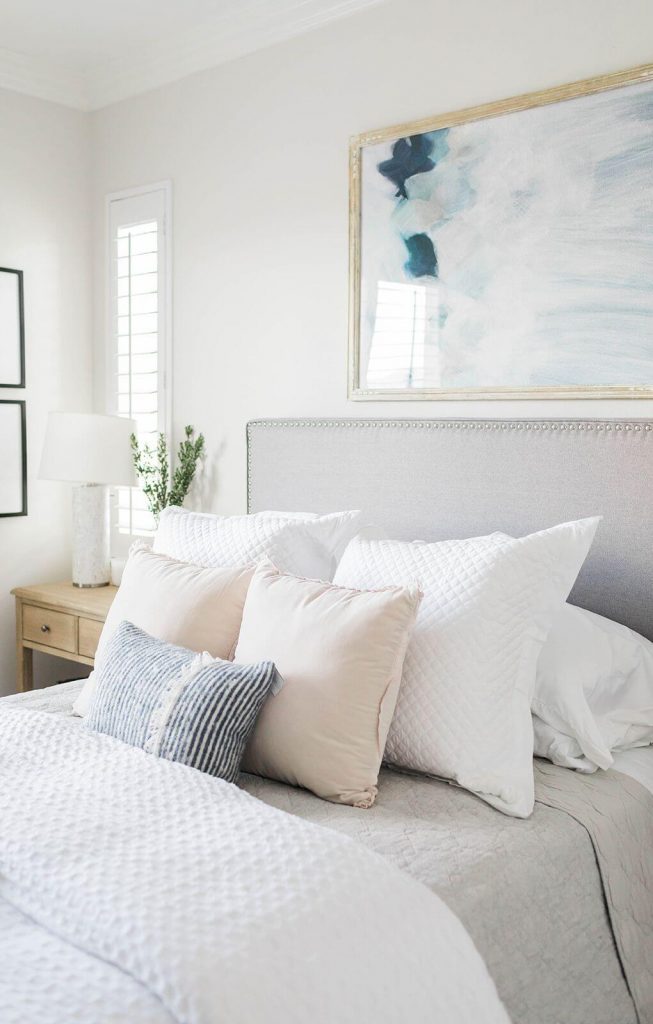 For a clean, modern, and neutral bedroom, playing with textures for your throw pillows is a great way to add playful accents. Pick muted colors like blue-gray, beige, and whites. Let the most oversized size throw pillow match the color of your bedding for a cohesive feel.
2. Simple throw pillow arrangement with brown and neutral pillows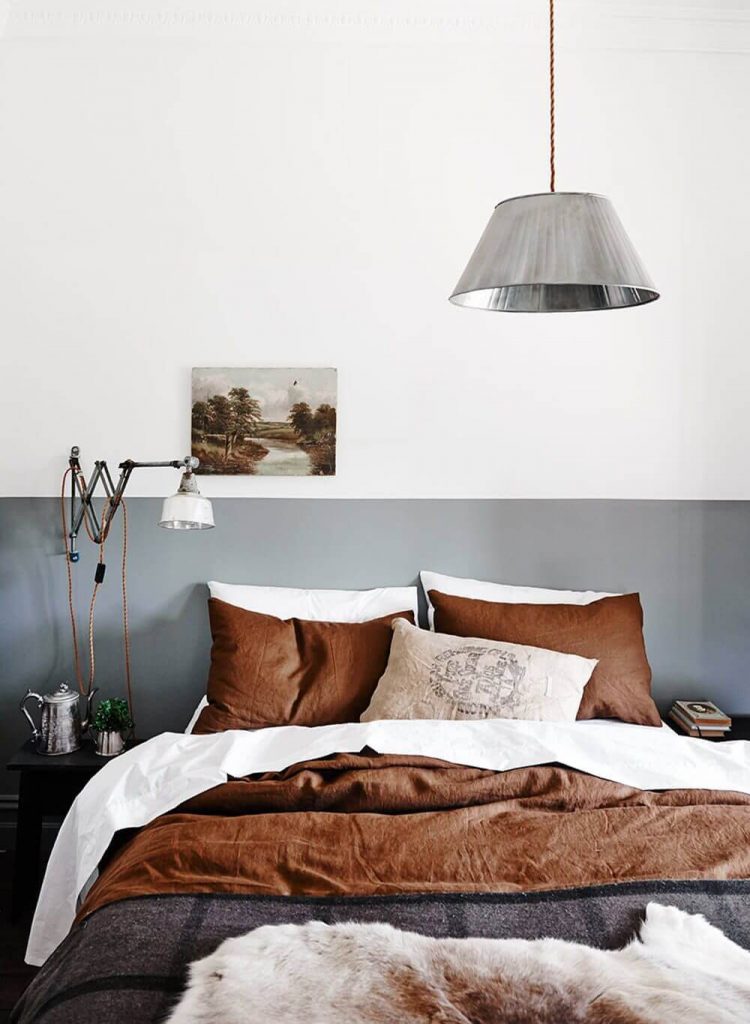 Use your bedding to add an accent color to your bedroom styling. These warm brown throw pillows look fabulous in this minimalist, industrial bedroom with a natural color scheme. By the way, your throw pillows can also be regular pillows. Get an extra set of standard pillows and buy pillowcases in an accent color or interesting texture. I sometimes prefer traditional pillows because they're comfier. If you spend time in your bed reading, working, or watching Netflix, simply buying more pillows does the trick.
3. Decorative pillows with a boho feel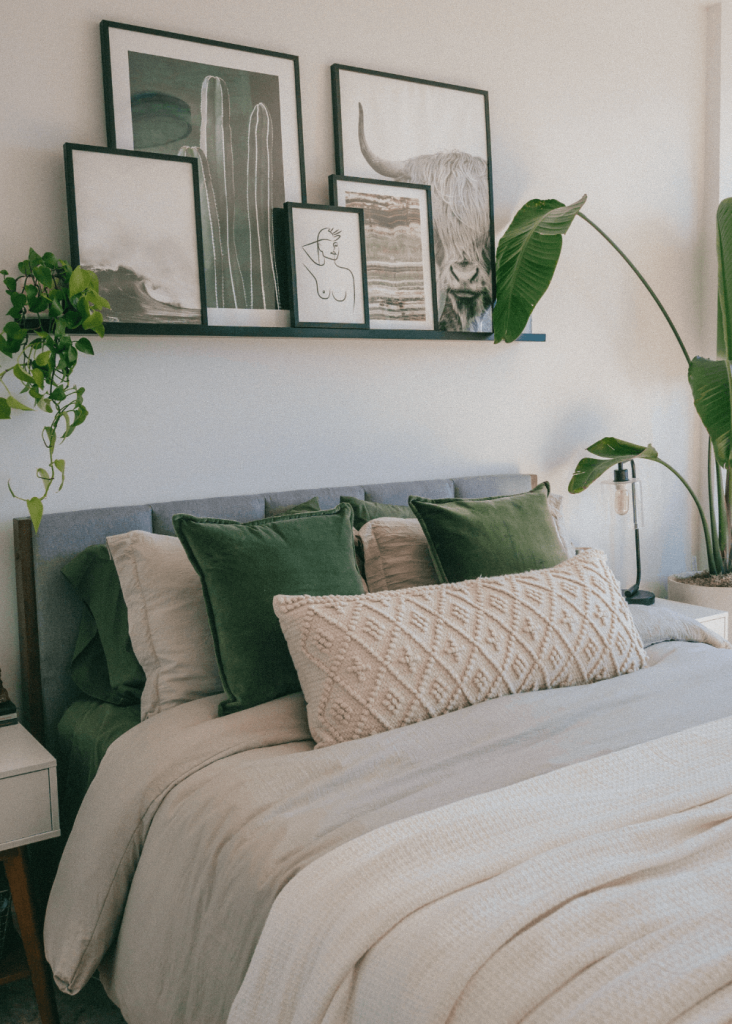 Lumbar pillows are great to give your bed styling that finishing touch! I love the mix of neutrals and greens in this bedroom; it's very calming. Place two regular-sized pillows, two smaller pillows, and a decorative lumbar pillow.
4. Combining gray throw pillows with rich textures and neutral bedding
Tufted bedding or a waffle pattern instantly makes your bedroom look polished, especially when combined with pillows in different textures and fabrics.
5. Add one accent color in your throw bed pillow arrangement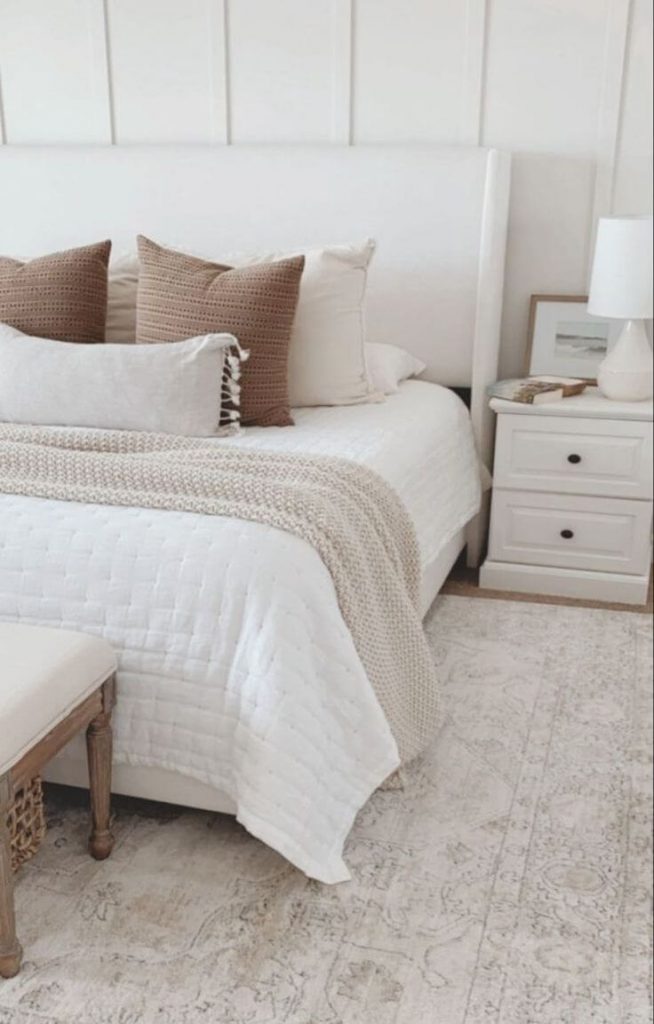 When keeping your pillow arrangement neutral, you can add in one subtle pop of color, for example, light brown. Earthy shades of brown look beautiful with neutrals, and you can add a unique touch by using throw pillows with different textures.
6. Do some subtle color blocking
Muted colors like this blue-gray and dusty pink work very well together. They add an unexpected but beautiful element to your bedroom. Again, be super creative combining different patterns and textures! Corduroy stripes and larger woven textures look luxurious.
7. Luxurious neutral throw pillow combo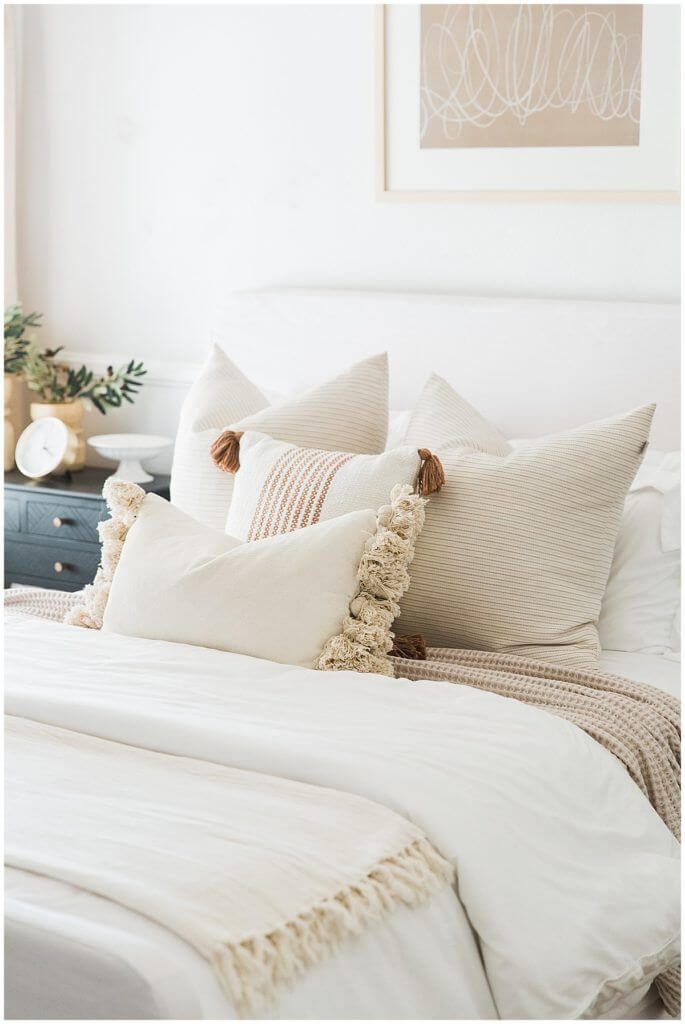 Tassels and combining various woven patterns are great to take a neutral throw pillow arrangement to the next level. Also, don't be afraid to combine different neutral hues, like sand, beige, tan, and off-white.
8. Mix and match throw bed pillows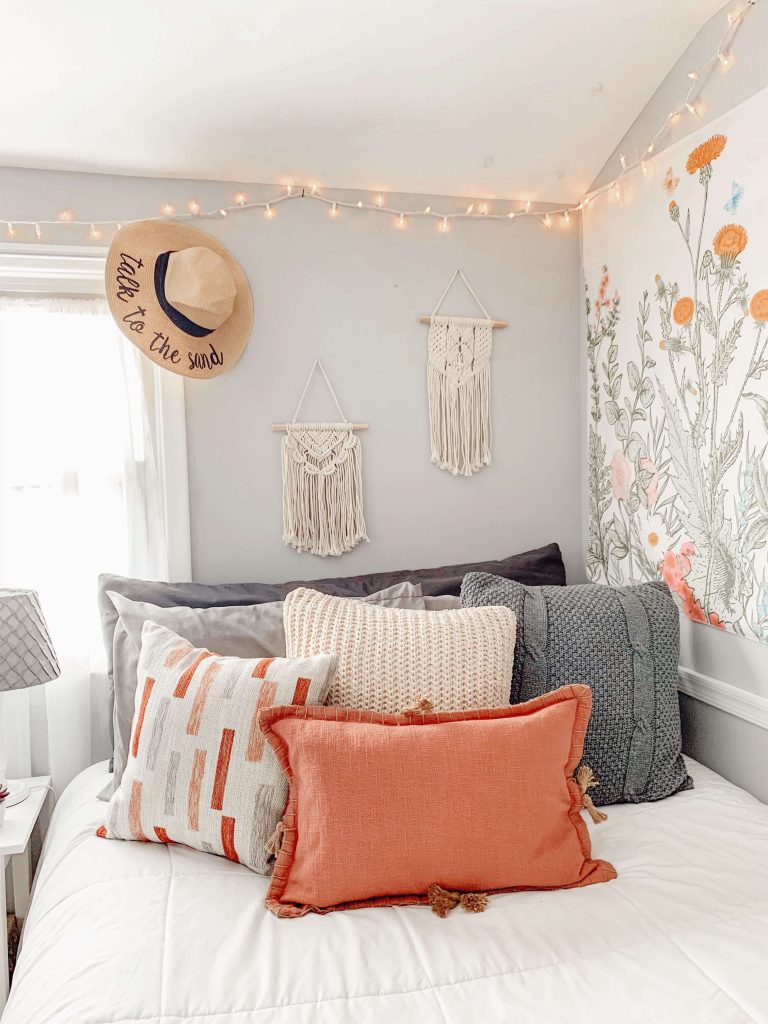 Combine throw bed pillows in different colors and textures for an eclectic and fun feel. The above bed styling has a combo of neutrals, gray tones, and orange as an accent color. Don't be afraid to mix and match different prints. It will look put together as long as you stick to a color scheme.
9. Burnt orange throw pillow combinations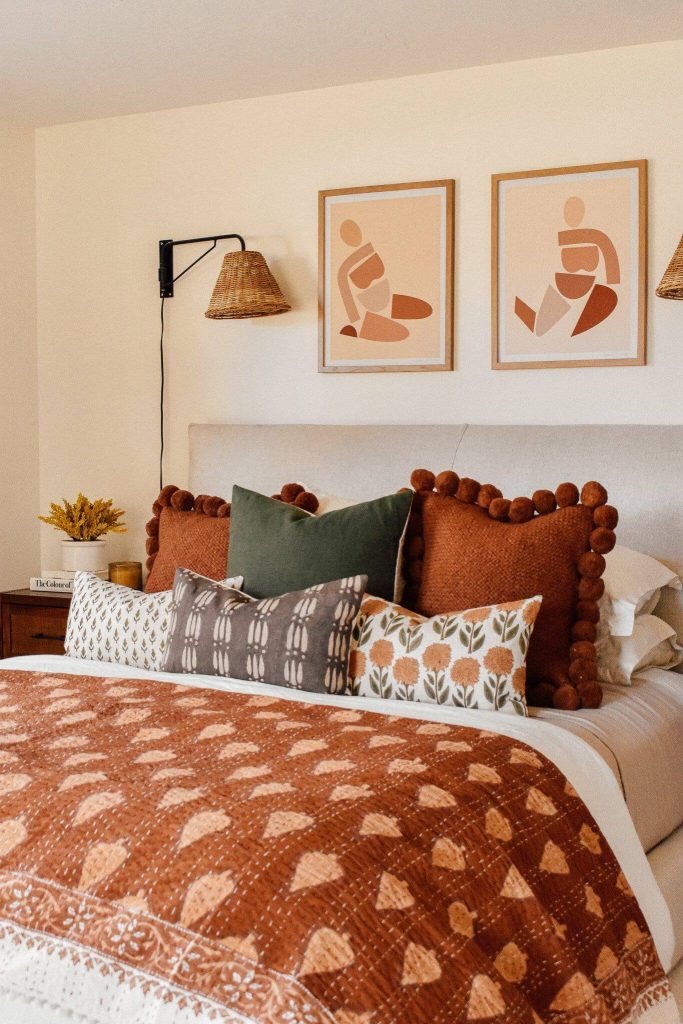 Burnt orange is a beautiful and warm color to have in your bedroom. It instantly puts you in a cozy mood. The bedding on the image above is by CollectivCo, but I've also listed several Amazon throw pillow options in a similar color scheme and aesthetic.
10. Dusty pink throw pillow arrangement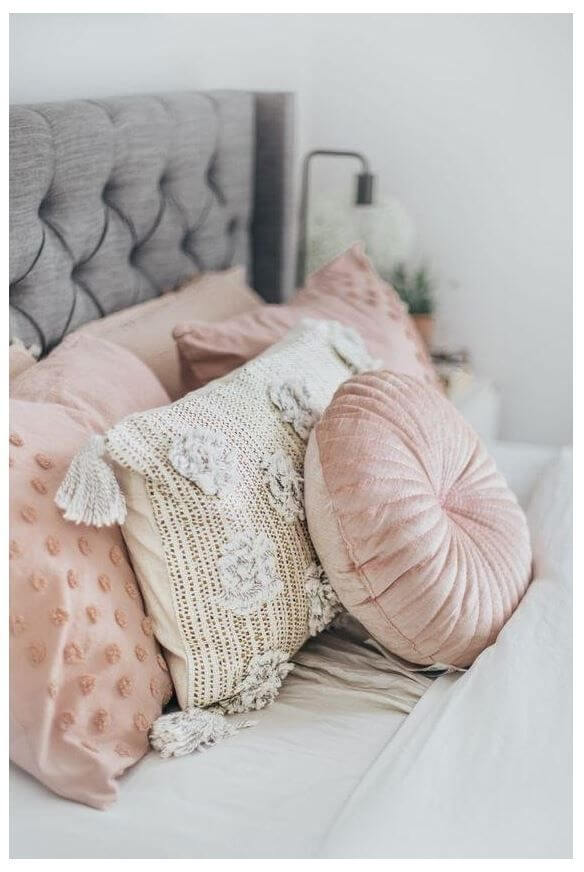 This bedroom with a gray headboard is another excellent example of how to pull off decorative throw pillows in various textures. Dusty pink, grey, and cream are three colors that look beautiful together. If you're having difficulty deciding on your bedroom aesthetic, I'd suggest sticking to three primary colors and building from there.
11. Neutral bedroom aesthetic with bohemian accent pillows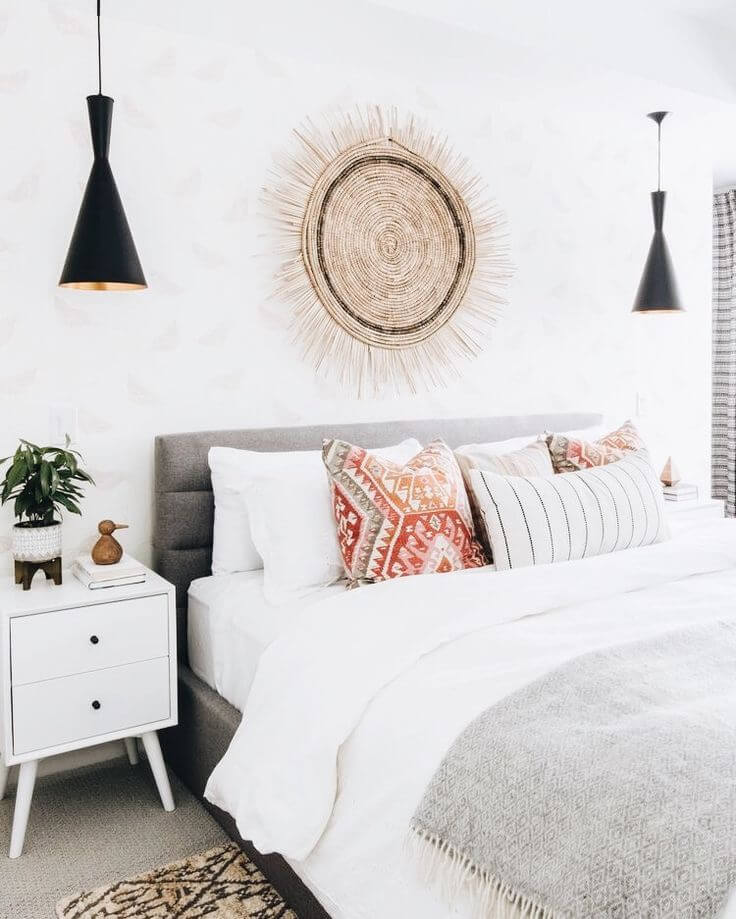 Add playful accents to your room with colorful pillow covers and throws. The main interior style in this room is minimalist, but the throw pillows add a bohemian accent. Throw pillows are a great way to experiment with different styles in your apartment because they generally aren't a big investment. You can also change your pillow covers depending on the season.
12. Tufted headboard bedroom with fuzzy light pink and gray decorative pillows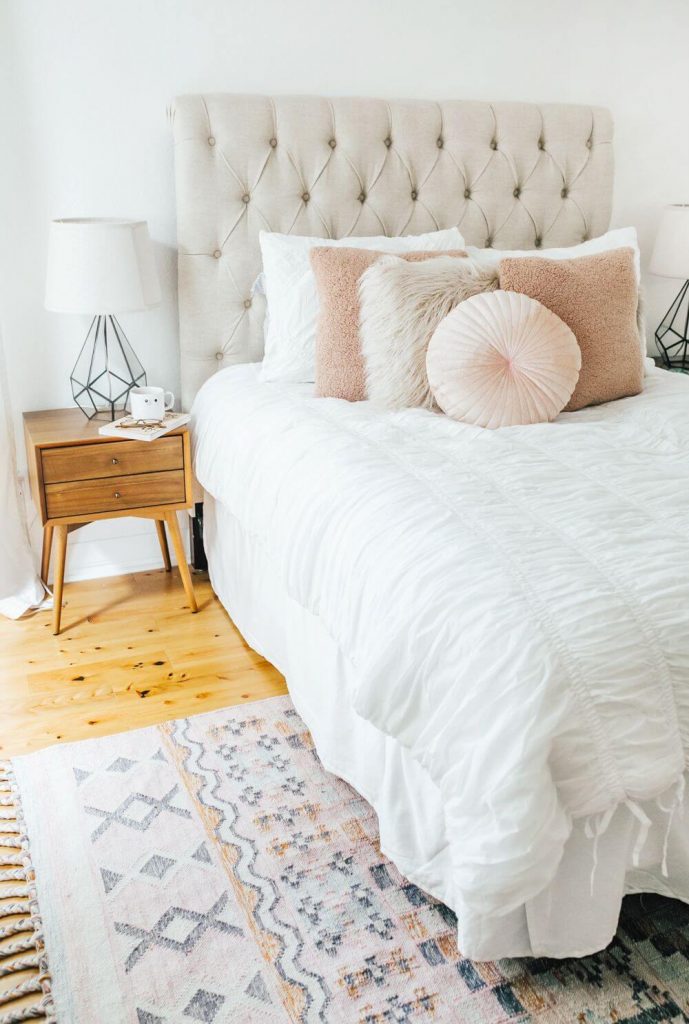 Pink fuzzy pillows have a way of making a bedroom feel cozy without any effort! I love this bedroom because it's not overly girly or feminine; it strikes the right balance. The bohemian rug in an otherwise modern bedroom is a fun contrast that works!
13. Monochrome farmhouse bedroom with simple boho pillows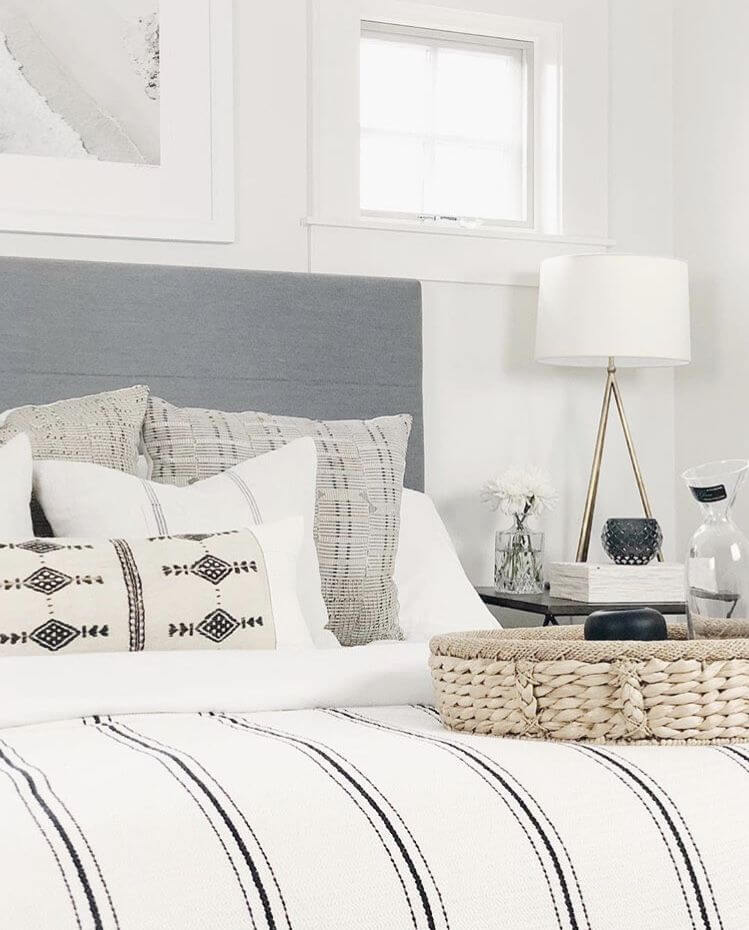 Neutral bedrooms don't have to be boring at all – the opposite! It gives you a chance to get super creative with prints, patterns, and textures. This room is a mix of coastal farmhouse, bohemian, and minimalist, and it works! And if you ask me, the throw pillows and boho-neutral bedding help pull it off.
14. Earthy hues throw pillow styling in an industrial bedroom interior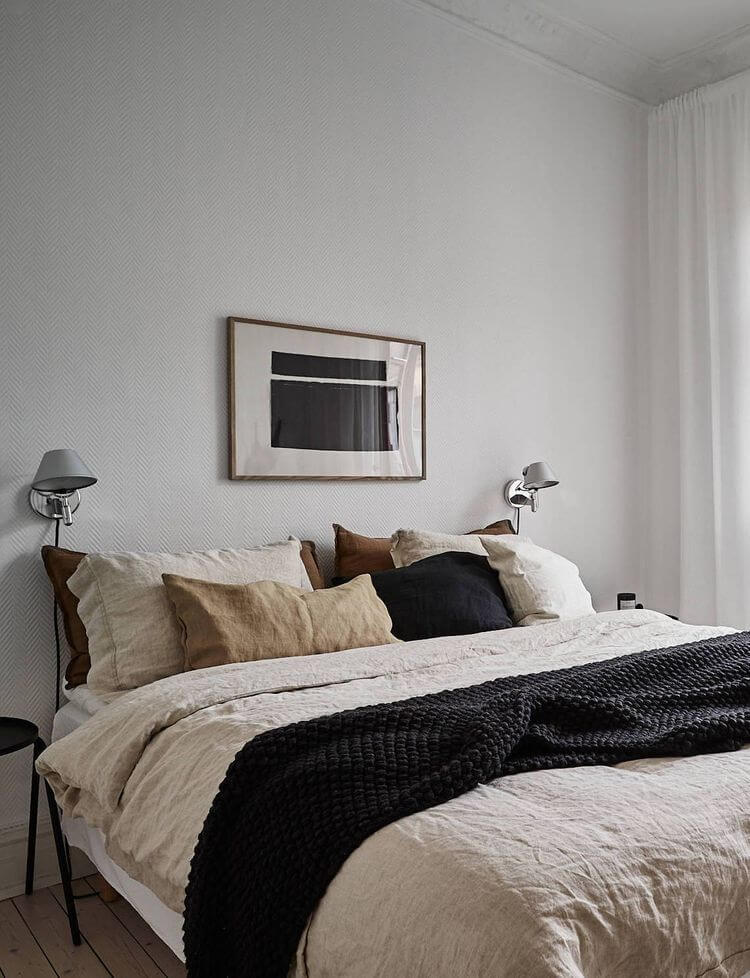 In a bedroom with clean lines and an industrial aesthetic, earthy colors are a great way to add a natural balance. These warm rusty, brown colors feel very homey and make your bedroom feel welcoming and cozy.
15. Simple arrangement of green and neutral pillows on a full size bed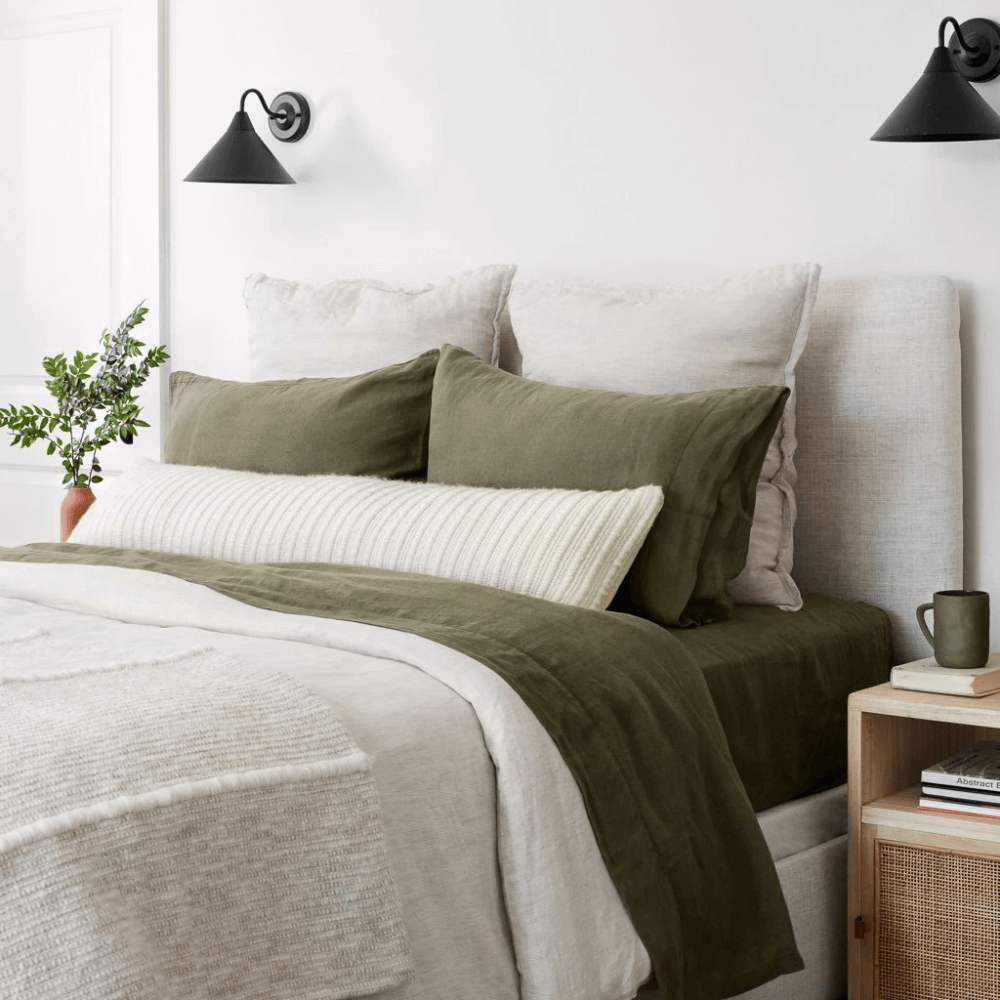 Simple pillow arrangements are the best! Combine two large 26×26 pillows with regular-sized 20×30 pillows on a queen bed. The large body pillow makes the combo look put together.
16. Elegant throw pillow combination with gray headboard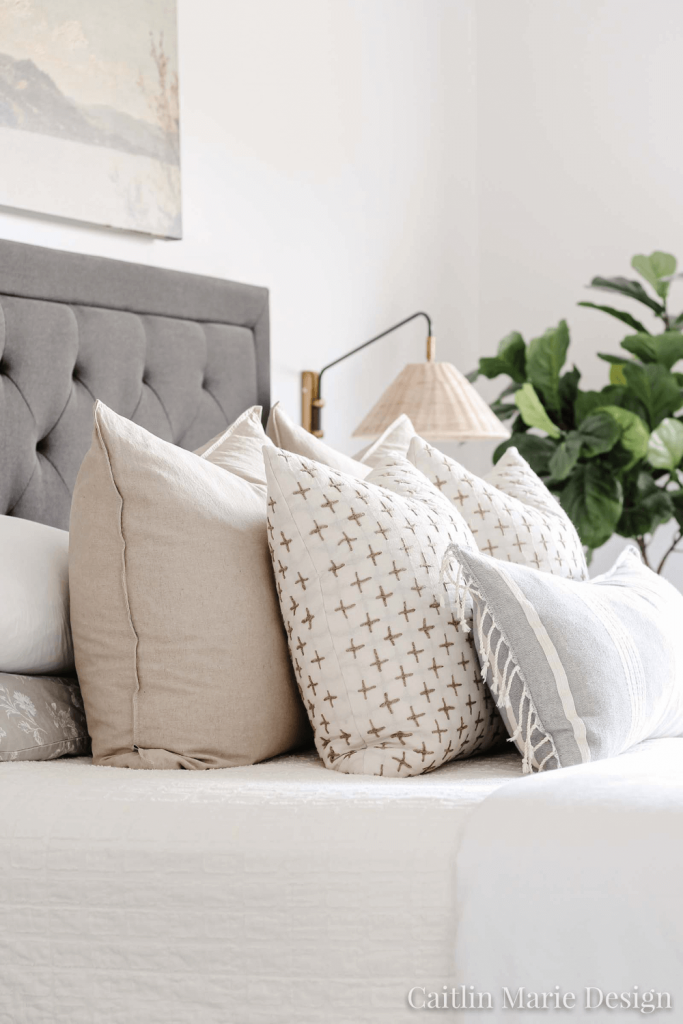 This minimalist throw pillow arrangement is equal parts luxurious and comfy. There are so many interesting things going on here! For one, the surprising combo of different prints. The tufted headboard, neutral printed throw pillows, and bedding work wonderfully together.
17. Rich textured throw pillows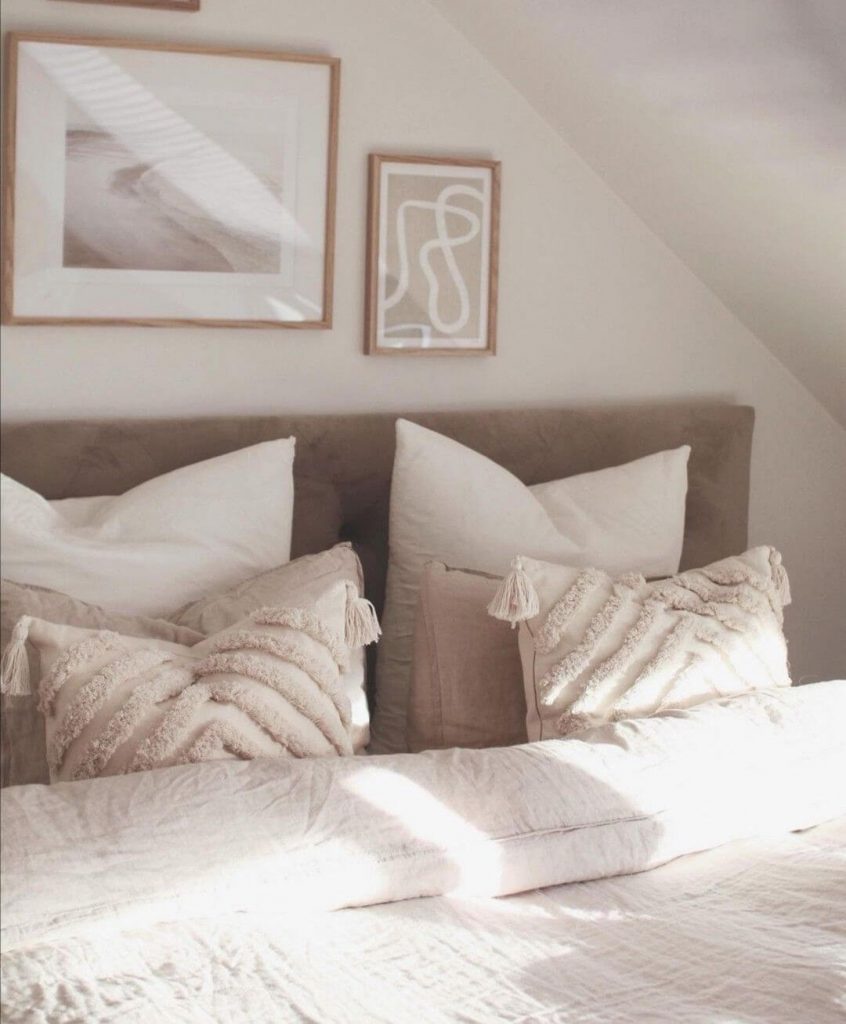 Combine cream with a soft light brown in a minimalist bedroom! Textured throw pillows make your room look polished while staying on a major budget. Layer different textures and fabrics for that luxurious room aesthetic.
18. Mix different accent colors for an eclectic feel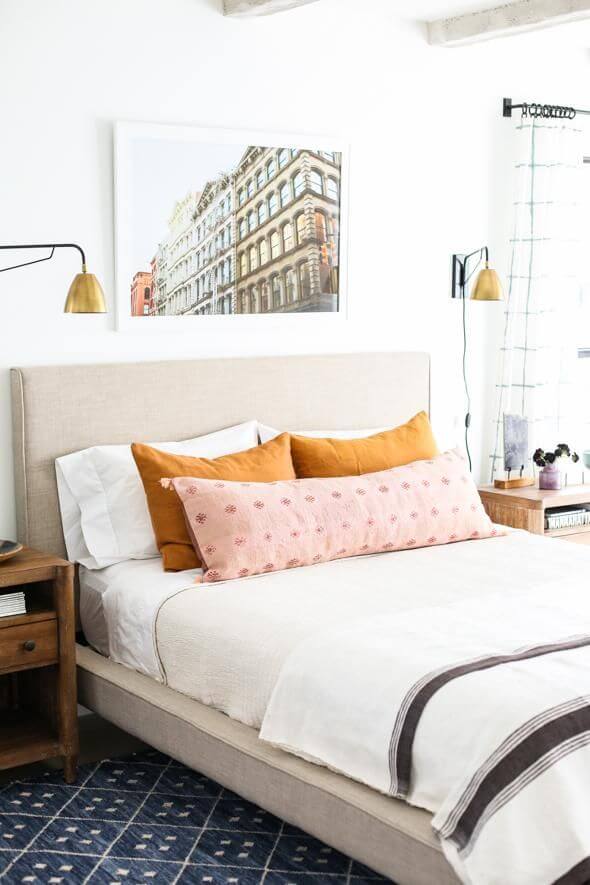 The color combinations when it comes to throw pillows are genuinely endless! I'd never have thought of combining pink with a bright orange, but it makes the room pop.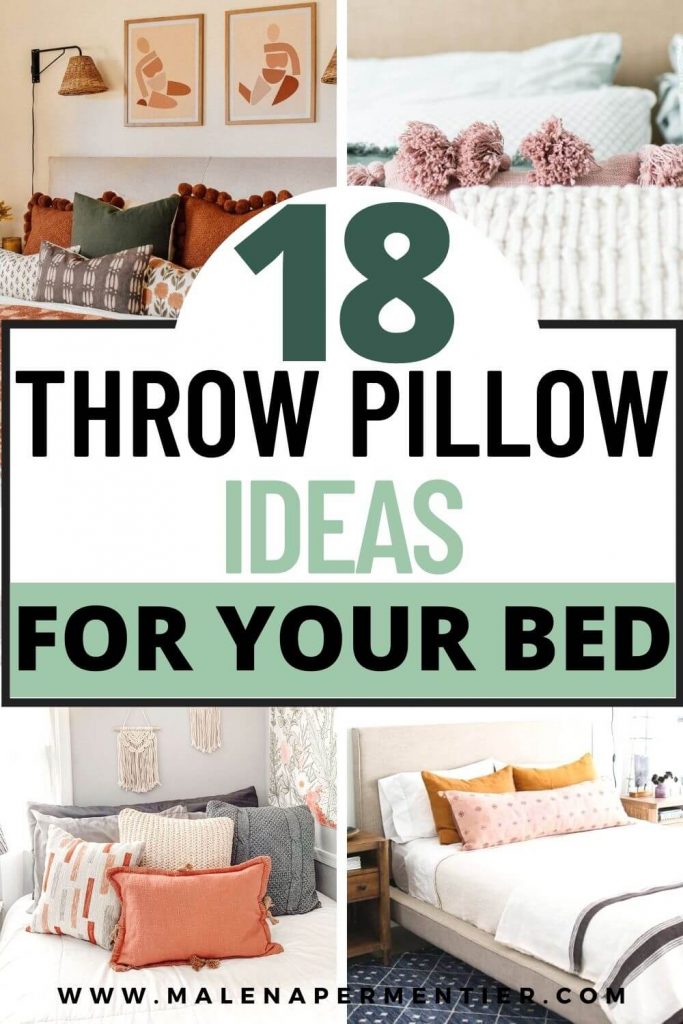 This post showed you the best throw bed pillows (and how to arrange them on your bed)
You may also like: