Hey there! Some links on this page are affiliate links which means that, if you choose to make a purchase, I may earn a small commission at no extra cost to you. I greatly appreciate your support!
This post shows you the best trendy apartment decor for cheap.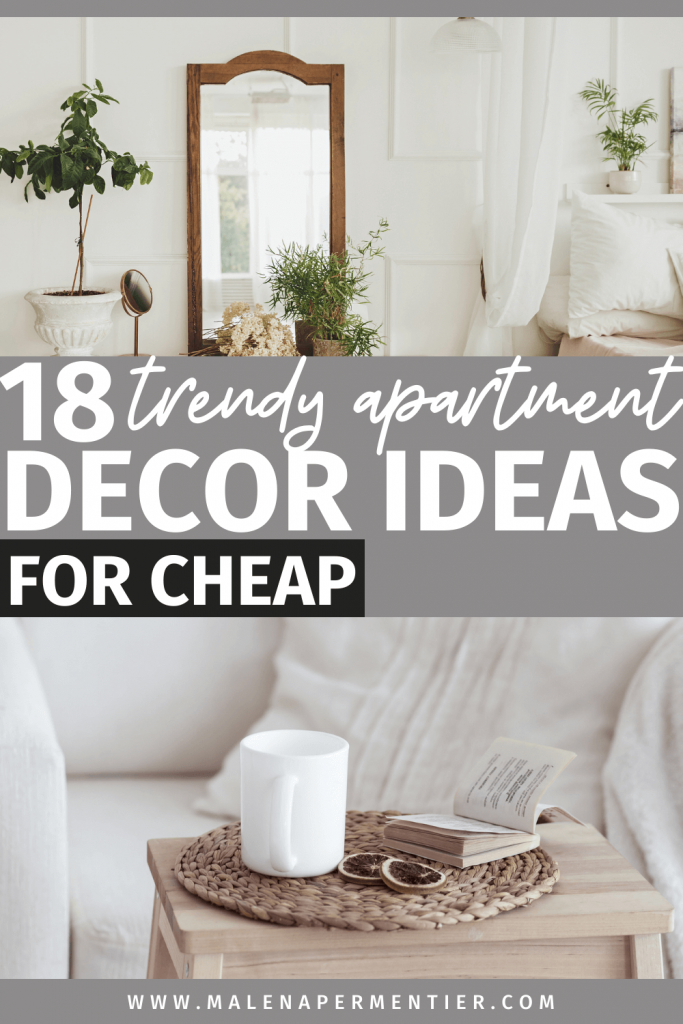 When planning your apartment decor, it's only normal to get inspired by items that exceed your budget.
But here is the good news: you CAN decorate a trendy apartment in a way that's not super pricey.
When you've put together some ideas you love, you can quickly identify the main color schemes, accents, textures, and so on.
The best trendy apartment decor:
Mixing metals
Light color scheme
Playful details (pillows with prints, candle holders)
Gold accents
Modern, chic and trendy
Best Trendy Apartment Decor On A Budget
1. Rectangle coffee table with metal and marble

Coffee tables with a rectangle shape are great for apartment living rooms with limited space. The shape aligns with the couch and therefore doesn't take up as much optical space as a square-shaped coffee table would!
2. Gold candle holders

Gold candle holders create a chic feel in your living room. Place these as a centerpiece on your coffee table or a side table.
3. Hammered metal lampshade

The secret to adding lots of gold accents to your living room without overwhelming or tacky is playing with different textures.
Hammered metal has a modern feel to it yet also makes your home feel homey and cozy.
4. Rug with trendy print

A good living room rug instantly pulls your seating area together. Go for a simple print and neutral colors: that way, you won't get sick of it.
5. Ceramic side table lamps

Modern and chic side table lamps don't have to be expensive. Pay attention to the color of the stand, so it coordinates with your living room color scheme.
6. Side table

Side tables aren't only practical; you can also use them to add a fun accent with color or texture. This gold and glass side table is insanely budget-friendly and chic.
7. Square ottoman

Ottomans are great for adding a playful (yet functional!) detail to your living room. You can use ottomans as a footrest, but they can also be extra seating when you have friends over. Especially in smaller apartments, these can be lifesavers!
8. Trendy arm chair

In apartments, you usually won't have space to fit more than 1 couch. A great way to make your seating area come together while creating extra space to sit is with a trendy armchair.
9. Artificial fiddle leaf fig

Some people say fake plants are bad for feng-shui, but I think they're perfectly acceptable. Suppose you travel a lot or your apartment doesn't have enough natural light to keep a fiddle leaf fig alive (because yes, they're fussy as f*ck). In that case, a great-looking artificial fiddle leaf elevates your apartment decor.
10. Full length arched mirror

It's such an old trick, but it works. In smaller spaces or narrow living rooms, a full-length mirror creates the illusion of more space.
Mirrors also are a trendy way to decorate your apartment on a budget. Go for an arched shape, or a cool vintage look to make your living room mirror situation look a little more special.
11. Throw blanket

Throw blankets can make an average couch look a lot more expensive. If you've been shopping for apartment furniture, you know that sofas are ridiculously expensive.
If you're moving into your first apartment, you might not have your #1 choice of a couch. But that doesn't mean you can't make it look a lot better with knitted throws or cool decorative pillows.
12. Gold bamboo frame

Small things like photo frames can make your place look chic for cheap. Play around with different textures, but keep the overall color scheme of your living room in mind.
13. Decorative throw pillows

Rule of thumb for mixing and matching decorative pillows: something plain, something printed, something colorful. You'll also want to play with the sizes. Combine 18×18 (standard square) and 12×20 (rectangle) and a more oversized square shape like 26×26.
14. Throw pillow inserts 12×20

You often have to buy your inserts and pillow covers separately, so keep that in mind. But not to worry: throw pillow inserts are very inexpensive.
15. Trendy throw pillow cases 12×20

If you go for a plain color decorative pillow, pick a fun texture that will add an interesting accent to your living room.
16. Modern coffee table books
Coffee table books are fun to flip through, make you feel inspired, and also have a way of making your apartment look trendy.
17. Serving tray

Use a serving tray to create little decor situations on a side table or coffee table. For example, combine a vase with faux eucalyptus, a candle, and some smaller decor items for a super put-together and chic look.
18. Faux eucaluptus stems

Place the faux eucalyptus stems in a clear or dark green vase for a cool, elevated look. The whole thing will cost you no more than $50, but make your apartment look super chic.
This post showed you 18 apartment decor items to make your place look trendy and chic on a budget.
You may also like: