Hey there! Some links on this page are affiliate links which means that, if you choose to make a purchase, I may earn a small commission at no extra cost to you. I greatly appreciate your support!
Looking for the best cool apartment stuff? Then you need to read this post.
Cool things for an apartment: something clever, something practical, something aesthetically pleasing, and a conversation piece.
What am I talking about? Cool things to buy for an apartment that will make it better!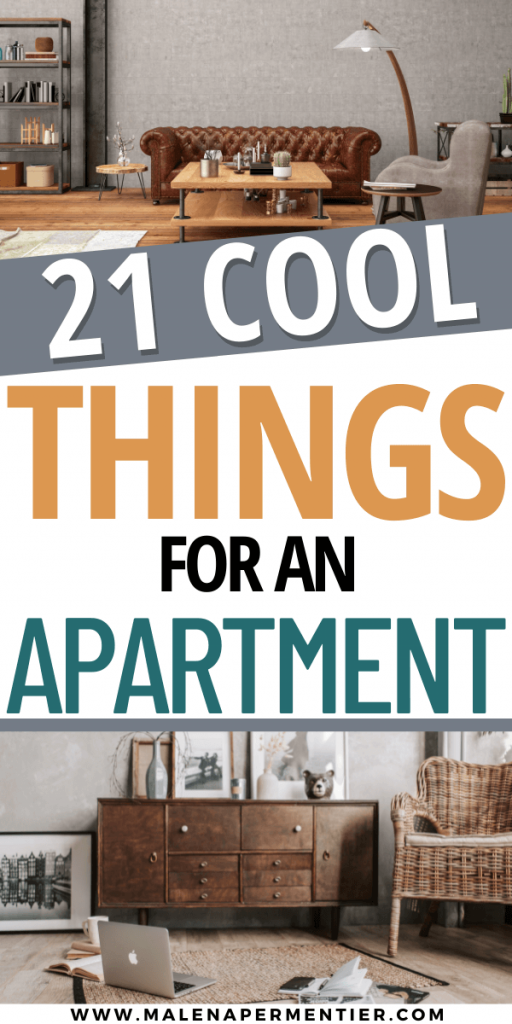 Cool Things To Buy For An Apartment
The formula for turning a meh apartment into an amazing apartment all has to do with balance. Yes, you want some cool gadgets, but you also want to create a nice atmosphere.
Making your apartment look cool is something you do for yourself, but also to make it a welcoming place to have friends or a date over.
As you can tell from the rant above, I have thought about this long and deep, haha! So let's look at 21 insanely cool things that will make your apartment better.
This stuff will make your apartment more fun, more attractive, and so much more inviting.
1. Small humidifier

This small cool mist humidifier is great to keep in your bedroom or apartment living room. Particularly in big cities, these humidifiers are lifesavers and instantly freshen up your space.
2. Gray lounge chair

A lounge chair like this makes your living room come together if you have empty corners. They also provide extra seating, which is always a good idea. The simple yet sophisticated design and versatile charcoal color make this a good fit for every interior aesthetic.
3. A fun game

Every apartment should have some fun games! When you have friends coming over, this is a guaranteed way to have a fun night.
Cards against humanity is a politically incorrect adult game that people either rave about or feel outraged about.
4. Catch all tray

Catch all trays are one of those items you didn't know you needed until you had them! Most people are guilty of scattering their stuff all over their apartment when getting home. A Leather catch-all tray is stylish and super practical for keeping your things in place.
5. Masculine bar cart

A rustic compact bar cart elevates any apartment. Get a variety of liquors, mixers, and cool glasses to make the bar cart come together. This doesn't only look super cool in an apartment; it's also great for when you're hosting friends.
[Related: 23 Cool Bar Cart Ideas Under $150 That Instantly Elevate Your Home]
6. Bose speaker

Every apartment needs a good speaker. Even if you have a decent sound system in your living room, portable speakers are still a must to have! Use this bose speaker in your bedroom, balcony, or anywhere else you might want music.
7. Wall mounted coat rack

Hang a simple coat rack at your entryway for coats and jackets. People often forget this, and when they have people over need to throw coats and jackets on chairs.
8. Stone coasters

A cool apartment is all in the details!! These stone coasters are practical, look great, and are way cheaper than they look.
9. LED lights for TV

Hang these LED tape lights behind your TV, in the kitchen, or anywhere else in your apartment. They give your apartment a subtle, warm light. They're also cheap, which is always good.
10. Cool sidetable lamps

Lamps are the kind of decor that's often underrated. A good lamp makes your apartment look so much better. This style mixes modern and industrial and will go nicely on your TV console or a side table.
11. Bartending kit

With a bar cart in your home, you also need a decent bartender kit! Pick a set that has all the essentials for making a good drink. You'll probably keep this bartending kit on your bar cart, so paying attention to the design is essential.
12. Wooden tic tac toe board

A tic tac toe board is a fun thing to have in your apartment! Leave this stylish wooden board on your coffee table – it's a great ice breaker.
13. Coffee table books that match your interests (and aesthetic)
This one speaks for itself. Coffee tables need some decor, and books are great to flip through. They're a good conversation starter and fun to have.
14. Minimalist abstract art

If your apartment has a lot of space on the wall, you need some art. You can keep this super simple and go for abstract prints that look good with your living room colors.
15. Stemless wine glasses

Cool wine glasses are something every apartment needs. Sure, you can also buy some cheaper wine glasses, but when you have a nice bottle of wine, you something better!
16. Industrial candle holder

Things like candles make your apartment look cozier. Go for a rustic and industrial style if that fits your apartment decor.
17. Instant pot for easy delicious meals

One of the essential kitchen gadgets: an instant pot. This thing makes cooking delicious meals super easy and takes the pressure off of hosting.
18. Digital alarm clock

If you like the idea of keeping your phone out of your bedroom, you need this digital alarm clock. It's one of those small gadgets that looks cool but is equally practical to have.
19. Rustic console

This console works for your living room or entryway. If you have free wall space that you don't know what to do with, consider an item like this. It's great for hanging art above, storing some books, and keeping other personal things that are worth having on display.
20. Double laundry hamper

A double laundry hamper for light and dark colors is on the list of practical things you need for your apartment. This gray laundry basket doesn't look awful, which is always a plus.
21. Open Late Neon Sign

Every apartment needs some fun art. This open late neon sight would look great next to a bar cart (or on it) or at your entry.
This post showed you 21 cool things to buy for an apartment.
You may also like: