This post shows you a 1st apartment essentials list with things you'll likely forget!
I heavily underestimated the number of small essentials your place needs when moving into my first apartment.
Think ice cube trays, toilet plunger, adhesive hooks, bath mat, a tray for silverware (my kitchen drawer didn't have one), and so on.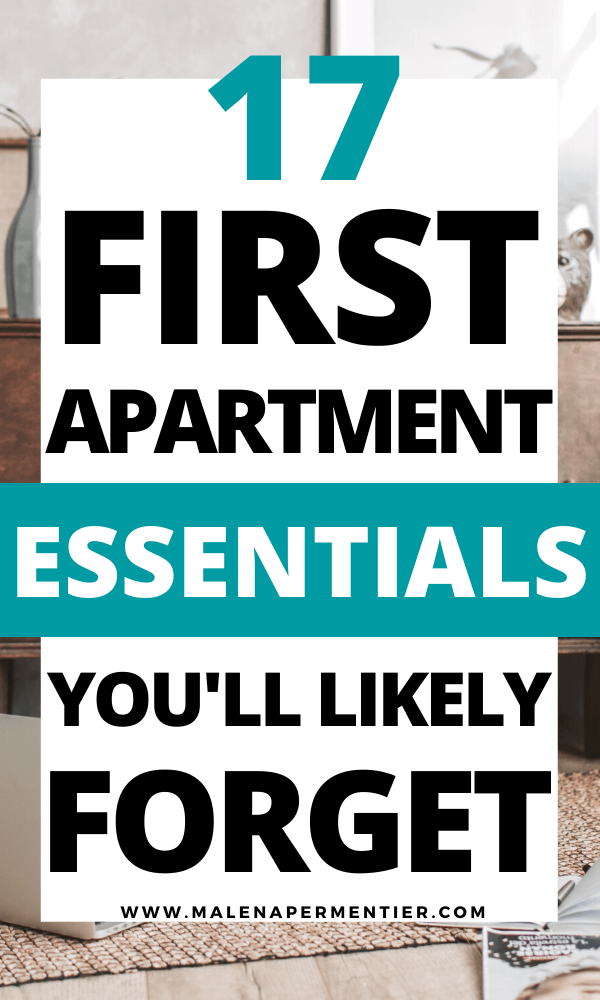 I focussed a lot on the big stuff, like the couch, coffee table, bed, and TV console. And even though those items are necessary, there are many more apartment must-haves!
In my first apartment checklist post, I listed all the big necessities for each room in your apartment.
In this first apartment essentials list, we'll go over the apartment products that are small and easy to forget.
1st Apartment Essentials List
1. Bath mat

You need a bath mat! Maybe it's just me, but I forgot to get one at first. And then, I was silly enough to get a white bath mat – which I do not recommend because it looks dirty within 2 days. I swear by this fuzzy gray bath mat. It's easy to wash, never looks dirty, and still looks brand new after years.
2. First aid kit with essentials

This seems like such a mom thing, but it's so important to have a first aid kit in your apartment!! You'll be glad you have this when you cut your finger.
3. Toilet plunger and brush

If you have more than 1 bathroom in your apartment, don't forget a toilet brush for each. Consider a set that includes a plunger, so you don't have to get that separately.
[Related: 17 Bathroom Essentials for First Apartment That You Absolutely Need]
4. Key and mail holder

One of the big things about moving into your first apartment is starting to pay your own bills. A key and mail holder makes it easier to keep mail, bills, and essentials like keys organized and in one place.
5. Silverware tray

Before you move into your apartment, check if the drawers have built-in silver trays or not. If not, measure your drawers to buy silverware trays with the correct measurements.
6. Self-adhesive hooks

You'll be surprised how many self-adhesive hooks an apartment needs! Especially if you're moving into a rental and don't want to mount things to the wall, these hooks are perfect. You can use them in your kitchen, for bathroom towels, to hang inside your cabinets, and so on.
7. Kitchen countertop soap and dish soap dispensers

Re-fillable dispensers that look good are a must in any apartment. Get one for dish soap and one for hand soap.
8. Microwave splatter cover

There's nothing more annoying than a dirty microwave after heating food. This simple splatter cover for your food ensures you don't have to clean your microwave constantly.
9. Plastic bag holder

Most of us are guilty of owning an extensive collection of plastic bags or grocery bags. Especially if you've just moved into your apartment, you'll likely have many!
This organizer keeps your bags all in one place and your apartment free of clutter.
10. Basic toolbox essentials

When moving into your first apartment, having your own toolbox is essential! As long as it includes basics like a hammer, tape measure, screwdrivers, etc., you're good.
11. Closet Hangers

This is something I forget when moving into my first apartment: enough clothing hangers! I severely underestimated how many I'd need.
12. Knives and cutting board

You'll need a bunch of different knives and a cutting board. You might not have the budget to get expensive kitchen stuff in your first apartment, so budget-friendly kitchen essentials like this are the best.
13. Storage shelf

Whether for storing shoes, extra pantry storage shelving, or another purpose: we often underestimate how much storage shelf space we need! Shelves like this are also great if you have a small walk-in closet.
14. Easy wring mop and bucket

Nobody's favorite thing, but your apartment needs cleaning essentials! I have this mop and bucket, and it's the best. It makes cleaning your floor so much easier than a regular mop.
15. Pot holders

Potholders are a necessity if you have an oven that you intend to use!
16. Mixing bowls

If you cook, you will get so much use out of these. These mixing bowls are perfect for marinating, baking, salads, and many more purposes. I have these, and I always recommend them because they're so practical to have in your apartment kitchen.
[Related: 27 First Apartment Kitchen Essentials You Absolutely Need]
17. Power strip with many outlets

Yes, power outlets aren't pretty, but you'll likely need them in your living room and bedroom. Store this power outlet behind your TV or bed.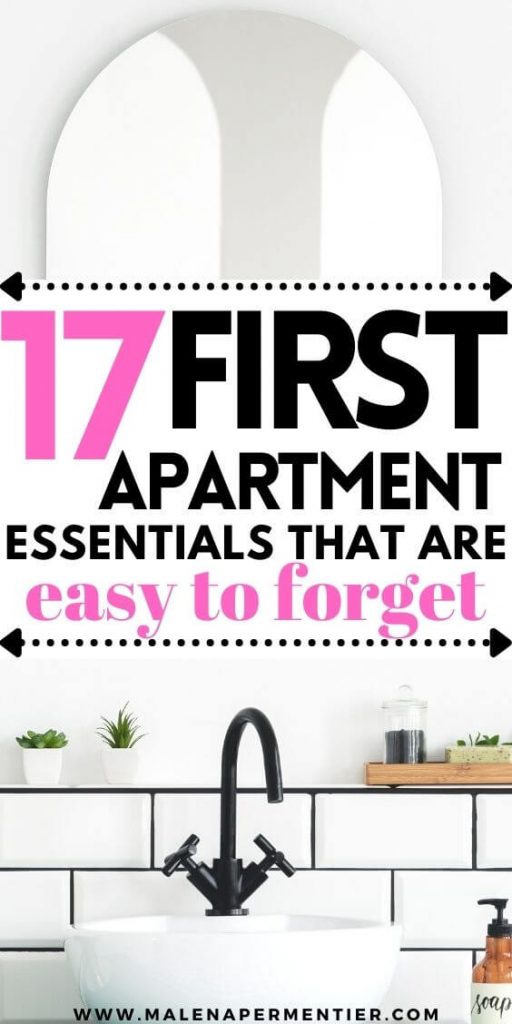 Liked this 1st Apartment Essentials List?
You may also like: