This post is all about the best comfy chairs for small spaces!
Comfortable chairs are a great addition to any living room, particularly in small spaces where having a large loungy couch isn't in the cards.
I'm a massive believer that comfort and style can go together! So when we're talking about comfy chairs, it's not just Barca loungers (hi joey) and bulky recliners.
These comfy chairs below are ideal for small spaces because their design is sleek and doesn't visually take over your living room.
If you're looking for budget-friendly options, there are several incredibly aesthetically pleasing and comfortable chairs for under $200. You'll see that listed under the product image.
Best chairs for small spaces
How to pick the best comfy chair for a small space? I live in a super small apartment, so I know the struggle of finding the right furniture.
Exposed legs: picking furniture with exposed legs rather than items flat on the floor helps open up your space.
Sleek shape: Avoid chairs that are too bulky, like Barca loungers, recliners, and other puffy chairs that take up too much space.
Hiding cords: Although I'd recommend sleek chairs with exposed legs for small spaces, some nooks look better with a compact chair design. It could be a way to hide outlets, TV cords, or other not-so-pretty things in your living room.
Balance: What makes a good chair in a small space has everything to do with balance. For example, if your couch doesn't have exposed legs, go for a chair with exposed legs and vice versa. Keep in mind the whole of your living room, like the TV console, rugs, coffee table, etc.
Have some fun: Comfortable accent chairs are a great way to add a little color or surprising texture to your space. Consider which color or style you'd like more of in your space, and then go for something that reflects that. Important note: keep consistency in your furniture's leg colors!! A little mixing and matching work, but don't overdo it where your main furniture pieces all have different material legs.
1. Comfy black chair for reading
Comfy black velvet chair (under $200)
In what living rooms does this chair look good?
Black velvet is super versatile and looks good with almost any interior style. This chair has gold metal legs, which gives it an interesting touch. Pair with a gray couch and furniture with metal or dark wooden legs. Place it in the corner of your living room for a lovely reading nook. This chair is under $200, unique for a comfortable and luxurious accent chair.
Key features:
Rich velvet fabric
Thick cushion for comfort
Rose gold metal legs
What customers say:
Buy these!! You will not be disappointed! Great quality fabric! The color is true to advertisement. Very sturdy and I have 250+ guests sit on them. Very wide and comfortable.

– Kamara
2. Beige swivel chair
In what living rooms does this chair look good?
The Balboa swivel chair is a super cool design chair that looks great in minimalist and neutral living rooms. The design is wide enough to sit crossed-legged, making it a super comfy spot for reading and relaxing. If your living room is missing something, this round swivel chair might be the last puzzle piece to make it come together.
Key features:
Upholstered swivel armchair
Available in 40″ and 51."
Customize fabric and color
3. Sleek faux leather chair
Camel faux leather chair (under $200)
In what living rooms does this chair look good?
This faux leather chair fits excellent in an interior with rustic and industrial touches. The camel color is surprisingly versatile and adds warmth to a living room with dark colors. This chair belongs in a Brooklyn loft or an apartment with a modern, warm and industrial look. These chairs are compact so that you can fit these in your living room or bedroom.
Key features:
High-quality fake leather
Thick and comfy cushioned seat
Sturdy black frame
Arms with wooden detail
What do customers say:
It was better than I expected! I thought the faux leather would look a little cheaper but everyone who came over asked if I got it at west elm! It's not the most comfortable chair just because it's low but it's a perfect accent chair.

– ANna d.
4. Comfortable gray reading chair
In what living rooms does this chair look good?
What's great about this gray chair is that it's endlessly versatile. You almost can't go wrong with this design because it would look good in any interior. Gray with neutrals like beige and sand gives it a more warm look. On the other hand, you could also pair this comfy gray chair with dark colors for balance. Consider getting two instead of one to complete your seating area. Comfortable accent chairs like this are great for extra seating in a living room that doesn't have enough space for more than one couch.
Key features:
Mid-Century Modern
Wood frame
Versatile light gray color
Easy to assemble
What do customers say:
I absolutely love this chair! Is super comfy, sturdy, easy to assembly and it looks great!!

-Gwads
5. Modern light brown chair
Buy on Target (on sale under $200)
In what living rooms does this chair look good?
The wood frame and brown camel seat combo are the perfect color scheme for any boho chic living room. The shape of this chair screams high-end, while it's an incredibly affordable option. This chair would go great in an empty corner in your bedroom or make your living room seating area feel finished. For example, my small living room only fits a two-seater couch. Not nearly enough space when we have guests over! Getting a comfy accent chair to go in the corner makes our home much more guest-friendly.
Key features:
Brown faux leather
Elegant-shaped wooden frame
Comfy armrest
It comes in 3 different colors
What do customers say:
I was looking at comparable chairs that were thrice/four times the price but decided to take a chance during Labor day sale. The chair is nicely crafted and easy to put together. The cream color is a nice neutral, neither too yellow nor too white. The seat is a bit stiff but comfortable. I did have a missing part (the thin bar in the back) but Target's customer service was able to get the manufacturer to ship it separately. All in all, super happy with this purchase!

– Arcy
6. Comfortable gray swivel chair
In what living rooms does this chair look good?
Swivel chairs are compact and take up their share of visual space. That's why these chairs go great in a space 'that's missing something. Too much free space in a living room or bedroom makes the ambiance look off and sometimes cold. Pair this comfy swivel chair with wooden furniture and perhaps a camel-colored couch.
Key features:
Cozy gray swivel armchair
Stylish upholstery
Curved back and thick cushions
What do customers say:
Just as described…easy set up, fit our small space perfectly & very comfortable. I've only had it about a week but it seems sturdy. Medium brown.

– Cindi
7. Apricot reading chair
In what living rooms does this chair look good?
The Anthropologie Tillie chair is a real statement piece. Although it's pricey, it's fully customizable in color and fabric, making it the ultimate chameleon for styling your apartment exactly how you wish. The leg material and hardware are customizable too! This modern chair is the perfect addition to any eclectic, boho, and colorful living room. If your living room has a more toned-down color scheme, this comfy chair in an accent color like mustard yellow or apricot can add the perfect balance.
Key features:
Fully customizable
Comfortable and stylish design
High-quality fabric options
English chair design
What do customers say:
We bought this chair in a purple to serve as a contrast to our Lyre Chesterfield in rosewood slub velvet. This chair is super comfy and stylish at the same time, and holds it's own next to the more majestic chesterfield.

– ENZosmom
8. Charcoal gray accent chair
In what living rooms does this chair look good?
This incredibly stylish accent chair by Target is designed in collab with Studio McGee, which you can tell immediately. The charcoal gray cushion has a beautiful vintage texture that adds charm and character to a living room with calm and neutral colors. Place this chair next to your couch in the corner, or use it as a bedroom chair. This modern design is the perfect addition to a modern and slightly minimalist living room with neutral colors like white, beige, wood, and gray tones.
Key features:
Gray cushion with unique fabric
Angled back with an airy frame
Rubberwood frame
What do customers say:
This furniture line is supposed to be Studio McGee style at a lower price point. That doesn't translate to furniture that will last forever! This is a great, on-trend, comfortable chair that fits the bill. Patient assemblers on a budget — go for it!!

– seds0910
9. Most comfortable Papasan chair
Buy on Amazon (under $200)
In what living rooms does this chair look good?
Papasan chairs aren't the most elegant, but they add a playful and cozy touch to your living room. If you want to create a reading nook or add a fun element to your space, Papasan chairs are the perfect way to do so. This chair has a rattan frame and versatile beige cushion to fit any living room style. Papasan chairs are like a cozy little nest, making them the comfiest chair for reading. Their also compact and don't take up a ton of space, making them the perfect small space addition.
Key features:
4.5-inch thick cushion
Available in gray or white
Brown rattan frame
What do customers say:
I spent ages trying to find the "right" papasan chair – big enough, angled right for reading a book, a brown base, sturdy.. this one is truly it ! The chair arrived WAY faster than expected – two days rather than a week ! It was really easy to put together too; there were just a few screws. The base isn't totally flush on the floor, one side is about 1/4 inch floating, but it doesn't bother us. Overall I am so pleased ! Also pro tip: if the price goes above $200, wait a few days and it'll come back down.

– amazon customer
10. Natural wood accent chair
In what living rooms does this chair look good?
This neutral wood accent chair has been featured in almost any interior magazine, and I understand why. The design is timeless, comfortable, and super elegant. You can't go wrong with these chairs if you love a modern but warm living room aesthetic.
Key features:
Customizable in different colors and fabrics
Iconic design
Solid ash wood arms and legs
Stylish & comfortable
11. Orange Armchair
Buy on Amazon (under $200)
In what living rooms does this chair look good?
This armchair has a classic and timeless design, making it look good in just about any living room. The dark brown furniture legs are versatile, and this chair is available in orange, yellow, beige, gray, and white. If you want a comfortable chair that adds a pop of color, go for something bright. My personal favorite is the beige chair.
Key features:
29″D x 35″W x 30″H
Sturdy design
Comfortable armrest
What do customers say:
Getting all the pieces just right was a bit of a pain. Only a few swear words from me 😉 I was able to put it together alone in about 20-30 minutes; I admit I'm a little bit of a perfectionist.

It's beautiful. The color is perfect. This is my "sun chair" where I sip my coffee and sit with my legs over the side to calmly wake up before the child invades my space. I really like it. Perfect for my needs.

-SD rocks
12. Modern comfortable chair with ottoman
In what living rooms does this chair look good?
This modern and classic chair with an ottoman footrest is the perfect addition to contemporary interiors. Comfortable chairs with ottomans are usually more oversized, but this one is compact enough to fit a small space. Place this chair in a living room corner or your bedroom.
Key features:
Beautiful beige color
Wooden legs
Includes pillow and ottoman
What do customers say:
I got this chair for my home office. It's just what I was looking for. It's chic yet simple and really adds that extra touch of coziness to the room.

– Amazon customer
13. Comfy navy lounge chair
In what living rooms does this chair look good?
This navy armchair goes with just about any interior. It has a simple, sleek, mid-century design that looks good with a gray couch, neutral colors, or a more eclectic living room. You can also add styling touches like a cushion or throw blanket to make it feel more custom.
Key features:
Linen fabric
Available in 4 colors
Sturdy wooden frame and legs
What do customers say:
This chair is exactly what my space needed. The product picture color is off. It's definitely a nice soft mustard linen look. The color is very nice. It's a great size and seems sturdy so far. The chair is great for reading, working, conversing or any other activity where you want to sit up straight. It wouldn't be a great chair to stretch out and nap in or watch a movie. Great purchase for the $ and it shipped fast! I got it 4 days ahead of the Amazon expected date.

– Amazon customer
14. Small modern recliner chair
In what living rooms does this chair look good?
This recliner is the way to go if you're looking for an incredibly comfortable chair that looks stylish and compact. Place it in front of the TV or your seating area for a put-together look. This chair is available in beige and light gray, versatile colors to look great in any living room. Its style would look great in both modern and traditional living rooms.
Key features:
Lean back to recline the chair, the footrest will pop out
29.50″ D x 35.00″ W x 40.50″ H.
Comfortable cushioned seat
Sturdy legs
What do customers say:
We are delighted with these chairs. The color is perfect , they were easy to put together and they look great in our living room. We were somewhat reluctant to choose something we had not seen or tried out but found them even nicer than we had expected. A great buy.

– Amazon customer
15. Comfy chair with footrest
Buy on Amazon (under $200)
The perfect modern chair and footstool set for everyone who wants a comfortable chair that looks good in their living room. This chair works in modern interiors, with minimalist furniture and clean lines. Aside from being a great living room chair for reading, this would also be an excellent addition to a home office or bedroom.
Key features:
28.74″D x 31.3″W x 38.58″H
Linen material
Versatile gray color
Adjustable feet caps
What do customers say:
I LOOOOOVE this chair!! Bought this with much trepidation, as it had no ratings nor reviews. I took a chance because I wanted a SUPER comfy T.V. chair, but also wanted it to be airy (no heavy/"meaty" furniture). This. Is. IT. It is the love child of Archie Bunker and George Jetson. Welcome home, baby! 🤗🤗🤗

– Dinandrea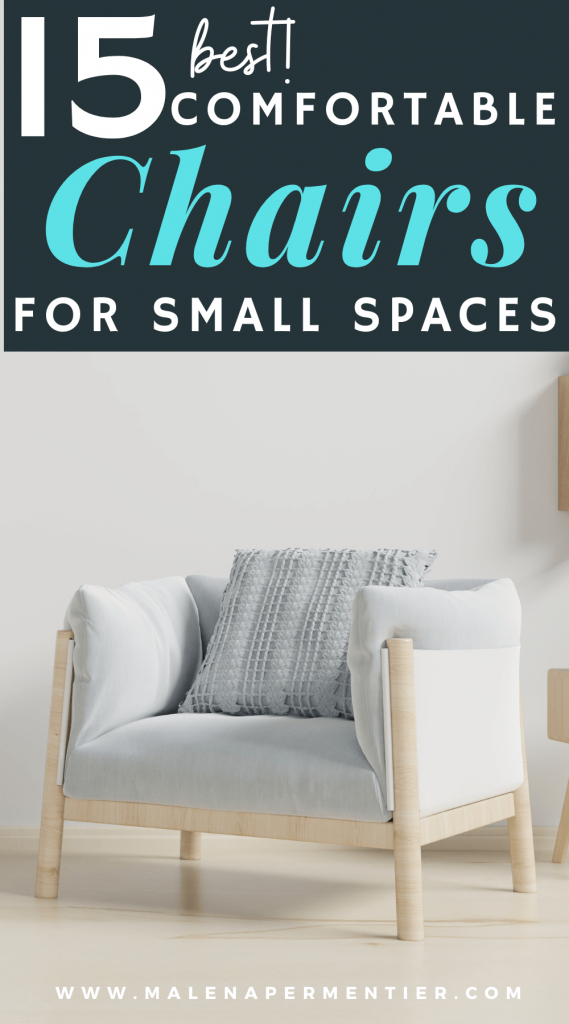 This post showed you the best comfortable accent chairs for small spaces.
You may also like: