Hey there! Some links on this page are affiliate links which means that, if you choose to make a purchase, I may earn a small commission at no extra cost to you. I greatly appreciate your support!
This post shows you a list of 78 apartment essentials on a budget.
When you're moving into your first apartment or a college apartment, chances are that your budget is tight!
This post goes over the best affordable apartment essentials that are practical, good quality, nice looking, and budget-friendly.
I have categorized these amazon apartment must-haves by dining room, living room, kitchen, bathroom, bedroom, and entryway. These apartment essentials are inexpensive and make for an instant apartment upgrade!
Save this post for later: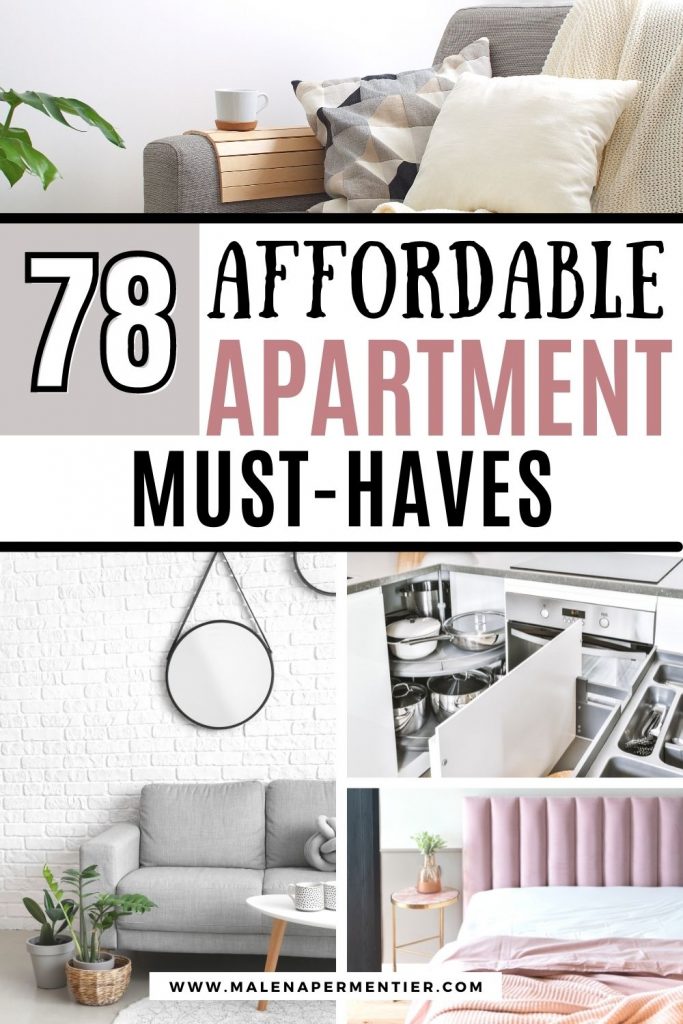 Apartment Dining Room
First off, let's look a the best Amazon essentials for your apartment dining room (or space!).
If you live in an apartment, chances are you don't have space for a big family table.
However, there are plenty of space-friendly tables and chairs! Let's get into it.
1. Small table and bench set
In some small apartments, a table with benches is more practical than a full-fledged table with chairs. It looks cute, and it's practical, plus it seats enough people.
For small spaces, I'd personally always recommend using as many neutrals as possible! This table + bench set has amazing reviews on Amazon, and the quality is very sturdy.
A small table with two benches is an excellent choice if you have a small dining room area. It also works well in the kitchen to grab a quick bite in the mornings.
I'm a big fan of keeping my furniture light-colored, but I also love the look of this industrial table + bench set below.
2. Round table
This tiny round table is perfect for squeezing in a small kitchen or dining room. Perfect for drinking your coffee in the morning or enjoying a glass of wine with a friend.
3. Chairs for small round table
Match your table with a set of chairs. These white ones are timeless (I have them myself!), are super comfy to sit on, and look stylish in any space.
4. Storage and Decoration rack
You can use this tall shelf rack in your dining room to store wine glasses or cups, plants, or decorations.
Because it's super slim, it won't take up much space, which is ideal if you live in a small apartment.
5. Small kids table with two chairs
This adorable and stylish kids table is stylish and cute, yet not super bright ruining your dining room's aesthetic ;).
6. Tall table with bar chairs
Instantly upgrade your kitchen with a tall table with chairs. This set works perfectly in a small corner of your kitchen.
7. Counter table for a small kitchen
One of the things on my wishlist for my future home is a kitchen counter to sit at.
But for now, a counter table like this does the job! I like sitting at the kitchen counter, cooking, and talking with friends.
8. Cabinet for extra storage
Extra cabinets are always welcome, especially when they look as stylish as this one.
A cabinet in the kitchen is great if you don't have a pantry, but you need that little extra space for plates, bowls, wines, food items, etc.

9. Farmhouse storage console
For a sturdier cabinet option, this storage console is ideal for your kitchen too.
Depending on how much free space you have, you can consider which cabinet is best.
Thin legs like the previous cabinet usually work better in a small space.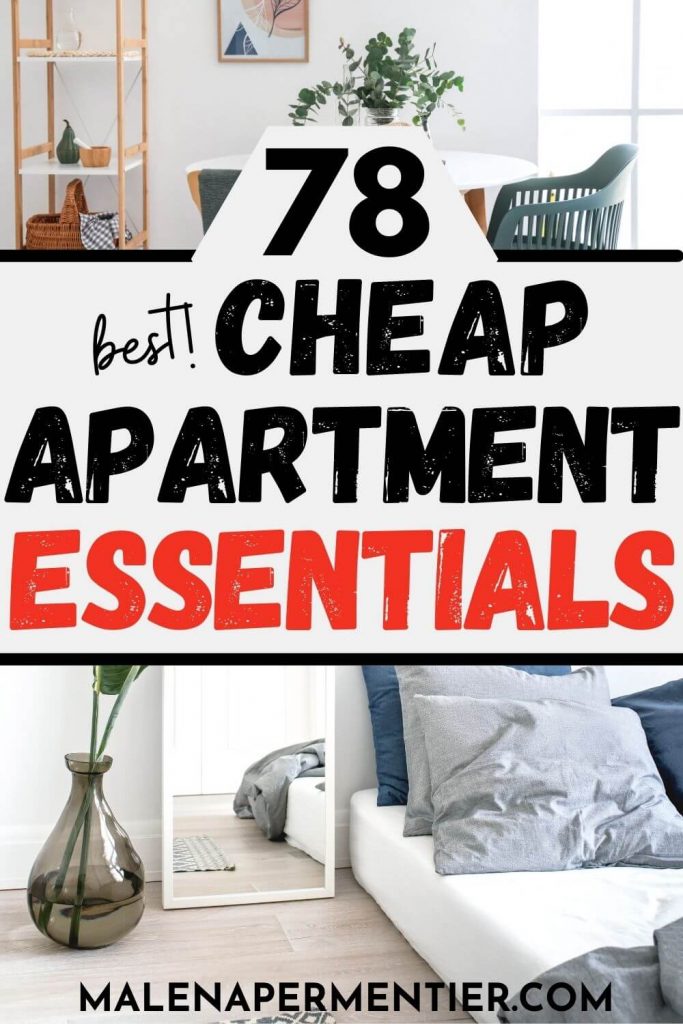 Apartment Living Room
There are plenty of affordable and super stylish ideas to upgrade your apartment living room space.
Below I'm sharing how to use shelves, a sofa cover, decorative couch pillows, and rugs that instantly make your apartment living room look that much better.
10. Floating shelves
Floating shelves are great in a small living room because they don't take up much space.
To keep your living room feeling spacious, always make sure you leave enough free space.
Having that said, a set of 3 small floating shelves makes for great decoration and a little spot to put personal things like photo frames or art.
11. Versatile Closetmaid cube
Yes, you're right; it seems like everyone has cube storage like this in their apartment. But they're just so versatile!
Whether you're a college student, live in a big home, or your first apartment, these cubes are so easy to customize, and they serve a million purposes.
Fill the cube with baskets, use it as shoe storage, a TV stand, dresser. You name it, and this cube can probably do it.
12. Decorative pillow covers
Decorative pillow covers are cheap and instantly make your place look so much more luxurious and cozy.
Style the pillow covers with the color palette of the rest of your apartment.
13. Accent color decorative pillows
Decorative pillows also are a great way to add a pop of color to your apartment.
If you don't like many bold colors, go for pillow covers with a playful graphic print like this.
Green is easily one of my favorite accent colors. It's calming, looks great with almost any other color, and it somehow doesn't start bothering me after several months as other colors do.
Accent pillows are a great, inexpensive way to experiment with some color in your living room. Don't like it? Not a lot is lost.
14. Sofa cover
Sometimes you don't yet want to invest in a new couch, yet you can't stand looking at it another day.
Is it obvious that I'm speaking from experience here?
I love a good sofa cover that instantly makes your living room more put together.
Style your couch with luxurious decorative pillows as seen in previous!
15. Boho pillow covers
The options when it comes to pillow covers are truly endless. Honestly, I think this is one of the things that Amazon does best!

I've seen this boho pillow cover style at Zara home and other expensive home brands for triple the price.
16. Knitted throw blanket
No couch is complete without a nice knitted throw blanket. Aside from the fact that it's just practical, it also looks super pretty if you style it with your couch and living room colors.
17. Small side table lamp
This super chic side table lamp is perfect if you love a neutral living room with a rustic accent.

This is definitely not a very loud type of gold, plus it also comes in dark bronze and silver.
18. Rustic coffee table with extra storage
When you have limited space, you need to squeeze in storage spots everywhere.
Your coffee table is the perfect spot for storage. Use it for magazines, books, or coasters, and it has space for baskets at the bottom.
19. Small coffee table set of 2
If you want a versatile coffee table that doesn't take up much space, this one is ideal.
Its sleek shape and neutral colors work perfectly in a small room. Plus, you can also use one as a side table if you want.
This one definitely is a good value price.
20. Coffee table set
While we're at coffee table sets, how about this rustic wood set of 3?
This works great if you have a predominantly neutral living room but want to break up the whites and beiges a little.
I personally think wood has a very warming, comforting feel to it. I wouldn't recommend mixing different (faux) wood colors in your living room, so pick one and stick with it.
21. Small simple pouf
There's always space for a small pouf like this! Ottomans are super versatile; that's why I love them so much for a small living room.
Actually, I love them so much that I did a whole post on how to use an ottoman in a small living room.
22. Rug for living room
Rugs are great for pulling your couch area together. Whether you have a couch or an accent chair and a pouf, a rug looks great.
This one with a subtle paisley pattern is perfect if you want to keep it neutral and simple.
23. Neutral accent chair
Speaking of accent chairs. If you have a small couch, a chair like this is a perfect seating addition. Plus, it looks playful and stylish in a small living room.
If your space is a little bigger, you can also opt for two accent chairs instead of one.
24. Faux leather green accent chair
If you really want to make a statement with an accent chair, this faux leather green one is a great affordable option.
It's super stylish and also comes in a couple of other gorgeous colors.
25. Side table with extra storage
This simple round side table with a storage basket is a perfect addition to a small living room.
The basket is perfect for storing magazines or books you're currently reading. This one also functions as a nightstand!
26. Entry table in living room
There are so many space-friendly ways you can use an entry table in your living room.
My favorite is using an entry table behind the couch to create shelf space for photo frames and other personal decorations.
27. Retro book shelf
A living room is not complete without a good bookshelf. Whether you read them often or not, books make a space look cozy.
This one made from rustic wood doesn't take up too much space. You can use the below part of this cabinet for storing your board games!
28. TV stand
Why not have a multifunctional dresser/TV stand? This one has shelving beneath, which I love.
If dark wood is one of your living room's accent colors, then this is a great choice.
29. Slim TV stand
If you prefer keeping things light and bright in your living room, you'll love this TV stand furniture. It's sleek, white with some light-colored wood.
The closed storage space beneath allows for neatly tucking away internet modems, speakers, and electrical cords.
30. Small glass side table
This small set of glass tables are the perfect replacement for a big coffee table. If you have limited space in front of your couch, this set is ideal!
Of course, you can also use it as a side table or even as a nightstand if you like.
31. Floor lamp
This floor lamp gets me so so excited! It simply works in every living room, big or small. Plus, it looks stylish, minimal, and doesn't take up a lot of space.
Plus, I was surprised about its price! Much cheaper than I expected.
32. Storage tower
I'm usually not a big fan of having a storage tower in my living room, but I love this simple one!

It combines dark wood with metal, something that works in many spaces. You can use this storage tower in your living room, bathroom, kitchen, or even in your garage.
33. Plant hangers
If you want to add some green to your apartment, plant hangers like this are such a cute way to do so.
You can also use these in the kitchen to grow your favorite herbs, like cilantro or basil!
Apartment Entryway
34. Shoe rack
Yes, it's prettier not to have shoe insight. But is that realistic? Usually not. So I do like having a shoe rack at the entrance of my apartment.
This one is simple, stylish, and extremely affordable—a win-win.
35. Hanging key holder
The entrance of your apartment also is the spot for hanging your keys. This key holder is cute, simple, and perfect for keeping your keys, keep your mail or hang a small umbrella.
36. Cute white keyholder
Speaking of keyholders, this white one also is a super cute option for your apartment entrance or living room.
37. Small mirror for entry
The entrance of your apartment also is the perfect spot to hang a small mirror. This one would work great just beside a keyholder.
Quick lipstick check in the mirror and ready to go!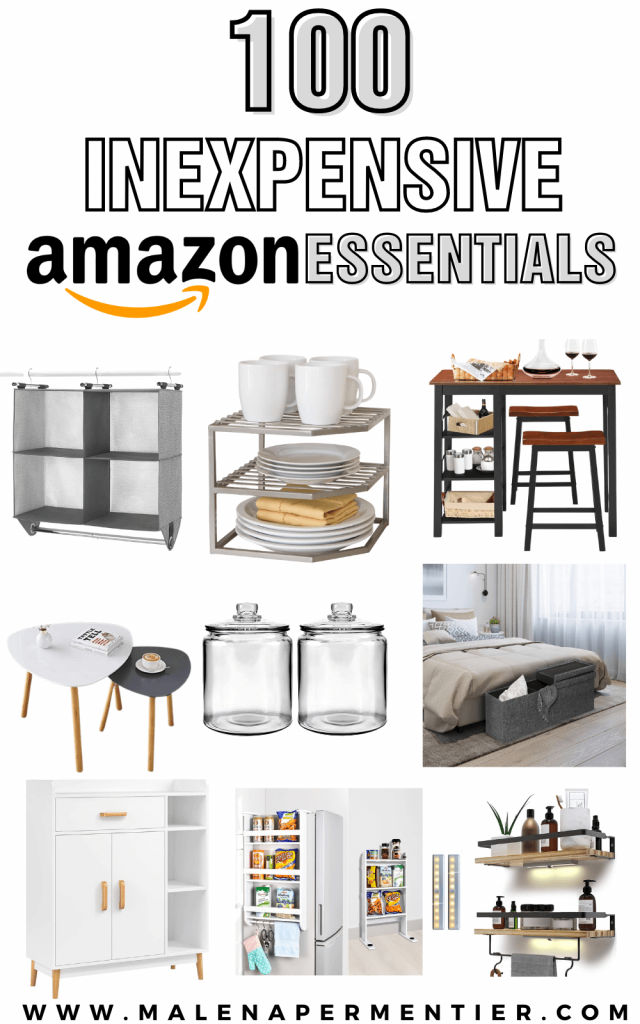 38. Home sweet home door mat
A bit cheesy, but oh so good. Everyone needs to have a cute welcoming doormat at their apartment.
Apartment Kitchen
Great kitchen organization makes all the difference in an apartment!
You can make even the smallest spaces look amazing with these kitchen essentials.
We all know that a small apartment kitchen requires optimal organization.
Luckily there are plenty of inexpensive and amazing ways to do so.
Below I'm sharing my favorite apartment kitchen essentials from Amazon.
39. Over the door storage rack
Use your pantry door (or any other suitable door near the kitchen :)) to create extra storage space.
This door storage rack creates so much space for all your pantry essentials.
40. Organization turntable
Gotta love a good turntable! Whether it's for spices, cleaning products, sauces: a turntable makes it that much easier to keep things organized and easy to grab.
These organization turntables come and go out of stock quickly, so if they're out, make sure to check often!
41. Glass storage jars
I love glass storage jars like this to keep tea, sugar, oats, flour, beans, and other things!
They're simple, affordable, plus they look great if you're going to place their insight.
42. Under the sink storage rack
Use this under the sink storage rack for that awkward little space you don't know what to do.
This rack is adjustable, so it also works for small kitchens.
43. Extra storage under the sink
This under the sink storage has a gap in the middle, so you can easily fit it around the pipes.
44. Side of the fridge organizer
Using the side of the fridge as extra storage space is an excellent idea if you don't have a pantry or if you have a small pantry.
This organizer easily slides onto the side of the fridge and instantly creates space to store spices, snacks, sauces, cooking oils, etc.
45. No pantry solution
Without a build-in pantry, you need to get creative! This tall bamboo rack is a stylish way to create extra pantry space in your kitchen.
Keep things extra organized by placing your stuff into baskets on the shelves.
46. Organize your cleaning supplies
Cleaning supplies can get real messy. This mop and broom holder keep everything in one place.
Plus, there's space to hang your rags, clean towels, etc.
47. Over the cabinet organizer
I've included this over the cabinet organizer several times, for example, in my big kitchen organization post.
That's because I really love it using it for my cutting boards. You can also use it to store other things like aluminum foils or muffin trays.
48. Extra corner shelf
Simple yet super effective! With this extra corner shelf, you easily create some extra space in a small cabinet. Ideal to stack plates, cups, and bowls.
49. Extra slim storage cart
This slim storage cart is ideal if you have a little space free, for example, between your fridge and kitchen sink.
The narrow shape of those carts also works well in your bathroom to store cleaning products and toilet paper.
Apartment Bathroom
I have the tiniest bathroom, so I've learned a thing or two about optimizing its space!
My current apartment bathroom is so small it doesn't even fit a storage tower or a cart.
Luckily I did manage to create extra space with shelves and under-the-sink solutions.
Below I'm sharing the bathroom essentials I love the most.
50. Bamboo storage
If it fits and you are short of space, a tall standing organizer is a perfect solution.
I love the look of this bamboo one, plus it fits a ton of space. To make it look tidy, you can use baskets.
51. Spinning organization storage
These are so good! Keep an eye on all your favorite products, and easily grab them with this spinning storage.
52. Under sink extra drawers
Create extra space for your beauty products with these handy under-the-sink drawers—small products at the top, bigger ones at the bottom.
53. Pretty individual hooks
Vamp up your bathroom with these cute individual hooks. Hang them on your door for your bathrobes and towels.
54. Peel and stick wall paper
If you want to get super creative in your bathroom, why not add a peel and stick wallpaper?
This print is gorgeous and easily creates a quirky yet stylish atmosphere.
55. Glass shelves
More storage shelves! This one is amazing to store your towels, bathroom products, cleaning products, and more. It has a modern and minimal look that looks great in any bathroom.
56. Simple cart with storage space
These carts are super versatile. Whether you use them to store your bathroom products, keep your craft stuff or make it your nightstand.
57. Drawer organizers
If you keep make-up in a drawer, then you'll love these drawer organizers! When I have drawers in my bathroom (hopefully in my next apartment), I'll most definitely use these.
58. Luxurious towels
New towels for yourself or guests are always a good idea! These are affordable, super soft, and come in several different colors.
59. Shower organizer
A must! I have this one, and I love it. My shower cabin is tiny (just like the bathroom), so I really need to have my organization in order.
60. Extra bathroom shelf space
More shelf space! Other than the bathroom storage towers I include above; this one is as simple as they come.
If your space is minimal, this is the one I'd recommend getting.
61. Shelves above the toilet
If you have a small bathroom, you know that the space above the toilet is just about the only space to use shelves! At least that's the case in my apartment.
These fancy shelves are surprisingly affordable and instantly give your small apartment bathroom that 'luxury hotel feel.'
62. Cute neutral laundry basket
Am I the only one who thinks a laundry basket should look cute? Unless you use a collapsable laundry basket, you'll want a basket that's nice to look at.
Depending on your living situation, you might have the basket in your bedroom.
That's why I think spending a little more money on a nice-looking laundry basket isn't such a bad idea.
63. Soap dispenser set
You look at your soap dispenser and toothbrush holder every day, so you might as well make it look great.
..At least that's my motto ;).
This white and beige ceramic set is gorgeous and will make your bathroom look amazing.
Apartment Bedrooms
Let's look at the best affordable essentials for apartment bedrooms! Whether you have a two-bedroom apartment, a one-bedroom, or a studio, you gotta take care of the sleeping situation.
Below I'm sharing some of my basic favorites, and yes, getting Amazon bedding is a great idea.
64. Cheap but amazing mattress
I'll be honest: I've had both super expensive mattresses as the cheapest you can find over the years.
The great thing is that I've learned that it's absolutely possible to spend little money on a mattress and have it feel amazing.
This Amazon mattress is super affordable yet so so comfy!
65. Luxurious mattress topper
A simple way to make a 'basic' mattress feel even better is with a mattress topper. It truly creates the fluff and coziness of a luxurious hotel bed.
66. Soft and affordable sheets
Amazon does surprisingly good sheets, and I love these. They come in a ton of different colors, they feel soft, and they LAST!
67. Nightstand with drawers
Now back to optimizing space! Opting for a nightstand with drawers is a must if you're short on space in your bedroom.
This tall nightstand dresser is perfect if you want to be multifunctional about your nightstand. For example: use the drawers to store socks, sheets, towels, and more.
68. Set of 2 walnut nightstands
These walnut nightstands have a little less drawer space, but their cuteness definitely makes up for it.
You can select the quantity (1 or 2) and choose your preferred color. They also come in white and color-block, for example.
69. Drawer organizers
Organize your dresser or nightstand with these drawer organizers. They're perfect for smaller things like jewelry, belts, or hair accessories.
70. Rug next to the bed
A rug next to your bed instantly adds that coziness you want in your bedroom. This simple neutral one with tassels is super cute and affordable.
71. End of the bed knitted blanket
For a hotel-like feel, it's great to add a little blanket at the bottom of your bed. This off-white knitted blanket makes a great addition to a simple bedroom with neutral tones.
72. End of bed bench with extra storage
This slim end of the bed bench also comes with some extra storage space. I'd use it to store big shoes or winter boots that I don't always use every season.
73. Industrial bedside lamp
If you want to create a cool Scandinavian style in your bedroom, this industrial bedside lamp is the perfect addition.
74. Under the bed shoe organizer
If you have space under your bed, make the most of it! Use it for extra storage. You can use this shoe organizer in your closet or on top of it if you have that little extra space.
75. Extra shelving in your closet
To add some more shelving to your closet, hang this organizer in your closet. Yes, it might not look the prettiest, but at least your sweaters, socks, and t-shirt are nicely organized.
76. Clothing and accessories rack
Not enough closet space? No problem. Make your clothing part of your bedroom decor by using stylish clothing and accessories rack like this.
77. Necklace organizer
If you have many tiny necklaces as I do, this necklace organizer is a must. It's not cheap, but this is by far the most effective jewelry organizer I've found.
78. Jewelry tray
Keep your favorite jewelry on display with this tray. Place it on your nightstand or dresser!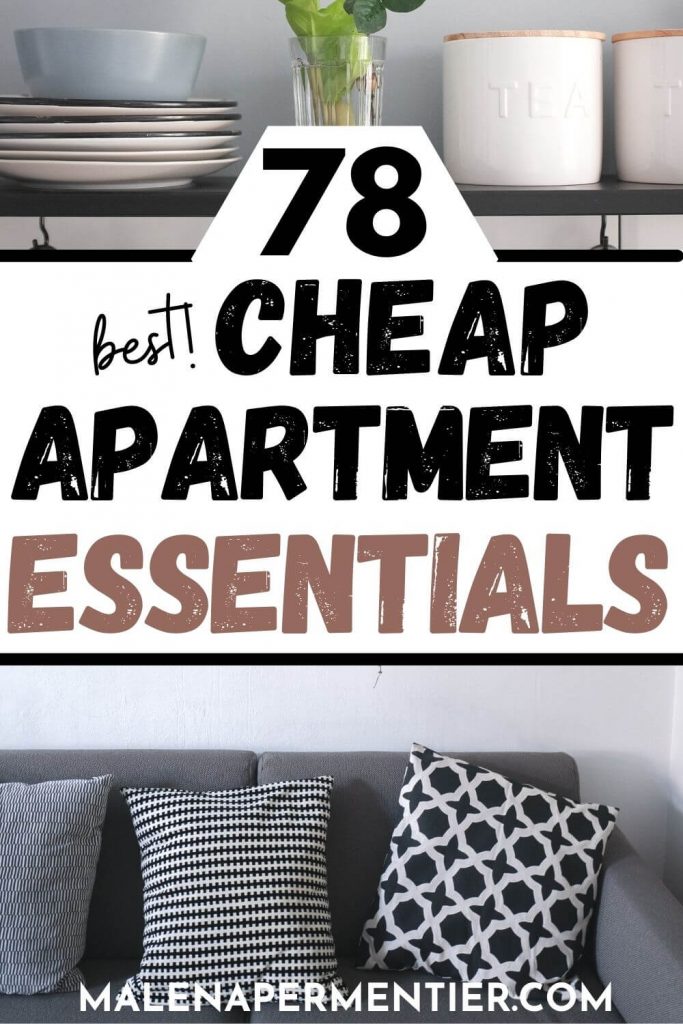 This post was all about the best affordable apartment essentials.
You may also like: