Hey there! Some links on this page are affiliate links which means that, if you choose to make a purchase, I may earn a small commission at no extra cost to you. I greatly appreciate your support!
This post shows you the best first apartment gift ideas!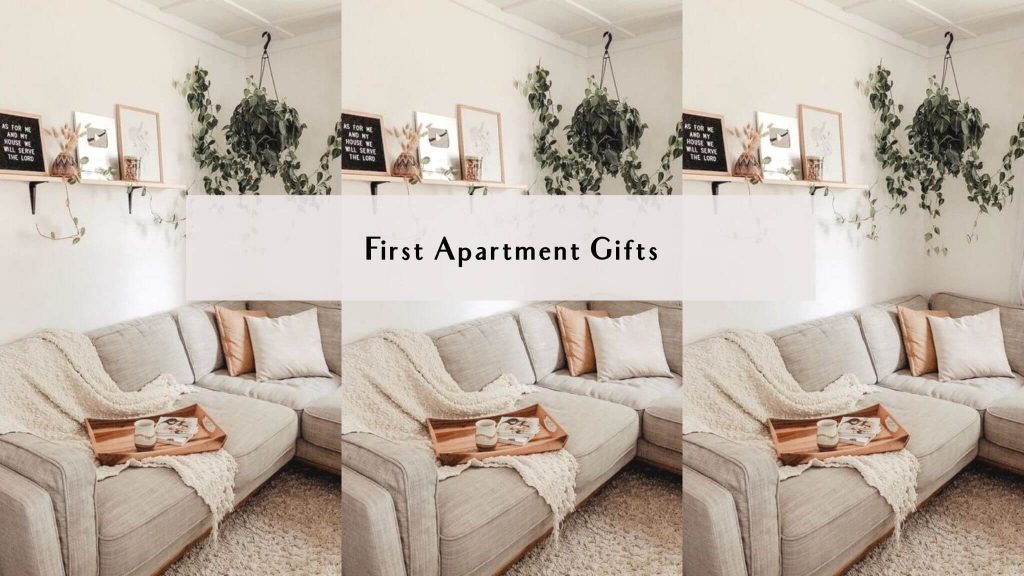 It's so exciting when friends or family move into their first apartment! A whole new stage of life requires a special gift.
First apartment gifts don't have to be expensive, but they can if you like giving luxurious gifts.
I like giving genuinely useful gifts to someone who just moved into their first apartment.
If you feel the same, read on because below, I've listed several of the best gift ideas for someone who just moved into their first apartment.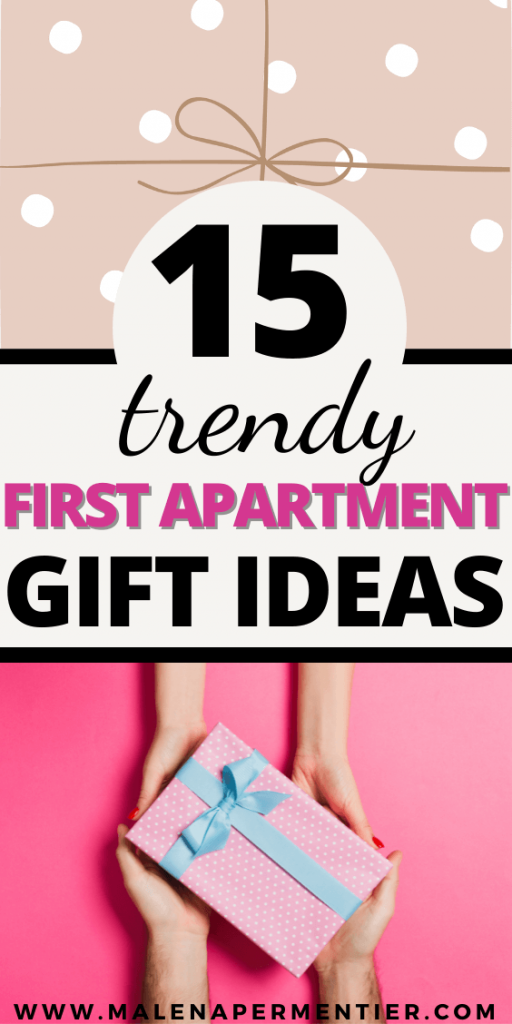 1. Stackable clear bowls
Clear bowls like this are so useful, preferably in a few different sizes. Many people forget about these when they move into their place, which is why this is a valuable gift.
2. Neutral cotton throw
Throw blankets are great for decorating on the couch or bed. I like having several to rotate, style, and cozy up on the sofa during colder days.
3. Multi-purpose basket
A basket like this can be used for plants, as extra storage, or simply as an excellent decor item adding a warm touch to the living room or bedroom.
They're also super affordable, which makes them a great first apartment gift.
You can also wrap this up nicely and include some cute first apartment care items.
4. Crochet pom throw pillow
Most throw pillows turn out to be just pillow covers (raise your hand if that has happened to you!).
This crochet pom pom throw pillow is both the case + pillow cover.
I think these pillows look best in sets of at least 2, so that's something to consider.
5. Gold bag clips
A super affordable, quirky gift but aren't these gold clips the cutest?
Small but super-useful items were welcome when I moved into my first apartment.
These clips keep your food packaging neatly closed and fresh. I like using these for my coffee beans and rice.
6. Vegetable chopper
For lazy cooks, this vegetable chopper is the answer! I haven't used this one yet, but the entire internet is raving about it.
You put any vegetable in the chopper, and the result is finely chopped veggies.
7. Stainless steel travel mug
I love a beautiful travel mug! Maybe your friend is starting a new job, or she moved to a new city, and a mug like this will always come in handy.
This sleek-looking mug comes in many different colors, but I thought the 'latte' color looked best.
8. Hand-woven storage baskets
These storage baskets are the best! Whether you use them in your pantry for small food items or in your bathroom for make-up.
They even look great on shelves for decor as well.
Storage baskets like this serve a zillion different purposes, which is why they always come in handy for someone who just moved into their first apartment.
9. Glass airtight containers
I love a good glass container! Works well in the kitchen to store sugar or tea. It also works amazingly in the bathroom.
You can fill these containers with your friend's favorite tea or candy for a complete gift. It's personal, super helpful, and budget-friendly.
10. Cute gray ottoman
An ottoman is always a hit with house guests. It's cozy and comfortable to sit on; you can put your feet on it.
Ottoman poufs like this are super affordable and make a cute first apartment gift your friend will love.
11. Set of unique wine glasses
Wine glasses are a traditional first apartment gift, but that doesn't make them any less great!
If you're thinking of gifting wine glasses, why not opt for a unique style like these stemless glasses?
12. Marble tray for kitchen or bathroom
This clean, sleek, and minimal marble tray is a great gift for your style-conscious friends.
Plus, it's super versatile. Use it for jewelry, decorate it with candles, and keep perfumes.
13. New Orleans homesick candle
This 'homesick' New Orleans candle is a cute gift for someone moving to another city.
It comes in a stylish candle holder, and the scent is a combo of orange, musk, vanilla, and bay leaf, amongst others.
14. Japanese teapot
This teapot for loose-leaf tea is perfect for your tea-loving friends! It looks super stylish, which makes it great for anyone's first apartment.
It's also surprisingly affordable for the quality!
15. Vase set
You can never go wrong with a good vase as an apartment gift. If you ask me, at least!
This vase set is incredibly well priced and, according to the 4000+ plus amazon reviews, great value.
This post was all about the best First Apartment Gift Ideas
You may also like: