Hey there! Some links on this page are affiliate links which means that, if you choose to make a purchase, I may earn a small commission at no extra cost to you. I greatly appreciate your support!
This post is all about the best new apartment gifts for her.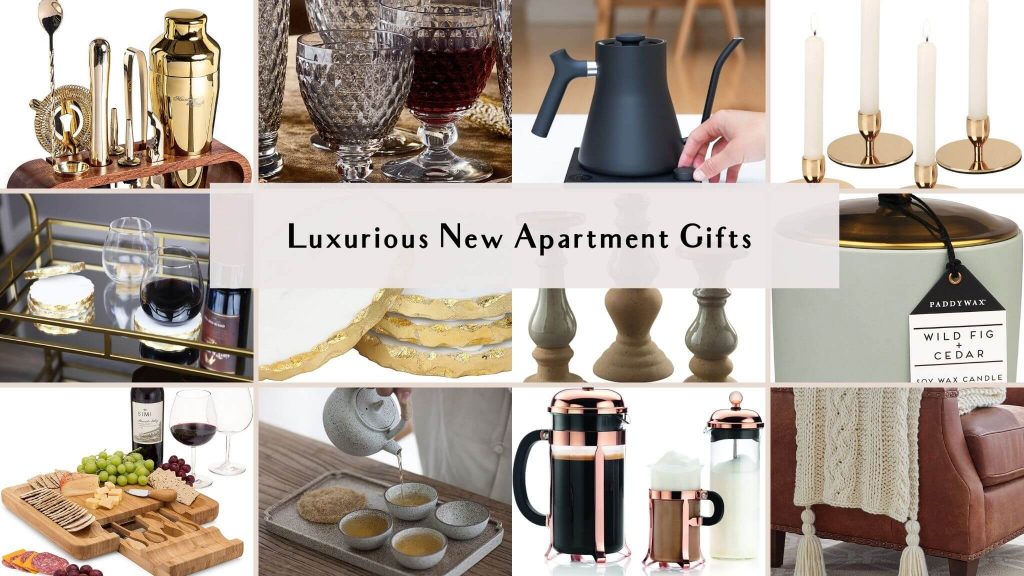 Moving into a new apartment is a super special occasion! If you're feeling doubtful about what to give someone who just moved into a new apartment, you're in the right place!
Below, I've listed 18 unique luxurious and practical new apartment gifts for her.
These are gifts for women (or men) with GOOD taste, if I may say so.
This post is all about Luxurious New Apartment Gifts for Her
1. Matte black kettle
This matte black electric kettle from Fellow is not only super stylish but practical too. It also comes in a few other colors, like copper and polished silver.
2. Gold espresso spoons
A super cute gift for the coffee lovers amongst us. These tiny gold espresso spoons can also be used for desserts or dips!
3. Gorgeous ceramic scented candle
As a new apartment gift, you can never go wrong with a luxurious-looking scented candle! This one with wild fig & cedar scent is so gorgeous that it's a great decor piece on its own.
4. Mixology bartender set
A stylish mixology bartender set is such a cute new apartment gift. If the person in question loves to entertain and make drinks, this 10 piece bartending set will be a great gift.
5. Geometric whiskey container
A liquor bottle (with or without liquor) is a beautiful home decor piece. Even if the person in question is not a big drinker, it will still make a great gift. Just think of Sunday brunch with fresh orange juice!
6. Beautiful abstract wall art
One of the things I always hear from friends (and myself) moving into a new apartment is the lack of art on the wall. Remember: It doesn't have to be pricey to look amazing. This abstract wall decoration will look great with a copper frame.
7. Open weave storage basket
A beautiful basket like this works amazing in a living room with a boho feel. Use it to store blankets next to the couch, for example.
8. Knit pouf ottoman set
This ottoman set is perfect for anyone with a small balcony or terrace. Heck, you can even use it inside if you want! They come as a set of 2, and they're three beautiful neutral colors to choose from.
9. Set of 3 ceramic candle holders
These beautiful and luxurious ceramic candle holders are way more affordable than you'd think. A great gift that makes an impression!
10. Japanese tea set
For the tea lovers and minimalists. This tea set comes with 4 little cups in a gorgeous gift box that makes it even better.
11. White coffee table tray for candles
Why not give a complete gift with a tray and candles in different sizes and (neutral) colors? A beautiful, personal gift that anyone who just moved into a new apartment will love.
12. Minimal gold candle holders
These are classic and work well in just about anyone's apartment! They'll look great on the dining table or shelves in the living room. They're subtle yet gorgeous.
13. Set of 4 crystal glasses
Are glasses a boring gift? not at all. These 4 crystal glasses are real beauties and great for special occasion drinks like Sunday brunch or Friday night gin-tonics with the girls.
14. Rose gold french press
A french press is a must in every coffee lover's apartment. I'm the crazy person with at least 5 coffee-making appliances, including a french press, so you can never go too crazy. This rose gold french press makes a real statement
15. Cheese platter
If the person moving into a new apartment appreciates the art of a good cheese platter, this is a great gift.
This makes a great personalized new apartment gift for her! Print some of the best pictures you have together.
16. Photo macrame hanger
17. Indoor Gardening
Harvest your herbs indoors! This Aerogarden comes complete with a herb seed kit that includes basil, parsley, dill, and thyme. For the lovers of cooking and gardening, this will be a hit.
18. Cozy throw blanket
Do we agree that you can never have too many throw blankets? This cozy cable knit one will be a success for someone who loves neutral home decor.
19. Marble and Gold coasters
Can I get a Hallelujah? Any home decor freak that happens to love marble and gold will ADORE this gift. *buying this for myself, right now!*
20. Vase with gold rim
Can you tell we're in love with home decor that includes a gold rim? This understated but super stylish vase looks amazing with white flowers.
This post was all about the best new apartment gifts for her.
You may also like: