The challenge of small living rooms is real!
Having a functional, cozy and stylish living room requires a good dose of planning.
That's even more so the case for small living rooms. Finding decor and furniture that optimizes the space and looks amazing isn't that easy.
I have a small and narrow living room, so I know the challenge of turning it into the cozy space I want it to be.
This post is all about the Best Small Living Rooms
Below I'm sharing 28 amazing small living rooms for inspiration. Under each image, you'll find the products to copy that particular space.
Get ready for a great dose of amazing furniture and decor ideas to make your small living room look amazing.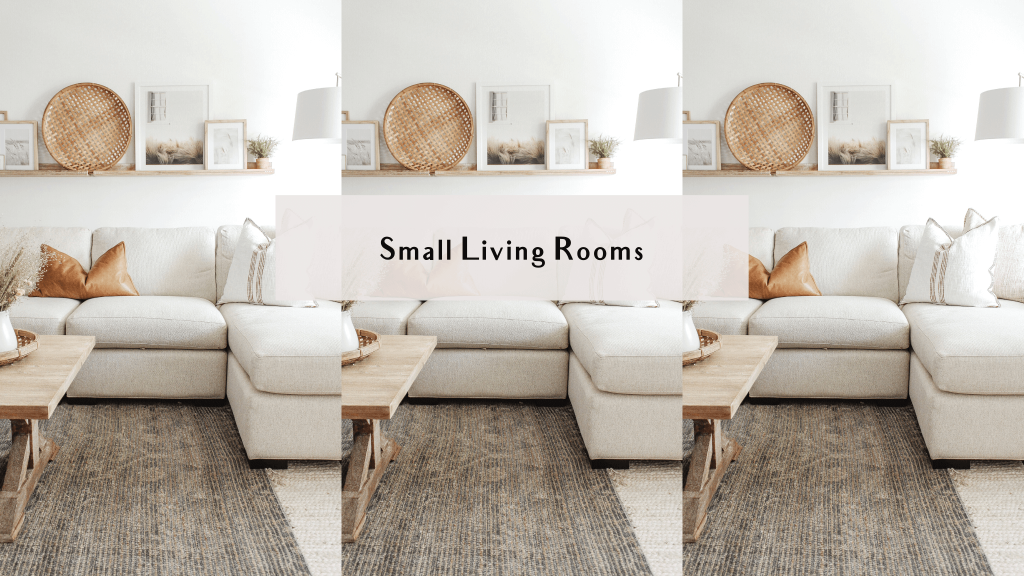 1. Calm neutrals
Timeless light gray and neutrals work best in a small space. Carefully select your decor and stick to a few key pieces.
One thing that adds a lot of character is a cool vase set. This affordable ceramic set from Amazon is the perfect timeless addition.
---
---
2. Arc Floor lamp
An arc floor lamp is a great trick to optimize your living room space. You can squeeze it behind the couch without it taking up much precious space.
Keeping enough free space on your walls is another trick of the eye to make your living room appear bigger than it is.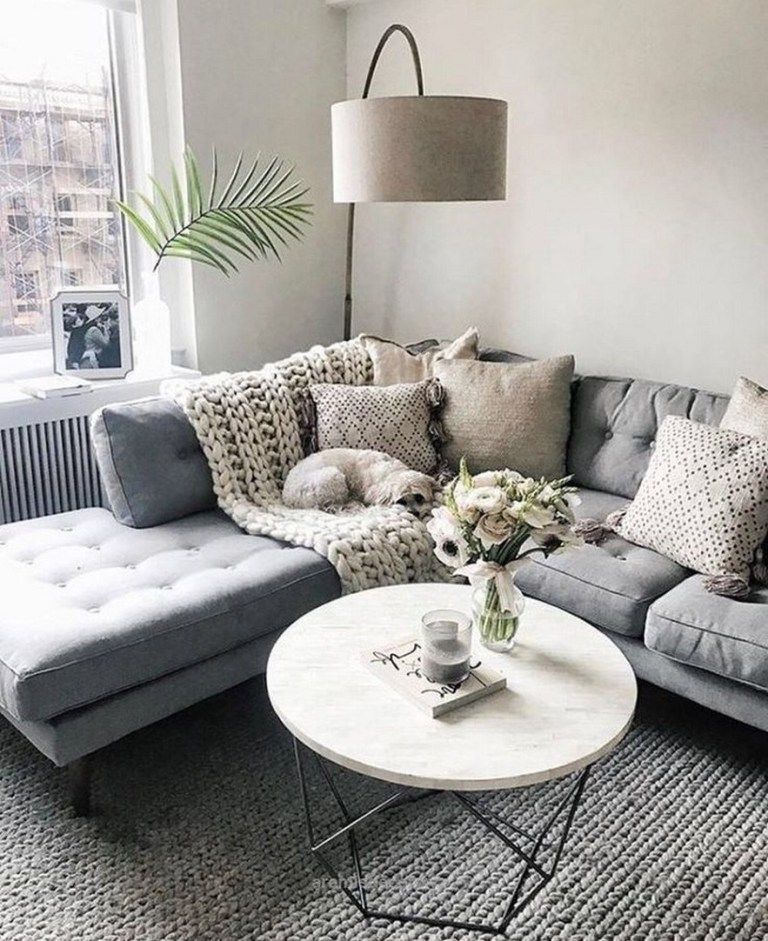 ---
---
3. Industrial touch
If you like an eclectic living room with an industrial touch, mixing wood and metals is a great idea.
Sleek-looking furniture like this table and chairs are small-space friendly. A tall fiddle leaf plant in the corner makes the space come alive.
What's also genius about this space is the industrial lamps. They're see-through, which is a great choice for small living rooms.
---
---
4. Two chairs
Opting for two chairs instead of an extra couch is a great way to optimize space.
If you have a very small living room, a small couch with one accent chair also is a great solution.
Don't forget to add an ottoman to squeeze in some extra seating!
---
---
5. Rustic
If you have a small living room with a high ceiling, then you have plenty of space to hang art.
Play with earthy colors, rustic details and art to decorate your walls and room.
I'm a big fan of curved lamps like this, this one works particularly well in a living room with a high ceiling.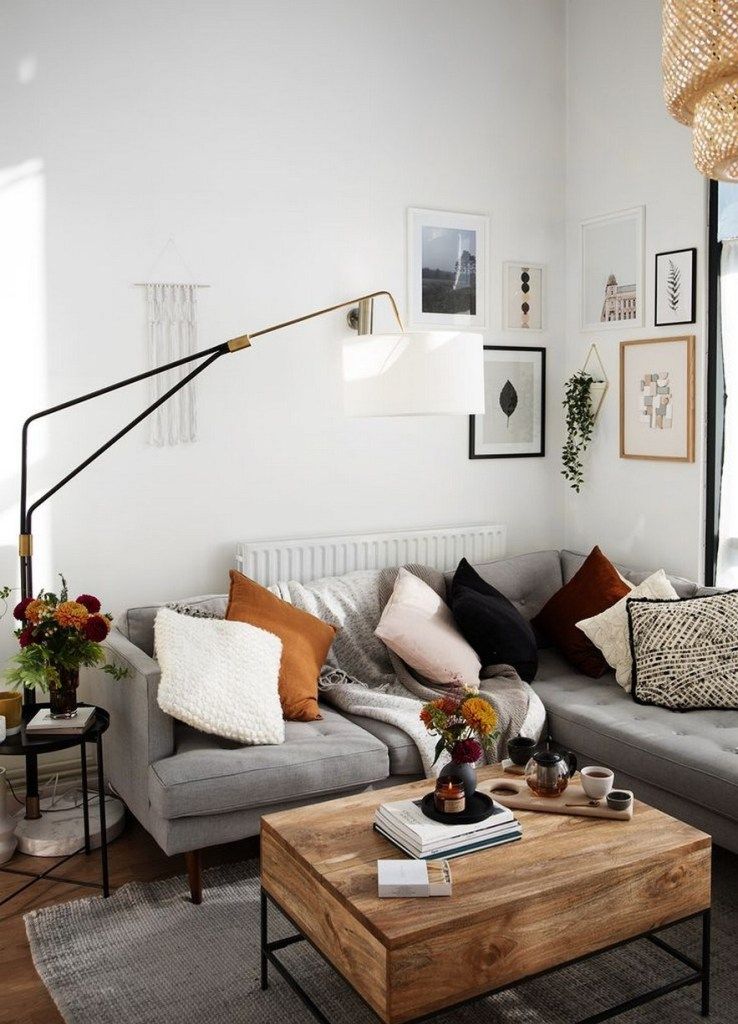 ---
6. Fresh and minimal
I love this fresh and minimal space. A small living room doesn't mean you can't be playful with different colors and textures.
Stick to neutral palette for your key furniture pieces like a coffee table and couch, and then add a pop of color with cushions and flowers.
---
---
7. Calm and rustic
If you have TV in your small living room, you'll want to be extra selective about the space around it.
This living room is a great example of how you make the space around your TV multifunctional.
I'm personally not a big fan of how a TV looks in a small living room, but working a picture shelf around it really elevates the space.
Get two shelves with a ledge, add framed pictures and make it a cozy little decor spot.
---
8. Woven
A neutral living room most definitely is not boring if you use different textures in your decor and furniture.
In this space, that's beautifully done with a woven coffee table, carpet with a subtle print and carefully selected decorative pillows.
---
9. Wall art
The space above the couch is amazing to hang some art. Match the color palette of your frames and prints with the overall look in your living room.
Hang your frames in an asymmetrical but organized way for an interesting look.
---
10. Symmetry above couch
Another way to go when it comes to art above the couch is to go for 2 or 3 symmetrically hanged frames.
It truly is a matter of preference, but make sure that your art somehow coordinates with the overal feel of your living room.
If you do that, the art will truly pull the space together!
---
11. Cozy warm tones
One signature chair and a good carpet turn an average living room in an amazing living room.
Warm tones and wooden accents instantly give your space a cozy feeling.
---
12. Tall dresser
An excellent way to create extra space in your living room is by adding smart furniture like a tall dresser.
It doesn't only look great, but it also gives you some extra storage space for board games, wine glasses, a throw blanket, and books.
---
13. Modern luxurious
There's something about this modern and luxurious room that gets me super excited!
I wouldn't usually expect that gold tones could look as stylish as this, but I love it.
When you keep the big furniture in a calming, neutral colors, that pop of gold only seems to elevate the space.
Also adore the playful art and beautiful mirror on the wall.
---
14. Timeless style
A timeless interior like this for me is the holy grail of living rooms!
As you can see, this room really emphasizes a few key pieces. It's calming and it feels spacious.
That's exactly what makes this timeless interior style such a great idea for small living rooms.
---
15. Ottomans
If you don't have the space for extra chairs or a big couch, why not add in some ottomans?
When you have visitors, you instantly have extra seating. Ottomans are a great solution for small living rooms that just don't have a lot of space.
---
16. Warm brown tones
When you dissect the prints of the coffee table pouf, the carpet and the pillows, it's surprising that these prints work so well together!
Even in small spaces, you can still use prints. Just make sure you combine it with calming, solid tones.
---
17. Indoor lounging
I love living rooms that have implemented a bit of lounging. Whether that's doen with a comfy chair or a hammock, it's just super cozy.
You can easily recreate a lounging living room with a hanging chair like this.
---
18. Accent chairs
Accent chairs are great to have in a small living room. They feel much more spacious than having an extra couch.
Plus, you can always switch things up and have 1 accent chair instead of 2 in your living room.
A timeless chair like this will be an amazing asset to your apartment.
---
19. Two small side tables
A set of two small side tables is a super cute idea for a small living room.
You can fold them together when you're not using them. In small spaces it's all about having furniture that's flexible and optimizes space.
---
20. Geometric print details
There's something about the combo of wood and neutral geometric prints.
This playful color palette will work excellently in a small living room.
---
21. Perfect symmetry
In some spaces, picking a few key pieces and keeping your furniture and decor perfectly organized is the way to go.
I'd say that in a very narrow small living rooms, you're generally best off to keep things as clean and organized as possible.
---
22. Photo ledge
In this picture you can see the perfect formula for decorating a photo ledge! 1 big, 1 medium, 2 small frames + 1 cool decor piece (in this picture the woven serving platter!)
I love the clean, neutral look of this photo ledge, and I believe it works exceptionally well for small spaces.
---
23. Small couch carpet
In a small space, a full-sized rug isn't always the most space optimizing idea.
This faux cow rug, however, really works in the small living room.
It pulls the room together without overwhelming the rest of the furniture and decor pieces.
24. Layering 2 carpets
Combine a neutral and printed/interesting shape carpet for an interesting living space.
I love the subtle combining of the neutral rug and the faux cow rug. It definitely makes the room look a lot more interesting.
---
25. Wooden bench behind the couch
A bench or an entryway table behind the couch is both practical and super cute.
Go for a 'real wooden' look like the bench I selected below. Especially if your couch is pretty neutral, you can opt for some more statement pieces.
---
26. Ottomans for extra seating
These square ottoman offer cute, extra seating and make the living room look more dynamic and fun.
Something else that's great about this room is the choice of the standing curved lamp behind the couch and printed pillows.
---
27. Geometric rug
There's a few things that work exceptionally well in this living room.
I love how a deep, dark green subtly comes back in the carpet, pillows, and the plant. The gold lamp is genius, and the geometric printed rug hits all the right spots.
---
28. Touch of wood
I love how this room once again proves how incredibly interesting a neutral living room decor can look!
The mix of prints, textures and different neutral tones really make this room come together.
It also shows how an interesting shaped mirror can truly give a space that much more character.
---
This post was all about the best modern small living room ideas.
You may also like: