The title says it all: this post is all about the best small kitchen organization ideas.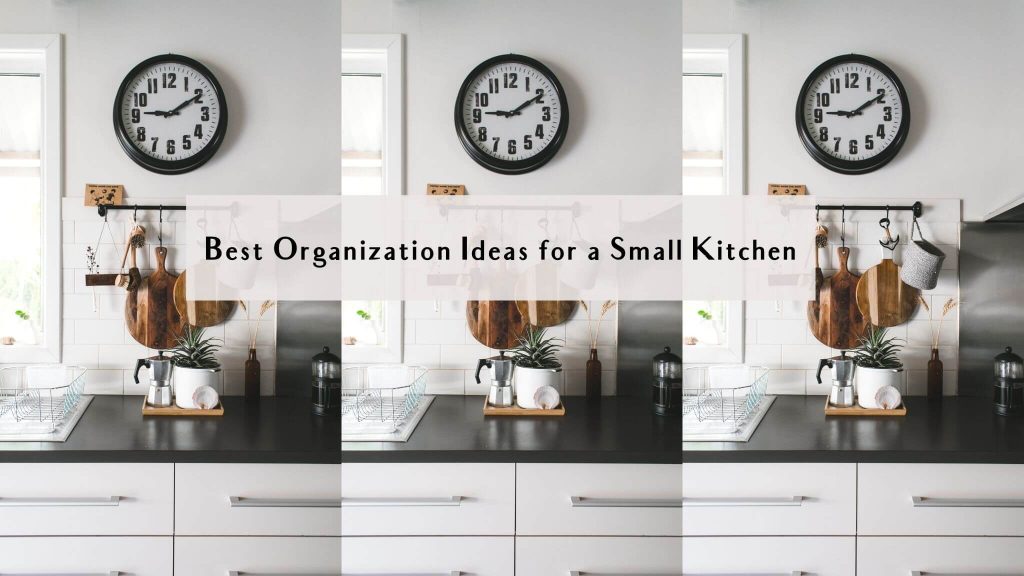 On Pinterest, we're flooded with these beautifully organized pantries that are gigantic.
While they sure are lovely to look at, they're not realistic for people living in a small apartment.
So let's get started with our kitchen organization. In this article, you'll read about:
Pantry ideas for no pantry
Clever hidden pantry storage ideas
Ideas for inside the pantry organization
The best cabinet organization ideas on a budget
How to optimize space in your small kitchen
Best small kitchen products and organizers
Pantry ideas for no pantry
If you don't have a built-in pantry in your apartment, you likely need extra space to store things in your kitchen.
A narrow, sleek pantry is the best choice if you live in a small space. You can use it to store appliances, food items that take up lots of space, and big pots and pans.
I have a pantry with an open space in the middle, and I love it. It makes a "boring" furniture piece a little more playful. Use the open space for your microwave or toaster.
I have my gigantic fruit bowl in the open space. On the top of my pantry, I keep wines and liquor bottles. There's even space for a bit of decoration.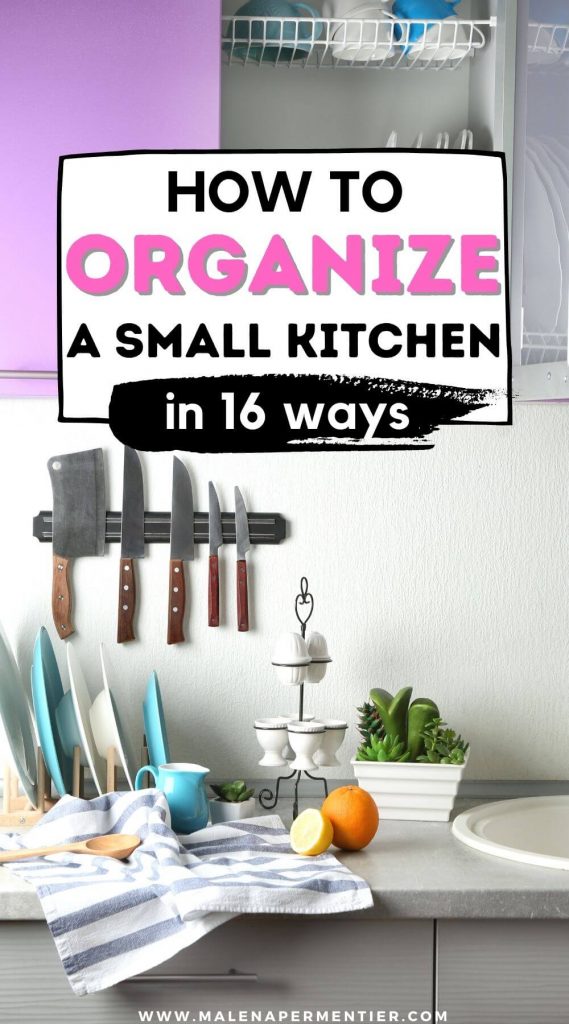 1. Tall Kitchen Pantry
This idea is genius if you ask me. You can attach this pantry to any of your doors, plus it has a mirror.
3. Super-narrow pantry
If you have even less space, this extra narrow pantry is perfect. The size is still large enough to fit pans and bulky items, so it will help optimize your kitchen space.
Inside the pantry organization ideas
Now that you have a pantry in your small kitchen, you need to optimize that space to the max.
I don't believe that all the pantry organizers are as efficient, but there are a few I swear by.
4. Pan and pot lid organizer
Whatever I've tried for organizing my pans and pot lids didn't work until I got this simple pan organizer.

I keep it at the bottom of my pantry, and it just keeps things neat and organized.
5. Large food containers
I use large food containers in my pantry for rice, beans, and lentils. You might not use these every day, but it's nice to have them properly stored.
I'm the kind of person that has 5 types of beans, 3 types of rice, and 3 types of lentils, so I can't have enough of these! (and yes, I counted ;))
6. Pantry baskets
High-quality pantry baskets are another thing I swear by. Use one for sauces, another for dinner staples, snacks, etc.
Although I prefer the weave pantry baskets, white plastic ones are more convenient for some items. Also, I have to admit that the plastic ones are a little more affordable.
Am I the only one slightly shocked at the price of those weave pantry baskets? I've looked around, and the price is "normal."
Cabinet organization ideas
Even in my tiny kitchen, I have 5 cabinets. One is smaller than the other, but still. Either how it's great to make the most of that space.
You really need to think this through in a small kitchen, and I feel your cabinets are one of the best ways to get super organized and maximize space.
Below is a great example of how you can use clear bins to organize your pasta, rice, cereal, oats, nuts, etc. It truly is better than just keeping everything in the packaging it came in.
If you have between 5-10 cabinet staples, you use them daily. Naturally, you place those at the front.
These stackable containers are perfect for smaller food—for example, lentils, quinoa, small beans, etc.
I mostly use these containers to store my porridge toppings, such as chia seed, hemp seed, goji berries, cocoa nibs, etc. The health freaks amongst us surely know what I mean. 🙂
I love this turntable more than I had expected. Although it's for snacks, I keep my spices and sauces there.
It is convenient if you have small cabinets and don't always want to look for everything for 10 minutes.
These mason jars are a great affordable option for food storage in your cabinets. I use these to store walnuts, almonds, dates, and homemade granola.
Use these stackable food storage boxes to store your coffee pods, vitamins, spices, teas, snacks for the kids, etc.
You also need some nice labels to finish your pantry organization project if you're going all-in with the food storage containers.
These chalkboard labels are great value for money and look amazing.
Optimize space in your kitchen with these ideas
Aside from getting things organized in your pantry and cabinets, let's look at a few of the smartest solutions to maximize space in your kitchen.
12. Under Shelf Basket
These under-shelf baskets are great for squeezing in some extra space in your cabinets.
Use an under-shelf basket for ziplock bags, tea, or aluminum foil. This is also a great little spot to keep small Tupperware or tiny dishes for sauces.
13. Sturdy cupboard rack
If you've ever been looking for a cupboard rack, you know there's a serious lack of sturdy racks.
This one is great and can be used for multiple purposes. For example: in your cabinets to organize cups or under the kitchen or bathroom sink to maximize space.
14. Smart cabinet organizer
These organizers are perfect to put in the back of your pantry. Preferably use these for products you don't use often – but still want to keep in sight!
15. Slide-out storage cart
In a small apartment, you often have a little space free beside the kitchen. In my case, that space is between de fridge and the kitchen.
Optimize that space with an extra narrow slide-out storage cart.
16. Over the door organizer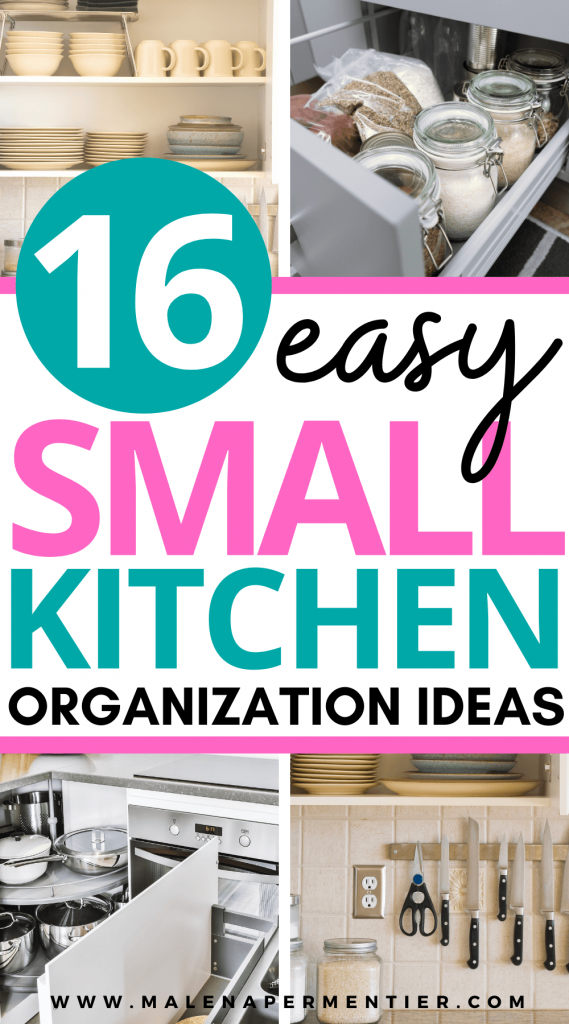 This post was all about the best kitchen organization ideas
You may also like: