This post shows you the best decorating ideas for studio apartments.
Planning the layout of a studio apartment is hard! Your life will happen in one room.
It takes serious organizing to make it functional and pretty.
In this post, we'll look at some studio layout options for where to place what.
We'll also look at some space-saving hacks and clever furniture choices.
One of the most important tips I have for moving into a studio apartment is to rid yourself of everything you don't need.
In a small space, clutter builds up quickly, which is one of the main reasons your studio will feel cramped and dysfunctional.
Another important thing to consider is that your usual style when decorating a space might not work in a studio.
For example, a bed with a tufted headboard might take up too much optical space.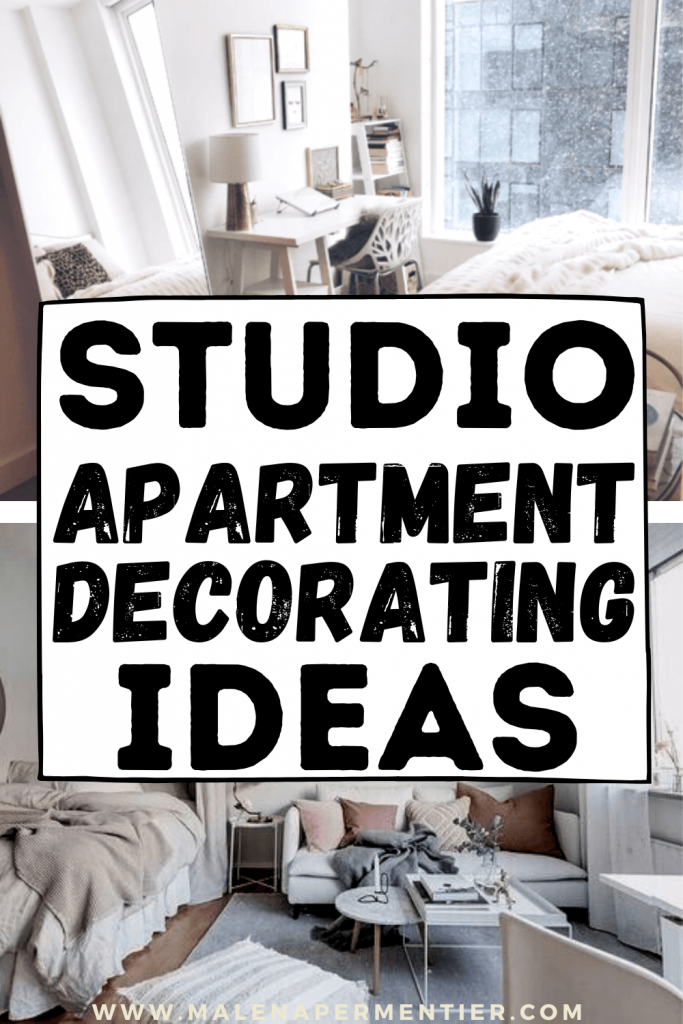 Decorating Ideas For Studio Apartments
When planning your studio layout, first account for the main furniture pieces.
Consider which furniture items are a must-have for you, and then plan accordingly.
If you're buying all-new furniture for your studio, look for compact pieces that don't take up a lot of visual space.
The small decorative touches will come at the end when you have the main furniture.
1. Studio Layout – couch in front of the bed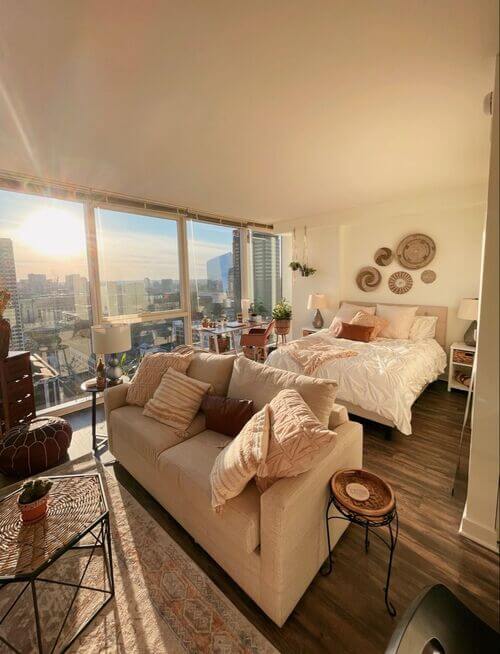 Line up a small couch in front of the bed.
This naturally divides your bedroom from your living room.
Sticking to neutral and earthy tones will also help make the most out of your space.
Especially in studio apartments, you want to stick to a very clear color scheme.
It will make the room look harmonious. Your eyes should not be drawn to many different sides simultaneously.
That will make the space appear smaller.
2. Studio Layout – Couch as a divider between the living room and bedroom

In a studio, you can use furniture to separate your living space from your bed.
When looking for furniture, look for narrow items.
For example, this coffee table is the perfect compact size for a small space.
Keep the same principle of narrow and sleek furniture in mind for a dining table and TV console.
3. Studio Layout – Bed and couch on opposite ends of the wall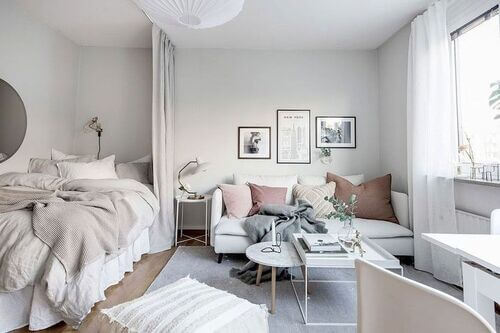 If your studio is narrow, consider placing your bed and couch against the same wall on opposite sides of the room.
You can also install curtains to divide the living area from your bed.
If you want a space divider, curtains are a good option because they don't obstruct the entire optical space.
4. Studio Layout – Couch next to bed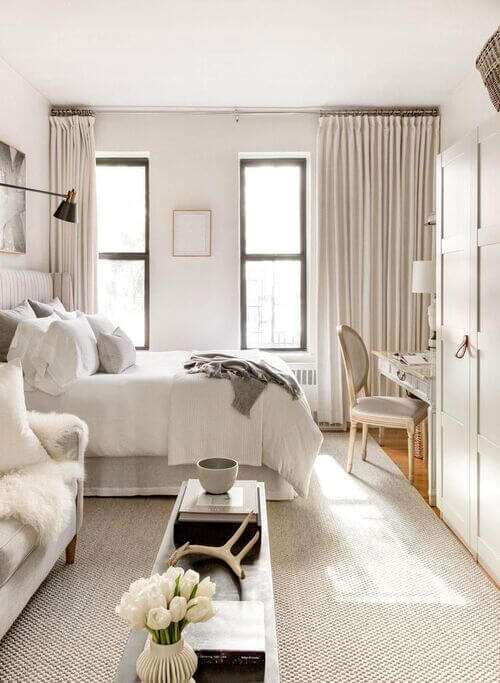 Place a small couch next to your bed.
This is a studio layout that's often used.
Rugs will also help making a studio apartment feel homey.
Consider an area rug for your bed area.
Or a large rug that covers both the living and sleeping area.
Sometimes, people use two different rugs to separate the living room from the bedroom.
This can work very nicely as a natural space divider.
But you must be mindful of the choice of rugs because it can also make your studio look smaller.
5. Large leaning mirror to open up the space visually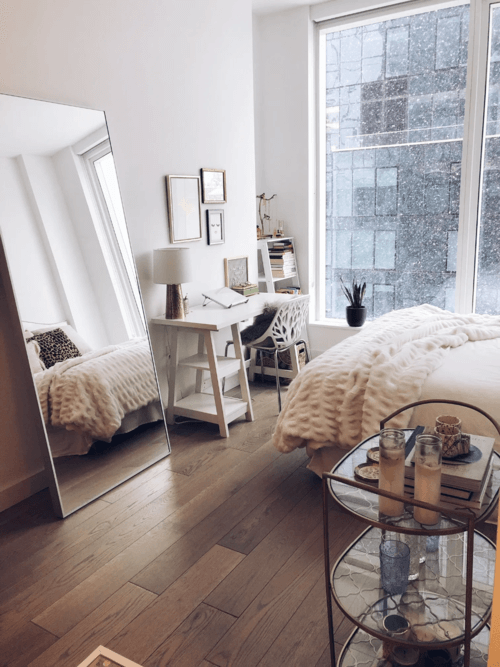 A large mirror looks great and opens up a small space.
Don't forget to utilize the corner of your apartments too, for example, with a tall bookshelf or a desk.
Large, sleek, modern mirrors are a great choice for small spaces.
Besides them being functional, they also help make your room look bigger.
6. Utilize your entryway for storing shoes in a cabinet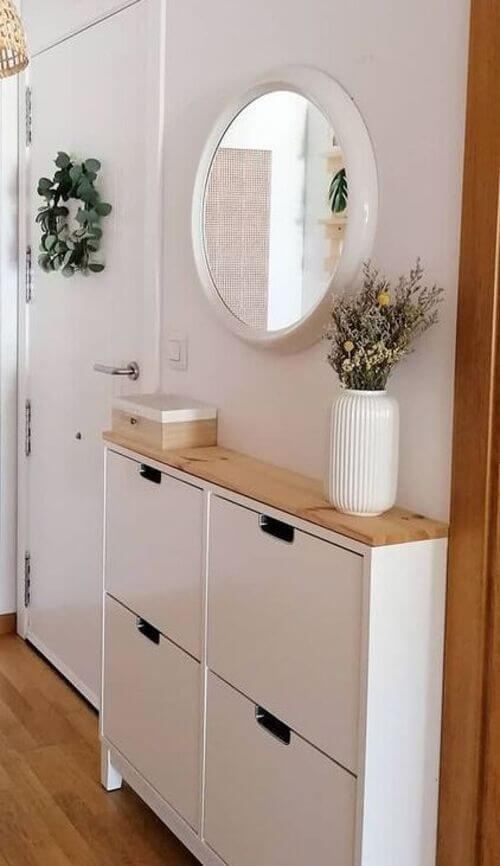 You have to be super clever with every little space in studio apartments.
Make sure to use your entryway to the fullest.
Use a narrow shoe storage cabinet at your entry for storing your shoes, raincoats, umbrellas, and other items you need on your way out.
An apartment entry can be great for extra storage and closet space.
Also, consider using your vertical space to the fullest with extra tall cabinets or shelves.
Studio apartment bed ideas
Your bed area is a great space to keep personal items like books, art, and photographs of people you love.
Maximizing space doesn't mean we should cramp the walls with all the storage solutions.
In some cases, simple floating shelves will do the trick.
If you can, get a bed that allows for storage underneath.
Getting storage bins that look nice and fit under the bed are a great investment in studio apartments.
Also, get a bed skirt!!
This might seem oldskool, but I don't care for seeing clutter under the bed.
Closet space in studios is usually limited.
You can use the space under your bed for storing seasonal clothing. It honestly makes all the difference.
Rolling storage carts under the bed can be nice in some cases.
Rolling carts are usually not tall enough if you have a good amount of space under your bed.
Which is a shame because you want to fully utilize that space.
So once you have your bedframe, measure the free space under your bed.
Then you can make the best decision for the type of storage bags or carts.
Whatever you do, always get storage that properly zips.
The last thing you want is to have your clothing full of dust.
7. Maximize space with bookshelves over the bed

Two minimalist shelves over your bed look pretty and offer space for books and personal items.
When people move into studio apartments, they sometimes think they must use every inch of wall space.
Don't overdo it.
This bedroom example with two simple shelves looks great and doesn't overwhelm the room.
8. Use a metal console as a space divider for your bedroom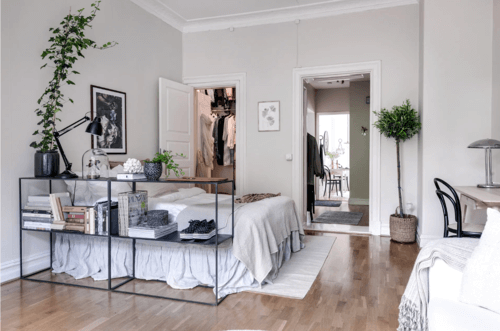 I like this room example because it shows us a creative way to separate spaces in a studio with a metal console.
A console like this, with open space in the middle, is great as a natural space divider that doesn't obstruct your view entirely.
Furthermore, a console with shelves like this is a great nightstand replacement.
You could also consider placing the couch next to it.
9. Bring your seating area together
Make an effort to bring your seating area together – compact but cozy furniture choices. 
If you're making a dedicated 'living nook' in your studio, don't be afraid to bring everything together.
In studios, we can sometimes be too careful when decorating and place a lonely couch somewhere.
If you're making a seating area in the corner of your studio apartment, consider a small sectional, a rug, and things like a plant to make things come together.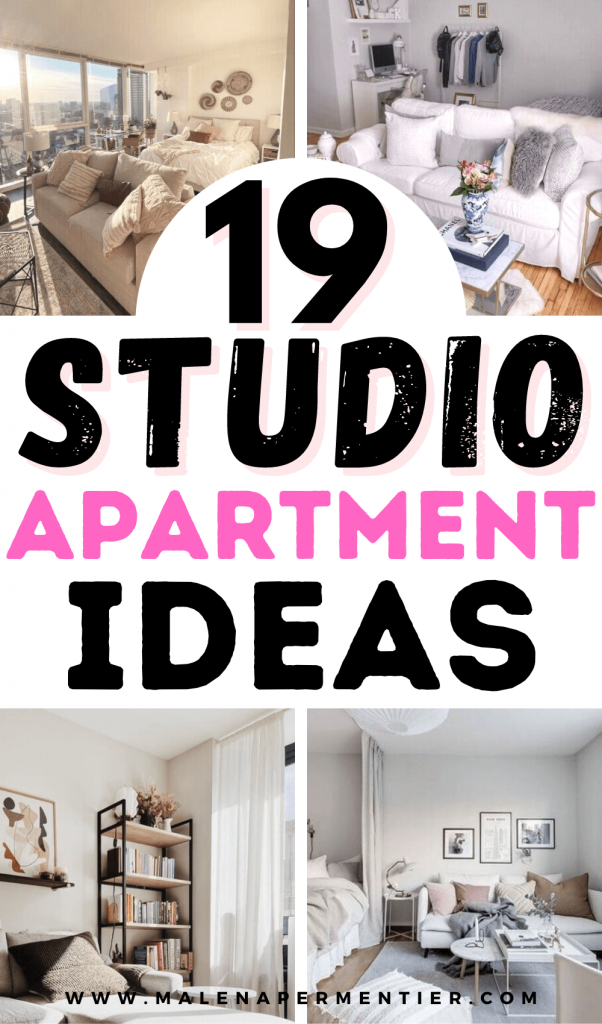 10. Create separate spaces with rugs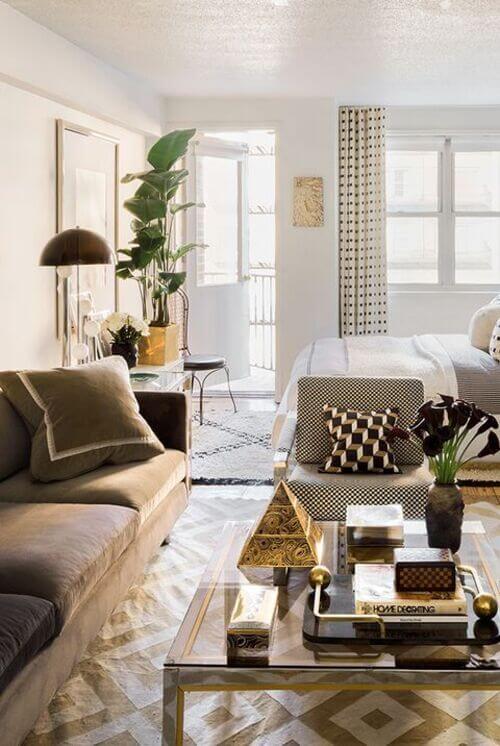 Rugs help to create a different ambiance in your living and sleeping area.
The bed and living space are distinctly different areas in this space.
Things look harmonious because the entire studio design is in neutral and earthy tones.
You can also separate the space of your bed and seating area with how you line up your furniture.
A large space divider is not necessary. In some studios, that will make the space appear even smaller.
11. Pick compact furniture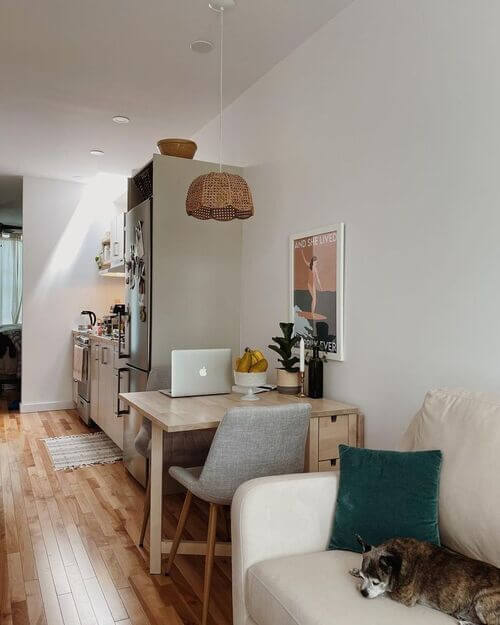 Choose a compact dining table! Square or vertical shaped can both work.
A narrow pub set with bar chairs can also be a great choice.
Don't be afraid to only buy a table and then pick different chairs to go with it.
This can give it a more custom and expensive feel!
Ikea is really good for dining table chairs that look expensive but aren't.
12. Neutral color scheme and coffee table with short legs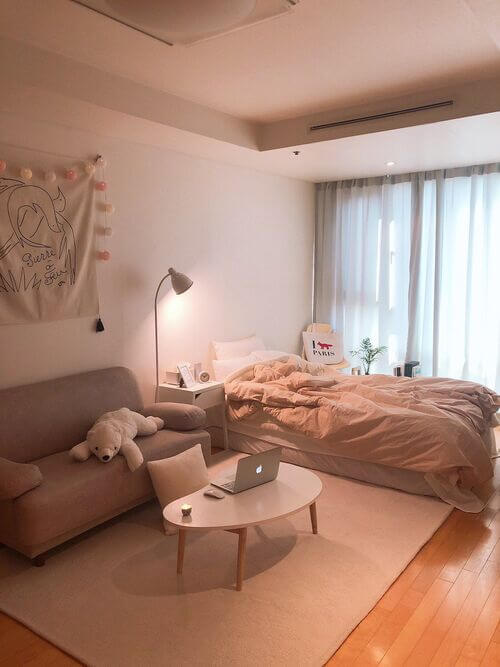 Focussing on mostly one color helps keep the space looking bigger.
It also calms the eye – which is important in small spaces.
Another thing worth considering is getting a short coffee table.
This keeps the space feeling wide and open.
13. Acrylic coffee table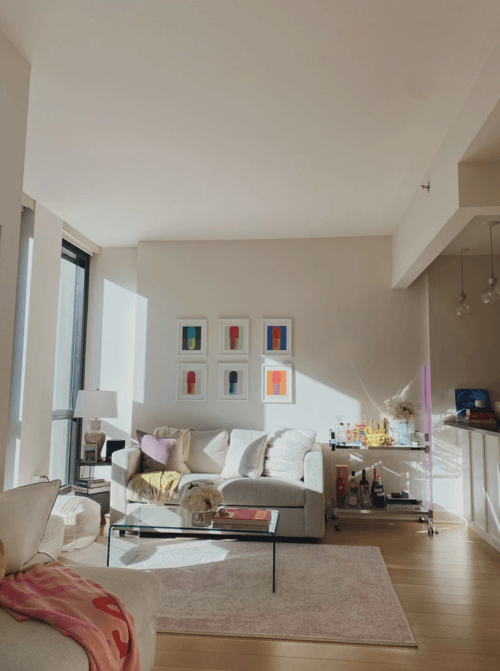 Acrylic coffee tables and furniture are a great choice in studio apartments.
Things like acrylic coffee tables and chairs help lighten up the space.
14. Be creative when sourcing furniture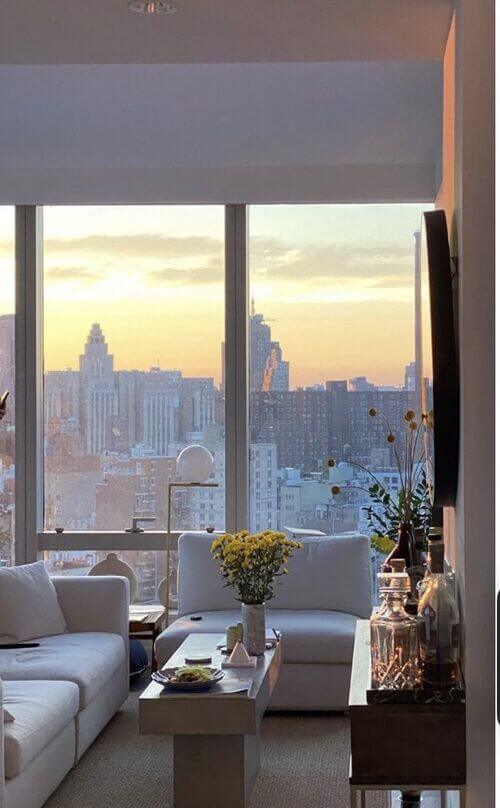 Think out of the box when sourcing furniture pieces.
Instead of a coffee table, use a narrow concrete bench.
Use an entryway console as a TV table.
In studio apartments, regular-sized furniture doesn't always work.
That doesn't mean there aren't suitable items for studios.
You might just have to change up your search queries.
15. Create a dedicated desk nook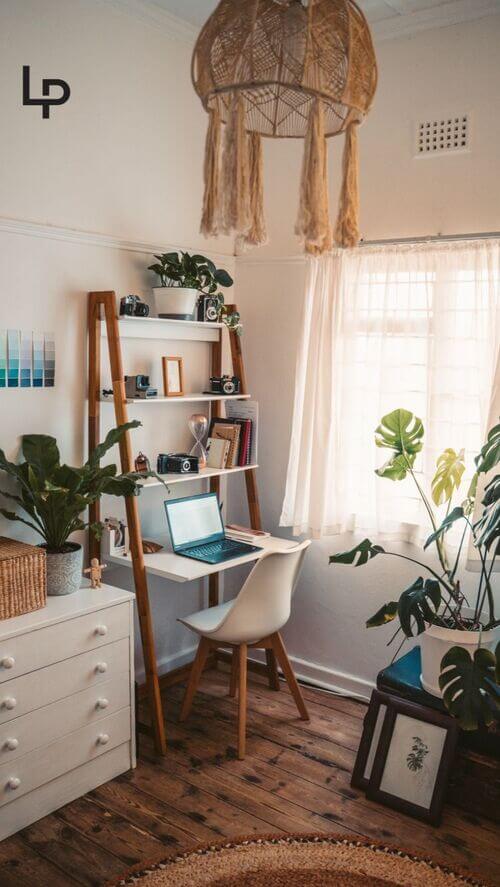 Even in the smallest spaces, you can make room for your desk!
A ladder desk like this is great for maximizing the space over your desk.
Use the shelves for your desk essentials, book, electronics, etc.
16. Create closet space
I'm well aware that this closet set up doesn't work in every studio apartment!!
Nevertheless, it's a good example of making a closet space from scratch.
Ikea has a lot of custom options when it comes to closet and shelf stations.
Designing a closet space for your studio is worth it if you have nearly no closet space.
The closet in this picture functions as a space divider.
It looks beautiful and makes a walk-in closet from scratch.
There definitely would be some DIY involved for the backside of the closet.
Space-saving ideas for studio apartments
Living in a studio apartment is all about being creative with storage!
But not in a way that overwhelms your space.
Below, we'll look at some great spots for storage in your studio.
I'll also list some items that will help tremendously while living in a studio.
17. Maximize storage in your bathroom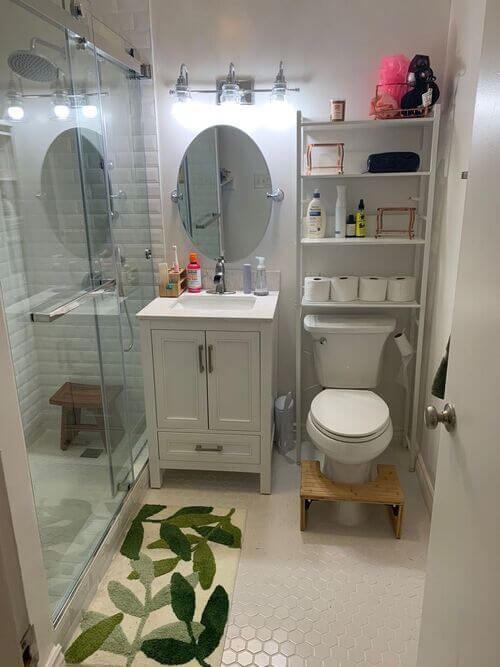 Your bathroom is one of the places in a studio where it's smart to optimize for storage.
If you can create enough space to store your towels, skincare, makeup, and other essentials, that's amazing.
A ladder shelf over the toilet is an easy and inexpensive way to create storage.
You can also get a storage cabinet that fits over the toilet.
18. Ditch furniture that's not 100% necessary
When you have very small square feet studio, there is a lot of furniture you don't need.
Replace a side table or coffee table with an armrest tray.
Pick items that allow you extra storage space.
For example, an ottomon pouf can function as seating and storage.
Prioritize furniture that can serve multiple purposes.
For example, a loveseat that also turns into a bed.
If you have family or friends visiting (and you live in an expensive city like NYC), having them stay at your place is nice.
19. Utilize your vertical space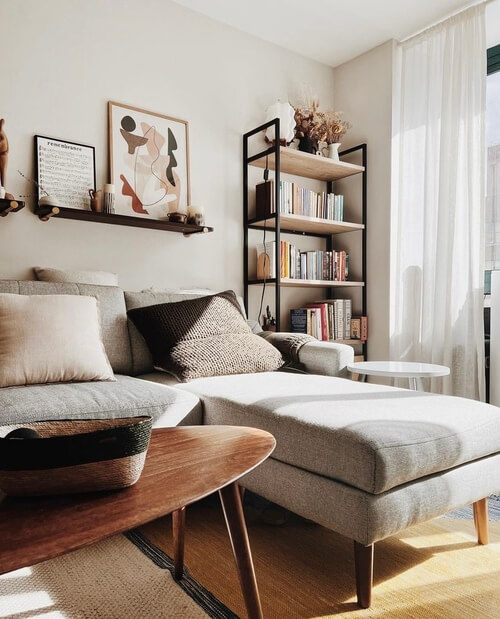 When picking out living room furniture for a studio apartment, include some items that utilize the vertical space in your apartment.
A sleek and tall bookshelf is a great way to decorate and store books simultaneously.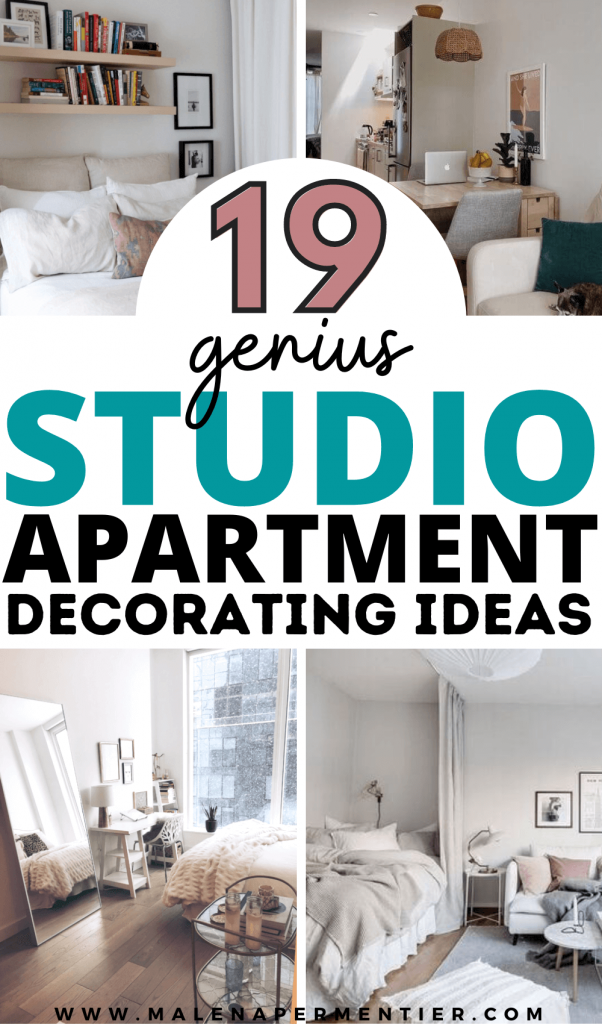 This post showed you the best decorating ideas for studio apartments.
You may also like: