This post shows you the best studio apartment ideas on a budget.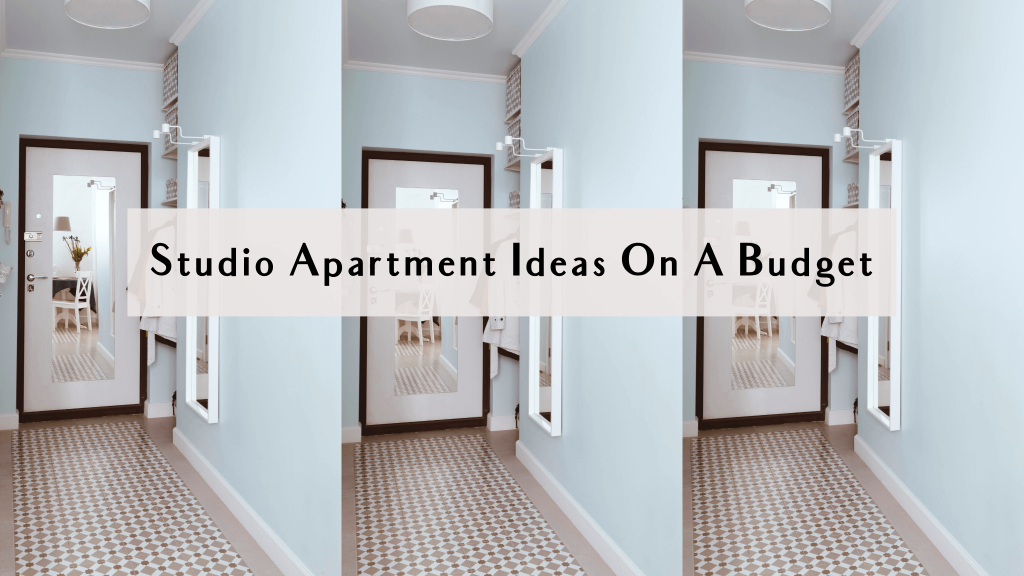 Are you moving into a studio apartment? Then you need some clever tips to make the most of your space!
Let's look at the best things to buy for a studio apartment, decorating ideas, and how to achieve a minimal yet cozy aesthetic.
For small studio apartments, less is more. By choosing light colors, skinny furniture, and tidying up your stuff behind closed you've already tackled most of a studio's challenges.
Below, I'm showing you the best ideas for a studio apartment, ways to make it feel bigger, and what to get for a studio apartment.
These studio decorating ideas all have a cozy yet minimalist aesthetic. So if that's not your thing, this is probably not your post :).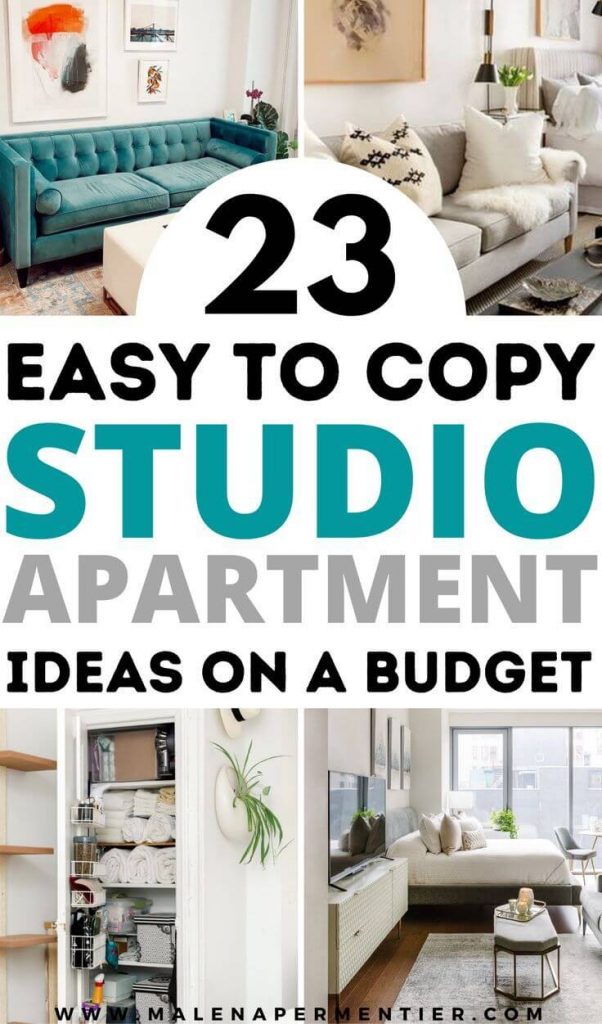 1. Choose an extra slim coffee table
A regular-sized coffee table likely won't work in a studio apartment. A clever alternative is to get a very narrow and low coffee table.
There are plenty of minimal and stylish options that also happen to be affordable. Yay to that.

2. Gray and neutral color scheme
Light colors like grays and neutrals work best for a small living room. As you can see in the above image, this color scheme opens up the room and makes it look much bigger!
3. Be smart about prints
This is an excellent example if you're a print person and wonder how to implement some in your studio.
Layer a printed area rug over a more oversized rug, and add a pop of print to your throw pillows.

4. Pull space together with a rug
One of the trickiest parts of living in a studio apartment is that you're always in the same space. Luckily there are solutions for that.
Effortlessly create separate spaces with an area rug or a divider.
Area rug for sectional couch (customers are raving about this one!):

5. Get creative with shelving
Shelves can be great in small apartments, for example, this wall with bookshelves.
Do keep your shelves organized at all times, or it will make your studio feel cluttered.

6. Add some warm accent colors
One thing I didn't like about living in a studio apartment, is that my bed didn't feel cozy. After all, you can see your entire living room and kitchen from your bed!
Add some warm and cozy accents to your bed with throws, extra covers, art, or plants next to your bed.
That way, you will feel more like you're in an actual separate bedroom and safe space.
7. Keep enough walk through space
Open space will make a studio feel bigger. What stands out in this apartment is that it has all the furniture, yet you can still comfortably walk from one end to the other.
Achieve this studio by option for a narrow lucite coffee table, accompanied by a small enough rug.

8. Sectional for a put together look
Sectionals can work exceptionally well in studios because they create a defined separate space with their shape.
If you're planning to have guests over, sectionals with beds in them are even better!

9. Place a console table behind the couch
Consoles like this are endlessly versatile. They add an accent color, create space for decor, and even offer some storage space if that's what you intend to use it for.
Consider using the space behind large furniture for storage or a console table like this.
Gold console table under $100:

10. A curved lamp saves the day
I'd recommend a curved lamp for any space! They add charm, don't take up much space, and look way more expensive than they are.

This room looks very hotel-like, but it's a great example of how to make the most of limited space.
Tall yet narrow closets help you make the most of vertical space. You can even use the top of your closet for storage space. Do so with baskets or plastic bins.
For the most put-together look, always pick storage solutions that match the color of your closet!
Above closet storage:

12. Playful bohemian space
This studio shows you how to add a pop of color to a tiny space!
Mount your bedside lamp and opt for a tiny nightstand to create more seating space.
Another smart decision in this room is the dresser drawer beside the bed. Besides functioning as a nightstand, it also gives you extra storage space.

13. Create a small kitchen seating area
A small studio might not allow you the space for a dining table. But that doesn't mean you can't create a tiny space for dining instead!
Opt for a tall table with stools instead of a full-fledged table with chairs. It's functional, cute, and saves a ton of space.

14. Add a large mirror
A full-length mirror has the miraculous capability of making a tiny apartment look a lot bigger. They also happen to be super stylish if you pick the right one.
I'm personally obsessed with arched full-length mirrors! Attach your mirror to the wall, or if you want to place it in the corner, ago for a free standing mirror with arch like this.
Arched full length mirror:

15. Compact furniture with storage space
Compact furniture is your friend in a tiny space. There are many ways to do that, for example, with a loveseat, side table, or bookcase that is small space friendly.

16. Opt for a lucite coffee table
Lucite coffee tables aren't everyone's thing, but one thing it certainly does is opening up the space.
When your seating space is in the middle of the room, a lucite coffee table is worth considering. Thay way, it doesn't block your view of the rest of the space.
17. False wall for studio apartment
Divide your studio into different spaces with a curtain or divider. A curtain probably gives you the most versatility, as you can slide it aside when you want to.
Dividers or false walls can work in a studio apartment; the only concern is that it makes the space look dramatically smaller.

18. Light and airy furniture
Look at the console table under the TV and coffee tables: aren't they the definition of light and airy!
This type of aesthetic works amazingly in studio apartments because they create the illusion of more space. What I also love is that they look SO stylish.

19. Ottoman for extra seating
Are you worried about the seating space in your studio? An ottoman (or 2) can be used as a footrest and a cute seating spot when friends come over.
Woven ottoman pouf:

20. Hang a storage organizer inside your closet
If you have a small walk-in closet (like many NYC studio apartments do), use the inside of the door for a large organizer.
This could be perfect for shampoos, beauty products, and other items you want out of sight.
Over the door organizer:

21. Consider a coffee table with storage space
If you like the aesthetic of a cube form coffee table, you need to get one with storage!

22. Use trunks for a nightstand
Another creative storage idea is using vintage-style trunks for a nightstand. You'd be surprised how much stuff you can fit in here.
set of two trunks:

23. Bed with pillars
To create a somewhat separate sleeping area in your studio, beds with pillars can give you that cozy small bedroom feeling!

This post showed you 23 Studio Apartment Ideas On A Budget
You may also like: