This post shows you the best simple everyday outfits to wear in 2022.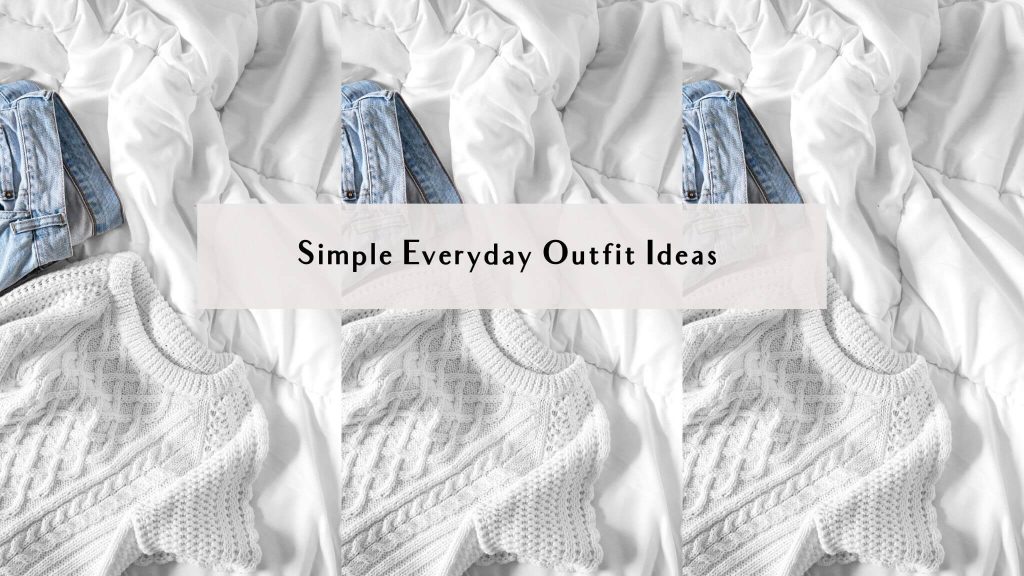 There is so much outfit inspiration online, yet I seem to get stuck whenever it comes to simple everyday outfits!!
So I took the opportunity to turn my research into this simple every outfit ideas post.
All these outfits are flattering, simple, stylish, and you likely already have some of these items in your closet.
Sometimes creating new outfits is simply about seeing your closet in a new light.
Let's hop right into it and get some inspiration for dressing simple but stylish.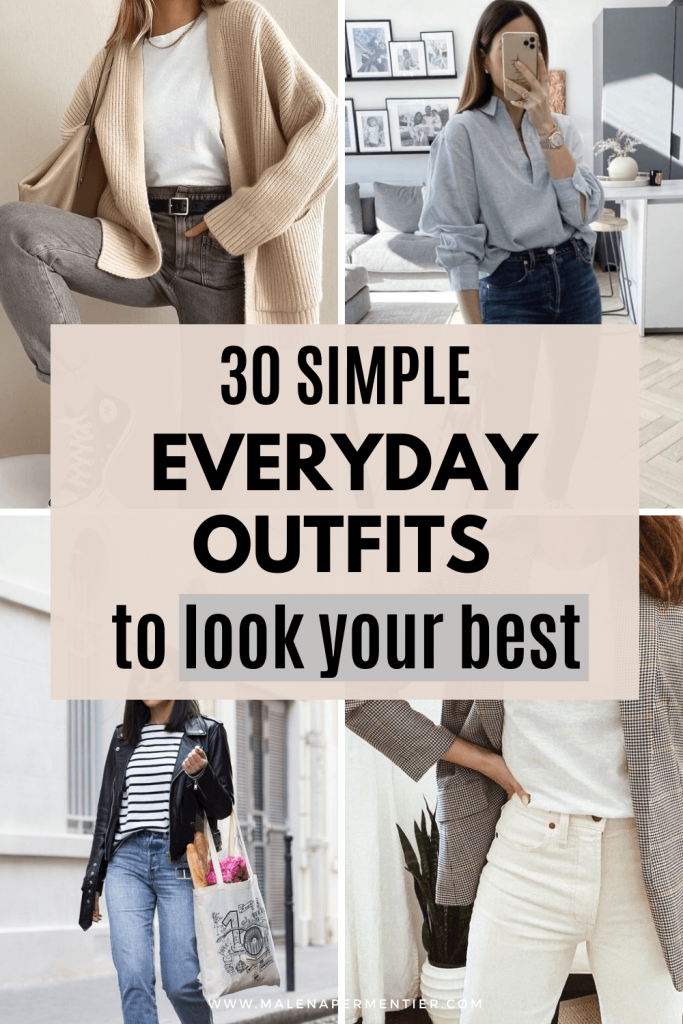 What to Wear Everyday Style
Must-haves for simple everyday outfits are:
Flatting and versatile jeans. For the classic fits, I'm obsessed with Levi's.
Black and white t-shirts in a variety of fits.
Slightly oversized blazers in black and neutrals.
Below, I'll go over exactly how to dress simple but stylish.
Simple Everyday Outfits
1. Neutral color outfits
Neutrals are easy to style and look flattering. White jeans have a bad rep for being 'tricky,' but I personally love them. When you buy a good quality pair of white jeans, they're very flattering on all body types.
All the credit for this neutral outfit goes to Cocobeautea, the queen of everyday, simple outfits.
Copy this look:
2. Casual black and white outfit
This casual yet chic black and white outfit are perfect for every day.
Camisoles are great for summer and look beautiful when styled with a slightly oversized blazer.
Tuck your camisole into your jeans and make your outfit look polished with a nice belt.
Copy this look:
3. Beige Blazer Outfit Women's
A warm color, beige is such a flattering color to wear.
Tuck your shirt into your jeans, add a belt and finish your outfit with a beige blazer.
Copt this outfit:
4. Linen shirt outfit with jeans
I love how these different shades of blue work together. The shirt is H&M, but I don't think this exact one is in stock anymore.
If you wear blue's, make sure that your top and jeans are different shades. If they're too similar, the outfit usually doesn't work.
Copy this outfit:
5. Outfit with Converse high tops
Doesn't this color of converse look so good?! I'm not sure what to call this color, and the internet isn't sure about it either.
Converse are great to have for simple everyday outfits. Especially when styled with a blazer, it makes for a very stylish outfit.
Copy this outfit:
6. Chunky cardigan outfit
Cardigan outfits work perfectly for summer because you throw off your cardigan when it gets too hot.
Style your chunky cardigan with a simple white tee, high-waisted jeans, and casual shoes.
Copy outfit with cardigan:
7. White jeans and striped top outfit
A top with padded shoulders instantly makes your outfit look more put-together.
I can't get enough of wide-leg white jeans this summer, and I've worn an outfit like this many times.
Copy this white jeans outfit idea:
8. Blazer outfit with jeans
This subtle checked blazer with jeans is the perfect everyday outfit.
Gold layered necklaces look amazing with white t-shirts, and it's such an effortless way to elevate a simple outfit.
Copy outfit with checked blazer:
9. Wide leg flowy pants outfit
Wide-leg palazzo pants are so comfy and stylish.
Create a super casual outfit with sneakers and a white top, or go for something more dressy like this look with a trench coat.
Copy outfit with wide leg pants:
10. Camel blazer outfit
A camel blazer is a great wardrobe staple to elevate your simple everyday outfits.
Colors I love wearing with camel: white, denim, and various shades of gray.
The popular color combo of black and camel often looks too harsh, so I prefer a more neutral color palette.
Copy camel blazer outfit:
11. Classic white shirt and jeans
A nice white shirt looks great on everyone, regardless of your style. It's the kind of garment that pulls an outfit together.
It's not always easy to find good quality white shirts, but I've personally had success on The Outnet's very own brand called Iris & Ink. The price point is fair, and the clothing LASTS!
Copy outfit:
12. Simple plaid blazer outfit
I love blazers with a subtle plaid print, and I've had mine for at least five years!!
Make sure to get one with a slightly oversized fit. This style looks most flattering and also is the most versatile.
Mango is an excellent spot for shopping for affordable quality blazers. That's where I get most of my blazers and coats.
Copy outfit with plaid blazer:
13. Striped outfit ideas
My love for stripes is endless! Although my style has changed quite a bit over the years, stripes are still my thing.
It looks great with jeans and a leather biker jacket. A combo I must have worn a thousand times the last few years.
Copy this look:
14. Culottes jeans outfit
Jean's culottes are great for summer and fall. Style your denim with a white blouse and a cute straw hat.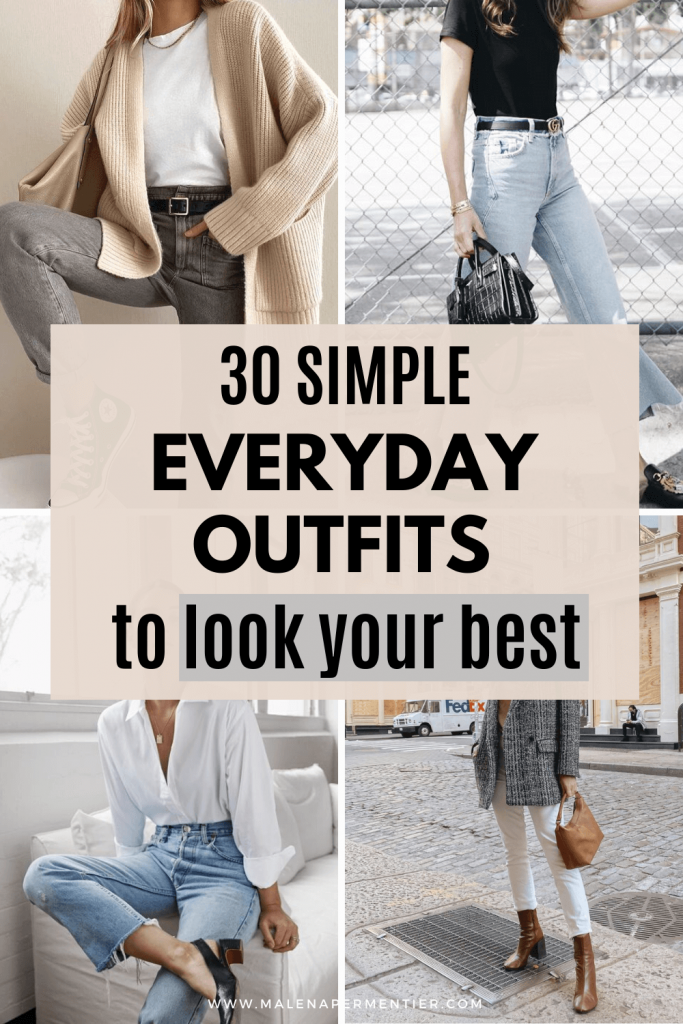 15. Simple flared jeans outfit with belt
A belt and a pair of sunglasses can instantly take a simple outfit to the next level.
You can't have enough black or white t-shirts in your closet if you love a simple everyday style.
Copy this outfit:
16. Oversized denim jacket
Denim jackets are so lovely to have in your closet. They go in many outfits, and they last a lifetime.
I love this simple but chic look with denim, simple sneakers, and lots of white.
Copy outfit with denim jacket:

17. Camel booties with white jeans
Camel looks so good with white!! I love how this outfit shows that white jeans can also perfectly be worn in fall if you combine them with a warmer jacket.
Recreate this outfit with camel boots:
18. Leather blazer with cropped top
A (faux) leather blazer instantly elevates a casual outfit. I love how this look works perfectly with jeans and neutrals.
Copy leather blazer outfit:
19. Black high top converse outfit
I can't get enough of the black converse high tops!! The outfit options are endless with these incredibly versatile sneakers.
Make a simple everyday outfit look more interesting with trendy sunglasses and a cool bag.
Copy this casual black and gray outfit:
20. Black outfit with jeans
Black turtlenecks are the backbone of simple but stylish everyday outfits.
Especially transitioning into fall, a turtleneck is great to keep you warm. I love the endless simple everyday outfit options a classic black turtleneck gives.
Copy black outfit with turtleneck:
21. All black outfit with different textures
All-black outfits with different fabrics and textures are my favorite things to wear.
Especially the oversized cardigan and leather pants combo looks so classy!!
Copy black look:
22. Outfit with gray trench coat
I'm a bit of a trench coat hoarder, so I have a soft spot for all trench coat outfit inspiration.
To spice it up, get a unique trench coat, like this shade of light blue/gray.
Create outfit blue gray trench coat:

23. Chunky knit outfit with vans
For the love of chunky knits!! Knit sweaters are such an underrated closet item.
I love the comfiness, warmth, and the fact that it looks super stylish if you pick the right fit.
Recreate this casual neutral outfit:
24. Levi's jeans with oversized white t-shirt
Levi's jeans with a white t-shirt is a simple everyday outfit that always looks chic.
The fun part of simple outfits like this is that you can get creative with your accessories.
Copy this outfit:
25. Faux leather pants
I've got these exact faux leather pants in green, and I love them! They're old season Mango and the most similar pair I found, you can see below.
Shades of brown and camel are great fall colors to wear.