This post shows you the best diy home coffee bar ideas.
Creating a personalized coffee bar is a wonderful way to turn your morning routine into a delightful experience.
With a touch of creativity and some DIY magic, you can transform a small corner of your kitchen or a dedicated space into a charming coffee haven.
We'll explore some bubbly DIY home coffee bar ideas that will make every cup of coffee a special treat.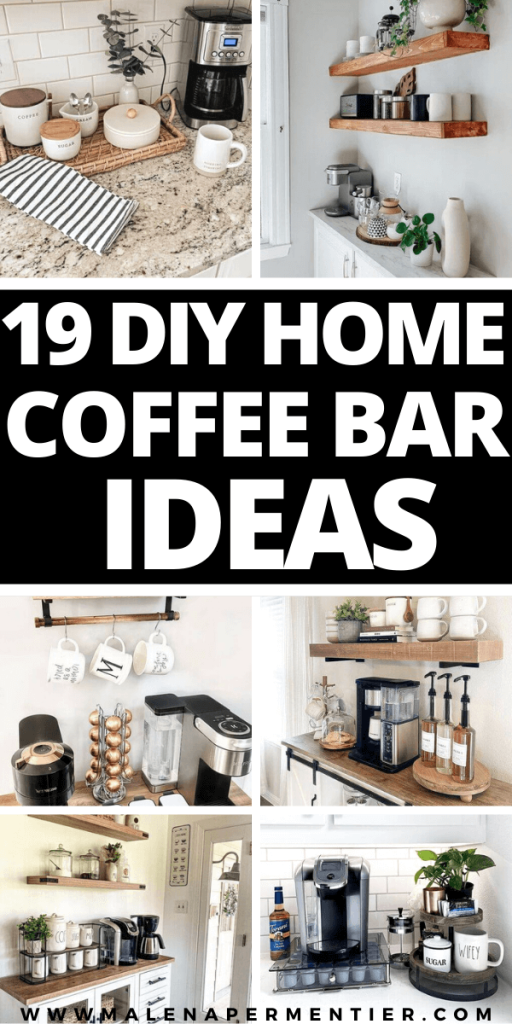 What to add to a coffee bar
The aroma of coffee is just irresistible, but with that being said, we don't always know what to add to a coffee bar to make sure it serves its full purpose.
So here are a few things you can add to bring life to the little piece of coffee heaven.
Cute mugs. Prints, shapes, and colors galore are the best way to go about creating a personalized coffee bar.
Get different beans.
Add ceramics for your sugar, coffee, tea, and more.
Add syrups of all different flavors to bring Starbucks right to your home.
A bar fridge is a must.
Art prints and quotes are the perfect way to personalize your space.
As you can see from the list above there are plenty of ways to spice up your coffee bar and make it your own space.
Go bold or minimalistic, just grab your cups, and a few floating shelves and create the bar of your dreams
Tips for the perfect coffee bar
Consider a space near the kitchen or dining area that allows for easy access to your favorite coffee-making essentials. A countertop, a small nook, or even a repurposed cart can serve as a fantastic base for your DIY coffee bar.
Determine the style and ambiance you want to create in your coffee bar.
Organize your coffee-making essentials in an aesthetically pleasing and functional manner. Consider using open shelves, hooks, or wall-mounted organizers to showcase your favorite mugs, coffee beans, filters, and brewing equipment.
Add a personal touch to your coffee bar with a DIY sign. You can create a charming sign using reclaimed wood, chalkboard paint, or even acrylic letters.
Bring a breath of fresh air into your coffee bar by incorporating plants or fresh herbs. Small potted plants, such as succulents or herbs like mint or basil, can add a touch of greenery and create a calming ambiance.
Consider adding warm and cozy lighting to create a welcoming atmosphere. String lights, pendant lights, or even a small table lamp can add a soft glow that enhances the coziness of your coffee bar.
Make your coffee bar feel like an extension of your personality by adding personalized touches.
1. Floating shelves and greenery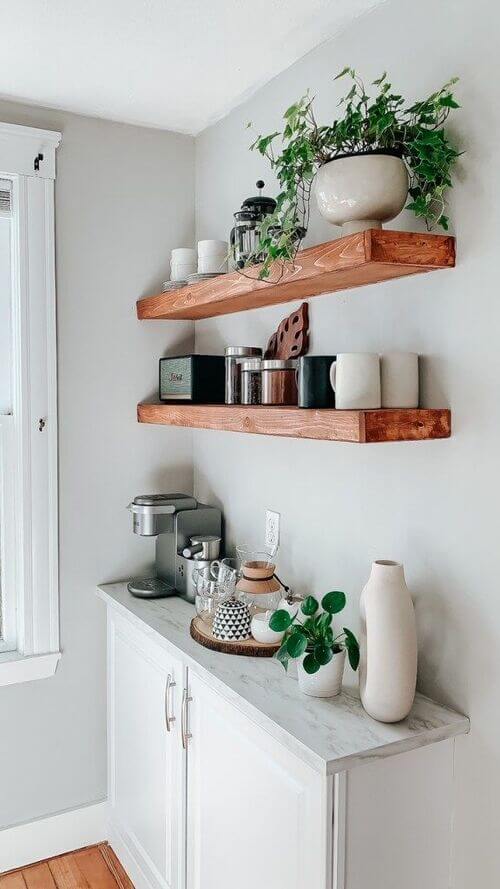 We can all appreciate a simple aesthetic and bold pop of color.
This little coffee bar incorporates gorgeous plants, ceramic vases, and floating shelves.
Add your mugs, coffee, and coffee machine to have all you need in one simple place.
It works best to have a cupboard around these bars to store extra mugs for big get-togethers.
2. Kitchen nook coffee bar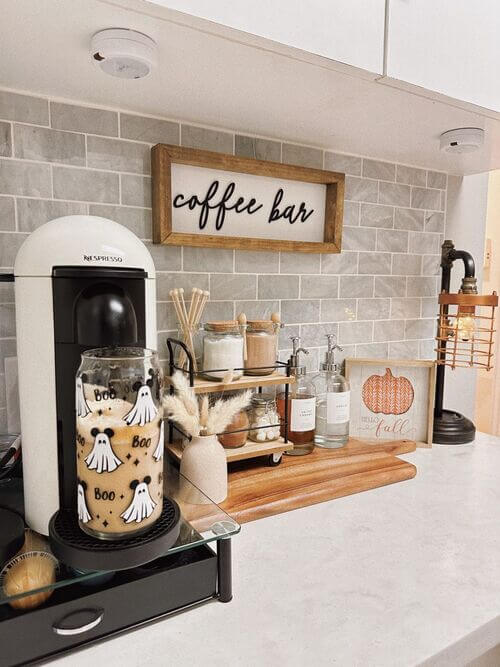 A super cute idea is to incorporate themes into the bar.
For example, you can add some pumpkin spice, art pieces, and even glass jars with cute ghosts to the nook to get into the Halloween spirit.
You can change it up as needed for each holiday or monthly depending on your mood.
3. Keep things simple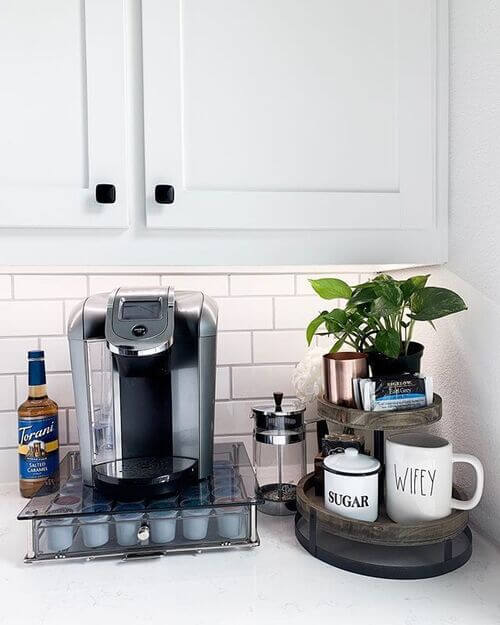 You don't need too much to bring a coffee bar to life, so if you just want the basics covered, you can always just make a designated spot in your kitchen for your coffee necessities.
Add your favorite coffee, mugs, and teas to this cute double tray. You can place your coffee machine in this space with syrups and sugars.
Related: 31 Kitchen Counter Ideas That Will Transform Your Space
4. Black and white simplicity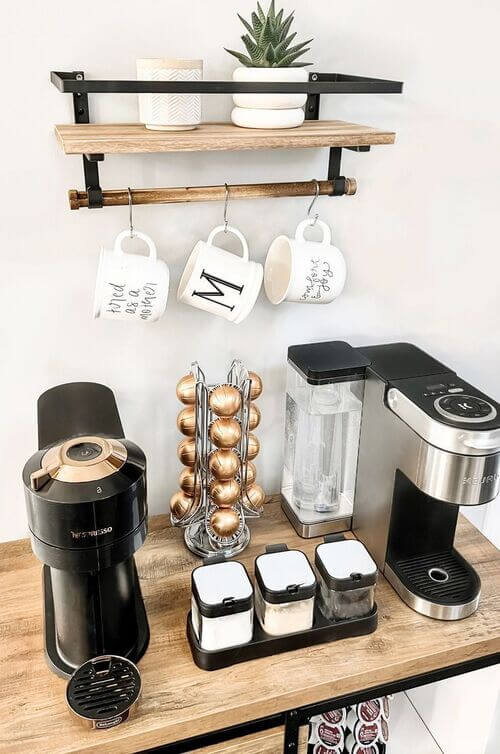 Recreate this:
Cute planters, a simple black-and-white theme, and all your coffee pods in one place… what more does one need?
Hang your mugs on the floating shelf for easy access.
You can also add some candles to mix with the warm coffee aroma, which makes this little spot the designated warm and calming spot that every home needs.
5. Mini cart coffee bar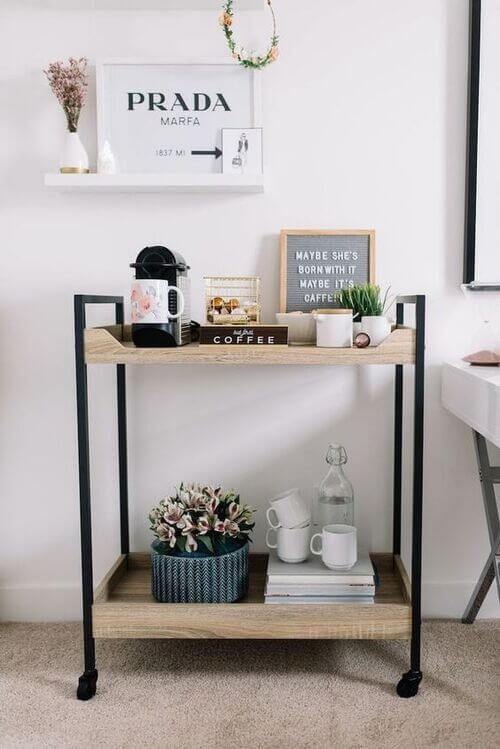 If you want your coffee bar on the go then a cart would work best.
This allows you to keep it in the kitchen, dining room, or even the living room.
Add a coffee machine, a few mugs, and even a cute little letterboard.
This idea is great when you have limited space to work with and are in need of a simple fix.
6. Syrups galore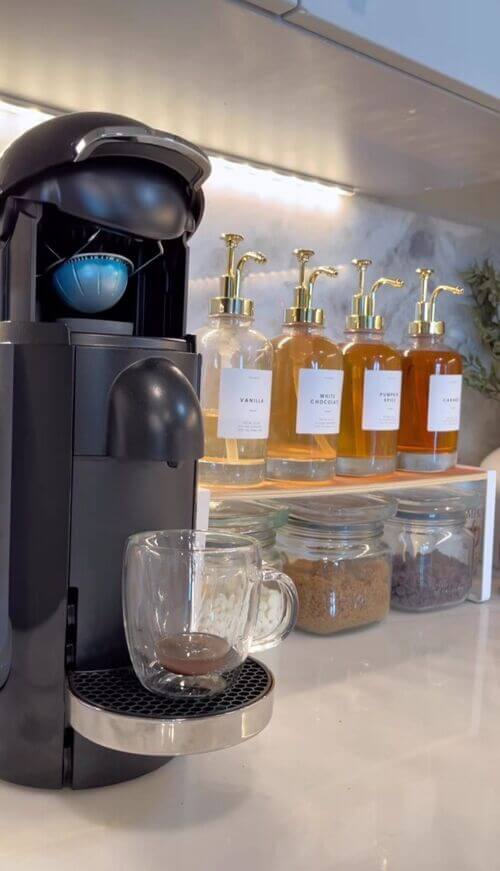 If you love testing new flavors and mixing syrups then this is perfect for you.
Keep it simple by having your trusty coffee maker on hand and then line your syrups on the table for easy access to the assorted flavors.
If you have a small space to work with then this works great for you.
7. Quote board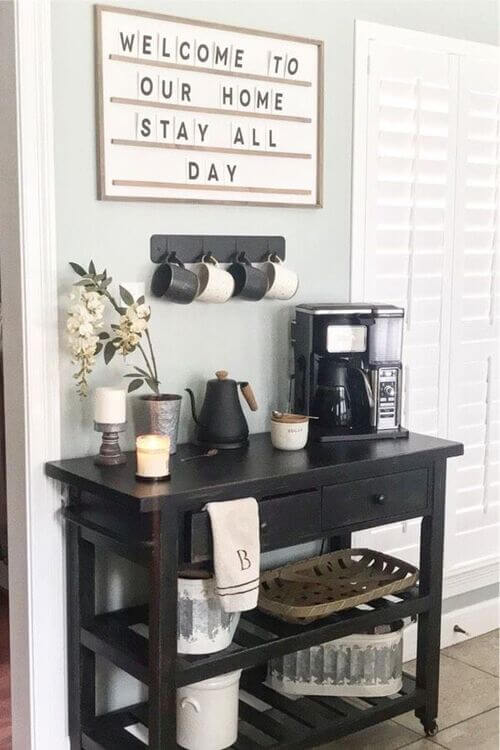 A cute welcome board or quote can be just what you need to cheer you up.
Pair it with a well-thought-out aesthetic and some simple decor pieces such as plants, candles, and trays, and you should be sorted in no time.
If you want to add a nice little touch, then I highly recommend adding some cookies to the table.
8. Bright shelves and greenery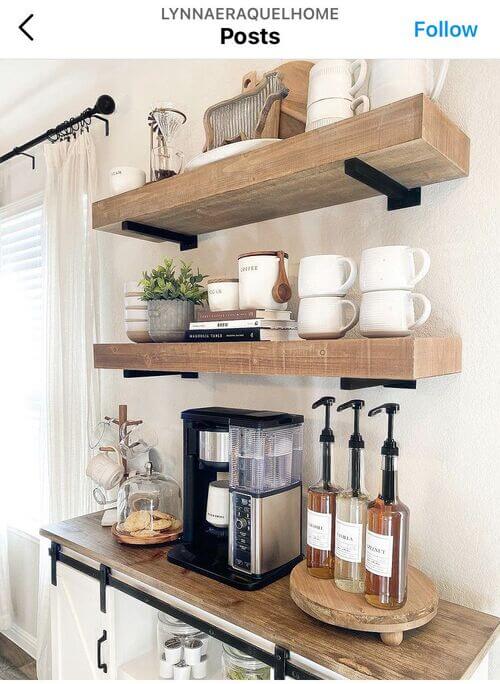 Create your little bar in a bright space.
This instantly makes it feel like it brings an air of freshness to the room.
Add shelves with small goodies such as books, plants, quotes, and mugs.
You can place your syrups, cookies, and other small additions on the table, to make it fully personalized.
9. A tray for the coffee pods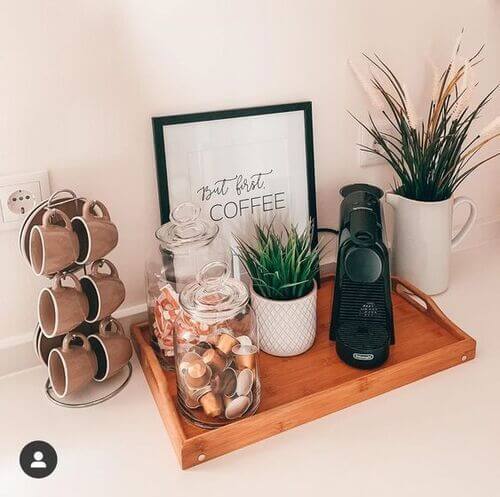 Less is more and the above idea is the best example to showcase it.
All you need is your coffee machine, your mugs, and jars to fill with your coffee pods.
Add a special touch by putting up some cute art. If you want to keep things neat then place all the goods into a wooden tray.
10. Mug hooks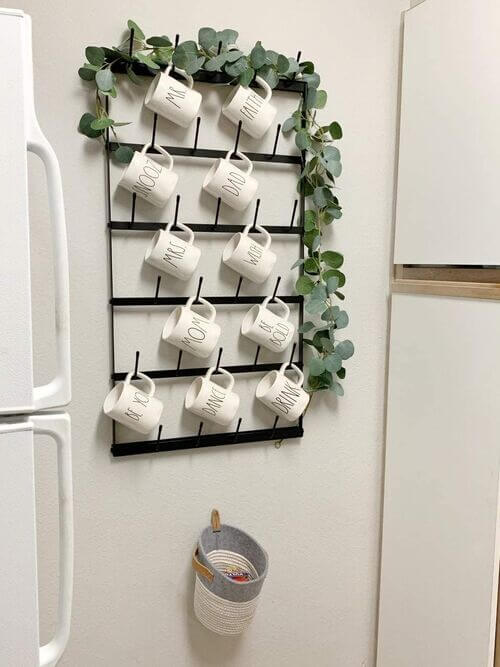 If you want to showcase all your special mugs in one place, then this is a great idea.
Simply hang them in the kitchen for everyone to place their favorite mugs on.
It gives easy access and stays out of the way so that you have more cupboard space for other necessities.
11. Sugar, syrups, and simple placement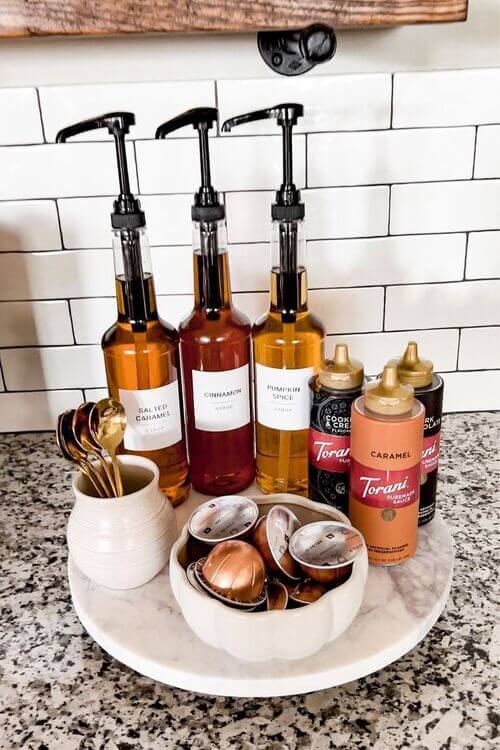 If you're anything like me and love your iced coffee or hot chocolate, then I know you'll need this to make your life easier.
A station for syrups, sauces, and coffee pods will be perfect for a cozy coffee bar.
Keep it small so that you can easily move it around.
12. Easy kitchen coffee bar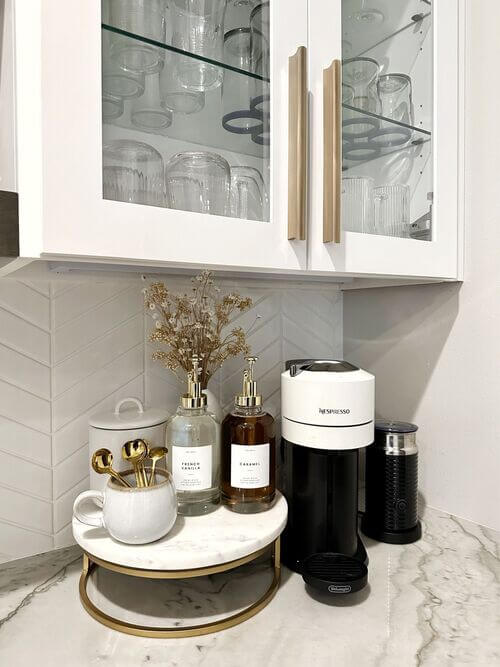 Marble and gold trays with all your coffee needs… yes, please!
I know a messy coffee bar can make any person feel insane, so try out this simple idea.
You can recreate this with minimal effort and use things already sitting around your home.
13. Wood slices and plants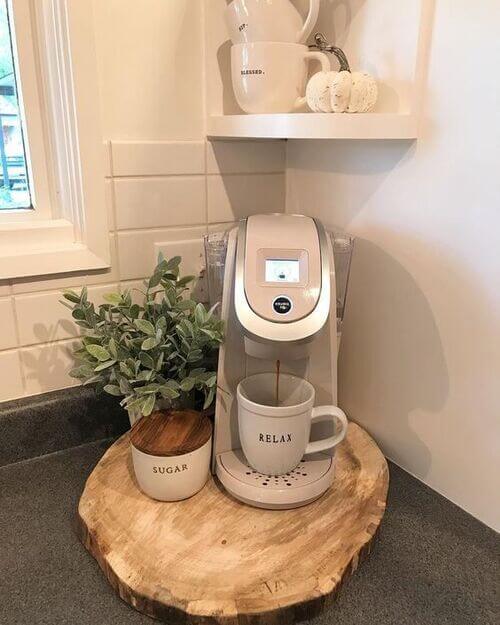 If you're in need of a natural look then wood slices and greenery are your best bet.
You can incorporate a candle and place the coffee machine on the wood with a mug.
You don't need much to make this idea work, and it won't take up too much space either.
14. Designated coffee nook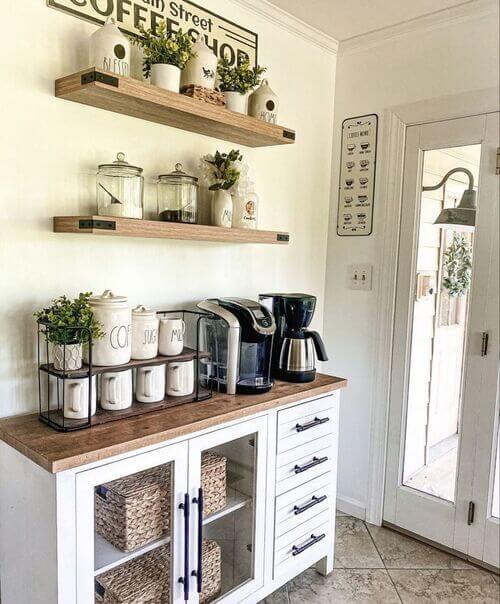 For those of you who thrive on the 'plant-mom' aesthetic and like having a cozy home, then here is a coffee bar to fit that mood.
Ceramic jugs, plants, and cute candle holders give the perfect atmosphere to enjoy your morning coffee in.
Mason jars can also be the perfect substitute for these ceramics.
15. Ceramic jars and woven trays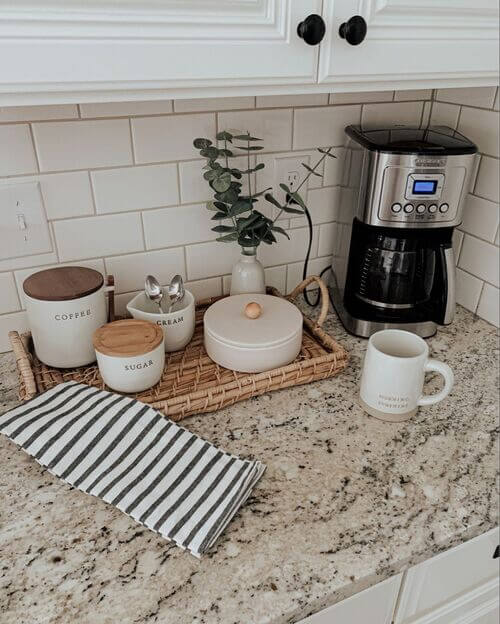 A warm and boho idea that you can add to your home incorporates a woven tray with ceramic mugs.
This idea is clean, simple, and minimalistic, making it perfect for an empty kitchen counter or a lonely corner in the dining room.
16. Wooden cart bar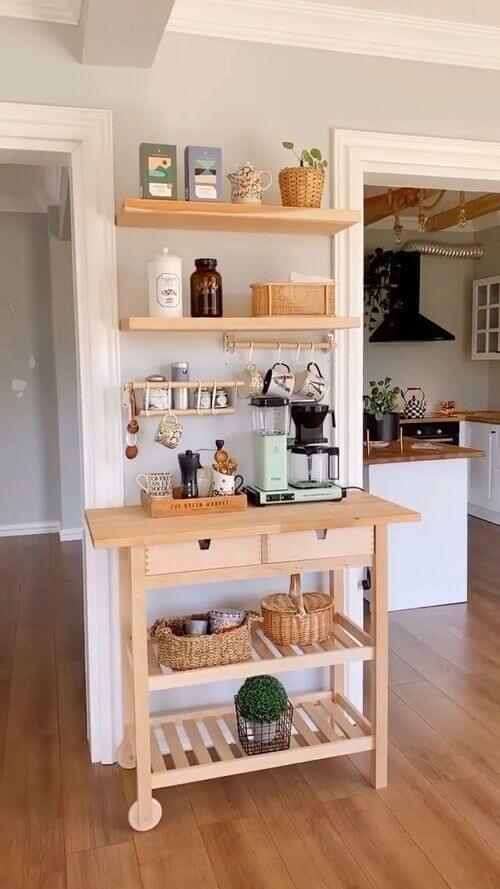 If you have an open-plan kitchen then there is bound to be an open wall somewhere to fill.
Add floating shelves and a cute little cart for all your coffee needs.
This idea is cute and incorporates personal touches along with functionality to create the perfect coffee bar of your dreams.
17. Candles and syrup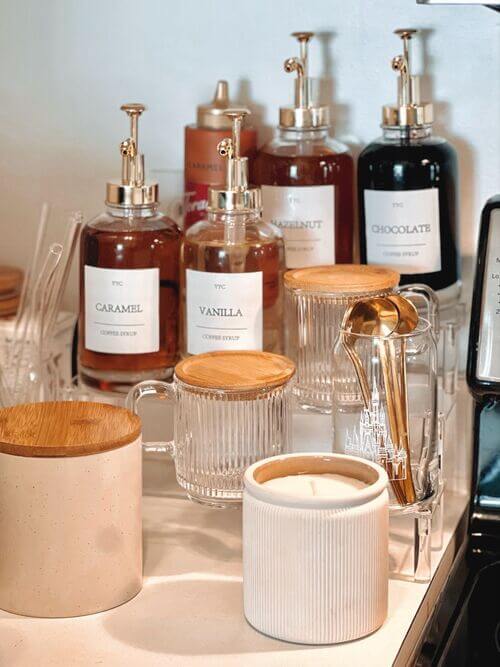 Simply add a station filled with the aroma of coffee, candles, and yummy syrups.
This is a simple way to keep all your things in one spot.
18. Maximalist decor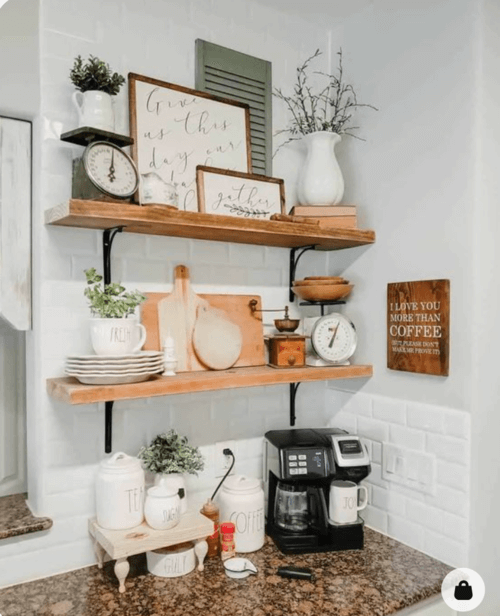 Some people like the idea of messy organization.
Teacups, wood plates, scales, quotes, and plants are all in one spot.
I know some of you might think that it is crazy, but if you feel like your home is lacking a little personality, then this is definitely the way to go.
19. Mason jars, mugs, and coffee pods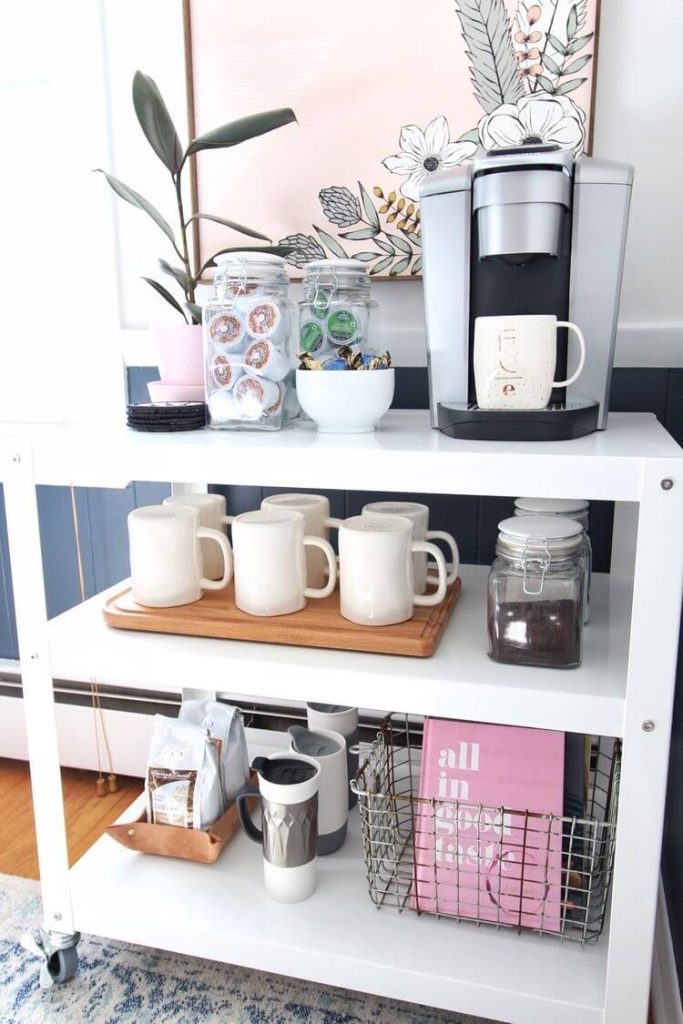 Here's another cute cart idea that is perfect for those of you who need your space in the kitchen.
Stack all your goodies in the moveable cart and stick to the basics to get the most out of this idea.
Making the coffee bar unique
Creating a DIY home coffee bar is an exciting project that allows you to customize your morning routine and transform it into a bubbly experience.
With a dash of creativity and thoughtful touches, you can turn a small corner of your home into a delightful coffee haven.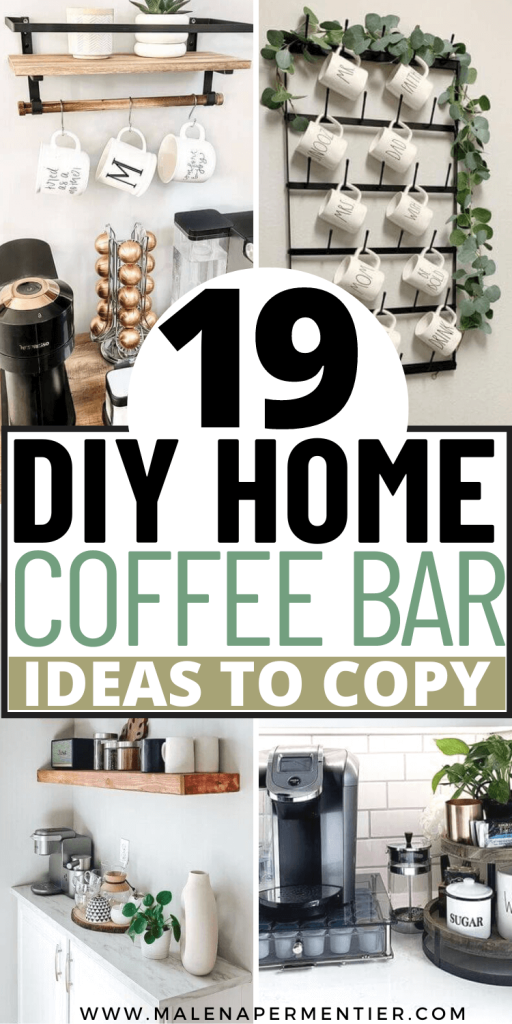 This post showed you the best DIY home coffee bar ideas.
You may also like: