*This post may contain affiliate links, which means I'll receive a commission if you purchase through my link, at no extra cost to you.
College apartment furniture needs to be cute AND functional! Sometimes it can be a challenge to find cute furniture that's actually affordable and good quality.
I've done PLENTY of research when it comes to the cheapest and best furniture. This list is the result of that research.
Whether you're moving into a college apartment or your first apartment, these furniture ideas will surely be helpful in furnishing + decorating your apartment on a budget.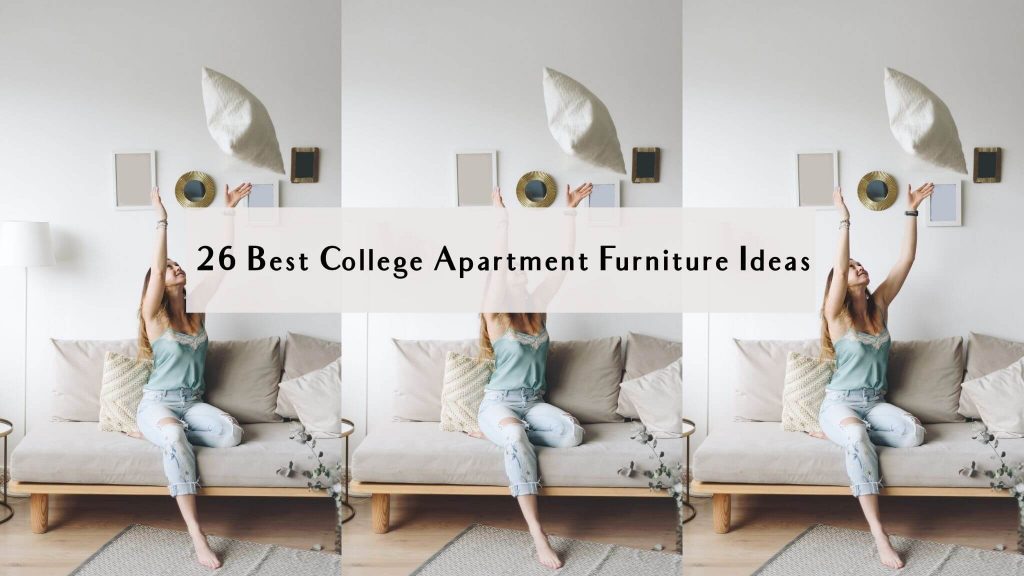 College Apartment Furniture Bedroom:
1. Bedframe
First things first, you need a bed!! I'm pretty specific with my bed frame because I want to maximize space as much as possible.
If you're moving into a college apartment, you probably already know that space usually is pretty limited.
That's why having a bedframe that has a lot of free space underneath is perfect for extra storage. This bedframe has exactly that, lots of storage space!!

2. Headboard
Next up is a headboard. The prices for headboards vary greatly, but luckily there are plenty of great affordable options too!!
One thing to keep in mind is that in small spaces you don't want your headboard to be too overwhelming. Pick a neutral color and go for a headboard that isn't very tall taking up a lot of vertical space in the room.

3. Nightstand
Realistically you'll probably be putting your bed against a wall in your college apartment. So you'll likely only need one nightstand.
If you want to save space, go for a nightstand that has a little drawer space. I don't like having things laying around, because especially in a small bedroom it really makes the space look cluttered and way smaller than it is.
I found this one below for under $100 and I think that's a very decent price for a good quality nightstand.

4. Tiny desk
Having a desk in your bedroom is a must in a college apartment. At least, for me it was!! When your roommates have friends over there's no way you can study in the living room.
Go for a desk with thin legs so it doesn't take up a lot of optical space. What's also helpful to keep in mind is that you'll want your desk colors to match with your nightstand and other furniture.
So if your nightstand is a light colored wood with metal, then you'll want your desk to be the same!! My experience is that different colors of wood don't go together greatly in small spaces.

5. Desk chair
I usually find desk chairs with wheels kind of ugly, plus it doesn't usually work great in a small bedroom!
For some reason, these white curved chairs are just super comfy (at least I think so), and they work very nicely as desk chairs. Plus, they're CHEAP!
They're pretty simple, so you can always add more comfort or charm with a little blanket. I like the look of faux sheep fur on a chair.
These chairs come in a ton of different colors, so whatever aesthetic you're going for, you'll be able to find the perfect desk chair color.

College Apartment Furniture Living Room:
6. Couch
For a college apartment it's super clever to go for multipurpose furniture. Not only are futons a ton cheaper than a couch, you can also use it as a bed if you have guests over.
Also big plus: futon's are super cozy for a girls night in movie night!!

7. TV Stand
If you don't want to go through the trouble of mounting your TV, getting a simple small TV stand will do the job. Preferably get one that has a little bit of storage space underneath. Because… #maximizespace.
This one below is under $50, which I believe is a super GREAT price for a TV stand!!

8. Tiny Coffee table
In a small college apartment living room you don't want to go for a huge coffee table. Instead, opt for a smaller side table as a coffee table instead.

9. Standing lamp
Standing lamps like an arc floor lamp look super chic, save space, and are insanely affordable!!
Place your lamp behind the couch as the ultimate space saving hack.

10. Bar cart
Every college apartment needs a bar cart, am I right? Bar carts are a super fun way to store your alcohol and decorate it for holidays like Halloween.
The price range of bar carts is super wide, but luckily there are some amazing inexpensive options!

By far my favorite one is the bar cart below. The mix of wood + metal does the trick and looks super stylish.

11. Area rug
Area rugs instantly cozy up your living room, and I'm a big fan. Although rugs have a reputation for being insanely expensive, Amazon has some incredible well-priced options.
The rug below comes in a ton of different color options. I adore the white one, although that might not be the smartest idea for a college apartment.

College Apartment Furniture Dining Room:
12. Dining table
In college apartments, there usually isn't a ton of space for a large dining table. That's why a vertical shape table can save a ton of space.
The dining table below is officially a desk, but it works just fine as a small dining table!!

13. Chairs
I'm a fan of these chairs, so I'll recommend them over and over again. I still have these chairs, and I love them!! They are super comfy and look much more expensive than they are.

14. Chic light
The light fixtures in a living room can make or break the space. An easy and cheap way to elevate your ceiling lights is with a plugin pendant light.
Loving the industrial chic light as seen below!

15. Buffet
A buffet comes in handy for apartments with little pantry space. Here you can store food items, dishes you don't always need and maybe even appliances.

16. Dishes
Not much explanation needed here, but you need dishes when moving into your college apartment. I'd recommend going for an affordable set of dishes with bowls, small plates and big plates.
You can always purchase more dishes as you go. Especially when you first move in I'd recommend sticking to the basics and staying under budget when possible.

College Apartment Furniture Kitchen:
17. Pantry
Not every college apartment has a built-in pantry or enough cabinet space. The solution: a pantry!
Pantries don't have to be super pricey. This one definitely isn't. The great thing about this pantry is that it gives. you a little extra kitchen counter space.

18. Barstools
Got a kitchen island in your college apartment? Lucky!! Because it easily creates extra seating space, plus a nice little spot to have you morning coffee.

19. Canisters
A canister set always comes in useful, and they're so affordable!! I love using these and a few glass jars to store ingredients that I use every day—things like coffee, nuts, healthy toppings for oats, and so on.

20. Knife set
A good knife set is a must in every apartment. You definitely don't have to get the most expensive knife set for a college apartment, but you want something that works!
This simple 12-piece knife set does the trick, plus it comes with a sharpener. You're all set with this knife + cutting board set.

College Apartment Furniture Bathroom:
21. Over the toilet storage
Not your most exciting apartment purchase, but creating extra space in a small college apartment bathroom is a must!!
This over the toilet storage is simple, affordable, and gives you lots of shelf and storage space to keep everything you might need.

22. Mirror
Most bathrooms have a mirror, but sometimes it's nice to add an extra one in your college apartment. What I'm always annoyed about is that many apartments come with such ugly mirrors.
If you can easily take it off, why not replace it with a better looking one instead? It will totally elevate the space.

23. Towel rack
A towel rack in the bathroom is a must for me. Why? Because I HATE towels taking up precious space in my already tiny closet, haha.
This towel rack from Amazon with 6 levels has plenty of space to store your towels AND it's affordable!

24. Shower curtain
I'm a sucker for anything herringbone, so I was instantly sold on this shower curtain. I'm definitely not someone who is into all those funny, bright-colored, weird printed shower curtains. Give me the classic stuff.
This one is super CHEAP and will make your bathroom look luxurious.

25. Shower liner
One of the more practical things in a bathroom: a shower liner. This one doesn't need much explanation yet is so so important for any bathroom!
Not to worry, shower liners definitely don't break the bank, so don't be afraid of having to purchase yet another thing for your college apartment.

26. Make-up and jewelry storage
This is by far the most affordable make-up storage I've been able to find. For some reason, most storage bins are d*mn expensive, and I really don't know why.
If you have lots of make-up, this storage is definitely a good purchase for your college apartment.

This post was all about the best college apartment furniture.
You may also like: