Hey there! Some links on this page are affiliate links which means that, if you choose to make a purchase, I may earn a small commission at no extra cost to you. I greatly appreciate your support!
This post is all about the best college apartment living room ideas
Moving into your college apartment is super exciting! It's one of the first experiences being in charge of furnishing and decorating an apartment.
Deciding on the interior style, budget, furniture placement, and decor for your college living room isn't easy.
Below, we'll go over some of the most popular college girl apartment living room ideas and how you can recreate them on a budget.
This post is also perfect if you're looking for great small living room ideas. Let's get into it!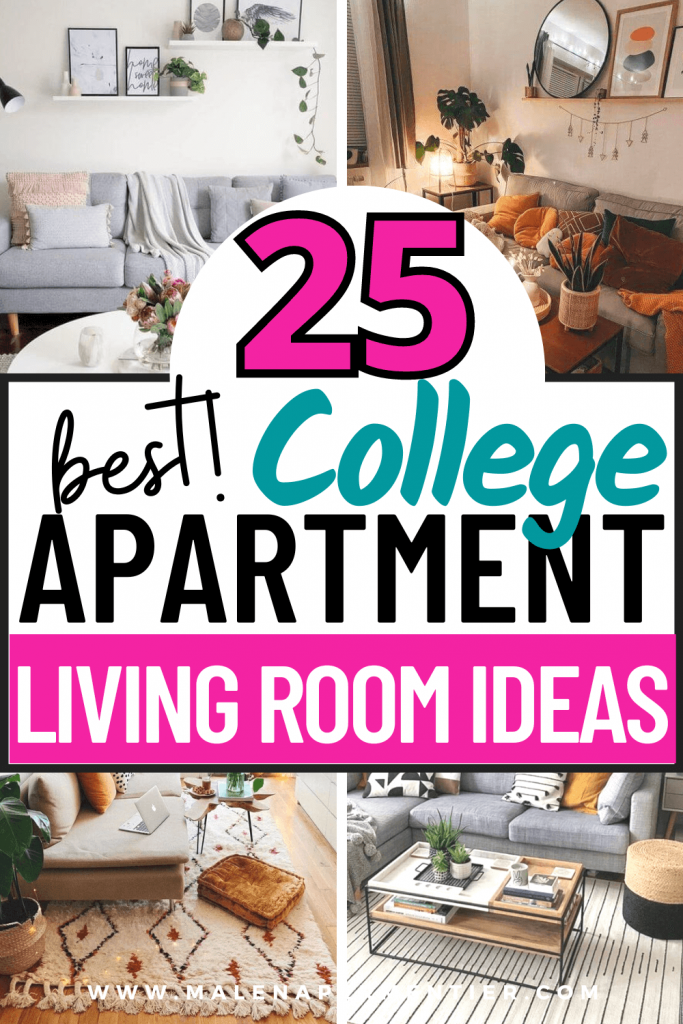 1. Cute college apartment living room ideas
A cute college apartment living room doesn't necessarily have to be pink and bright. Except if that's what you want, of course!!
Many college living room ideas with a more neutral palette that still looks super cute and cozy.
Hang a simple floating shelf above your tiny couch, decorate with one big frame and liven up your walls with polaroid pictures and plants.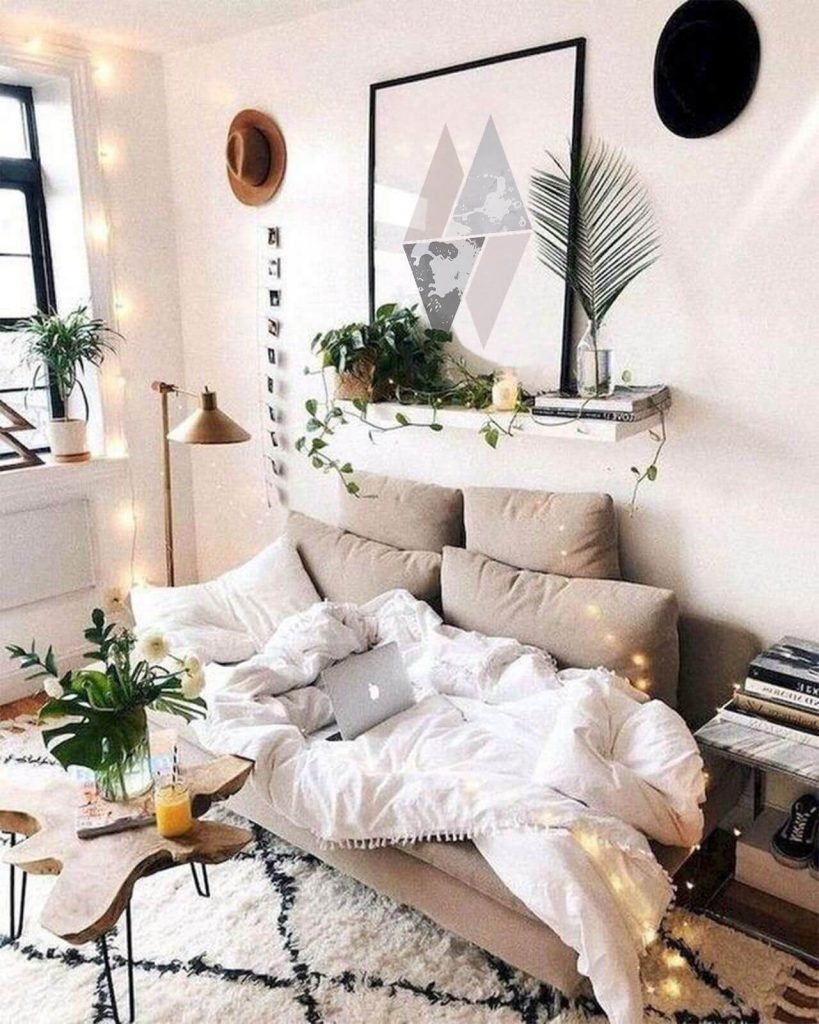 Recreate this living room:
2. Gray small living room
A living room with gray tones is one of my favorite interior styles. It's light, yet not dangerously light to live in fear of ruining your couch!
Achieve a simple, small living room with gray tones in your college apartment with a small L-shaped couch, cute round coffee table, and two tiny floating shelves to decorate the space above the sofa.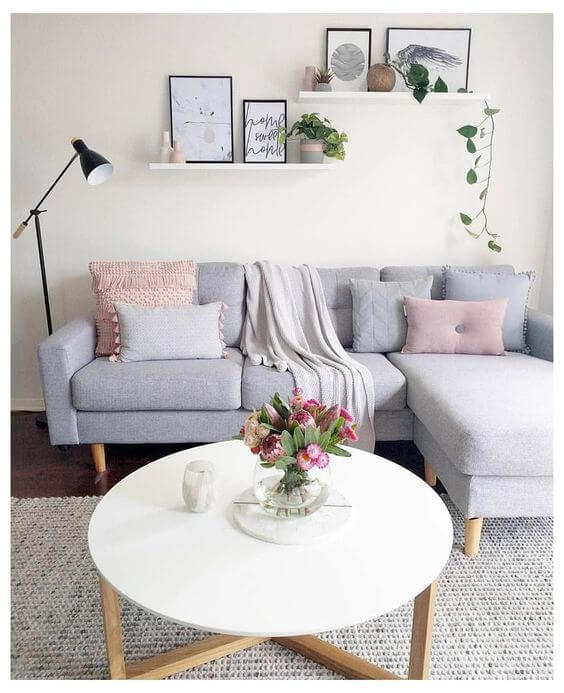 Recreate the college living room with gray tones:
3. Funny college apartment decor
Want to add a little fun to your college apartment living room? Do so with fun neon signs and quotes! You can also easily create DIY decor by framing printables.
Little Gold Pixel has some cute free printables to frame for your college apartment!
Recreate this:
4. Homey college apartment living room
Even with simple, neutral furniture, you can create a super homey atmosphere in your college apartment.

An easy way to make your living room look homey is with wood, whether with some frames, your coffee table, or small decor items.
Then, add some decorative pillows in warm colors like burnt orange, warm brown, or red. Chunky throw blankets also make your living room look homey!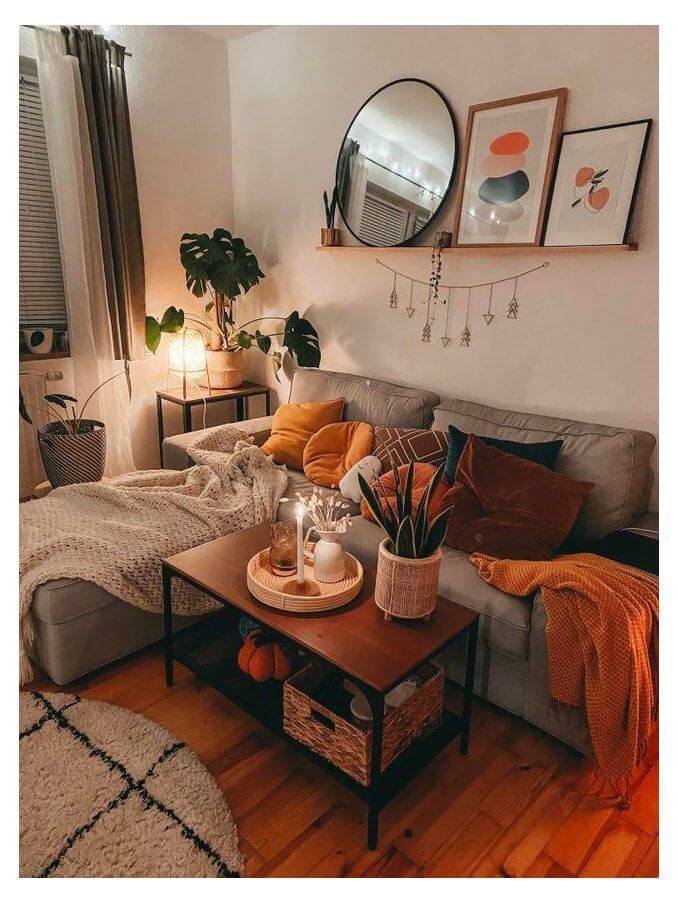 Get cozy apartment decor:
5. Minimalist college apartment
Go for a minimalist aesthetic in your college apartment with a neutral couch, cozy textured area rug, and simple frames.
I love this living room because it's so versatile! If you wake up one day and want to add more color, you can easily do so without changing your entire interior.
Recreate this minimal college apartment:
6. Boho college apartment
I love a good boho vibe; it's so cozy! Create an affordable boho aesthetic in your college living room with a knitted rug, plant hangers, and wooden details.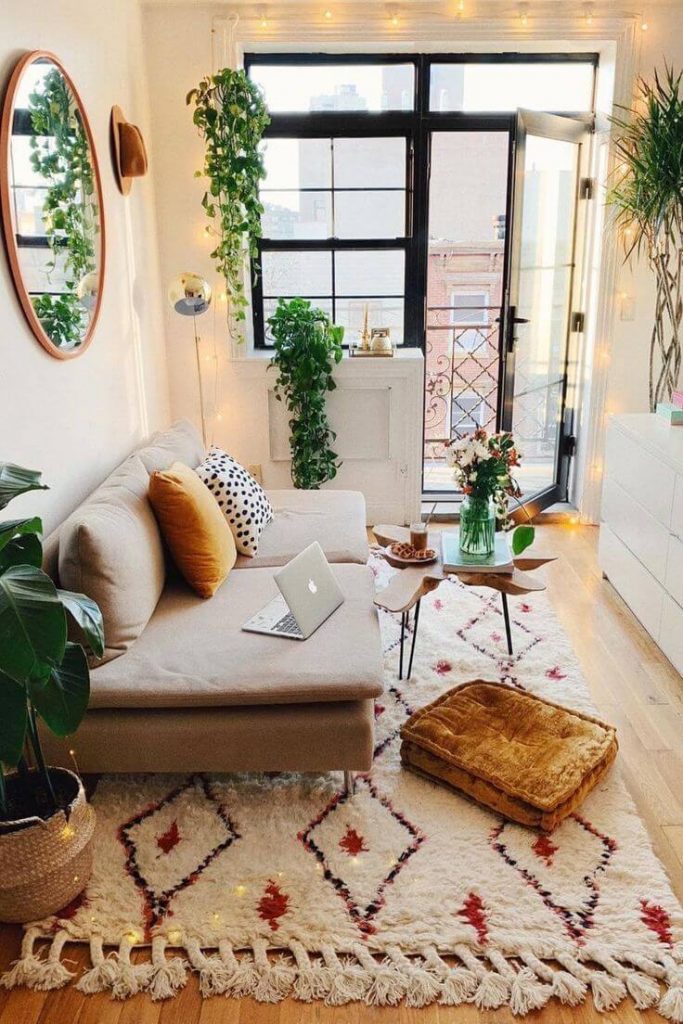 Recreate this boho living room:
7. College living room with mandala tapestry
A cheap, easy, and renter-friendly way to decorate your college apartment walls is with a mandala tapestry. Amazon has the best prints, plus they're so affordable.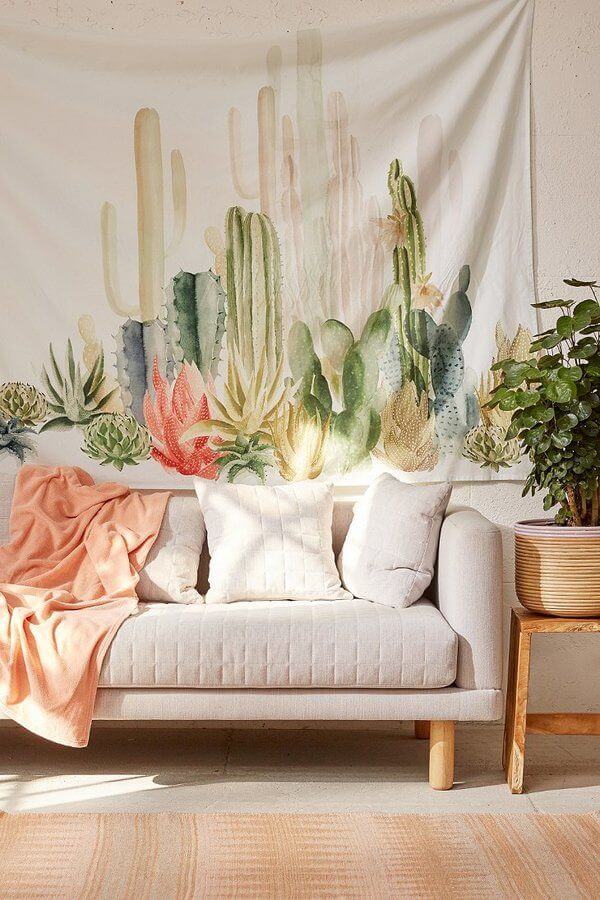 Get mandala flower tapestry:
8. Tiny apartment living room
Many college apartments have a tiny living room, and you must be smart about furniture and its placement. I'm a big fan of a simple, L-shaped couch because it just works in small spaces.
Pull the couch area together with a rug, add a few simple floating shelves, and don't forget the TV console.
Recreate this tiny living room idea:
9. Classy college apartment decor
Create a super classy college apartment with black, gray, and silver tones. Decorate with a large silver tray and many candles, and cozy up your space with pillows and throw blankets.
Recreate this classy decor:
10. Simple college apartment decor
I love a simple living room decor that feels warm and cozy at the same time. One thing that works very well in this room is the different neutral colors. You have sand, light brown, whites, and grays.
Also, notice how all the furniture has the same shade of wood? Pay attention to that when picking out your living room furniture.
Recreate this:
11. College living room with lights
This is a little cheesy, but some living rooms need funky lights!

Sometimes you might not be allowed to paint over an ugly wall in your college apartment, so this is a great cover-up solution.
Recreate this wall:

12. Trendy apartment living room
Spice up your college living room with some funky prints. You can make this as crazy or calm as you like. Just be sure to stay consistent.

As you can see in the picture below, this room revolves around simple geometric prints with a subtle pop of color.
The carpet, pillows, and frames share the common theme of geometric prints, making the living room feel pulled together.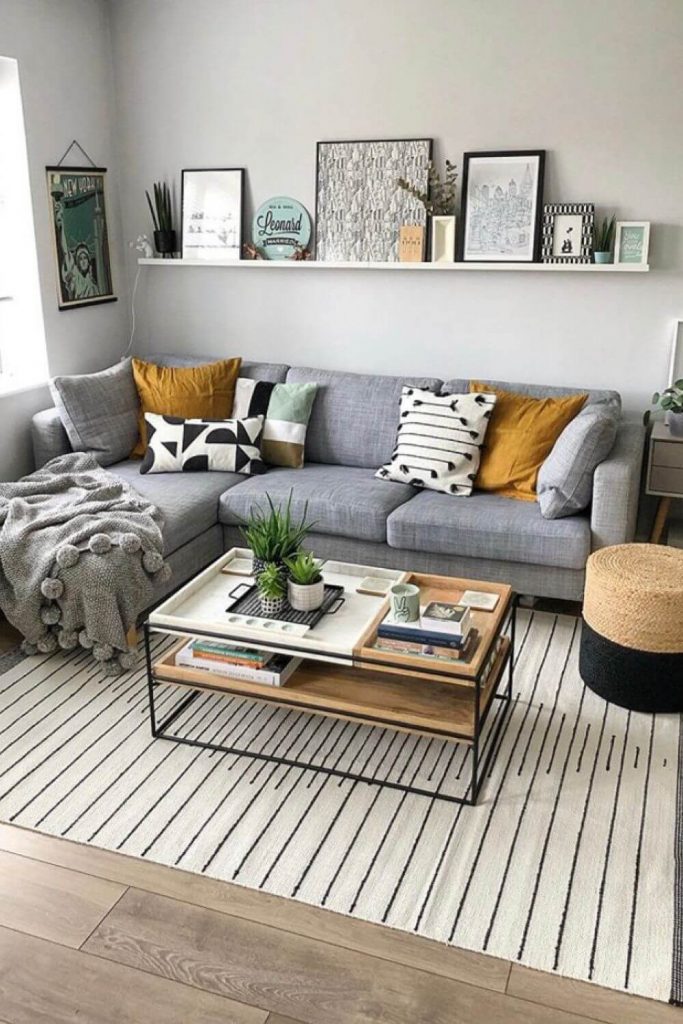 Recreate this trendy college living room:
13. Boho chic college living room
The best way to go boho chic for your college living room is with an accent couch! Or a statement couch, if I may.
Dusty pink or velvet green are great color options for your living room. You can keep the rest of your furniture more toned down for balance.

Colors like dusty pink or velvet green look amazing with neutrals and golds.
I love the living room below because it stands out without being too much. The perfect balance!
Recreate this boho-chic living room:
College Apartment Decorating Ideas on a Budget
Some of the bigger things in a college apartment, like a couch or bed, aren't cheap. Luckily, many decor ideas help you elevate your apartment on a budget.
Below I've listed my favorite expensive-looking cheap apartment decor that you can quickly implement in your college living room.
14. Bar cart
Bar carts are unique and affordable if you shop at the right place! I'm a big fan of Target regarding expensive-looking bar carts.
If you picked gold as one of your living room accent colors, this one would look exceptionally well!
15. Ottoman
Ottomans are life savers if you have a small living room and not much seating space. Plus, they look super cute!
You can choose a simple neutral ottoman or go for something more eye-catching like the Moroccan-style ottoman seen in the living room below.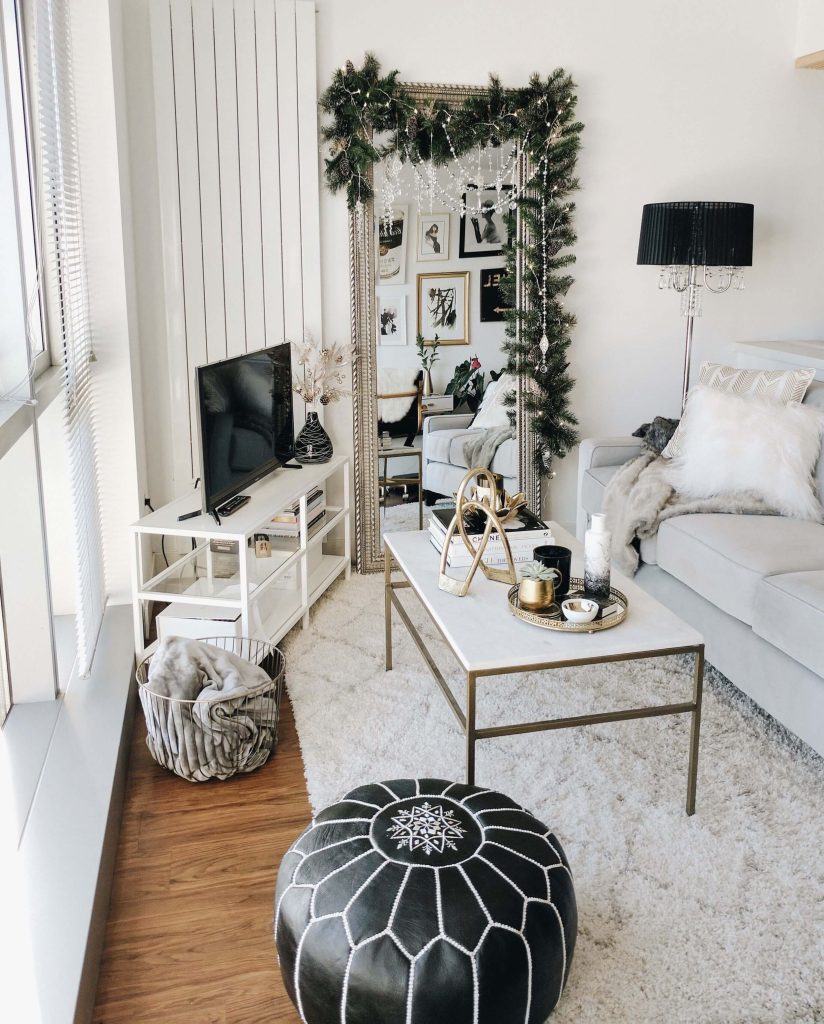 Get ottoman:

16. Cute area rug
The right rug in your couch area instantly makes your place feel more 'finished' and styled. You don't want to go for a rug that's too large in a small college living room.
This faux cowhide rug looks expensive but isn't; it makes simple living room furniture look much better.
Don't worry if you can't spend a lot of money on the best couch. Cheaper things like rugs and coffee tables can make your place look like a million bucks!
Get a cowhide rug:

17. Decorate with throw blankets
There's nothing cozier than a chunky throw blanket! Good thing that they're affordable and easily elevate a cheap-ish couch.
What I also love about this room is the accent chair. Adding a cute sheep fur rug can easily make a cheap accent chair look more expensive.
Recreate this:

18. Use peel and stick wallpaper
This peel-and-stick wallpaper is genius for those wall spaces in your apartment that don't look so appealing. I was looking through the Amazon reviews to see if this wallpaper truly lives up to the hype, and I'm pretty sure it does!
Peel and stick wallpaper is also very versatile in its purpose. Besides using it for a wall, you can cover the fridge or a drab bathroom wall.
I'm not sure if I'd use wallpaper on an entire living room wall, but if you have a small nook in your living room you want to liven up, this herringbone wallpaper is a super stylish and inexpensive way to do it so.
Get Herringbone print wallpaper:

19. Decorative baskets
Decorative baskets are an insanely popular home decor item, and it's easy to understand why! The woven fabric looks cozy, it's perfect for some extra storage, and they're available for each budget.
This decorative basket is excellent value for money! Use it to store your throw blankets, board games, books, or other things in your living room.
Get a cheap basket:

20. Simple floating shelves
The space above the couch or TV is perfect for adding floating shelves. I love floating shelves in my living room because they allow you to change the decor easily.
Play around with different frames, arts, plants, and garlands to spice up your shelves. Get a set of three floating shelves to sort out your above couch decor instantly.
Recreate this:

21. Cute gallery wall
Creating a cute gallery wall in your college apartment is far easier and cheaper than you'd think! Amazon sells adorable gallery wall kits that come with ready-made prints.
All you have to do is pick the art and frames and plan how to hang the frames, et voila!
I recommend checking out the customer's pictures for this gallery wall kit; it gives great ideas for creating your gallery wall.
Get a gallery wall kit:

22. DIY blanket ladder
DIYing apartment decor is great if you're on a budget and have the time! A blanket ladder is easy to DIY and looks super cute in your college living room.
I found this post by Angela Marie Made very helpful if you want to make your DIY blanket ladder!
Amazon also offers affordable and cute blanket ladder options if you're not in the DIY mood. 🙂
Get a decorative ladder:

23. Small bookshelf
A small bookshelf is a must if you have a lot of books! I like functional and cute furniture, and this bookshelf hits the right notes.
Use the top part of the bookshelf for decor and plants and the shelves below for books. That way, you guarantee optimal functionality!
Recreate this:

24. Cart to organize college stuff
This cart is super helpful for keeping your college stuff in one place and storing papers and other items that quickly look messy when lying around.
The great thing is that these simple carts are super affordable and look cute.
Recreate this: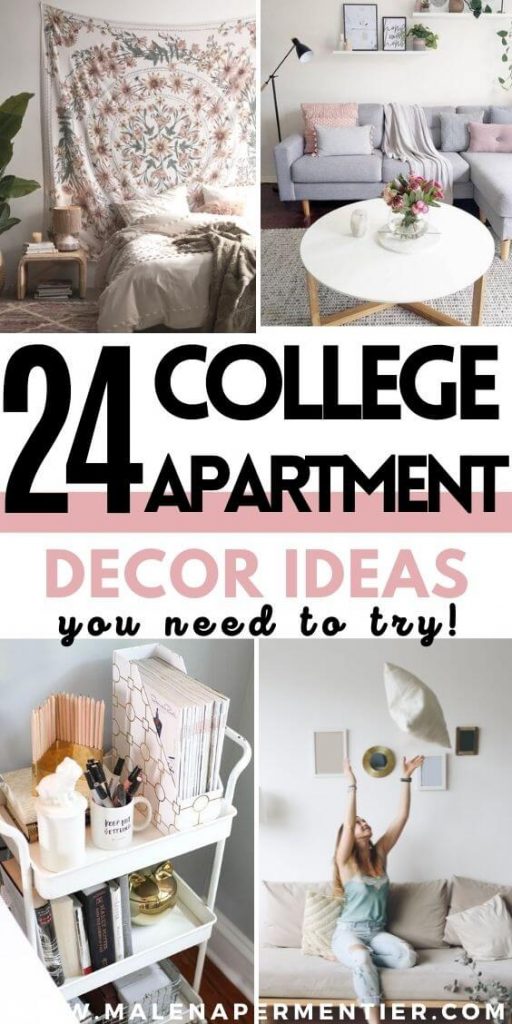 This post was all about the Best College Apartment Living Room Ideas.
You may also like: