Starting a blog is one thing; doing it right is another. I've read a lot of blogging advice that just doesn't cut it. It's either too generic or sometimes plain wrong.
That's why today, I'm sharing 7 crucial blog tips that help to get your blog's foundation right so that you can grow it quickly and efficiently.
These are all things that I've had to figure out the hard way, so I hope it helps you connect the dots earlier than I did!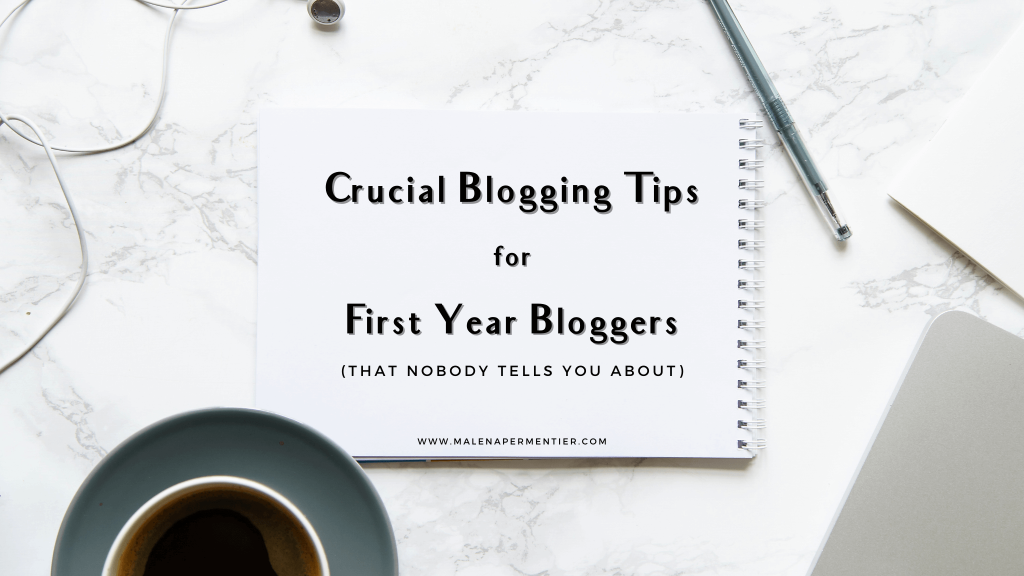 This post is all about the Crucial Tips for First Year Bloggers that want to Start Earning Money
1. Create timeless links
If you want to build a business out of your blog, create timeless links. That means you should keep your URLs generic enough so you can re-purpose, change and add new content to your blog posts in the years to come.
---
Example

Don't: best-diy-christmas-wrapping-ideas-for-2021
Do instead: diy-christmas-wrapping

If you use WordPress, the URL slug is formed based on your blog title. After saving your blog post drafts in WordPress, you can change the automatically generated URL.
---
Changing your URL after posting an article is a bad idea. Google knows that particular blog post under another name and ranks it as such.
After changing a URL, you also need to redirect the old URL to the new URL, which takes time and is a pain in the ass. Moral of the story: avoid having to change your URLs at all costs!
---
Bluehost
If you don't have a blog domain + hosting yet, I recommend Bluehost! You can get hosting for $3.95 per month with a FREE domain name.

The difference between a blog title and a URL
URL
Should be timeless
Keep it simple, short and clear
Don't change the URL!!! (long story short: bad for SEO)
Blog title
Should be kept up to date (e.g., year, time-specific events)
Has more detail and flair than a URL.
Use catchy words and explain to your readers what the post is about.
When choosing your URL name, separate words with dashes and keep in mind that you should not WANT to be changing the URL.
If you write a post about how to start a successful blog in 2021, then in 2022, you want to change the title but not the URL.
2. Think in content hubs
A content hub is a website with a bunch of content related to one another.
To build credibility (with your readers and Google), your blog needs lots of quality content about related topics. This is especially crucial in your first year of blogging.
---
Example:

Content hub 1: Apartment, home decor, and organization
Content hub 2: Creativity, productivity, and blogging

The 3 topics or 'niches' in the content hubs are somewhat related. When you talk about moving into your first apartment and decorating, that makes sense.

Creativity, productivity, and blogging are a little less immediately related. But when you remember that this is your hub, connecting one blog post topic to another will become effortless.
---
Building a content hub
When you first start blogging, you must build a content hub with about 20-30 posts about topics related to one another.
That way, it's much easier to rank for particular words in Google and start to make money.
What is successful for one blogger won't necessarily be for you. Just because their 'cheap amazon clothing' post is highly successful doesn't mean it will be on your blog.
Content hub tips
Focus your attention on blog post topics with longevity. Only write blog posts about 3-5 niches you can see yourself blogging about for years.
When you're debating whether to write a blog post in your first year of blogging, ask yourself: Does this topic fit within (or enrich) the hub I'm creating on my blog? If the answer is no, don't spend your time on it.
3. Headlines are everything
A strong headline that reflects the topic of your article and sparks curiosity is the cornerstone of your post's success.
I've written great articles that, even after 6 months, have not received one view. I have informative but perhaps mediocre articles viewed hundreds of times. Because? A catchy headline. But also: it's a topic that people SEARCH for.
Using this headline analyzer from Coschedule (it's free) has been a great help in figuring out where my headlines are lacking – and why.
4. Not every social media platform requires the same approach
We are tempted to think that social media platforms like Twitter, Pinterest, and Instagram aim to promote our content.
But what if each of those platforms is better utilized to promote a particular type of content that you post?
---
Example: You write a blog about small apartment living, productivity hacks, and self-development.

If you designate a social media platform to each of these pillars, you automatically become 'niche.' People like niche because too many different things are confusing.

I unfollow people on Twitter all the time for that reason. I followed them because I like their business/leadership tweets. Then they suddenly start posting about their dog or writing those "popular" funny tweets about current events.

The "separate it" approach is something I believe in if you're starting your online business.
---
Your blog is not special.
Every online business is the same in the beginning stages. It's about writing and how well you write about it. That's true if you're offering services or creating an affiliate-based online business.
When you're big enough, and readers start coming, you can do what you want.
First-year bloggers look at businesses they admire and think, 'this is what I want.' and then try to copy what they see them doing. This is a huge mistake.
Why you shouldn't copy what established businesses are doing
Although having a vision for what you want is great, you can't grow a business from scratch by looking at what the big ones are doing.
Why? Because they don't have to stick to beginner rules anymore! They've grown enough to gain trust from Google AND their readers, which allows their social media sharing style to a lot more flexibility.
As a blogger in your first year, you're not there. Look at businesses to get inspired, but focus on the best ways to grow a business from scratch.
It sure is more efficient for your growth if you stay very niche and structured at the start.
You're still building trust with everyone who comes across your content. What is most needed when building trust? (in real life, online, and business?), CONSISTENCY!
Your readers want to know what they can expect at your site.
5. Keywords
First, as a blogger in your first year, you don't need to spend your money on fancy keyword research tools.
Write down topics you're interested in writing about, like home decor, organization, and productivity ideas.
Then play around in Google with the topics you're interested in writing about. Add words like "with" and "for" behind those keywords, and see what people ask Google about this topic.
Quick Example:
Kitchen organization ideas for
Small dining table with
Blogging tips for
That is a natural, easy, and straightforward way to learn more about what people are searching for. It also instantly gives your ideas for long-tail keywords that you have the potential to rank for.
6. Do one thing well first
When we start out blogging, we think we need to do everything. The opposite is true. If monetization is your priority, the smartest thing you can do is get good at one affiliate program and one social media platform.
When you narrow your focus, it's much easier to learn what you're doing wrong – and what you need to improve.
Different affiliate programs require different strategies. You don't have the knowledge or the time when you first start to understand all those different strategies, let alone implement them.
For example, Amazon affiliate marketing differs from joining an affiliate program for upscale furniture. Why? Huge difference in price point.
The key is keeping your niche very narrow when you start, so using just one affiliate program makes sense.
Suppose you want to write about blogging (and use affiliate links for web hosting, for example), personal finance (and link to courses) while also writing about the best amazon organization essentials. In that case, you're making it unnecessarily hard on yourself.
Align a narrow niche with the best-suited affiliate program and social media, create content, learn and repeat for at least 3-5 months, and publish 2 new posts in that niche a week.
7. Don't become posting addicted
When you get into the groove of posting articles 2-3 times a week on your blog, it can be tempting to get caught in the instant gratification of blogging.
Which is feeling successful and productive based on the number of posts you've been publishing this week or month.
However, some posts with the most significant ROI for your business aren't the kind of posts you can create in a few hours or days.
Quality over quantity
Don't think you're not productive when you're creating a high-quality, super compelling blog post of 4000+ words about a subject that requires a ton of research.
Acknowledge you've bought into the idea that being productive equals an immediate physical result, like published blog posts or likes on a picture.
Our online businesses' most significant growth and progress are found in behind-the-scenes work.
Zoom out when you need to. What's more critical, hitting your goals of posting 10 new posts this month or posting one insane quality post that will bring in traffic, fans, and income?
Not to say that your posting schedule isn't essential, but as a new blogger, there is so much stuff to do that sometimes it's impossible to do it all.
Focus on those things you believe will have the biggest ROI in the long run, and then silence your mind, which craves the instant gratification of getting a new blog post live!
Things I find worth paying for during my first year of blogging:
Good hosting
Good web hosting doesn't have to be expensive. Purchasing your domain and hosting at a reputable web hosting company with good service and no downtime is crucial.
You want hosting that loads your site FAST, so you don't lose readers.
I recommend using Bluehost. They're super cheap, and reliable and their cheap hosting plans are perfect for first-year bloggers.
If you don't have your domain name yet, use the below tool to see if it's still available 🙂
Tailwind
I doubted getting the paid Tailwind plan for a long time, but it's so worth it. It's the number one reason I've started generating affiliate income from my site after 3 months.
I use Tailwind to schedule my Pinterest pins, but I love it because Tailwind Communities give my pins the push they need.
Visibility (and therefore success!) on Pinterest very much depends on how often your pins get re-pinned by other users.
Especially when you first start, when you have no followers, no credibility, and no reshares, a tool like Tailwind makes all the difference.
Tailwind communities let you upload your pins, so other people in the communities can share them. It's a two-way street, you can share other people's content, and they share yours.
As a new blogger, this is THE way to push your Pinterest account quickly so it shows your pins organically on the platform.
You get your first month of Tailwind for free, so don't hesitate to start and see for yourself. No credit card is needed!
A great website template
I'm using the Vivienne template from 17th Avenue Designs, and I love it. I'll admit: I used a free one first and then another one from 17th Avenue Designs that didn't quite work for me. So after trial and error, I finally found THE one.
Canva
Canva is both a free stock photo platform and a design platform. They make a complicated thing (graphic design) effortless with a zillion templates that you can easily customize.
You can use it for free, but I have the paid version because it gives you more options (for example, creating folders with your designs) and more free photos.
A yearly Canva membership costs about $80.
This post was all about Blogging Tips for First-Year Bloggers
You may also like: