This post shows you the best spring decor ideas.
Spring decor might be my favorite type of seasonal decor. Why? Because after cold winter months, it feels so cheerful to add playful colors and fresh accents to your home!
Even if you're not big on seasonal decor, a few accents like white tulips on your coffee table transform your living room.
In this post, we'll look at some unique spring decor ideas that you can easily recreate in your home.
An easy way to add decorative accents to your home is with a tray. This makes the decor instantly look more polished and put together.
These spring decor ideas are a mix of modern, farmhouse, contemporary, and minimalist. So let's get into it.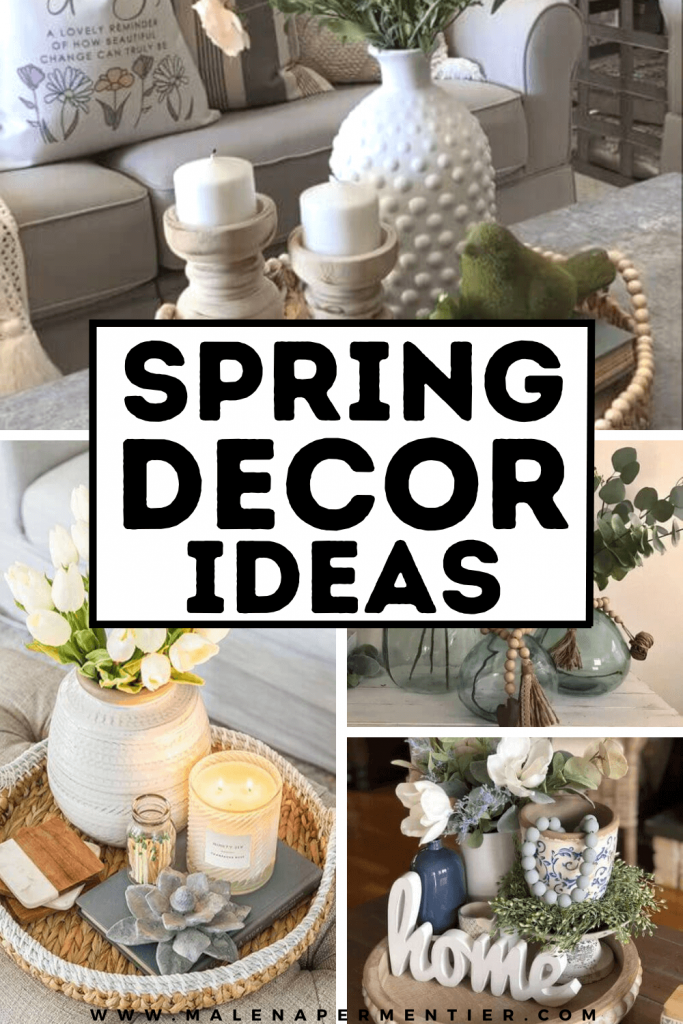 1. Easy spring decor with white tulips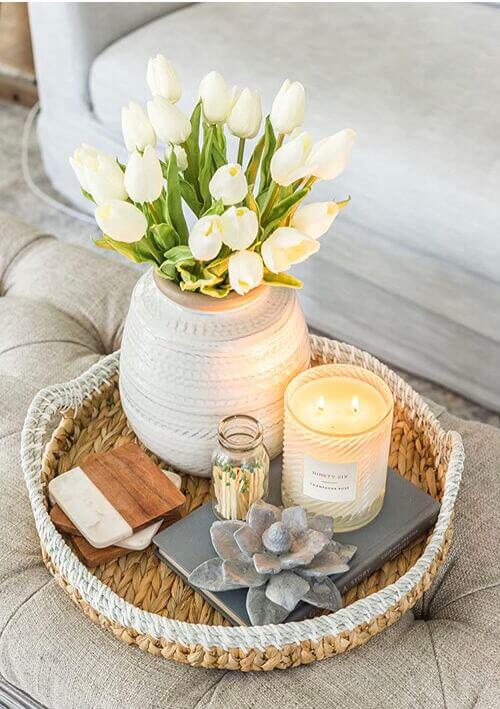 This is a fail-proof spring decor formula that looks good in every home! These fake white tulips (that look surprisingly real) will look gorgeous in a neutral ceramic vase.
Tulips have always been the ultimate spring flower for me. But maybe that's because I'm Dutch? You can get these faux tulips in many colors, but white is my favorite.
Style your vase with tulips on a woven tray, with unique coasters and other small decorative accents.
2. Styling a wood farmhouse tray for spring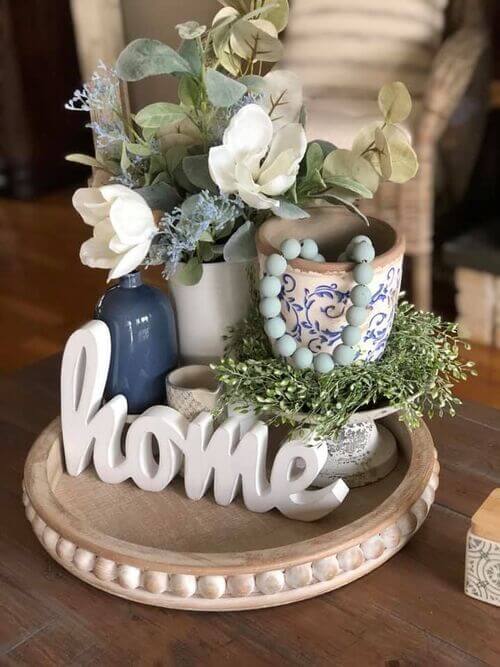 This stylish centerpiece is the perfect size for coffee tables.
Style the tray with one large item, like a vase with greenery.
Then decorate the tray with smaller pieces, like the home sign and wood bead garland.
This spring tray decor has a farmhouse feel and looks super cozy and cute.
3. Large ceramic pitcher with greenery and rustic accents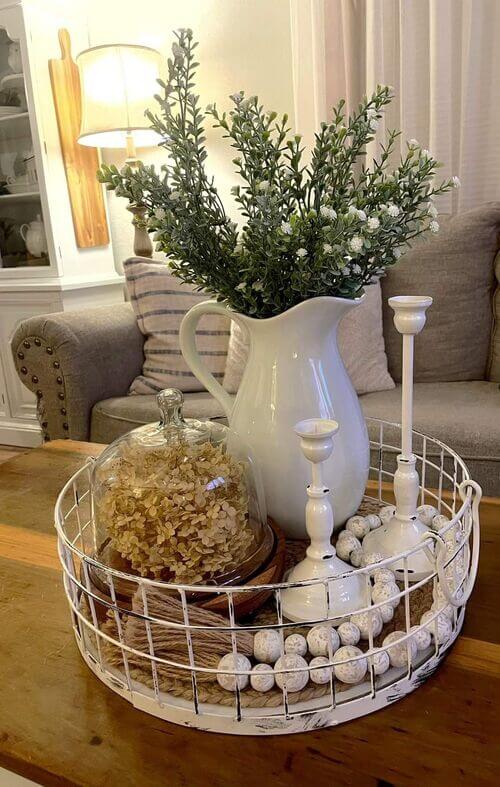 Nothing about this decor screams spring, yet it's light, breezy, and fun. The simple combo of white, wood, and greenery has a spring vibe!
Ceramic pitchers like this are a good investment for any seasonal decor. In winter, you can use red berry stems. In fall, brown leafy stems.
4. Trendy clear blue vase with eucalyptus stems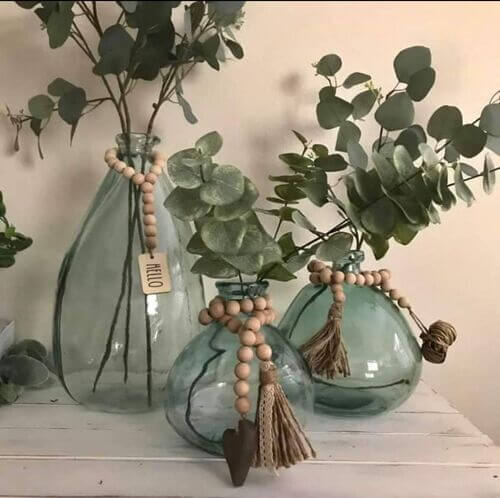 It's debatable whether eucalyptus is a spring-type greenery, but I think they look good in any season!
Style your eucalyptus stems in a beautiful clear blue vase. You can make the look more unique by draping a wood bead garland around the vase.
5. Style dried pampas grass in a unique vase
Here is another twist on tulips for spring decor! This yellow-orange faux tulip will brighten up your place instantly.
Place the tulips in a unique ceramic vase on a wood tray. You can also recreate the pampas grass decor version in the picture above.
6. Modern spring decor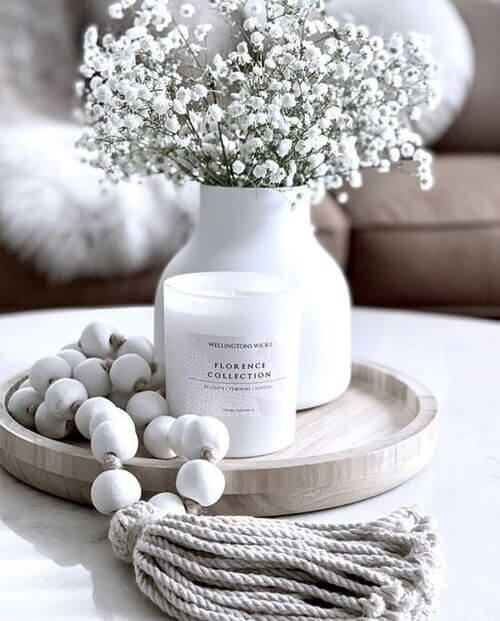 Distressed wood trays give character to your home. It's also the perfect base for modern spring decor.
Baby breath is a versatile and inexpensive flower that lasts a LONG time! Plus, they look amazing dried.
You can also get faux baby breath stems to style your spring decor tray.
7. Bohemian spring decor tray with white tulips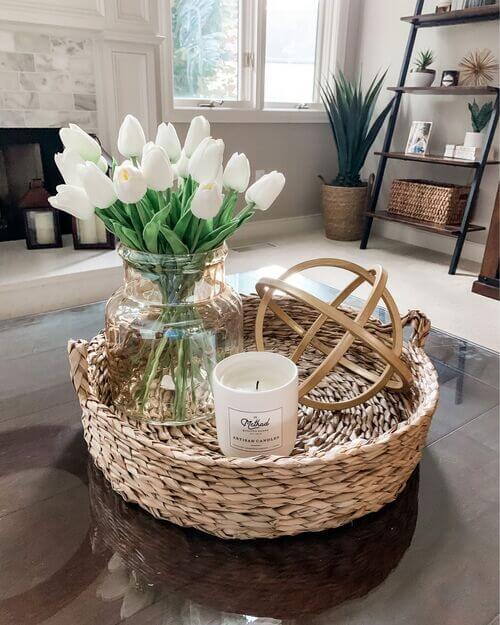 The woven texture of this tray adds warmth to the living room. I particularly like this in living rooms with lots of neutrals!
Anyone can recreate this simple yet gorgeous spring decor formula. All you need is a woven tray, a clear vase, white tulips (artificial or natural), and a few decorative accents.
A stylish candle and a geometric sculpture like this are always good choices if you ask me.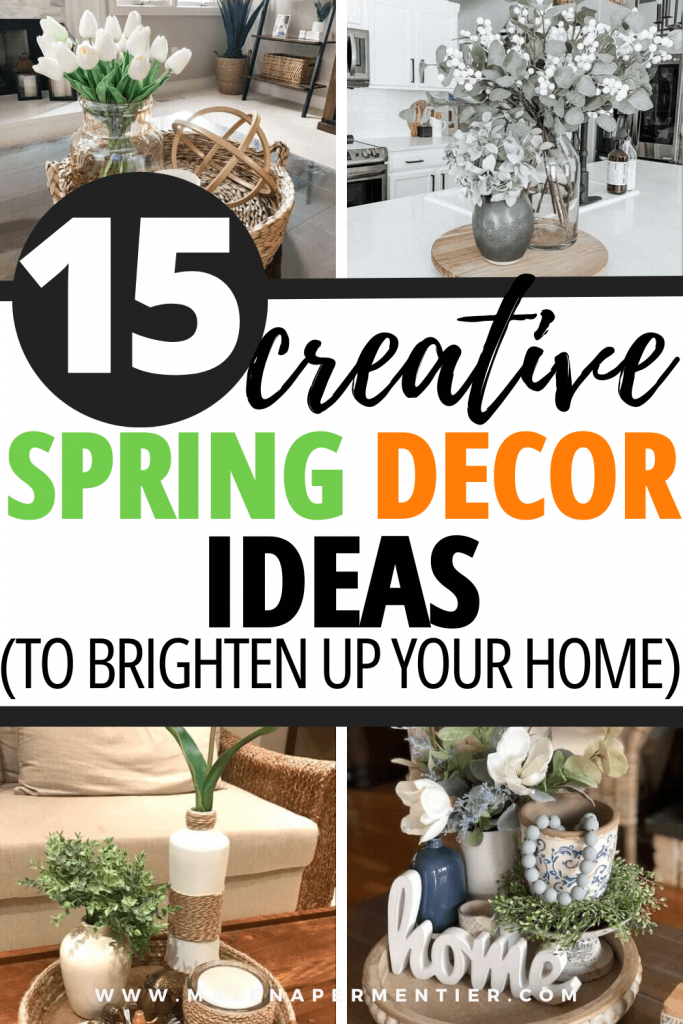 8. Cozy farmhouse tray decor with bird statues and pillar candle holders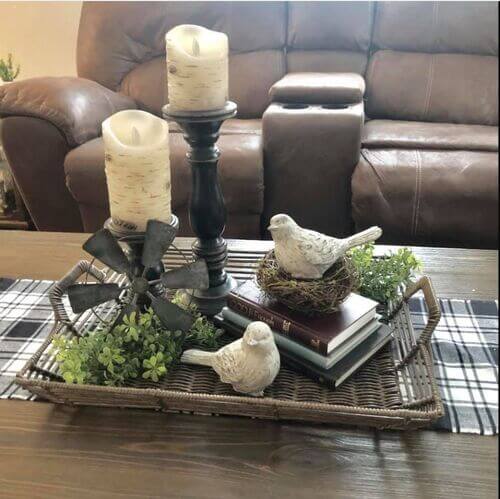 If you have a rectangular coffee table, adding a spring-themed table runner is a great way to elevate your living room.
Place a tray in the middle of the table, and decorate it with the accents of your choice. Pillar candle holders always look great.
Many of these pillar candle holders come in sets of 2 or 3 in different sizes. The different sizes work nicely for coffee table decor.
When styling a decorative tray, using items of different sizes and heights makes the decor come together.
9. Spring kitchen decor idea with wood riser and greenery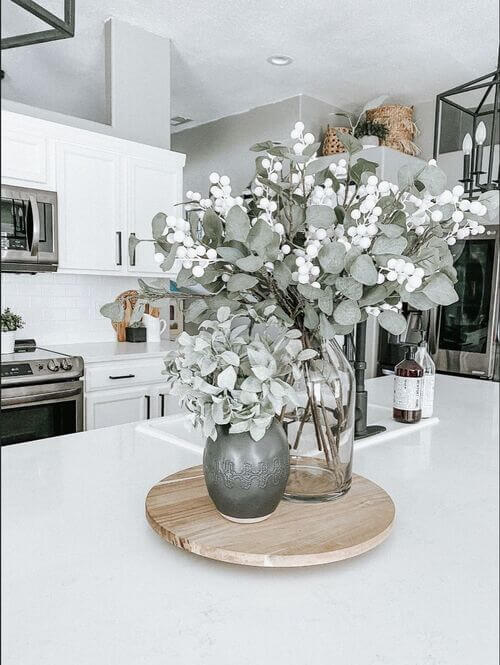 Put together some quick & easy spring kitchen decor with a wood riser, clear vase, and greenery like eucalyptus stems.
If you have the space, get a larger wood riser that fits two vases. Have a smaller kitchen? Then just one is enough too!
I like how simple this decor is. So simple, yet it looks incredible in this kitchen.
10. Cute farmhouse-themed spring decor for the living room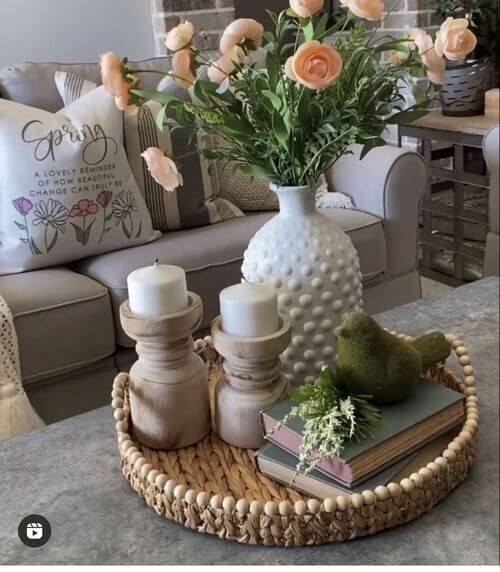 This spring decor idea for the living room is adorable! Wood + woven trays look beautiful together. Add a fresh white vase with flowers, and your decor rocks.
What works excellently on this tray is that the items are in varying sizes.
There is a nice balance between the items.
Make sure to keep that in mind when choosing the decorative items for your spring decor tray!
11. Spring decor tray with neutral woven accents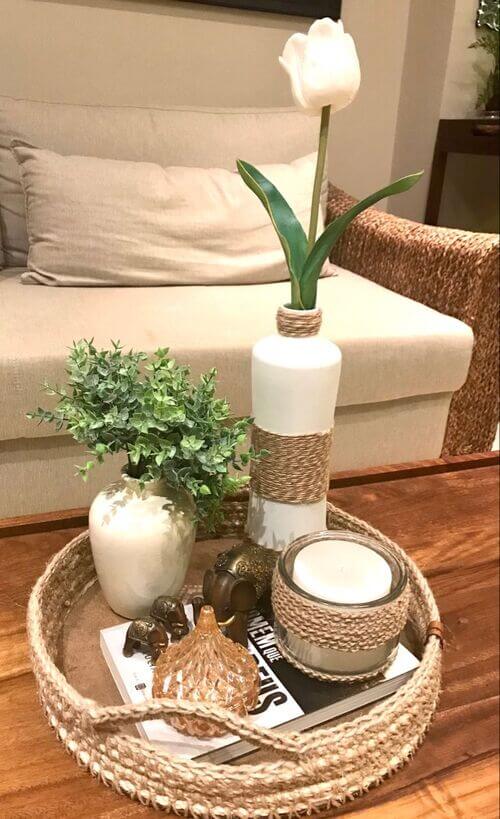 A great way to make your living room feel cohesive and beautiful is by using the same texture or material in different places.
This living room has committed to the woven accents, and I love how it looks.
You can be super playful with your coffee table tray decor; use any decorative item you like.
The greenery and single white tulip add that spring ambiance.
12. Rustic wood tray with subtle spring decor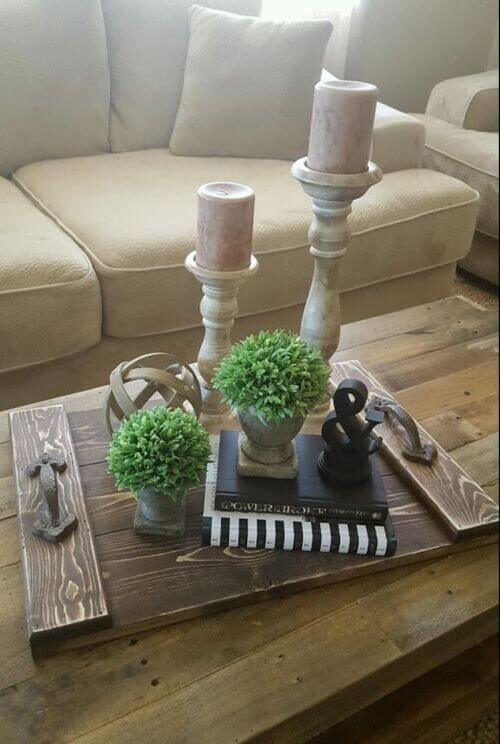 Pillar candle holders are trendy for coffee table decor, and I understand why :).
It's a super easy yet beautiful way to style your coffee table. The varying candle holder sizes make your decor look put together.
You can add a simple spring touch to your traditional coffee table decor with cute greenery, like faux succulents.
Bunny or bird statues are also cute for spring decor.
13. Rustic farmhouse tray with lots of fresh green accents
Spring decor doesn't necessarily have to be very colorful! You can also stick with fresh green accents in the form of plants.
The woven candle holder also adds a warm touch.
14. Style spring greenery on a tray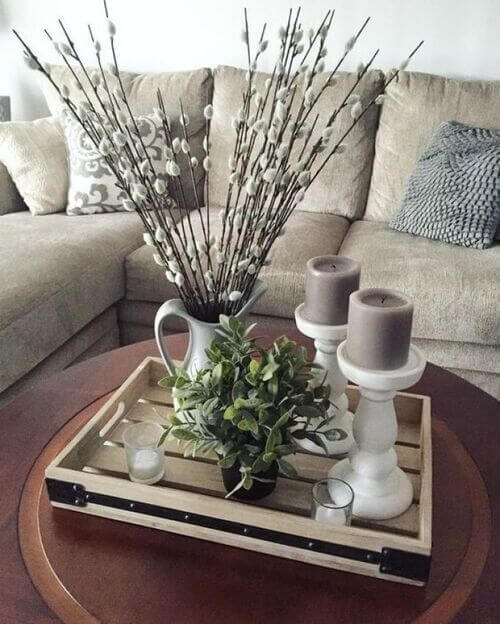 I can't remember the name of these cute stems with tiny cotton balls! But I do remember we used to have a tree like that at home.
These tiny cotton ball stems look insanely cute styled in a simple ceramic vase.
Style the vase with pillar candle holders on a tray.
15. Lambs ear stems in a clear blue vase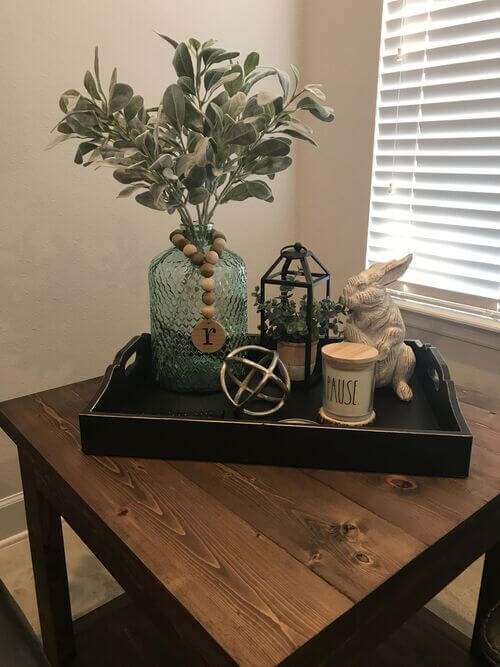 I adore the shape of lambs' ear stems. So cute and stylish.
Style the stems in a clear vase on a tray for simple and cute spring decor.
Adding a bunny or bird figurine is an excellent choice for spring and easter decor.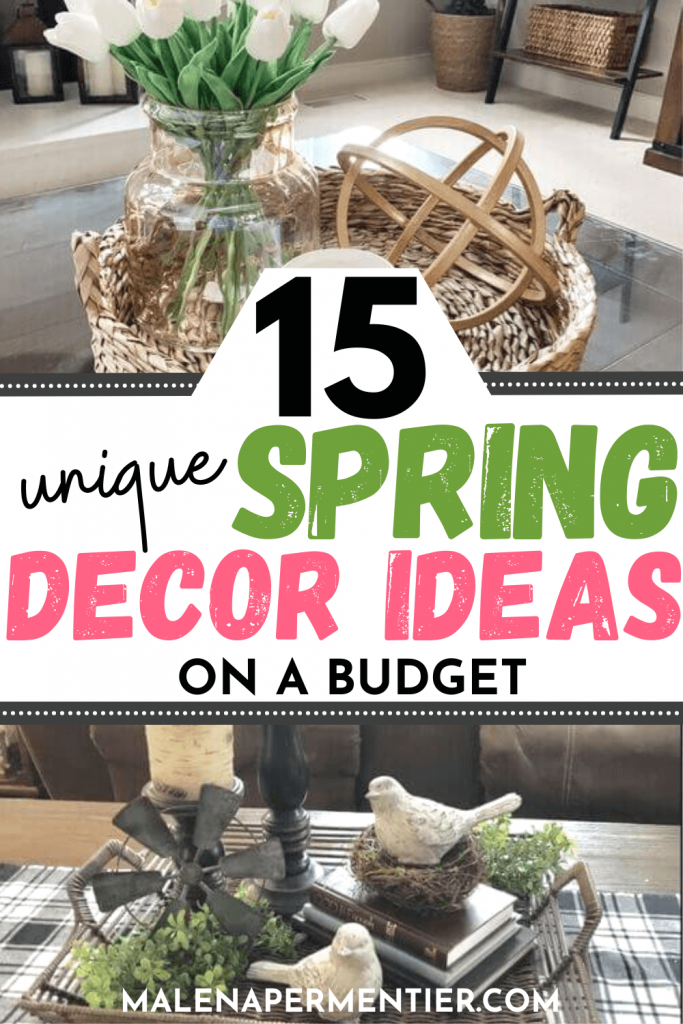 This post showed you the best spring decor ideas.
You may also like: